I had no idea caramel sauce was so simple to make at home until I tried it.
It turns out that real, homemade salted caramel sauce is possible with four ingredients and just several minutes of hands-on time!
Truthfully, caramel is basically just melted sugar.
I also like to add vanilla extract for some flavor and sea salt for a delicious, savory contrast to all that sweetness.
In addition, this recipe uses coconut oil instead of the more traditional cream and butter.
Coconut oil works perfectly to give this caramel sauce its rich, thick consistency. But it's also vegan and therefore cholesterol free.
Here is the complete, printable recipe:

Lightened Up Salted Caramel Sauce (Vegan)
Author:
The Scrumptious Pumpkin
Nutrition Information
Serving size:

32

Calories:

20
Fat:

1.3g

Saturated fat:

1.1g

Carbohydrates:

2.2g

Sugar:

2.2g

Sodium:

59mg

Fiber:

0g

Protein:

0g

Cholesterol:

0mg
Recipe type:
Dips, Dressings, and Seasonings
Total Time: 40 minutes
Hands-On Time: 5 minutes
Cook Time: 10 minutes
Inactive Time: 25 minutes

Yield: about ¾ cup caramel sauce

Level: Easy
Ingredients
½ packed cup light brown sugar
3 tablespoons water
3 tablespoons coconut oil
1 teaspoon vanilla extract
1 teaspoon sea salt
Instructions
Heat the sugar and water in a saucepan over medium-low heat. Allow the mixture to cook below a simmer, stirring is not needed, for about 8-9 minutes, or until the sugar is completely dissolved and the liquid is light amber in color.
Immediately transfer to a large bowl and add vanilla and salt. Place coconut oil in a heat-safe bowl and microwave about 15-20 seconds, or until it has completely melted to a liquid. Add the melted coconut oil to the caramel sauce and whisk until all ingredients are well combined.
Allow the sauce to sit and cool for about 20-25 minutes. When the caramel has reached a smooth, thick, syrup-like consistency, whisk again, and serve.
Storage: caramel sauce will last for several days in a covered, airtight container stored in a dry, cool, shaded location. Coconut oil will solidify over time; caramel sauce should be reheated in the microwave for only about 5-8 seconds and stirred before serving.
And for the step-by-step instructions…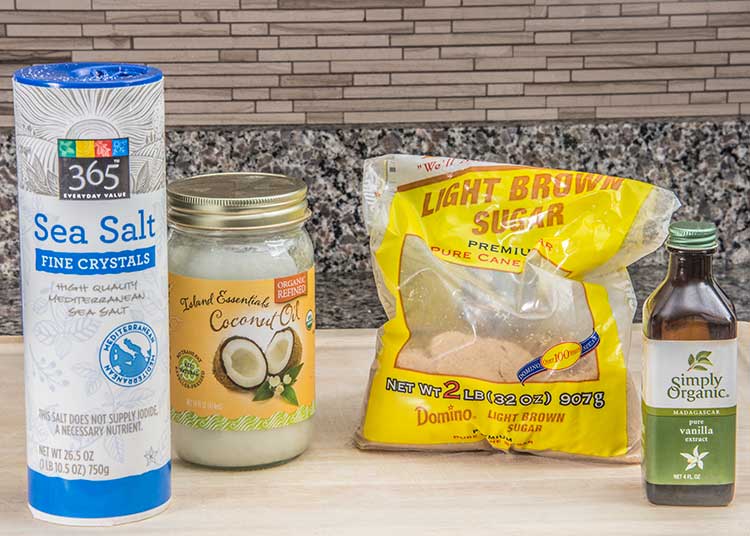 …begin with these ingredients.
Measure out a half of a cup of light brown sugar by firmly packing it into a measuring cup.
Then grab a saucepan (a saucepan with a heavy bottom works best
) and toss in a bit of water along with the brown sugar.
Heat this "simple syrup" over medium-low heat so that it is just below a simmer.
Soon the sugar will dissolve and the liquid will become light amber in color.
Immediately take the saucepan off of the heat and pour it into a large bowl.
Add a bit of vanilla extract and some sea salt.
Then grab some coconut oil
.
It's an excellent vegan and cholesterol-free option for baking.
And it looks like a solid "butter" when it comes out of the jar at room temperature.
So I simply melt it into an oil for this recipe.
Just measure out a few tablespoons of coconut oil and transfer it to a heat-safe bowl.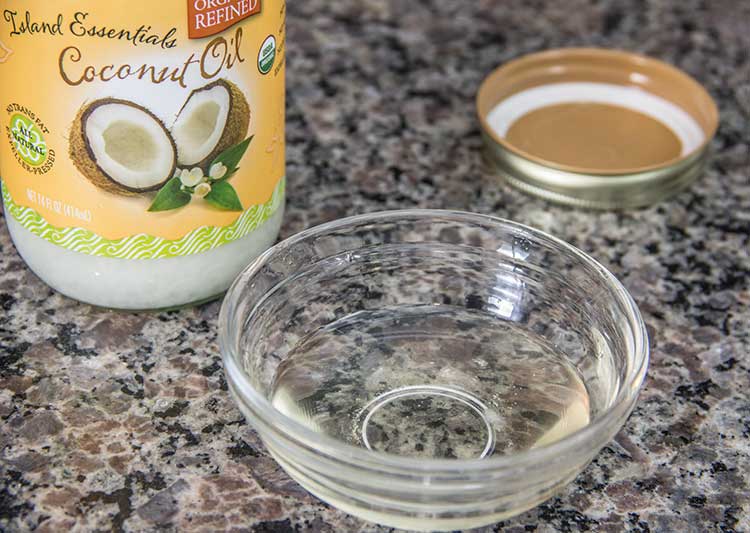 Microwave the coconut oil for several seconds, until it has melted into a liquid.
Then add it to the bowl of caramel, and whisk until all of the ingredients are well combined.
At first, the caramel will not appear thick enough; it needs time to cool.
So just allow it to sit for about 20-25 minutes, or until it reaches a very smooth, thick, syrup-like consistency.
Whisk, and then use the caramel sauce to top off desserts like Mini Pumpkin Caramel Cookie Cup Sundaes!
Over time, as the caramel continues to cool, the coconut oil will solidify again.
Just store it in a covered, airtight container
and keep it in a dry, cool, shaded location (it will keep for several days).
When you're ready to use it again, just reheat the sauce for just a few seconds in the microwave, thoroughly whisk, and it's ready to go!