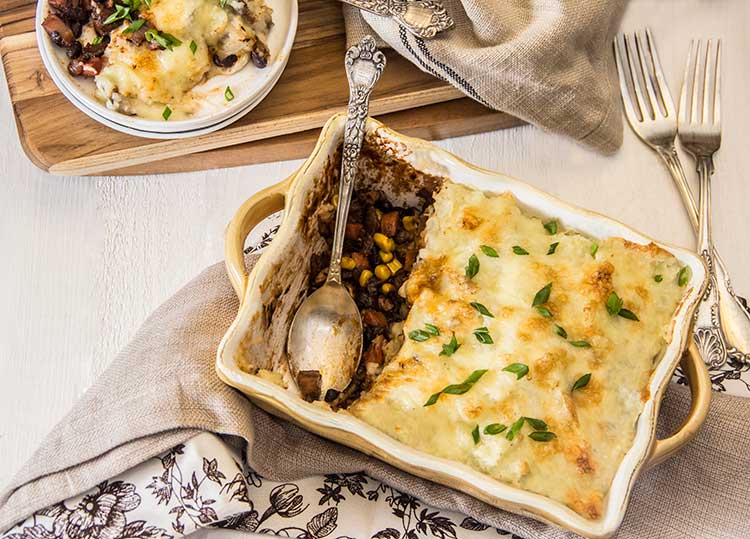 Living in New England (a.k.a. The Land of the Six-Months-Long Winter), I think it's fair to say that I've become strongly skilled at inventing healthy yet still hearty comfort food recipes.
And I'm ready to say that this vegetarian shepherd's pie is one of my absolute favorites (and one of my husband's too) in the healthy comfort food category.
It's a vegetarian shepherd's pie that's so richly flavored, so addictingly scrumptious, it's tough to resist seconds.
(And also healthy and nutritious enough to feel good about going back for seconds!)

So what makes this vegetarian shepherd's pie so hearty and indulgent-tasting and flavorful?
It's all about the combination of delicious fresh winter veggies – like carrots and parsnips – in the filling.
Combined with black beans for heartiness and a couple of secret ingredients for flavor (more on that later!).
Then this vegetarian shepherd's pie is topped off with a yummy potato crust, lightened up with cauliflower for extra nutrition (no one will ever guess it's in there!)
And some sharp cheddar cheese for lots of rich flavor.
It's delicious, but also nourishing and healthy.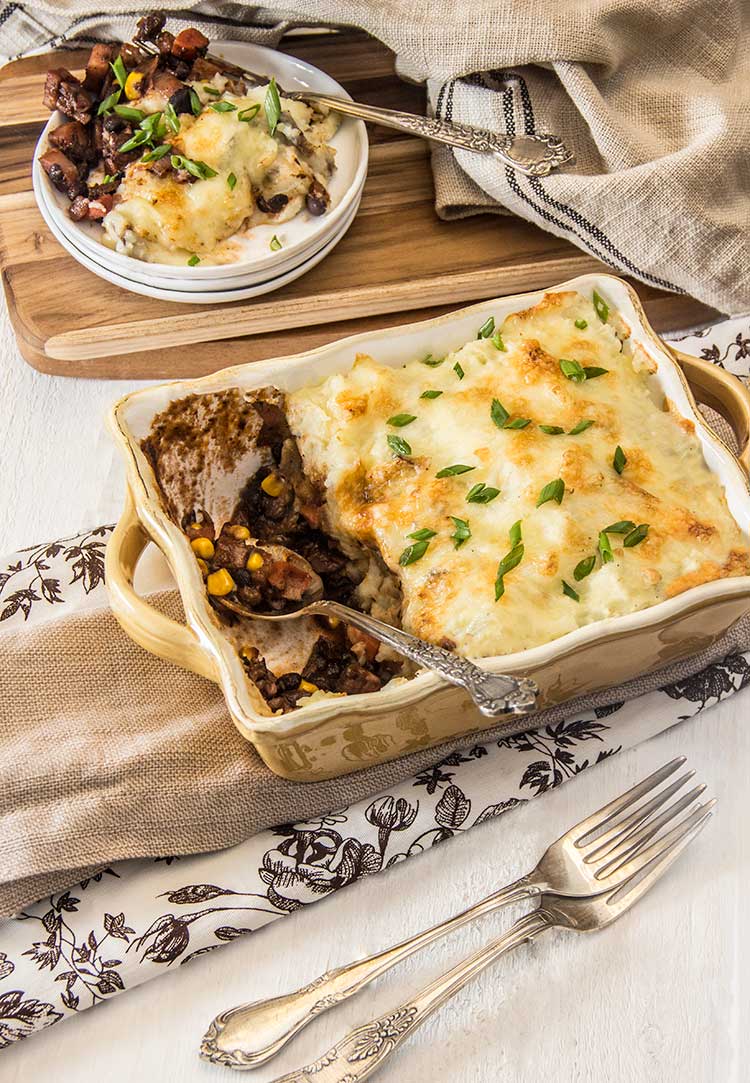 My favorite part: when the cheese on top of the potato crust gets all deliciously crispy and golden after cooking in the oven.
This Shepherd's Pie is the ultimate winter comfort food with a modern, veggie-filled, healthy twist!
Here's the recipe for My Ultimate Vegetarian Shepherd's Pie:
Print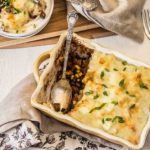 My Ultimate Vegetarian Shepherd's Pie
Author:

Category:

Vegetarian
---
Description
Total Time: 1 hour
Prep: 25 minutes
Cook: 35 minutes
Yield: 6 servings
Level: Intermediate
---
2

cloves garlic, whole cloves, plus 2 cloves garlic, minced

3

medium white potatoes, roughly chopped

8 ounces

frozen cauliflower florets, thawed

2 tablespoons

plus 3 tablespoons olive oil

1 1/3 cups

organic shredded sharp cheddar

1

small onion, diced

3

small carrots, diced

3

small parsnips, peeled and diced

1 1/3 cups

baby bella (crimini) mushrooms, chopped

2 teaspoons

dried thyme

1/2 teaspoon

ground cinnamon

1 1/2 tablespoons

tomato paste

2/3 cup

dry red wine

15 ounces

black beans, thoroughly drained and rinsed

1/2 cup

organic frozen sweet corn kernels
Salt and freshly ground black pepper
---
Instructions
Preheat oven to 450 degrees F.
Add the potatoes and 2 whole cloves garlic to a large saucepan, and fill halfway with water. Cover and bring to a boil, then uncover and reduce to a simmer. Cook until potatoes are nearly tender, about 12-15 minutes. Add cauliflower (be sure it is thawed so it doesn't bring down the temperature of the water). When potatoes are tender when pierced with a fork, pour the vegetables into a large colander to drain. Transfer drained vegetables to a large mixing bowl, and mash to a puree using a potato masher. Add 2 tablespoons olive oil, 1 cup shredded cheddar, and season thoroughly with salt and pepper. Stir until mixture is well combined and cheese has completely melted. Set aside.
Meanwhile, as potatoes are boiling, heat 3 tablespoons olive oil in a deep sauté pan over medium-high heat. Add 2 cloves minced garlic, onion, carrots, and parsnips, and cook until softened, about 7-9 minutes. Add mushrooms, thyme, cinnamon and tomato paste, and season with salt and pepper. Stir until well combined. Add red wine and cook until liquid has reduced, about 2 minutes. Add black beans and corn, stir until well combined, and season to taste with salt and pepper.
Remove black bean mixture from heat and transfer to a large casserole dish. Use a spoon to spread mixture smoothly and evenly across the bottom of the dish. Top with the potato mixture, again spreading smoothly and evenly across the dish. Top with remaining 1/3 cup shredded cheddar.
Bake until crust begins to turn golden, about 10-15 minutes, Serve.
---
For Related Recipes, Check Out:
Slow Cooker Tortilla Soup [Vegetarian]
Avocado-Lime Slow Cooker White Chili
20-Minute Creamy Parmesan Mushroom Fettuccine
SaveSave
SaveSave
SaveSave
SaveSaveSaveSave