This creamy parmesan mushroom fettuccine is quick and easy to prepare in 20 minutes. Rich, cheesy, and flavorful; made with garlic and spinach.
Today I've prepared for you:
An indulgent, heavenly plate of creamy parmesan mushroom fettuccine.
For those days when nothing but savory, rich, creamy pasta will do.
You have those days too, right?
I think this particular creamy mushroom pasta is the best of both worlds:
Yummy and really indulgent-tasting with a little splash of cream and plenty of freshly grated parmesan.
But also filled with healthy ingredients:
Fresh garlic and parsley, mushrooms, and spinach.
So I can help myself to a nice, generous portion and feel like I'm getting plenty of healthy nutrition from my dinner.
One other thing I love about this creamy mushroom pasta: it's so easy and quick.
You can serve it up with a salad, and dinner's ready in 20 minutes!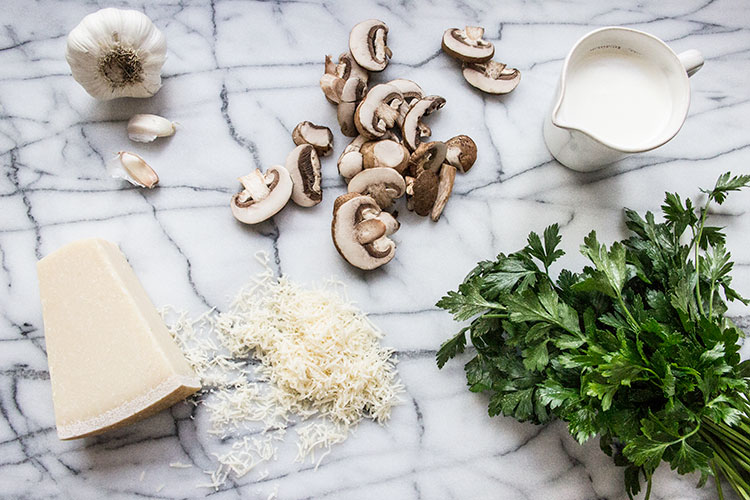 This creamy mushroom fettuccine meets every requirement for rich and comforting and indulgent-tasting, with plenty of parmesan and even a bit of cream.
But it also has lots of fresh ingredients that add lots of flavor and healthy nutrition too!
You can use fresh spinach for this recipe, just make sure to chop it up into bite-sized pieces.
Or use the shortcut I like to use: frozen chopped spinach.
(Just be sure to drain it thoroughly so it doesn't water down your pasta dish).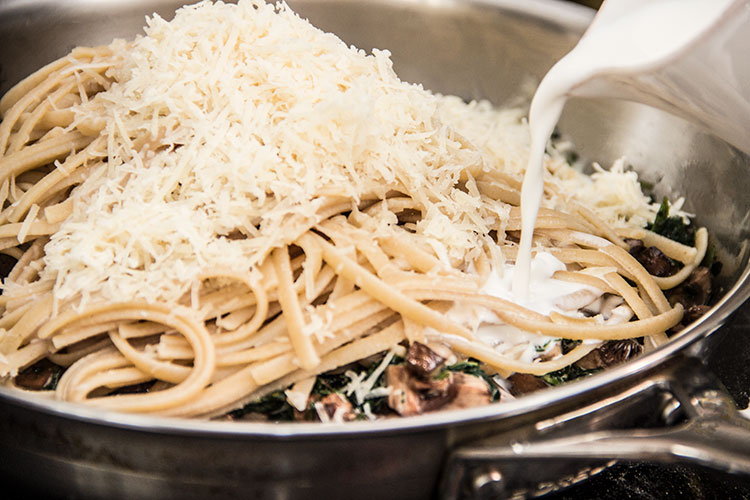 At the end, I like to add a generous amount of freshly ground black pepper to this pasta dish.
(I suggest 3/4 teaspoon in this recipe.)
It adds a peppery bite that's such a yummy complement to the rich cream and parmesan.
Don't you love when a recipe tastes wonderful and yet happens to be very simple and quick to prepare?
That's why this creamy mushroom fettuccine has become a new favorite of mine.
I hope you'll love it as much as I do.
Here's the complete recipe for 20-Minute Creamy Parmesan Mushroom Fettuccine:
20-Minute Creamy Parmesan Mushroom Fettuccine
Author:
The Scrumptious Pumpkin
Nutrition Information
Serving size:

4

Calories:

394
Fat:

17.5g

Saturated fat:

8.7g

Carbohydrates:

46.4g

Sugar:

2g<

Sodium:

264mg

Fiber:

.8g

Protein:

19.4g

Cholesterol:

30mg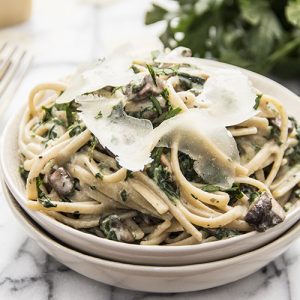 This creamy parmesan mushroom fettuccine is quick and easy to prepare in 20 minutes. Rich, cheesy, and flavorful; made with garlic and spinach.

Total Time: 20 minutes
Prep: 10 minutes
Cook: 10 minutes

Yield: 4 servings

Level: Easy
Ingredients
8 ounces whole wheat fettuccine
1 cup frozen chopped spinach, thawed
2 tablespoons olive oil
2 cloves garlic, minced
8 ounces mushrooms, sliced
¼ cup organic half and half
¾ cup parmesan, freshly grated
2 tablespoons fresh parsley, chopped (optional)
Sea salt
¾ teaspoon ground black pepper
Instructions
Boil a large pot of water. Salt the water and add the fettuccine. Cook, according to package instructions, until just al dente. Drain.
Meanwhile, measure 1 cup of frozen chopped spinach, and place the frozen spinach in a heat-safe bowl. Microwave until thawed. When cool enough to handle, transfer thawed spinach to a fine mesh strainer. Arrange the strainer over a large mixing bowl and squeeze spinach, wringing dry, until all excess water is drained from the spinach. Set aside.
Heat the olive oil and garlic in a large skillet over medium heat. Cook, stirring frequently, until softened, about 2-4 minutes. Add the mushrooms and cook until softened, about 2-4 minutes more.
Turn off the heat. Add the spinach, fettuccine, half and half, and parmesan. Season thoroughly with salt and pepper. Stir until well combined. Top with fresh parsley, and serve.
I estimate nutrition info by entering my recipes at
Very Well
.
Check out more Easy 30-Minute Meal Recipes
Check out more Healthy Comfort Food Recipes
JOIN THE FREE CLEAN EATING CHALLENGE TO START YOUR NEW, HEALTHY LIFESTYLE!
What happens when you sign up for free:
Three easy, delicious, seasonal, clean eating recipes are delivered straight to your inbox each Friday, so you're set to plan your meals for the following week.
All recipes include step-by-step photo instructions, plus options to print or save recipes and add recipe ingredients to a mobile shopping list.
Get ready for more energy and a fit, healthy body with your new clean eating lifestyle!