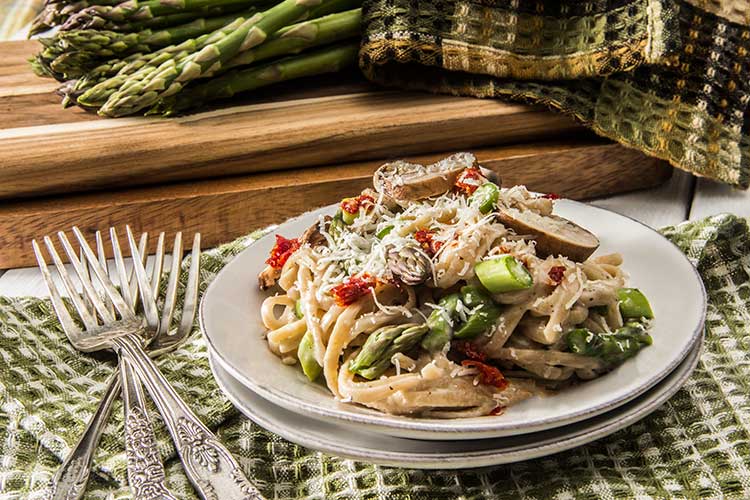 I love, love this asparagus pasta recipe for a couple of reasons.
First, it's a really creamy, cheesy, indulgent-tasting pasta dish that also happens to be filled with fresh and nutrition-packed ingredients (and only about 325 calories per serving)!
Second, this asparagus pasta is all cooked in one pot, so it's really easy, ready in under 30 minutes, with minimal clean-up!
What makes this pasta so rich and creamy are a couple of Italian-inspired ingredients: just a dollop of mascarpone (Italian cream) and a bit of savory, delicious parmesan.
Both ingredients are so rich in flavor, just a small amount of each will transform the flavor of this asparagus pasta dish.
But the other key to flavor is the variety of fresh, spring inspired ingredients like crisp, in-season asparagus, earthy mushrooms, and slightly sweet sun-dried tomatoes.
Here are the important steps in preparing this asparagus pasta:
1.) Begin by prepping some key ingredients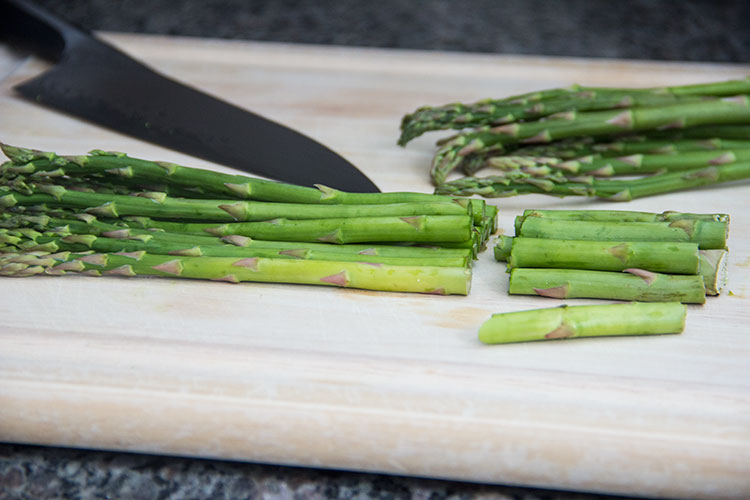 Mince some garlic, dice up a shallot, and chop up some mushrooms (any kind) along with some sun-dried tomatoes.
Also grab a bunch of asparagus (in season now!), pile up several spears at a time, and chop off about one inch of the ends (they're too tough to eat).
Then chop up the asparagus into quarter-inch pieces
2.) Grate some parmesan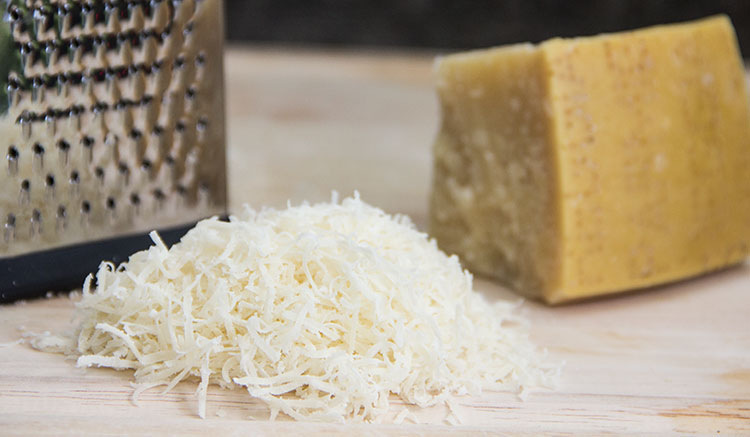 Fresh, real parmesan that you've grated yourself will add unbelievable flavor to this asparagus pasta!
3.) Next, begin boiling the pasta
Grab a big stock pot
and add exactly three cups of water.
Toss some whole wheat linguine, the minced garlic, and the chopped shallot to the pot.
Then begin boiling away, stirring often with a wooden spoon
to make sure the ingredients don't stick to the pan.
4.) Add the chopped asparagus and mushrooms
Only when most of the water is absorbed and the pasta is nearly tender is it time to add these two fresh ingredients.
Asparagus tastes best when it's cooked for just a few minutes, so it's still fresh-tasting and crisp when you serve it.
5.) Add a few finishing touches
When the pasta is al dente and nearly all of the water has cooked away, remove the pot from the burner.
Immediately add a bit of mascarpone and the grated parmesan.
Also add the chopped sun-dried tomatoes.
Season with a bit of salt and pepper, and stir it all up until the cheese has melted into a rich, creamy sauce.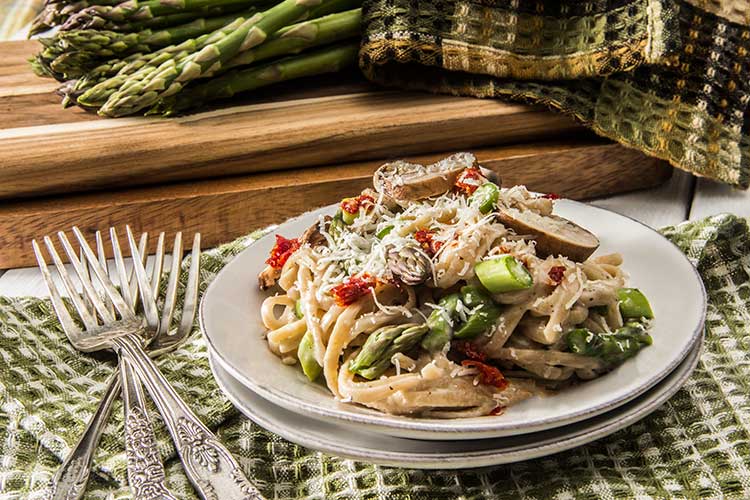 And enjoy a comforting vegetarian pasta dish that's scrumptious but also light and easy as a spring evening.
This asparagus pasta is so creamy and richly flavorful, no one will notice it also happens to be packed with healthy nutrition and low in calories too!
Here is the complete, printable recipe for One Pot Creamy Asparagus Pasta:
(For complete nutrition information, check out my Creamy Asparagus Pasta Recipe, originally posted on Food Fanatic.)
The Perfect Kitchen Tools for One Pot Creamy Asparagus Pasta:
Other recipes you might enjoy:
Asparagus Mushroom Quinoa Risotto
Asparagus Goat Cheese Flatbread