For your bucket list journey to Seattle. The top 10 most essential, incredible things to do in Seattle for memories that last a lifetime.
Picture this…
It's mid-afternoon near the waterfront in Seattle, and my husband Chris and I are digging into the most flavorful, rich and creamy mac and cheese we've tasted in our lifetime. While watching employees hand-make the cheeses (the very ones used in the dish) through the glass in front of our table. And in the shopping bag resting on our table: emerald earrings that are unique and mine for an unbelievably reasonable price.
I never had the city of Seattle on my bucket list of must-see-in-this-lifetime destinations. But I ended up making a short stop to Seattle on a trip that did include my bucket list journey to Banff, Canada. Here's what I discovered: there are so many incredible things to do in Seattle. For food lovers like me, Seattle is a dream destination, offering so many 'I'll-remember-this-for-a-lifetime' experiences.
Here are the top 10 things to do in Seattle:
Things To Do In Seattle #1: SkyCity Restaurant at the Space Needle
At first SkyCity Restaurant – located at the top of the ultimate Seattle landmark, the Space Needle – was not on my agenda. Touristy spots like this one usually offer so-so food for ridiculously steep prices. But this place is all about the atmosphere and the experience. The restaurant slowly rotates, offering panoramic views of the entire city. And as soon as you step inside, you'll feel like you're about to meet Don Draper and the rest of the cast of Mad Men. The mid-century decor and design are 1960's space-age retro. Stop in for dessert or drinks and watch the sun go down over the mountains surrounding Seattle.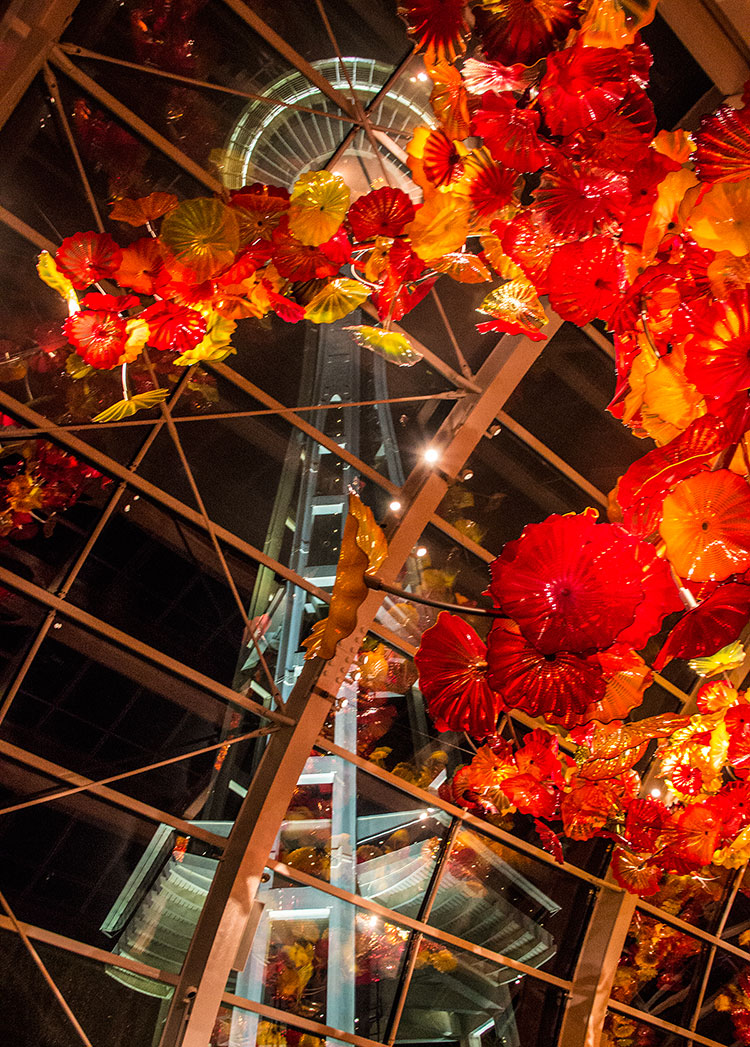 Things To Do In Seattle #2: Space Needle
Next, head to the top of the Space Needle for an incredible view of Seattle after dark. This site is a must-see after the sun goes down, when the city is lit up and at its most enchanting.
Things To Do In Seattle #3: Chihuly Garden and Glass
This amazing museum of huge, colorful glass sculptures is best after dark as well. It's conveniently located right next to the Space Needle, so you can visit both in one evening. Most nights, Chihuly is open late and all of the exhibits, both indoors and outside, are lit up at after the sun goes down for the most spectacular, vivid wonderland of color. If you love photography (or even just iPhone selfies) you will have so much fun here.
Things To Do In Seattle #4: Pike Place Market
Everyone knows about this Seattle landmark, one of the country's first public farmer's markets. But here are my suggestions…
Try the Savor Seattle Food Tour to really explore the Market in depth. This tour allows you to sample 'just a bite' of food from all of the most popular stores and booths, from cherries to chowder to salmon from the famous fish-throwers at Pike Place Fish Co. Do the tour early during your trip to Seattle so you know where you'll want to return later in your trip! And allow time to browse all of the craft and artisan booths available at the Market as well. This was where I had the happy accident of discovering the beautiful earrings I mentioned above.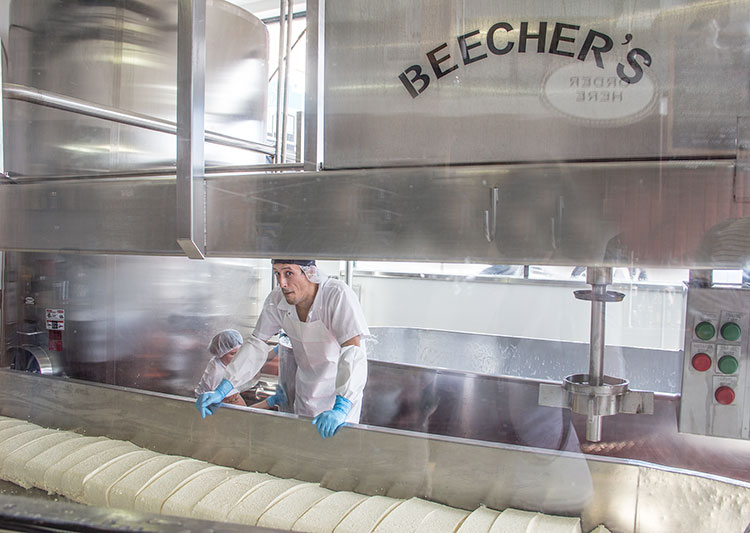 Things To Do In Seattle #5: Beecher's Handmade Cheese
This is the source for the rich, gooey mac and cheese I mentioned above. Beecher's features a wide selection of homemade cheeses created on-site. Chris and I loved our mac and cheese so much, we went back on our last day for one last farewell dish.
Things To Do In Seattle #6: Seattle Great Wheel
This is the ultimate fun-loving and unique way to see the Seattle Waterfront. This huge Ferris wheel (one of the biggest in the country) has glass-enclosed passenger cars and offers soaring views of Elliot Bay, the city skyline, and the Space Needle.
Things To Do In Seattle #7: Dahlia Lounge
Stop by this landmark Seattle restaurant for a guaranteed delicious lunch featuring local, organic, sustainable ingredients. And save room for dessert. I am still dreaming about going back one day for the piping hot, made-to-order doughnuts. They're served with homemade seasonal jam and sweet, creamy vanilla mascarpone.
Things To Do In Seattle #8: Seattle Art Museum
This was a random stop for Chris and I, but we both ended up happy to have discovered the SAM. This museum is small and will take just a couple of hours of your day. But it has an amazing variety of exhibits, from film to an outdoor sculpture park. The collections of Asian, Pacific Northwest, and Native American art are all interesting and worthwhile.
Things To Do In Seattle #9: Four Seasons Hotel Seattle
If you plan to indulge on your trip to Seattle, you won't regret splurging on a stay at The Four Seasons Seattle. Chris and I stayed in the basic 'Seattle View' room and it was enough. The room was immaculate and really spacious, with a modern marble bathroom. The best part… total quiet and peace. We didn't hear a peep from the hallway, rooms above, etc. the entire stay.
Things To Do In Seattle #10: Canlis Restaurant
Speaking of splurges…
If you plan to enjoy a special evening out, this Seattle landmark is perfect. Canlis features delicious Northwest-inspired dishes, and the live piano (so rare in restaurants!) makes dinner feel so much more elegant. Get a table by the floor-to-ceiling windows if you can. The view of the Cascade Mountains at sunset is unforgettable.