A quick and easy 20-minute Greek-inspired grilled lemon chicken recipe. With bell peppers, onions, and a flavorful dressing of fresh lemon, feta and herbs.
Here's what happens during my daily summer evening walks with my husband, baby, and beagle Calvin:
I always find myself jealous of this neighbor… and then that neighbor… as I smell the delicious aromas of barbecues and grilled deliciousness wafting from so many backyards.
I'm starving by the end of these walks.
This Greek lemon chicken is my solution.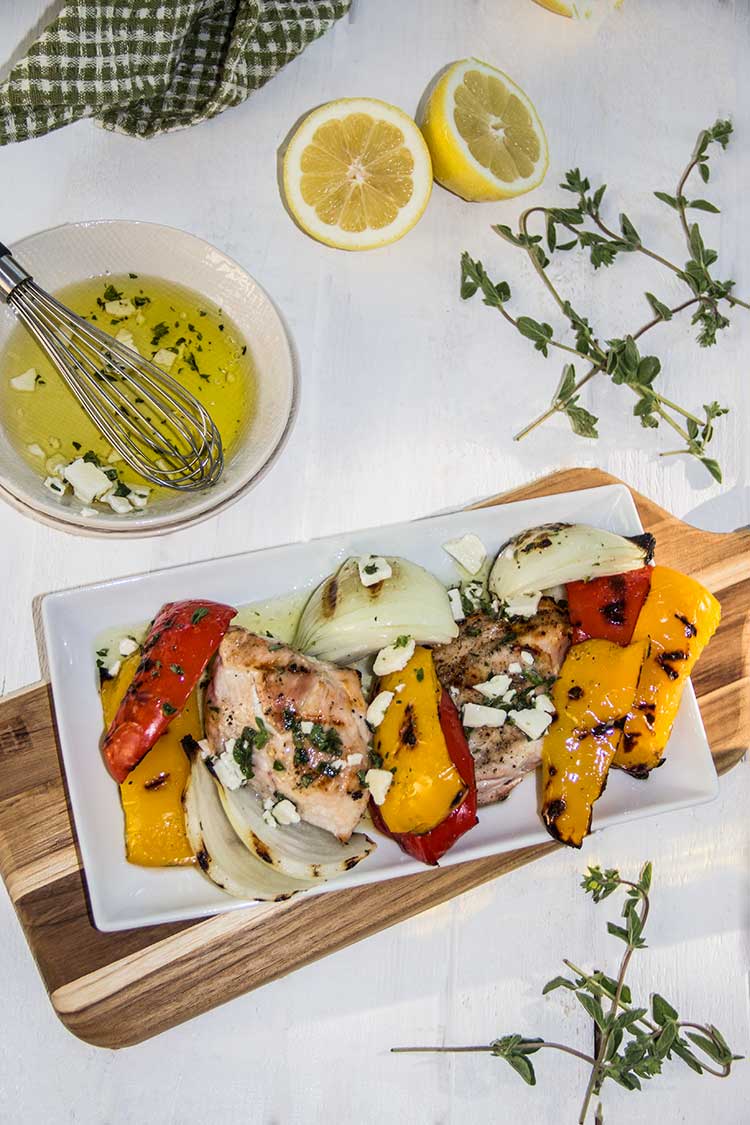 Cooked on the grill with crisp and fresh peppers and onions, this lemon chicken is quick and easy to prepare in about 20 minutes.
And this recipe is full of tasty Greek flavors with the most scrumptious aromas, like oregano and olive oil.
Now I've got an enticing lemon chicken recipe wafting from my own backyard!
In addition to chicken, here's everything you'll need to get started with this grilled lemon chicken recipe.
If you have fresh oregano on hand, it works perfectly in this recipe.
Otherwise, dried oregano works well too.
Next step: toss the chicken onto the grill. Then quarter the peppers and onions and add them to the grill.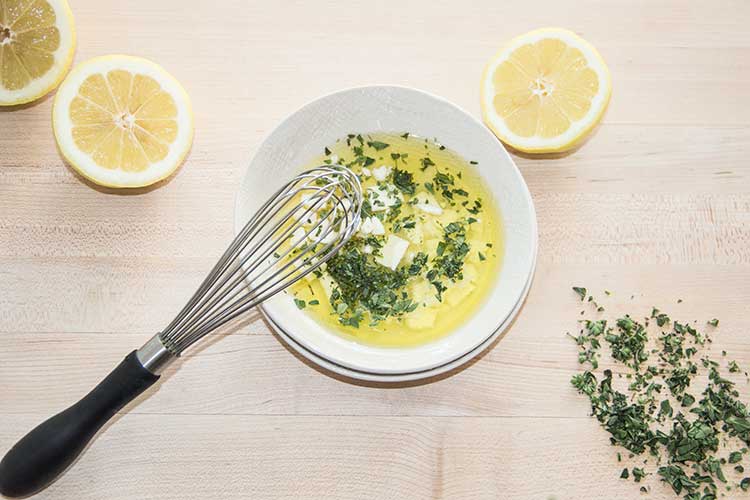 This recipe is so quick and easy because you prepare the lemon dressing after you've tossed everything onto the grill.
While the chicken, onions, and peppers are cooking away, prepare the dressing.
Squeeze some lemon juice into a small bowl.
No need for any special tools.
Just rotate a fork through the lemon to get all of the juice out.
Remove any seeds that fall into the bowl before you move on to any other ingredients.
Prepare the lemon herb dressing.
Add the oregano and some feta to the fresh lemon juice.
Season well with salt and pepper, then whisk in some olive oil.
Since it's drizzled over everything at the very end, the flavor of the olive oil counts.
So a good quality extra virgin olive oil works best.
Last step: enjoy!
Then just drizzle the dressing all over the chicken, peppers, and onions after you've removed them from the grill.
The lemon adds a tasty zest and the feta adds lots of flavorful richness.
It's light and fresh and really tasty too – perfect for that summer evening craving for something deliciously grilled!
Here's the complete, printable recipe for this Grilled Herb Lemon Chicken with Feta:
Easy Greek: Herb Lemon Chicken with Feta
Author:
The Scrumptious Pumpkin
Nutrition Information
Serving size:

4

Calories:

267
Fat:

13.3g

Saturated fat:

2.7g

Carbohydrates:

7.2g

Sugar:

4.1g

Sodium:

112mg

Fiber:

2.1g

Protein:

29g

Cholesterol:

75mg
Recipe type:
Clean Eating Chicken Dish
Total Time: 20 minutes
Prep: 5 minutes
Cook: 15 minutes

Yield: 4 servings

Level: Easy
Ingredients
1 lb organic grass-fed skinless boneless chicken breasts, cut into thirds
1 yellow bell pepper, quartered
1 red bell pepper, quartered
1 onion, quartered
½ lemon
3 tablespoons extra virgin olive oil
½ teaspoon oregano
¼ teaspoon garlic powder
2 tablespoons organic crumbled feta cheese
Instructions
Prepare the grill to medium heat.
Season the chicken, peppers, and onion with salt and pepper and place on the hot grill. Allow the first side of the chicken to cook for about 6-8 minutes untouched (don't press down or move the chicken.) Add peppers and onions to the grill. Flip the chicken to the other side and allow it to cook untouched about 6-7 minutes more.
Meanwhile, squeeze all of the juice from half of a lemon into a small mixing bowl. Add the olive oil, oregano, garlic powder, and feta, and season with salt and pepper. Whisk until all ingredients are well combined, and set aside.
When the chicken is just cooked through, remove it from the grill and allow it to rest about 5 minutes, covered. Also remove the peppers and onions. Brush the lemon-herb dressing all over the grilled chicken and veggies. Serve over rice, quinoa, farro, or couscous.
You May Also Enjoy:
Southwest Guacamole Chopped Chicken Salad
Lemon Vanilla Pancakes with Fresh Blueberries