My favorite kale salad, ready in 7 minutes and exploding with fresh autumn flavors: salty pumpkin seeds, crisp apples, creamy goat cheese, and an easy maple dressing that's tart and sweet.
I'm guessing that a kale salad is the thing everyone reaches for when they want to the most health-supporting, nutrition-packed option possible. When you want to make a good solid healthy choice for yourself, a kale salad earns you the gold star.
However.
Has anyone ever gone for a kale salad when searching for something flavor-packed and guaranteed delicious? I don't believe this has happened once, at least not in my life. In fact, a kale salad used to be the opposite of everything I'd imagine to be flavor-packed and guaranteed delicious.
Until I came up with this autumn apple kale salad, which happens to be bursting with tasty, creamy, crunchy, tart, salty, and sweet fall flavors. My husband Chris, who I don't believe has ever had any desire to eat a kale salad ever in his life, even raved about the tastiness of this recipe.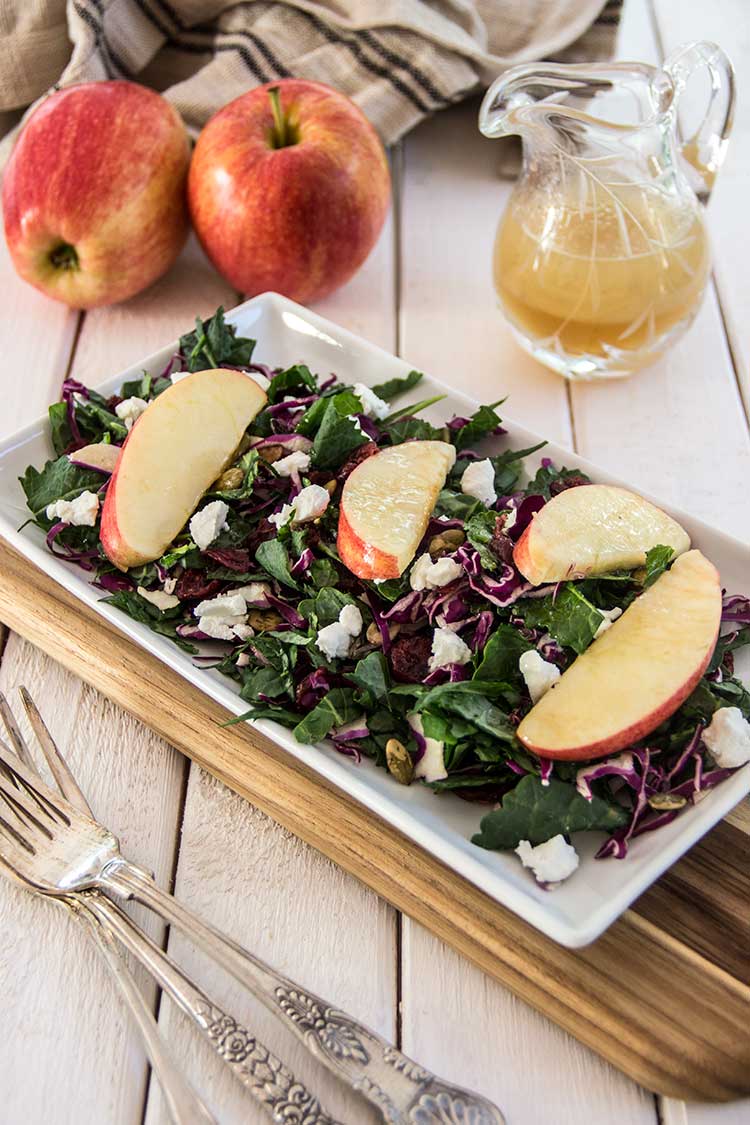 The added bonus to this kale salad is that it's really quick and easy to make in under 10 minutes. So it's the perfect light lunch or simple side when you're looking for something both healthy and amazing-tasting too.
Here's how to make this Autumn Apple Kale Salad:
Prepare the Maple Dressing
Just grab a bowl and combine some sunflower oil (which has a delicate, neutral flavor), along with some apple cider vinegar and maple syrup. Season the dressing with salt and pepper and whisk it up until it's well combined.
For the best flavor and nutrition, look for 100% pure maple syrup. You'll know it's the real deal when the only ingredient listed is maple syrup.
Next, Slice Some Apples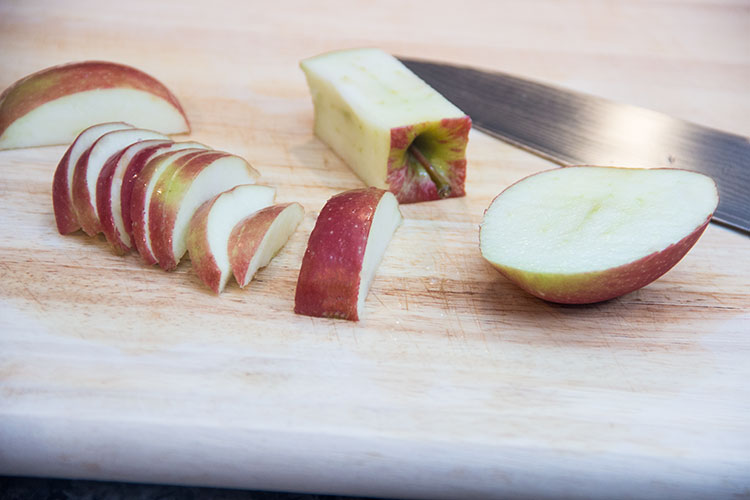 Use any flavor of apples you like best.
I've used honeycrisp apples for the photos here, which are very sweet.
My favorite type of apple for this kale salad, though, is macintosh. They're a little tart and a little sweet.
Then Prepare the Greens
I highly recommend baby kale for this recipe. It's less tough and chewy than regular kale. Just be sure to pile it up on a cutting board and run your knife through, chopping it into little bits.
Also be sure to add some shredded cabbage to the mix. Its crunchy texture and more delicate flavor are the perfect complement to kale. (A bag of cole slaw mix also works if you can't find shredded cabbage.)
Just toss the chopped kale and shredded cabbage into a big bowl. Add the sliced apples, some dried cranberries, and the maple dressing.
Then mix it all up until the salad is nicely and evenly coated in dressing.
Finish Off the Kale Salad
Be sure to add the two keys to flavor in this salad: toasted and salted pumpkin seeds and crumbled organic goat cheese.
If you're going to skip ingredients in this salad, don't let if be these two! They're the stars of the show.
The goat cheese adds the rich creaminess that makes this salad irresistible and addictive.
And the pumpkin seeds add important saltiness to contrast with all the sweetness of the maple dressing.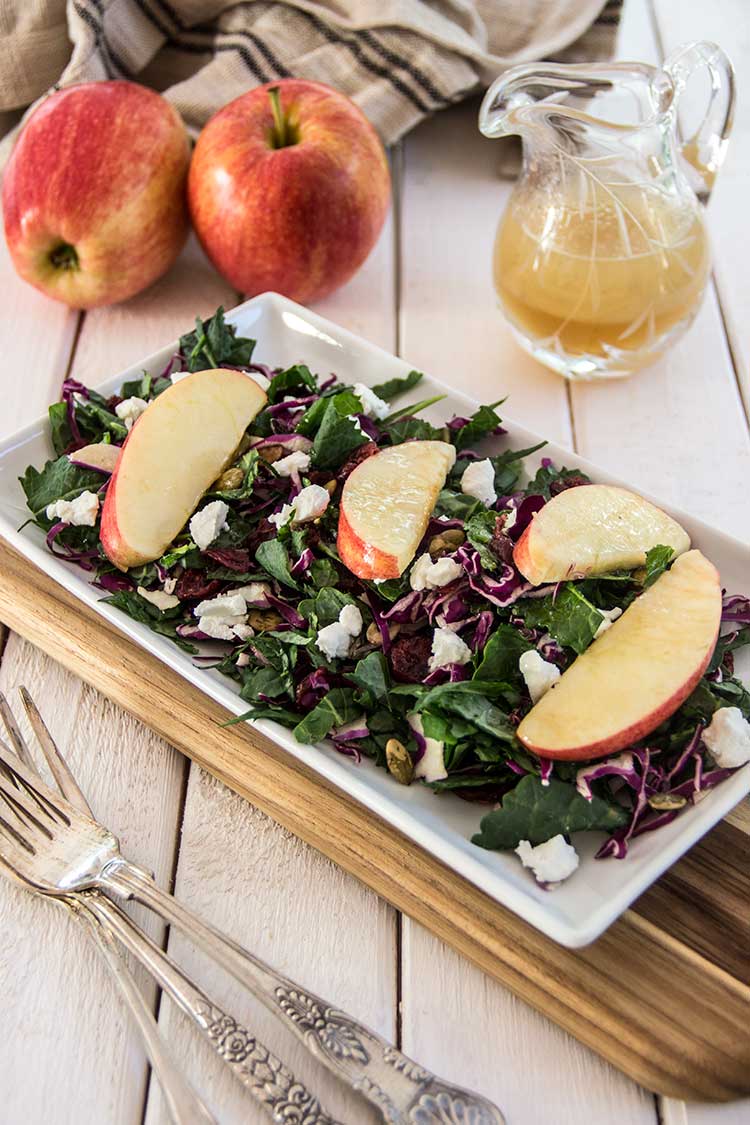 When I entered this recipe at Calorie Count to come up with the nutrition facts for this kale salad, it calculated the following:
High in manganese
High in calcium
High in fiber
High in vitamin B6
Very high in vitamin C
Very high in vitamin A
This one earns the gold star for healthy nutrition for sure!

But what makes this autumn salad special, I think, is the combination of yummy fall tastes and textures.
Autumn is – hands down – my favorite season for weather. But also for food. And this kale salad highlights why. The tart apples, the crisp kale, the savory pumpkin seeds, the sweet maple, the chewy cranberries. They all contrast against and yet also complement one another in the most additively delicious way.
Here's the complete recipe for Autumn Apple Kale Salad with Maple Dressing:
Autumn Apple Kale Salad with Maple Dressing
Author:
The Scrumptious Pumpkin
Total Time: 8 minutes
Prep: 8 minutes
Cook: 0 minutes

Yield: 2 servings

Level: Easy
Ingredients
For the Maple Dressing:

3 tablespoons sunflower oil
2 tablespoons apple cider vinegar
4 teaspoons 100 percent pure maple syrup
Salt and freshly ground black pepper
For the Autumn Apple Kale Salad:

2 ounces baby kale, chopped
5 ounces shredded cabbage (or cole slaw mix)
½ macintosh apple, sliced
2 tablespoons dried cranberries
1 tablespoon roasted and salted pumpkin seeds
1 ounce organic goat cheese, crumbled
Maple Dressing (recipe above)
Instructions
For the Maple Dressing:

Add oil, vinegar, and maple syrup to a small bowl. Season with salt and pepper. Whisk until well combined.
For the Autumn Apple Kale Salad:

To a large mixing bowl, add the chopped baby kale, shredded cabbage, apple slices, and dried cranberries. Pour in the maple dressing and mix until ingredients are well combined and well coated with dressing.
Transfer salad to serving plates. Top salad with pumpkin seeds and crumbled goat cheese. Serve.
*Nutrition facts calculated at
Calorie Count