Hearty, healthy (and vegan!) Tuscan bread soup with potato, kale, and white beans. This slow cooker recipe makes it easy to achieve rich, homemade flavor.
There was a definite nip in the air this morning, which meant two things.
First, it was time to go in search of the padded, woolly slippers that I'd abandoned since last May. And second, I needed to pull the slow cooker out from the back of the cabinet and cook up something homemade and warm and delicious. What is it that's so thrilling about finding that perfect warm and comforting remedy when the days grower darker and colder?
I love this Tuscan bread soup because it's vegan and packed with healthy veggies like potato and kale. But it's also very hearty and full of tasty flavor. (I wondered if I should really call it a "stew.") And adding cubed crusty bread to the soup is so comforting and delicious too. The bread just soaks up all of the broth.
It's a great way to satisfy cold-weather cravings, and for just about 350 calories per serving.
Plus, slow cooker recipes make it easy to pull off homemade soup. Early in the afternoon, take a few minutes to chop some veggies. Later on, toss in some seasonings and broth. And when that hectic dinnertime hour rolls around, warm and homemade Tuscan bread soup is complete and ready to be served!
Here's How to Make the Recipe:
Begin with These Key Ingredients for Slow Cooker Tuscan Bread Soup
Here are the ingredients you'll need, including onion, celery, potato, parsnips, kale, bay leaves, dried oregano, white beans, pureed tomatoes, and vegetable broth.
Agave – you can substitute an equal amount of cane sugar or honey if you don't have agave. But I don't recommend skipping this ingredient altogether. The slight hint of sweetness is key for balancing out the acidity in the tomato puree.
Parsnips – substitute carrots if you don't have parsnips.
Remember One More Key Ingredient: Crusty Bread!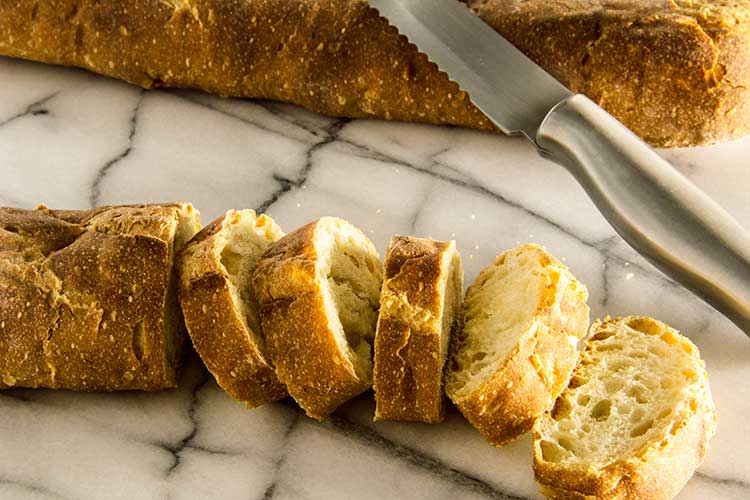 I used a baguette from my grocery bakery for this Tuscan bread soup. You'll want something with a harder texture so it doesn't just fall to pieces in the soup. For now, just set the bread aside. It's added only at the very end.
Next, Prepare the Veggies
Chop and add all of the veggies to the slow cooker first. And set it to high heat. A smaller dice on the veggies will help them cook more quickly. Also add olive oil, bay leaves, and salt and pepper.
Later, Add (Almost) All of the Remaining Ingredients
About 2 1/2 hours later, the veggies should be slightly softened. Add all of the remaining ingredients, except for the bread.
Remember to chop up the kale into bite-sized bits before adding it to the slow cooker.
Last, Add the Bread
When the Tuscan bread soup is ready to be served, cut the bread into small, bite-sized cubes. Then toss them into the slow cooker and stir until it's all well combined.
Season well with salt and pepper, and serve!
This Tuscan bread soup is so comforting on a chilly day. And, simmering away in the slow cooker all afternoon, it's bursting with really rich and delicious flavor too.
Here's the complete recipe for Slow Cooker Tuscan Bread Soup:
Slow Cooker Tuscan Bread Soup
Author:
The Scrumptious Pumpkin
Nutrition Information
Serving size:

6

Calories:

348
Fat:

11.2g

Saturated fat:

1.8g

Carbohydrates:

51.2g

Sugar:

11.3g

Sodium:

710mg

Fiber:

9.7g

Protein:

13.8g

Cholesterol:

0mg
Recipe type:
Vegan Soup Recipe
Total Time: 6 hours
Prep: 30 minutes
Cook: 5 hours, 30 minutes

Yield: 6 servings

Level: Easy
Ingredients
4 tablespoons olive oil
½ small onion, peeled and diced
2 medium parsnips, peeled and diced
4 small ribs celery, diced
1 medium yellow potato, diced
3 bay leaves
1 tablespoon dried oregano
2 tablespoons agave
2 cups kale, finely chopped
15 ounces cannellini beans, thoroughly drained and rinsed
16 ounces tomato puree
32 ounces organic vegetable broth
3 cups crusty bread, such as baguette, cubed
Salt and pepper
Instructions
Add the olive oil, onion, parsnips, celery, potato, and bay leaves to the slow cooker. Stir until well combined. Season with salt and pepper. Set to high heat. Cook - stirring occasionally - until veggies begin to soften, about 2½ hours.
Add the oregano, agave, kale, cannellini beans, pureed tomatoes, and vegetable broth. Stir until well combined. Leave the slow cooker set to high heat. Cook about 3 hours.
Stir in the cubed bread. Season with salt and pepper. Serve.
*Nutrition information calculated at
Calorie Count
.