A healthy pumpkin smoothie that's velvety, slightly sweet and full of the cinnamon-spice flavors of chai tea. Easy to make, 5 ingredients, 116 calories per serving.
To introduce my latest recipe, the chai pumpkin smoothie, I have to begin with little tale of gratitude. Chai tea has been a reliable old friend of mine for many years now. When I'm sad, when I'm sleepy, when I'm stressed. Chai tea beckons, offering me a moment to sit down and do nothing but breathe in that intoxicating aroma of cinnamon and spice. (The refreshing jolt of caffeine is pretty helpful too.)
Chai tea and I have become especially close since baby Trevor was born. Every night, he wakes at 3 am for a little snack and then goes right back to sleep. Meanwhile, I toss and turn and count sheep and can never fall back asleep.
So that's why I'm really loving this Chai Pumpkin Smoothie these days. It's full of pure pumpkin puree, which I crave so much every autumn.
It also has a velvety and filling richness, thanks to Greek yogurt. And the cinnamon and spices from the chai tea really complement the pumpkin flavor.
This pumpkin smoothie is really healthy too , and offers plenty of calcium, vitamin A, and fiber for just 116 calories per serving.
Here's How to Prepare the Recipe:
Begin With These Ingredients for Your Own Chai Pumpkin Smoothie
1.) The vanilla bean is optional, if you're having trouble finding it.
2.) Vanilla-flavored Greek yogurt works best for this pumpkin smoothie. It adds a subtle sweetness, which helps makes this pumpkin smoothie taste delicious.
Next, A Little Preparation
1.) Choose your favorite brand of chai tea and steep it in one cup of hot water. Then let it cool.
2.) Meanwhile, split open the vanilla bean with a sharp knife, and scrape all along the inside to scoop out all of that deliciousness (it's a grainy, black, powder-like consistency).
Finally, Blend It All Together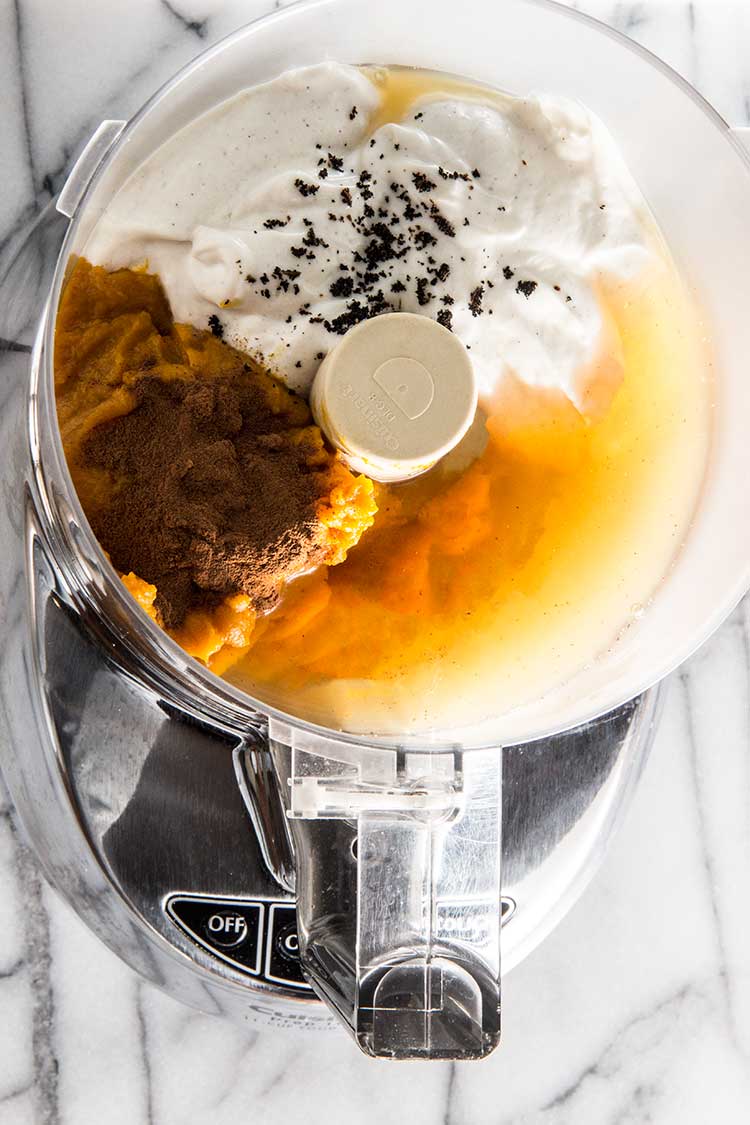 Toss all of the ingredients into a food processor or blender and pulse until you've got a smooth, creamy beverage.
This pumpkin smoothie is velvety rich, with so much satisfying fall flavor of pumpkin and spice. It's filling and nourishing, with a helpful refreshing jolt of caffeine from the tea.
Here is the complete recipe for this Chai Pumpkin Smoothie:
Chai Pumpkin Smoothie
Author:
The Scrumptious Pumpkin
Nutrition Information
Serving size:

2

Calories:

116
Fat:

2.5g

Saturated fat:

1.8g

Carbohydrates:

12.1g

Sugar:

7.3g

Sodium:

41mg

Fiber:

3g

Protein:

12.4g

Cholesterol:

6mg
Recipe type:
Smoothie Recipe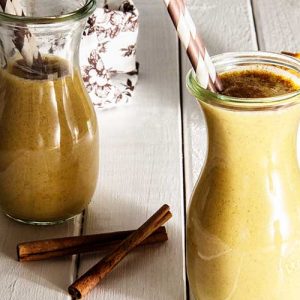 Total Time: 20 minutes
Prep: 5 minutes
Inactive: 15 minutes

Yield: 2 servings

Level: Easy
Ingredients
1 cup filtered water, boiled
1 chai tea bag
¾ cup pure pumpkin puree
1 cup organic vanilla Greek yogurt
1 teaspoon ground cinnamon
1 vanilla bean, split and scraped
Instructions
Pour the cup of boiling water into a mug and add the chai tea bag. Steep for five minutes, then discard tea bag. Allow chai tea to cool.
Add the cooled chai to a food processor, along with all of the other ingredients. Pulse until liquid is thick, smooth, and well-blended. Pour into serving cups and enjoy. (Tastes best when served chilled).