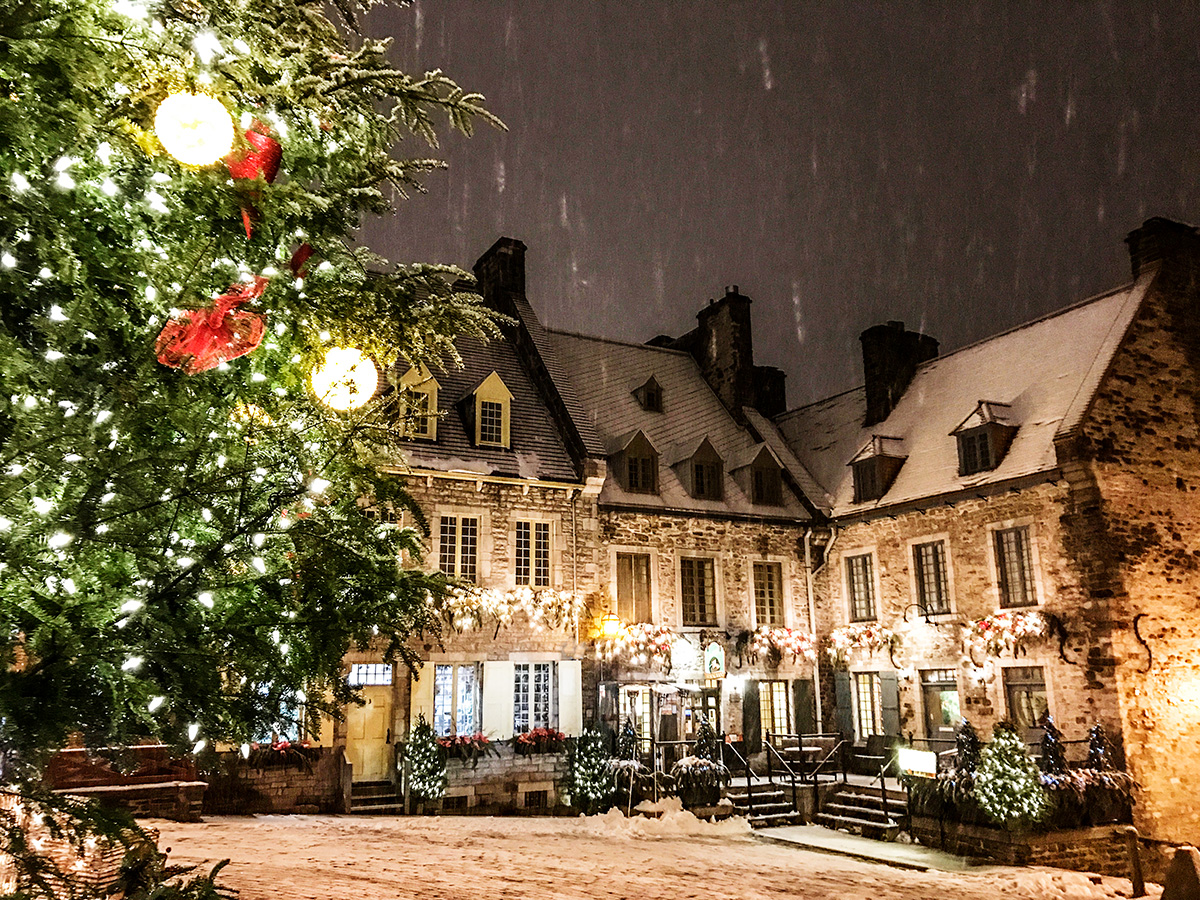 We didn't make it too far into the dreariest, grayest month of the year – November – before our wanderlust came on as strong as ever.
We thought – especially with it being Trevor's first Christmas – that we should set our sights on a city that gets really decked out and festive for the holiday season.
We did some Google searches and landed on Quebec City.
Then we did some calculations. The city is about a five-hour drive from Chris' parents house. Five hours, we figured, would be a difficult drive, but (hopefully!) a doable drive with a 9-month-old.
So we booked our hotel, crossed our fingers, and headed north to Canada!
Our first stroke of luck: Trevor barely made a peep for most our the drive to Quebec City (the drive back was another story…)
Anyone who has ever cared for a little one knows there is no better Christmas miracle!
He slept straight though until we stopped at a halfway point for lunch. After eating, he went back to sleep for another hour or so.
Then our luck ran out. I spent the last hour in the backseat, holding my iPhone up for Trevor to watch videos. (This is the almost guaranteed Hail Mary for carseat fussing.)
Once we unloaded what felt like two months worth of luggage at the hotel (diapers, wipes, baby food, bottles, stroller, portable crib, books, toys, on and on…) we finally got out to explore.
And we were totally right about choosing Quebec City for the holidays.
It's an absolutely stunning city.
And straight-from-a-holiday-card picturesque at holiday time.
The city was completely decked out in towering Christmas trees, twinkling white lights, and holiday decor.
But not just any decor.
Elegant, chic, opulent decor.
Snow covered cobblestone streets, gorgeous stone buildings draped in holiday greenery, the Chateau Frontenac lighting up the skyline.
We didn't feel like we were just a few hours from home.
We felt like we were wandering through the old-world streets of Prague or a charming town in Normandy, France.
My Favorite Memory of the Trip:
The memory that most stands out for me was exploring the German Christmas Market. The Christmas Market is located in a square in the center of town, filled with picturesque cedar booths selling an array of holiday gifts and treats.
Let's see if I can take you back to that moment:
We're wandering the market in the evening, white holiday lights illuminating the square.
The biting wind that blows every now and again doesn't bother me much, since it carries the heavenly aroma of cinnamon-spice roasted nuts and hot cocoa.
Trevor is serious but quiet, eyes wide. Content being so snug and close to Chris in his baby carrier, he hasn't made a peep as we shuffle through the crowds, browsing stalls for holiday gifts.
Snow flurries are picking up now, turning to water droplets as they hit the warmth of Trevor's soft cheeks.
Across the street, the bells of the Cathedral Basilica of Notre Dame fill the air with resounding chimes.
For More on the Best Holiday Sites in Quebec City, Check Out:
Ultimate Weekend Guide for Families: Quebec City at Christmas
The Part of the Trip I Was Dreading:
One word for my greatest fear: restaurants.
Once in a while, a restaurant meal with a 9-month-old feels doable. But eating out for three meals a day, for three days straight? I could already feel the exhaustion just thinking about it.
Our plan of attack: be the earliest of the early birds!
We mostly arrived at restaurants just as they were opening (lunch before 11:30 and dinner at 5).
It's been a strange new world, navigating life with a baby. But the plan worked.
Tru couldn't 't disturb other customers, because there weren't any yet!
Trevor is going through a funny stage too, where he brings on the charm and goes into full flirt mode around strangers.
There was one older couple that came into a restaurant shortly after us and the woman smiled and said hello to Tru.
From then on, he kept turning to look over his shoulder at her. He'd smile and yell out (whatever sounds he could come up with), trying to get her attention. Her husband made us laugh when he said, "I see I have some competition tonight."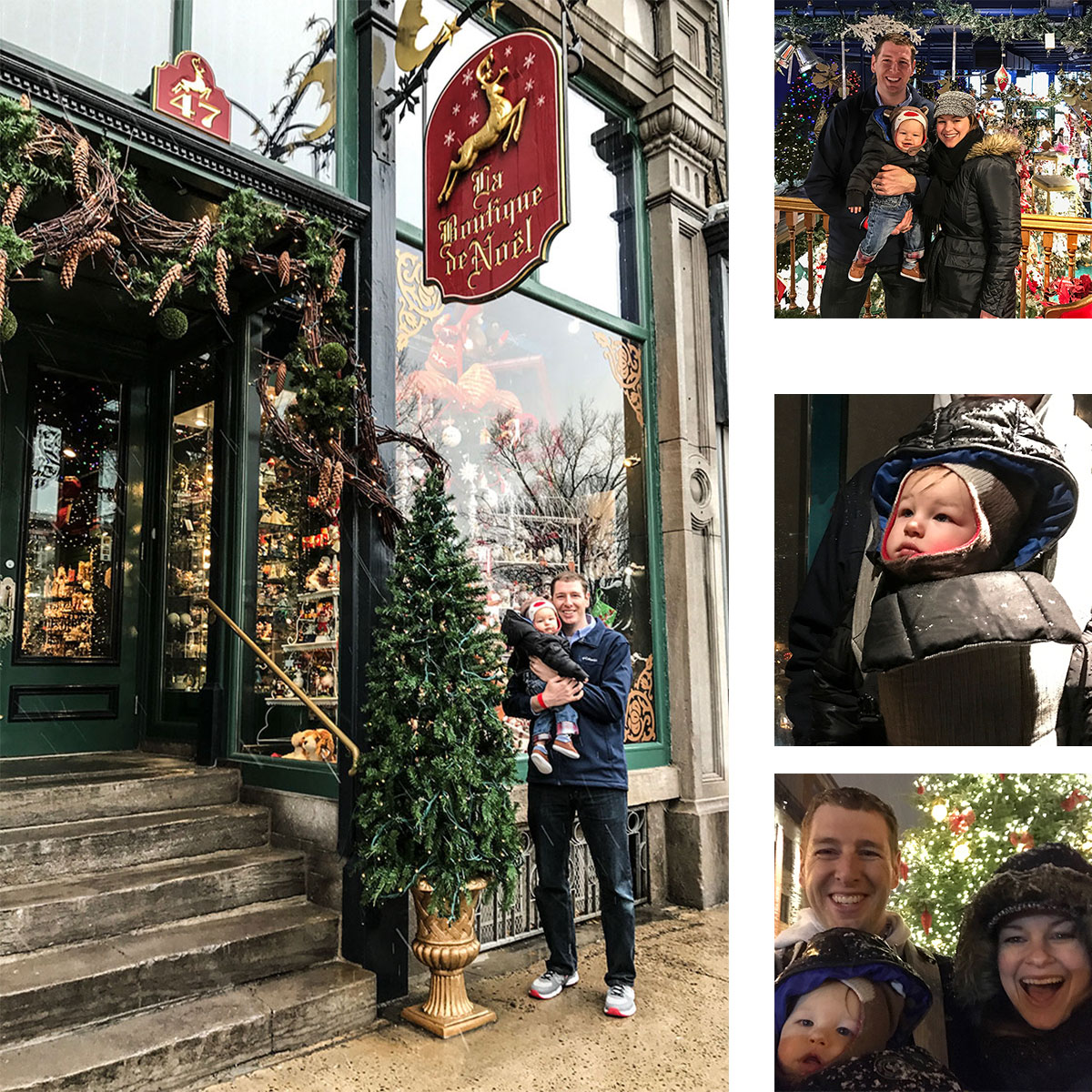 The Biggest Surprise Of Our Trip:
For both Chris and I, our biggest surprise was how much we loved getting take-out food at night and just lounging and eating on our bed after Tru fell asleep.
Before kids, we always wanted to explore nonstop and dressed up and went out every night of our trips.
Now, we're in the hotel room by 7:30 or 8 at the latest.
But we had no idea how luxurious it can feel to just relax in your sweats and eat in. The burgers and fries we had one night were so addictively delicious, we swore they were the best we ever had. (The food was from a Canadian restaurant called Chic Shak, it's detailed below!)
I think part of the fun was just the calm and relaxation of eating in bed with the lights dimmed, instead of trying to coax some quiet out of Tru in a restaurant.
The Sight I'd Tell People Not to Miss at Holiday Time:
Place Royale and Petit-Champlain are truly gorgeous parts of Old Quebec, especially in the evening. This is the part of Quebec City that feels most like a beautiful European town with ornate decorations, twinkling white lights, and towering Christmas trees.
For More on The Most Scenic Parts of Quebec City at Holiday Time, Check Out:
Travel Confessions: Christmas in Quebec City
The Hardest Part of Traveling with a Baby:
The greatest challenge, hands down, was definitely the sleeping situation. Tru cried each time we put him down, because of the unfamiliar surroundings. Since he's now sleep trained, he no longer falls asleep by being rocked or held or fed milk. These things will actually make him more worked up, especially when he's overtired. So he wailed each time he put him down to sleep.
Parents of little ones know: there's no pain like the helplessness you feel when your baby is crying and nothing you do comforts him. So I pretty much ended up in tears for most naps too.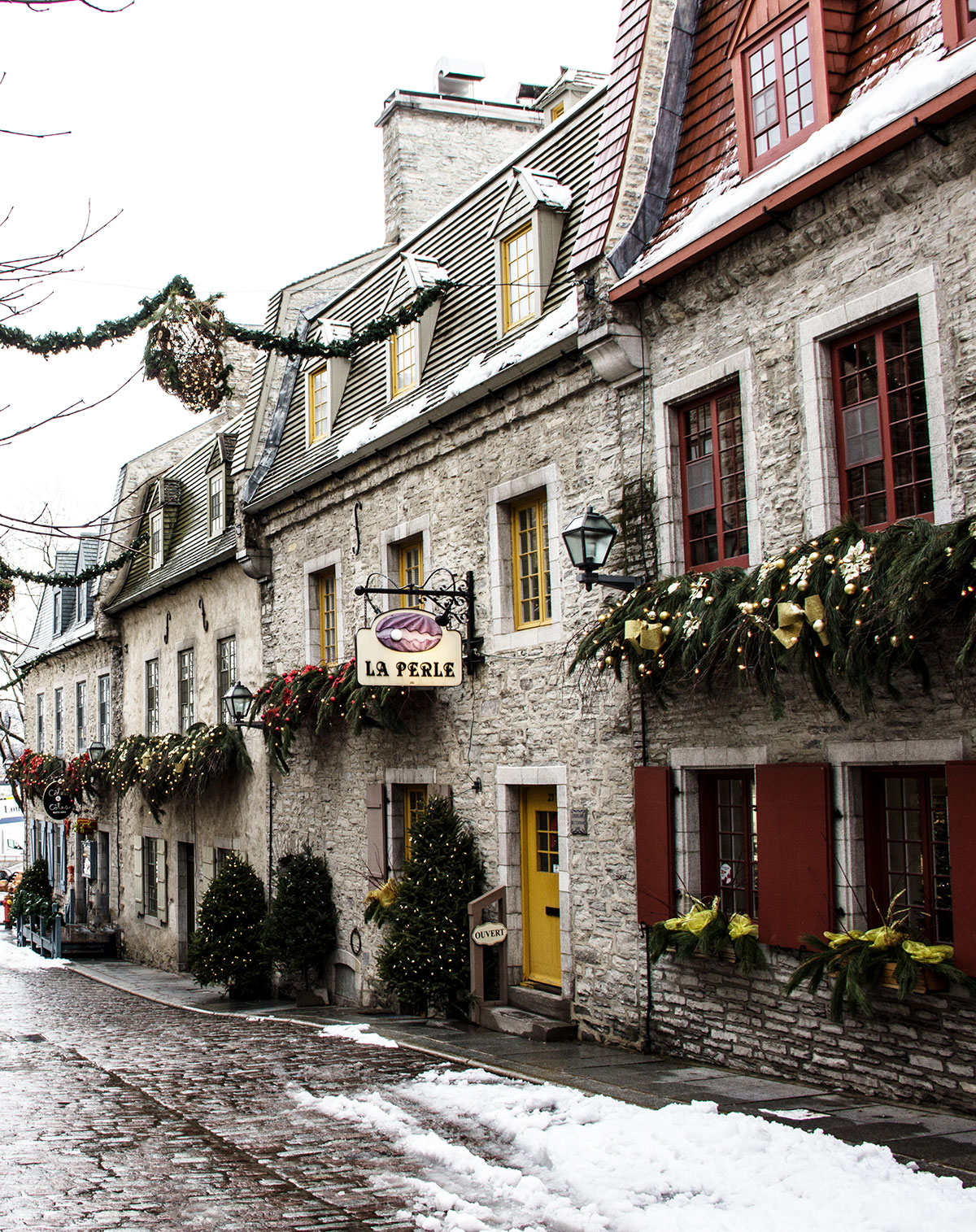 Also, it's crazy what the stress of packing for a baby will cause you to forget.
We somehow both managed to take off for this trip to Canada in December without planning for the possibility of snow!
I think it was because we were so busy trying to round up diapers and bottles and strollers and carriers.
We completely forgot to check the weather forecast. Sure enough, a (very picturesque!) blanket of snow arrived on the second day of our trip. So Chris and I made our way through deep snow and slushy streets in damp sneakers.
Where We Stayed in Quebec City:
Auberge Saint-Antoine, Quebec City
This hotel is gorgeous! Parts of the building date back to the 18th century, and everything has been restored to highlight the most beautiful original features. Our room had high ceilings, exposed wood beams, hardwood floors, and original brick detail.
We also had a fireplace, perfect for warming up the room after a day trekking through slushy snow (in our soggy sneakers!).
The bathroom was very luxurious and had everything I could have dreamed of: soaking tub, huge walk-in shower with multiple shower heads, heated floors, towel warmers, and double sinks.
Our Favorite Places to Eat in Quebec City:
Le Chic Shack – burgers, veggie burgers, salads, fries, homemade sodas, and shakes. Chris and I thought these burgers were some of the best we've ever had.
Paillard – Their specialty is freshly baked bread – cheese-stuffed breads, sandwiches, and quiche. Plus a huge selection of beautiful pastries like eclairs and macaroons!
Cafe La Maison Smith – delicious croissants (including chocolate croissants!) and pastries. I had the most amazing caramel apple tart here.
For Lots More Top Sites & Tips on Québec City Travel, Read Next:
SaveSave
SaveSave
SaveSave
SaveSave
SaveSave
SaveSave
SaveSave
SaveSave
SaveSave
SaveSave
SaveSave
SaveSave
SaveSave
SaveSave
SaveSave