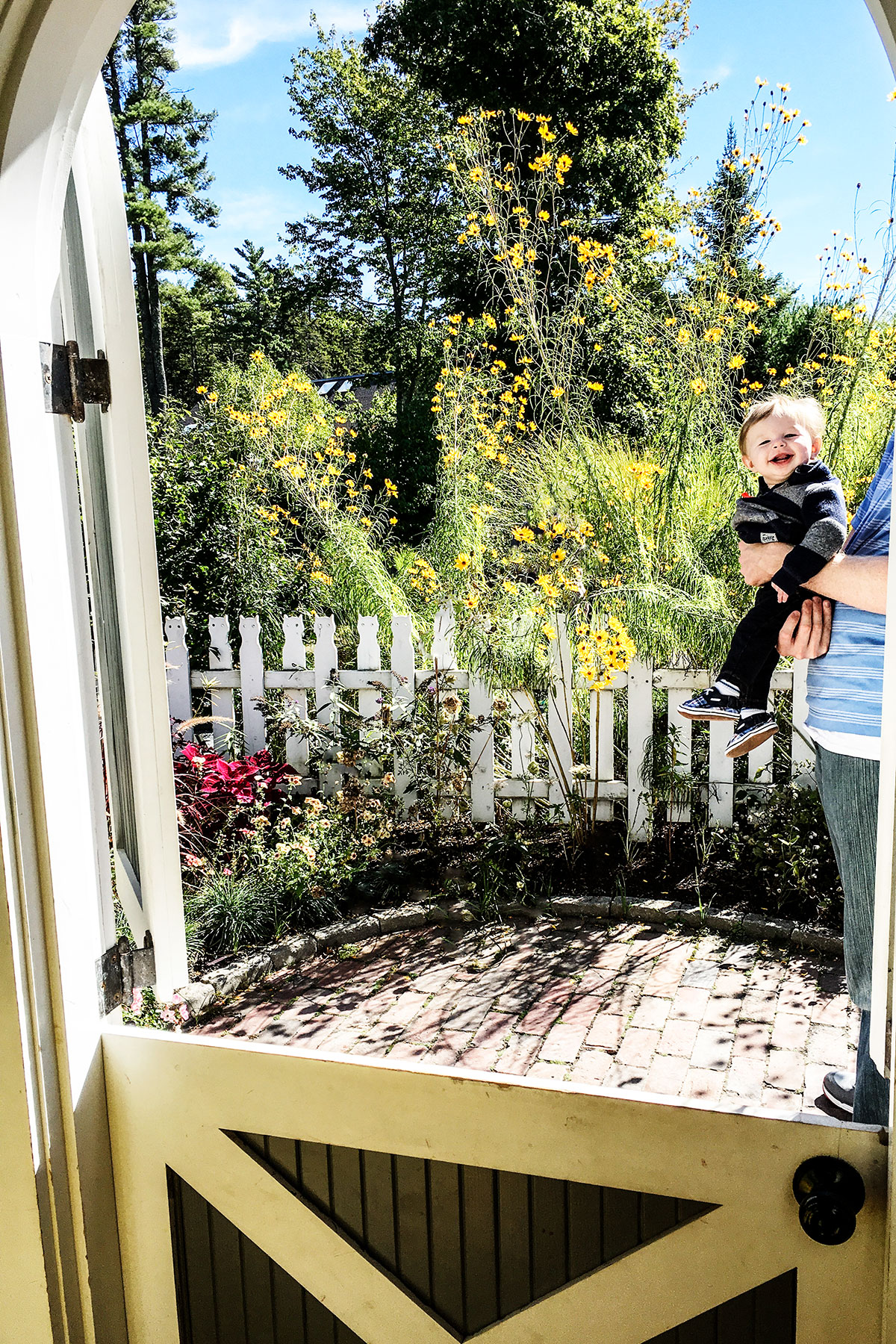 It's so funny. While I was pregnant with Tru, I worked so hard to come up with all the important things I'd need to teach him. I made Amazon shopping lists of children's books. I read about activities and games to help develop a baby's brain. I researched the best enrichment toys. Then Tru was born and I quickly learned I shouldn't have worked so hard.
Trevor would be teaching me.
One lesson Tru has taught me well: how much magic there is in the unplanned moments.
To explain, let's see if I can take you to our first evening in Boothbay Harbor, Maine:
Chris and I are sitting on our hotel room's white-washed cedar porch, gazing at the most serene ocean I could imagine. The day is clear, but the mid-September breeze is chilly. I hold Trevor tighter and pull my sweatshirt hood over my windblown hair.
It's our first weekend getaway since Trevor was born last February. Our days have been a blur of sleepless nights, piles of laundry, and endless strolls down the aisles of Babies 'R' Us. But now we're sitting in complete calm, gazing out over a wide expanse of gentle waves.
I'm awed as the tranquil blue sky suddenly explodes into a vivid show-off of pinks and oranges. Pre-baby – with actual time on my hands! – I would have checked weather forecasts and made schedules to precisely plan a moment like this. But with Tru's endless diapers and feedings and insatiable need to be held, I am pretty much winging this trip.
And I'm learning that's okay. This moment is even better the way it's unfolding now, as a complete surprise.
There's going to be an incredible sunset over the ocean, and the show's happening right beyond our front porch…
Boothbay Harbor, Maine was our first real "vacation" since Trevor was born. We chose it because it's a beautiful coastal town that's only a two-hour drive from our home.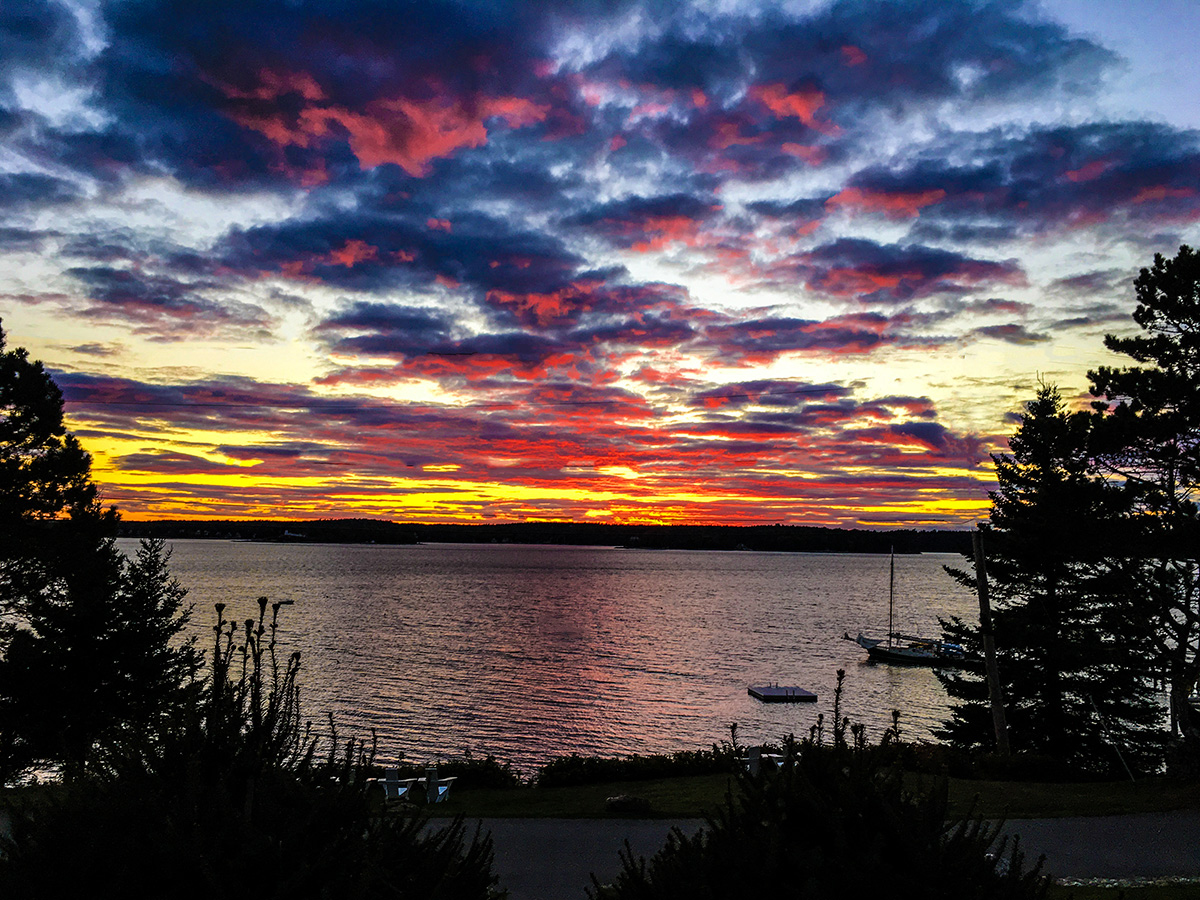 And because everything happens at a calmer, quieter pace in Maine. With the crazy chaos of the newborn phase finally behind us, that was definitely what we were seeking on this vacation!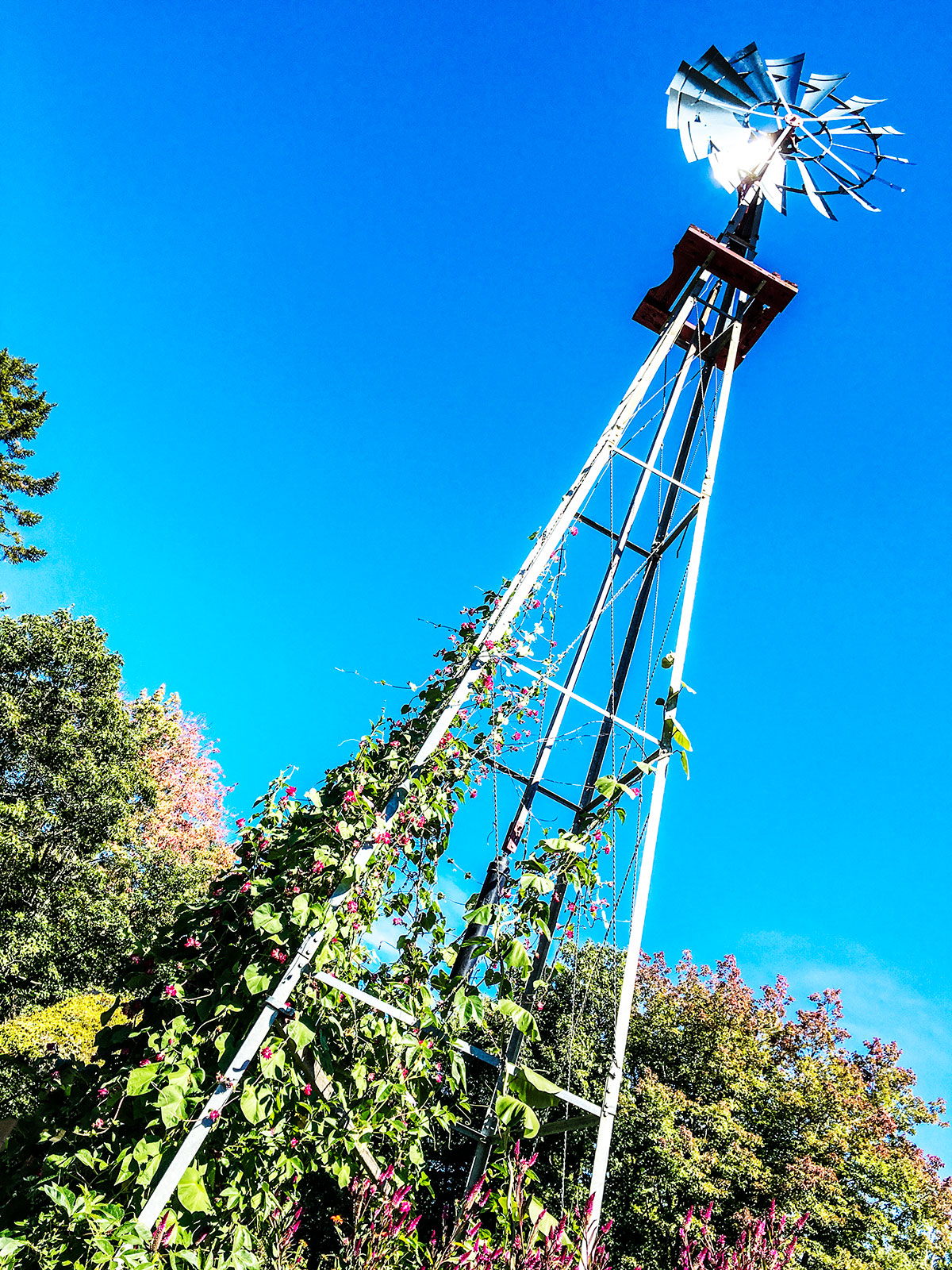 Our Favorite Things To Do During Our Family Trip to Boothbay Harbor:
1.) Visiting Coastal Maine Botanical Garden
Chris and I had our wedding reception at this botanical garden the first year it opened, and we were stunned at how much it has grown since then.
There are so many different-themed gardens, you could spend all day here. There's a garden that involves all of your five senses, a rose garden, a huge rhododendron garden and a waterfall.
There's also a nature trail that leads to a meditation garden and on toward the waterfront. Chris and I had photos taken on this very path on our wedding day.
It was sweet and meaningful to be back at the same spot taking snapshots, this time with our baby!
There's a large children's garden filled with bright and colorful flowers, wooden bench swings, and miniature cottages.
There was so much to look at, Trevor loved exploring here!
2.) Cruising Boothbay Harbor
The serene, calm, endless blue ocean is (of course!) the main attraction in Boothbay Harbor. And we found that there were several options for sailing, boat tours and harbor cruises. A few Boothbay companies offer whale watches, which I felt was just too extreme for Tru.
But they also offer 1-hour cruises that tour the harbor and offer sightings of lighthouses, seals, and bald eagles.
3.) Viewing the Sunset
As I already mentioned, our favorite surprise about Boothbay was the vividly bright sunset over the calm blue ocean.
Two places where we saw the sunset were The Lobster Dock restaurant and Spruce Point Inn (a hotel with a few restaurants). I've included descriptions about both below.
4.) Exploring Downtown
Boothbay's quaint little coastal town had everything we could have dreamed up for an oceanside destination! There were plenty of seafood restaurants, lots of souvenir stores, candy and popcorn stores, and a beautifully themed old-fashioned ice cream shop.
With Tru in his baby carrier, Chris and I had the chance to check out the many art galleries, pottery shops, and home decor stores. All with friendly owners, featuring work from local artists.
Where We Stayed in Boothbay Harbor:
Spruce Point Inn
We had such a great time at the Spruce Point Inn, and it's very family friendly.
With single-story "lodges," fire pits for roasting s'mores, and lawn games scattered throughout the property, it reminded us of a very lavish and elegant summer camp.
But the incredible, sweeping views of the water (and the ocean sunsets!) were definitely the main attraction here.
We stayed at "The Lodges" with an "Oceanview" room. Our room was recently renovated with a vaulted ceiling. It felt very open, light and airy. There was a spacious separate living room area, complete with gas fireplace.
And the bathroom was new and spacious, with a jetted soaking tub. (Inflatable duck not included with the room, unfortunately!)
Our flower-box-filled front porch offered stunning views of the water. We spent a lot of time just relaxing here, enjoying the ocean view.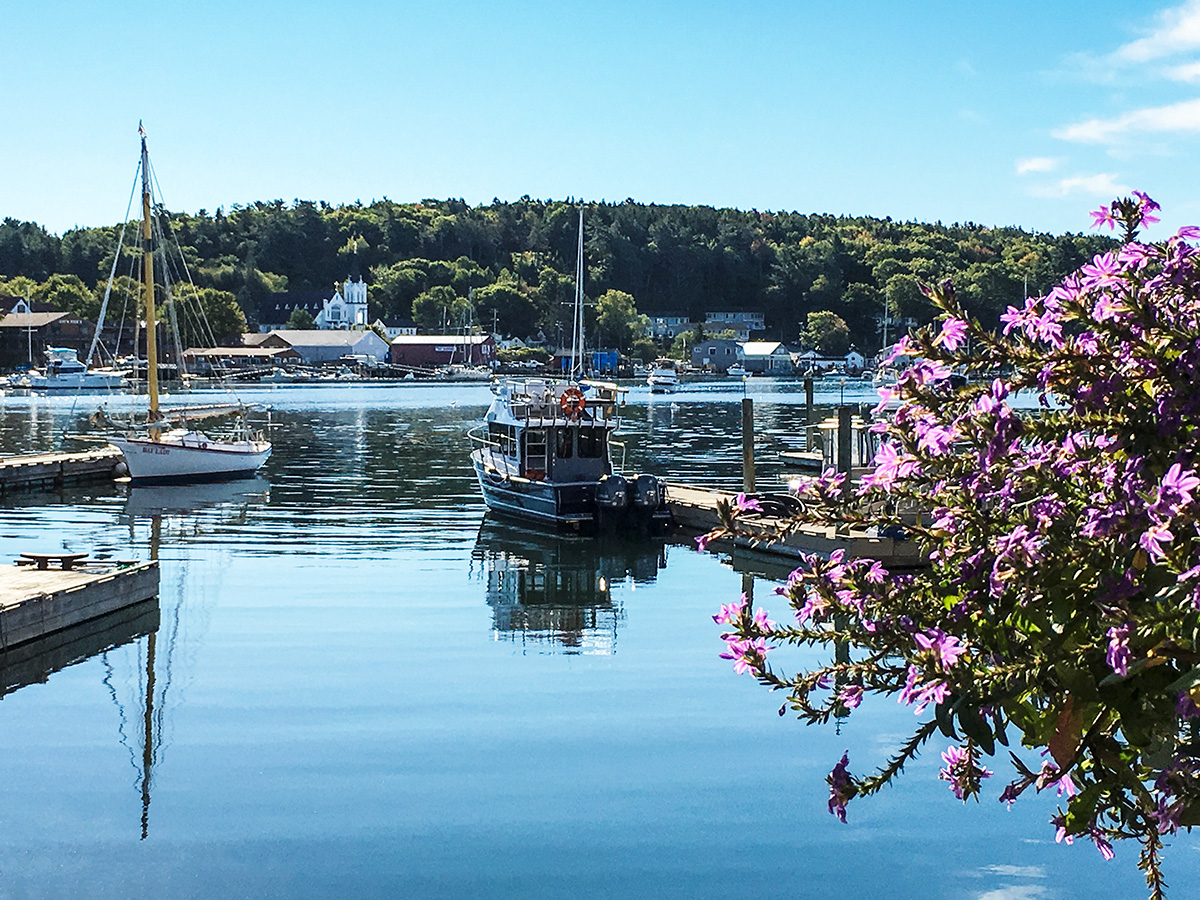 Our Favorite Places to Eat in Boothbay Harbor:
Blue Moon Cafe
We loved our breakfast at this (very tiny!) cafe. Since Tru is our built-in, daily 6:30 am wake-up call, we showed up to this restaurant early. I guess that was lucky. A "regular" at the cafe started chatting with us and told us the place is mobbed later in the morning. We grabbed a table on the deck outside, which offered spectacular views of the harbor. And the blueberry pancakes were sweet, tart, buttery, fluffy, rich and absolutely wonderful.
The Lobster Dock
This was a super casual seafood place where we ordered our food at a window and cleared our own table after eating. But the view is amazing! We grabbed a picnic table overlooking the sun-drenched harbor. Our favorites on the menu were the thick and creamy clam chowder, the tender and sweet lobster stew, and the crispy fried artichokes. This was another spot (aside from The Spruce Point Inn) where we were able to catch an incredible sunset.
Ports of Italy
This casual fine dining Italian restaurant was a delicious fix when we'd had our fill of seafood! The owner grew up in Italy and worked in restaurants there, and it showed. The bread and pasta dishes were fresh, homemade and so tasty.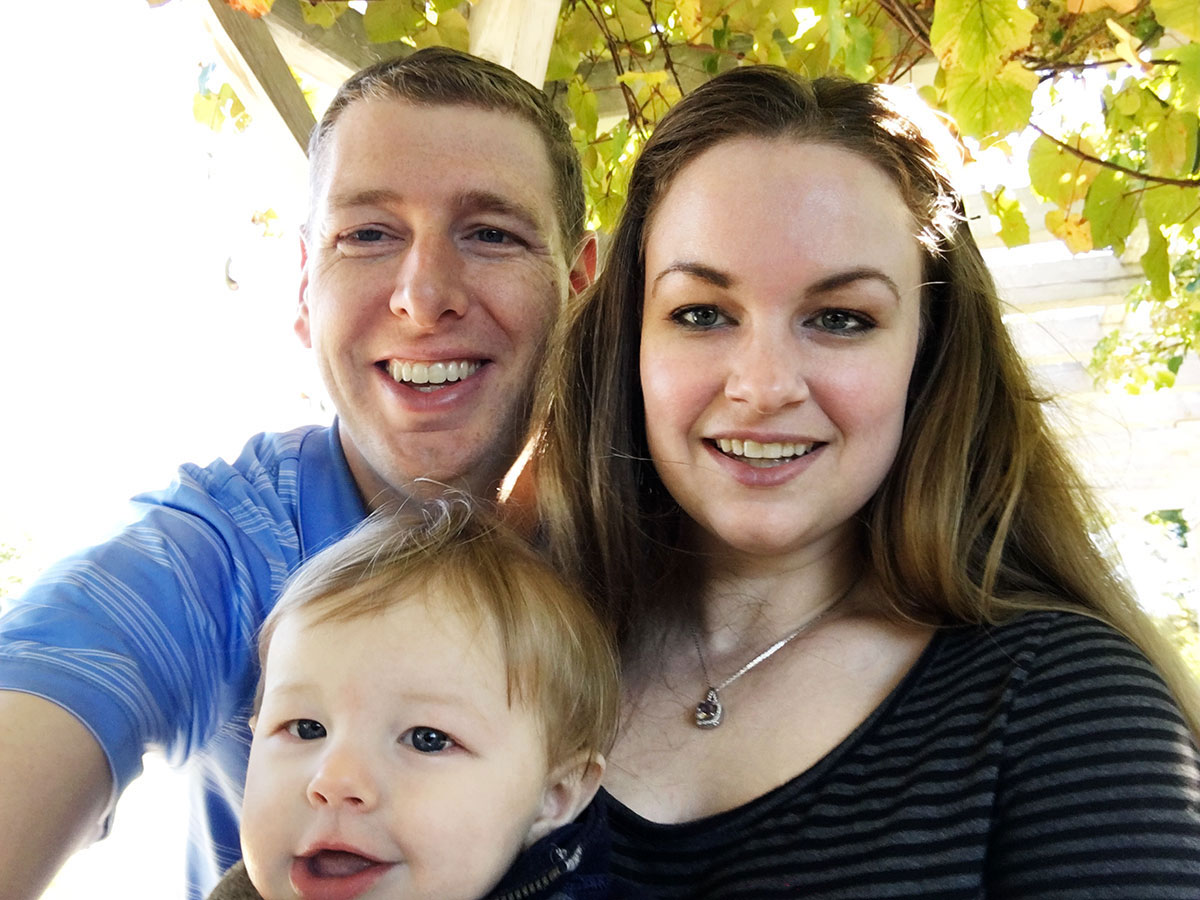 Kitchen Garden Cafe
This cafe is located in the visitor's center at the Coastal Maine Botanical Gardens. Trevor was getting really fussy after wandering through the gardens, so we stopped here for a lunch break before trying to wrestle him back into the car. I was tired and completely distracted from trying to quiet Trevor, and wasn't expecting much from this quick stop for food. But then my hummus sandwich arrived and I started paying attention! Everything (the sandwich, the soup, Chris's sandwich, which I also had to sample!) was so delicious, fresh, and full of flavor. We found out that most of the herbs and veggies served here come directly from the Botanical Gardens and that they frequently change the menu according to what's in season. You can taste the freshness, and the food totally surprised us as some of the best we had in Boothbay!
For More on Maine Travel, Check Out:
Pin on Pinterest:

SaveSave
SaveSave
SaveSave
SaveSave
SaveSave