Michigan was a whirlwind.
A busy mash-up of activities.
A random hodgepodge of sites.
But looking back on it all, I loved every part of it…
The Reason We Chose Michigan for Trip #5
I'm going to go ahead and guess that Michigan is not necessarily a top destination on most travel bucket lists.
I'll be honest: it wasn't on mine.
But Chris was born and raised in Michigan and has lots of family there.
And we planned this latest trip to Michigan because Chris's cousin was getting married. It would be Trevor's first time attending a wedding!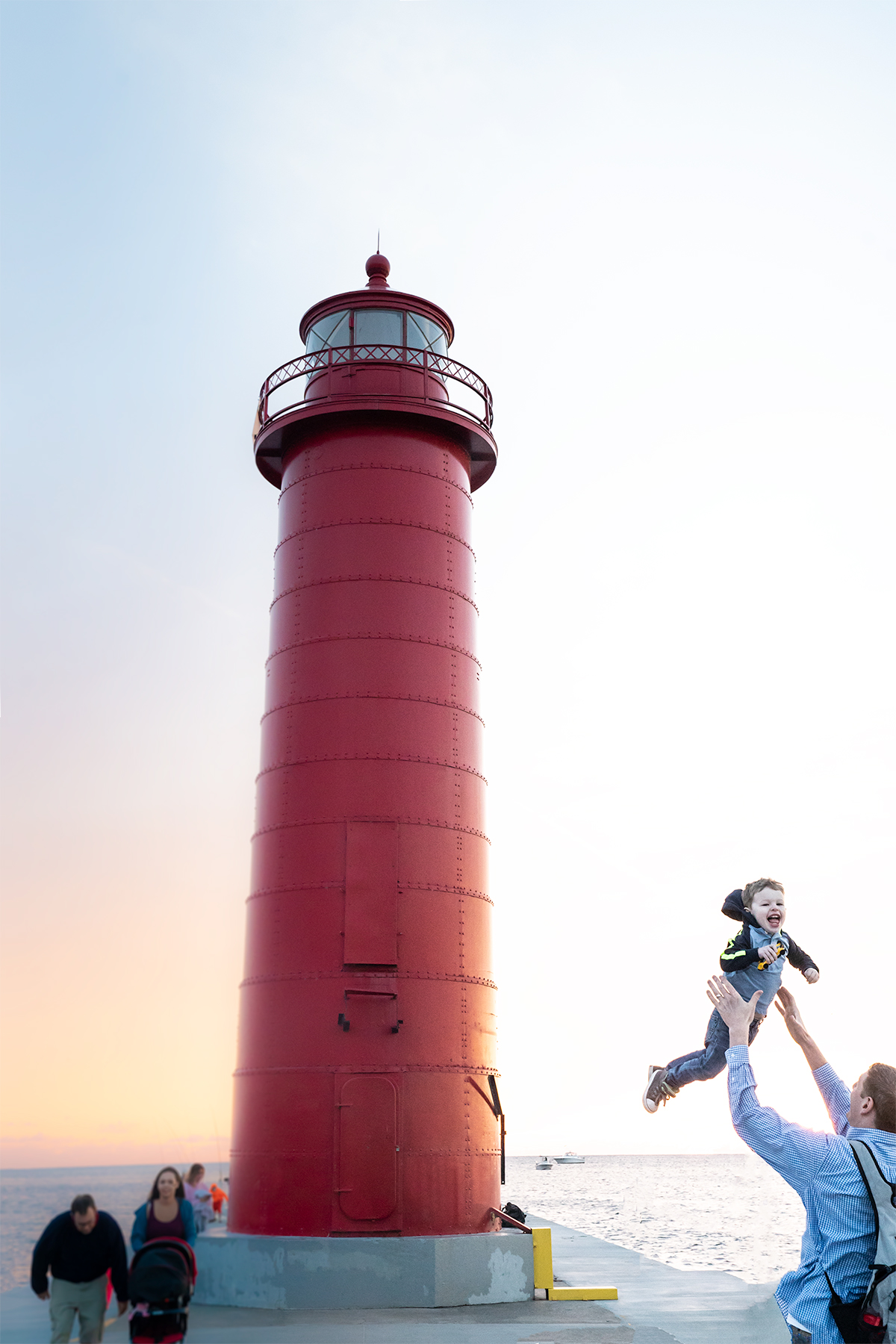 What was different about this particular trip to Michigan: we're now doing a family travel journal!
So Chris and I really went out of our way this year to explore several sites near the wedding location.
What we found: Michigan is a stunning state full of natural beauty and fascinating sites to explore.
Those "Pure Michigan" commercials aren't lying.
Michigan really is that incredible of a destination.
Here's What We Loved The Most:
The Henry Ford Museum, Dearborn, Michigan
We spent our first night in Michigan in a hotel not far from Detroit.
So we had the chance to check out The Henry Ford Museum, which is located about 15 minutes outside of Detroit in Dearborn.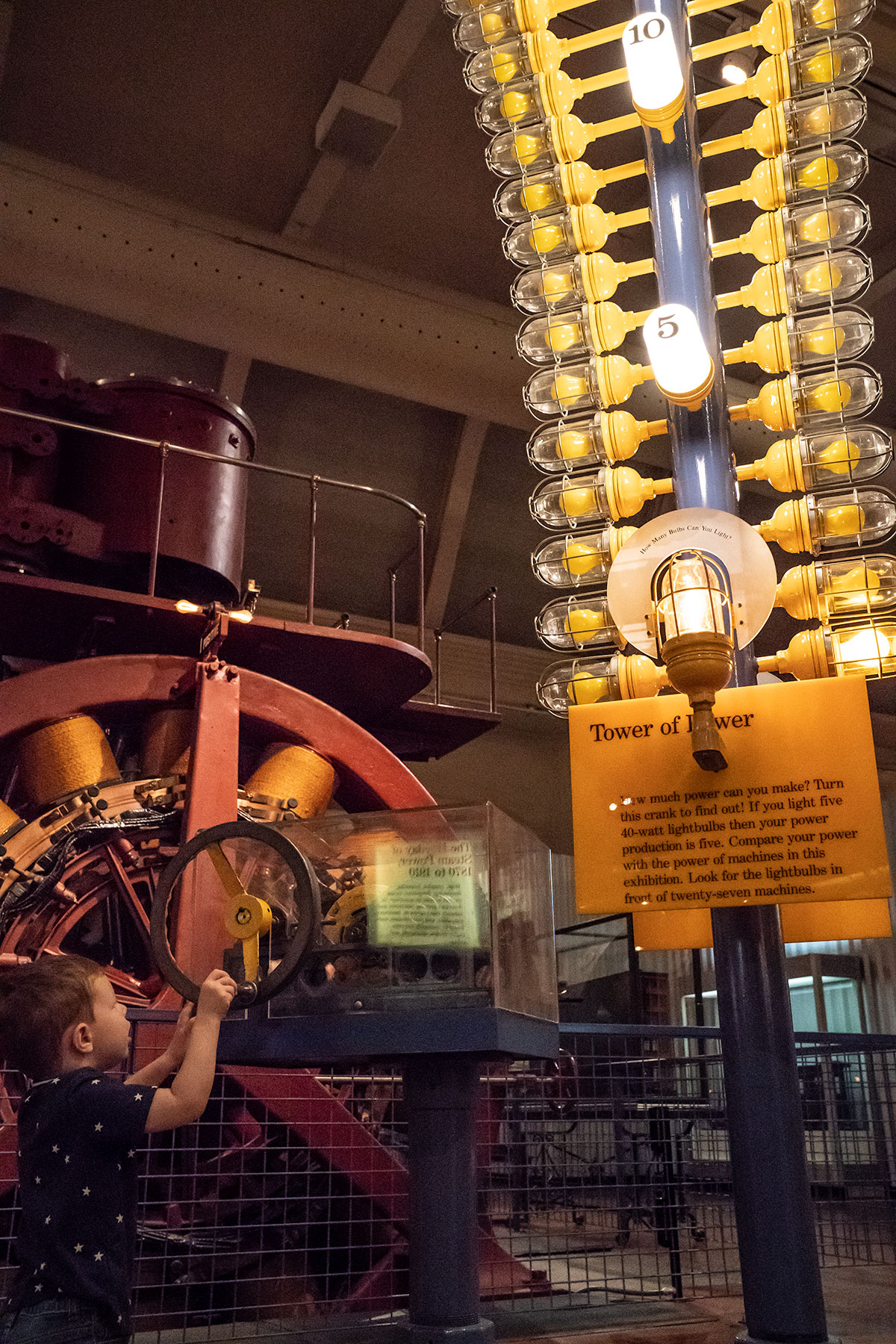 I love this museum, which is spacious and beautiful and really unique.
The museum holds a lot of American memorabilia from the 1800's and 1900's, all of it fascinating to explore.
There's a crazy, space-age-looking, circular, stainless steel house – fully furnished – that visitors can walk through. It's an authentic prototype house that was dreamed up and built in the 1950's.
We also saw a vintage, fully functioning 1950's diner. Visitors can enter, take a seat, and order burgers and fries for lunch.
But really, The Henry Ford Museum was Trevor's dream.
Because it contained every kind of vehicle you can imagine.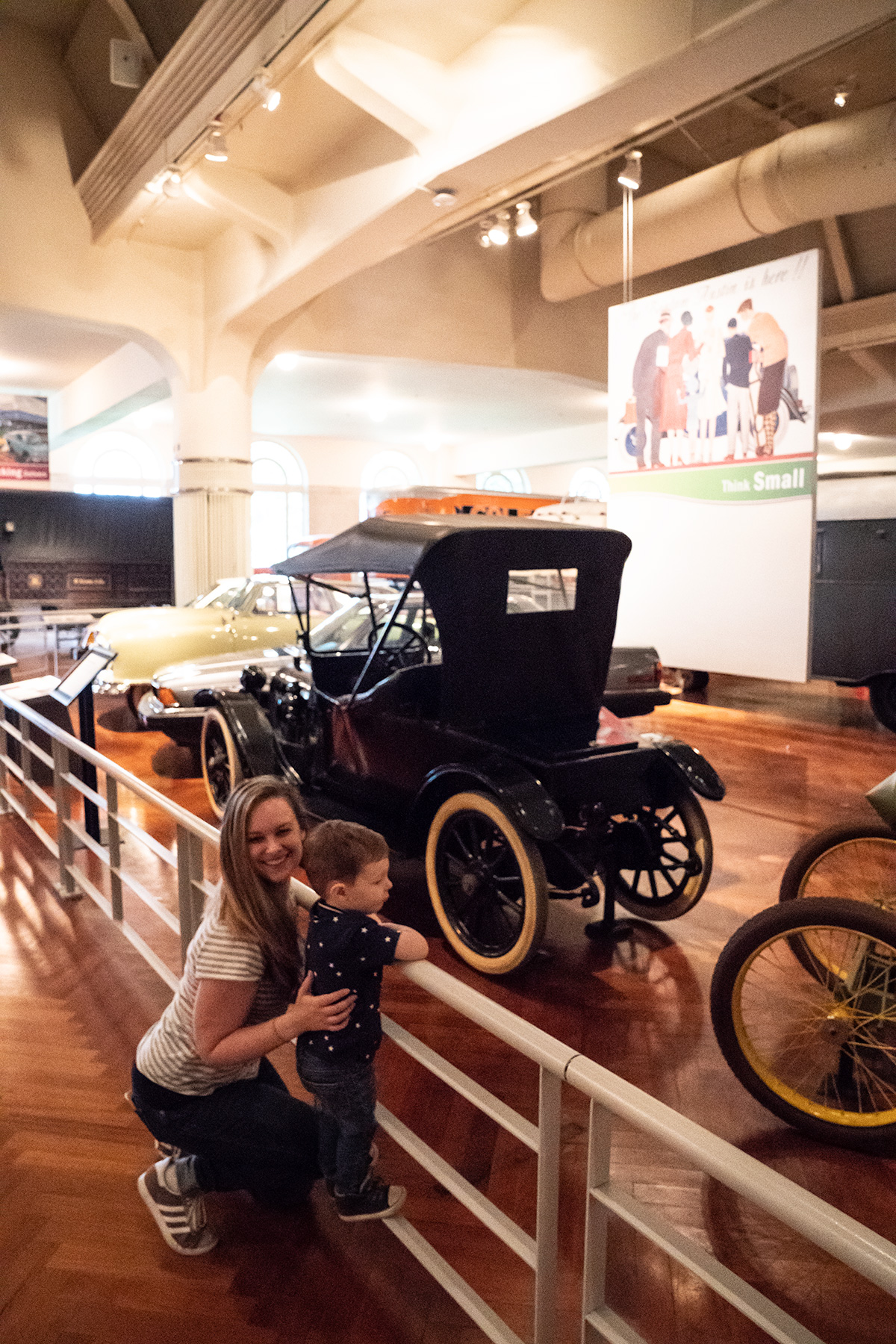 Vintage race cars and model-Ts and presidential limousines.
Massive steam engines.
Planes suspended from the ceilings.
An original Oscar Meyer Wienermobile.
There was a really intricate, electric model train set up in one corner of the museum. Once Trevor caught site of that, he was hooked. We couldn't tear him away.
After spending at least 20 minutes watching the trains run over the bridges and through the model towns, he still had a massive melt-down when we told him we had to leave and get some lunch. I think he would have happily spent two full hours watching those trains.
Grand Haven State Park, Grand Haven, Michigan
I was blown away by the beaches at Grand Haven, so I wrote a separate post completely dedicated to this stunning site:
Traveling to Michigan? Here's The One Spot You Can't Miss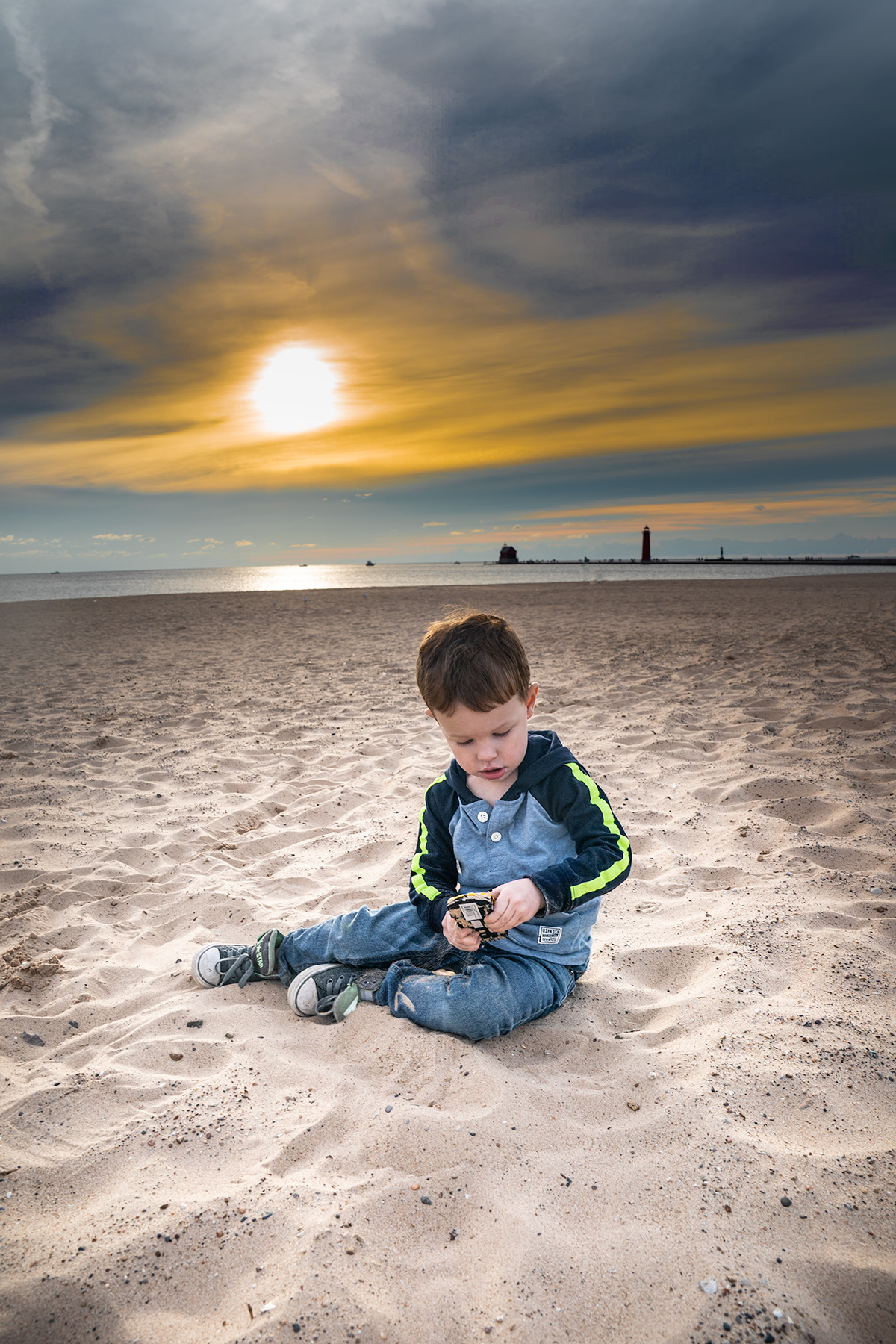 Here's what I loved most about our time at Grand Haven State Park:
1) Laughing and playing with Trevor on the cool, soft, white sand beaches. And teaching him how to make sand angels. He later crawled into the hotel bed and left a significant pile of that Grand Haven sand on the hotel sheets…
2.) Discovering that Lake Michigan truly is enormous and looks as endless as an ocean from every angle.
3.) Eating a picnic dinner on the beach from the tastiest nearby gastropub called The Paisley Pig.
It was a little chilly and windy on the beach that evening, so our burgers and fries were a little gritty from the sand…
4.) Walking the Grand Haven Pier out to the red lighthouse, and seeing the most expansive sunset with the most vividly bright hues.
The colors were swirling in every direction – 360 degrees! And they were below us too, reflecting off of the lake.
Holland, Michigan
The wedding was located near the town of Holland, so we stayed in a hotel in the downtown district.
I loved this picturesque town so much, I hope we can explore it more next time we visit Michigan. I found out that Holland does a tulip festival every May, so that's on our bucket list for next year…
Holland has the most charming downtown shopping district, with gorgeous brick buildings, cobblestone sidewalks, and flower boxes and planters everywhere.
There are lots of one-of-a-kind, beautiful shops and restaurants.
For instance, Michigan is known for its cherries. There was a large shop devoted to every kind of cherry-flavored food imaginable, from chocolate-covered cherries, to cherry salsa, to a cherry scone baking mix.
We found the cutest children's clothing shop along the way.
I love browsing in local shops and randomly finding little tops for Trevor as souvenirs from our travels.
In Holland, I bought Trevor a dress shirt to wear to his first wedding: a blue button-down (and he's been 100 percent on board to wear this shirt because of the red cars all over it!)
The Tough Parts of Our Trip To Michigan
In terms of travel struggles, the first thing that comes to my mind: the sleeping situation.
In our first hotel in Detroit, it sounded like the people in the hotel room above ours were literally moving furniture until at least midnight.
I'm not sure if they were having a party?? Or if it was kids running around way too late?? Or – it was a dog-friendly hotel – maybe it was dogs playing while the owners were out??
Whatever it was, I had plenty of time to guess, as I tossed and turned…
Next, when we moved to the Holland hotel, our room was located directly above a sports bar with lots of outdoor seating and big-screen TVs everywhere.
So we heard constant noise from the crowds and the TVs. It lasted well into the early morning hours.
Needless to say, I didn't really sleep during our visit to Michigan.
One other surprising, completely out-of-character mishap: Chris lost something!
This is a shocker if you know Chris.
He's the logistics person in our family. I'll give Chris an idea for a travel destination, and he'll go right to work, figuring out the best times to fly, the easiest routes to drive, and the hotels we can best afford in each location. He's super organized and rarely misplaces anything.
In Michigan, though, he lost our Kindle.
This was actually kind of a disaster because the Kindle is the number one most priceless item we own in terms of keeping Tru quiet and content on flights and long drives. And in restaurants. And when we're unpacking in a hotel…
When we realized the Kindle was missing, Chris retraced his memories of when he was last holding the Kindle. He was pretty sure he'd left it in the hotel parking lot.
We searched high and low through that parking lot.
We looked through every nook and cranny in the rental van.
We asked if we could re-enter the hotel room (we'd already checked out for the day), and we searched there too.
No Kindle.
Looking back on it now, Chris thinks he might have rested the Kindle on top of a tall hedge next to our rental car when he was putting Tru into his car seat.
He thinks maybe it fell into the hedge where we couldn't see it. Tru was putting up a big fuss at the time, so it's completely possible Chris got distracted and forgot he left it there.
We'll never know.
In the end though, we were really lucky. We happened to be visiting family on this particular trip, and Chris's grandmother had a Kindle she said she literally never used. So she gave it to Tru.
We cancelled our account on the lost Kindle and set up our account on the new one that was gifted to us. And we were completely saved for all of the long drives and flights ahead..
The Best Part of Our Trip to Michigan
Aside from our time on the beach in Grand Haven, one of my favorite parts of our trip to Michigan was a rare treat:
Since we were visiting family, we had babysitters for this trip! What a bonus!
So Chris and I went out and wandered around downtown Holland one evening. We shopped and had dinner, just the two of us.
It was peaceful and stress-free. We rarely get moments for just the two of us during our travels, so we appreciate those opportunities when they pop up!
So random, but another one of my sweetest memories happened during our three-hour drive from Detroit to Holland.
We were all starving for lunch at the mid-way point of our drive, so we pulled off the highway to stop at a McDonald's for some food and a quick break.
When we placed our order, Trevor caught sight of the chocolate chip cookies displayed near the register. Tru has a sweet tooth like I've never seen (he tries to eat sugar by the spoonful when we make muffins). So he was begging for a "too-tee."
We ordered a cookie for each of us.
At the end of our meal, Trevor curled up in my lap and ate every bite of that chocolate chip cookie. The cookies were warm, and the chocolate chips were gooey.
It's a funny thing I've learned on our travels so far.
It doesn't matter at all where we are on a map. Those fleeting moments when Tru is perfectly happy and content and cuddled tight in my arms – they are some of the best moments of my life.
For More On Michigan Travel, Check Out:
Traveling to Michigan? Here's The One Spot You Can't Miss
For More Travel Confessions, Check Out:
Trip #1: Travel Confessions From Bermuda
Trip #2: Travel Confessions from Nashville
Trip #3: Travel Confessions From Atlanta