Nashville. This was not a city Chris or I had ever thought to explore. But now that we've been, we can't imagine going through life never seeing it!
There is such a creative, soulful energy to Nashville. And it's definitely unlike anything we've seen anywhere.
From the old Ryman Auditorium where so many legends performed, to the incredible live shows of the Grand Ole Opry, to the Country Music Hall of Fame, there is such a celebration of the creative talents of the countless musicians who got their start here.
And it's not just about history. That celebration is alive and well today…
Walk down the streets of Broadway, and you'll hear the melodies of live country music bands floating from nearly every dive bar and barbecue restaurant along the way.
Everywhere, there's a small stage and another artist in love with country music and dreaming of launching their own music careers here.
How We Ended Up In Nashville
The reason we ended up in Nashville was because Chris was offered the opportunity to attend a three-day work conference there. Since we'd never been and we both thought Nashville might be interesting to explore, Chris decided to sign up for the conference. This meant that the dates, location, and hotel accommodations were decided for us.
The conference also meant that Chris would be working for the morning and early afternoon for those three days. And, while he was working, I'd be alone with a two-year-old in a completely new and unfamiliar city.
But we're committed to a year of travel, so we knew we had to take this opportunity when it came up!
Traveling to Nashville With a Two-Year-Old: Here's What That Was Like
I guess if I needed to use only one word to sum up travel with a toddler, it would be: "tiring!"
After getting through a flight to Nashville, picking up our luggage and navigating our way to our rental car, we finally arrived at the hotel chosen for Chris' conference, the Gaylord Opryland Resort.
The resort was truly a fascinating place.
Imagine soaring glass ceilings surrounding an indoor garden paradise of towering palms, vivid flowers, lakes filled with colorful fish, and cascading waterfall. Plus, a country singer with a guitar performing live at an open-air restaurant in the middle of it all. Personally, I would have loved to just wander around, taking it all in quietly and snapping some photos.
Obviously, Trevor had other plans. He caught sight of something that totally captivated him too. Unfortunately, it had nothing to do with gardens or waterfalls. He zeroed in immediately on the escalator just beyond the lobby. Escalators, which he calls "moving stairs," are the current love of his life. We spent the next twenty minutes – while Chris waited in line to check into the hotel – riding the escalator up and down and up and down again.
When Chris finally got the key, I was so ready to head to our room, weary from a day of dealing with the hassles of airports and flying. But even after twenty minutes on that escalator, Trevor wasn't going to leave it without a fight. Which means melting to the floor and refusing to move, all while crying and screaming. We dealt with the same melt-downs each time we had to encounter that escalator for the next 24 hours.
Luckily, Chris has the best navigational skills. I honestly don't think I'd travel nearly as much without Chris and this talent of his, which saved us numerous times, every single time we travel. The resort was massive and sprawling, with over 2,000 guest rooms, but Chris figured out a route with a side entrance where we could avoid escalators altogether.
I'd take Trevor to this side entrance and wait with him, while Chris went through the main entrance to pick up or drop off the car. I feel like that story sums up our experience of traveling with a toddler: you have to be resourceful and willing to roll with the punches, or you will surely give up altogether!
The other thing Chris and I have learned about traveling with a toddler: you have to strike a balance between seeing sites that are interesting to you, while also devoting a good portion of the day to kids' activities.
For example, we were going to skip the Grand Ole Opry because we didn't think Trevor would sit quietly through a show. But we both like country music and we didn't know when we'd ever get to Nashville again.
And when we learned both Carrie Underwood and Darius Rucker would be performing on one of the nights we were there, we knew we had to at least try to see the show.
So here was our game plan: we saw a restaurant near our hotel that we thought Trevor might love, the Rainforest Cafe. We were right about this one! He loved wandering through the restaurant, checking out the animatronic animals. He was especially fascinated with the huge, colorful butterflies suspended from the walls. Before we left, we let him pick out a toy from the gift shop (he chose a cheetah riding a motorcycle).
That was his portion of the night.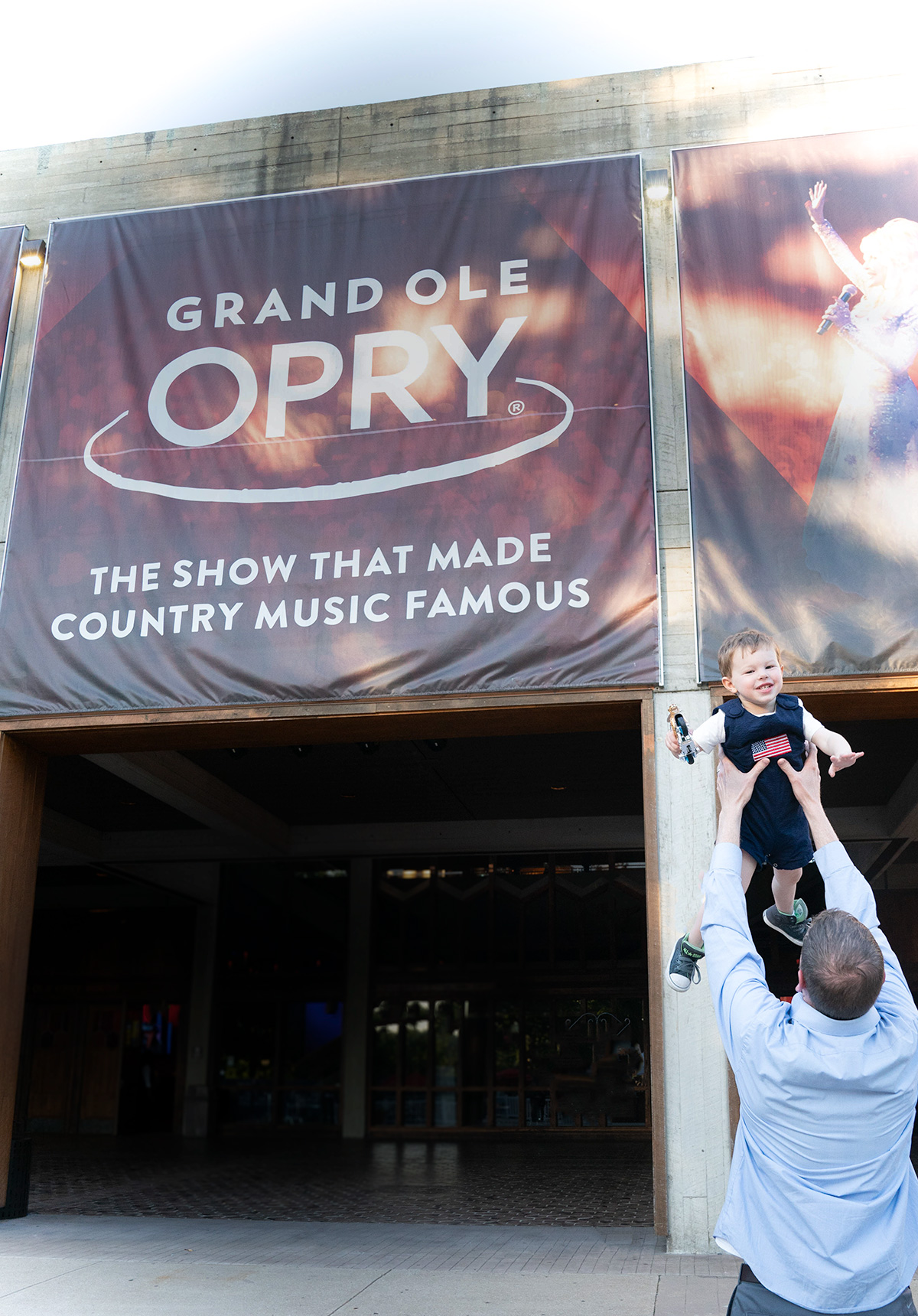 Then we headed to the Grand Ole Opry to try our luck doing something both Chris and I really wanted to see. The Grand Ole Opry is a variety-style show, so there were six performers on the night we went, each performing three songs.
After we sat down and Tru became very squirmy, Chris came up with a plan. During the acts where we didn't know the performers, Chris took Trevor into the lobby to run around and climb the stairs. The lobby was empty so Trevor could run free, and Chris could still hear the music. Then he'd return with Tru to see the acts he wanted to see, and Trevor was willing to sit quietly for a few songs.
And that's how a little inventiveness got us through a full night at the Grand Ole Opry with a toddler in tow!
The show, by the way, was amazing, and the highlight of our trip to Nashville. So we're really glad we went for it!
How Trevor Grew and Changed On This Trip
At this stage, Trevor wants to do everything for himself. He doesn't want my help putting on his shoes or taking them off. He wiggles away when I try to hold his hand. Even on stairs now, he mostly walks up and down them himself by holding onto the rail.
And battles occur whenever I ask him to do anything: he fights taking off his pajamas in the morning and he fights putting them on at night. He fights getting into the shower, and then he refuses to get out. I think if we did everything on Trevor's timetable, there wouldn't be tantrums. The problem, though, is that he might not be ready to change out of his pajamas until noon and he might not be ready to get out of the shower after 30 minutes!
Trevor's biggest transformation is with his language skills. He's really starting to speak more clearly. Where he used to say, "dee-dee" for Mickey Mouse, for example, he now really says, "Mickey Mouse."
He's still having trouble with some sounds, which leads to the cutest inventions of new words. He says, "milt" for "milk" and he calls his "Grampy" "tee-pee."
He's also developing some manners, which is adorable. He often says, "dank do!" (thank you) when we help him with something. And he'll give me one of his toys and say "Mama take turn," and then take it back from me and say, "Trevor take turn."
He is still fascinated with vehicles of any kind: trains, buses, trucks, and cars. We pack a few toy cars when he travel and he will play with them in the hotel room and bring them into his crib for naps and bedtime. It always cracks me up that he likes to sleep with cars instead of stuffed animals! But he is starting to request to be covered with blankets before going to sleep. He'll say "tuck Trevor in." And then he'll roll right out of the blanket a minute later. It's very cute.
He's also reached a point where he can really follow a complete tv show and sit quietly to take it all in for a full hour. If we're ever in a restaurant or other quiet place and Tru is acting up, TV shows on the Kindle usually save us. His current favorites are: Chuggington, Puppy Dog Pals, and Daniel Tiger (and sometimes Mickey Mouse Clubhouse or Muppet Babies).
I also love reading with Trevor because he still curls up in my lap to flip through the pages, and now he's beginning to narrate what he sees. He'll point to different images and say "big red train" or "yellow cement truck."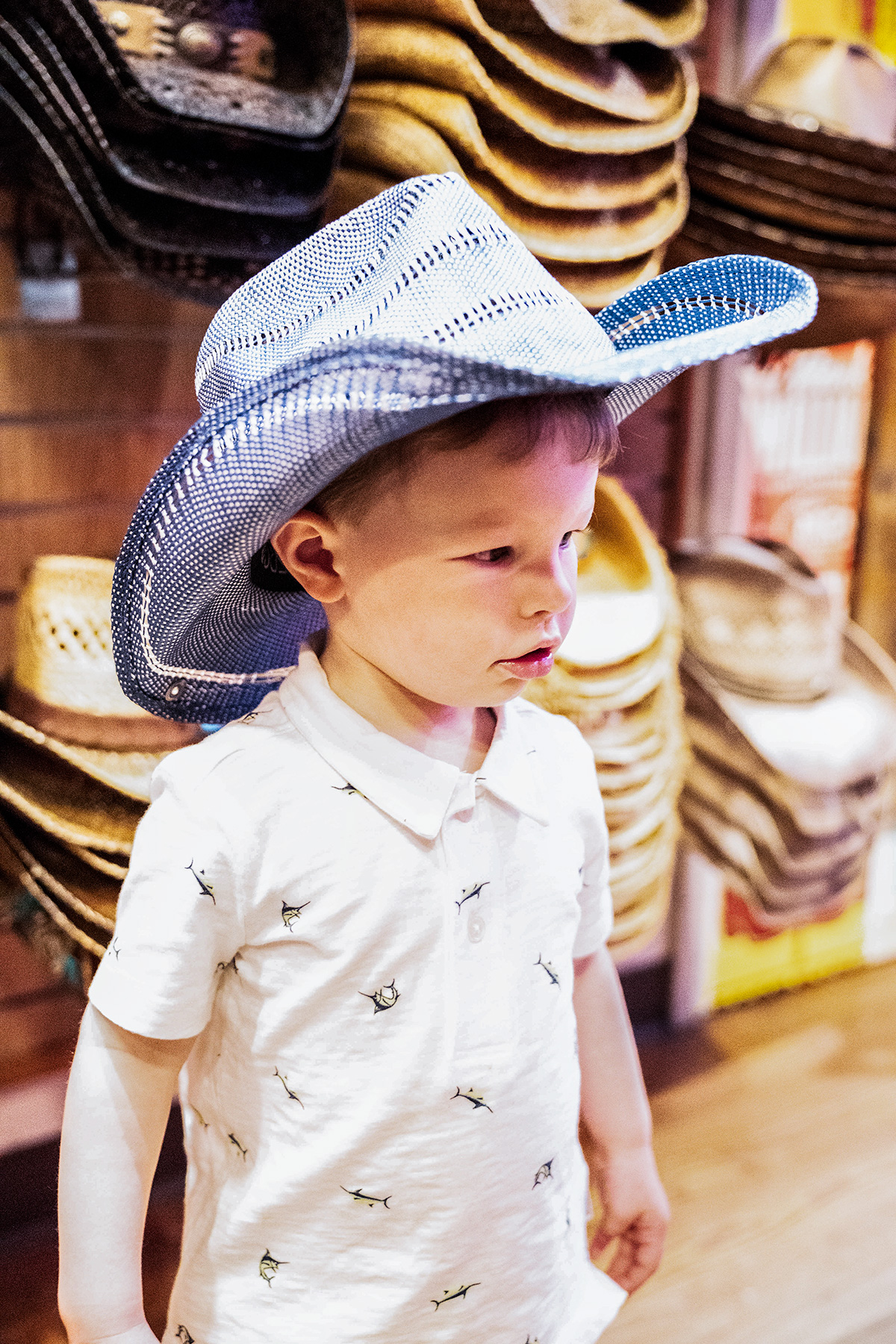 Toddler Challenges On Our Trip to Nashville
Before Trevor was born, I used to try to picture what eating in a restaurant with a young child might be like. I imagined putting a small helping of my own entrée on an appetizer-sized plate and sharing it with my child. I can only laugh at that now!
Trevor refuses any and all foods that I like! So where "eating" used to be one of our favorite things about travel pre-baby, it now tops our list in terms of travel challenges. Tru has so few foods he's willing to eat, and Chris and I can drive ourselves crazy trying to figure out how to get something healthy into him while we travel.
Typically in restaurants he asks only for "chips" or "big fry" (French fries) and that's all he's wiling to eat. Sometimes in restaurants he's willing to eat bread and butter, grilled cheese, or chicken nuggets. What this means is that every day, we spend time searching for local smoothie/juice shops, since Tru loves smoothies and they're his one and only source of fresh produce.
We also still struggle with public tantrums here and there. For example, one night we stopped at a causal restaurant that we were told had the most incredible Southern barbecue.
The place was packed and very noisy, but I managed to find an open table and I sat down with Trevor while Chris stood in line at the counter to order. We sang songs for a minute and then he asked to watch Daniel Tiger on his Kindle. I turned on his show and handed him the Kindle. Trevor started pointing to his ears, getting increasingly more frustrated and whiny.
I had no idea what was wrong. I thought maybe the noise in the restaurant was bothering him and tried to distract him by asking him what was happening in the show. In no time, Trevor was yelling and having a melt-down. In the end, Chris ordered our food to go while Trevor and I waited in the car.
Only when he quieted down in the car did I finally figure out the problem: Trevor wanted his headphones to use with the Kindle. He couldn't hear what was going on in the show over the noise in the restaurant. He just didn't know the word "headphone" so he was getting frustrated. I was kicking myself for not figuring it out in the restaurant, so we might have actually been able to sit down and enjoy our food rather than having it packed to go.
My Favorite Memory From Nashville
Because of Chris' work conference, I knew this would be my first time traveling with Trevor where I'd be alone with him for the majority of the day. Of course, I'm used to it being just the two of us at home, but this would be the first time I'd be doing all of the caretaking alone in an unfamiliar city. I was definitely nervous. Luckily the Gaylord Opryland Resort turned out to be a dream hotel for families with young kids.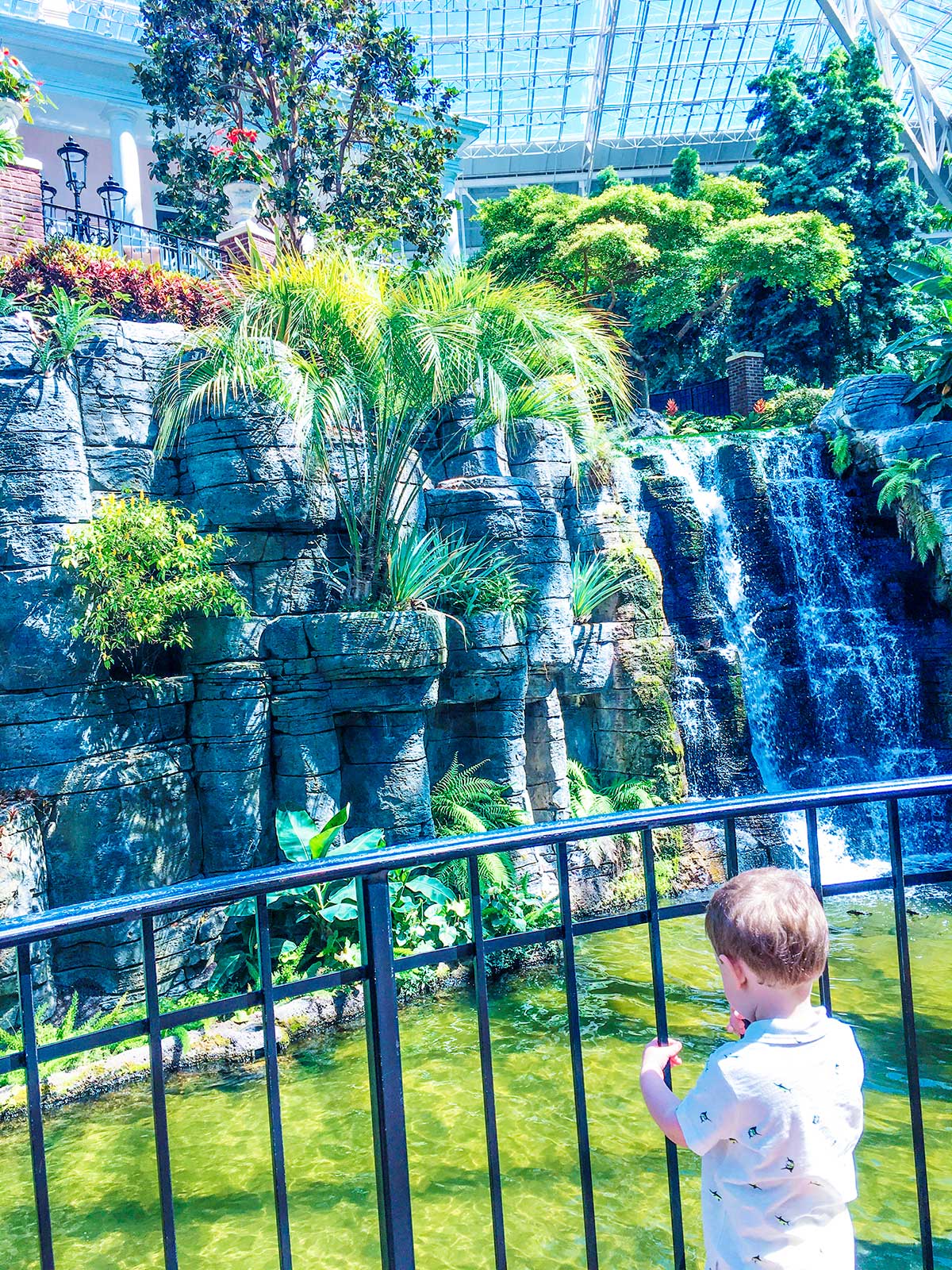 The massive conservatories throughout the resort were perfect for Trevor. He loved wandering through all the pathways, stopping to smell the flowers, jump in the tiny puddles, and toss coins into the fountains.
One of the gardens had a large man-made river and a boat ride. I'll always remember the two of us, side-by-side at the front of the boat, watching the fountains and waterfalls cascade around us. Not only did we survive our first travel adventure as just the two of us, we had fun together!
We all also loved watching the nightly fountain and light show. We could actually view the show from our hotel room.
And one night we sat down and watched it from the lobby garden. The Gaylord Opryland was such a unique and memorable place!
For more on Nashville, check out:
Ultimate Nashville Bucket List for Families: Top 6 Nashville Sites for Families
Traveling to Nashville? Here Are The 5 Most Stunningly Beautiful Spots for Photos