Here's the Maine town with classic New England seacoast charm, natural beauty and colorful fall foliage, and a charming downtown district…
Trevor clutches my hand as we make our way over a jagged rocky coastline.
We're wearing sweaters and scarves to protect us against the chilly October wind.
But Trevor's hand, so tiny and so soft, is comfortingly warm.
Sailboats skim peacefully over the gentle waves.
On the horizon, where the endless ocean becomes sky, the setting sun is lighting up in a show of stunning reds, oranges and yellows.
And yet, the sunset can hardly compete with the gorgeous display of autumn color decorating the trees that line the shore…
This is Kennebunkport, and it's our vote for one of the most charming and stunningly beautiful towns in Maine throughout the colorful fall foliage season.
Here are the top four reasons why we believe Kennebunkport is the ultimate Maine town for an autumn visit:
Reason #1: Beaches and Coastline
Located right on the coast, Kennebunkport has breathtaking beaches.
The coastline seems to stretch for miles, all soft white sands and smooth gray rock.
And, October weather in Southern Maine is normally warm enough that you can still enjoy strolls along the shore (just throw on a sweater and scarf!)
Kennebunkport also has gorgeous golden sunsets over the water that seem to intensify all of the orange and red hues of the foliage.
Plus, Kennebunkport has the most beautiful sailboat-filled harbors.
Fall, in my mind, is the most incredible time to visit the Maine coastline:
Imagine sunlight dancing on bright blue harbor waters.
And trees, lining the shore, popping with reds, oranges, and yellows …
It's breathtaking…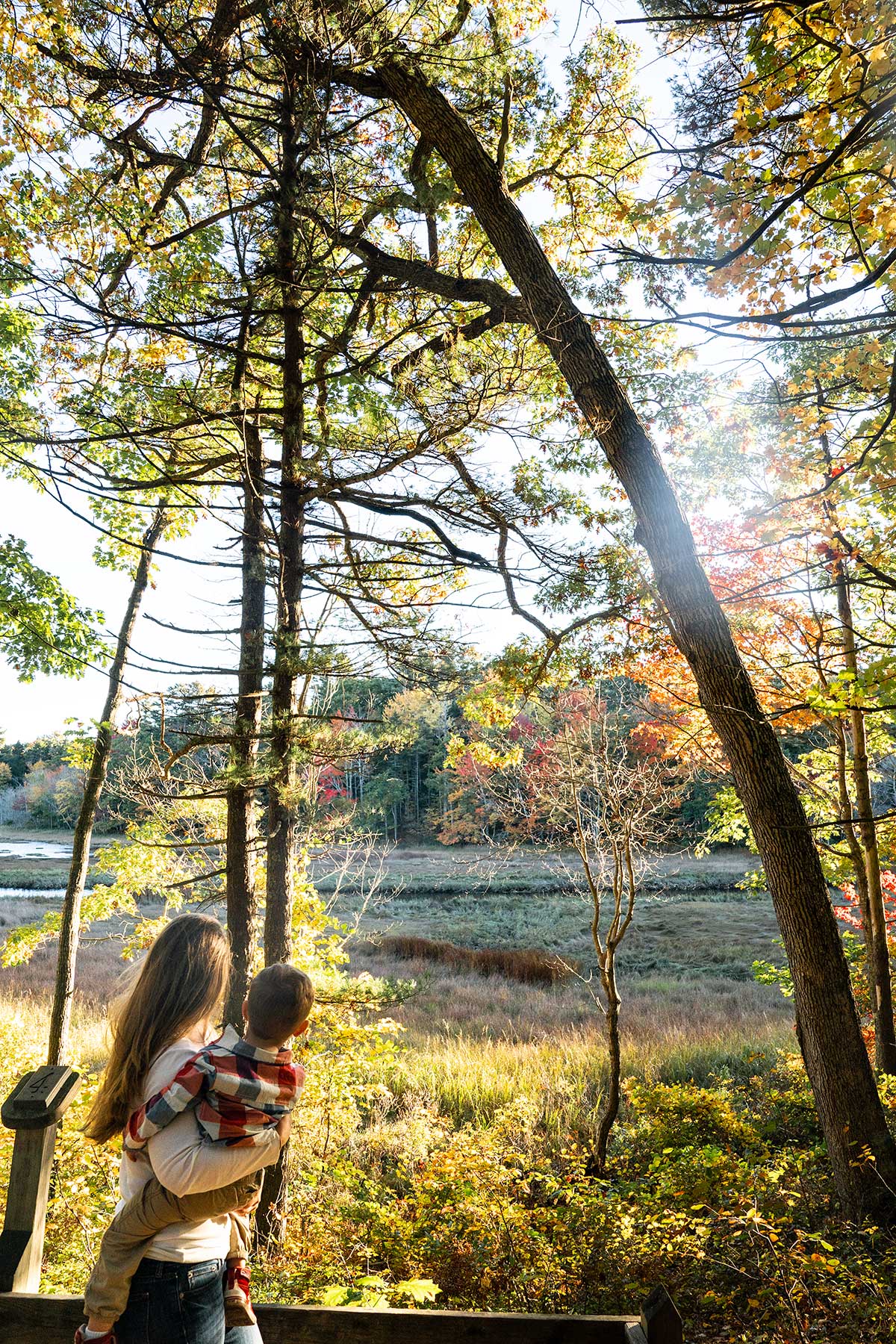 Reason #2: Scenic Autumn Landscapes
The Kennebunkport region also has a couple of gorgeous nature reserves, perfect for taking in the best of the fall foliage in Maine.
The Rachel Carson National Wildlife Refuge and the Wells Reserve at Laudholm are both about a fifteen-minute drive from downtown Kennebunkport.
The tree-line trails, scattered with yellow and red autumn leaves, offer easy and leisurely strolls through the salt marshes.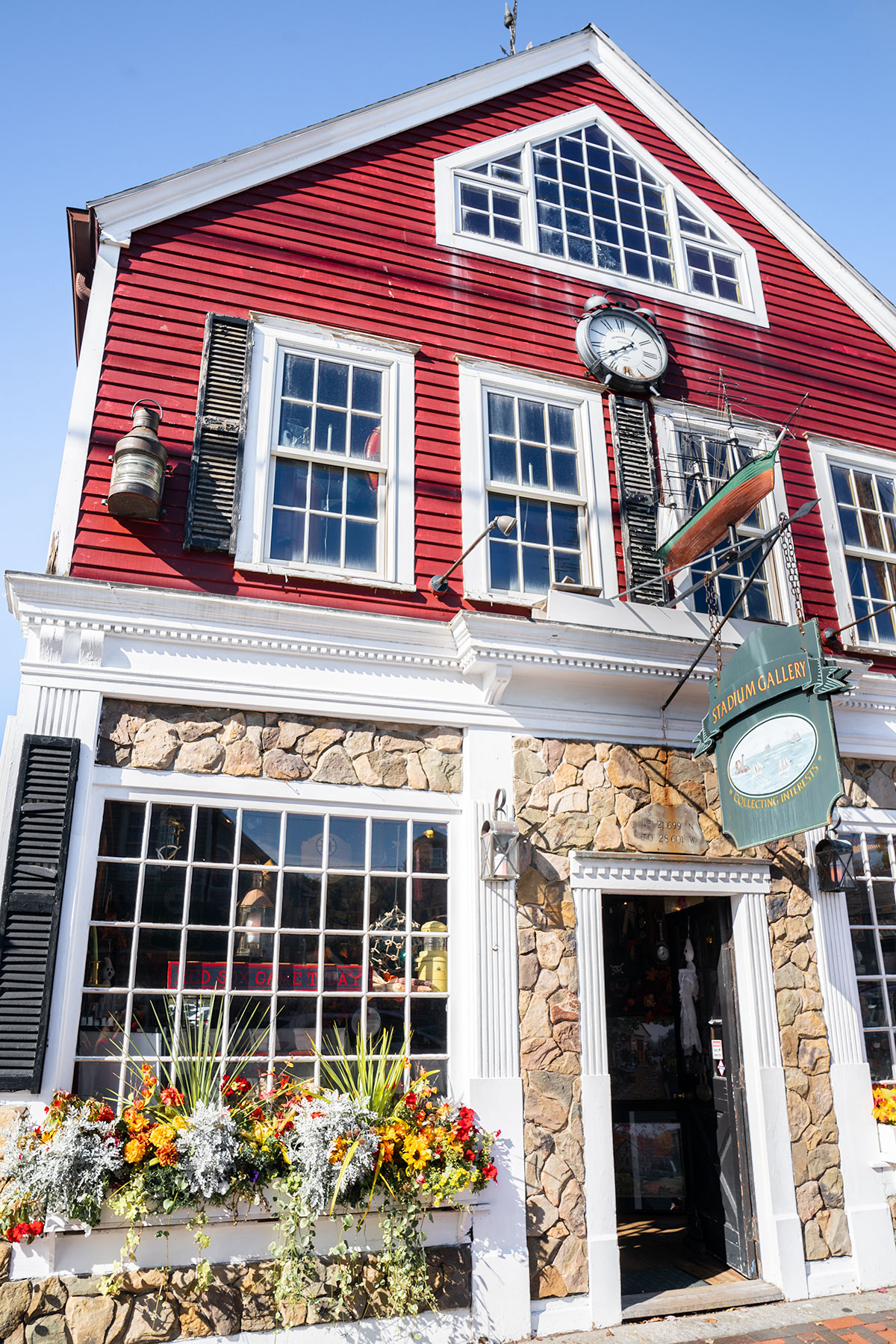 Reason #3: Charming Downtown
Kennebunkport has a beautiful, quaint downtown district that's loaded with flower-box-lined, local, one-of-a-kind shops.
There are children's stores, lots of art galleries, home decor shops, and plenty of souvenir shops too.
There are also lots of super delicious restaurants in Kennebunkport.
Like many travelers, I always want lots of fresh seafood (especially lobster!) when I'm in Maine. Kennebunkport has no shortage of delicious options for seafood and lobster.
On our last visit, Chris and I loved eating at a really casual pub called Alisson's Restaurant. They had every imaginable type of lobster dish on their menu, from lobster bisque to lobster pizza (with pancetta and Fontina cheese) to a Southwest-style lobster roll (with avocado and Chipotle mayo).
The White Barn Inn Restaurant, on the opposite side of the spectrum, offers fine dining for a really special night or important occasion. The White Barn has been awarded both the AAA Five Diamond and Forbes Five Star awards! Chris and I had a toddler-free date night there that was so memorable, I could write a separate post describing it. What I loved: delicious and inventive dishes, gorgeous rustic decor, and live piano.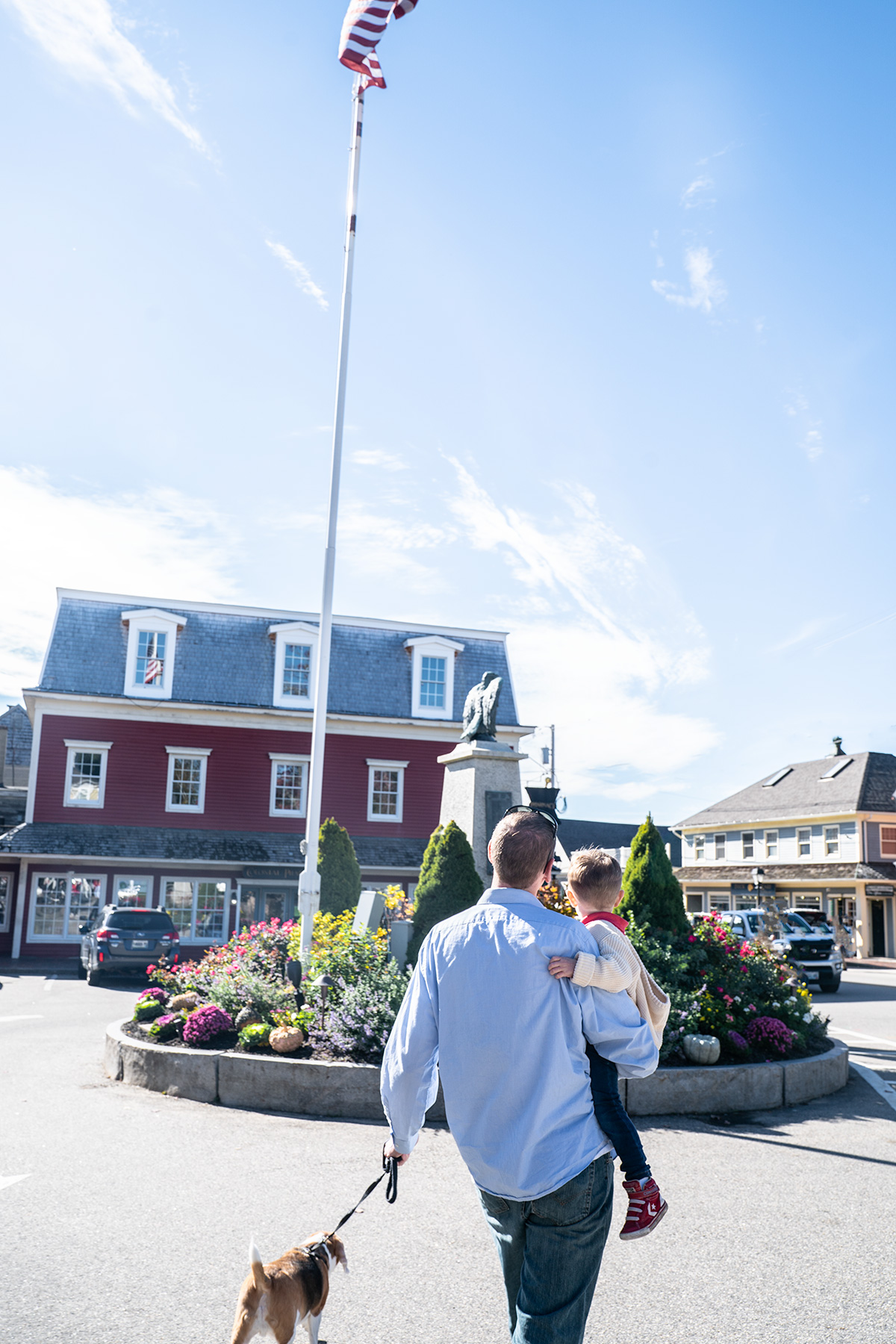 Reason #4: Location, Location, Location
There are other towns in Maine offering similar features to the three I've named above. Camden and Bar Harbor are two other gorgeous seacoast towns, both offering mountain hikes with sweeping fall foliage views.
But, especially for families with young kids, you just can't beat the convenience of Kennebunkport.
The advantage of Kennebunkport is its Southern location. Kennebunkport is only 1 1/2 hours from Boston, Massachusetts and only about half an hour from Portland, Maine. So it's easy to plan an October weekend getaway that's close to both the Portland and Boston airports. It's also convenient to plan a nice day trip to Kennebunkport from either of these major New England cities.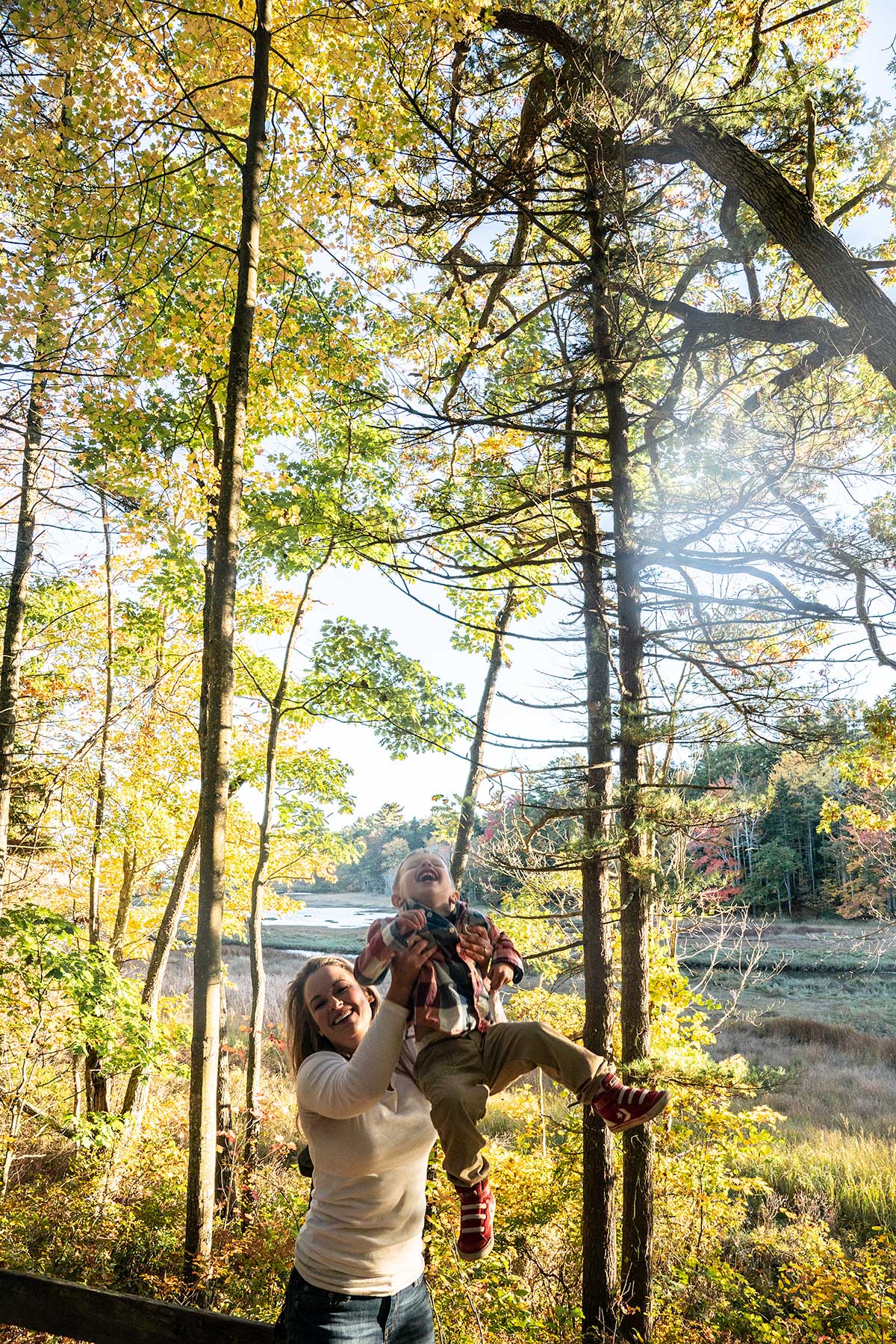 I was born and raised in Maine, and I've explored most of the state.
The truth, from a local: every part of Maine is breathtaking in the fall. It's impossible to pick a bad location for fall foliage!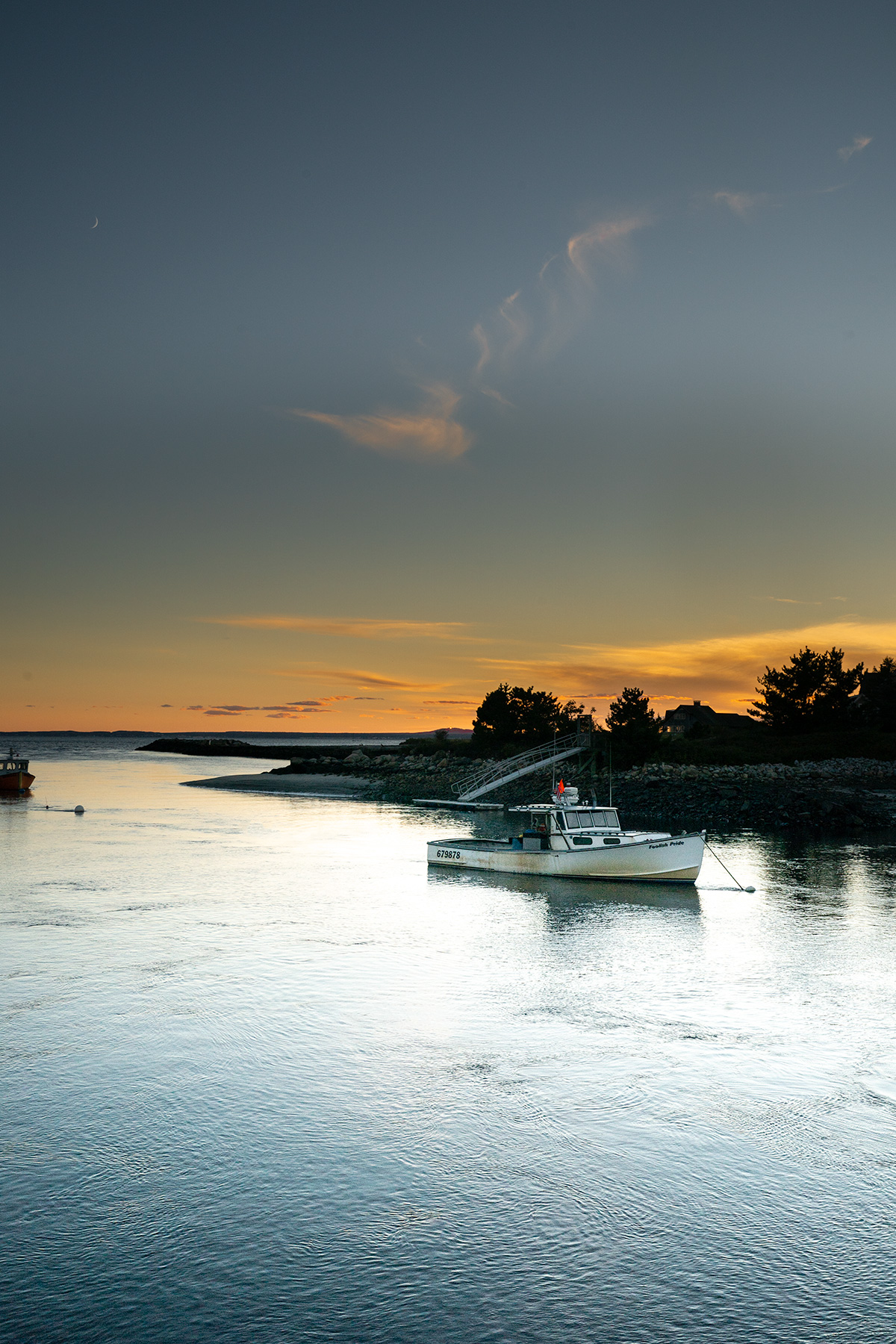 But Kennebunkport really seems to have it all:
Classic New England seacoast charm.
Stunning natural beauty and plenty of vividly colorful fall foliage.
And a scenic downtown that's close to major cities and convenient for travelers (with lots of choices for hotels and restaurants!)
For More on Maine Travel, Check Out:
Pin on Pinterest: