We'd driven all morning to reach Chicago.
Our original plan was to head straight for the Lincoln Park Zoo, where we could stretch our legs, breathe some fresh air, and give Trevor a chance to run free for a while.
Instead, I was watching a stray cat squeeze his limber body through the tiny opening at the bottom of a rusty barbed wire fence.
He darted gracefully past the discarded candy wrappers and the weeds that grew through the cracked concrete of the impoundment lot.
And he headed in the direction of the rental minivan that held all of our luggage…
What happened was that we had decided to stop at Panera for a smoothie.
Tru had done so well on our long drive.
And we struggle so much to get him to eat anything with any nutritional value when we travel.
So once we arrived in Chicago and spotted a Panera restaurant, we decided to make a quick stop to get Tru a mango smoothie (one of his favorites).
We parked our rental minivan in a big lot that had a line of stores on one side and a Panera restaurant on the other.
Trying to contain an antsy toddler in a busy city, we barely noticed the signs that said the lot was private and only customers were allowed to park there.
Which was fine, we were customers.
But about twenty minutes later, when we walked out of Panera, our minivan had vanished.
It was like being in an episode of one of my favorite old shows, The Twilight Zone.
Here we were in an unfamiliar place. And the car containing everything we had or needed for our travels – including our luggage and Trevor's car seat – had disappeared into thin air.
It didn't take us long to figure out that our car had been towed.
Apparently, we figured out too late, Panera wasn't considered a part of the shopping plaza.
And apparently, someone was watching all of the cars in the lot like a hawk…
And so we called for an Uber to take us to the impoundment lot, about twenty minutes away.
Next, we waited in line for about twenty minutes.
And then we paid a fee of $225 to reclaim our car.
While we waited in line, I snapped a photo of Chris and Tru in front of the impoundment lot.
I told Tru, "Smile! And say, 'Welcome to Chicago!'"
And that's the story of Trevor's $225 smoothie…
Tantrums and Traffic and Crowds, Oh My!
After all of the traveling we've done with Trevor, I feel pretty confident in the following statement: big cities are tough with toddlers.
Being stuck in bumper-to-bumper traffic with an antsy or whiny toddler is a recipe for a major headache.
Trying to keep a toddler contained on a crowded city sidewalk is a recipe for massive exhaustion.
Plus, most of the biggest draws in large cities, like museums and nice restaurants, aren't ideal options for families with toddlers.
On this particular big city trip, one of the toughest parts was definitely our evening at the Willis Tower Skydeck.
Aside from "The Bean," Skydeck has got to be the most popular tourist destination in Chicago.
And for good reason!
The Skydeck is located on the 103rd floor of the tallest building in the Western Hemisphere.
The views seem to span the entire city and Lake Michigan from 360-degree, floor-to-ceiling windows.
Plus, there are boxes made completely of glass that extend out beyond the building. So you can step out and view the city beneath your feet.
Here's what was crazy though: even though we visited during what was considered a slow time, Sydeck was absolutely packed.
It was tough to make our way through the crowds to find a window of our own and take in the views.
In some spots there were mobs of people pushing their way toward the windows, holding up their phones to try to get photos. It was like being at a crowded Disney parade.
And to step out onto the glass boxes required a 45-minute wait.
There was just no way Trevor was going to stand quietly and calmly in line for that long.
It just felt like absolute chaos, so we didn't stay long. But the chaos continued even after we took the elevator back down…
Willis Tower is filled with office space and on our way out, Trevor caught sight of some escalators.
Unfortunately, there was heavy security at Willis Tower and, like I mentioned, heavy crowds.
So we couldn't spend time leisurely riding up and down the escalators. Of course, Trevor didn't understand this. So on our way out of the building, he just lost it.
There we were, out on the crowded sidewalks, with Tru screaming and crying.
As noisy as the streets were, we managed to attract plenty of stares.
The one thing we've found that works in a case like this is to find something to distract Tru and get his mind on something else.
So Chris scooped Tru into his arms and off we wandered down the busy sidewalk…
Trevor's Favorite Part of Chicago
Aside from the parks where he could run free, Trevor loved Centennial Wheel in Navy Pier.
Tru has been fascinated with Ferris wheels since his first ride in one, back in June when we visited Atlanta.
He calls every Ferris wheel "big wheel." And he often talks about them even after we've returned home from a trip.
In fact, several times when I've put him into his crib for the night, he's asked to "call Big Wheel" before he goes to sleep.
I have no idea how he came up with the idea!
But Chris will go to another part of the house while Tru and I call him from my cell phone.
And Chris will answer, "Hello, this is Big Wheel!"
Trevor will get the biggest smile on his face, and together we'll come up with some questions to ask him ("are you going to bed?" "what did you do today?" "do you like cookies at the bakery?")
It's amazing to see Tru's imagination grow!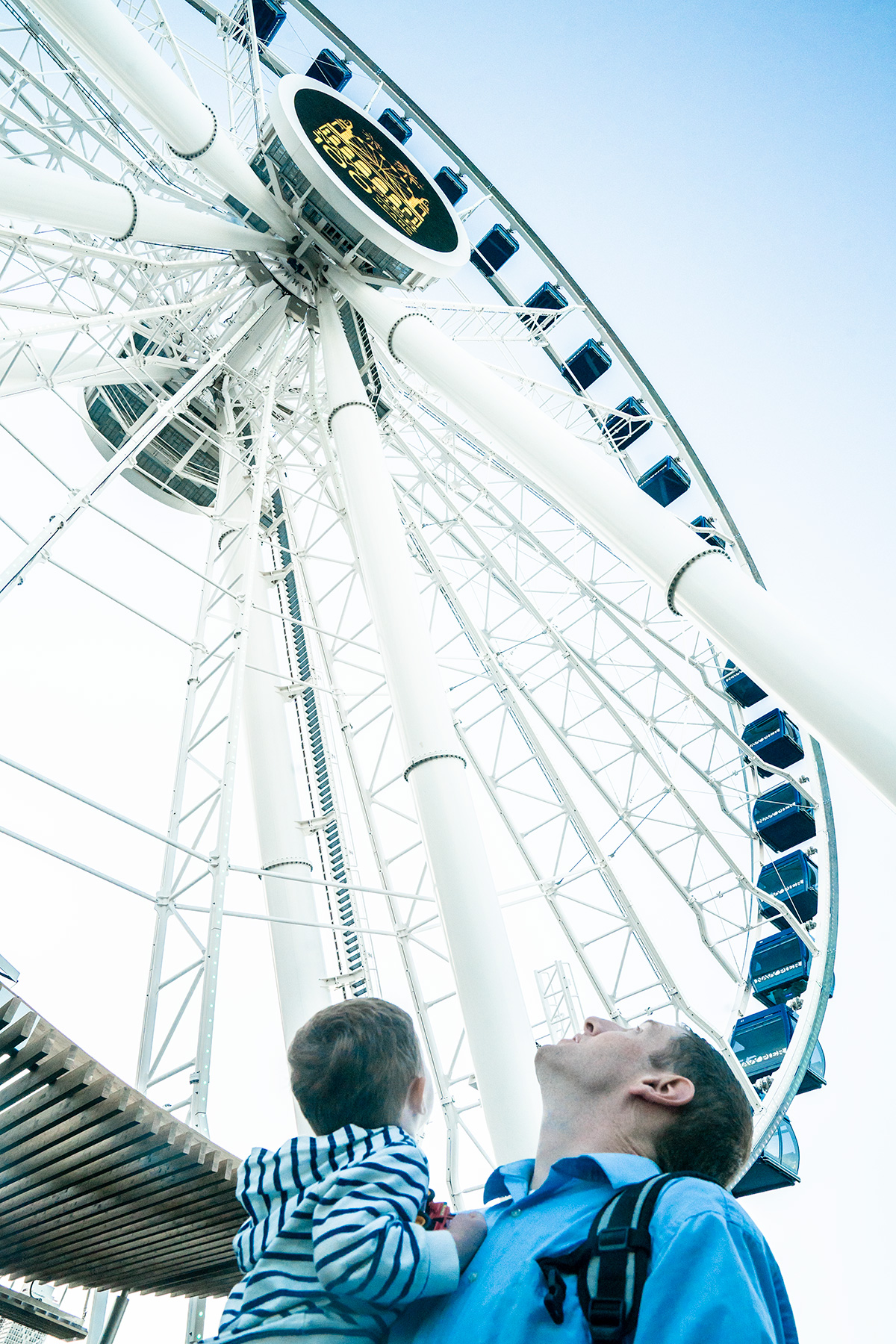 Chris and I loved the Centennial Wheel ride too, by the way!
We visited Chicago in early September, not long after school started for the year.
I'm guessing this must be one of the slowest seasons for Navy Pier.
We had the park mostly to ourselves, and we were some of the only visitors riding the Ferris wheel.
It was so special to be together as our little family of three, taking in the whole city skyline at sunset in our own private gondola.
An Art Museum With a Toddler: Good Idea? Or Terrible Idea?
Chris knows I love art museums, so one afternoon he let me know when we were near the Art Institute of Chicago.
He asked if I wanted to check it out.
I definitely did!
The Art Institute is a world-renowned museum that has an unbelievable collection of artwork from every corner of the world.
I just didn't know if it was smart to attempt an art museum with a high energy, unpredictable two-year-old.
In the end, I decided to go for it for a couple of reasons:
1.) I want Tru to get used to visiting museums, since it's something I love to do and want to share with him.
2.) I figured if he started acting up, we always had the option to quickly exit the building!
Things did go well for a while.
Chris and I had the chance to check out lots of exhibits while Tru entertained himself with his Chicago souvenir: a white police car.
But then. I was holding Tru as I stood close to a painting.
Below us, some rope marked the spot on the floor where visitors were not allowed to cross.
I assumed an alarm would sound if someone tried to step too close to the painting.
Suddenly, Tru dropped his car and, of course, it came crashing down inside the zoned-off section.
As I heard the car crash onto the floor, I immediately cringed and braced for a blaring alarm.
More than the noise, I braced for the humiliation of being the one who had set it off.
I think I had an angel with me in that moment.
For some reason, no alarm sounded!
Unfortunately though, Trevor did begin wailing.
He was upset because he dropped his new favorite car and didn't know where it was.
Fun fact: the noise of a crying toddler is multiplied by ten in an art museum.
First, the noise just sounds a lot louder in a place that's as quiet as a library.
And then, of course there's the major echo from the towering ceilings and vast open space.
Chris grabbed the toy car and we bolted straight toward the crowded and noisy lobby…
The next thing we attempted after leaving the museum: a 1 1/2 mile walk back to our hotel.
This may sound like nothing to an adult, but for a toddler, it's a long distance!
Especially when that toddler has an independent spirit and he's forced to hold hands the entire way because he's on crowded city sidewalks.
Luckily, at the halfway point, we found Ghirardelli Ice Cream and Chocolate Shop.
This place was a lifesaver for us.
We stopped for a shake and a chocolate fudge ice cream sundae.
It's one of the keys I've learned to traveling with young kids: plan for lots of breaks!
Chris and I can't travel at the breakneck pace we used to.
And we're definitely not always able to see as much.
But lots of small breaks for snacks or drinks (or playground/park breaks) are necessary to keep kids calm and content.
And weary parents need these breaks almost as much!
My Favorite Moments in Chicago
One of my favorite things to do when I visit a new city is just to sit by a big window or balcony and take in the view.
I like peering inside the skyscraper windows to the desks and plants and cubicles inside.
I like being up on a high floor and watching the cars weave through traffic below me, looking like toys from that distance.
I like imagining the details of the hundreds of thousands of lives being lived in that city at that very moment.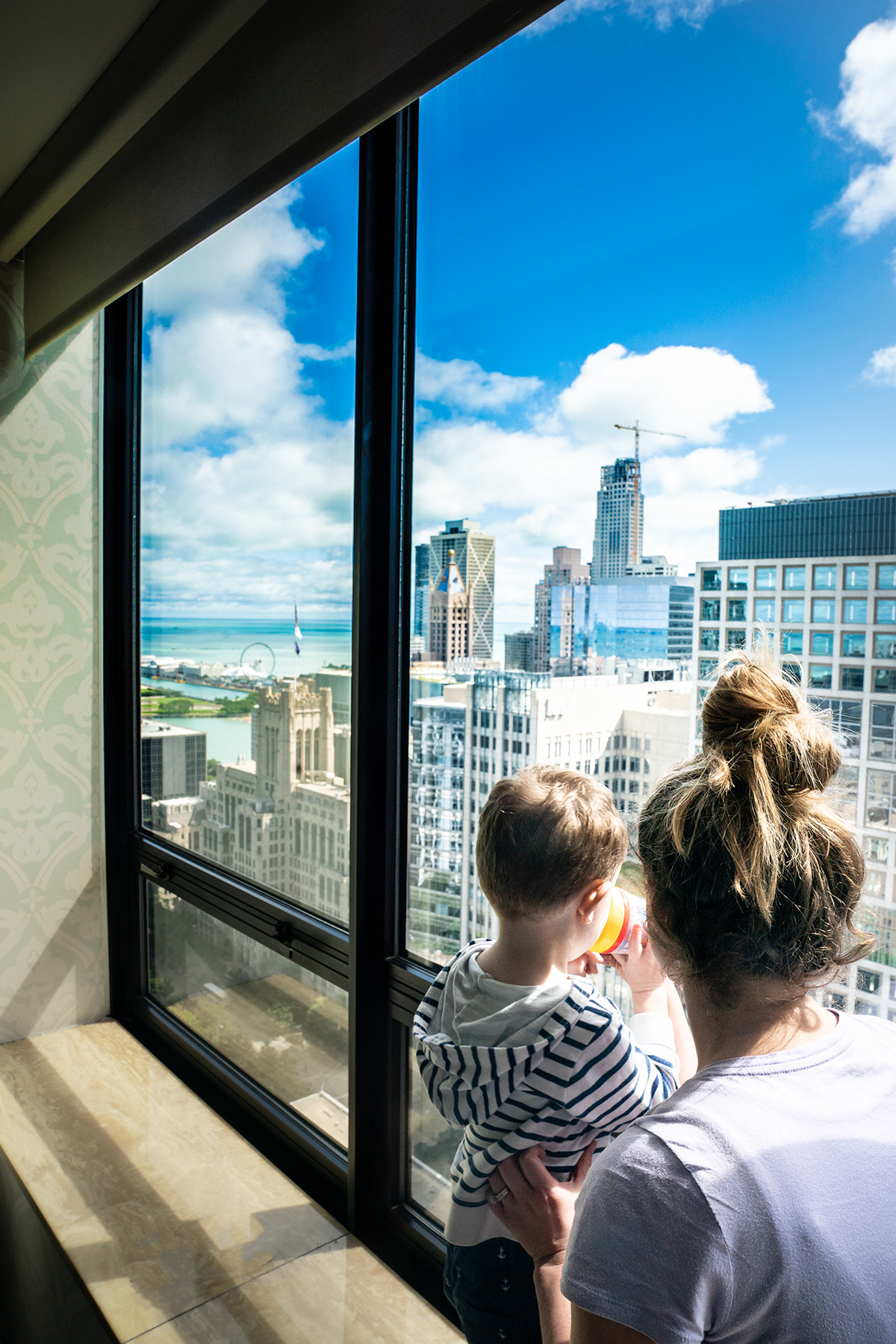 Life can seem alarmingly cruel at times.
But taking in a city view, there's no arguing how awesomely intricate and complex it all is!
We had an amazing view of Chicago from our hotel room, so I loved sitting on the window sill and taking it all in.
We could see the beautiful architecture of the city, all the way to Navy Pier and Centennial Wheel.
The weather was warm and clear during our trip, and the waters of Lake Michigan were a vivid turquoise color.
It was really beautiful.
One of the things I've noticed in our travels: I love gardens more than anything else.
Especially in an enormous and noisy city like Chicago, I was happiest when we wandered through Lincoln Park Conservatory or the indoor Crystal Gardens at Navy Pier.
I feel like I come most alive whenever we enter a botanical garden or beautiful park.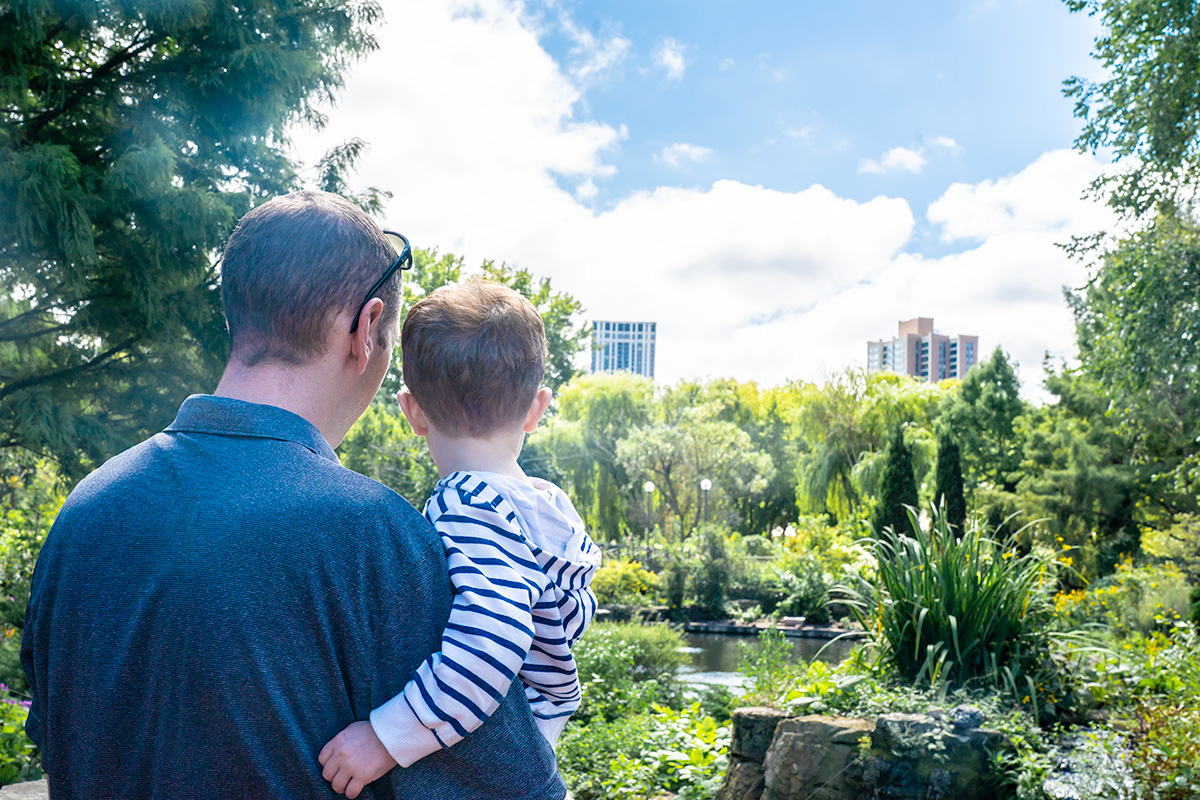 Traveling to a new city often leaves me feeling unanchored and anxious.
But when I enter a botanical garden, I'm instantly filled with such a sense of peace and calm.
And I'm really inspired by the beauty of greenery, fountains, and gardens.
Trevor usually lights up too, because he's free to run and explore.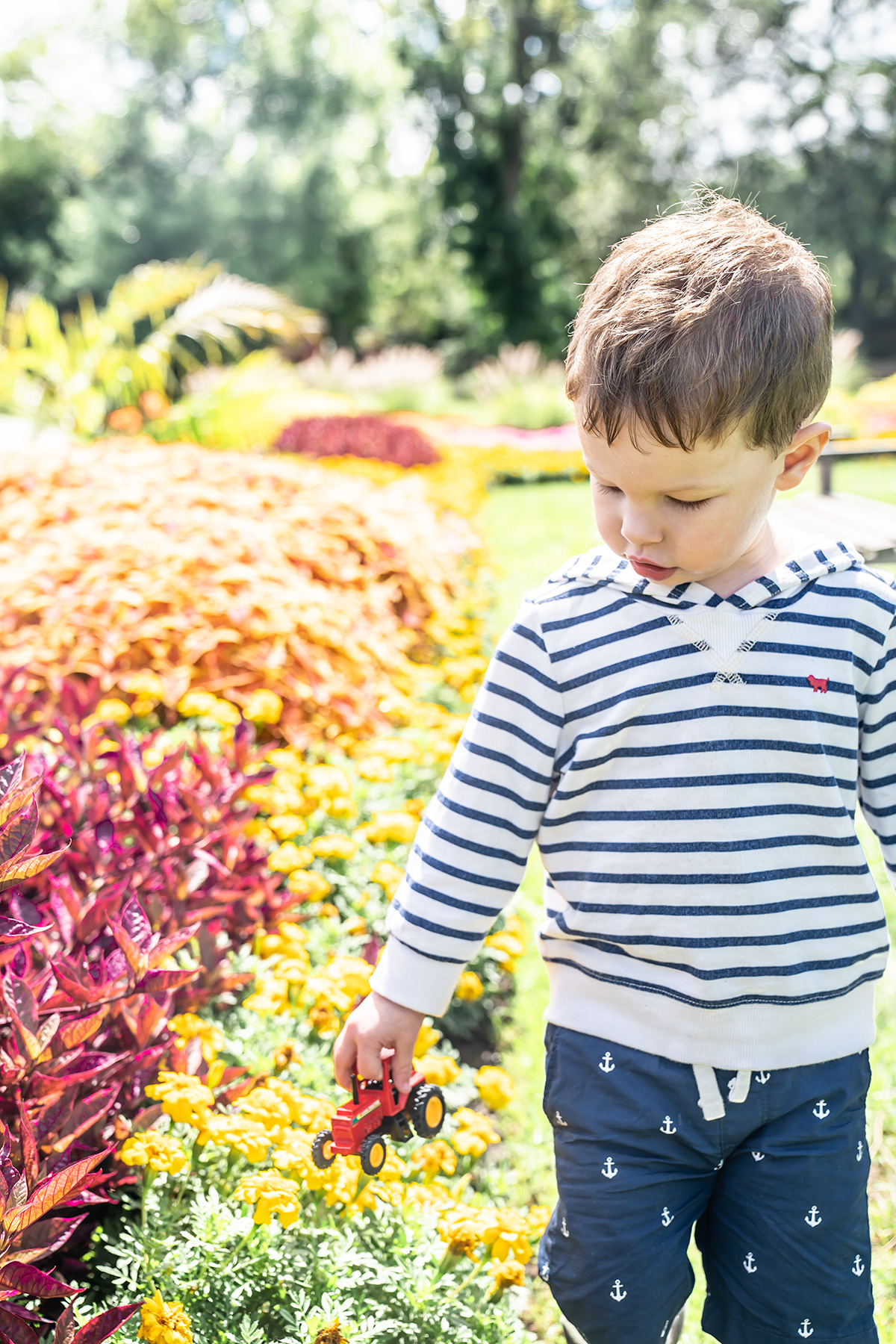 I love photographing him in gardens more than anything else.