We took a trip to Lake Placid, New York at the beginning of September.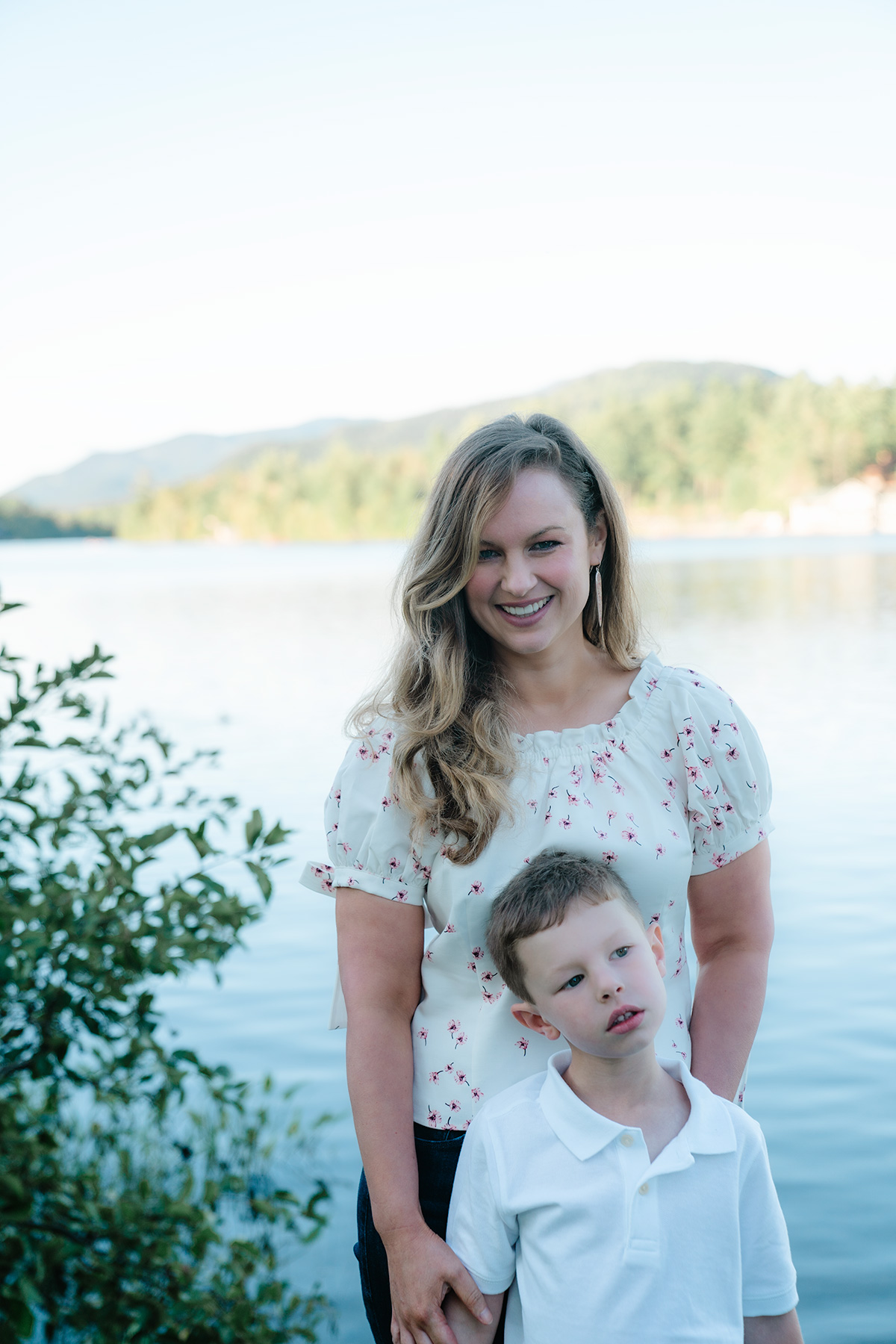 Lake Placid is set amidst the Adirondack mountains, river rapids, waterfalls, and forests. The village of Lake Placid is really picturesque too.
We visited Mount Van Hoevenberg (site of the Winter Olympics back in the 80's). Trevor had so much fun pretending to win the gold medal! These days, he says his favorite color is gold. We tried the mountain coaster at this site. Tru and I rode a car together since he was too little to drive his own. There were a lot of people waiting in line and, I guess, too many cars on the tracks. So we went at a very slow pace down the mountain with tons of complete stops along the way. It was the opposite of a roller coaster ride. It was a stop-and-go-slow-and-stop ride. I'd love to try it when it's not crowded. I think Tru would have been thrilled if we'd gained some real speed!
We did a couple of small hikes and nature walks. Tru always loves to stop and pick up the biggest sticks and rocks he can find. He wants to bring them all back home, but he doesn't want to carry them for long. He'll pick up a heavy rock and ask Chris or I to confirm that it's the heaviest we've seen. Then a minute or two later, he'll say, "can you carry this for me?"
He also looks for "whooshing" sticks. He explained to me that these are sticks that make the best "whooshing" sound when you whip them back and forth through the air.
His other favorite part of hikes is to collect pebbles that he can throw into any rivers, lakes or streams that we come across. He loves finding the heaviest rocks that will make the biggest splashes when they hit the water.
Oh, and he loves to climb trees. This boy knows it's about the journey, not the destination!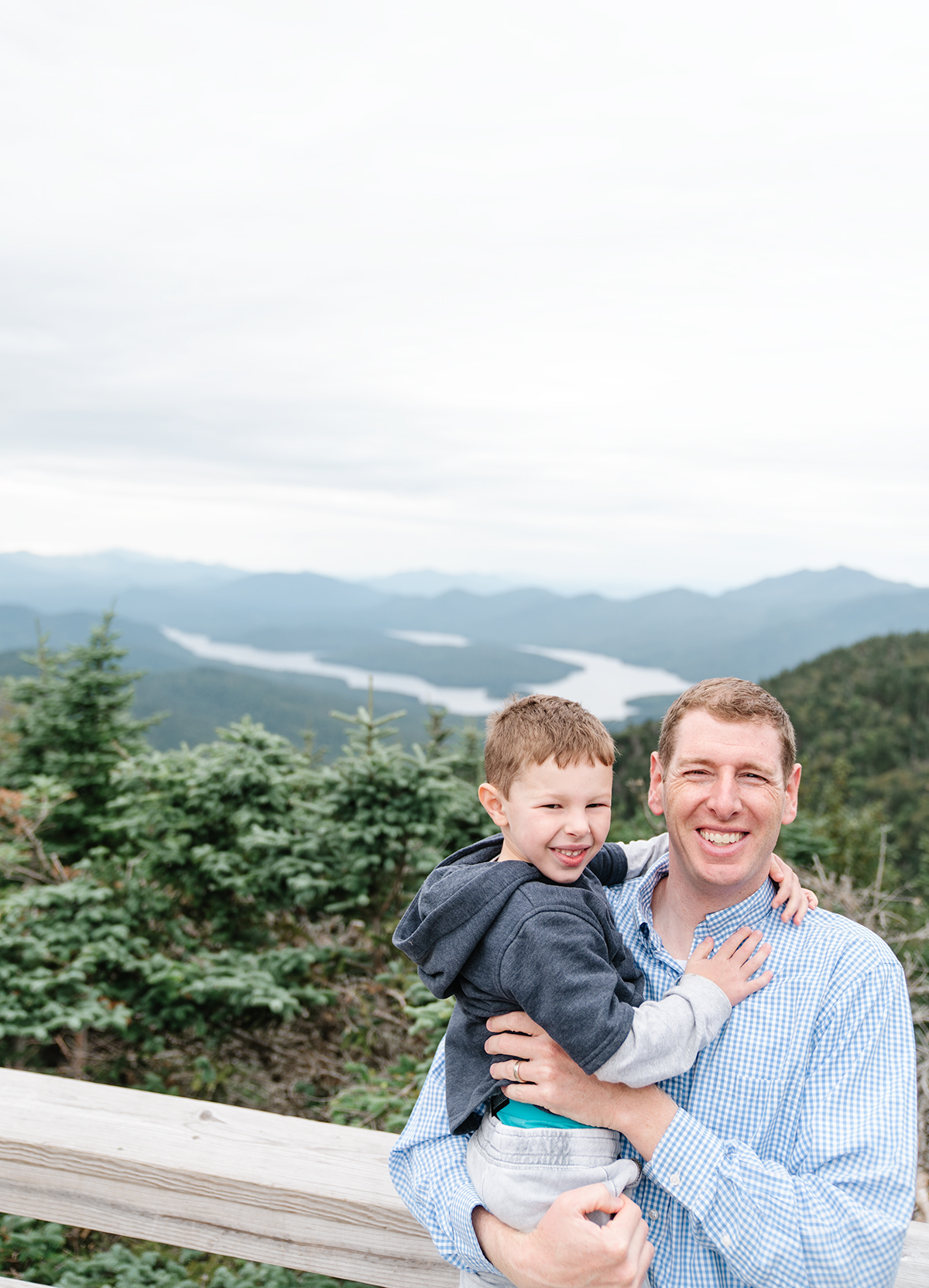 We rode the Cloudsplitter Gondola to the top of Whiteface Mountain. The weather during our trip was pretty overcast, and it was windy and cold at the summit. But the views were incredible. The Lake Placid region is really beautiful.
The hotel had a little beach on the lake, so Trevor loved playing in the sand and splashing in the water. We went on a motor boat ride around the lake, which was a lot of fun for all of us. Sometimes I wish we had a summer lake house and could spend all our weekends out on a boat like that!
I barely remember what it's like to think of travel as a "break" or a "relaxing vacation" anymore. I remember that I used to think of travel that way, but I don't think I ever will again. My experience is that traveling with a young child is anxiety-inducing and exhausting. For example, if we try to hang out in the hotel room, Tru will roll around on the carpet and jump off the beds. So it's better to have a jam-packed schedule for the day each day (and Trevor starts most days at 6am!)
One afternoon when we had a little spare time, we decided to fill it by going down to the little two-lane bowling alley at the hotel. When I knocked down more pins than Trevor, he had the biggest meltdown. He's just crazy competitive. He has this deep, deep drive to win at all costs! I've never had that drive, so it's hard for me to understand. Anyway Chris had to carry him, sobbing, back up to the room.
Tru also got a little sick to his stomach (very temporary) on the first stretch of the 5-hour drive home. This was caused by the unfortunate equation of him being in the back seat during a drive involving very curvy back-country roads, while eating a giant chocolate chip cookie (plus orange juice and a bagel) for breakfast. The hotel staff gave him the cookie when we checked out, and Trevor had to eat it up immediately. He has the biggest sweet tooth and just can't wait to completely gobble any treats he can get his hands on. He's like a real-life Cookie Monster!
Anyway, I don't think I'll ever associate travel with "escape" or "relaxation" ever again. I mostly try to prepare myself for elevated stress levels when I travel now!
That being said, our travels have offered some incredible opportunities to connect as a family. We drop the daily chores and to-do lists. We step outside of our ordinary routines. And it leaves a lot of space for silliness, laughter, adventure, exploration, and seeing the world with fresh, wide-open eyes. We focus just on each other, and it feels like we're making the most of our days.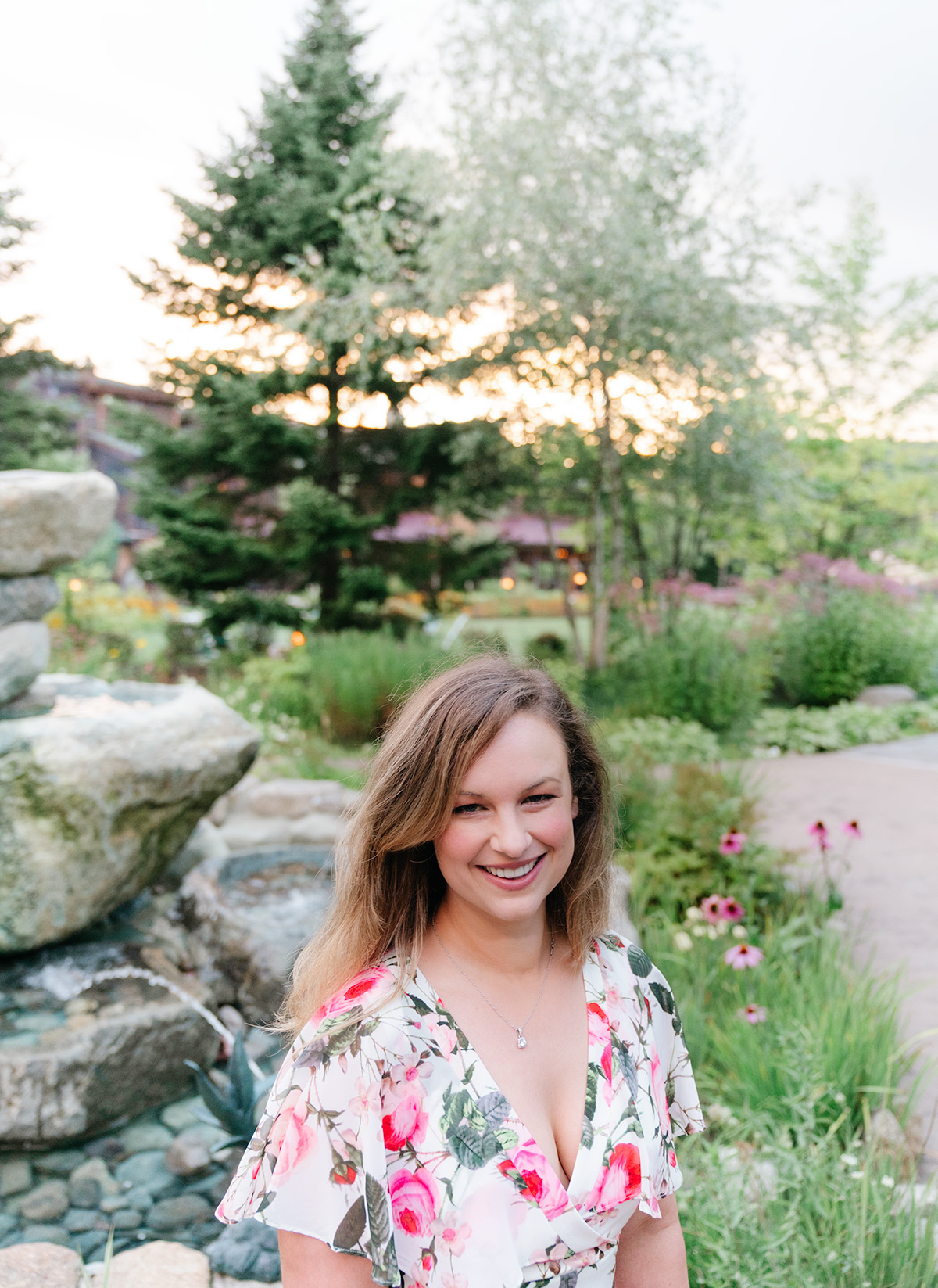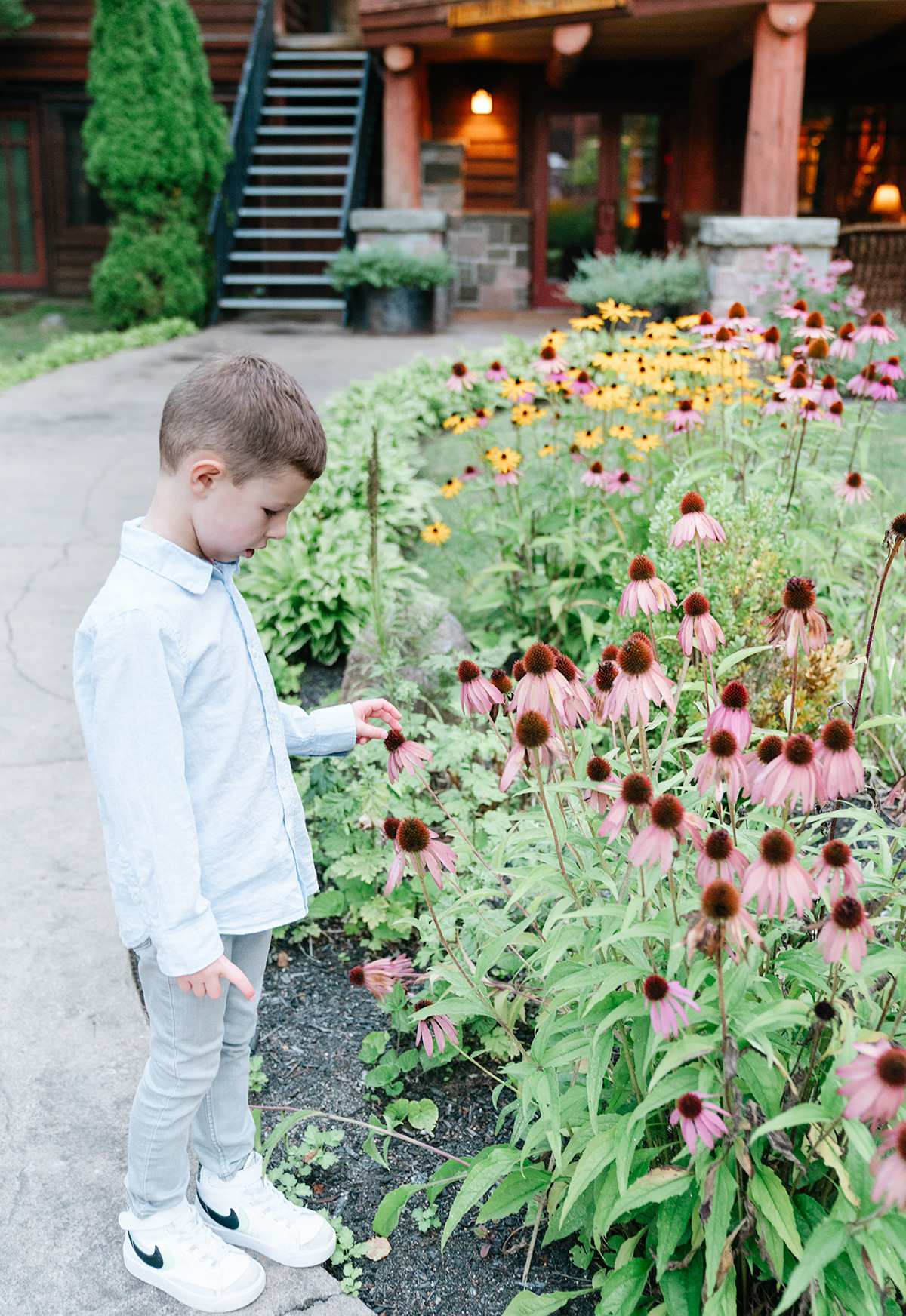 We were all happy with the hotel, The Whiteface Lodge. I'd definitely return there. The hotel was beautiful and perfect for families – there were gardens and mountain views and bench swings and outdoor concerts and fire pits. It checked many of the boxes for Trevor's current favorites:
Corn hole
A tiny 9-hole mini golf course
A big pool
If a hotel doesn't have a pool, that's the most disappointing news Trevor can imagine. I took Tru to the driving range the other day, and he told the man at the tee next to him, "my dad had to go to a hotel for work, and it doesn't even have a pool at all!" The horror! I thought that was the cutest thing. (Tru probably talked to that man about various golf courses for about ten minutes. The boy loves to chit chat and turn strangers into friends!)
Whiteface Lodge also had a nice 18-hole mini golf course right next door called 'Boots and Birdies.' Tru was pleased because he's as devoted to golf as ever. His favorite refrain during the trip was, "can we go back to Boots 'n' Bihdies now?"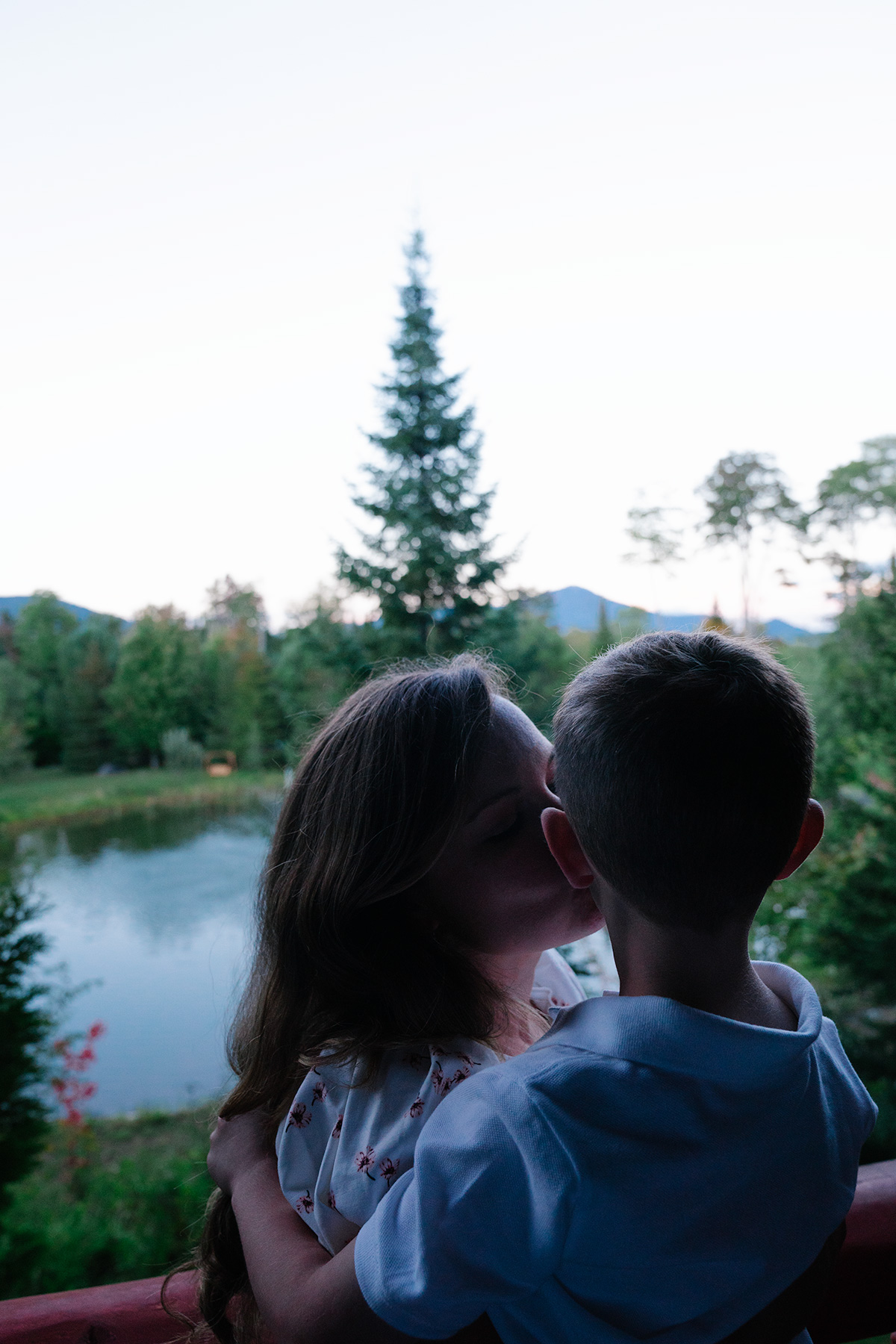 It happens rarely these days – now that he's five years old – but sometimes Tru will still let me scoop him up into my arms. It will last for a few seconds before he's on to the next thing. Once in a while, he'll press his forehead to mine like he did as a baby.
That's happiness for me.
I used to overlook simple moments like that because I was busy pursuing happiness in big, extravagant ways. I used to think that if I could just get enough and do enough and earn enough, I could find my way to happiness one day.
But I catch those simple moments now. I feel them. I'm in them. Happiness is right there in those moments. In him. In me. In our connection.
I feel like Trevor is a teacher who helps me understand true happiness. And true love.