Celebrating Easter
After basically no celebration in 2020, we were grateful to have several Easter festivities this spring. We had a lot of fun visiting a local tulip garden where Tru could run around and explore.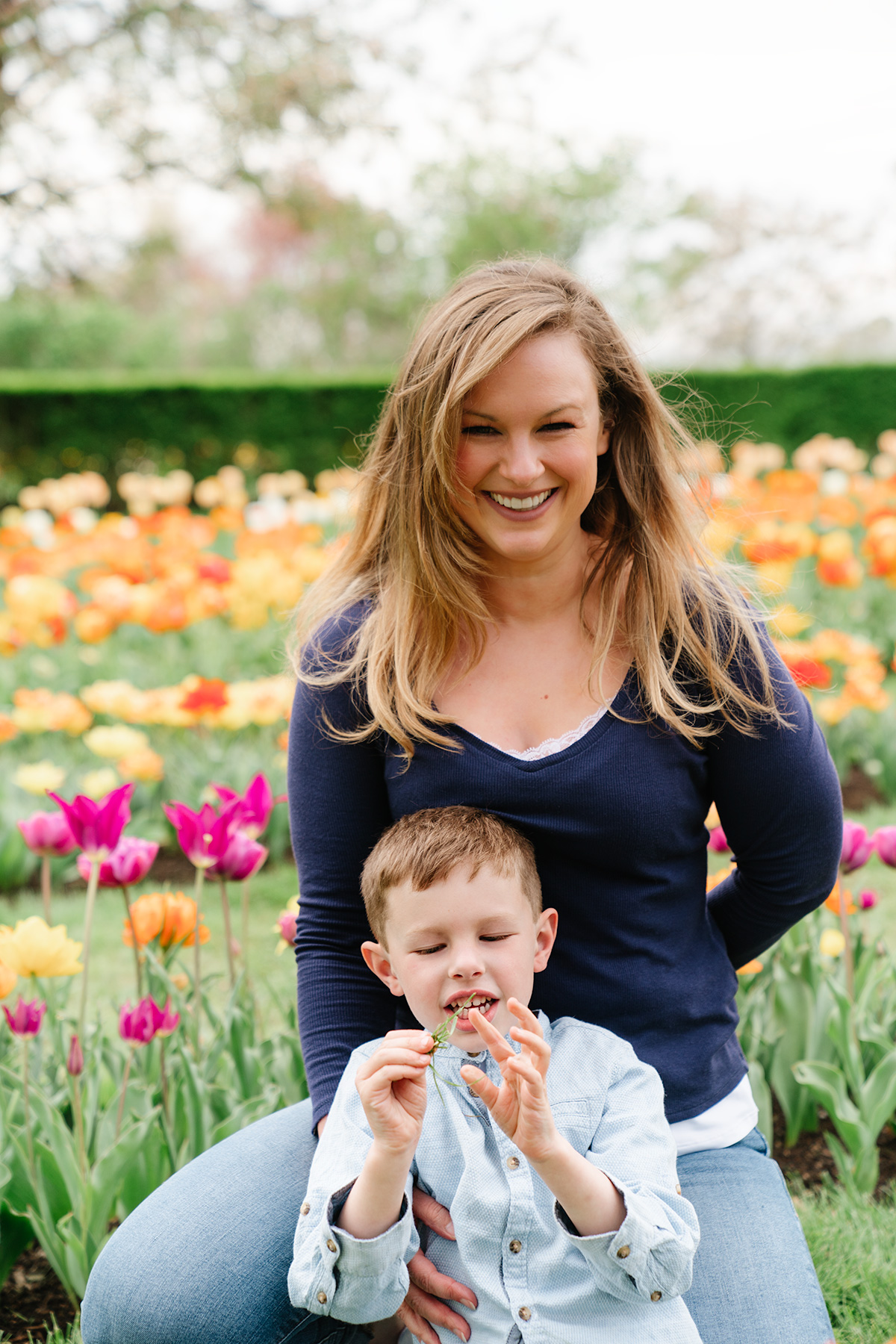 Tru was so excited to go to the mall and meet the Easter Bunny too.
His grandparents' neighborhood also organized an amazing outdoor Easter egg hunt for the kids.
Tru had the time of his life running from one house to the next, collecting tons of eggs filled with candy and little toys.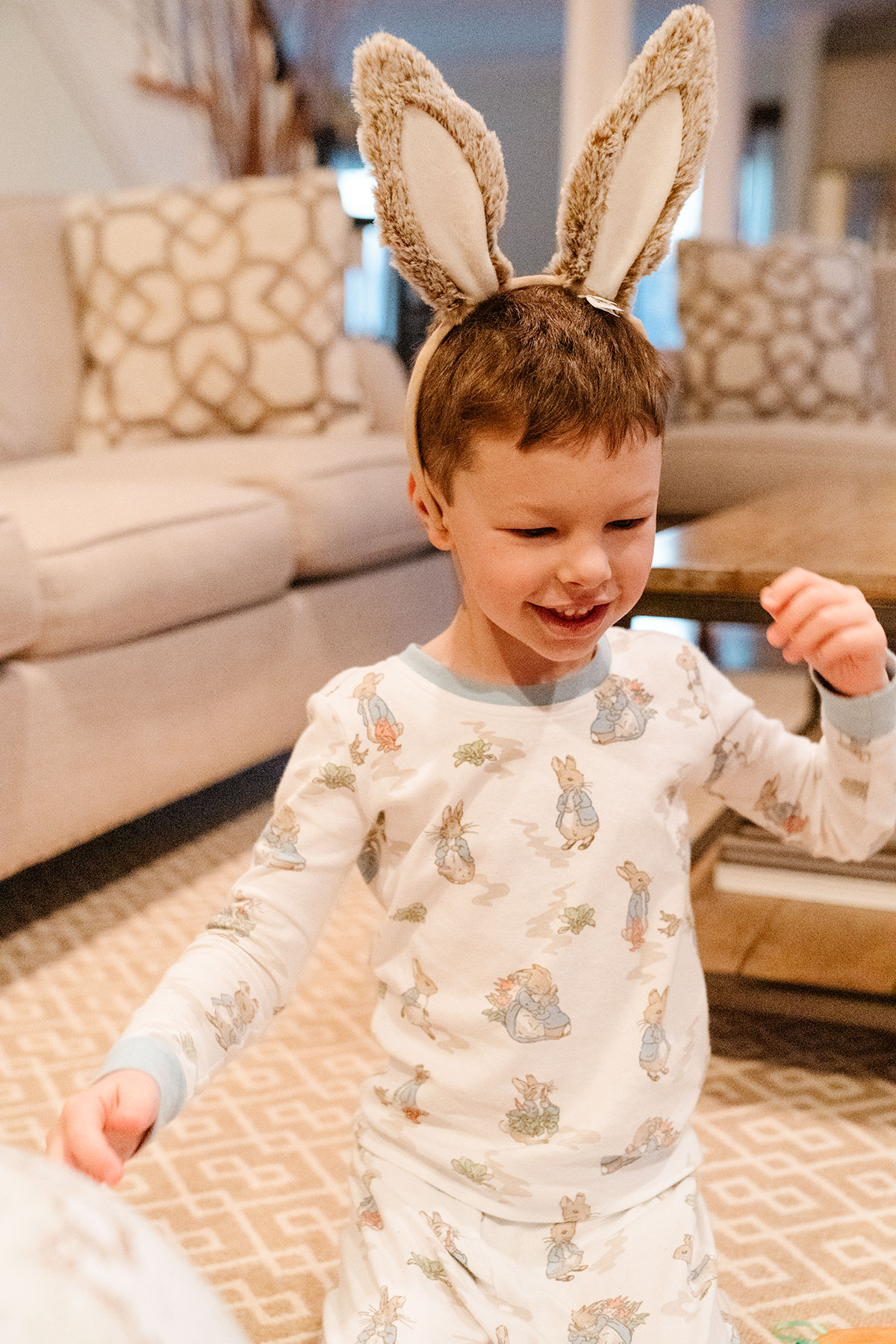 On Easter morning, Tru woke bright and early, jumped out of bed, and hopped straight into Chris's and my bed (as always!). Then he went straight downstairs to find an Easter basket in the living room. We were up before the sun, so it was tough to get clear photos!
The Easter Bunny knew how much Tru loves outer space – he got new solar system pj's and astronaut toys.
Plus an arts and crafts kit (recently, Tru has really enjoyed sitting at his art table and drawing pictures or collecting plastic bags and empty bottles to create an "awt pwoject.")
He had so much fun hunting for Easter eggs in the house and in the yard.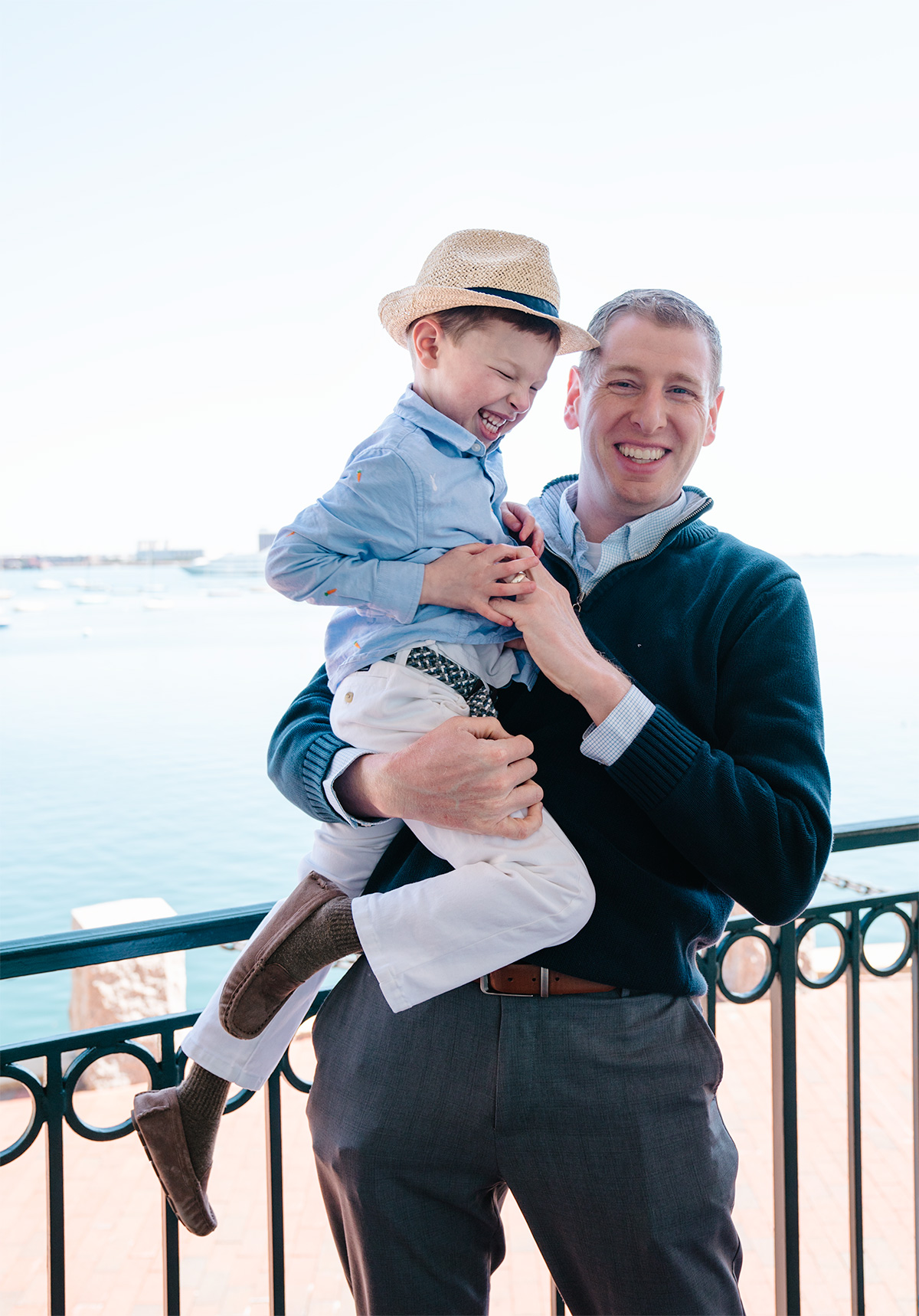 Then we went to the Boston Harbor Hotel for Easter brunch, which was really nice.
I liked the live piano and views of the harbor …
…and Tru loved the decorate-your-own-sugar-cookie tray that was served to him after the meal.
Graduating From Preschool and Starting Summer Camp
Trevor graduated from his preschool class in early June. The kids did a little circle ceremony outside the school to celebrate.
Afterward, we met with the family of Trevor's best friend from school, Henry. The kids played on the tot lot playground and then we got ice cream.
It didn't feel like an overwhelming "end of an era" for me though, since he started right in with "summer camp" at the same school a couple of weeks later! Each week of "camp" had a different theme, so we signed Tru up for some of the camps we thought he'd love. He was especially excited for "I Am An Olympian" and "I Am a Meteorologist" (he's obsessed with checking the weather on my phone these days). He also loved the natural scientist theme, where he was able to dig in the sandbox for "crystals" and break open rocks to find gems inside.
After camp, Tru and I would sometimes stop at the ice cream shop (he usually picked cookie dough) and sit on a bench in town while he ate. Sometimes he'd play on the tot lot playground or in the fountain with his school friends or we'd walk down the waterfront so Tru could climb the trees.
Our Summer Routine
Trevor's routine has been to get up at about 6:00 most mornings. Some mornings – when I'm lucky – he'll sleep until 6:30 or 6:45. He went through a phase in late spring/early summer where he was getting up at 5:30 most mornings! As soon as he wakes up, he'll immediately crawl into bed with Chris and I (although Chris leaves for work by 5am most workdays) for "cuddles." "Cuddles" is in quotes because it's a little bit more like "taking a beating" than "cuddles" (a whack in the nose here, an accidental knee to the stomach there, a foot in the face here, an accidental hair pull there, a sudden yell in the ear…). Every day that Tru pops into bed beside me, I'm so grateful for another morning of cuddles. Although I do sometimes end up with a bruise or two, it's the sweetest way to start the morning.
Sometimes I'll ask him if I can sing him the song I sang to him when he was a baby, and sometimes he'll say yes. It's an old country song that goes: "good morning beautiful / how was your night? / mine was wonderful with you by my side / when I open my eyes and see your sweet face / it's a good morning beautiful day."
After cuddles, he'll usually watch Puppy Dog Pals on Disney+ for a while and drink an orange juice out of a sippy cup. Then he'll have breakfast (fruit smoothie, protein waffle, yogurt with Oreo crumbles, or plain honey-wheat bread are his typical choices.)
After that, Tru is usually looking for activity, and lots of it! He doesn't sit quietly and play with toys. I've rarely ever see him do that! He's a social little guy and he likes to involve Chris and I in all activities. One of his favorite things lately is to go into the playroom and throw giant bouncy balls at a big cardboard box with an opening at the top. He tries to shoot from far away and get the ball into the box. Otherwise, he'll grab my couch pillows or Calvin's chew toy and throw and kick those around the house. I'm forever searching for Cal's chew toy because Trevor has always kicked it somewhere – behind the curtains, under the couch, in a vase on a shelf…
One time I was searching high and low for Tru's pajamas. I finally looked up and saw them dangling from the curtain rod in the living room, where Tru had thrown them when I wasn't paying attention. Now he tries to get them up on that curtain rod even morning when he's getting dressed.
Tru's favorite board game this summer was Sorry! – we must have played that 300 times. He also enjoys Battleship, Chutes and Ladders, Candy Land, and Uncle Wiggly. He also likes card games like Go Fish and Uno and he's great at memory matching games. Tru is ultra competitive. Maybe this isn't the "right" thing to do as a parent, but I'll do all I can to lose every single game, just so I don't have to deal with the screaming tantrums. One of Tru's recent favorites is Chris's old Wii Golf video game. This one is a big challenge. Tru loves the game and constantly asks to play. But most games end with Tru sobbing because he didn't get the birdie or hole-in-one that he wanted. Have I mentioned the boy has a ton of heart?!
By the time late afternoon rolls around, I usually feel like I could use a nice long nap! During dinner, Tru will often sit at the table with Chris and I and actually eat a bit of his own dinner (usually peanut butter bread or a Little Spoon meal). Often he'll chit chat with us. Compared to the days when he'd yell, "I hate dinnaw" and jump out of his seat to go sprinting around the house, it's been nice to have slightly more relaxed mealtimes. The getting-ready-for-bed routine continues to feel pretty chaotic. Tru loves to jump on our bed and throw his clothes as far as he can. Last but not least, we get to curl up on Tru's bed so Chris or I (or both of us) can read stories to Tru. After a long phase of wanting only outer space books, Tru now wants only sports books. Our quiet time reading together is always one of my favorite parts of the day.
Celebrating Five Years
We didn't have a birthday for Tru when he turned five in February because of covid. Instead we celebrated in late June with an outdoor party at a nearby mini golf course.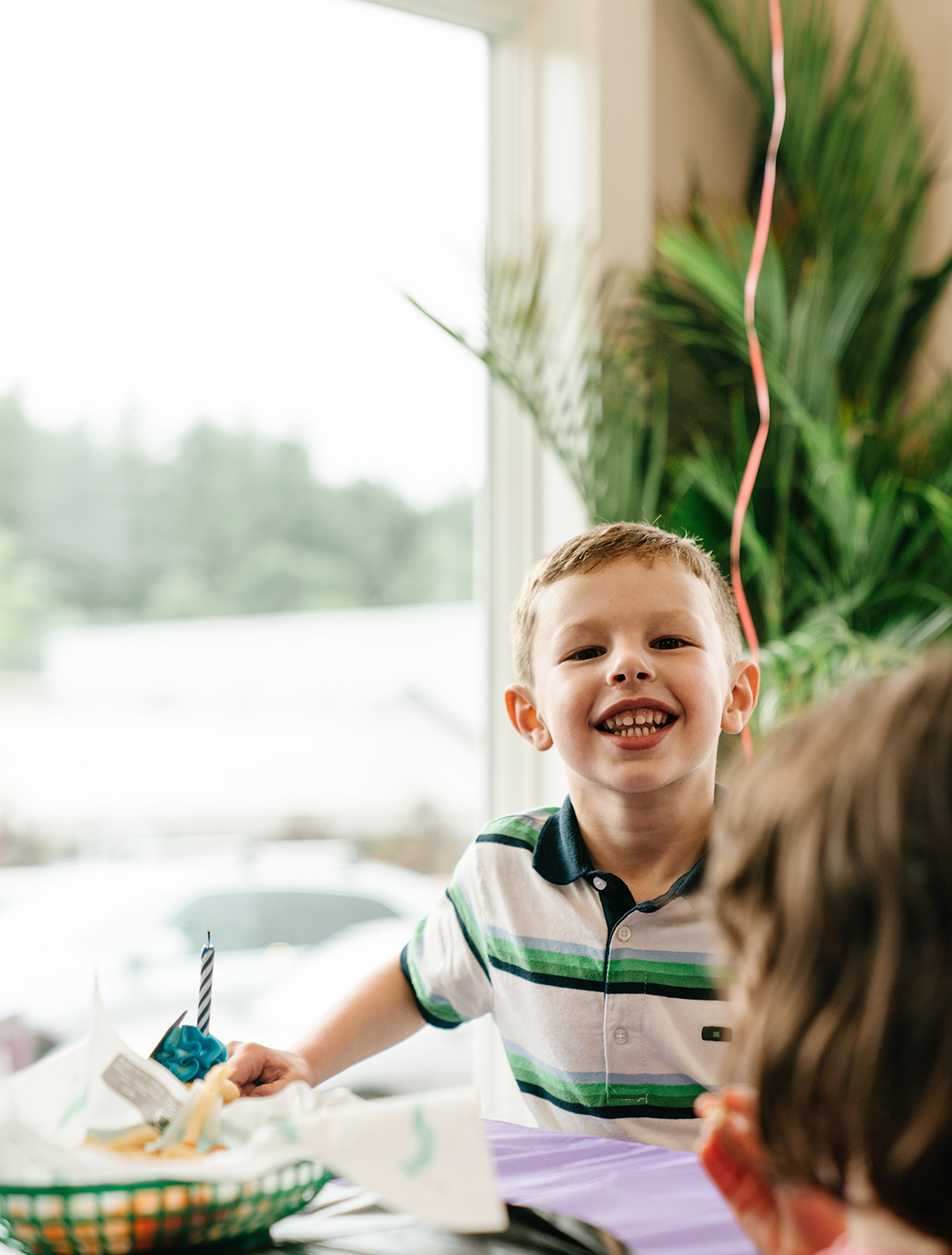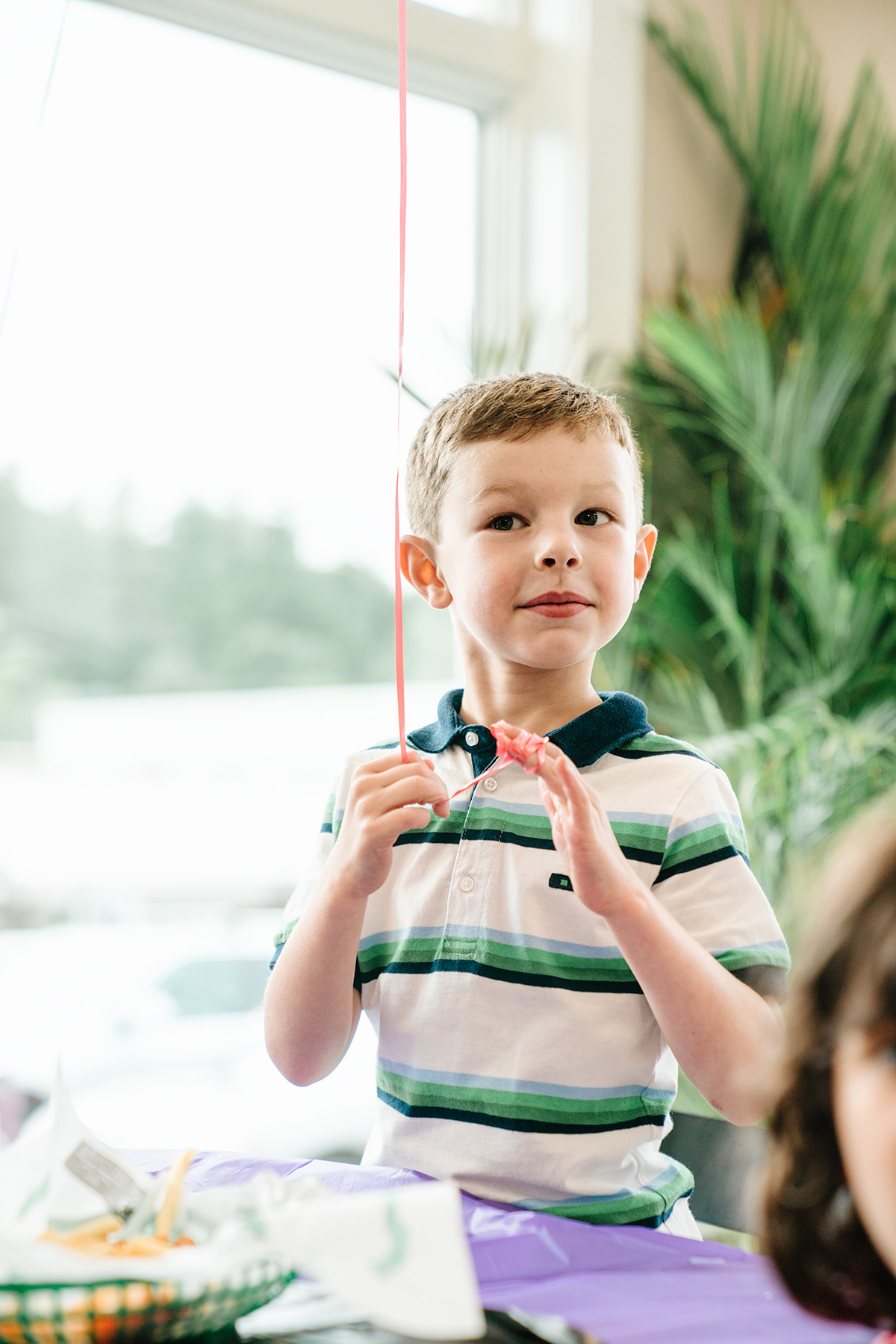 Trevor was so excited to have all his friends with him doing one of his absolute favorite activities.
It's probably the best party we've ever done for Tru.
Both parents and kids were able to play the course, and parents could also order drinks.
So it made for a relaxed, easy, festive atmosphere.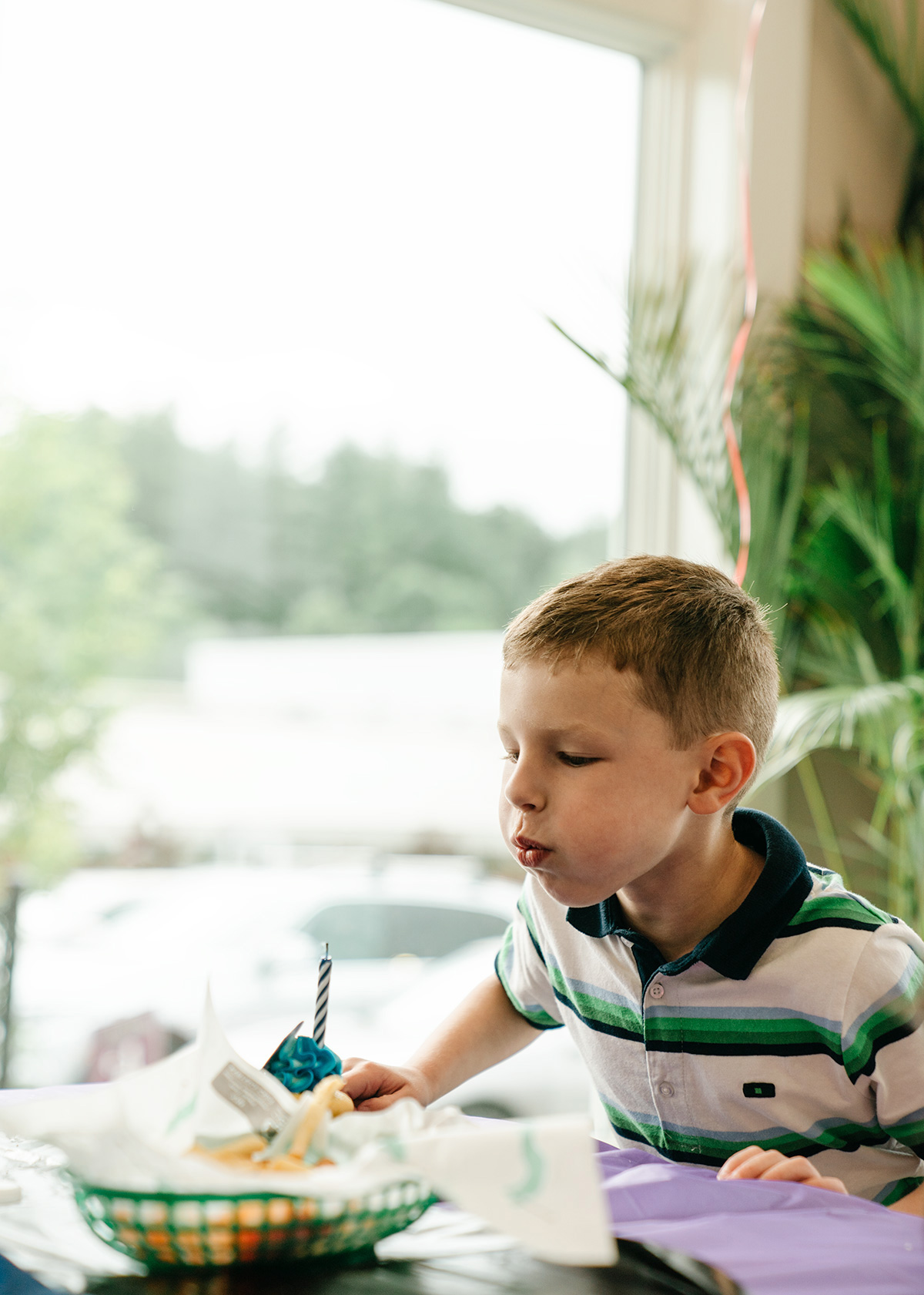 After mini golf, the kids were served chicken nuggets, pretzels, and ice cream. And parents could order from the full cafe menu. I also brought in outer space cupcakes from the local bakery.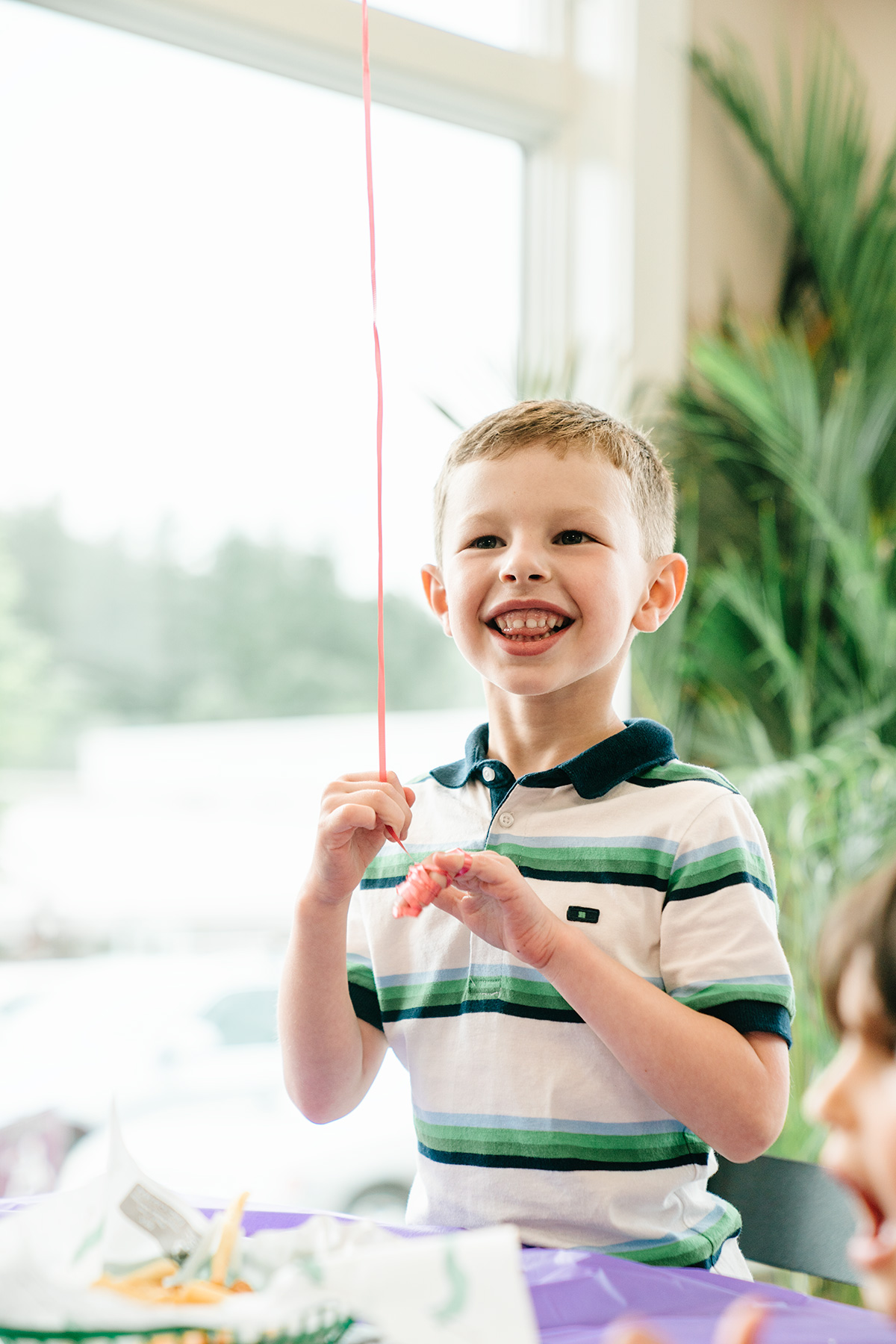 Tru had the biggest smile when we sang "Happy Birthday" and brought him a cupcake with a candle to blow out.
That smile lights up a whole room!
Afterward, the kids burned off all the sugar playing on the playground next to the course. It went so smoothly, maybe we'll put off Tru's birthday until spring next year too!
Finding A New Love
Over the course of the spring, Trevor's obsession with outer space slowly fell away. He was finding a new love to replace it, and that love is sports.
Golf especially. Trevor is absolutely obsessed with golf. I asked him recently, "Tru, do you like outer space anymore?" And he responded, "I like space a little but what I really love is golf."
Too bad I just finished doing an outer space themed bedroom for him this winter! I had redone his room since his baby nursery was African safari themed, and Tru never took any interest in animals at all. Lesson learned: avoid themes for kid's rooms!
Anyway, I mentioned how much Trevor loved visiting mini golf courses in summer of 2020. That definitely continued this summer!
And he also added visits to the driving range, golf lessons, and even a few trips to the real golf course to the mix this year. He always brings a healthy dose of heart, passion, and competitiveness too. Many times, he'll break down into frustrated tears in the middle of the course. He so badly wants that hole-in-one! Chris and I are still trying to figure out how to help him cope with that competitive spirit. It gives him drive but it causes him (and his Mom!) heartache too.
In addition to golf, Trevor also loves soccer, tee-ball, swimming, and hockey. He played tee-ball for the first time this spring and really enjoyed it (Chris coached the team!). Tru also took swimming lessons throughout the summer, and he's becoming super brave in the water. He can dunk his head underwater and jump into the pool, and he swims well while wearing a vest. He loves to swim!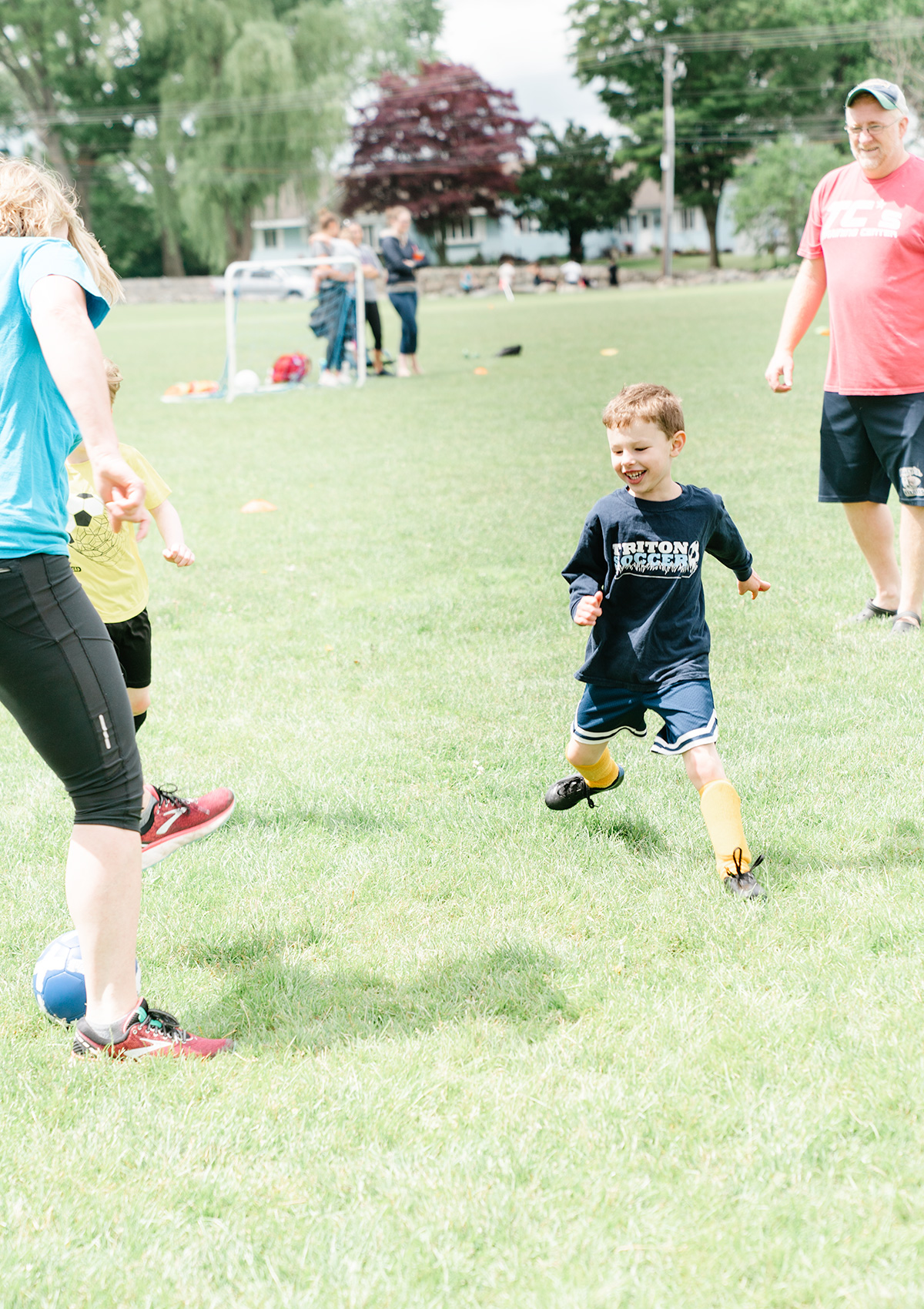 Trevor really thrives at soccer too. He's fast, good at staying open, passing, and handling the ball. I never loved soccer in the way that Tru does, but it is a great joy to watch how Tru lights up when he plays!
Our Picky Eating Saga Continues
As always, it's a struggle to find healthy foods that Tru will eat. Lately, though, Trevor has been a little more willing. I think we've convinced him that some healthy fruits and veggies will make him stronger and more powerful for sports. He'll eat apple slices, pineapple, and watermelon sometimes. He also often eats the Little Spoon delivery meals I order. The meals are made especially for little kids and they contain hidden veggies. He'll eat gnocchi (made with hidden cauliflower), mac and cheese (with carrots and sweet potato in the cheese sauce), and chickpea and veggie "nuggets."
First Red Sox Game!
We took Trevor to his very first baseball game at Fenway Park this summer. Grampy, Mimi, and Grammy joined us. It was a beautiful, clear, not-too-hot night and the Red Sox won the game! Tru had so much fun. We wondered if he'd be bored or fidgety, but he sat watching the game for eight innings straight! For snacks, he requested popcorn, a giant pretzel, and ice cream inside a mini plastic baseball hat. He tried the wave, he danced to the music in between innings, and he cheered when the Red Sox hit a home run. Tru and I both got new Red Sox baseball caps. He didn't want to leave! It was a really special night for all of us.
First Drive-In Movie!
Another first this summer: Tru went to his first drive-in movie! We saw Space-Jam: A New Legacy. We didn't know if Trevor would be interested in the movie or able to sit through it, but he did! Several times, I asked if he wanted to leave. He always said, "no I want to watch the whole movie!" It was the middle of summer and the show didn't start until about 8pm (after sunset). And the drive-in spot was at least an hour from our house. So we had a really, really late night. But Tru did well. It's fun to be at this stage where we can be a little bit more flexible with bedtimes every once in a while (and not have to pay a heavy price in tantrums and meltdowns!)
Summer Fun
In addition to all the sports (!) we had lots of summer fun. Tru had playdates with his best bud Henry – including swimming in his pool – which are always a highlight for him. We did trips to the playground and to the local beach and a trip to Lake Winnipesaukee for swimming. We went to the Children's Museum of New Hampshire and the McAuliffe-Shepard Discovery Center. We did a day trip to Portland to check out the brand new Children's Museum, which was excellent. Tru had the time of his life asking questions at the River Touch Tank. As always at children's museums, he spent lots of time at the water play station and the ball ramps. He could have spent the entire day there. We also went to the New England Aquarium where Tru met his cousin, baby Theo, for the first time.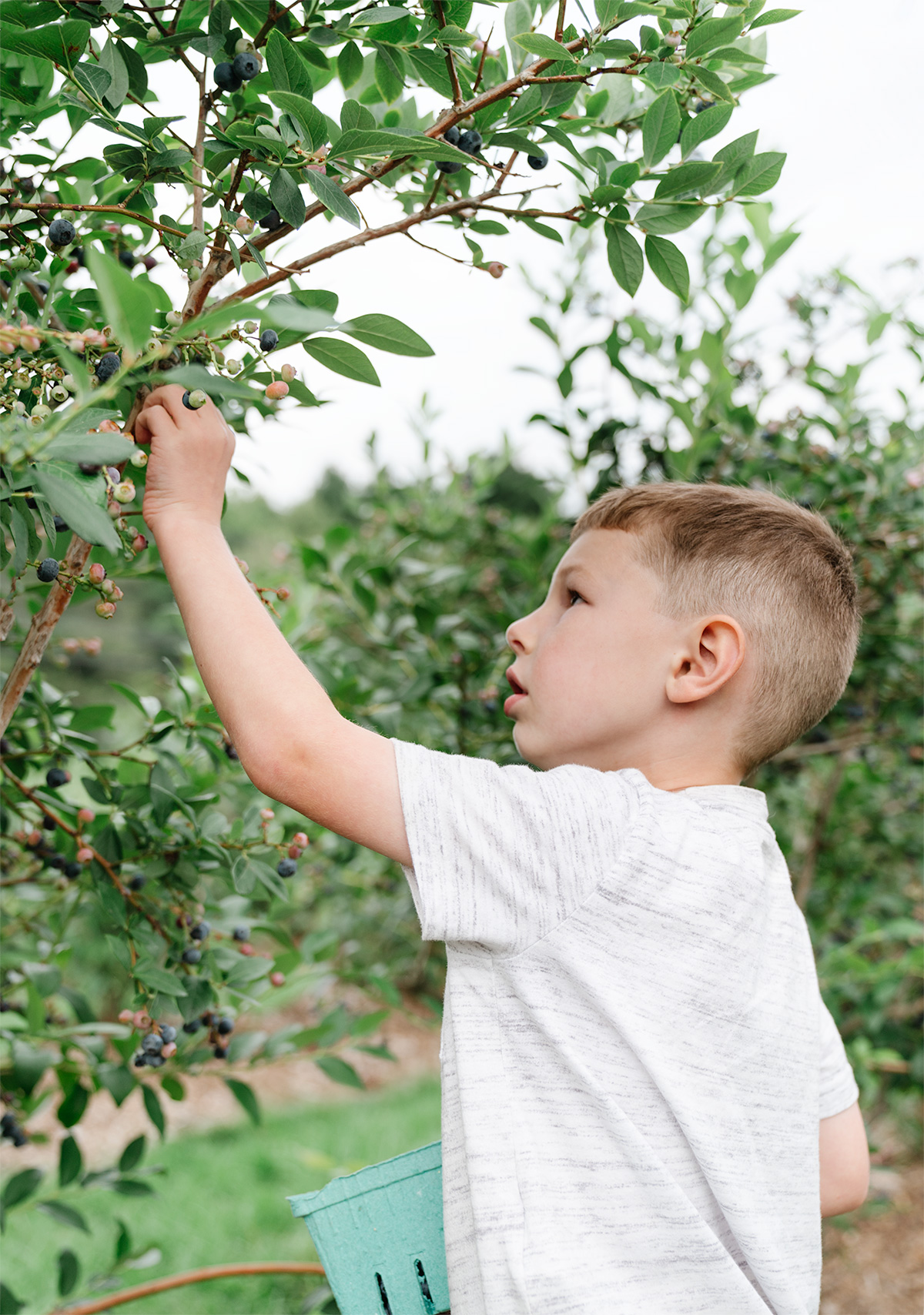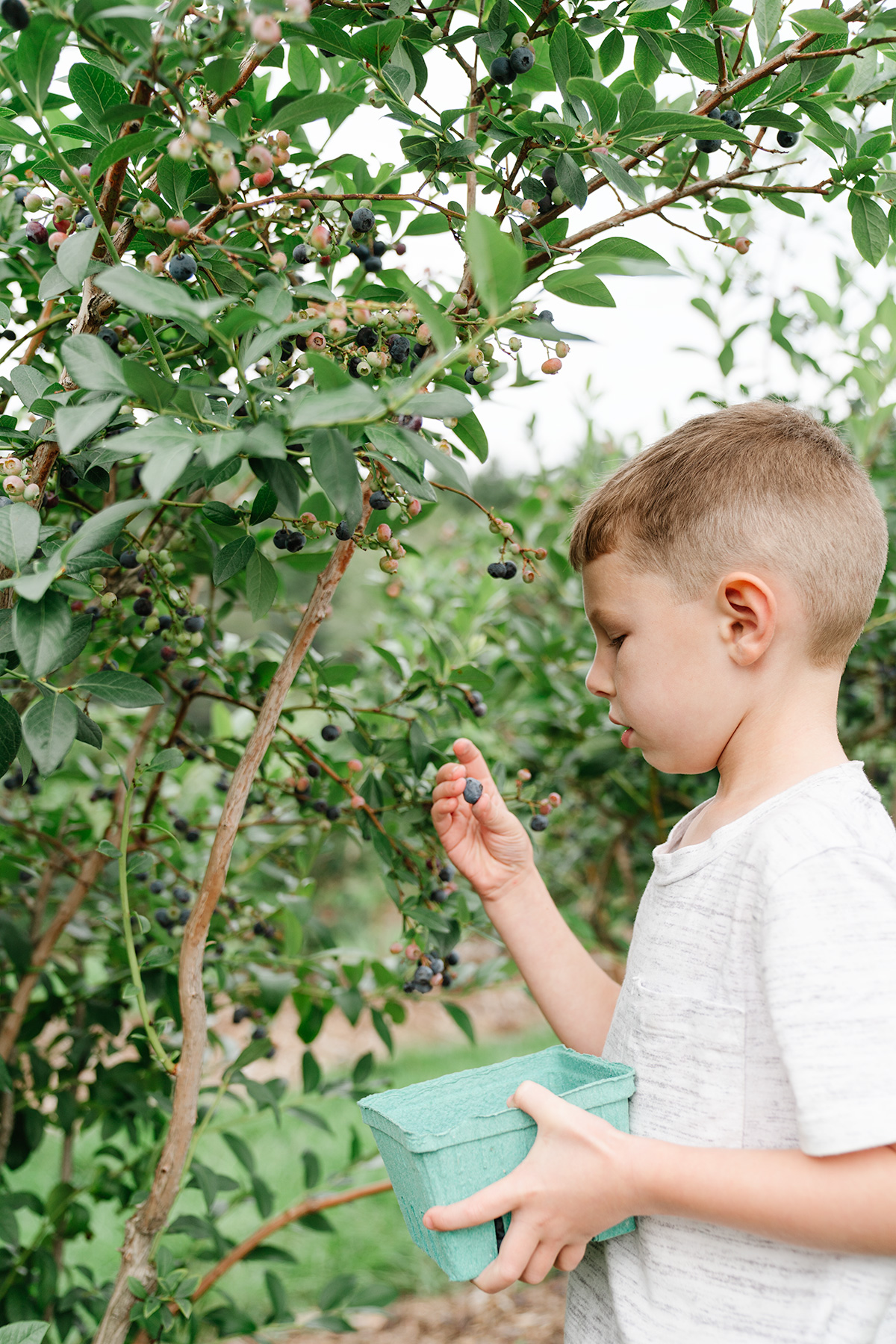 We went to the farm a few times to pick strawberries, blueberries, peaches, and flowers (and of course, Tru had to get his cider donuts, honey sticks, and rainbow bagels from the farm store!)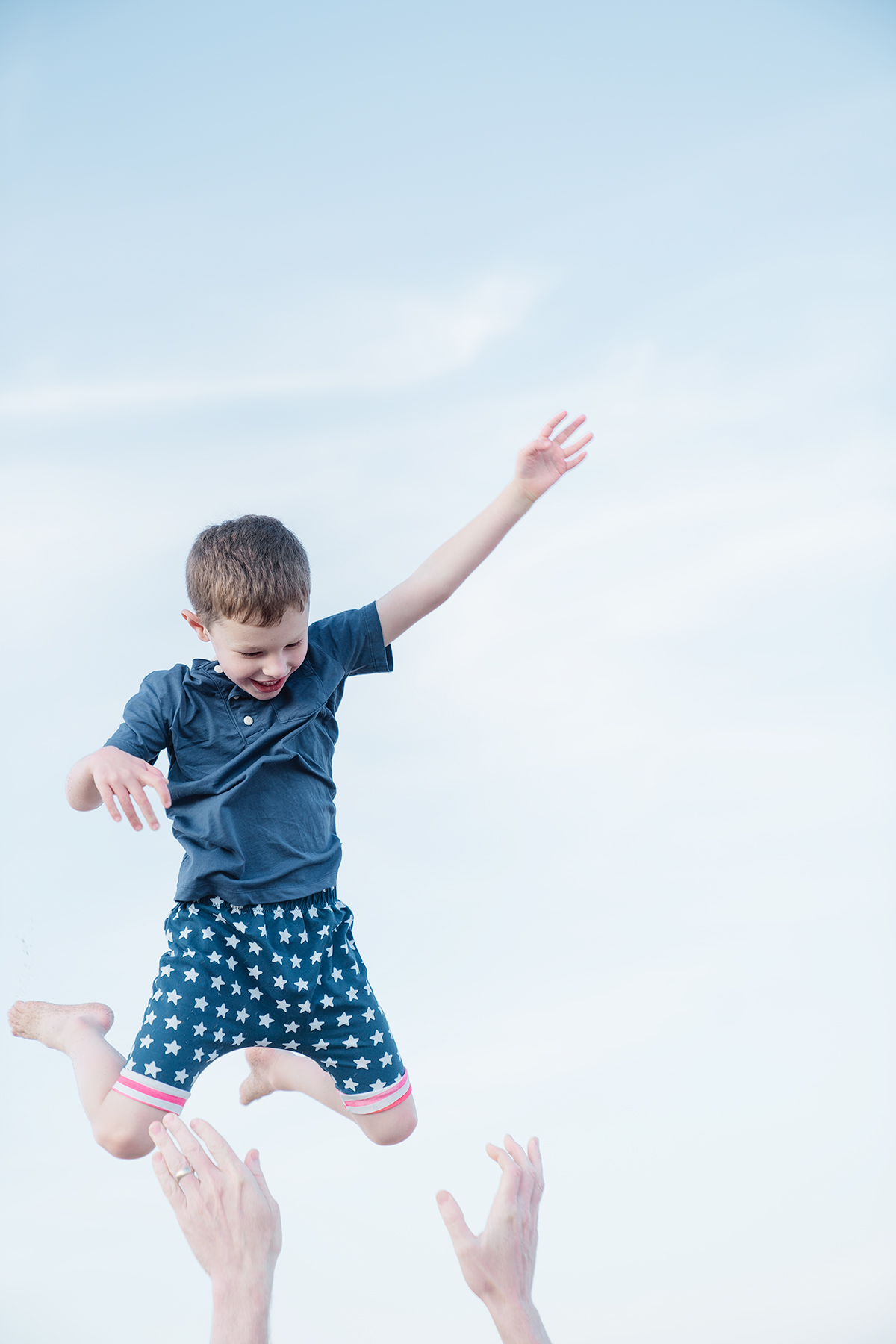 We thought about going out to watch fireworks for the 4th of July but decided it would just be too late for Tru. Maybe next year! Instead we did a little trip to the beach. It was way too cold to swim in the ocean, but Trevor had fun playing in the sand.
And Tru helped Chris and I plant our garden. This year we successfully grew cucumbers, zucchini, Sun Gold tomatoes, San Marzano tomatoes, basil, parsley, cilantro, chives, and green and red bell peppers. We've also experimented with growing watermelon, strawberries, raspberries and blueberries – those haven't worked out (the watermelons never ripened, the strawberries were all eaten by birds, and the blueberries and raspberries never grew!)!
Trevor's favorite movie of the summer was Disney's Luca; we watched it many times. He doesn't love country music like he used to, but Tru has one new favorite song: Starting Over by Chris Stapleton. I think just because he recognizes a lot of things he loves in the lyrics, like "jumping in the water," "lucky pennies," and "four leaf clovers:"
And I got friends out on the coast
We can jump in the water and see what floats
We've been savin' for a rainy day
Let's beat the storm and be on our way
And it don't matter to me
Wherever we are is where I wanna be
And Honey, for once in our life
Let's take our chances and roll the dice
I can be your lucky penny
You can be my four-leaf clover
Startin' over
And then I also have a favorite Chris Stapleton song I like to sing to Tru when he'll let me (I adapt the words to Joy of My Life):
the first time that I held you,
you took my breath away.
I might not get to Heaven,
but I walked with the angels that day.
when you take me by the hand,
I am the luckiest girl alive.
did I tell you, Trevor?
you are the Joy of my life.
The Sweetness of This Season
Age five is a magical age; I wish I could pause time here. Tru is getting very heavy but he's still little enough for me to scoop him up in my arms every now and again! We have a trick where I'll grasp his hands and he'll use his feet to "climb" up my legs. Then he does a 360 flip and lands on his feet. He still likes to hold my hand sometimes and his hands still feel so tiny in mine. His skin is still so silky and baby soft. He loves to curl in my lap in his bed or on the couch so I can read him a bedtime story. I can breathe in the scent of his hair and it smells like maple and sugar. He's so active and always operating at 100 percent power, but he has a cuddly side. He gets jealous when I pet and kiss Calvin. He'll say, "love on me now!"
Tru has a great sense of humor. He loves for me to read him funny books like "Froggy's Day With Dad" and laugh at all the silly parts. He loves to flip right to the "Silly Pages" when his Highlights magazine arrives. When we went to a craft fair this summer, Trevor found a tie-dye shirt with a dancing pickle on the front. He loved how silly that shirt was. Whenever he picks out his own clothes these days, he chooses his most comfy shorts, his black solar system socks, and the pickle shirt.
Meltdowns definitely still happen (as I mentioned, especially surrounding sports and games) but he's far more able to express himself with words now. His vocabulary is extensive and yet he struggles with a couple of sounds such as "r." "Is it time for dinn-aw?" he'll say and it's so sweet. He still says "aminal" instead of "animal" and I can't correct it. It's so cute to me; he's still little and still learning.
He thinks it's funny to rearrange all of the toiletry items in our shower. I'll step in and find my soap bar missing and my shampoo on the opposite side of the shelf. My windows are forever covered in fingerprints and the dining room chairs are sauce- and chocolate-stained. Preparing food and cleaning up after meals and doing laundry – there's no end to it. I gave up on trying to keep the house clean. As soon as I've finished vacuuming/dusting/scrubbing one thing, I see ten more areas of the house that look like a mess. And then that one thing I've cleaned is back to it's pre-clean level in about 48 hours. The household feels chaos-filled but also love-filled.
I experience panic when I think about how much I've cherished this phase and how quickly I'll lose it. I love a Wayne Dyer quote that says, "try squeezing a handful of water, and see how quickly it disappears. But relax and let your hand flow in the same water, and you have the experience of the water as long as you like." And I try to apply that. As much as I want to, I can't hang on to Little Boy Trevor any more than I could Baby or Toddler Trevor. I can't grasp any moment; I can't carry even one with me.
But I can be present to embrace this season. I can experience what's here in this moment, appreciate it fully while it's happening.