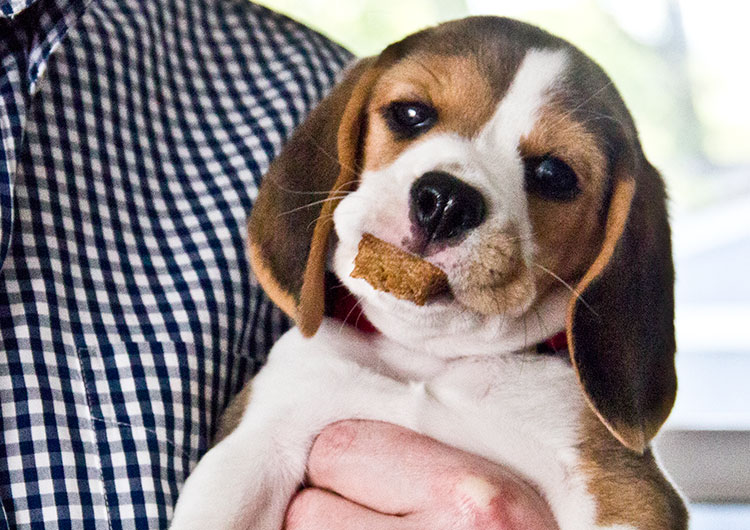 Over the past few days, I haven't had as much time for The Scrumptious Pumpkin site as I'd like.
I haven't had much time for anything, actually.
I've had my hands full with the new addition to our family: an eight-week-old beagle named Calvin.
He is:
two parts 'boundless tornado of energy.'
He performed a flying backwards somersault when leaping out of my lap for a rope toy this weekend.
Completely unintentional, of course.
It was pretty impressive, actually.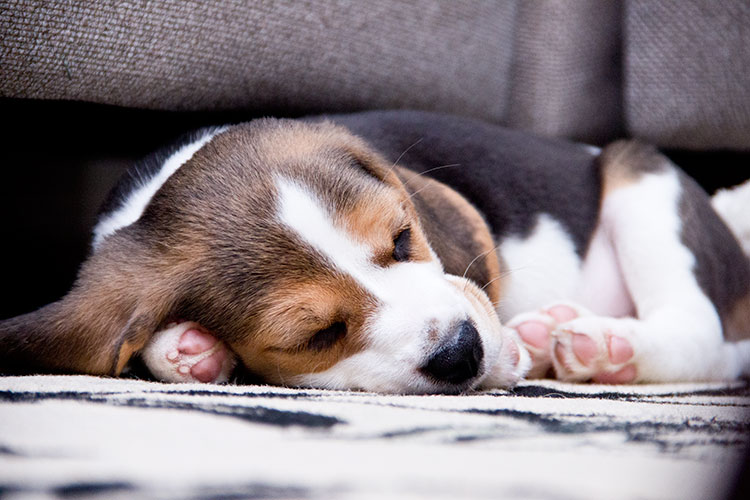 One part 'sweet angel.'
He likes to curl up in my lap when he's getting sleepy.
When he's this cute and cuddly, a part of me wishes he'd always stay so small.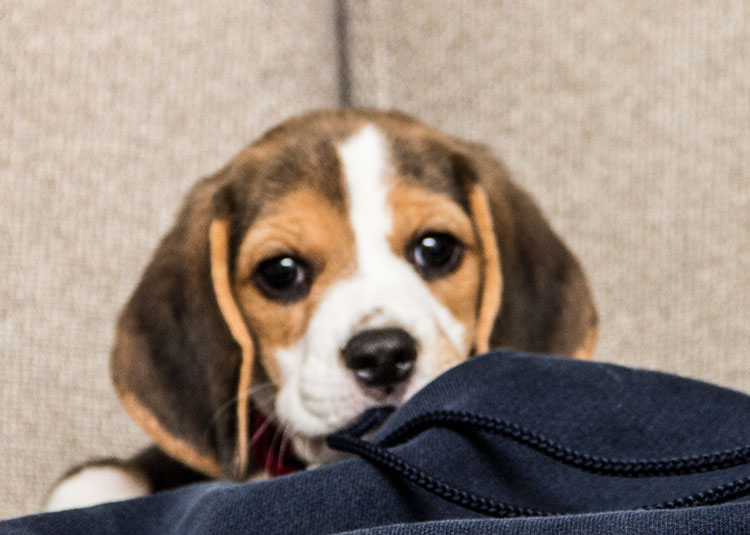 And he is two parts 'little devil.'
He grew bored of all his new toys within a couple days and now favors chewing on everything he shouldn't.
Here he is chewing Meat-and-Potatoes-Guy's sweatshirt.
And now here he is chewing my slipper (to give you an idea of how tiny he is, he's about the length of my size 7 slipper).
I have to watch him every second.
I left him in the kitchen (sealed off with baby gates) to brush my teeth and fix my hair.
When I returned, he had somehow forced his way into the guest bedroom and climbed into a large potted plant. The pot is taller than Calvin, but he crawled in somehow. And he started digging, scattering dirt all over the floor.
I'm amazed at how much chaos 4 pounds of puppy can cause in under three minutes flat.
So I guess I should make that four parts 'little devil.'
We haven't even had him a week yet, and already he has me tied around his tiny little baby paws.
I'm completely head-over-heels for this little guy.
So naturally, I had to get into the kitchen and cook something special for him.
I found a recipe for healthy peanut butter and honey homemade dog treats from the book Beagle (Smart Owner's Guide)
.
I baked them up for Calvin and snapped some shots of him trying out his first treat.
Here's Calvin, ready and eager for his taste test.
He loved the peanut butter and honey homemade dog treats so much he sniffed out and lapped up every last crumb.
Calvin loves these treats. Cannot get enough of them!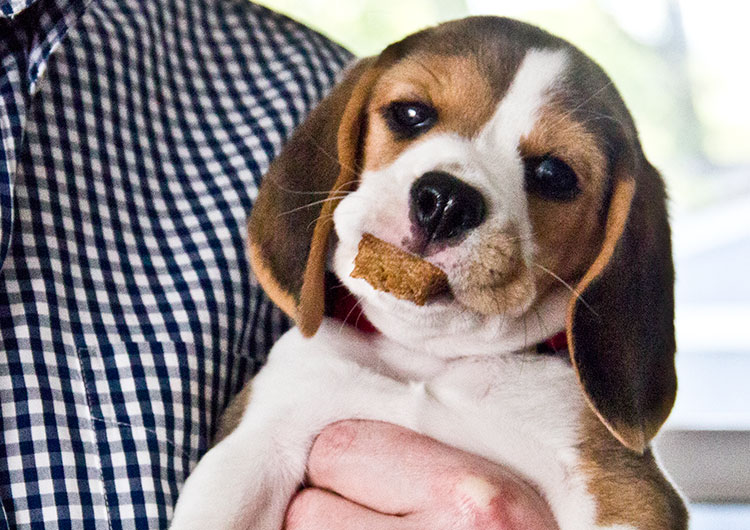 It looks like I will no longer be the only member of the household with a huge peanut butter addiction.
These treats are really easy and they take no time at all to whip together.
With peanut butter, honey, eggs, and whole wheat flour, they're healthy, whole, and completely all-natural.
I love giving Calvin a homemade treat, knowing all of the ingredients (and all of the love!) that go into them.
They certainly have Calvin's seal of approval!
Here's the recipe for Peanut Butter and Honey Homemade Dog Treats:
(Adapted from the recipe Peanut Butter Bites from the book Beagle (Smart Owner's Guide))
Peanut Butter and Honey Homemade Dog Treats
Author:
The Scrumptious Pumpkin
Total Time: 25 minutes
Prep: 15 minutes
Cook: 10 minutes
Yield: 20 treats
Ingredients
1½ tablespoons canola oil
2 tablespoons smooth peanut butter, no salt or sugar
2 tablespoons honey
¾ teaspoon baking powder
1 egg
1 cup whole wheat flour (or rye flour or brown rice flour)
Instructions
Preheat oven to 350 degrees F.
Combine all ingredients in a large mixing bowl.
Knead dough on a lightly floured surface and roll out to about half an inch thick. Cut treats with a cookie cutter and place on a parchment-lined baking sheet.
Bake for about 10 minutes, or until treats are firm to the touch.
Before freezing or storing, allow cookies to cool and harden, about 50 minutes.
Always consult your veterinarian before introducing any new ingredients into your pet's diet.
You May Also Enjoy:
https://jenelizabethsjournals.com/2012/05/19/puppy-wreaks-havoc-and-gets-a-homemade-cheddar-biscuit-anyway/
https://jenelizabethsjournals.com/2012/11/07/7-things-i-wish-i-knew-before-i-bought-the-puppy/
https://jenelizabethsjournals.com/2013/04/10/happy-birthday-puppy-with-easy-peanut-butter-cupcakes-for-dogs/
SaveSave
SaveSave
SaveSa
SaveSaveSaveSave