If you love steak, this one's for you.
And even if you don't love steak, this one may still be for you.
Because I definitely don't love steak, and I do enjoy this dish.
Here's where steak ranks in my Likes vs. Dislikes Life List:
1) would prefer eating a plate of overcooked brussels sprouts (that aren't even seasoned) to eating a steak
2) would prefer eating a few bites of steak to vacuuming the living room
3) would eat an entire three-ounce serving of steak if it could somehow buy my way out of a routine dental cleaning.
So, no, steak does not rank as one of the big loves in my life.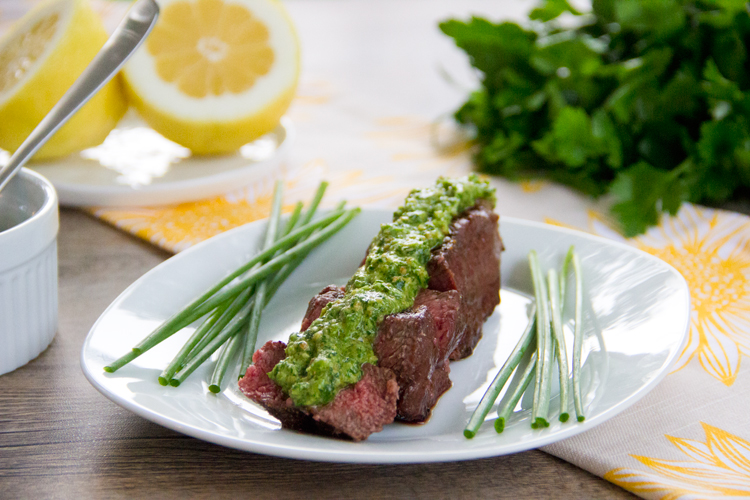 But I will say, this particular steak dish is one I enjoy. I think the accompanying Lemon-Chive Pesto, with all its bright, light, fresh notes, is the perfect complement to the hearty, buttery grilled steak.
And my husband, always game for any dish meat-and-potatoes-related, says this recipe ranks high on his list of favorite steak dishes.
Here is everything you need to create your Lemon-Chive Pesto Grilled Sirloin.
Only six key ingredients (including the steak), and this dish is ready in 20 minutes!
Begin by squeezing all of the juice from one lemon.
Next, hold your knife (so it's parallel to the cutting board, as shown) over a clove of garlic and press down hard to smash it, breaking the clove free from the skin.
Grab a food processor and add all of the following: lots of fresh chives, some fresh parsley, the freshly squeezed lemon juice, the clove of garlic, and some toasted pine nuts.
Season with salt and pepper.
Pulse until a thick paste is formed.
Add just a bit of extra virgin olive oil and pulse again, until well combined.
Next up: the steak.
If you're wondering whether steak could actually be considered healthy, the answer is maybe.
Steak tends to be fairly high in saturated fat and cholesterol, but it can be a healthy choice for dinner, once in a while.
There are a couple of things to consider in selecting a healthier steak.
First, consider the cut of beef. Here's a helpful guide to leaner cuts of beef. To sum it up, ask your butcher for any of the following cuts:
Eye of round roast or steak
Sirloin tip side steak
Top round roast and steak
Bottom round roast and steak
Top sirloin steak
These are the leanest options and lowest in saturated fat (under 2 grams of saturated fat per serving).
Second, grass-fed beef is a good choice if you can find it. Grass is what cattle were designed by nature to eat, so grazing on their most natural diet of grass is better for the animals and for the environment.
Grass-fed beef is better for us too, not just because it's the more natural choice but also because it has a higher proportion of omega-3 fats (healthy, disease-preventing fats most of us need more of in our diets).
These selections can add up to a mild case of Sticker-Shock-Induced-Panic at the checkout register (quality beef is pretty pricey!).
So my solution is to make steak a once-in-a-great-while dinner option in our household.
Prepare the grill for medium heat.
Season the steaks well with salt and pepper. Seasoning well makes a world of difference in the final flavor of your steak.
Place the steak on the grill and allow them to cook, untouched, for about seven minutes.
During this time, resist the urge to flip, move, or press down on the steak. Allowing the steaks to cook, untouched, is key to getting a nice crust on the outside while the inside remains moist and tender.
Flip the steaks and allow them to cook for about seven minutes more.
The easiest way to tell when the meat is ready: insert a meat thermometer into the very center of the steak and look for an internal temperature of 145 degrees F for a medium-rare steak.
One more tip: allow the steaks rest for about seven minutes before cutting them. This resting period is key to making your steak as tender, moist, and juicy as possible.
Top the steaks with plenty of the Lemon-Chive Pesto, and serve.
I love something fresh, bright, and citrusy to balance out the rich, buttery flavor of steak.
And all of the healthy citrus and herbs transform plain old steak to a dish that's loaded with healthy nutrients.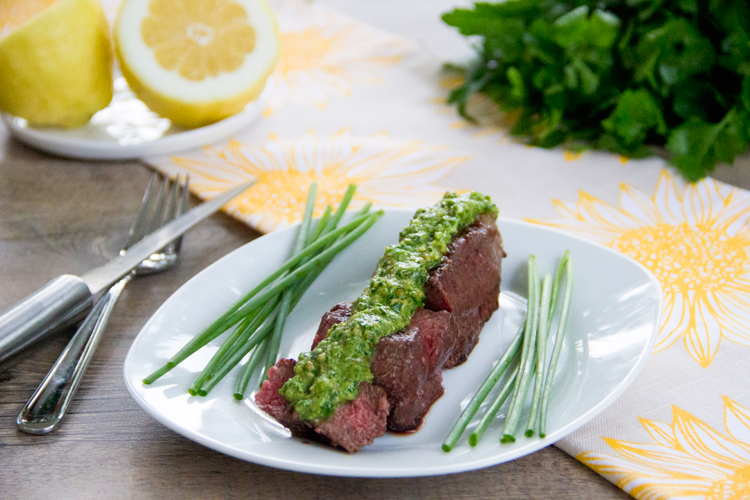 This grilled steak is the perfect combination of flavors: a light, delicate onion flavor from the chives, lots of contrasting tart citrus, and a little nuttiness from the olive oil and pine nuts.
I actually finished my serving of steak when I made this dish, which says a lot.
If you ask me, I'd say this recipe is most certainly … okay.
If you ask my Meat-and-Potatoes-Guy (and I did) he'd say "this is a really delicious steak. This one definitely needs to go on your blog."
Here is the complete printable recipe:
Grilled Sirloin with Lemon-Chive Pesto
Author:
The Scrumptious Pumpkin
Total Time: 20 minutes
Prep: 6 minutes
Cook: 14 minutes
Yield: 4 servings
Ingredients
16 ounces top sirloin steak
½ cup fresh parsley
¾ cup fresh chives
2 tablespoons pine nuts
1 small clove garlic
¼ cup freshly squeezed lemon juice
3 tablespoons extra virgin olive oil
Salt and freshly ground black pepper
Instructions
Preheat the oven to 375 degrees F.
Arrange the pine nuts on a parchment-lined baking sheet and toast in the oven for about 5 minutes, or until they become light golden. Watch carefully, they burn quickly!
To a food processor, add the parsley, chives, toasted pine nuts, garlic, and lemon juice.  Season with salt and pepper. Pulse until a thick paste is formed.  Add the olive oil and pulse until well combined.
Prepare the grill for medium heat.
Season the sirloin steaks well with salt and pepper.  Place the steaks on the grill and cook, untouched, for about 7 minutes.  Flip the steaks and grill the second side for about 7 minutes more, or until a meat thermometer inserted into the very center of the steak reads 145 degrees F (for a medium rare steak).  Place the steaks on a platter, cover, and allow them to sit for five minutes.
Top each steak with a generous portion of the Lemon-Chive Pesto, and serve.