Meat-and-Potatoes-Guy and I have a Japanese restaurant in our neighborhood that we love.
It's small and the owners are very friendly.
Decorated with miniature zen gardens and plenty of leafy plants, it's always quiet and never overly crowded.
After a crazy stressful day, dinner there feels like a calming, peaceful retreat.
Two things I love especially:
1.) Their avocado-cucumber maki rolls.
2.) And their carrot-ginger salad dressing.
I'm guessing these both sound a little exotic and usual to the average American who doesn't have a Japanese restaurant they love in their neighborhood.
But, let me tell you, after you've dived in and sampled them: you will fall in love.
And then try to recreate the flavors at home.
Which is what I've done here.
Here is what is wonderful about these flavors:
The perfect contrast between the fresh crunch of cucumber and the buttery richness of avocado.
Flavored with a thick, creamy carrot dressing that's absolutely delicious with sweet and tangy and zesty notes.
And topped with toasted sesame seeds to add a delicious nutty complement.
It's unique, it's full of interesting flavors, and it's definitely a cure for same-old-salad blues.
Here are all the ingredients you'll need.
Preheat the oven to 350 degrees F.
Grab some sesame seeds (find them in the spice isle at the grocery) and toss them on a baking sheet.
Toast them in the oven until they begin to turn golden.
Just watch them closely – they'll burn fast!
Meanwhile, grab a couple small carrots (I used a handful of bagged carrot sticks here) and roughly chop them.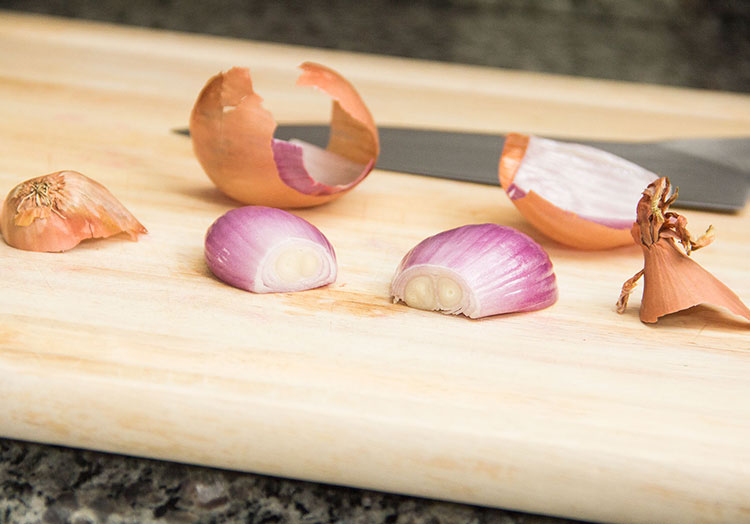 Then cut both ends off of a shallot and cut it in half lengthwise.
Peel off the skin and place one half flat-side-down on the cutting board for stability.
Then roughly slice it.
Next up: fresh ginger!
Here it is, if you've never tried it.
It's actually the root of a plant, and usually found near other root veggies (onions or carrots) in the produce section at the grocery.
Looks a little strange.
A lot intimidating.
But it's actually easy.
Just chop off a small (about 1-inch) section (place the rest in an airtight container and store in the fridge or freezer, depending on how often you plan to use it).
Use a small pairing knife or a vegetable peeler to scrape off the skin.
Cut it in half lengthwise and place one half flat-side-down on the cutting board.
Then roughly chop it up, just as you would the carrot.
Toss the carrot, shallot, and ginger into a food processor.
Add some white wine vinegar, honey, and bit of water.
Season with salt and pepper.
Pulse until you have a smooth, thick dressing.
Then pour in some sesame oil and pulse again.
I'm loving sesame oil these days, by the way.
Find it alongside the cooking and olive oils in the grocery.
Sesame oil is a delicious, healthy oil that is full of unsaturated fats (the kind that are good for your heart and help your body to absorb all the vitamins and nutrients in the salad).
It's also loaded with Vitamin E, a key vitamin for clear, smooth skin and shiny, healthy hair.
Next, prepare the salad. Grab a head of Bibb lettuce and pull off all the leaves.
Rinse thoroughly and pat dry with a clean towel.
Use a vegetable peeler or a small pairing knife to remove the skin from a cucumber.
Cut off both ends and cut the cucumber in half lengthwise.
Grab a small spoon and scrape through the center of each half, scooping out and discarding all of the seeds.
Then place one half flat-side-down on the cutting board and cut thin slices.
Next, grab an avocado and cut it in half lengthwise. You'll feel a large pit in the center, just cut around it.
Twist the two sides you've cut in opposite directions to pull apart the two halves.
Then use a spoon to scoop out the pit.
Cut thin slices of avocado.
And then use the spoon to scoop the avocado from the skin.
To keep the avocado from turning brown, immediately squeeze some fresh lemon juice all over it.
Arrange the lettuce on serving plates and top with heaps of cucumber and avocado slices.
Drizzle on lots of carrot-sesame dressing.
Then top with some yummy toasted sesame seeds.
This salad is unique and wonderfully tasty.
Crunchy cucumber and rich, creamy avocado are a match made in heaven.
And the bold, bright, thick, rich dressing is so flavorful (finally, a tasty salad dressing that's also healthy and packed with nutrients!)
Here is the complete, printable recipe:

Avocado-Cucumber Salad with Carrot-Sesame Dressing
Author:
The Scrumptious Pumpkin
Total Time: 20 minutes Prep: 15 minutes Cook: 5 minutes Yield: 4 servings
Ingredients
2 teaspoons sesame seeds
1 head Bibb lettuce
2 avocados, halved, peeled, pitted, and sliced
2 small cucumbers, peeled, halved, seeded, and sliced
2 small carrots, roughly chopped
½ small shallot, roughly chopped
1 tablespoon ginger, chopped
2½ tablespoons white wine vinegar
2 tablespoons honey
1 tablespoon water
4 tablespoons sesame oil
Salt and freshly ground black pepper
Instructions
Preheat the oven to 350 degrees F.
Arrange the sesame seeds on a baking sheet and toast for about 5 minutes, or until seeds are lightly golden. Watch carefully as seeds burn quickly!
Meanwhile, prepare the dressing. In a food processor, add the carrot, shallot, ginger, vinegar, honey, and water. Pulse until smooth and creamy. Season to taste with salt and freshly ground black pepper. Add the sesame oil and pulse again, until well combined.
Break the lettuce leaves off the head and arrange the lettuce on serving plates. Top with cucumber and avocado slices. Drizzle on plenty of dressing. Top with toasted sesame seeds, and serve.