This one is for Meat-and-Potatoes-Guy.
He washes the piles of pots and pans that are the result of my kitchen experiments, and I've never heard him complain once.
He's a good sport when I request his assistance as "hand model" for my step-by-step photos.
After I've prepared dinner, he patiently waits 25 minutes, so I can capture my blog photos before we dig into our plates of food. Which we normally have to reheat it in the microwave, because they've long since gone cold.
He even distracts Calvin so I don't have a silly beagle face drooling over my food in every single photo (although we've often joked that a "Where's Calvin" photo in each recipe post (stealing from the Where's Waldo book series) would be pretty entertaining).
I don't know how he puts up with me, so for this post, I wanted to try a healthier version of one of his all-time favorites, the steak and cheese sub.
Of course Chris loves these subs, but even I (a could-almost-be-a-vegetarian) enjoy this dish.
Because, with bell pepper, onion, red wine, and herbs, this is sort of the "classy restaurant" version of a Philly cheesesteak sub (versus the traditional "football stadium" version made with Cheez Wiz).
It's a super satisfying, filling, hearty, full-flavored kind of a dish.
It also happens to be quite healthy, so far as cheesesteak subs go.
Here are the key ingredients you'll need to create this dish.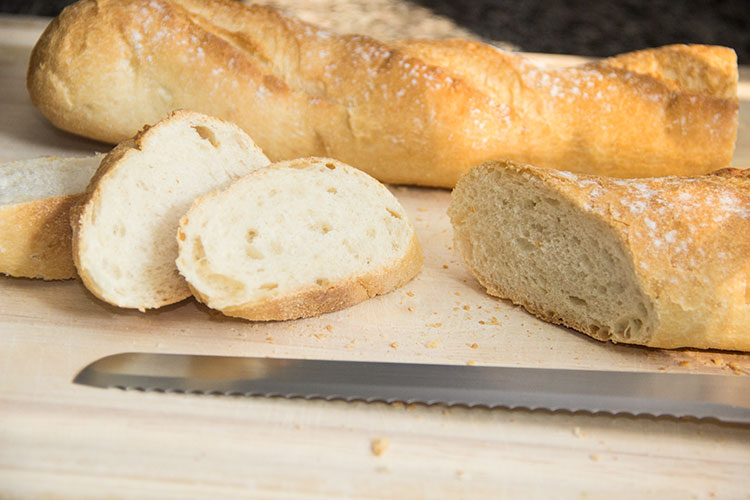 Begin with a good quality bread from the bakery section of the grocery.
I used a baguette, which is dee-lish with the steak, red wine, herbs, and gorgonzola that go into this dish.
Cut the loaf into thirds, then slice each third in half lengthwise.
Then place the bread under the broiler to toast.
Next, grab a clove of garlic and place your knife flat over it.
Then press down with your palm or fist, smashing it up and loosening the skin so you can remove it.
Then run your knife in every direction, mincing it up.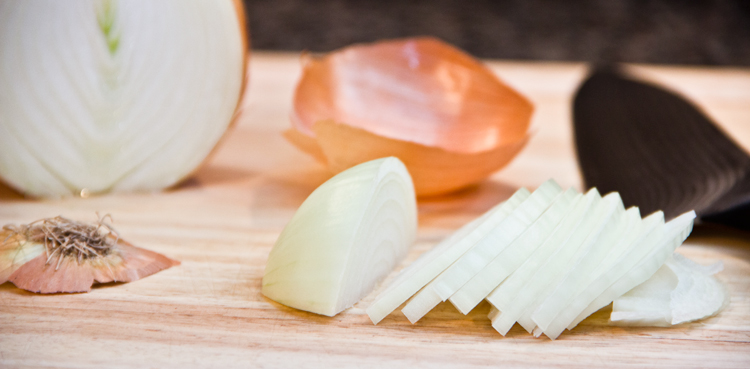 Chop the root end off an onion and cut it in half lengthwise.
Peel off the skin and place one half flat-side-down on the cutting board.
Then cut thin strips of onion.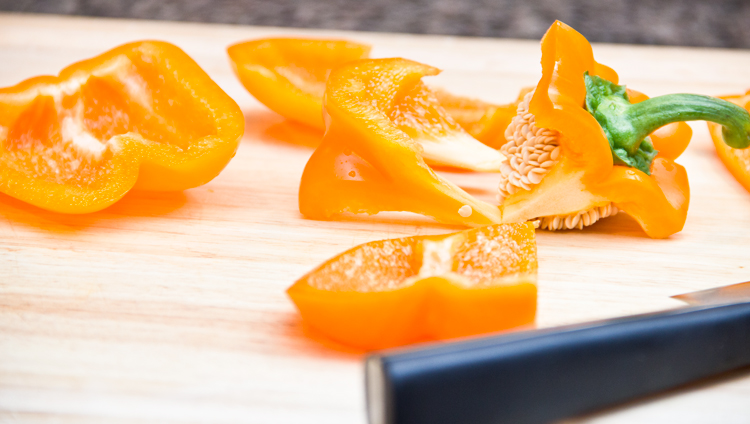 Grab an orange bell pepper and place it upright on the cutting board.
Then slice down around each side of the stem, creating four quarters of bell peppers.
This makes it easy to discard the stem and seeds.
Then slice thin strips of pepper.
Repeat the process with a red bell pepper (the variety of colors in these veggies = a variety of different nutrients and vitamins in the dish)
Next up: the steak! I used a top round sirloin for this recipe.
It's a lean cut of steak that is healthier because it's lower in saturated fat.
Because it's so low in fat though, it can easily become tough and chewy.
So here are the steps to keeping the meat tender and juicy instead:
Heat just a bit of olive oil in sauté pan over medium-high heat.
Season the steak with a pinch of salt and pepper and, when the oil is hot, place the steak down on the pan – you should hear it sizzle.
Then just leave it – don't flip it and definitely don't press down on it – for about 4 minutes.
Then flip and cook the other side.
If you flip it only once, you should get a nice sear on the outside.
And if you don't touch it or press down on it, you shouldn't lose any of the juices.
Next, transfer the steak to a platter or cutting board and just let it sit and rest for a while.
Don't immediately cut into the steak or all the juices will run right out of it.
Next, reduce the heat to medium and add a bit more olive oil.
Cook the garlic and onion for a minute or two, until they're softened.
Then add the bell peppers and some dried oregano and Herbes de Provence.
Don't have Herbes de Provence? Dried thyme or dried rosemary (or a combo of the two) make good substitutes.
Season with a pinch of salt and pepper.
Add some red wine and allow that to cook and reduce, about 2 minutes.
Then turn off the heat and slice up the steak.
Work against the grain of the meat, as shown here, cutting thin slices.
Then toss the strips of steak in with the onion and pepper mixture, until everything is well combined.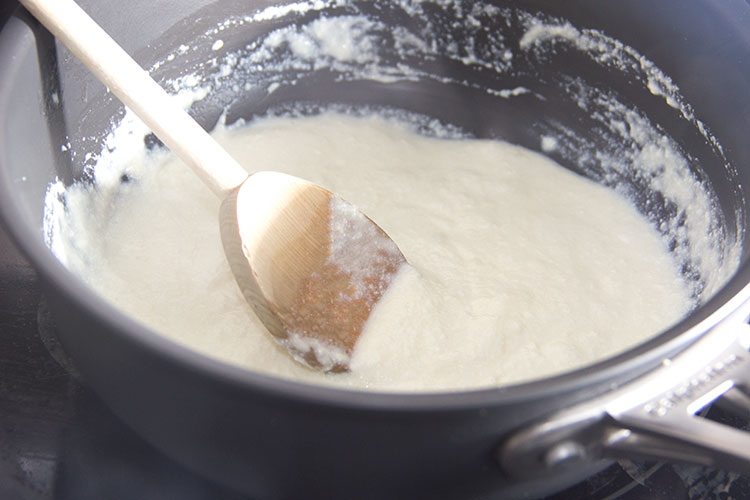 Grab a small saucepan and heat some low-fat milk until it just begins to simmer.
Then stir in some Gorgonzola cheese until it has just barely melted.
I like Gorgonzola in this recipe because it's very rich and bold, so you only need a little to get plenty of cheesy flavor. It also complements the steak, herbs and red wine very nicely.
Remove the cheese sauce from the heat.
Then arrange the meat and pepper mixture over each slice of toasted baguette.
Drizzle just a bit of the Gorgonzola sauce all over the top, then dive right in.
Meat-and-Potatoes-Guy gives this one rave reviews.
And, although I'm not steak's biggest fan, I am a fan of this dish.
The red wine, herbs, onion and peppers all add such intense, deep flavor.
And the melted gorgonzola adds a nice complementary cheesy richness.
Here is the complete, printable recipe:

Lightened Up Steak and Cheese Subs
Author:
The Scrumptious Pumpkin
Nutrition Information
Serving size:

6

Calories:

419
Fat:

16.9g

Saturated fat:

7.8g

Carbohydrates:

31g

Sugar:

3.7g

Sodium:

689mg

Fiber:

3.4g

Protein:

35.1g

Cholesterol:

95mg
Recipe type:
Healthy Beef Dish
Total Time: 30 minutes
Prep: 15 minutes
Cook: 15 minutes
Yield: 6 servings
Ingredients
1 pound top round sirloin
2 teaspoons plus 2 teaspoons olive oil
2 cloves garlic, minced
1 small onion, thinly sliced
1 red bell pepper, thinly sliced
1 orange bell pepper, thinly sliced
2 teaspoons dried oregano
2 teaspoons Herbes de Provence
3 tablespoons red wine
3 tablespoons low-fat milk
1 cup Gorgonzola cheese, crumbled
1 baguette, halved, cut into thirds, and toasted
Salt and freshly ground black pepper
Instructions
Heat 2 teaspoons olive oil in a sauté pan over medium-high heat. Season the sirloin steak with salt and pepper and cook about 4-5 minutes on the first side. Flip and cook about 4-5 minutes mores.
Remove the steak from the pan and allow it to sit and rest, about 15 minutes.
Meanwhile, reduce the heat to medium and add 2 teaspoons of olive oil to the pan. Add the garlic and onion and cook until softened, about 2 minutes. Add the bell peppers, oregano, and Herbes de Provence and cook until peppers are softened, about 2 minutes more. Season with salt and pepper. Add the red wine and allow it to simmer and reduce, about 2 minutes.
Remove the sautéd vegetables from the heat. Thinly slice the steak against the grain and stir the sliced steak in with the onions and peppers.
In a small saucepan, heat the milk until it is lightly simmering. Add the gorgonzola, stirring until it has fully melted.
Place some of the steak and pepper mixture onto each piece of the toasted baguette. Spoon the cheese sauce over the top. Serve as open-faced sandwiches.