Here are my two main highlights of last weekend:
Highlight #1:
I discovered that whipped feta cheese makes a very tasty, very easy snack.
I was making whipped feta as part of a recipe (to be posted soon!)
And decided to grab a box of crackers to see how the whipped feta would taste as a spread.
Very yummy.
Very yummy, indeed.
So I went back for a little more.
And then a little more.
My Official Findings as a result of all of this 'taste-testing': a whipped feta spread is now my go-to snack for the summer.
For this recipe, I added some yogurt, garlic, and fresh herbs (like dill and chives) to make it extra flavorful (and a bit more nutritious).
It's rich, creamy, and cheesy and it pairs nicely with crackers, pita, and fresh-cut veggies like bell pepper and tomato.
Highlight #2:
Meat-and-Potatoes-Guy, some friends, and I attended a very crowded Miranda Lambert and Jason Aldean concert at Fenway Park (the oldest Major League Baseball stadium still in use).
We had a good time and got an iPhone pic to prove it!
We didn't know it at the time, but we found out later that there were over 70,000 people in attendance (over the course of two weekend shows) and the concert broke all attendance records (and all beer sale records!) for any event at Fenway.
Who knew New Englanders were such huge country music fans?
Here's everything you need to make the Whipped Feta and Herb Dip.
Grab some fresh parsley and cut through a small section of the bunch with a sharp knife, chopping off a handful of the leaves.
Then roughly chop some fresh dill leaves as well.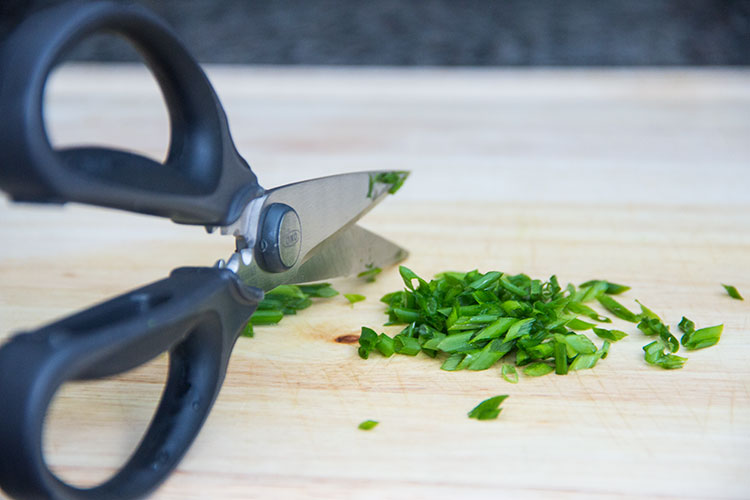 Next, roughly chop some chives with kitchen shears or a sharp knife.
Mince up a small clove of garlic and measure out about 1/4 of a teaspoon to use in this recipe.
Toss some plain non-fat yogurt (I used Greek yogurt, my favorite), the fresh chopped herbs, the garlic, and just a drop (1/4 teaspoon) of Dijon mustard for extra flavor.
Then add plenty of feta cheese.
I love feta because it has such rich, salty, intense flavor. So a little goes a long way, and you don't need to use a ton get the cheesy flavor you crave.
Feta is also an excellent source of calcium and Vitamin B2, which helps restore energy levels and keeps metabolism going strong.
Add just a pinch of salt (the feta already has a lot of sodium so you can also skip the extra salt altogether) and some pepper.
Then puree until the feta is whipped into a thick, creamy, smooth consistency.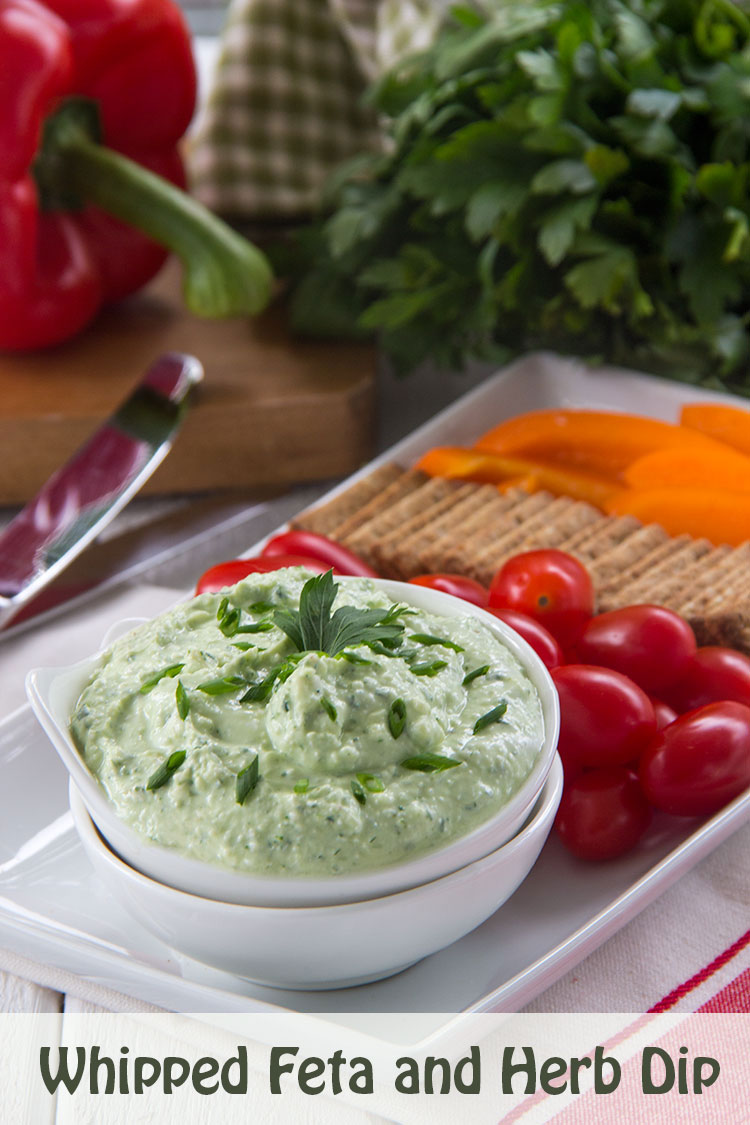 Serve it up with whole grain crackers or pita and some fresh-cut veggies.
The whipped feta is rich, thick and satisfying, and the fresh garlic and herbs make it zesty and full-flavored.
It's perfect for those cheesy, salty snack cravings.
Here is the complete, printable recipe:

Whipped Feta and Herb Dip
Author:
The Scrumptious Pumpkin
Nutrition Information
Serving size:

4

Calories:

88
Fat:

6.2g

Saturated fat:

4.4g

Trans fat:

0g

Carbohydrates:

2.8g

Sugar:

2.2g

Sodium:

330mg

Protein:

5.1g

Cholesterol:

26mg
Recipe type:
Healthy Snacks
Total Time: 5 minutes
Prep: 5 minutes
Cook: 0 minutes
Yield: 4 servings (1 serving is about 3 tablespoons)
Ingredients
¾ cup feta
¼ cup plain nonfat yogurt
1 tablespoon fresh dill, chopped
1 tablespoon fresh parsley, chopped
1 tablespoon fresh chives, chopped
¼ teaspoon garlic, minced
¼ teaspoon Dijon mustard
Salt and freshly ground black pepper
Instructions
Add all ingredients to a food processor and puree until feta is whipped to a thick, creamy consistency.
Serve with whole grain crackers, pita, tomatoes, cucumbers, sliced bell peppers, etc.