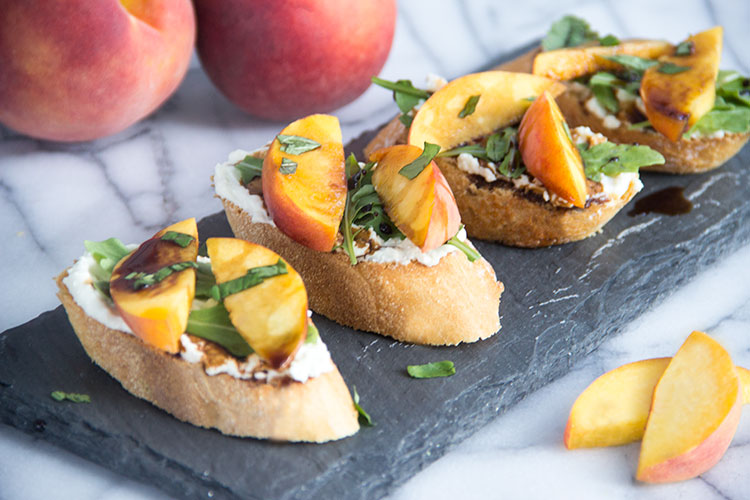 A few years ago, I decided to take a risk and try something that sounded a little unusual at the time: a watermelon feta salad.
And that was when I first discovered the surprisingly, wonderfully perfect flavor combo of sweet, juicy summer fruit mixed with salty, rich cheese.
The combo sounded a little strange before I tried it, but after: I had a new favorite summer salad.
So this summer I decided to toss the dice again and try a twist on my trusty old watermelon feta salad:
I swapped out the melon for fresh, ripe summer peaches…
I blended the feta together with some ricotta cheese and spread it all over a toasted baguette…
Then I topped everything off with a sweet honey balsamic syrup.
My gamble was rewarded this time around.
This dish is a winner.
Peach crostini with whipped feta and honey balsamic may just be my new summer favorite.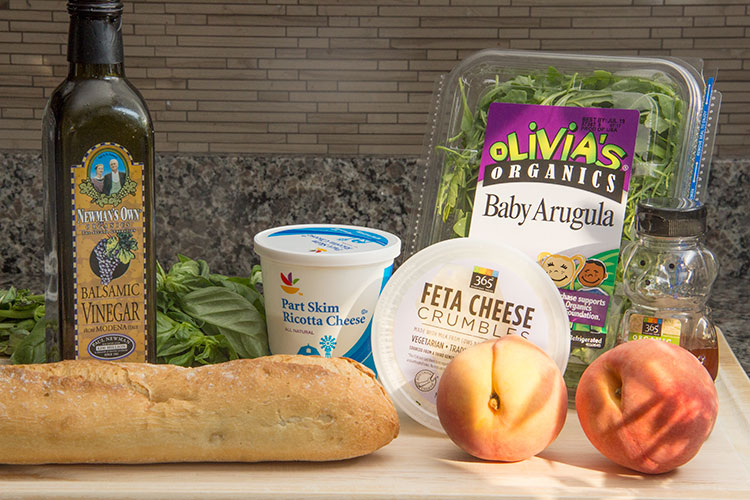 Here is everything you'll need to get started.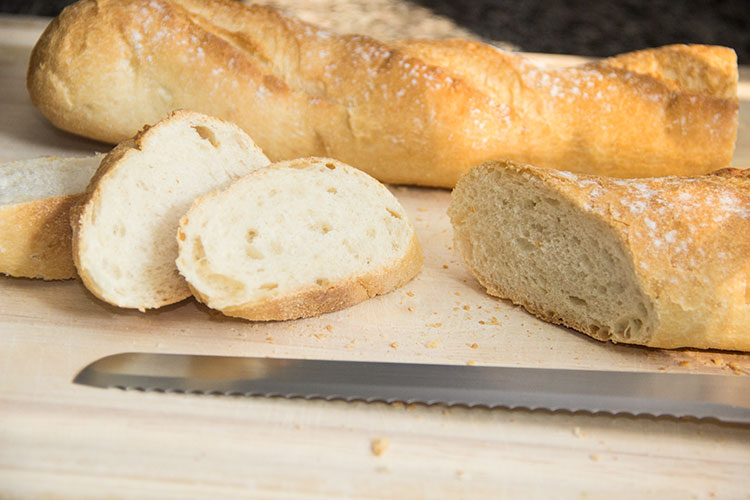 Begin with a good quality bread from the bakery section of the grocery.
I used a baguette (my favorite!) for this recipe.
Cut the loaf into 1-inch thick slices.
Sneaky little trick: hold your knife at a slight angle, slicing the bread diagonally. So each slice gets extra surface space to pile on extra whipped feta and peaches!
Place the bread on a baking sheet and toast under the broiler until it's nicely golden.
Next up: fresh summer peaches.
Peaches are full of nutrients that are good for your skin, including Vitamin C to help increase collagen production and improve skin elasticity, and Vitamin A to help protect skin from the damaging sun.
Since they're the star of this dish, you just want to be sure your peaches are fully ripe and sweet.
If your peaches are ripe, they should:
be mostly red on the outside (mostly yellow on the outside means they aren't ready yet)
be slightly soft and give a little when you press on them (go very carefully with this test – pressing on the peaches can bruise them)
have a strong peachy smell when you hold them to your nose
If your peaches are not yet ripe: Place them in a paper bag, roll it up, and set it on the counter to ripen the peaches within a day or two.
To prepare the peaches, begin by cutting one in half.
Your knife will hit a pit in the center, just keep rotating your knife around the peach, cutting around that pit.
Twist each of the two halves in opposite directions, pulling apart the two halves.
Use a small pairing knife to carefully cut under and around the pit, removing it.
Cut out any rough, tough spots surrounding the pit too.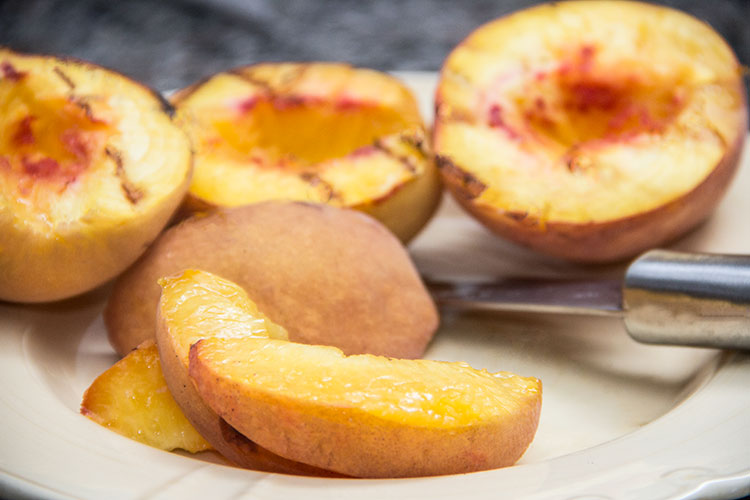 Next, two choices: you can grill the peaches to soften them or just slice them up raw and use them that way.
To grill, place the peach halves on a grill prepared for medium heat for about 4-6 minutes on each side.
The peaches should have a trace of light golden grill marks (don't leave them on so long that they become blackened or charred.)
Slice them up when they're cool enough to handle.
Next, prepare the honey balsamic reduction.
Pour some balsamic vinegar along with a bit of honey into a saucepan and adjust the heat to about medium to bring it to a simmer.
Cook for several minutes, stirring often with a wooden spoon to ensure that the honey and balsamic don't stick to the bottom of the pan and burn.
When the balsamic has cooked down and reduced for several minutes, it will thicken and begin to look more like a syrup than the watery liquid you began with.
Turn off the heat and immediately pour the balsamic honey reduction into a bowl.
Why bother with pouring into a bowl?
Because the hot saucepan will continue to cook the syrup even after you've removed it from the heat.
And then you'll end up with a way-too-thick, stuck-to-the-pan, sticky mess.
That "gloops" onto the crostini rather than "drizzles."
Yours truly has learned this the hard way.
Next, toss some crumbled feta cheese along with a bit of part-skim ricotta cheese into a blender or food processor and blend away until you end up with a smooth, creamy spread.
A smooth, creamy spread that is fantastic with toasted baguette.
Really, I could stop at just the feta-ricotta spread over toasted baguette and be perfectly happy.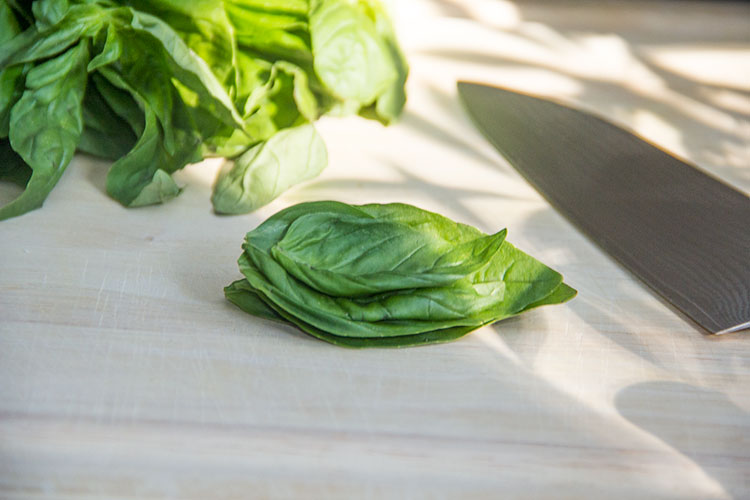 Last step: grab some fresh basil leaves and pile them up.
Then roll them tightly and cut thin strips, creating lovely ribbons of basil.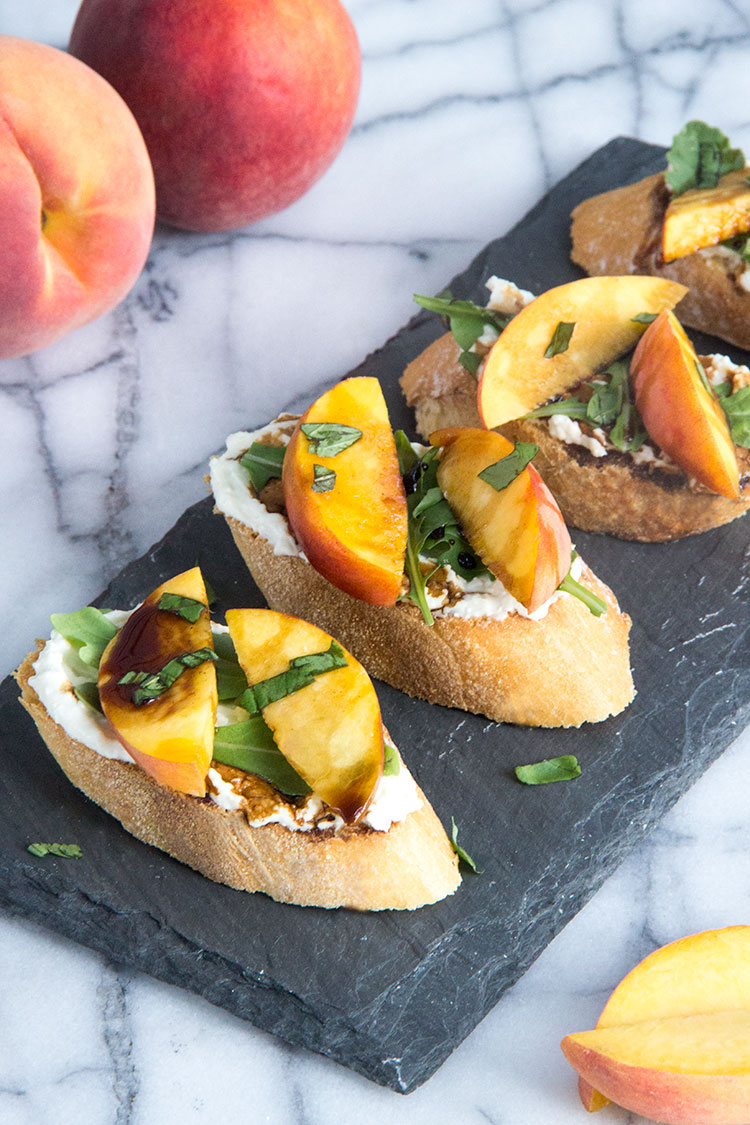 Spoon plenty of the whipped feta mixture over each toasted baguette slice.
Top with baby arugula and sliced peaches.
Drizzle the balsamic reduction all over.
Then add plenty of your lovely ribbons of basil.
Since I can't hand you a bite, I'll provide a mathematical equation to help you understand all the complementary flavors going on:
Salty, creamy whipped feta cheese + crunchy toasted baguette + juicy, ripe peaches covered in sweet honey balsamic syrup = complete and total yumminess
Summer does not get better than this, in my estimation.
Here is the complete, printable recipe:

Peach Crostini with Whipped Feta and Honey Balsamic
Author:
The Scrumptious Pumpkin
Nutrition Information
Serving size:

4

Calories:

305
Fat:

6g

Saturated fat:

3.5g

Trans fat:

0g

Carbohydrates:

51.3g

Sugar:

15.5g

Sodium:

640mg

Fiber:

2.5g

Protein:

11.9g

Cholesterol:

19mg
Recipe type:
Healthy Vegetarian Dish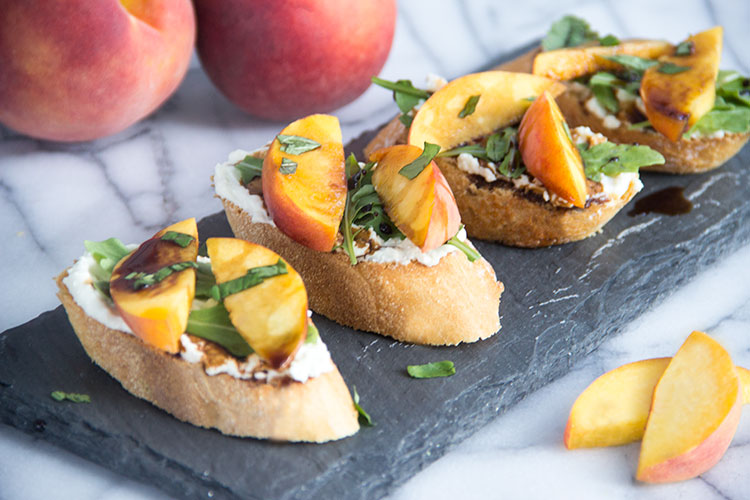 Total Time: 30 minutes
Prep: 20 minutes
Cook: 10 minutes
Yield: 4 servings, 12 crostini (1 serving is 3 crostini)
Ingredients
½ baguette, sliced to 1-inch thick rounds
2 ripe peaches, pitted and halved
½ cup balsamic vinegar
2 tablespoons honey
½ cup feta cheese crumbles
2 tablespoons part-skim ricotta cheese
2 cups baby arugula
3 tablespoons basil, chopped
Instructions
Place the slices of baguette on a baking sheet and toast under the broiler until golden, about 3 minutes.
Prepare the grill for medium heat. Place the peach halves on the grill and cook until lightly softened, about 4-5 minutes. Flip and grill the other side, about 4-5 minutes more. Peaches should have light golden grill marks, but should not be blackened or charred. Allow the peaches to cool, and then thinly slice (grilling the peaches is optional, they may also be used raw).
To a small saucepan, add the balsamic and honey. Heat over medium heat, stirring often with a wooden spoon, allowing the mixture to simmer. After about 6-9 minutes, the balsamic should become thick, like a syrup, and reduced by about half. Turn off the heat and pour the sauce into a bowl to allow it to cool.
Meanwhile, puree the ricotta and feta in a blender or food processor until a thick, smooth mixture is formed.
Spread the whipped feta over each toasted slice of baguette. Add baby arugula and sliced peaches. Drizzle on the balsamic honey reduction, then top with freshly chopped basil, and serve.