There's a food truck in Boston that I love for a couple of reasons.
The first reason is that the food truck sells giant-sized cookies in a variety of creative and fantastic flavors – just the smell of Freshly-Baked-and -Warm-Cookie wafting from the truck is enough to make you fall in love.
The second reason is the very Bostonian name of the truck, which makes me laugh: "Cookie Monstah."
Because, if you've ever visited this part of New England, you know a "monster" is actually a "monstah" to a native Bostonian.
There's one flavor I especially love, which is Coconut Oatmeal.
It's a heavenly cookie, but I really felt the cookie could be even better with a few additions…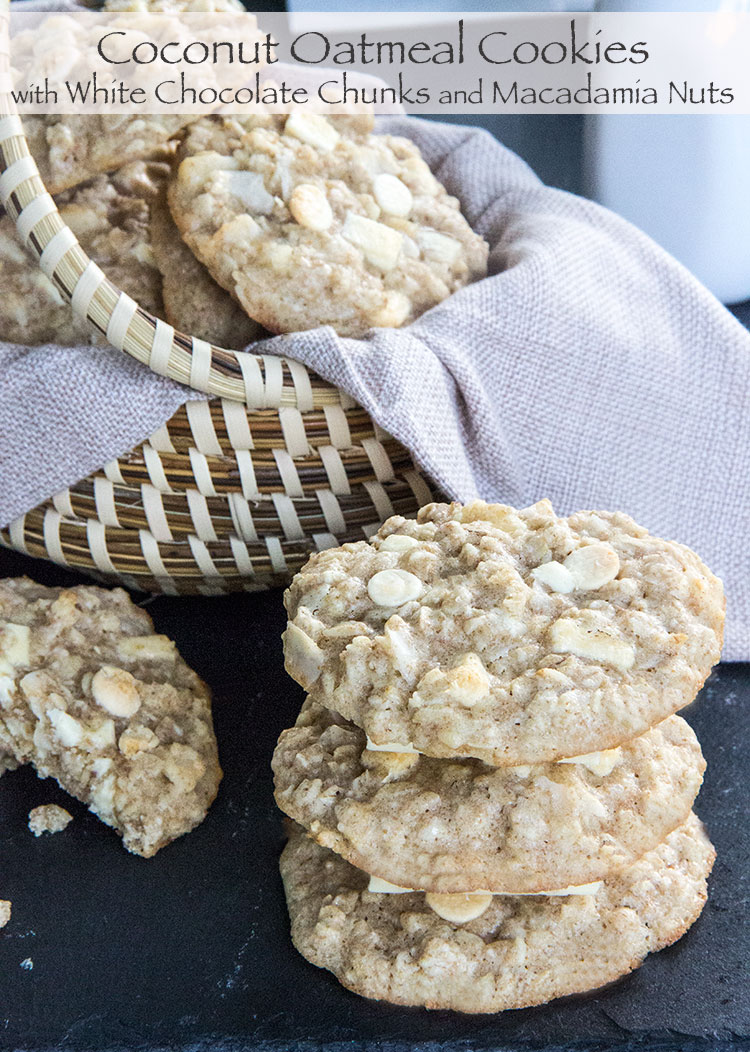 So I baked a few batches of my own and experimented and discovered a very tasty combination…
For my homemade version, I used coconut oil instead of butter.
Along with healthy oats and whole wheat flour, I added coconut flakes for plenty of coconut-y flavor.
For a nice, satisfying crunch, I added macadamia nuts.
Then I made it extra sweet and wonderful by tossing some white chocolate chunks into the mix.
The result is a very decadent little treat.
Here's everything you'll need to get started.
Preheat the oven to 350 degrees F.
Begin by grabbing some macadamia nuts and running a sharp knife through them, roughly chopping them.
Substitutes: if you don't have macadamia nuts, chopped walnuts or almonds work well too.
Also grab a bar of white chocolate and chop that up as well.
Next, toss all the following into a mixing bowl: old-fashioned rolled oats, whole wheat flour, all-purpose flour, and salt.
I highly recommend old-fashioned oats for this cookie – this type of oatmeal holds up well during baking, and it provides the best final taste and result.
Stir unit everything is well combined.
For these coconut oatmeal cookies, I decided to try out coconut oil as a replacement to butter, and I found it works very well, as long as you melt the coconut oil first (straight from the jar, coconut oil actually has a consistency similar to butter).
Measure out 2/3 cup of coconut oil and place it in a heat-safe bowl. Microwave it for about 20-25 seconds, or until it's completely melted down to an actual liquid oil.
Add the melted coconut oil to a large mixing bowl, along with all of the following: plain non-fat yogurt, a couple of eggs, some sugar, and some vanilla extract. Whisk until everything is well combined.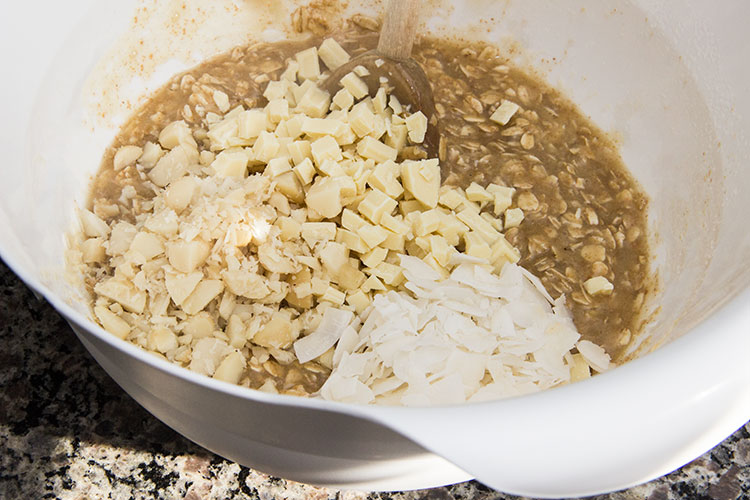 Then carefully add the oat mixture to the oil mixture and stir just until combined.
Toss in some unsweetened coconut flakes, the chopped macadamia nuts, and the white chocolate chunks. Carefully fold everything in until just combined.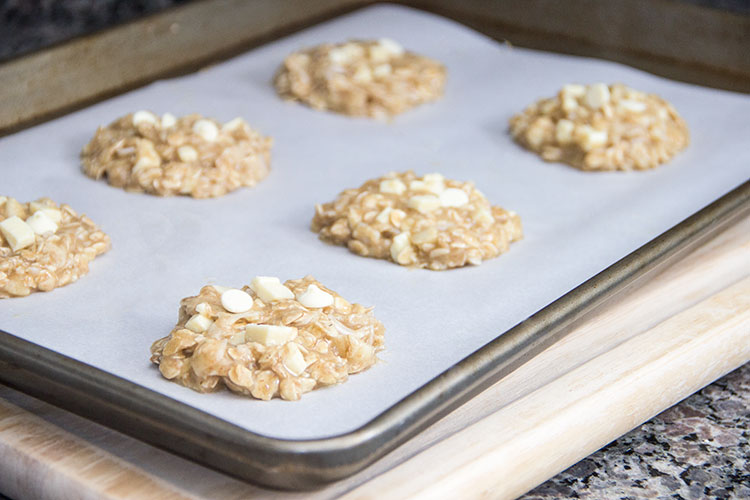 Then line your baking sheets with parchment paper – the parchment really is key to keeping the cookies from sticking to the baking sheets.
Scoop heaping tablespoons of the cookie batter onto the baking sheet.
The batter is more liquid-like than the average cookie dough.
This is because of the coconut oil, which – unlike butter – doesn't cause the cookies to spread out and flatten during baking.
The way the cookie dough looks on the baking sheet before baking is similar to how it will look at the end of baking (the cookies will spread out a bit). So feel free to shape with your hands if needed!
Bake until you start to notice the slightest golden color around the bottom edges.
Allow the cookies to cool (if you can stand to wait that long!) and enjoy one while it's still warm with gooey white chocolate…
Heavenly!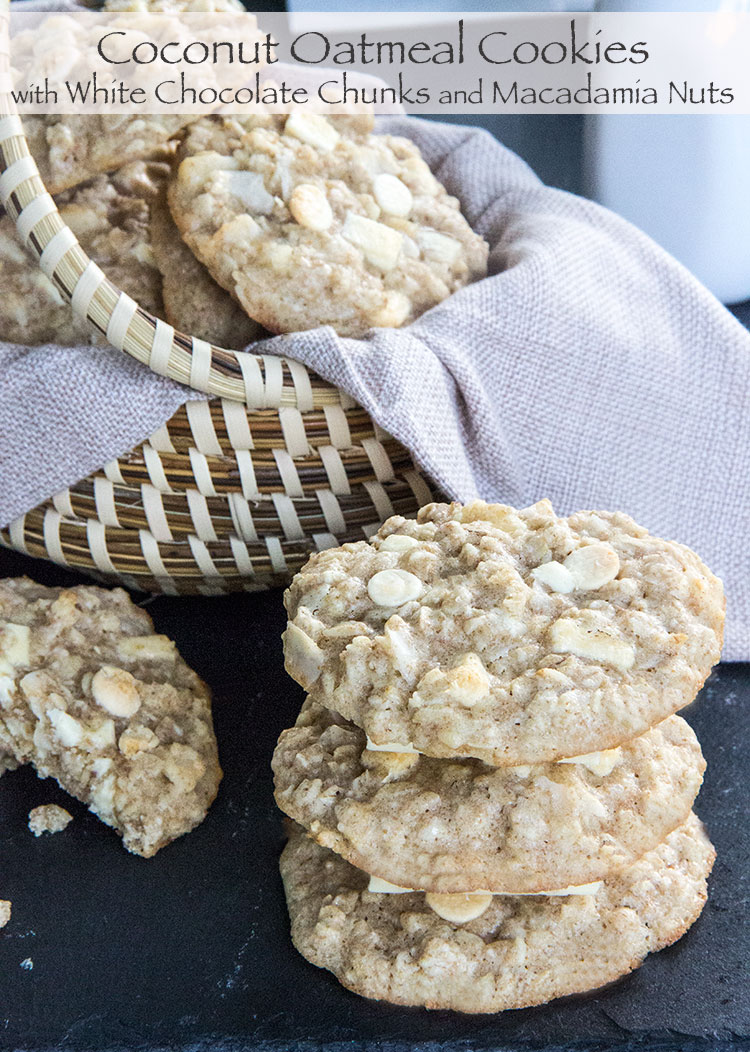 The coconut oil makes for a soft and chewy, richly flavored cookie.
I love the combo of sweet, tropical coconut combined with oatmeal.
The delicate nuttiness of the macadamia is a wonderful complement.
And the white chocolate chunks make this cookie extra special (and extra sweet)!
Here is the complete, printable recipe:

Coconut Oatmeal Cookies with White Chocolate Chunks and Macadamia Nuts
Author:
The Scrumptious Pumpkin
Nutrition Information
Serving size:

30

Calories:

160
Fat:

9.4g

Saturated fat:

5.9g

Trans fat:

0g

Carbohydrates:

17g

Sugar:

9.2g

Sodium:

87mg

Protein:

2.4g

Cholesterol:

12mg
Recipe type:
Dessert/Cookies
Total Time: 30 minutes
Prep: 18 minutes
Cook: 12 minutes
Yield: 30 cookies
Ingredients
2 cups old-fashioned rolled oats
½ cup whole wheat flour
½ cup all-purpose flour
1 teaspoon salt
⅔ cup coconut oil
¼ cup plain, non-fat yogurt
2 eggs
1 cup sugar
2 teaspoons vanilla extract
⅔ cup white chocolate chunks (or chips)
½ cup unsweetened coconut flakes
½ cup macadamia nuts, roughly chopped
Instructions
Preheat oven to 350 degrees F.
In a mixing bowl, stir and combine the oats, whole wheat flour, all-purpose flour, and salt.
Place the coconut oil in a heat-safe bowl and microwave until the oil has completely melted into liquid form, about 20-25 seconds.
To a second large mixing bowl, add the melted coconut oil, non-fat yogurt, eggs, sugar, and vanilla extract. Whisk until well combined.
Add the oat mixture to the oil mixture and carefully stir until just combined.
Carefully fold in the white chocolate chunks, coconut flakes, and macadamia nuts.
Cover baking sheets with parchment paper.
Scoop batter by heaping tablespoons onto parchment. Batter should flatten and spread out on baking sheet to form a cookie shape. If it does not, use hands to form rounded, flat cookie shape (batter will flatten and spread only minimally during baking).
Bake for about 11-14 minutes, or just until bottom edges begin to turn lightly golden.
Allow cookies to cool slightly, and serve.
Storage: Cookies will keep for several days at room temperature if stored in an airtight container in a cool, shaded, dry location.