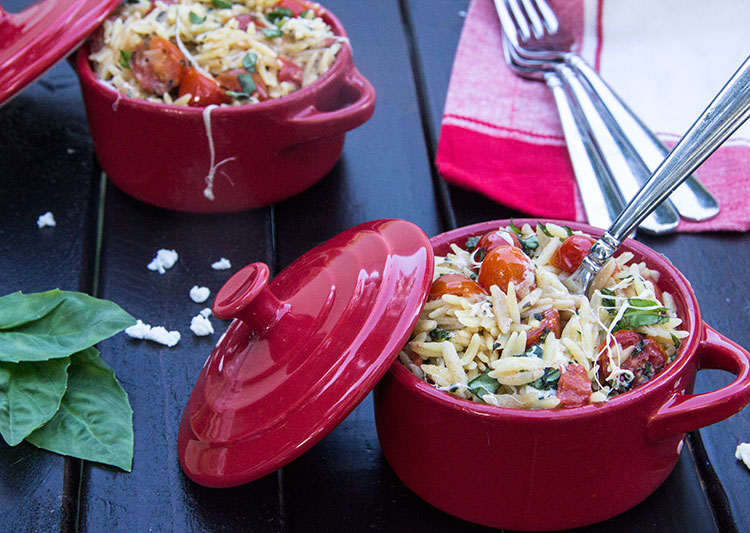 Over the weekend, we did some hiking in the White Mountains in New Hampshire.
We came across a big farm stand along the way and stopped to do some food shopping. They had organic blueberries, fresh corn on the cob, and piles of ripe tomatoes.
So I decided it was perfect timing for a fresh, seasonal tomato dish today.
This is an easy side dish that's a twist on a classic tomato-basil-mozzarella caprese salad.
It's cheesy and addictive!
Here are the falls we saw on our hike.
The crisp, clear water looked pure enough to drink. And many brave souls were bearing the chilly temperature and wading under the falls.
It was worth the work getting to the falls, and we definitely worked up a good appetite!
Here are all the key ingredients for this dish.
It's quick and simple!
Begin by boiling a large pot of water, salting the water and cooking some whole wheat pasta until just al dente.
I love using whole wheat orzo for this dish, which tastes like pasta (it is a type of pasta) but looks a lot like very large grains of rice.
Meanwhile grab some garlic cloves, arrange your knife flat over each clove, and smash down with your fist or palm, breaking off the skin.
Then run your knife in every direction through the pile of garlic, mincing it up.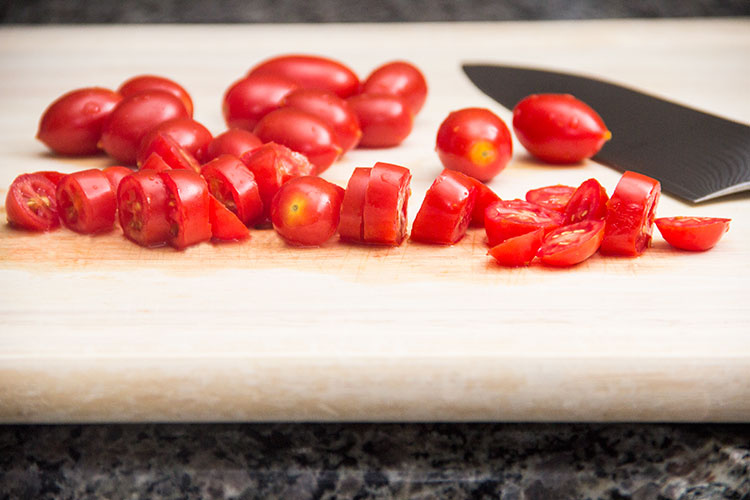 Next, grab some cherry tomatoes and slice them up.
Also, grab some fresh basil leaves, pile them on top of each other and roll them up.
Then cut thin slices of the roll, creating basil ribbons.
Last, grab some fresh mozzarella and grate it using a course grater.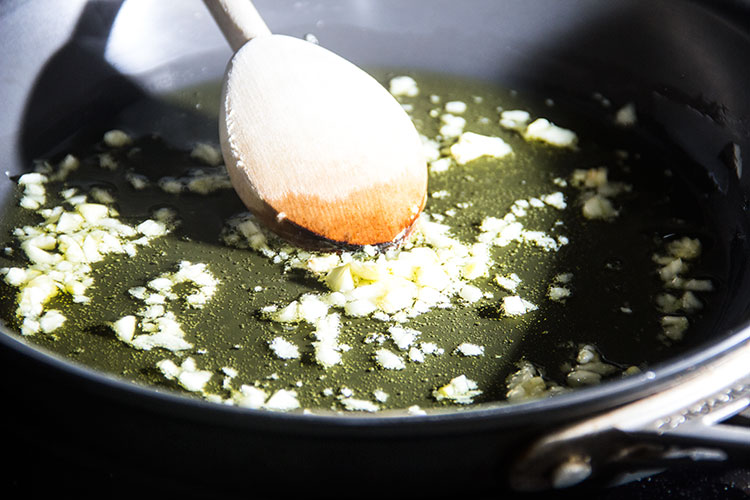 Heat up a good amount of olive oil in a sauté pan over medium heat.
Add the garlic and cook for just a minute or two, stirring constantly, until it's softened.
Then add the tomatoes and cook for a few minutes more, until they begin to "burst" and break apart.
The rich scent of the garlic- and tomato-infused olive oil is so wonderful.
It's the simplest thing to prepare, and yet that delicious aroma is all it takes to attract everyone into the kitchen to marvel over your amazing cooking skills.
More good news about the garlic in this dish: it's a superfood with very high levels of antioxidants that protect against heart disease, high cholesterol, and many types of cancer.
Next, turn off the heat and add the cooked orzo, the grated mozzarella and the basil ribbons. Carefully stir until all the cheese is nicely combined, melted and gooey.
This is one of these crowd-pleasing, irresistible dishes.
The garlic- and olive oil-flavored ripe tomatoes and basil bring so much late-summer, in-season freshness…
…and all the gooey melted mozzarella makes it rich and craveable!
Here is the complete, printable recipe:

Cheesy Tomato Basil Orzo
Author:
The Scrumptious Pumpkin
Nutrition Information
Serving size:

4

Calories:

288
Fat:

17g

Saturated fat:

4.2g

Carbohydrates:

25.6g

Sugar:

3.5g

Sodium:

104mg

Fiber:

3g

Protein:

9.3g

Cholesterol:

10mg
Recipe type:
Healthy Side Dish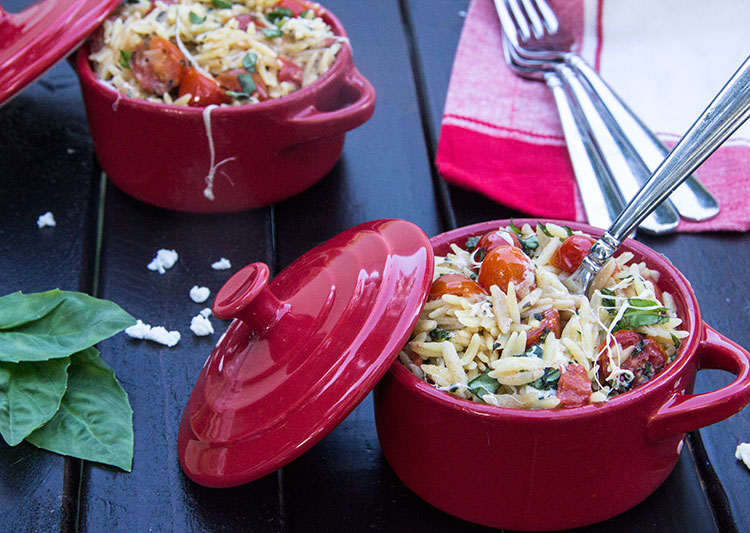 Total Time: 20 minutes
Prep: 12 minutes
Cook: 8 minutes
Yield: 4 side servings
Ingredients
4 ounces whole wheat orzo pasta
¼ cup olive oil
3 cloves garlic, minced
15 ounces cherry tomatoes, sliced
⅔ cup fresh mozzarella, grated
¼ cup fresh basil, chopped
Instructions
Boil a large pot of water. Salt the water and add the orzo. Cook until just al dente, about 7 minutes, and drain.
Meanwhile, heat the olive oil in a sauté pan over medium heat. Add the garlic and cook until softened, about 2 minutes. Add the tomatoes and cook until they soften and "burst," about 3-5 minutes more.
Remove from heat and add the cooked orzo, grated mozzarella, and chopped basil. Stir until cheese is melted and well combined. Serve.