Calvin has been loving these peanut butter, yogurt, and banana "pupsicles" this summer, so I thought it was time for a new post on homemade dog treats.
I like these frozen treats because they're so simple and quick to make.
They've got four ingredients and take about ten minutes to throw together.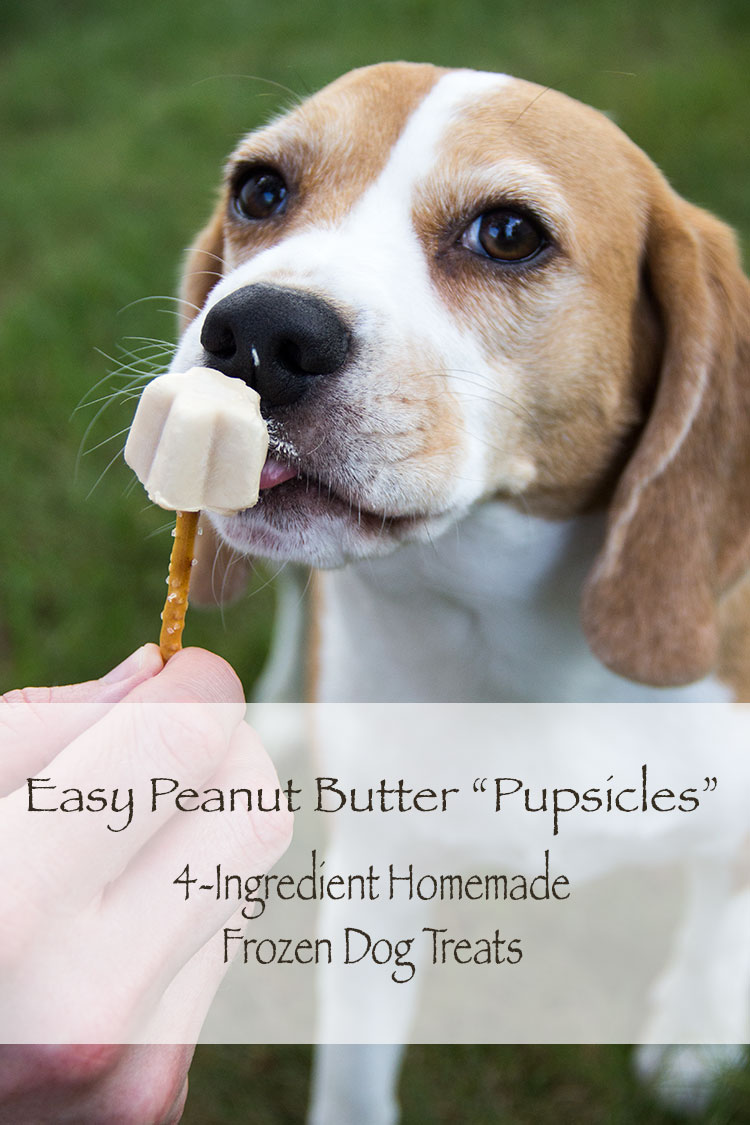 Calvin is a sweet and loyal pet who brings smiles every day, so it's nice to make him a healthy homemade treat that I know he'll enjoy.
And since these pupsicles are made in ice-cube trays, they're also nicely portioned for a pint-sized creature!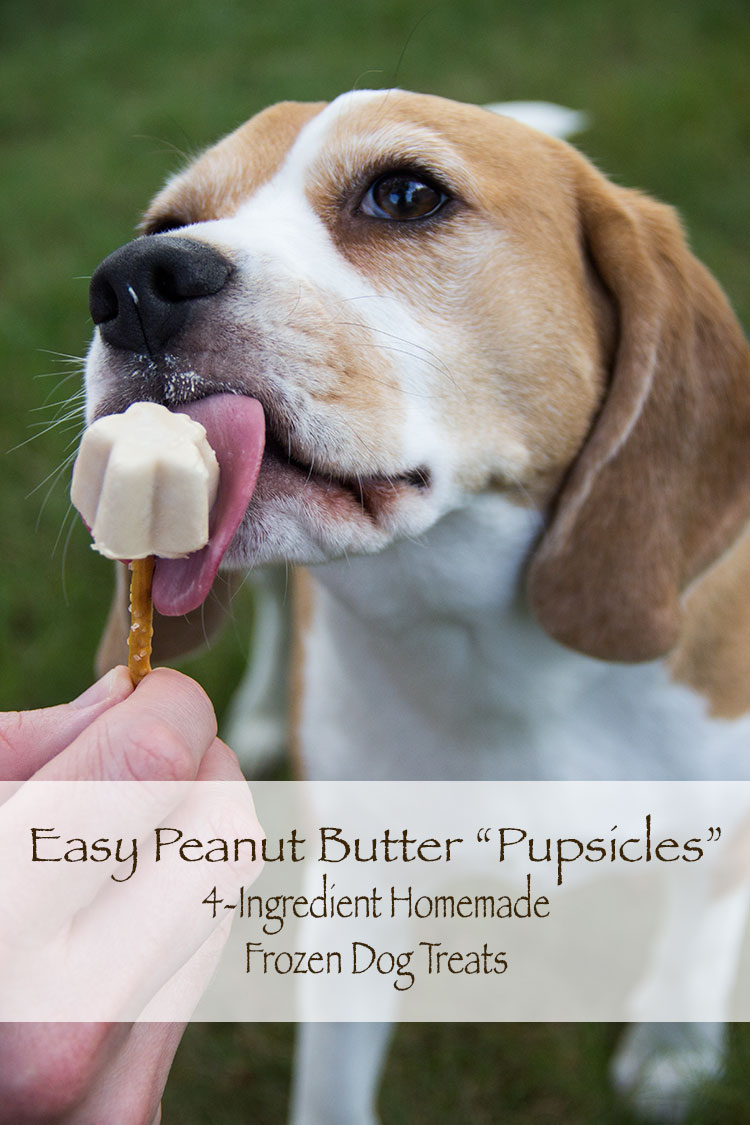 One amusing benefit to making pupsicles is the fact that, since they're frozen, they force Cal to slow down and actually taste his food.
It's cute to watch him actually enjoy the flavor of a treat for once, rather than swallowing it whole.
Another summer treat that Calvin adores?
Watermelon!
How I discovered this:
After begging and crying for a taste of the watermelon we were eating, Chris and I let him try a small slice.
Of course he loved it.
This little beagle has an enormous appetite!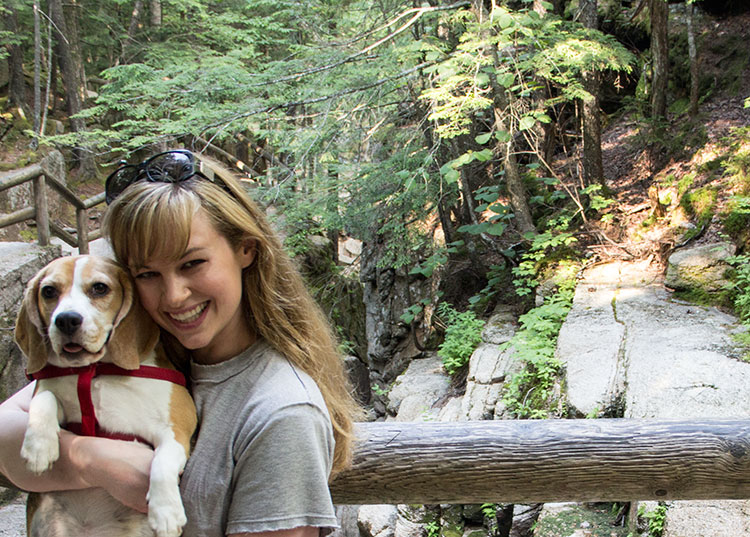 He's also become an expert disappearing artist.
Chris and I have started referring to this habit as "Where's Caldo?" (after the "Where's Waldo" books)
Not too long ago, we all went on a short hike…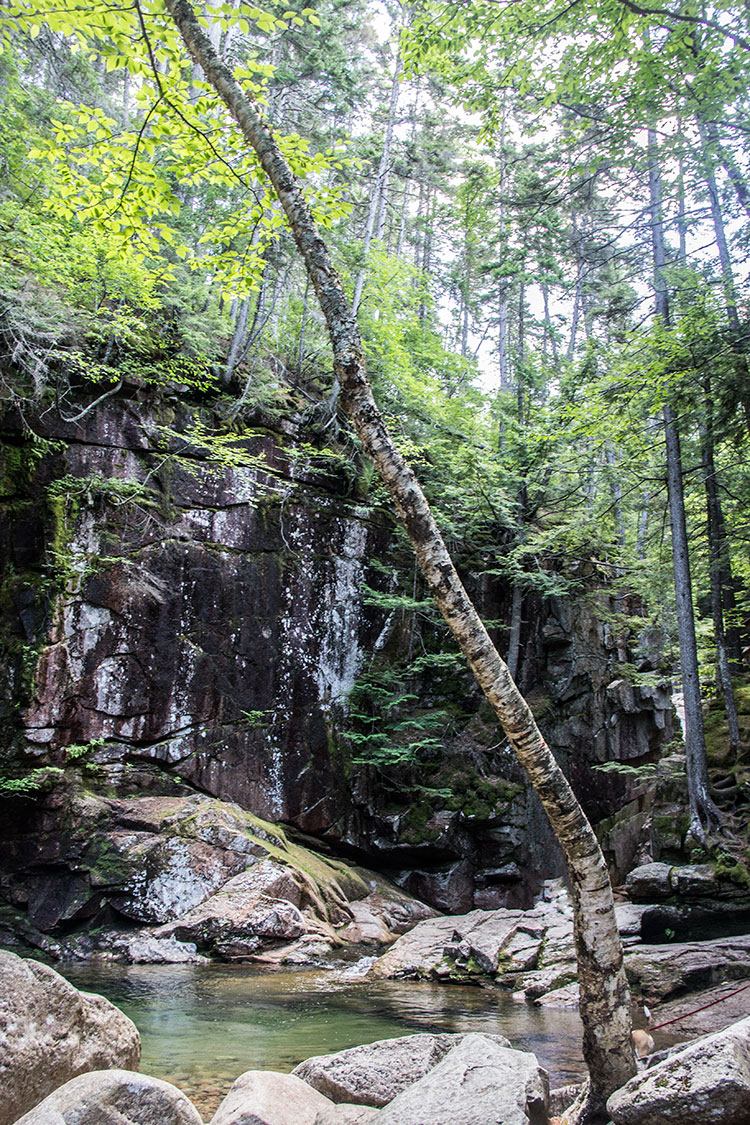 …Only later did I notice that Cal snuck into some of my snapshots of the hike without my noticing.
Where's Caldo?
He found his way into my photo of our trip to the coast too (not hard to spot him here).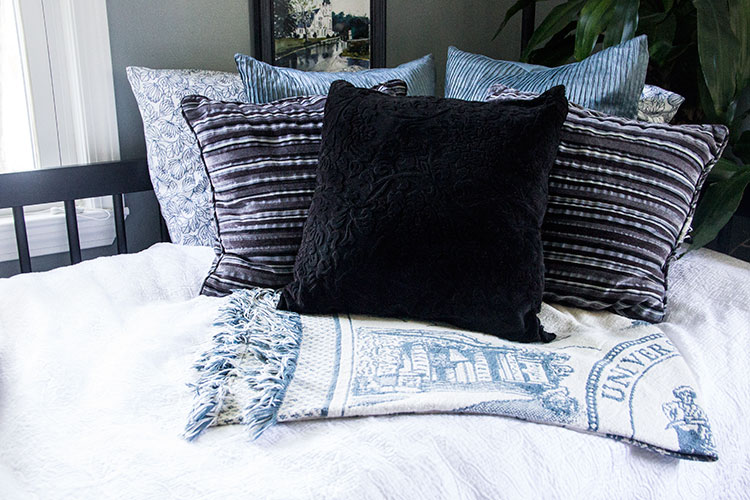 Since Cal is not into responding immediately when we call him (unless there are treats on the table), I've become used to playing the game of "Where's Caldo?" around the house as well.
I actually searched the house top to bottom the first time Cal discovered this hiding place.
Where's Caldo?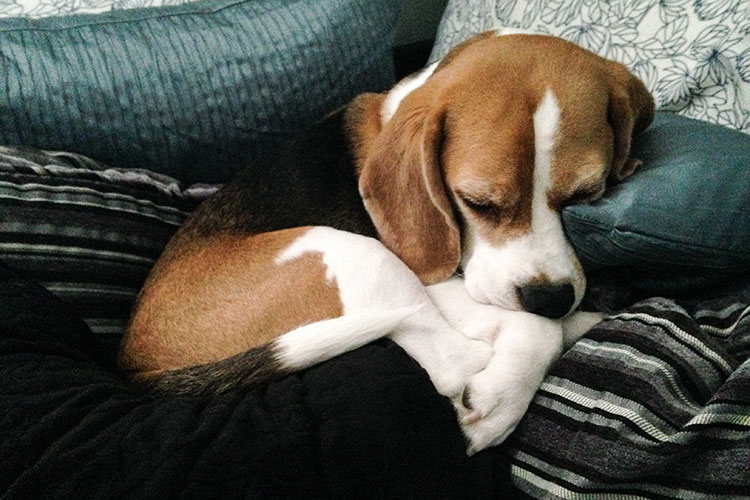 I finally heard a sigh and found him curled up in between the pillows.
This is now a favorite sleeping spot for Cal.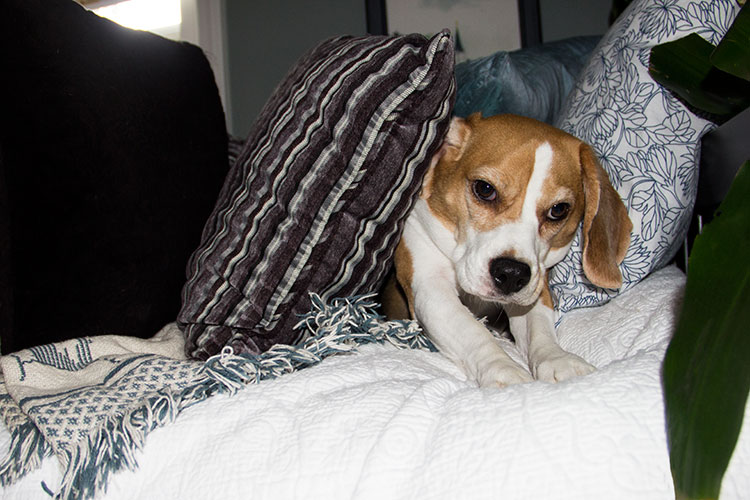 He comes out when he's ready.
And here's another.
Where's Caldo?
When Cal-Bean first came home with us as a puppy, I assumed he'd sleep in a dog bed on the floor of our bedroom.
That dog bed is untouched and stored in the basement …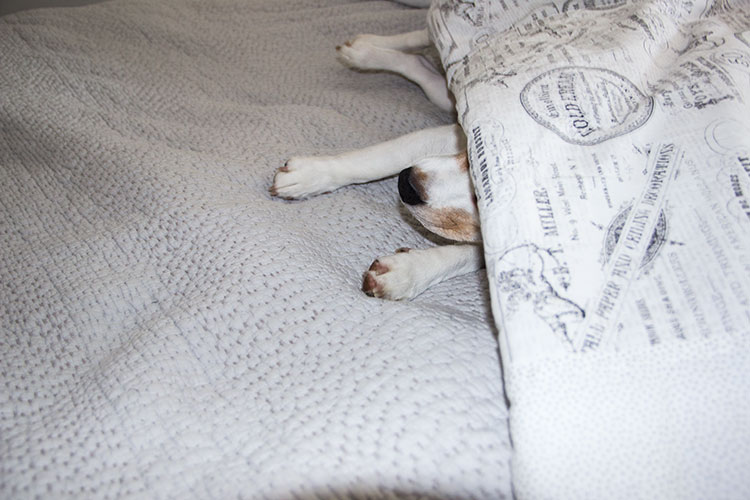 …because Calvin had a better idea: sleeping under the heavy blanket at the foot of the bed.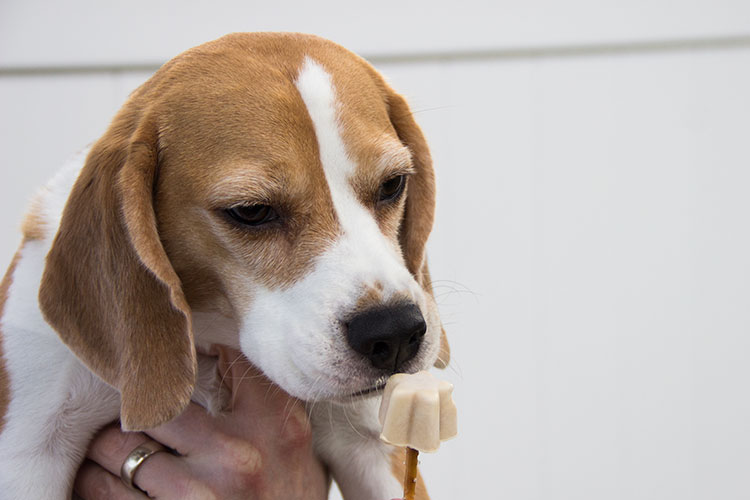 For all the laughter and amusement he brings, how could I not want to make him some homemade treats every now and again?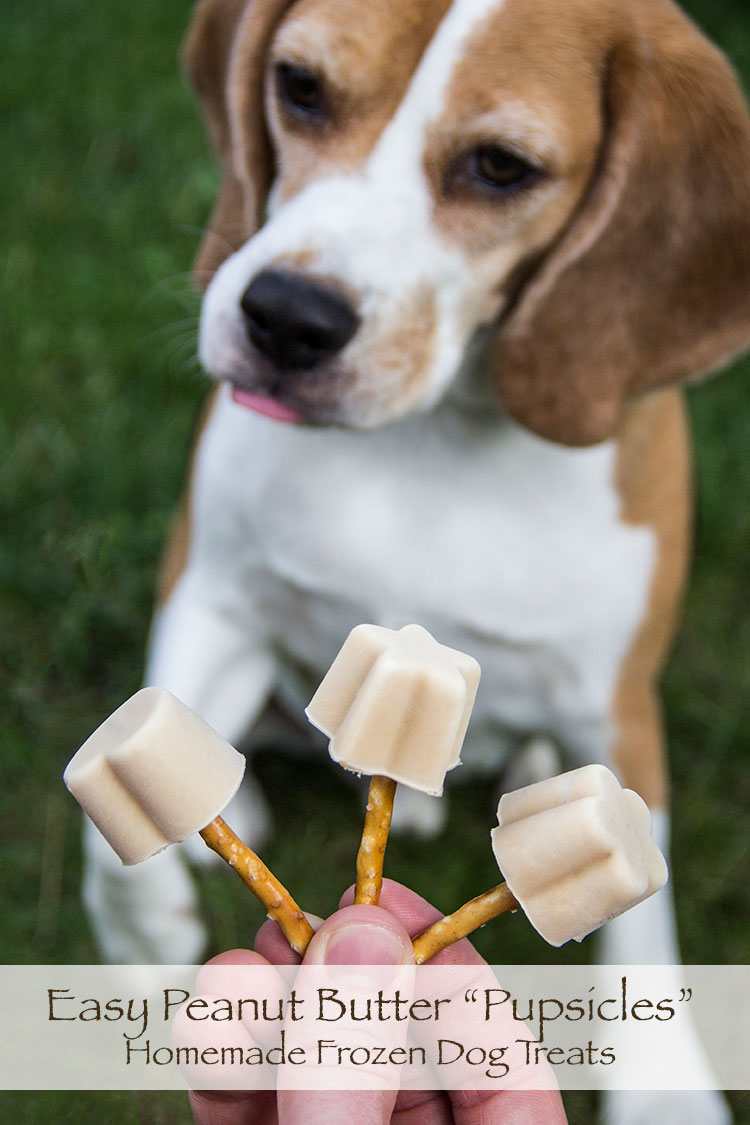 It's nice to return some of the happiness he brings!
Here's the recipe for Easy Peanut Butter "Pupsicle" Frozen Dog Treats:
Easy Peanut Butter Pupsicle Frozen Dog Treats
Author:
The Scrumptious Pumpkin
Total Time: 10 minutes (plus 1½ hours inactive time)
Inactive: 1½ hours
Prep: 10 minutes
Cook: 0 minutes

Yield: 12 treats

Difficulty: Easy
Ingredients
5 ounces organic plain yogurt
½ medium banana
2 tablespoons organic peanut butter
12 organic pretzel sticks
Instructions
Add the yogurt, banana and peanut butter to a blender or food processor and puree until mixture is smooth and creamy.
Spoon mixture into an ice-cube tray, filling each compartment to the brim. Insert one pretzel stick into the center of each compartment. Mixture should be thick enough to hold each pretzel stick upright.
Place ice-cube tray in freezer until treats are completely frozen, about 1-2 hours.
Storage: after treats have frozen, they should be stored in a covered airtight container in the freezer (to prevent freezer burn).
Always consult your veterinarian before introducing any new ingredients into your pet's diet.
You May Also Love:
https://jenelizabethsjournals.com/2012/06/25/puppys-first-taste-of-summer-and-a-frozen-dog-treat-recipe/
https://jenelizabethsjournals.com/2012/11/07/7-things-i-wish-i-knew-before-i-bought-the-puppy/
https://jenelizabethsjournals.com/2012/05/19/puppy-wreaks-havoc-and-gets-a-homemade-cheddar-biscuit-anyway/
SaveSave
SaveSaveSaveSave