Calvin is now officially one year of age so I really wanted to do something special and bake up a homemade dog cupcake recipe.
(For the complete 'Easy Peanut Butter Cupcakes for Dogs' recipe, scroll down to the bottom of the page).
I also had to take some time looking back at old photos and seeing how he's grown since last spring.
In the blink of an eye, Cal's transformed from this helpless little bitty …
into this strong, strapping 23-pound beagle.
So I guess this will be my last chances to call him a "puppy."
At the ripe old age of One, Calvin has already has already "seen it all."
He's "hiked" the White Mountains in the fall…
…learned to love the snow (we got heaps of it for Cal's first winter)…
…enjoyed his first Christmas…
…which was a little too much excitement for Calvin…
…too many gifts to explore and too many unfamiliar holiday sights and smells completely wore him out.
Life is tough for this beagle.
By now, Calvin knows what he likes…
…sneaking into Meat-and-Potatoes-Guy's duffel bag to steal his hockey tape (Cal's favorite chew toy)…
…taking a comfortable seat on the day bed (perfect for watching all the activity going on outside the window) while pulling all the stuffing from each of his stuffed toys, until they're entirely destroyed…
…and claiming that day bed as his own for naps in the sun…
His big (sometimes goofy) personality has earned him a long list of nicknames:
Cal-Cal,
Calvie,
Cal-Bean,
Bumble,
and Bubble, to name a few.
To commemorate a full year in the life of Calvin, I had to take a look back at the first photos I took.
From this tiny…
…soft…
…sweet little 4-bound cutie…..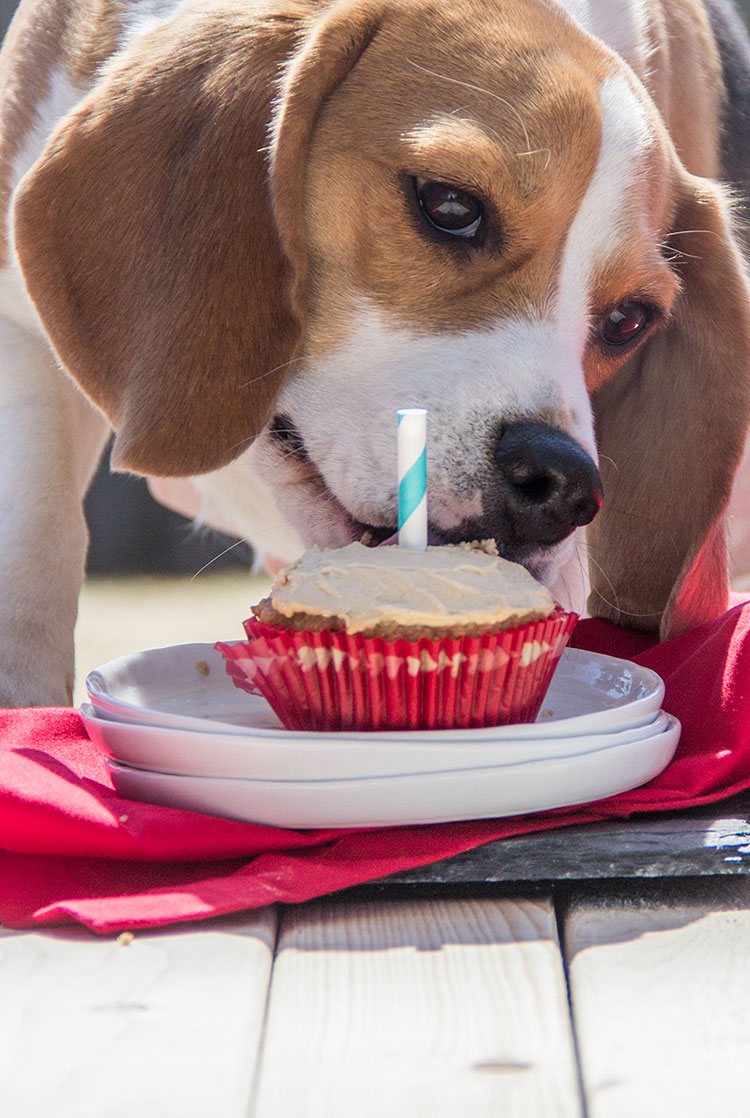 …to this full-grown beagle with a very healthy appreciation of dog cupcake recipes!
I wanted to make something a little unique and special to celebrate Calvin's first year of life.
So I came up with a homemade birthday dog cupcake recipe.
The cupcakes are very simple to make and quick to prepare in about 15 minutes.
As they should be.
Calvin eats any treats that are handed to him in under .4 seconds flat.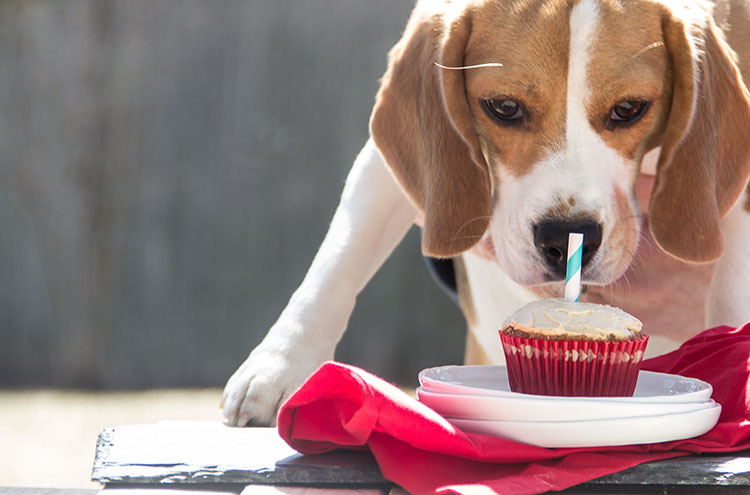 For these "pupcakes," I used brown rice flour.
But any type of flour you have on hand should work.
And, since peanut butter is one of Cal's all-time favorites, they have a special peanut butter frosting.
He heartily approved of his "pupcakes."
Very heartily approved – he adores these!
Here's the recipe for Easy Peanut Butter Cupcakes for Dogs:
Easy Peanut Butter Cupcakes for Dogs
Author:
The Scrumptious Pumpkin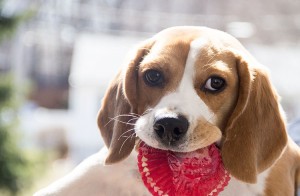 Total Time: 15 minutes
Hands-On Time: 5 minutes
Cook Time: 10 minutes

Yield: 6 cupcakes

Level: Easy
Ingredients
½ cup brown rice flour (or whole wheat flour or rye flour)
1 teaspoon baking powder
⅓ cup organic canola oil
⅓ cup organic applesauce
1 organic, pastured egg
2 tablespoons organic honey
3 tablespoons organic plain Greek yogurt
1½ tablespoons organic peanut butter
Instructions
Preheat oven to 350 degrees F.
In a mixing bowl, stir the flour, baking powder, canola oil, applesauce, egg, and honey until well combined.
Insert cupcake liners into a muffin or cupcake pan. Spoon mixture into cupcake liners, filling each about halfway.
Bake for about 10-12 minutes, or until a toothpick inserted in the center of a cupcake comes out clean.
Allow cupcakes to cool to room temperature.
Meanwhile, in a bowl, stir yogurt and peanut butter until mixture is smooth and creamy. Use a small spatula or butter knife to smooth a thin layer of the peanut butter frosting over each cupcake.
Storage: cupcakes should hold up for 4-5 days if stored in an airtight container in a cool, shaded, dry spot. Peanut butter frosting should be stored separately, covered and refrigerated. Frost cupcakes immediately before serving.
Always consult your veterinarian before introducing any new ingredients into your pet's diet.
You May Also Enjoy:
https://jenelizabethsjournals.com/2012/05/19/puppy-wreaks-havoc-and-gets-a-homemade-cheddar-biscuit-anyway/
https://jenelizabethsjournals.com/2012/11/07/7-things-i-wish-i-knew-before-i-bought-the-puppy/
https://jenelizabethsjournals.com/2012/05/08/welcome-home-puppy-peanut-butter-and-honey-homemade-dog-treats/
SaveSave
SaveSave
SaveSave