I hoped to have this recipe posted in time for Thanksgiving.
Because, yes, the roasted-for-hours turkey may be the star of the show for the Thanksgiving meal.
But I think this recipe is the perfect cold-weather side dish to really allow the vegetables to have their shining moment too!
The root veggies in this recipe (like sweet potato and parsnips) are filled with savory flavors like olive oil and fresh herbs.
Then a simple apple cider glaze is added just before serving, which adds a bit of tanginess and a hint of sweetness.
The dish is simple to prepare (and the recipe is easy to double or triple to feed a crowd), but it tastes special and unique.
And, not that anyone is concerning themselves with this fact on a holiday devoted to feasting…
…but it's still nice to know that the combo of fresh winter vegetables in this dish mean it's packed with nutrition (lots of fiber, manganese, potassium, vitamin B6, and vitamin C, to name a few!) and it's vegan too, so it's very low in saturated fat and cholesterol free.
Here is the complete, printable recipe:

Cider-Glazed Roasted Root Vegetables
Author:
The Scrumptious Pumpkin
Nutrition Information
Serving size:

4

Calories:

184
Fat:

9.1g

Saturated fat:

1.4g

Carbohydrates:

25.8g

Sugar:

14.8g

Sodium:

17mg

Fiber:

3.6g

Protein:

1.3g

Cholesterol:

0mg
Recipe type:
Clean, whole side dish
Total Time: 35 minutes
Hands-On Time: 10 minutes
Cook Time: 25 minutes

Yield: 4 servings

Level: Easy
Ingredients
1½ cups apple cider
1 small onion, roughly chopped
4 small parsnips, roughly chopped
1 large sweet potato, peeled and roughly chopped
2 teaspoons fresh thyme or fresh rosemary, finely chopped
2½ tablespoons olive oil
Salt and freshly ground black pepper
Instructions
Preheat oven to 425 degrees F.
To a small saucepan, add the apple cider and bring it to a light boil. Reduce the heat to a simmer, stirring often with a wooden spoon. After about 25 minutes, the cider will reduce and become thick, like a syrup. Turn off the heat and immediately pour the cider glaze into a bowl to allow it to cool.
Meanwhile, add the onion, parsnips, and sweet potato to a parchment-lined baking sheet. Sprinkle on the chopped thyme or rosemary and drizzle on the olive oil. Season thoroughly with salt and pepper. Toss and combine vegetables with hands, ensuring every piece is coated with oil. Spread vegetables out across pan so that no two pieces are overlapping. Roast in the oven until tender, about 18-20 minutes.
Transfer vegetables to a serving platter, drizzling all of the cider glaze all over the roasted vegetables. Serve immediately.
And for the step-by-step…
…Begin with all of these ingredients.
Then preheat the oven to 425 degrees F.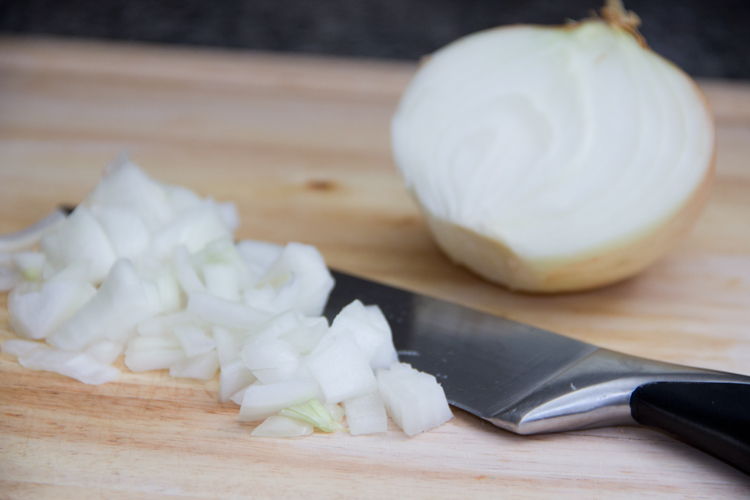 Grab an onion, chop off the root end, and cut it in half.
Then peel off the skin, set one half flat-side-down on the cutting board, and roughly chop it up.
Then chop up the second half.
Next, grab a few small parsnips.
It's optional to peel them.
I typically don't bother since a lot of the nutrition lies in the skin, it saves time, and I hardly notice the skin after the parsnips have been roasted.
Then chop off both ends of each parsnip and roughly chop them up, trying to keep the pieces as equally sized as possible (so that they'll cook evenly while roasting).
Next, grab a sweet potato and use a vegetable peeler to remove the skin.
Then roughly chop it up, again trying to keep the pieces equally sized.
Finally, grab some fresh thyme (I actually prefer thyme in this recipe) or fresh rosemary (what I had on hand in this case).
Hold the sprig at the top and slide the other hand down the sprig, removing the thyme or rosemary in one swipe.
Then pile it up and run your knife in every direction, really finely chopping it up.
Next, begin making the apple cider glaze.
It's super simple to make, but it does take about 25 minutes to reduce down to a thick syrup, so it's best to get it started as soon as you've finished prepping the veggies.
Grab a small saucepan
and add plenty of fresh apple cider.
Bring it to a light boil.
Then reduce the heat to a gentle simmer, stirring once in a while with a wooden spoon
.
When you notice that the cider has reduced and become thick, like a syrup, turn off the heat. Immediately pour the cider glaze into a bowl to allow it to cool, and set it aside.
I've learned the hard way that this is an important step.
If you leave the cider glaze in the pot, it will continue to cook in the hot pan, even after the heat is turned off, turning into a scorched, stuck-on mess.
Meanwhile, as the cider is simmering away, grab a baking sheet
and line it with parchment paper
(to keep the veggies from sticking to the pan and burning on the bottom).
Sprinkle on the chopped rosemary and drizzle on plenty of olive oil.
Then season it all thoroughly with salt and pepper.
Use your hands to toss and combine the vegetables until everything is equally coated with oil, herbs, salt and pepper.
Then spread the vegetables out across the pan so that no two pieces are overlapping.
And roast them in the oven until the potato and parsnips are tender when pierced with a fork.
Last step: transfer the roasted veggies to a serving platter and drizzle all of the cider glaze all over everything!
Complemented with fresh herbs, olive oil, and salt and pepper, the combo of roasted winter veggies is so flavorful and savory.
And the cider glaze adds such a yummy, slightly tart, slightly sweet contrast.
It's a simple dish to prepare with just a few ingredients, but it tastes like something special and unique.