So you probably believe that clean-eating, whole-grain, vegan pancakes are healthy and really nutritious, right?
But do you completely believe that they can also be scrumptiously, indulgently, heavenly tasting too?
I used to be afraid it wasn't possible, but I am now absolutely sure that vegan baked treats can taste as wonderful as anything made with butter, milk, or sour cream.
And these thick, fluffy, banana-glazed coconut vegan pancakes were the recipe that convinced me.
These vegan pancakes – made with whole wheat flour, flax-seed, and coconut milk – are sweet and indulgent and perfect for a lazy Saturday morning or a special Sunday brunch.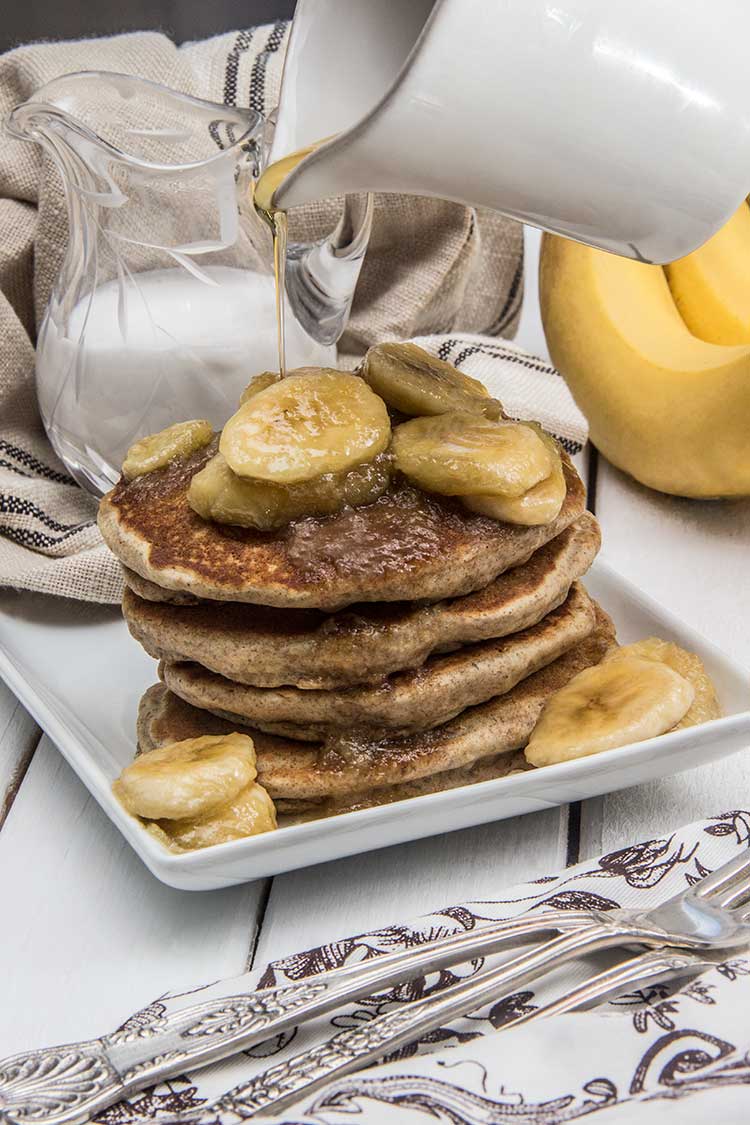 Of course, they're also cholesterol-free with lots of healthy nutrition too.
Drizzled with warm maple-glazed bananas, these vegan pancakes taste like the sweetest, richest treat!
This recipe makes a thick and fluffy pancake that's filled with coconut flavor.
And the glazed bananas are the perfect complement to add tons of indulgent, rich, all-natural sweetness.
Here's the recipe for Coconut Vegan Pancakes with Maple-Glazed Bananas:
Coconut Vegan Pancakes with Maple-Glazed Bananas
Author:
The Scrumptious Pumpkin
Nutrition Information
Serving size:

4

Calories:

449
Fat:

10g

Saturated fat:

5.1g

Carbohydrates:

84.4g

Sugar:

32.2g

Sodium:

351mg

Fiber:

4.4g

Protein:

6.4g

Cholesterol:

0mg
Recipe type:
Clean Eating, Vegan Breakfast Recipe
Total Time: 25 minutes
Prep: 10 minutes
Cook: 15 minutes

Yield: 4 servings, 8 pancakes (each serving is 2 pancakes)

Level: Easy
Ingredients
¾ cup organic whole wheat flour
¾ cup organic all-purpose flour
1½ tablespoons ground flax seeds
2 teaspoons baking powder
½ teaspoon baking soda
¼ teaspoon salt
2 cups light coconut milk
2 tablespoons plus ¼ cup 100 percent pure maple syrup
3 teaspoons plus 1½ teaspoons vanilla extract
3 large bananas, peeled and sliced
2 teaspoons extra virgin olive oil
Organic olive oil cooking spray
Instructions
Place a large, flat-bottomed skillet on the stove top and adjust the heat to medium-low.
Add the whole wheat flour, all-purpose flour, flax, baking powder, baking soda, and salt to a large mixing bowl. Stir until well combined. Add the coconut milk, 2 tablespoons maple syrup, and 3 teaspoons vanilla extract. Whisk just until batter is smooth and well combined.
Test to see if the pan is hot by splashing a few drops of water into the pan. The water will sizzle if the pan is ready. Spray the pan thoroughly with organic olive oil cooking spray.
Use a ⅓ cup measuring cup to scoop the batter and pour onto pan. Leave a couple of inches of space between pancakes in order to have room to flip.
Cook until edges of pancakes are firm and bubbles have formed in the center of the pancakes, about 3-5 minutes. Flip with a spatula, pancakes should be golden in color. Cook until second side is also golden, about 2-4 minutes more. Continue cooking pancakes in batches, adding a new layer of olive oil spray before each new batch.
Meanwhile, as pancakes are cooking, heat 2 teaspoons olive oil in a small sauté pan over low heat. Add bananas, ¼ cup maple syrup, and 1½ teaspoons vanilla extract. Cook, stirring often, until bananas are softened and syrup begins to simmer, about 5 minutes. Top pancakes with spoonfuls of the bananas and syrup, and serve warm.
*I estimate approximate nutrition information using the
Verywell Recipe Nutrition Calculator.
You May Also Love:
https://jenelizabethsjournals.com/2014/07/09/lemon-vanilla-pancakes-with-fresh-blueberries/
https://jenelizabethsjournals.com/2014/07/29/tropical-bliss-smoothie/
https://jenelizabethsjournals.com/2014/07/16/tropical-fruit-salad-with-coconut-cream-vegan/
SaveSave
SaveSave
SaveSave