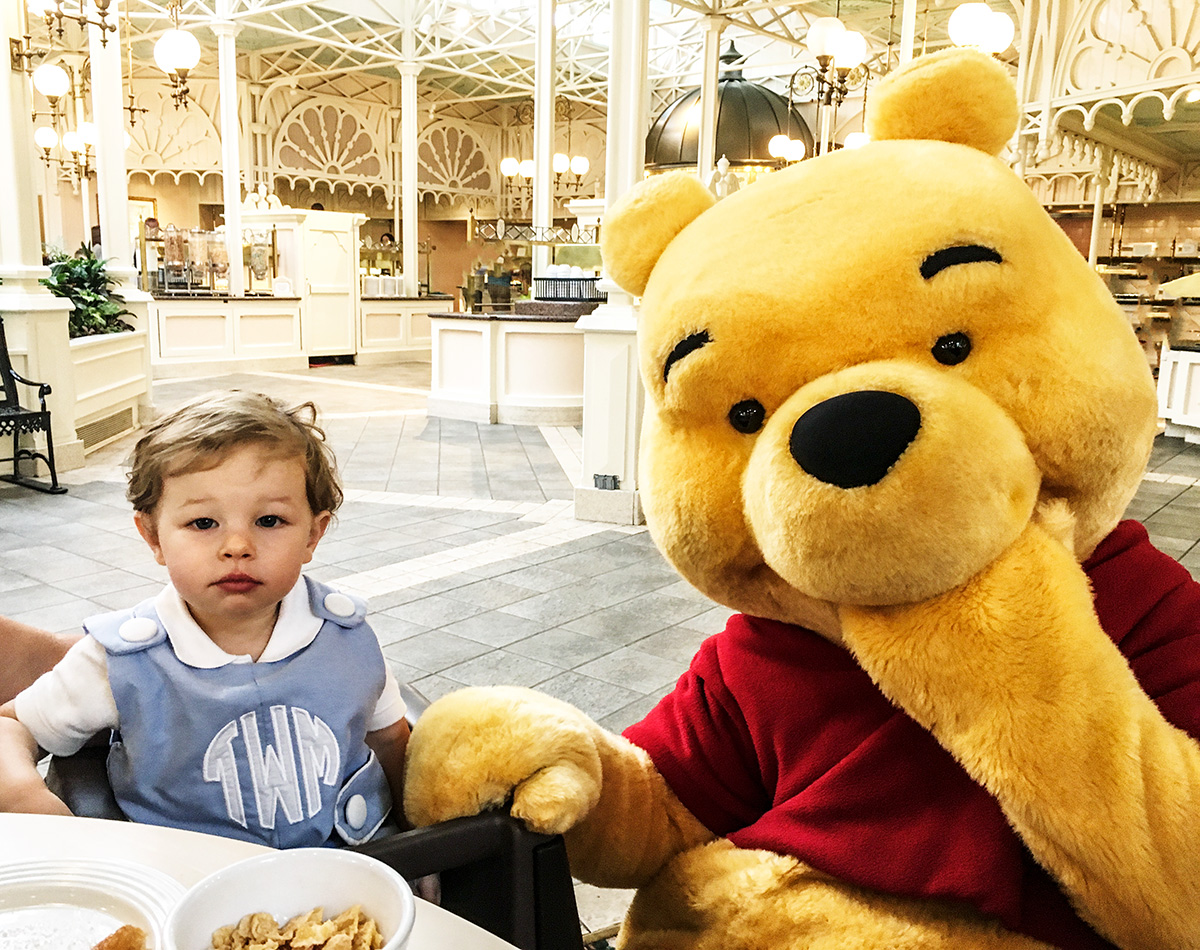 I was actually blown away when we stepped inside the Crystal Palace for the Winnie the Pooh character breakfast.
I'd never been inside the Crystal Palace because I'd never really heard of it before I started looking for character breakfast options for Trevor.
But it was actually gorgeous inside, very beautifully themed.
The Crystal Palace is meant to mimic a Victorian greenhouse, with palms and flowering plants everywhere.
Painted white with vaulted ceilings and full of floor-to-ceiling windows, it's bright and full of sunlight.
It's one of the most stunning buildings I've seen inside any of the Walt Disney World parks.
All About the Breakfast Buffet Food:
In all honesty, I'd rather pick a different restaurant than choose a buffet.
But the Crystal Palace breakfast buffet was very impressive, even for a jaded traveler.
Every imaginable breakfast item was available, everything plentiful and fresh.
They had all the classics: pancakes and Mickey waffles with plenty of toppings, scrambled eggs, bacon, potatoes, and toast.
An omelette station.
A variety of fresh fruit, cereal, and pastries.
Plus some unique items, which included my favorites: a slice of veggie, egg and cheese breakfast pizza and a lemon poppy seed muffin.
The Crystal Palace offers so many options for breakfast – everything fully stocked at all times – so I'm not sure how anyone could ever go away hungry.
Even our most "discerning" eater – Tru, of course! – was happy with his food here.
Meeting the Winnie-the-Pooh Characters:
Disney seems to have this character breakfast thing down to a science!
I think all of the characters are on some kind of rotation to ensure every table has the opportunity to meet every character.
We certainly got a personalized meet and greet with each one: Pooh, Eeyore, Tigger, and Piglet.
And they were all great with Trevor, trying to engage him and get him to break a smile for photos.
At 19 months old, I wasn't sure how Trevor would react to the characters. He was fascinated with each character, but also unsure and a little nervous.
He was serious, taking it all in, but bright-eyed!
Our Overall Experience:
As you may have noticed from the photos, there were none of the crowds you see everywhere else in the Magic Kingdom.
Many of the tables were full, but the restaurant was (relatively!) calm.
I'm not sure this would be the case at, say, 11am. But Trevor is an early riser, so we had our character breakfast booked for 8am!
Were we not at the Crystal Palace, we would have been walking from one attraction to the next, through intense humidity, while carrying a squirming little one.
So the character breakfast was a welcome and relaxing break, for sure.
While we did pay a premium for this experience it was worth it. Breakfast with Pooh was one of the more special and memorable experiences of our entire week-long trip to Disney!
How We Booked Our Table for the Crystal Palace Character Breakfast:
We reserved online a few months before our trip, and reservations are allowed up to 180 days in advance. Since you can always change your reservation at any time, it makes sense to book your table as far in advance as possible to get your preferred time and date.
For more of our Walt Disney World reviews, check out:
Our Experience: Baby's First Haircut at Harmony Barber Shop | Magic Kingdom
All About Our Experience at Pandora: The World of Avatar
All About Our Experience at Mickey's Not-So-Scary Halloween Party
Travel Confessions: Trevor's First Trip To Walt Disney World
SaveSave
SaveSave
SaveSave
SaveSave
SaveSave
SaveSave