Chris and I had seen the Harmony Barber Shop during prior trips to the Magic Kingdom.
So when we planned Trevor's first trip to Disney World, we booked an appointment there. We thought it would be a unique and fun way to celebrate the milestone of his first professional haircut.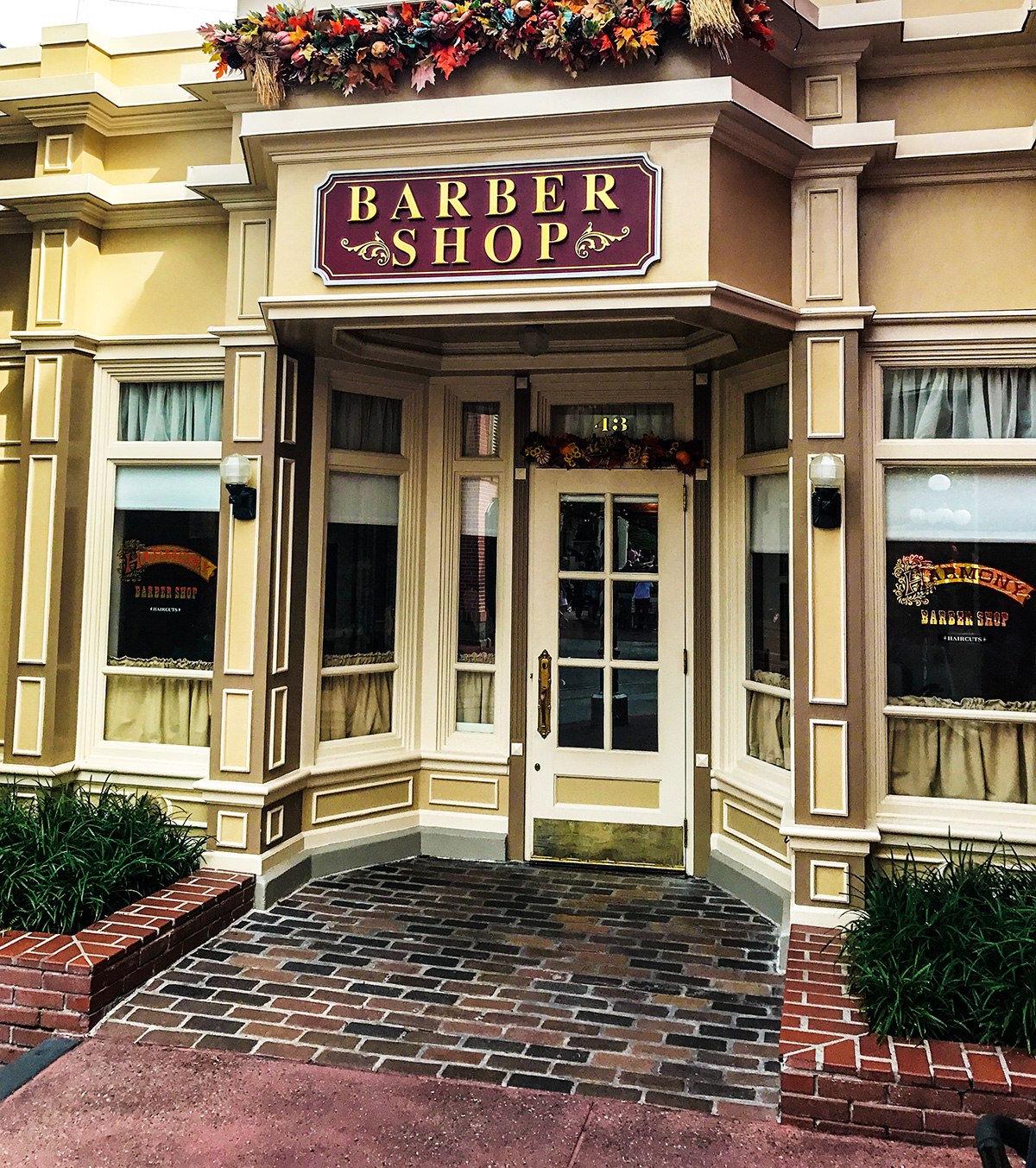 Harmony Barber Shop felt hidden and tucked away, like a quiet little break from the crowds.
But once you walk in – just like every part of the Magic Kingdom – it's buzzing with activity.
We witnessed several other "first haircuts" in the short time we were there.
The Barber Shop is tiny – there were three or four chairs, a register, and a window seat for people waiting.
Like everything in the Magic Kingdom, Harmony is thoughtfully themed. It has the feel of an old-fashioned Main Street barber shop, with dark wood paneling and big, comfy, red leather chairs.
The stylists wore classic barber shop costumes – white button-downs, plaid vests, and ties.
While we waited, I snapped a few "before pics" of Tru's hair.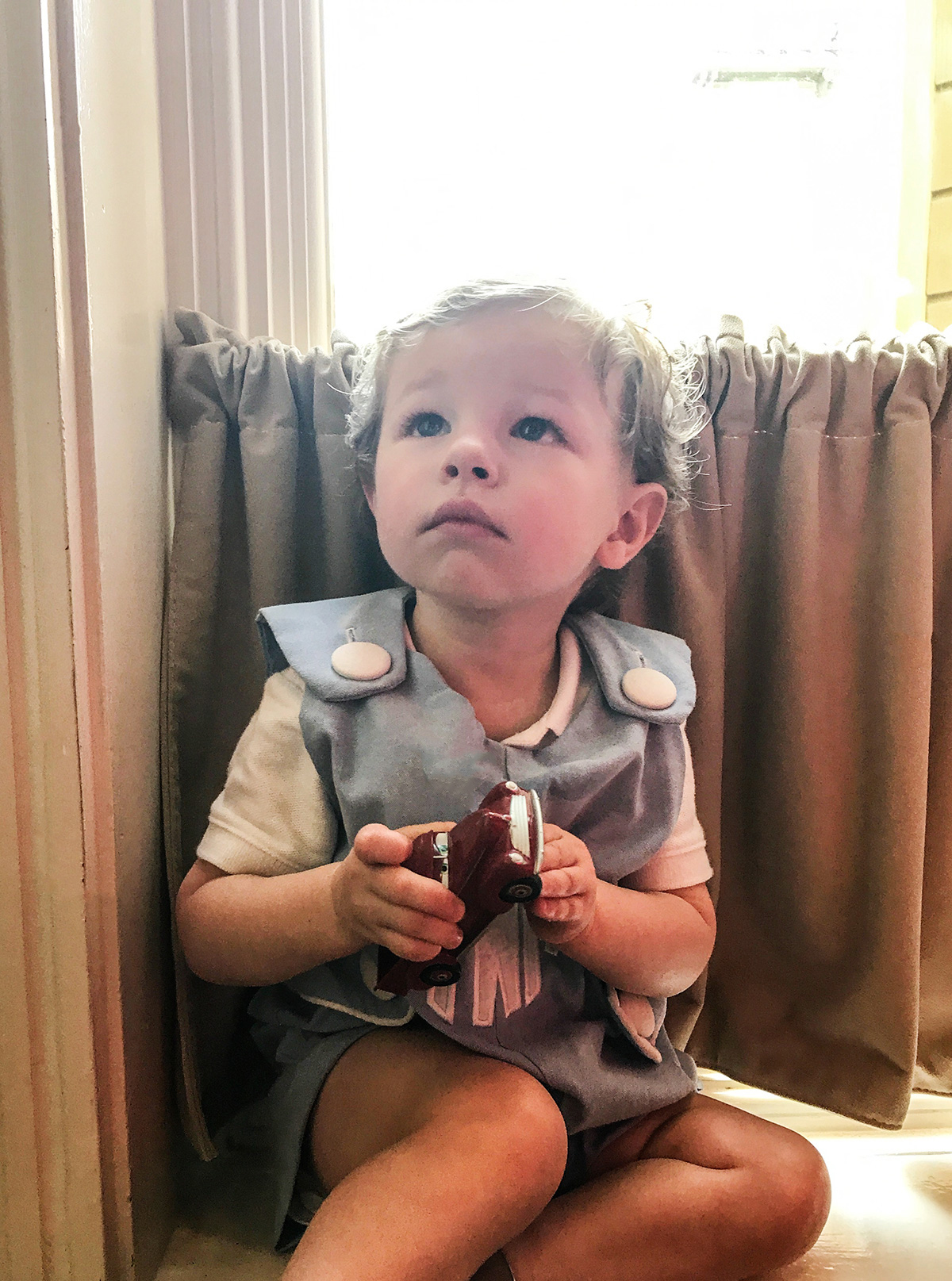 I was a little sad to see his curls go.
Where I have unruly frizz that I have to straighten, Tru has silky, smooth golden ringlets.
But I also knew his hair grows thick and fast and those locks would be back in no time!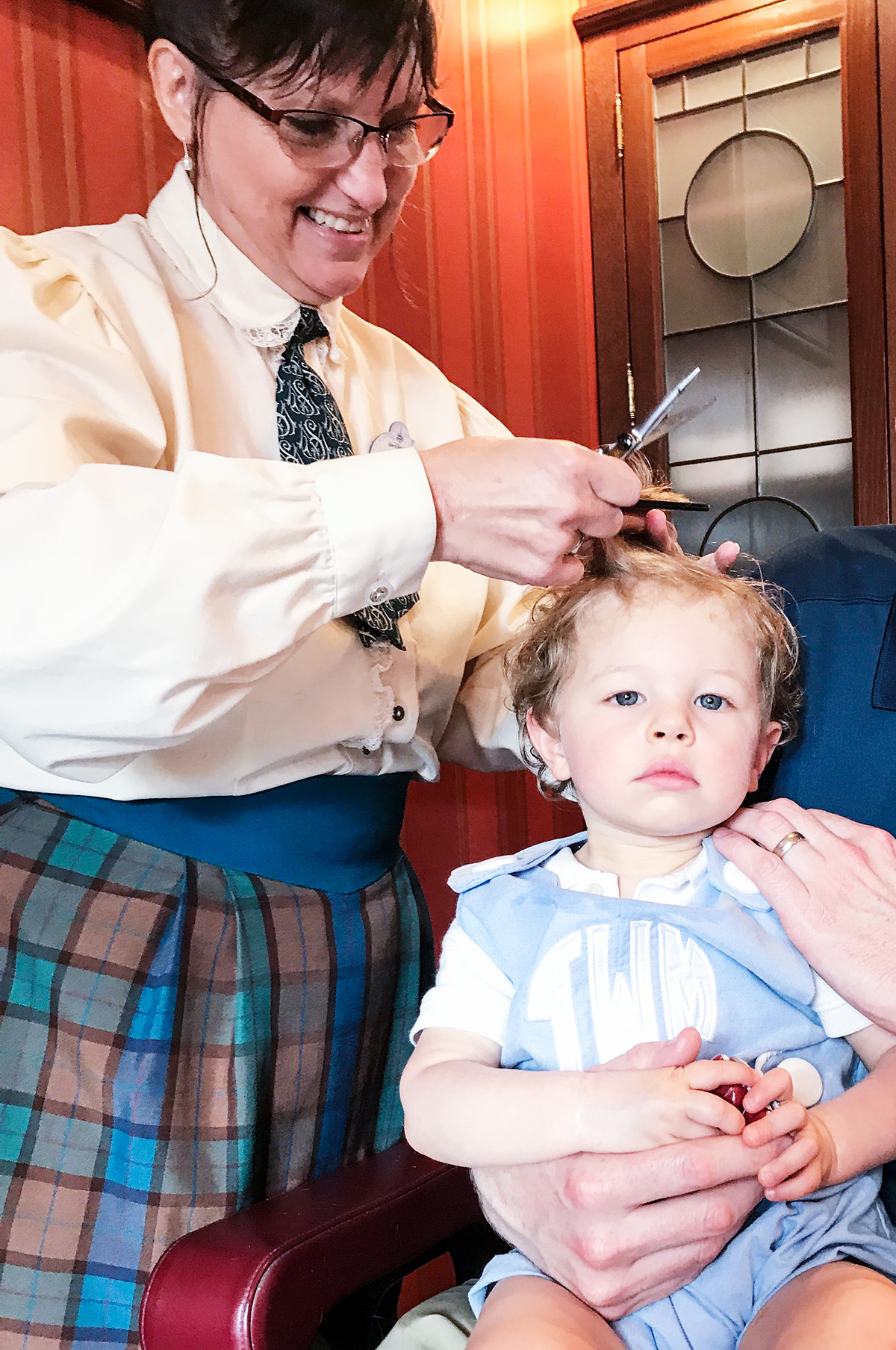 The stylist who cut Trevor's hair was kind and patient with Tru.
Trevor wanted Chris to sit with him in the chair, and he remained extremely serious throughout the process.
I think having his hair combed relaxed him. He was definitely sleepy, since it was approaching his nap time.
The haircut was quick, about 10 minutes.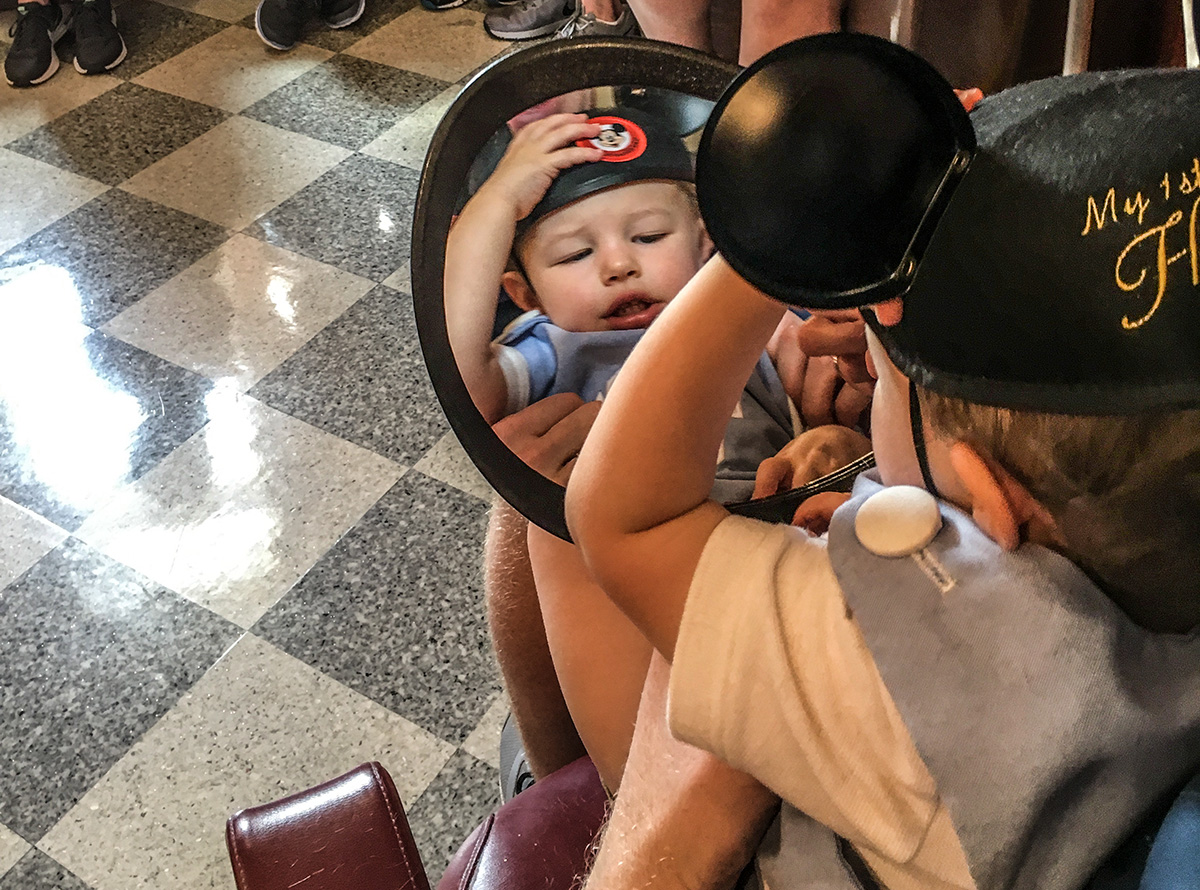 At the end, he was given Mickey Ears embroidered with "My 1st Haircut" on the back.
Tru wanted nothing to do with the mouse ears, but I thought it was a really cute touch.
Trevor was approaching meltdown mode after the haircut since he was past due on his nap.
So I didn't get his "after" pic until the next day.
"Bye, bye" to baby ringlets and "hello" to a short and sleek "big boy" style!
Overall, we loved the experience at Harmony Barber Shop.
All About Our Experience at Harmony Barber Shop:
How We Booked a "First Haircut":
We contacted the barber shop before our vacation to book an appointment.
Where It's Located:
The Barber Shop is easy to miss and tucked away. It's located just beyond the front entrance, to your left as you're approaching Main Street, and just beyond City Hall.
Wait Times:
Since we booked Tru's appointment in advance, we waited maybe 5-10 minutes. It was smoothly run and efficient, at least when we were there.
What We Received:
a professional haircut by a licensed stylist
Mickey Ears embroidered with the words "My 1st Haircut" on the back
a certificate personalized with name and date for "First Haircut"
a little drawstring pouch filled with confetti and a couple of locks of baby's hair
What It Cost Us:
The full First Haircut package was $25
For more of our reviews on Walt Disney World, check out:
All About Our Experience at the Crystal Palace Character Breakfast With Pooh
All About Our Experience at Pandora: The World of Avatar
All About Our Experience at Mickey's Not-So-Scary Halloween Party
Travel Confessions: Trevor's First Trip To Walt Disney World
SaveSave
SaveSave
SaveSave
SaveSave
SaveSave
SaveSave
SaveSave
SaveSave
SaveSave
SaveSave
SaveSave
SaveSave
SaveSave
SaveSave
SaveSave
SaveSave
SaveSave