Here's what to expect at Disney's Wilderness Lodge during the Christmas holiday season. (It's breathtaking!) A complete photo tour review and guide.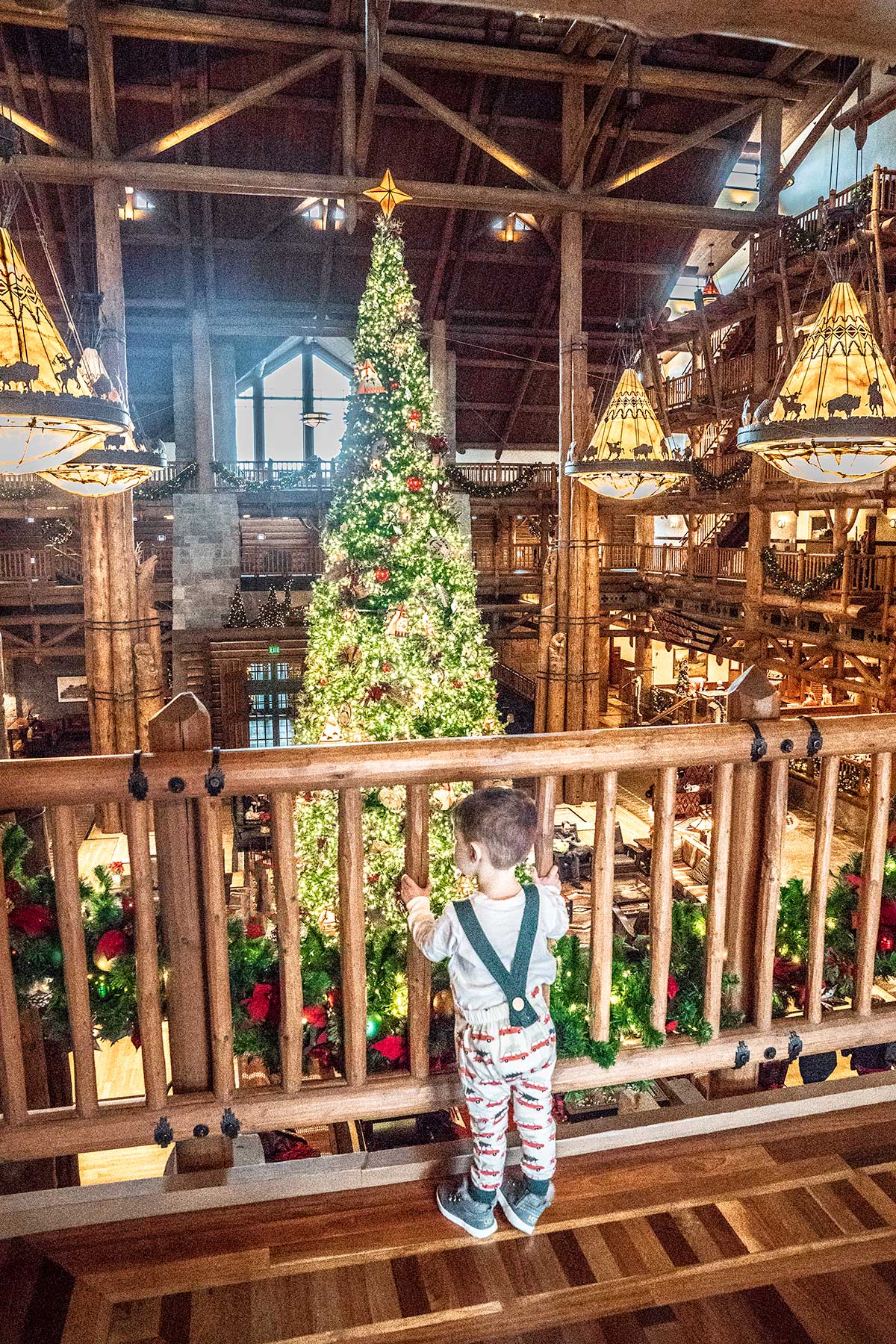 I don't think I'll ever forget the first moment I stepped into the Wilderness Lodge at Christmastime.
Yes, we were all weary from airports and rental car lines and 3 1/2 hours on a plane.
And yes, Chris and I were struggling with two large suitcases.
And yes, we were also dealing with a two-year-old who insisted that only he could push the suitcases, at a pace that matched a caterpillar crawling along the sidewalk beside us.
But all of that kind of fell away when I looked up …
and up …
and up…
at the most monumental Christmas tree I've ever seen.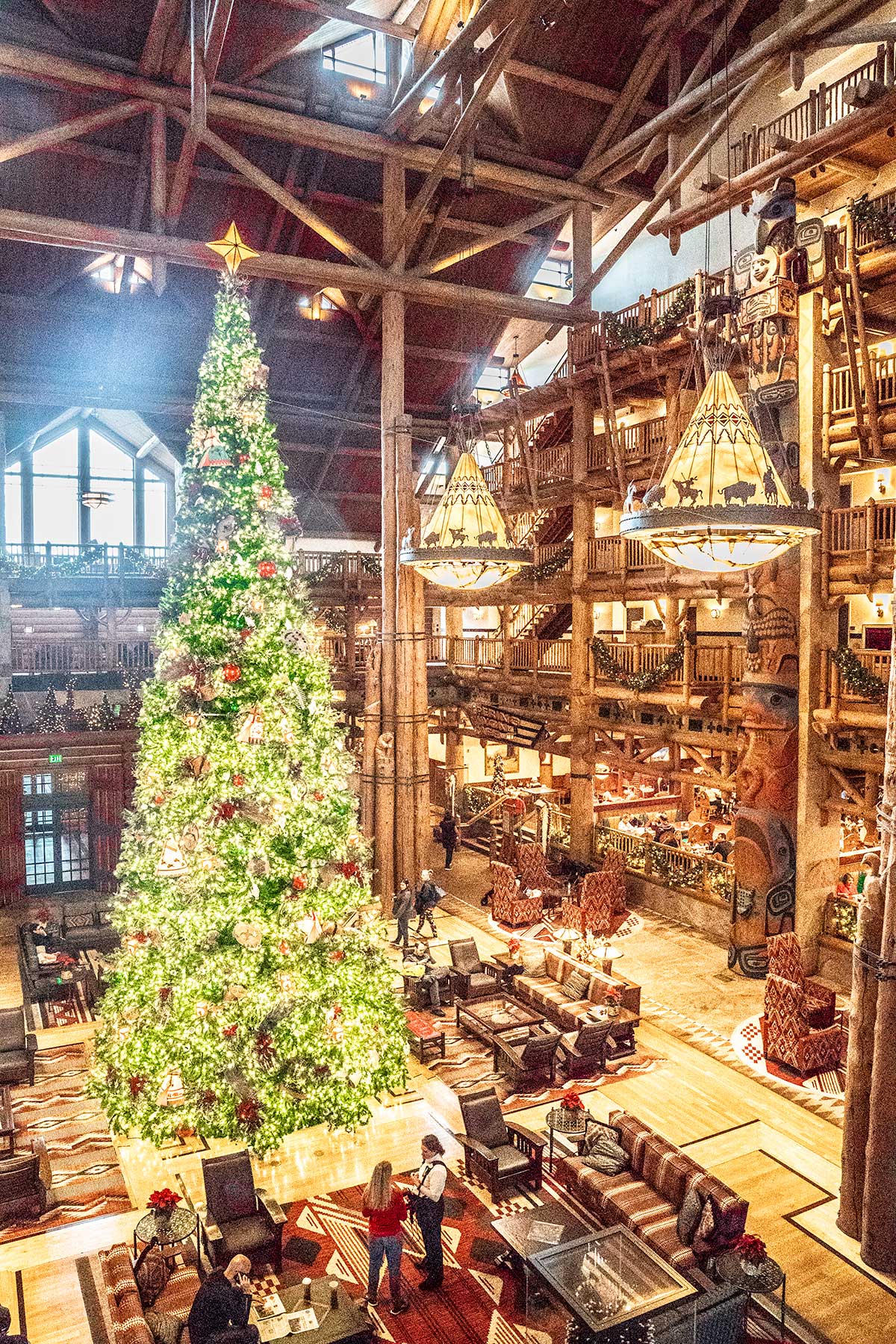 I guess the first thing I should mention is that the Wilderness Lodge lobby was a thing of absolute wonder, in and of itself.
The ceiling towered more than eighty feet, with sunlight streaming in from skylights so high above my head, I almost missed that they were there.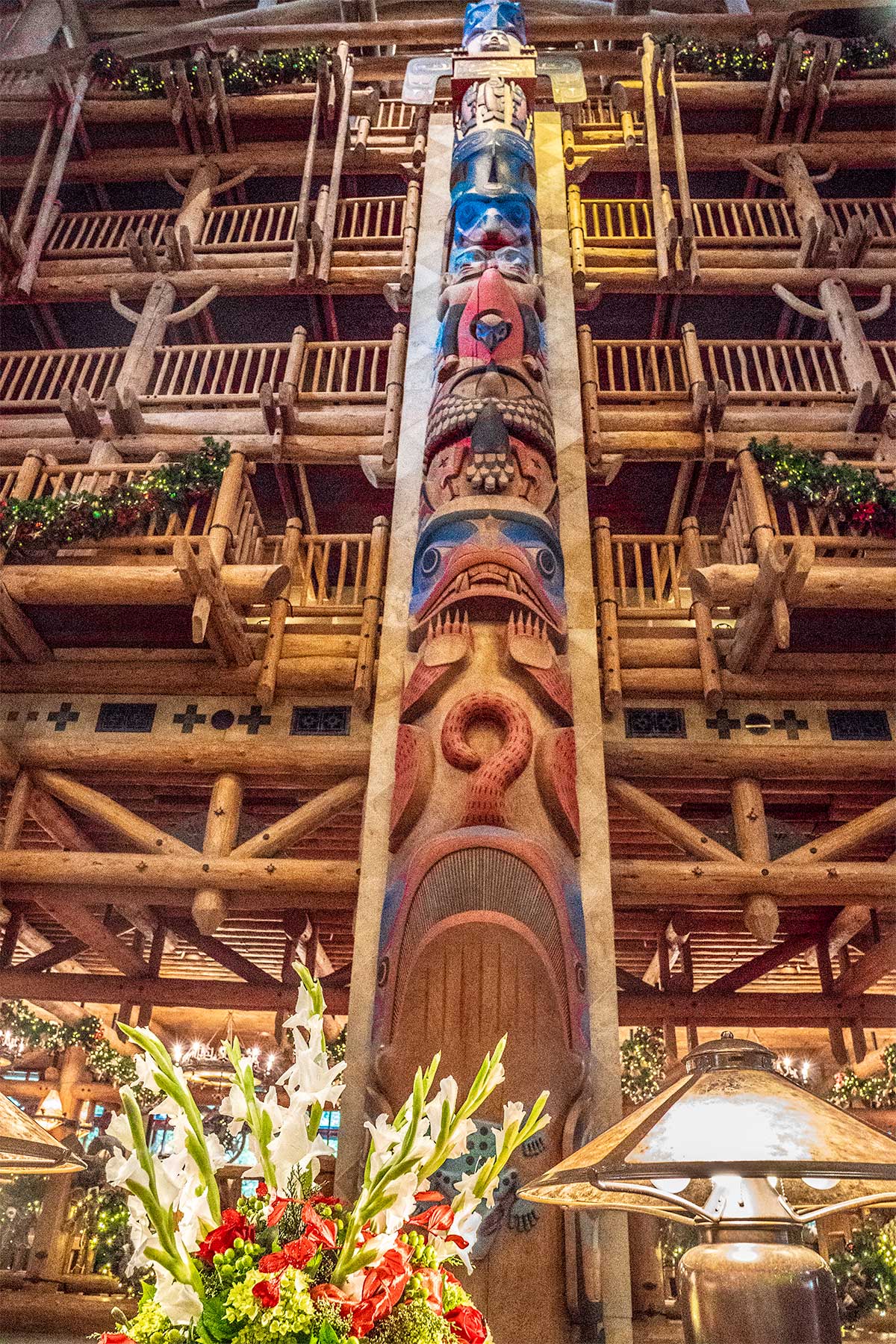 The entire place was natural wood everything, from floor to beams to railings to ceiling.
And the second thing to catch my eye, after the Christmas tree:
The colorful, intricately carved totem poles that stretched as high as the sixth floor of the hotel.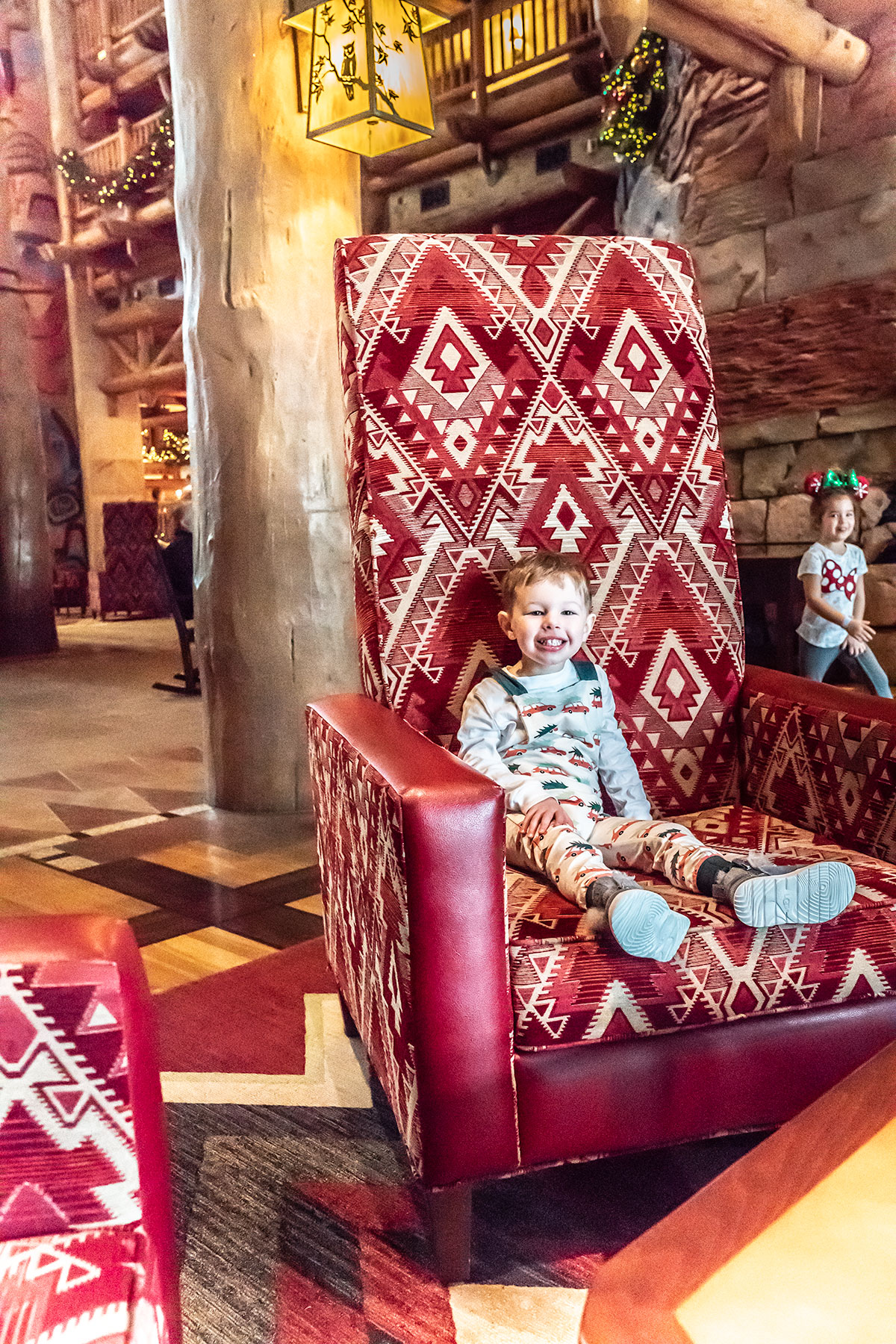 Despite its colossal size, the Wilderness Lodge still somehow felt inviting and warm and cozy.
It must have been all of the natural wood and stone.
Plus a stunning stone fireplace that reached all the way to the ceiling.
Plus the warm tones of the rugs and upholstery, in comforting shades of deep red.
Oh, and the details. Incredible, intricate design details were everywhere I looked.
I feel like I could write a 3,000-word post just solely on the topic "All of the Design Details of Disney's Wilderness Lodge."
Pictured above is a beautiful stone fireplace on the floor of the Wilderness Lodge where our room was located.
In typical Disney fashion, the iron covering wasn't just any old fire screen.
It depicted a Northwestern prairie scene, complete with a moose, fish, and birds soaring overhead.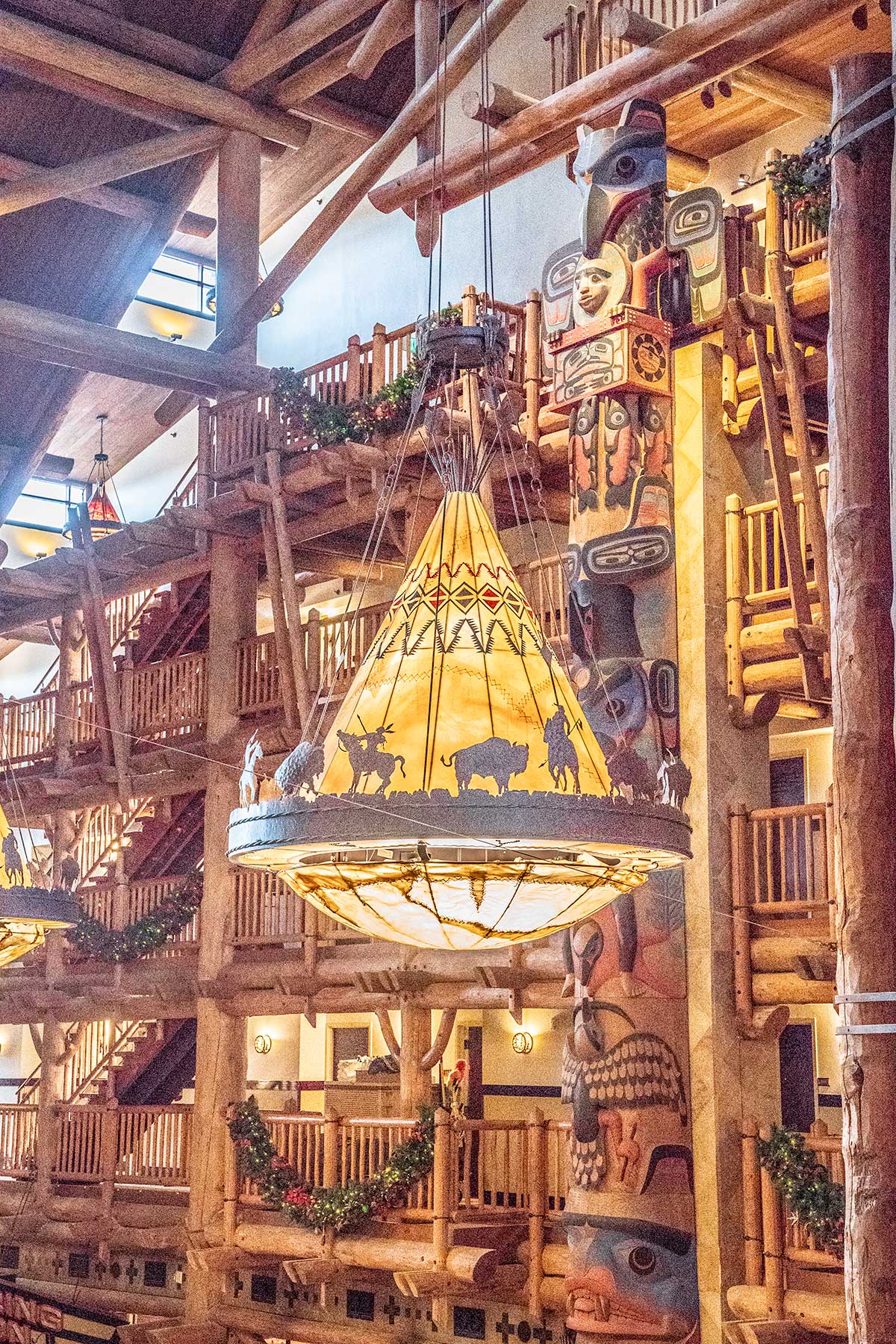 And I loved these light fixtures that resembled teepees, with silhouettes of buffalo and men holding arrows and wearing headdresses.
I was so impressed with the intricate and colorful detail on this leather garment that was displayed in the hallway near our hotel room.
But back to the lobby Christmas tree that had to have been sixty feet tall.
Trevor was in awe.
While Chris went to the front desk to check us in, Trevor simply wandered around the tree, pointing to his favorite ornaments.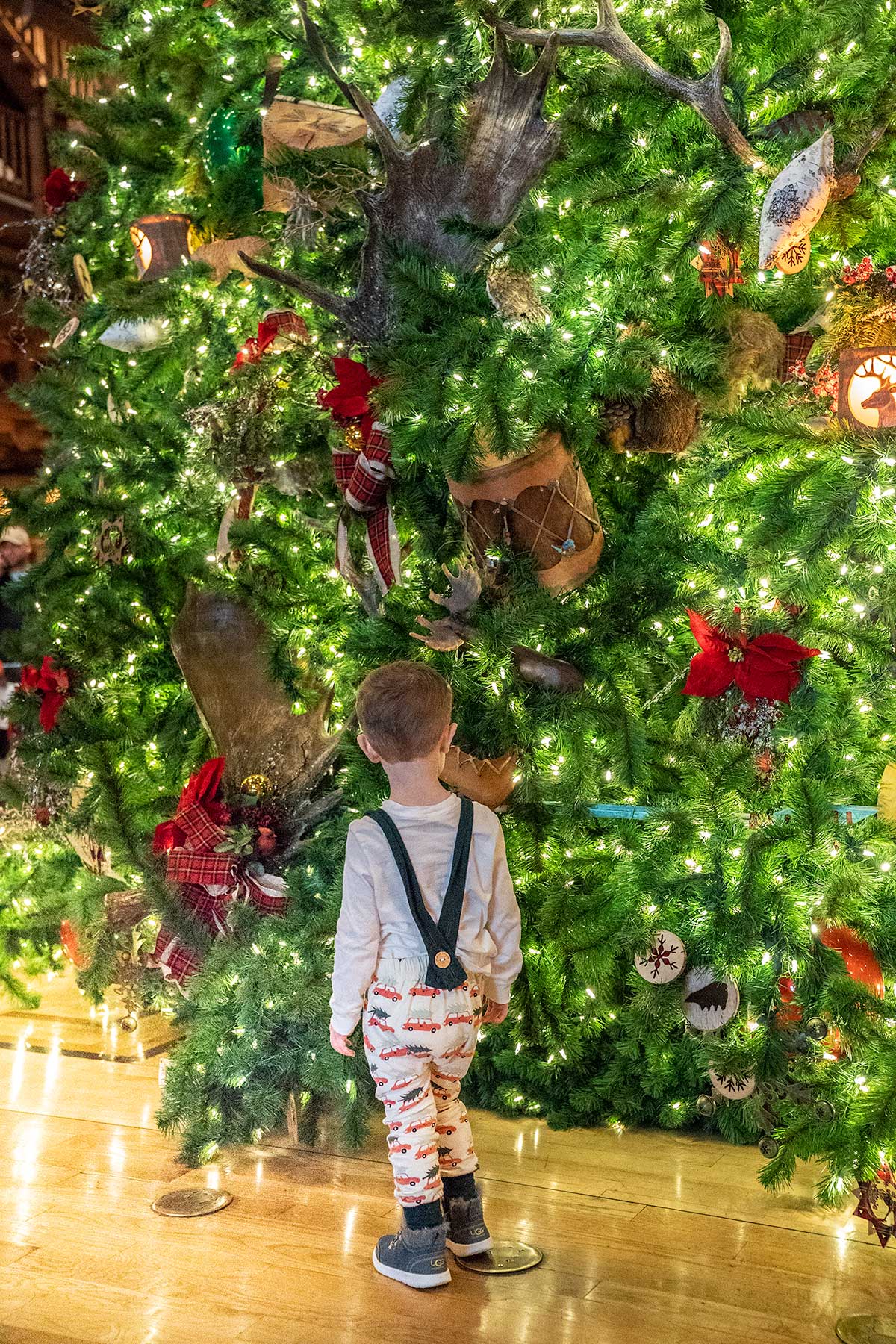 And – unbelievably for a tree that immense – nearly every square inch was decorated!
Where there weren't twinkling white lights, there were perfectly themed ornaments:
Antlers, miniature leather teepees and drums, owls that looked lifelike, snowflakes carved from wood.
After Trevor finished his thorough inspection of the Christmas tree, we made our way to our room…
The rustic Northwestern theme was echoed in the room design, which was clean, bright, open, and airy.
Since we're members of the Disney Vacation Club, our room was a one-bedroom suite that felt like a mini condo.
There was a large living area that included a pull-out couch, large flat-screen TV, desk, and a table with seating for six.
The hardwood floors and deep red accents from the lobby were carried into the room design.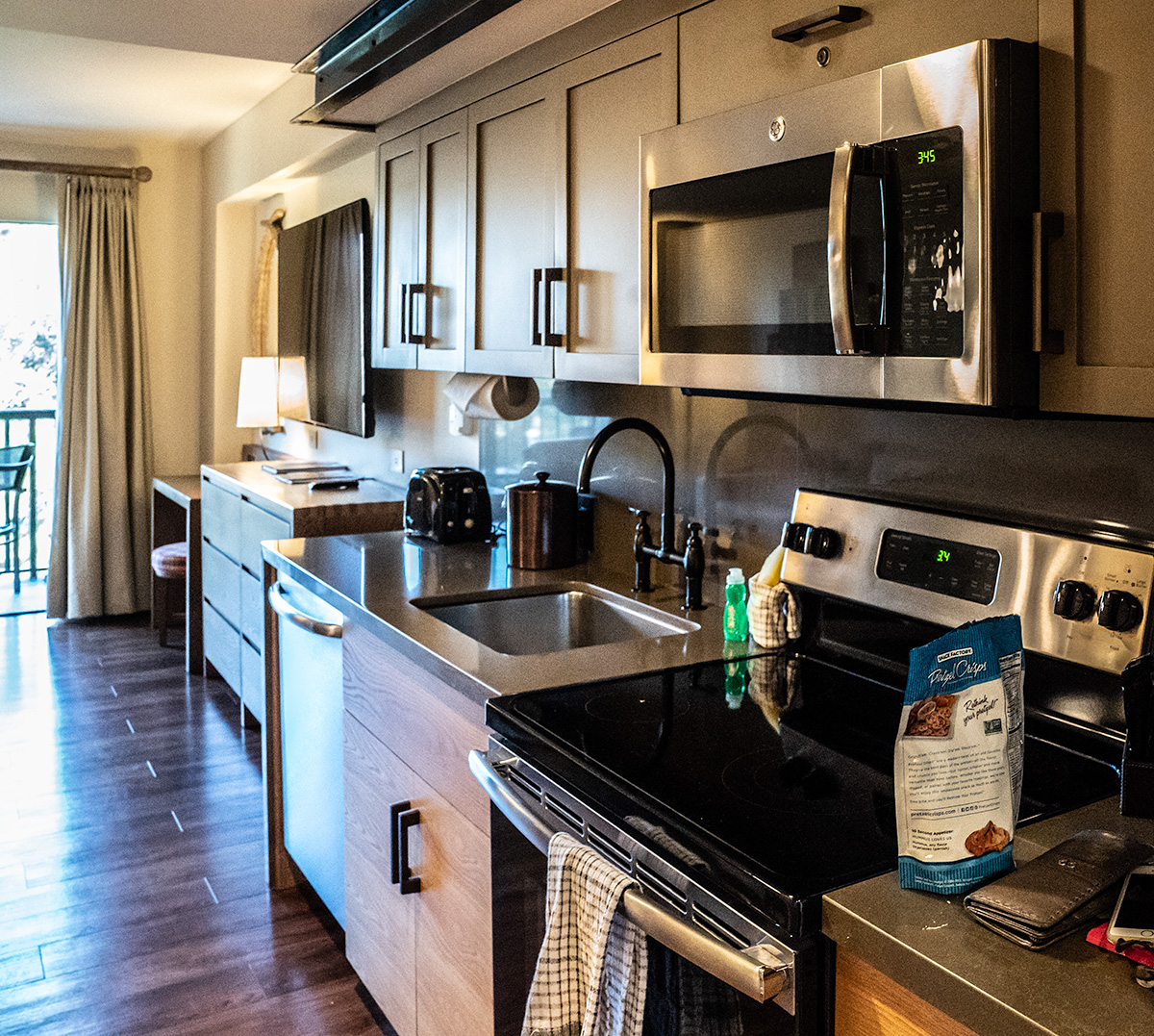 The kitchen had a modern, sleek design and was fully stocked with paper towels, dish cloths, and dish soap.
There was a large fridge, a microwave, and a dishwasher.
In addition, the cabinets were also stocked with plates, cups, and silverware.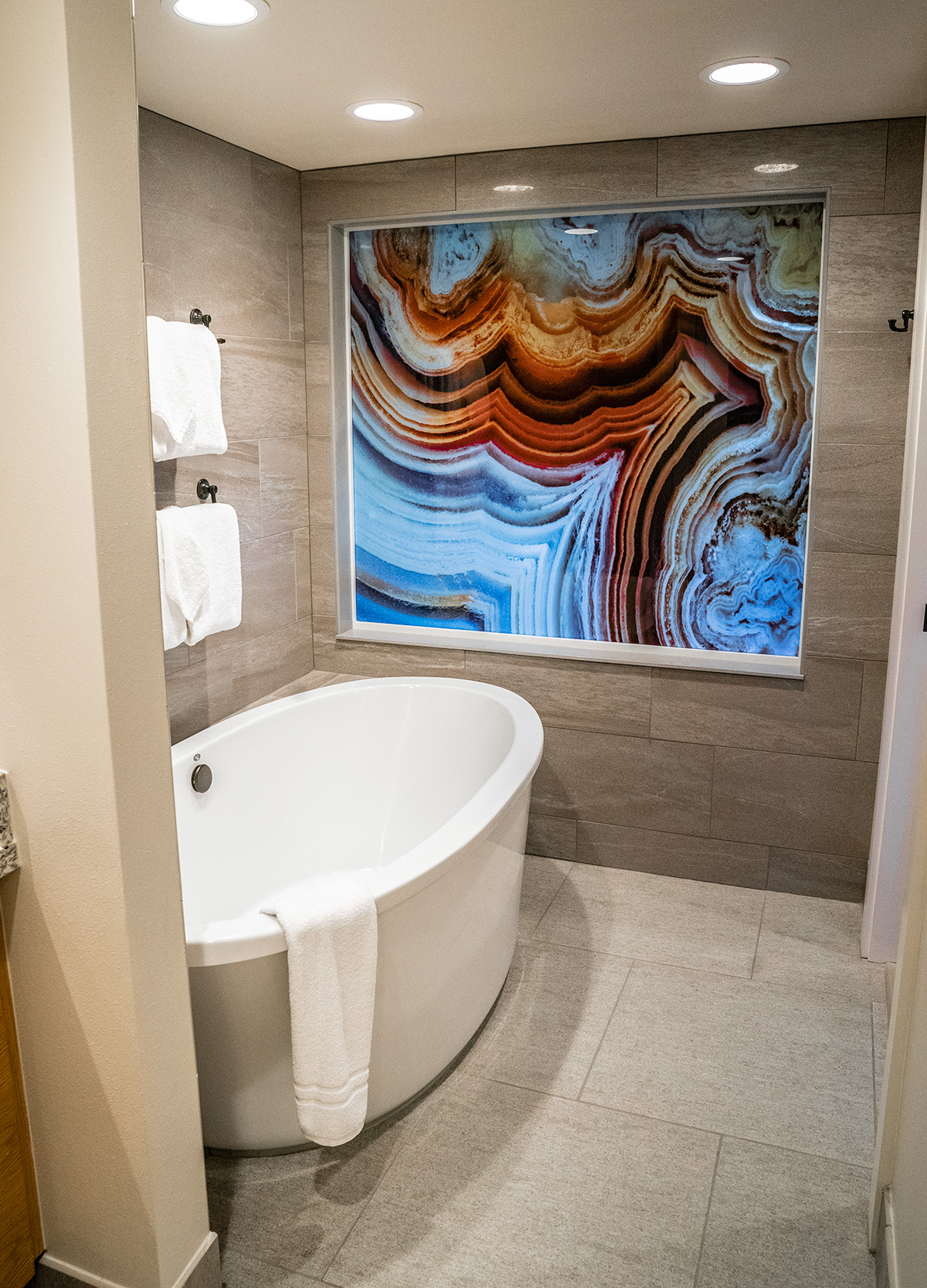 And the bathroom felt really spacious, sleek, and modern too.
It included a large jetted soaking tub, plus a small single sink with granite top.
Gray tile covered the floor and walls.
Plus, there was a separate room with another sink and huge vanity top.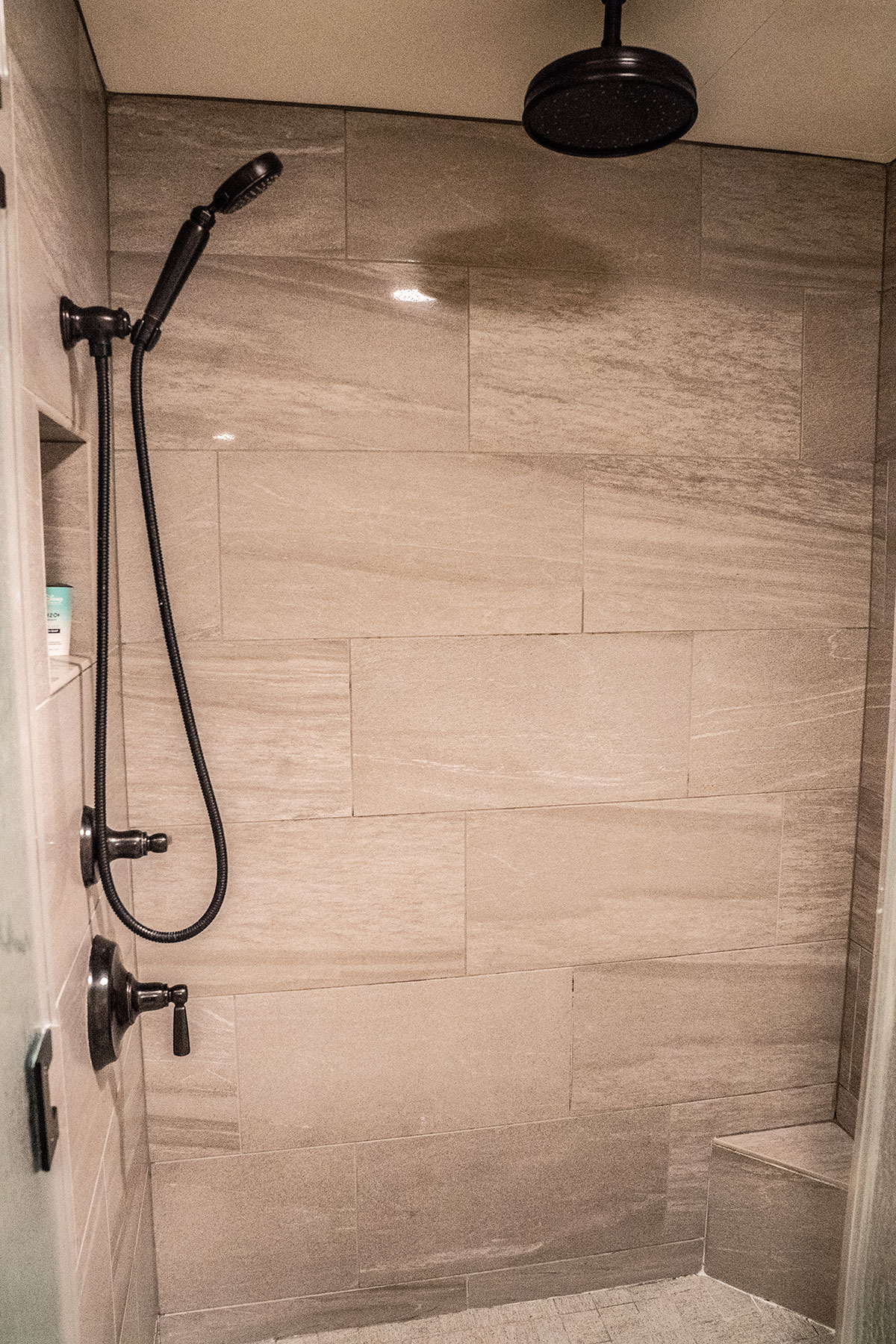 And a gray tile walk-in shower with handheld and rainfall shower heads.
The bedroom balcony stretched across to the living room balcony, so the outdoor area also felt very spacious.
Our view overlooked the Wilderness Lodge grounds, which had a serene, secluded and rustic feel.
The Disney flair for detail was apparent throughout our hotel room as well!
This artwork in the living room displayed plans for the wooden animal carvings and totem poles located in the lobby of The Wilderness Lodge.
And the bedroom headboard and artwork resembled a carved tree trunk.
Overall, the room felt fresh, new and full of really unique design details.
My only complaints would be the bathroom towels (small and thin). And the bedding (no bulk or weight to the comforter and uncomfortable pillows).
The landscaping throughout the Wilderness Lodge was absolutely perfect.
So perfect, it hardly seemed real.
There was not a weed to be found anywhere, or even a blade of grass out-of-place.
And colorful flowers bloomed everywhere, even though it was December!
Here's a view of the landscape from the window in the hallway outside our hotel room.
The property grounds continued with the rustic, national park lodge feel, with a view of Bay Lake beyond the pool area.
It was nice just to walk the tree-lined pathways that wound around the lake, and bike rentals were available to explore the landscape.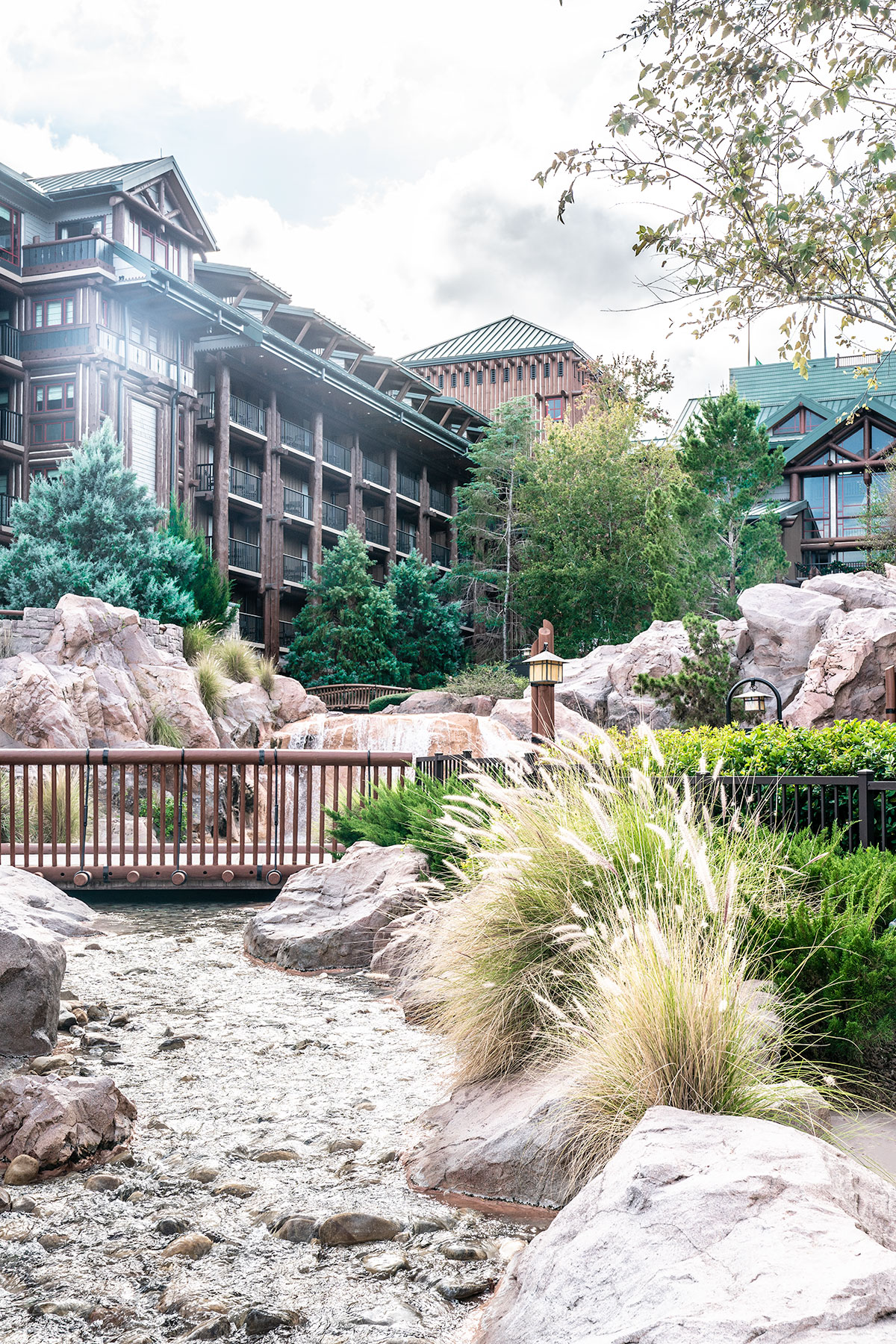 Probably the most incredible (and creative!) part of the landscaping was the small Copper Creek brook that flowed under a small footbridge through the main lobby of the Wilderness Lodge.
As it flowed out of the hotel and along the resort grounds, Copper Creek turned into rocky river rapids…
… and then into a beautiful cascading waterfall…
…And it didn't end there!
We found this out when Tru was playing in the kiddie "water playground" area.
I was busy snapping photos when suddenly…
I felt a spray of water hit my face and hair.
Water droplets ran down my camera lens…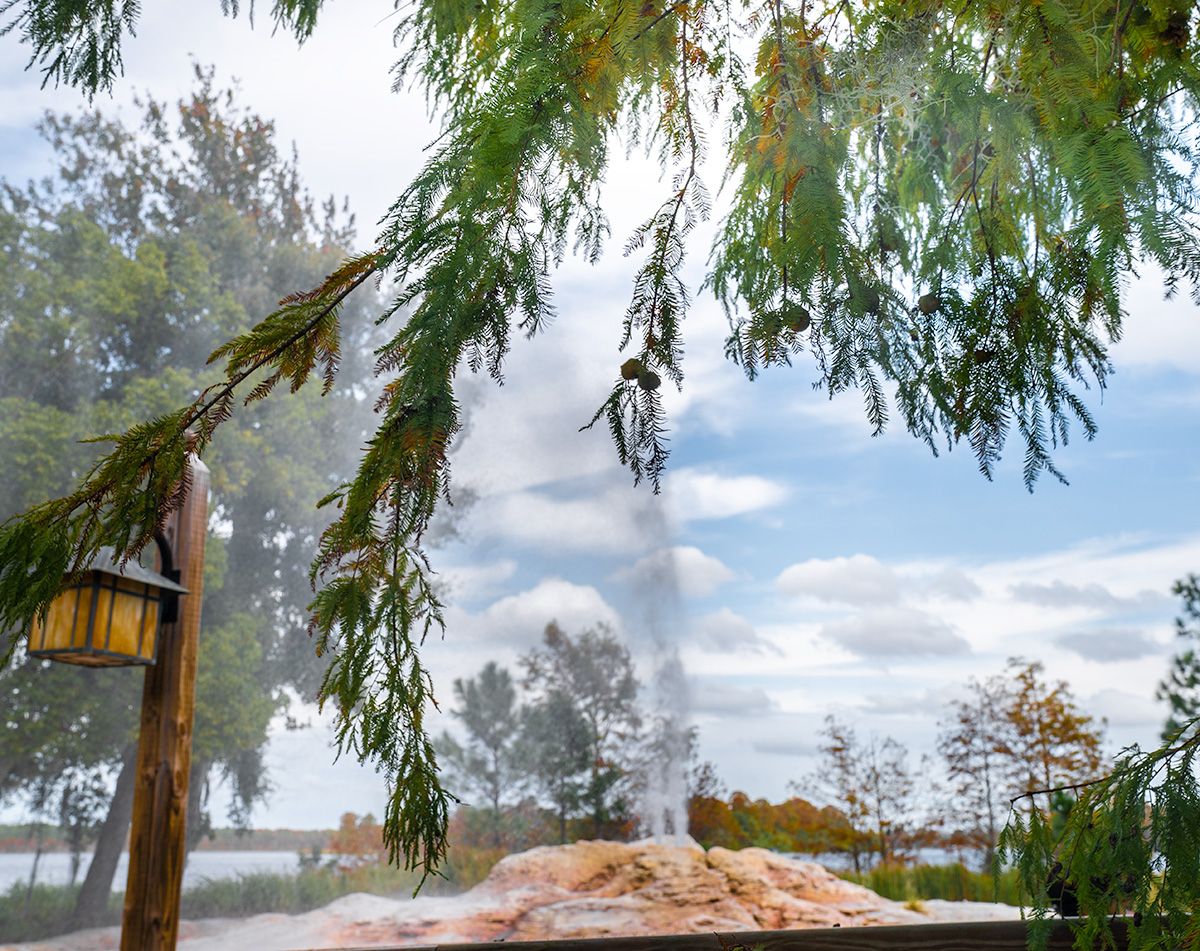 It turned out that Copper Creek – as it reached Bay Lake, just beyond the Copper Creek Spring Pool area – turned into a geyser!
We learned that this geyser erupts on the hour, every hour, throughout the day.
The Wilderness Lodge Fire Rock Geyser was impressive and powerful.
But here's our warning: you will definitely get wet if you happen to pass by when it's erupting!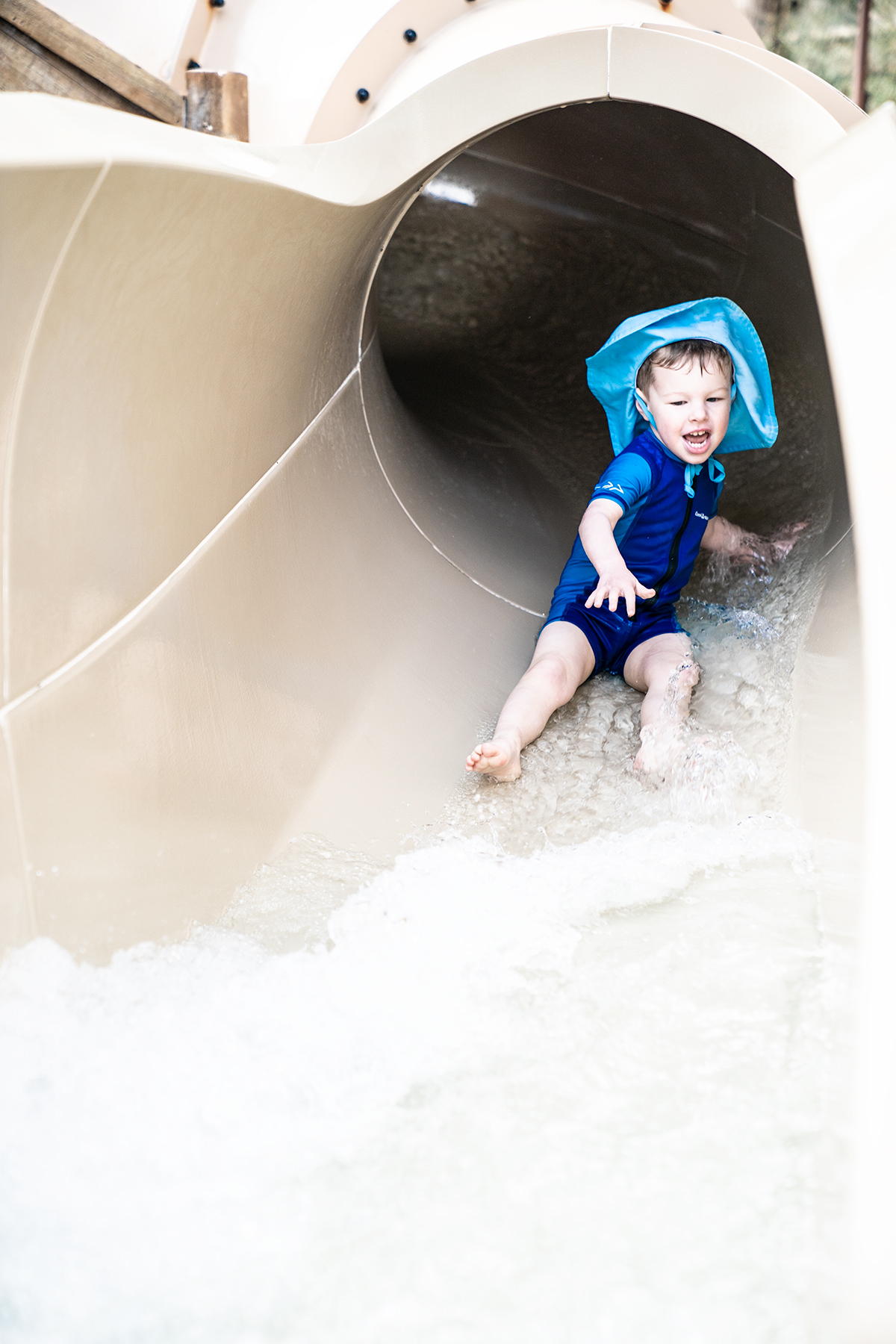 And speaking of Tru playing in the kiddie pool, you may be wondering:
Is it too cold in the Orlando region to swim at Christmastime?
Trevor's vote is no, definitely not too cold!
Tru was in love with the Wilderness Lodge "water playground."
It had water slides, sprinklers, and buckets that would suddenly dump over when they filled with water.
Tru was the only kid braving the children's activity area during the times we visited.
(And we did visit each afternoon before Tru's nap!)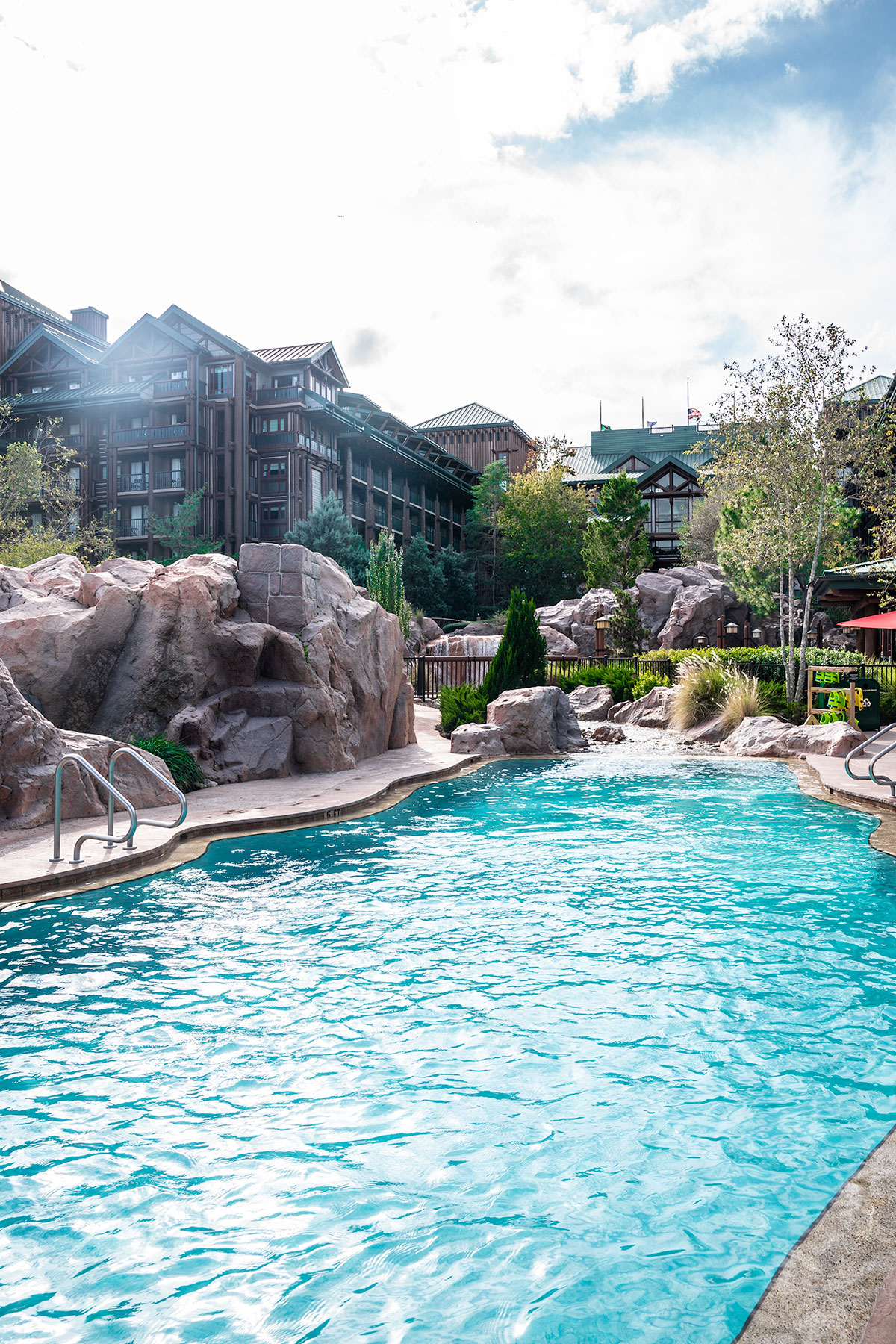 But there were lots of guests lounging by and swimming in the main resort pool, Copper Creek Springs Pool.
There were also endless dining options at Wilderness Lodge.
I know there are a million reasons why Walt Disney World is so popular with families.
But, in my opinion, one of the reasons is the abundance of quick service restaurants everywhere you turn.
There is nowhere on earth that offers more convenience for traveling parents dealing with picky and overtired little ones.
The Wilderness Lodge has a quick service restaurant, Roaring Fork, that seemed to be always open (I think the hours were 6am to midnight!)
They served a variety of sandwiches (from hummus and pita to tuna salad to pulled pork), plus flatbreads, burgers, and salads.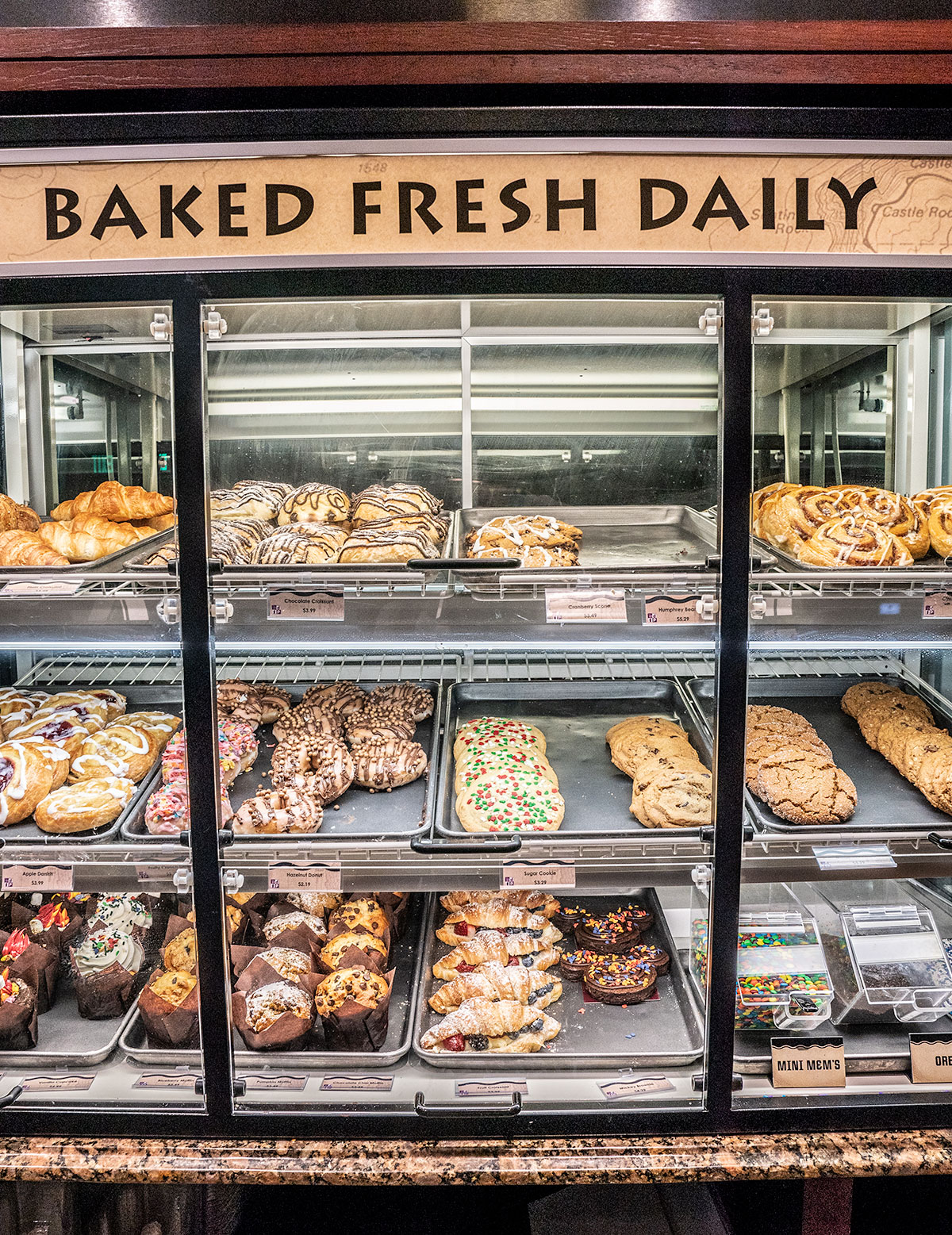 Plus a wide variety of healthier and more indulgent snack foods, and bakery items.
This Mickey Mouse brownie is another thing I'll never forget about our holiday stay at the Wilderness Lodge.
Tru recommends you try it, and so do I.
It was perfectly baked, where you couldn't really call it brownie batter but very nearly almost batter.
It was a very dangerous combination of:
1.) so rich and sweet and gooey and addictive, but also
2.) as big as Trevor's head (all of the treats at Walt Disney World are as colossal as their Christmas trees!)
There were table service restaurants too.
We liked the Whispering Canyon Cafe, which was located in the beautiful lobby of the Wilderness Lodge.
It had an Old Western feel, and served bottomless platters of cowboy frontier fare like chicken, ribs, and sausage.
Chris and I also liked the Geyser Point Bar & Grill for the location.
It was an open-air restaurant (just a ceiling, no walls) that was located away from the main building, with views overlooking Bay Lake.
It felt like a quiet retreat away from the bustle of the main building, and served casual dishes like crab cake sandwiches, burgers, and salads.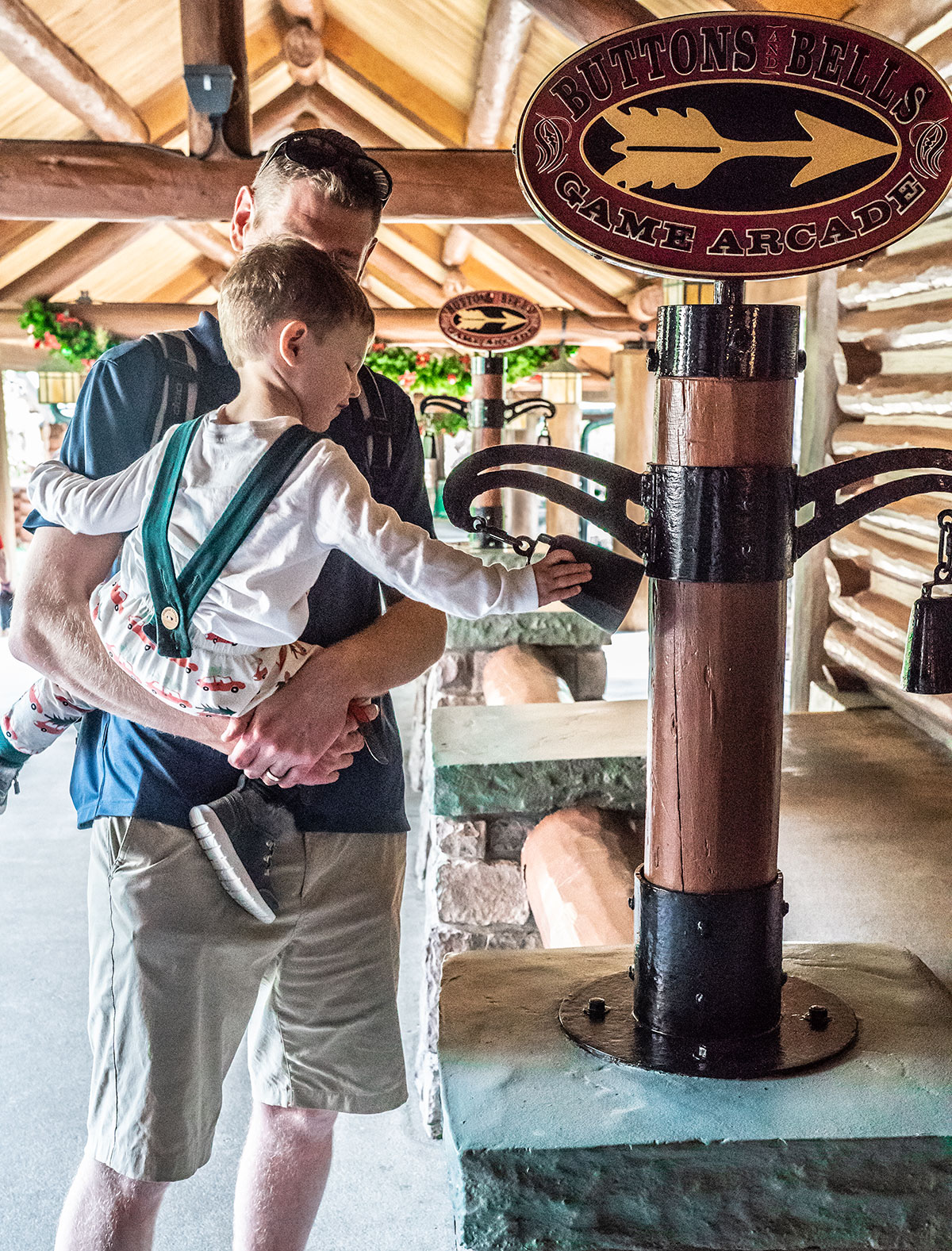 One of Trevor's favorite spots in the Wilderness Lodge resort was definitely the Buttons and Bells Arcade.
Trevor especially loved ringing the cow bells on the arcade sign.
As did every other kid staying at the hotel (we know because we could hear each and every ring of the bell from our balcony!)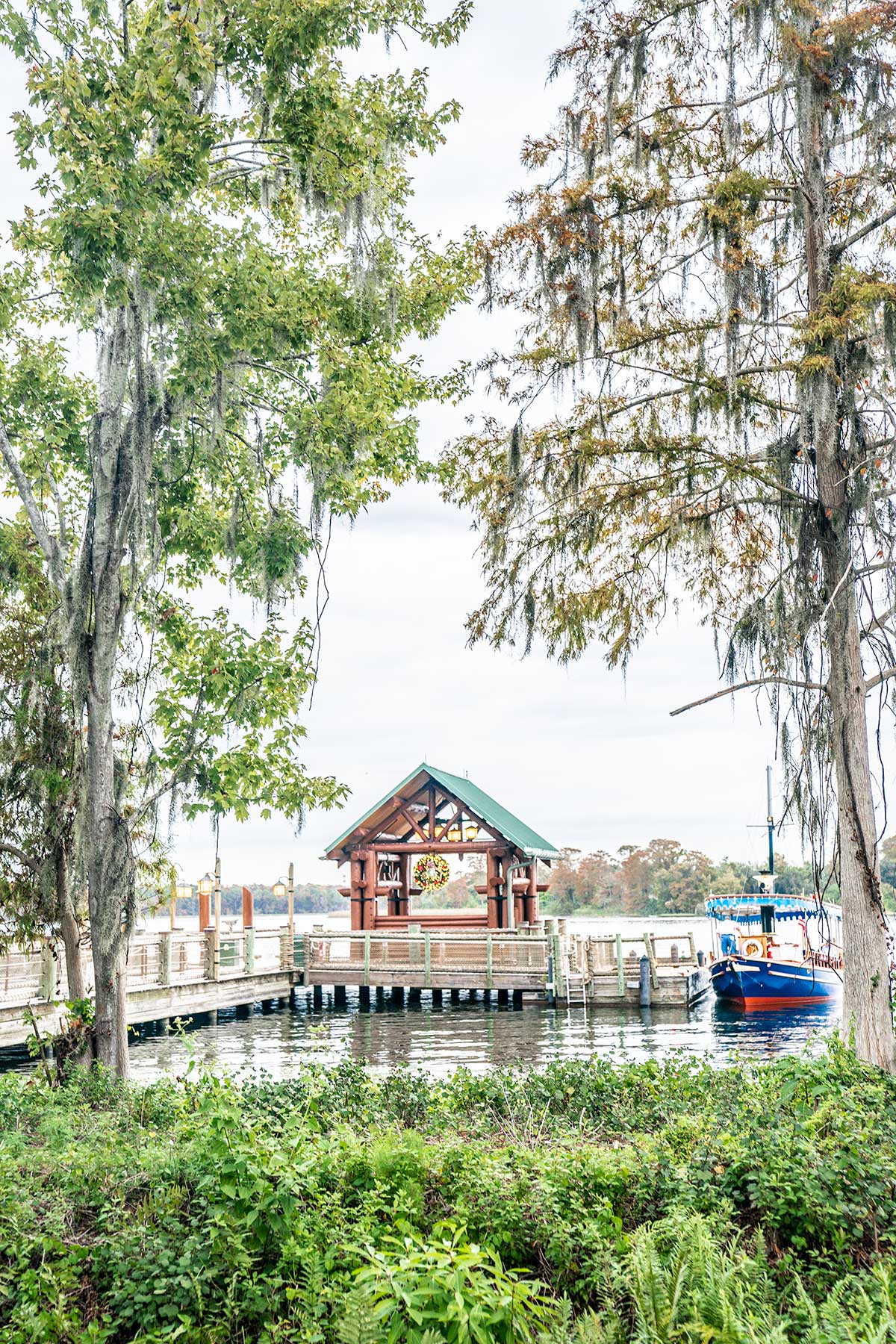 And here was one of my favorites: the boat dock located on the Wilderness Lodge property.
(And yes, Disney remembered to add a Christmas wreath, even on the boat dock!)
I loved the ease and convenience of riding a boat straight to the Magic Kingdom from our hotel.
We could breathe the fresh air (Florida is chilly enough for a light coat most days in December), take in the water views, and watch ferries float calmly by as monorails zoomed over tracks above the lake.
It was a world apart from riding an overcrowded Disney bus, that's for sure!
(There are also motorized boat rentals and fishing excursions available from the Wilderness Lodge docks.)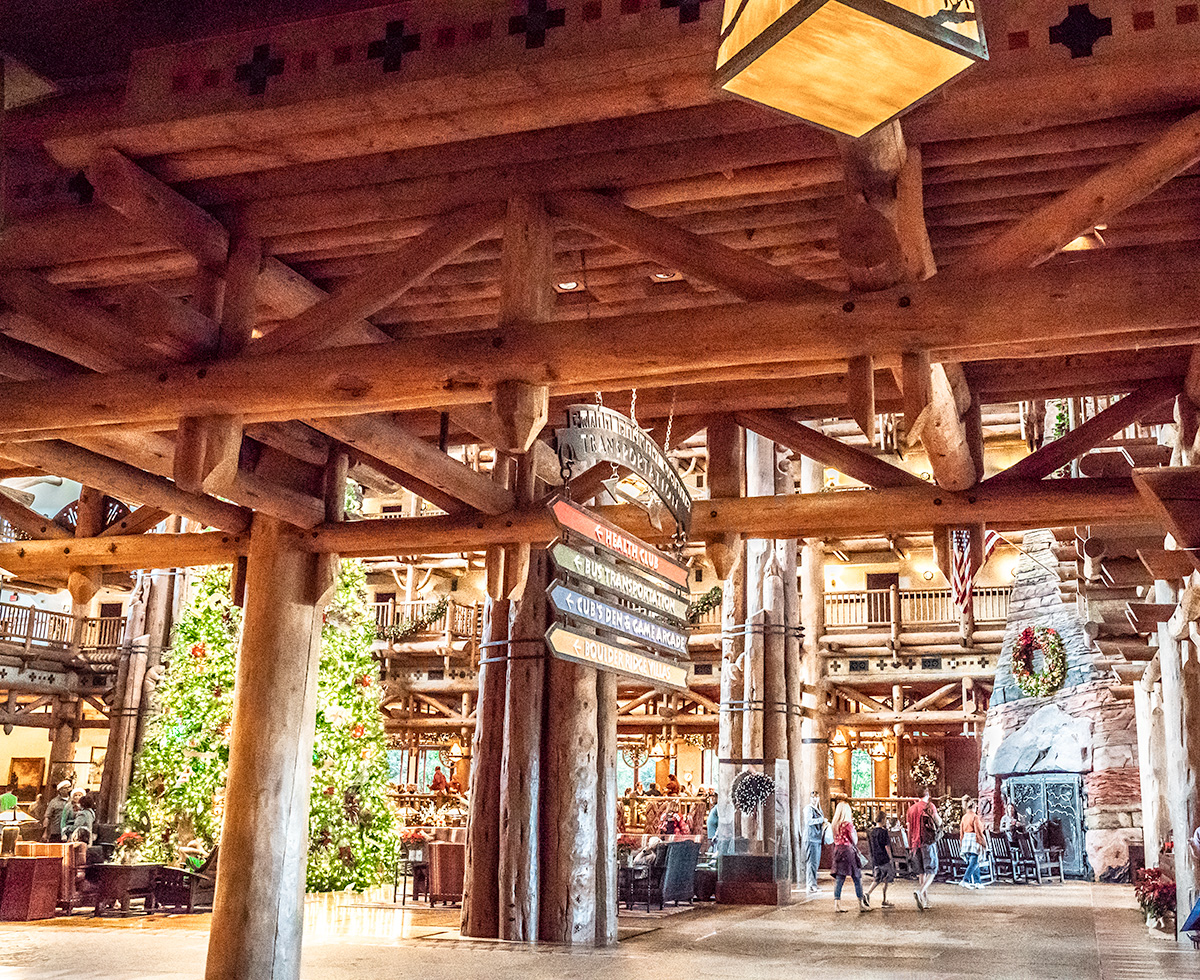 But onto the most important part of all: the Christmas decor!
Everywhere we looked, we saw garlands and wreaths dressed with twinkling lights and red bows.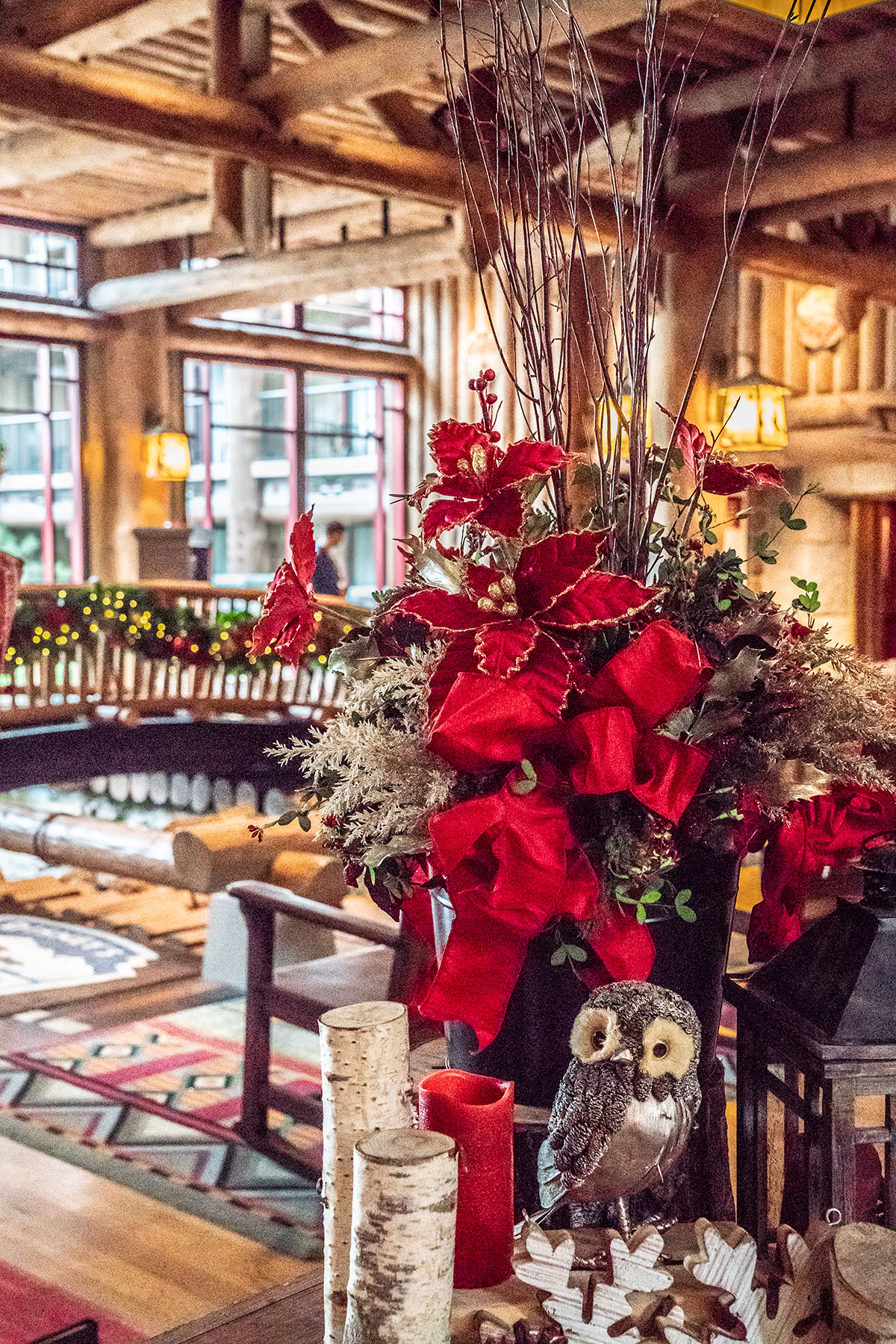 Table displays included candles shaped like birch tree trunks, lifelike woodland creatures, bright poinsettias, and big red bows.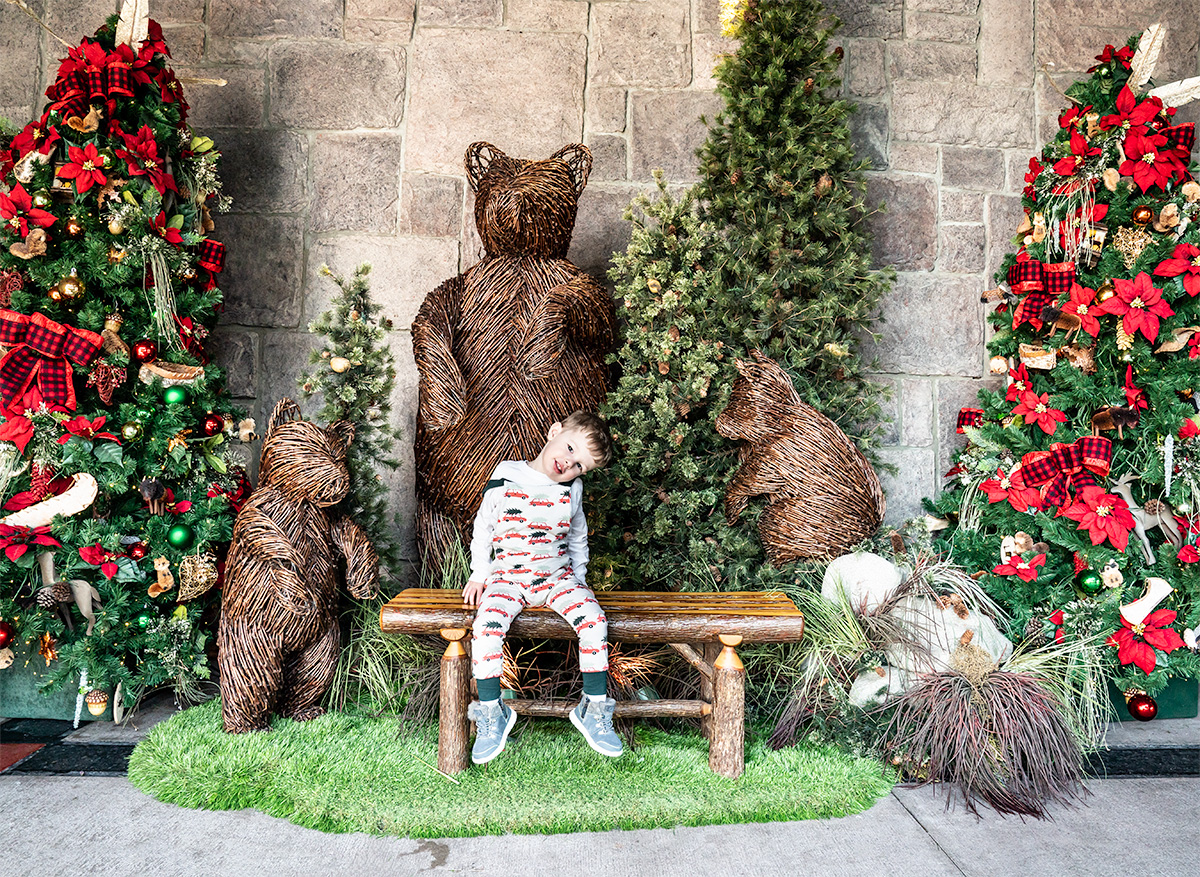 I loved this particular display, with brown bears and Christmas trees covered in red decorations.
The display included a wooden bench for guests to pose for photos.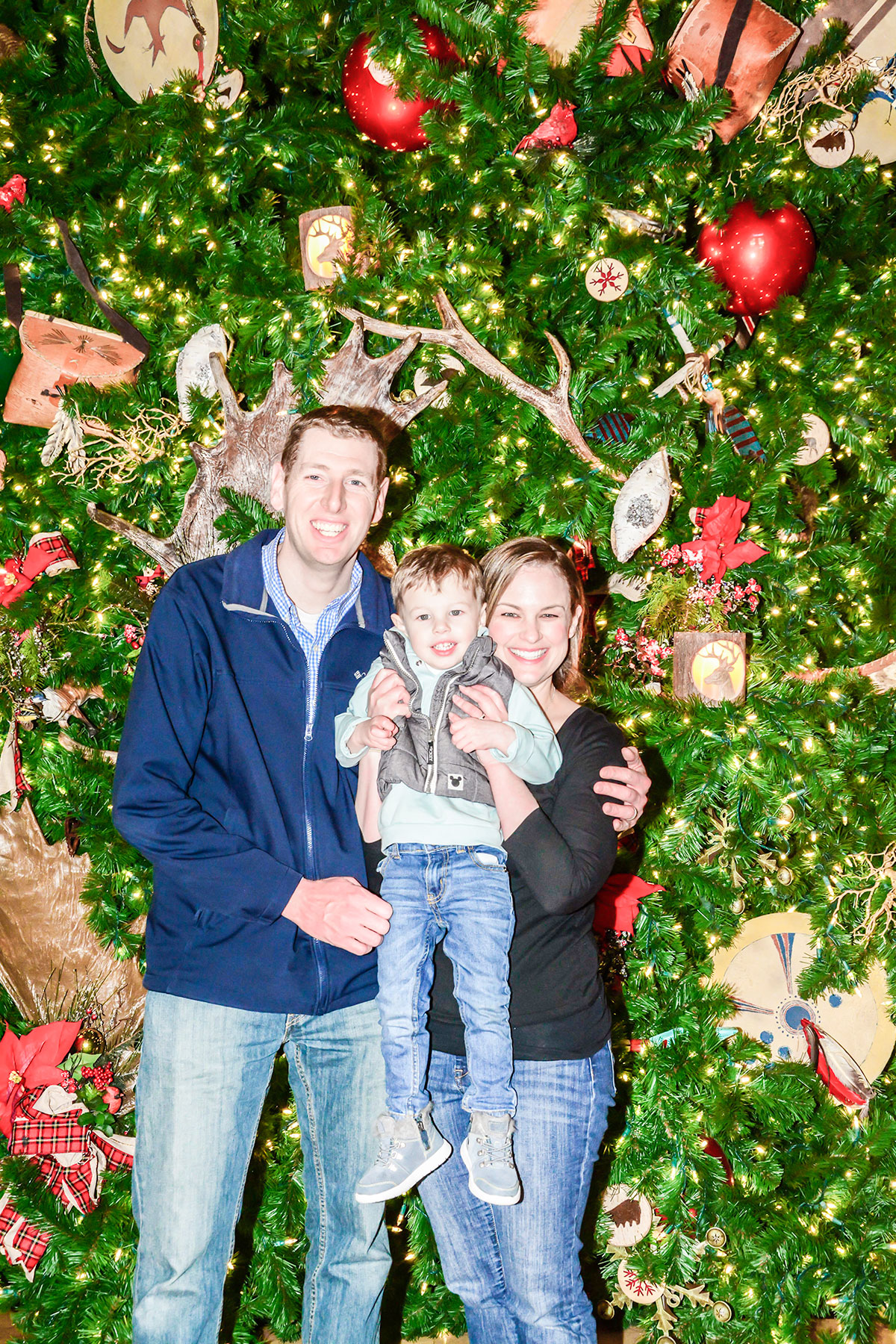 There was also a Disney photographer on hand to snap family photos in front of the giant Christmas tree in the Wilderness Lodge lobby.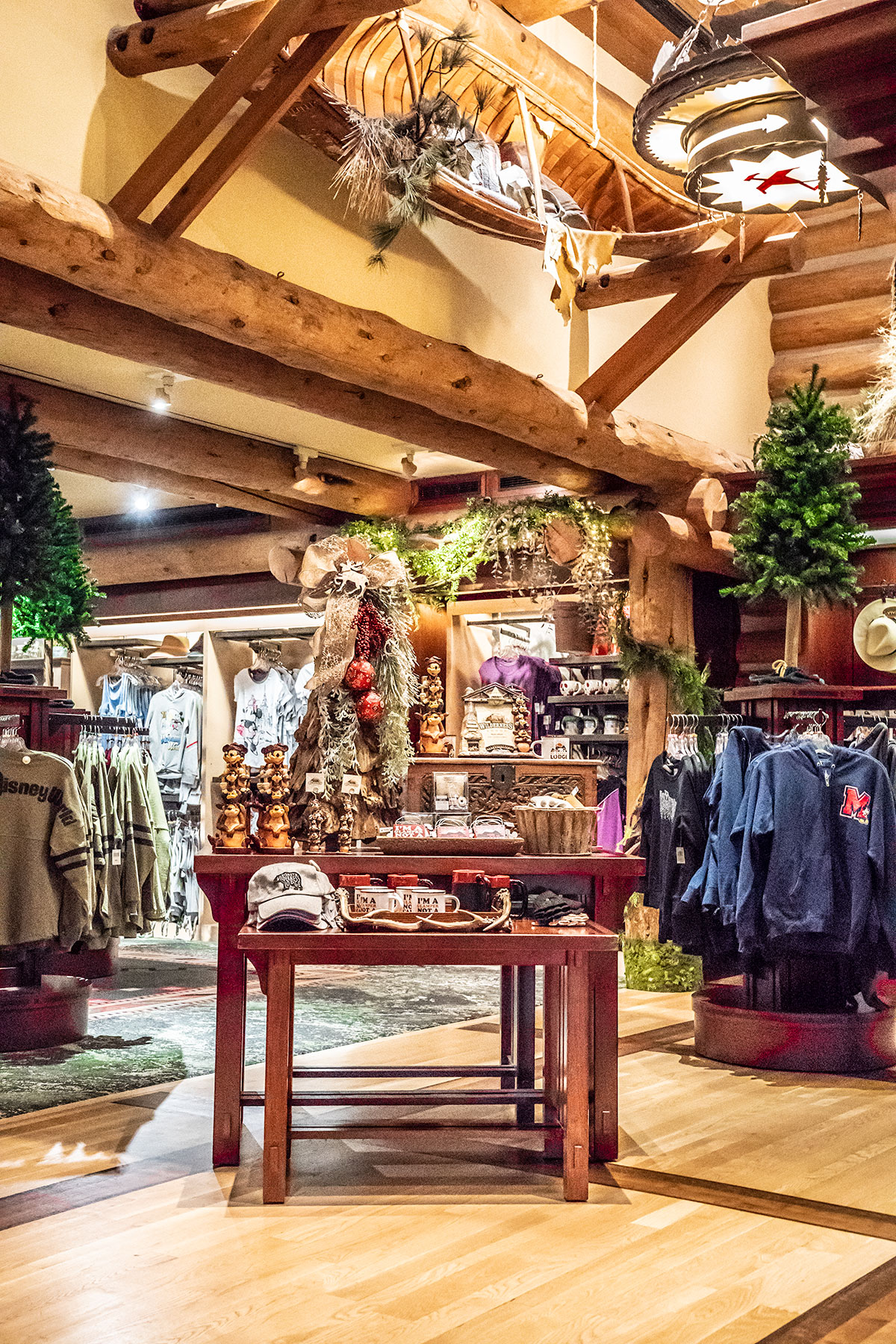 The hotel gift shop, Wilderness Lodge Mercantile, was also fully decked out for the holidays.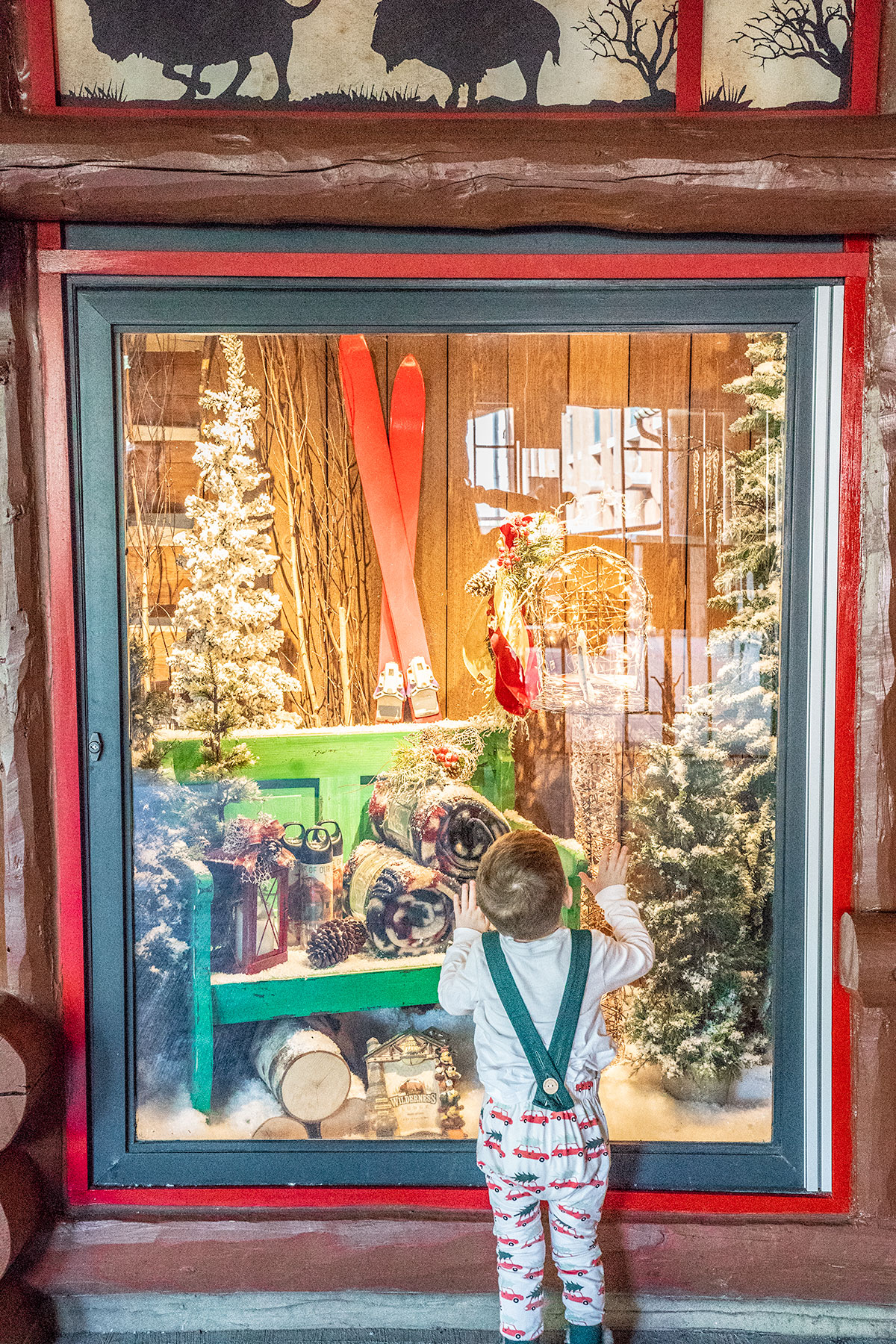 And outside the gift shop, a line of giant windows showed off the latest Disney merchandise with the most incredible holiday window displays.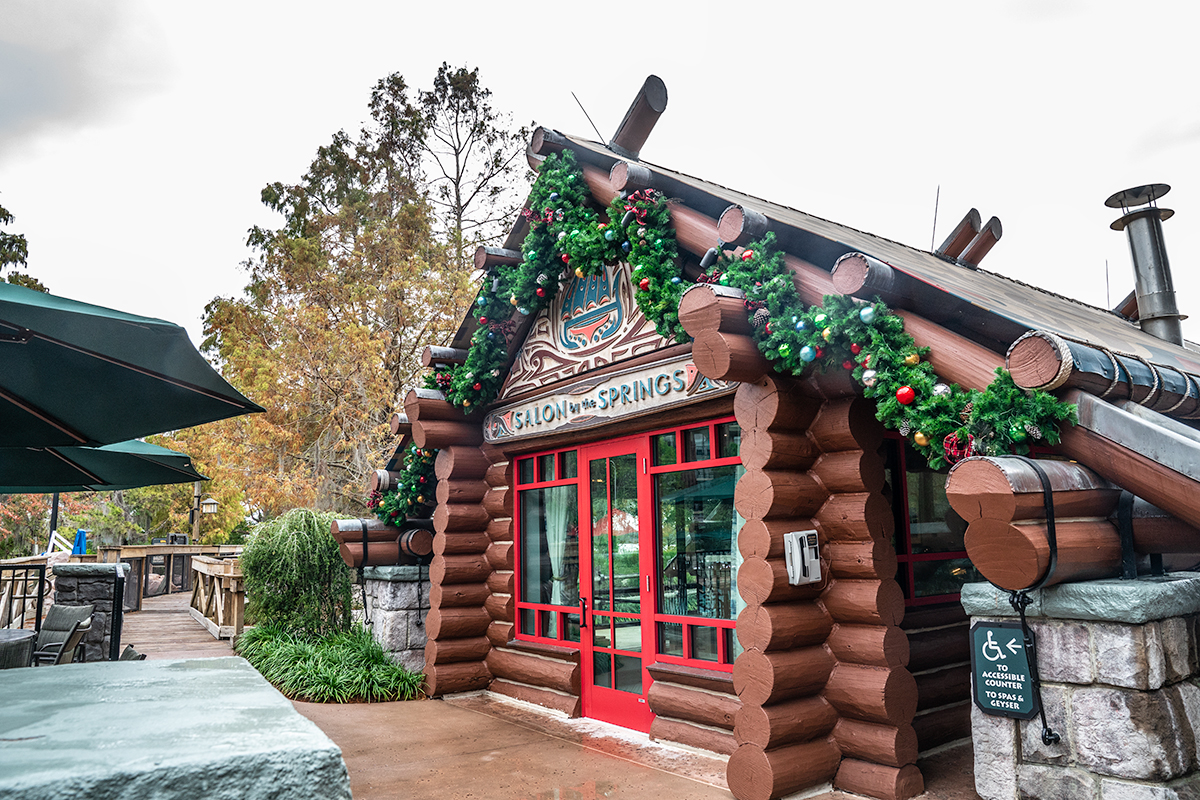 Disney didn't leave any area of the resort untouched.
Even the Wilderness Lodge salon, Salon by the Springs, was draped in holiday garlands.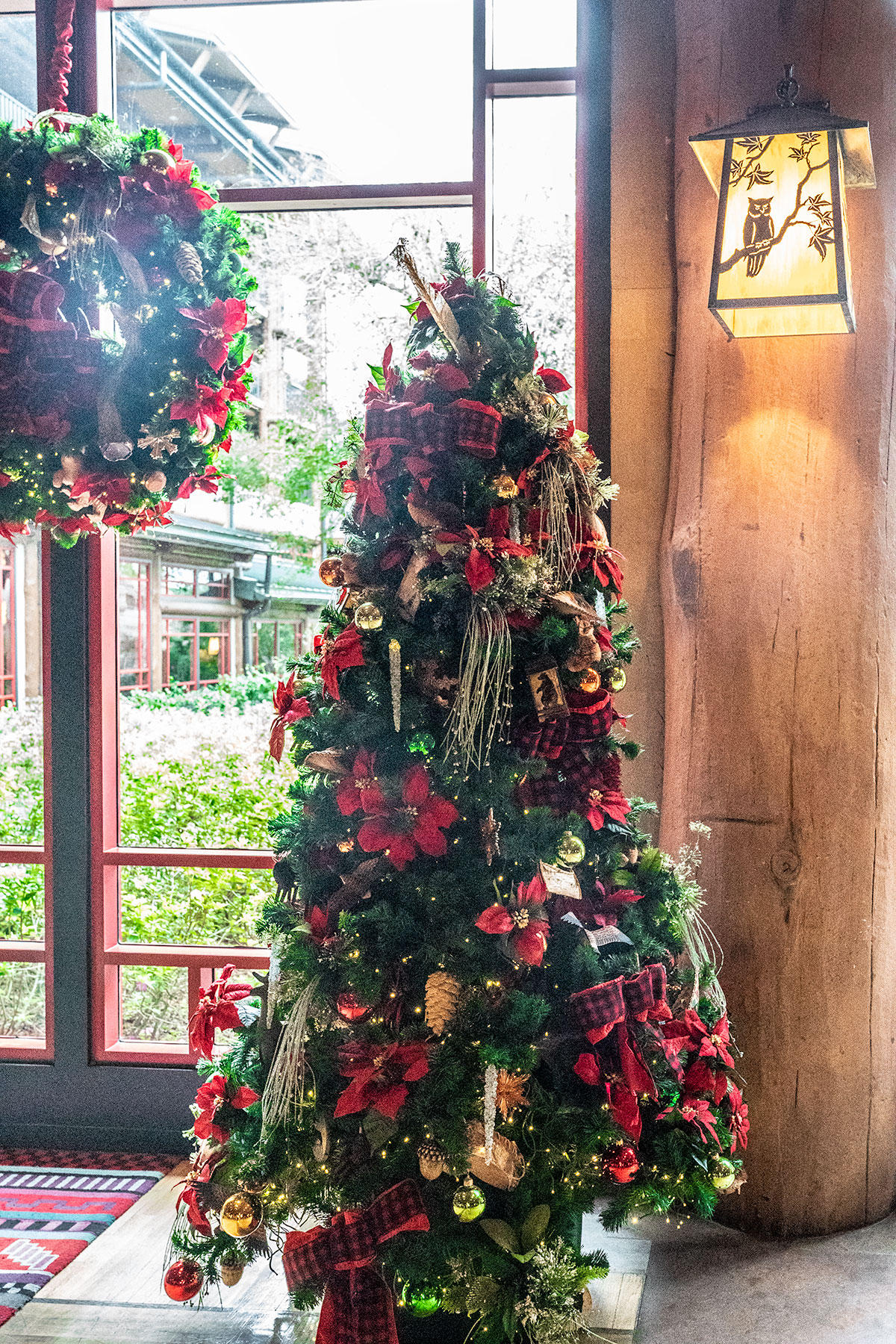 In addition to the colossal lobby Christmas tree, there were other wreaths and trees throughout the property, all covered in red poinsettias and bows.
To top it all off, we discovered a huge benefit to staying at the Wilderness Lodge.
(Especially for parents of little ones.)
Here's what we found:
It's possible to watch the nightly Magic Kingdom fireworks shows on the Wilderness Lodge property.
One night we made our way down to the Geyser Point Bar & Grill area overlooking Bay Lake.
And we watched the Christmas fireworks show light up the sky, while speakers broadcast the same musical soundtrack that was played in the Magic Kingdom.
Then, we were able to do a quick and easy five-minute walk back to our room after the show.
This was an incredible benefit, considering how difficult and time-consuming it can be to make your way through the crowds after a Disney fireworks show. And also considering how far it was past Tru's bedtime!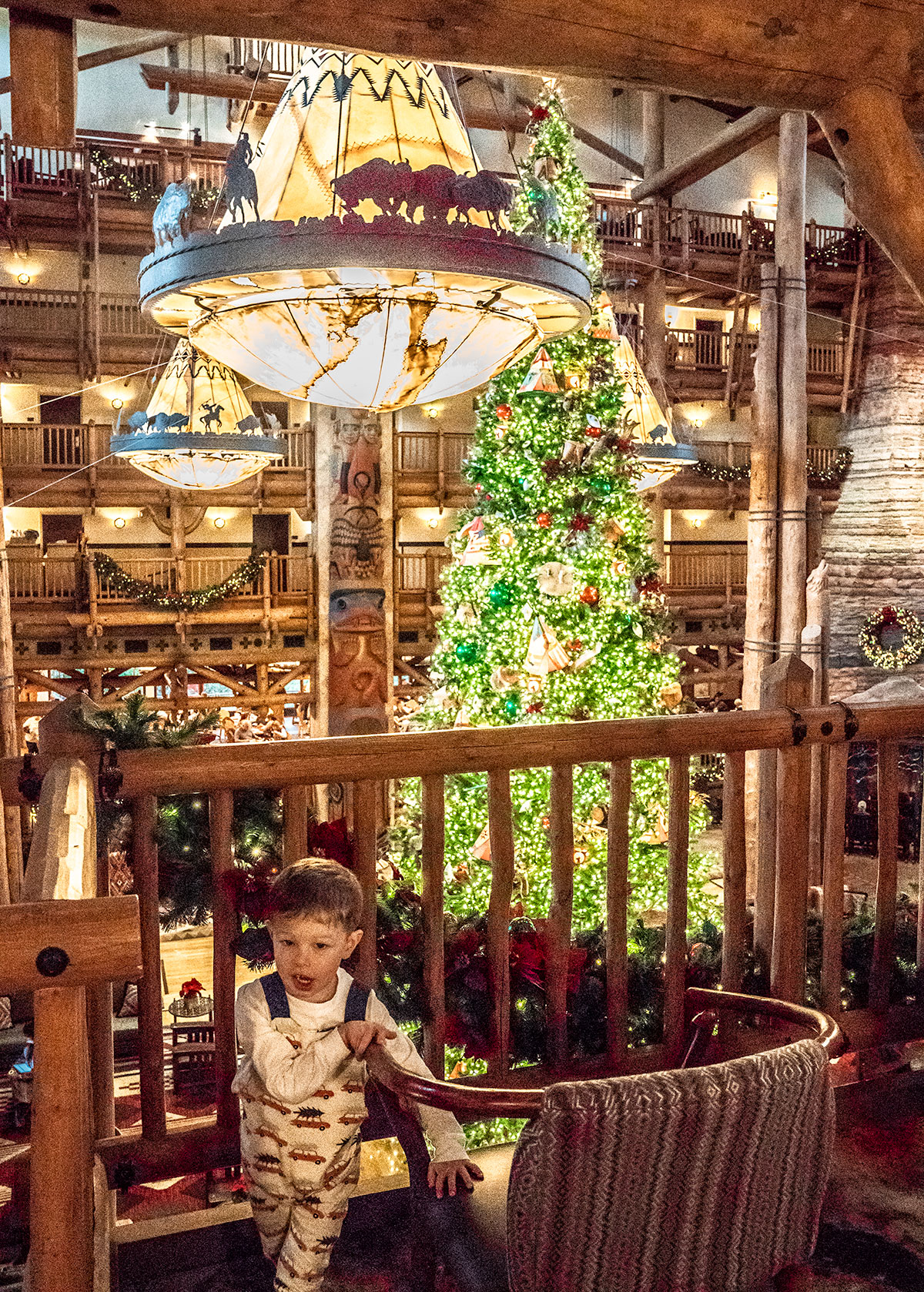 The one and only major drawback I found to Disney's Wilderness Lodge at Christmas: the very intense crowds!
The Christmas-through-New Years school vacation period is one of the busiest times of year at Walt Disney World.
And "busy" at Disney World means New-York-Times-Square-level crowds!
We stayed at the Wilderness Lodge in mid-December and found that the resort felt very crowded at the end of our stay.
So we'd highly recommend visiting during the early part of December to avoid the crowds.
But of course, there's a reason for those crowds.
From the breathtaking decor to the festivities to the food to the fireworks, the Wilderness Lodge is truly magical at holiday time.
There's no place like Walt Disney World to ensure that all of your Christmas dreams come true!
Pin on Pinterest:
For Related Posts on Walt Disney World, Check Out:
Where To Find The Ultimate Disney World Character Breakfast
Our Experience: Baby's First Haircut at Harmony Barber Shop | Magic Kingdom