You can't miss the Magic Kingdom at Christmas! In fact, Christmas is our favorite time of year to visit Walt Disney World. Here are all the reasons why…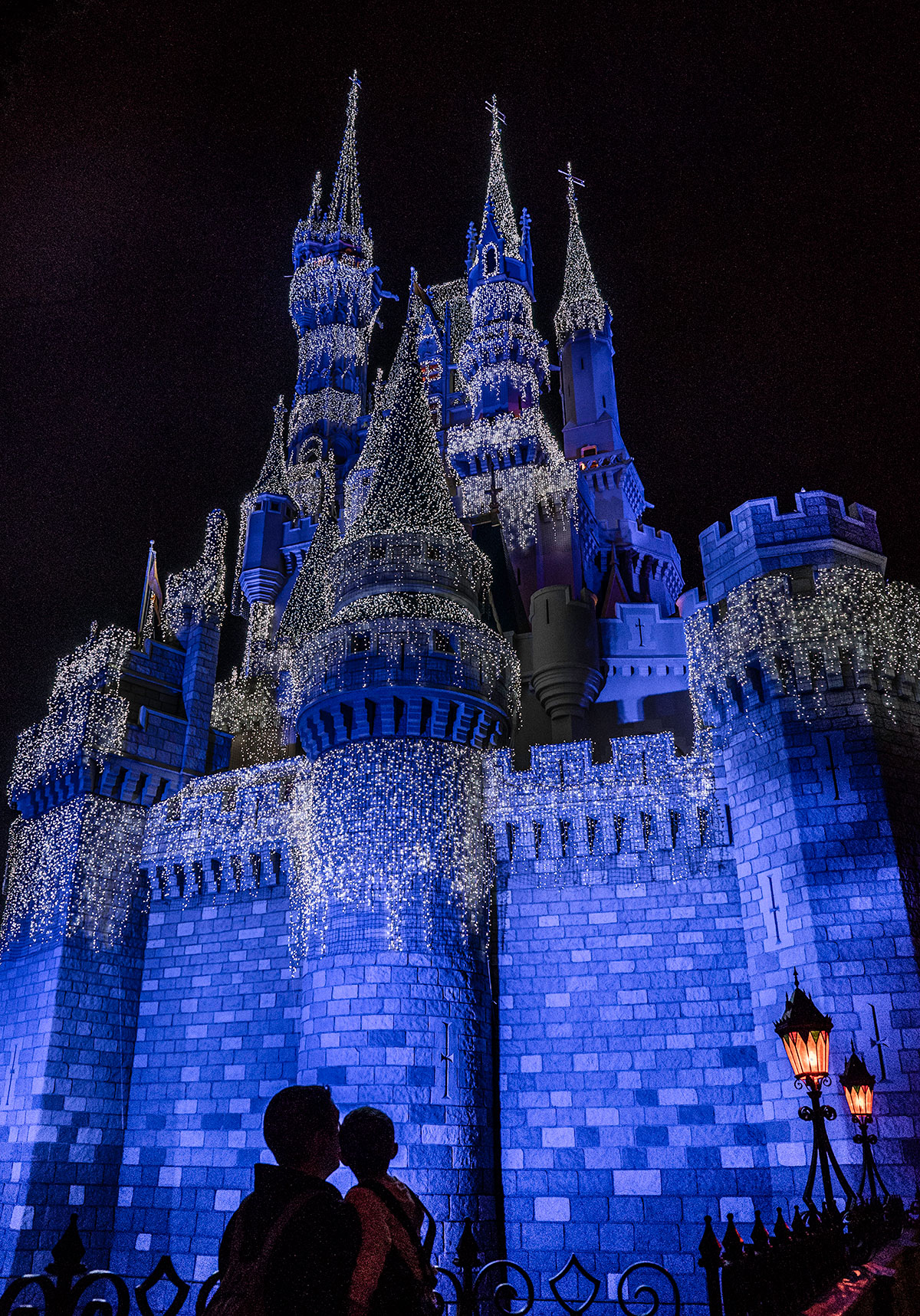 As I was sorting through our photos from our trip to Walt Disney World at Christmastime, I was overwhelmed.
My original plan was to focus on the holiday decor at each of the parks and the major (most well-known) resorts.
The problem:
Disney World decorates for Christmas like nowhere else on earth!
By the end of our trip, I had taken nearly a thousand photos (modern technology makes it way too easy to do that!)
Eventually, I decided to share all of the best of the Walt Disney World Christmas decor, but to break it up into a series.
Epcot and all of the other Disney parks are coming soon.
But to begin, let's start with the most magical of all. The Magic Kingdom at Christmas!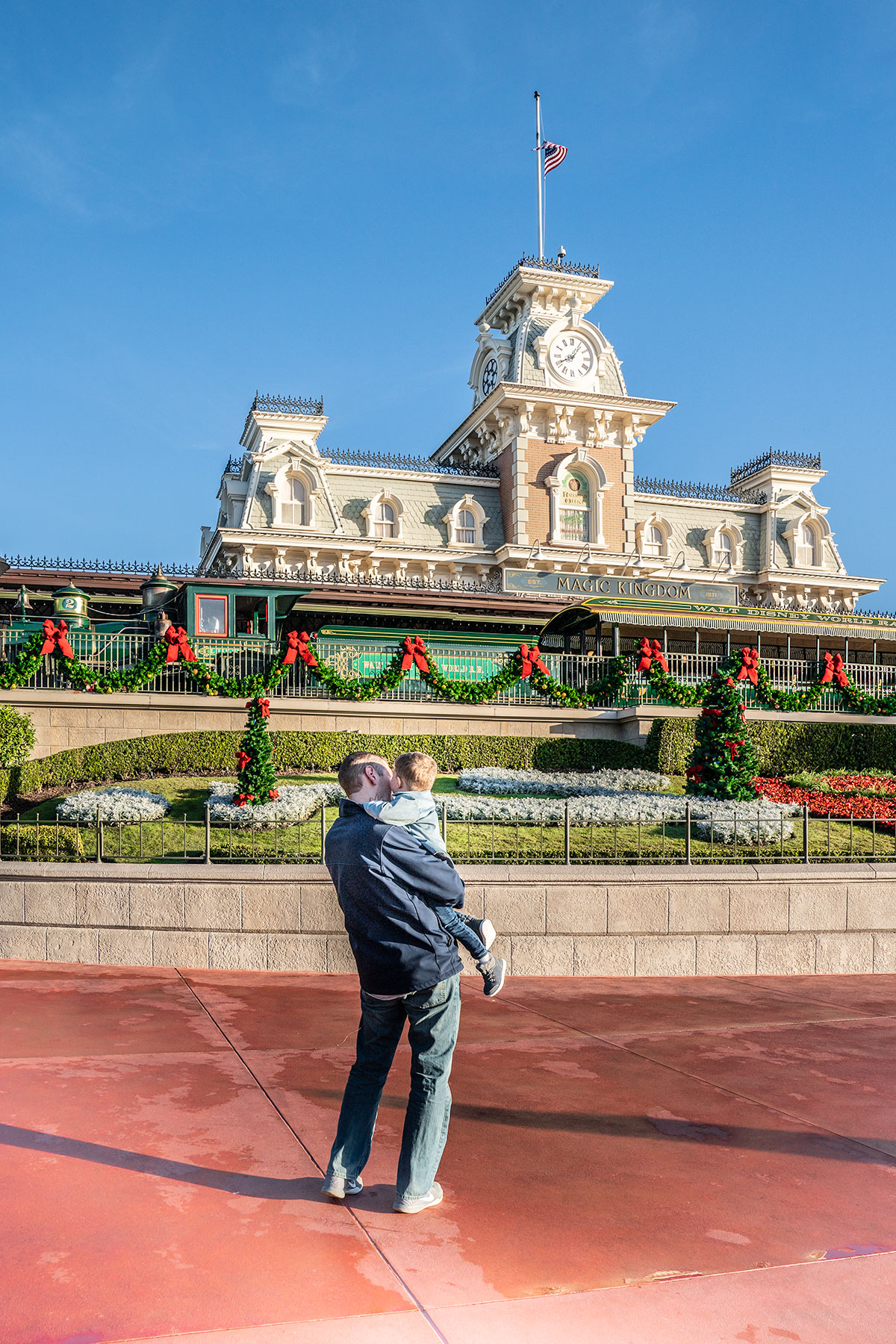 The front entrance to the Magic Kingdom felt like a foreshadowing of all of the holiday magic to come …
The gardens in front of the Walt Disney World Railroad were decked out in mini Christmas trees, garlands, and a very generous helping of red ribbons and flowers.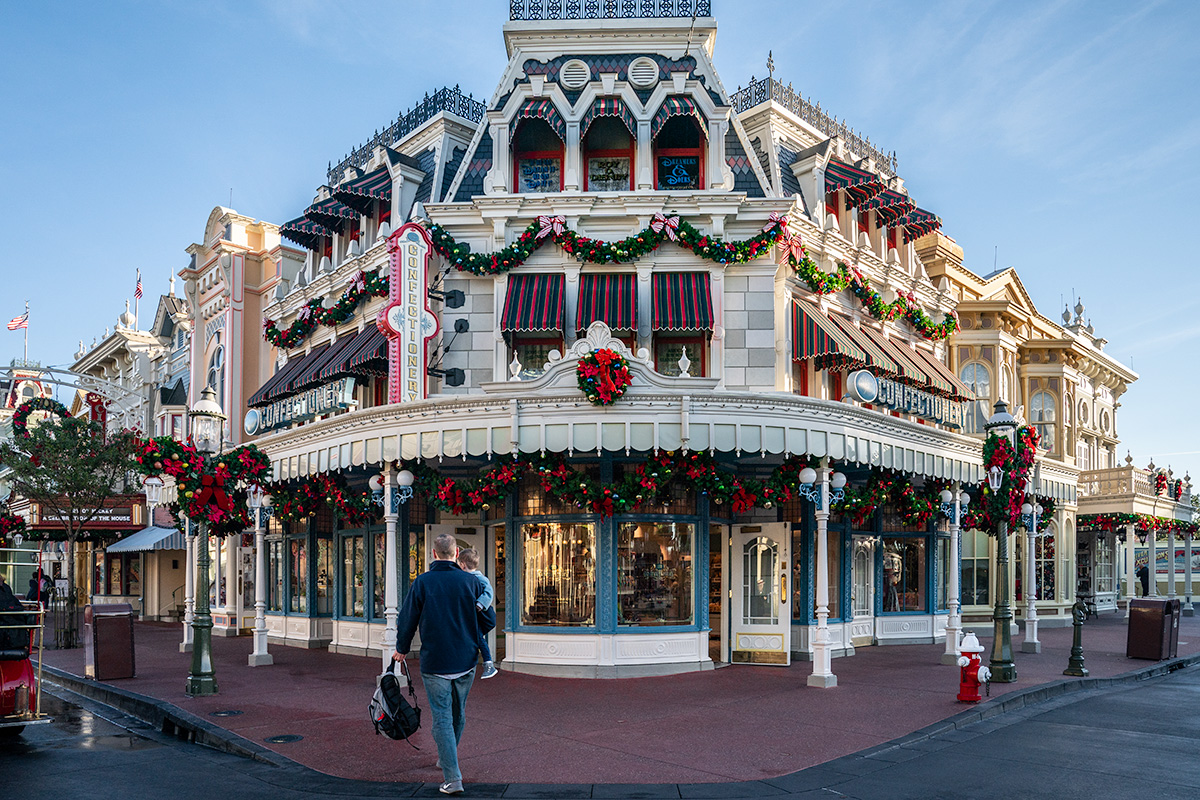 A walk down Main Street, U.S.A. brought more of the same, and it was truly a sight to behold!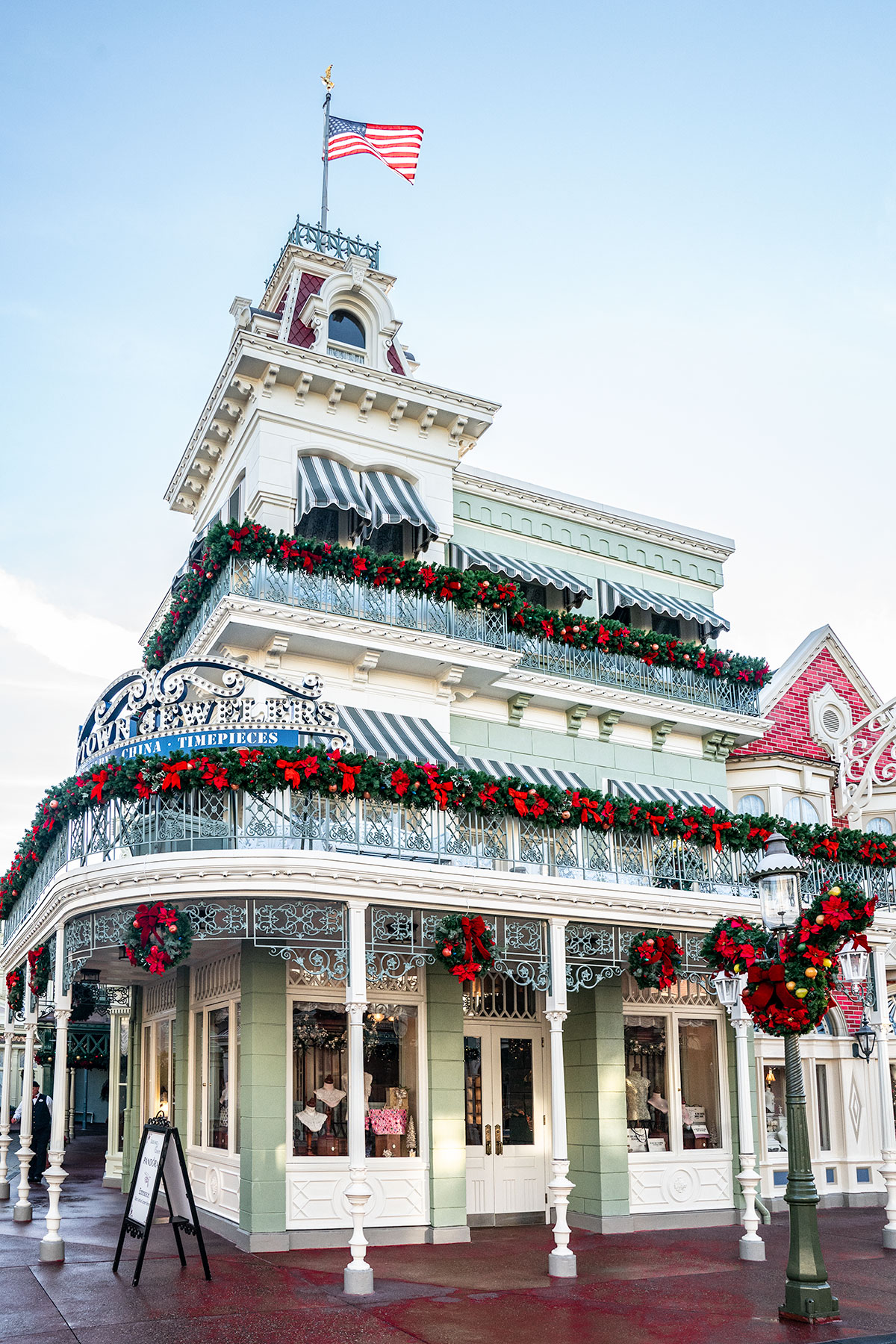 To my left and to my right and high above, I saw endless wreaths and garlands and bells, all trimmed with vivid red bows.
Disney decorators didn't leave one square inch untouched.
The gardens around Town Square, just past the Magic Kingdom entrance, were accented with nutcrackers and candy canes.
And I loved the giant Mickey-shaped wreaths that decorated each and every lamppost, all up and down Main Street.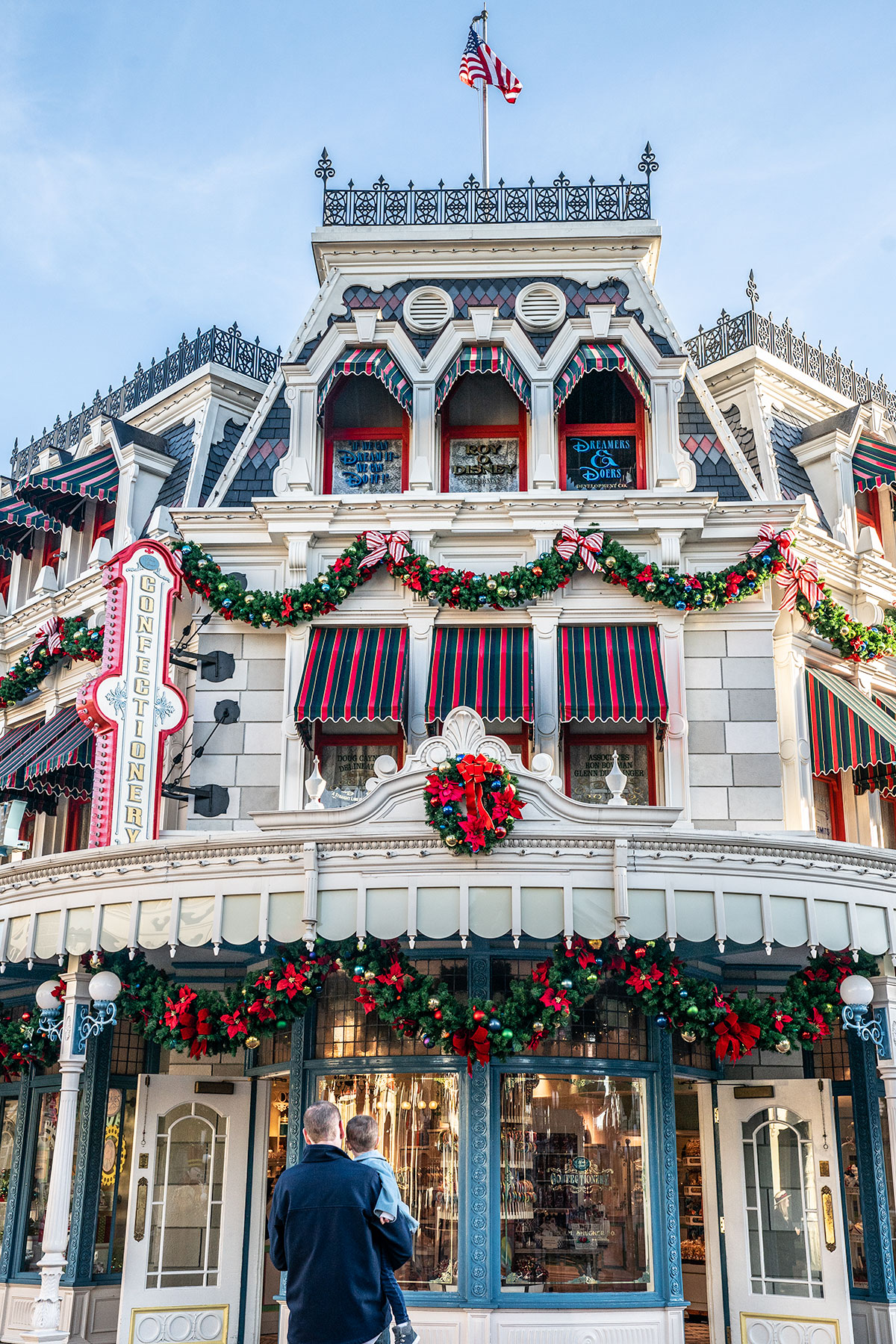 I think, amidst the chaos and noise of Disney crowds at Christmastime, the vast majority of people miss many of these special details.
And that's really unfortunate, because the Disney designers who create this holiday wonderland are so incredibly talented!
Speaking of incredible artistic talent, can you believe these Christmas window displays in front of the Magic Kingdom Emporium?
Trevor loved running up to each window and pointing out all of his favorite details.
He was truly in awe.
Well, he was in awe for all of two minutes.
Before he was ready to continue exploring (he's two and a half, after all!)
He loved burning off some of that boundless toddler energy in the Plaza Garden in front of Cinderella Castle.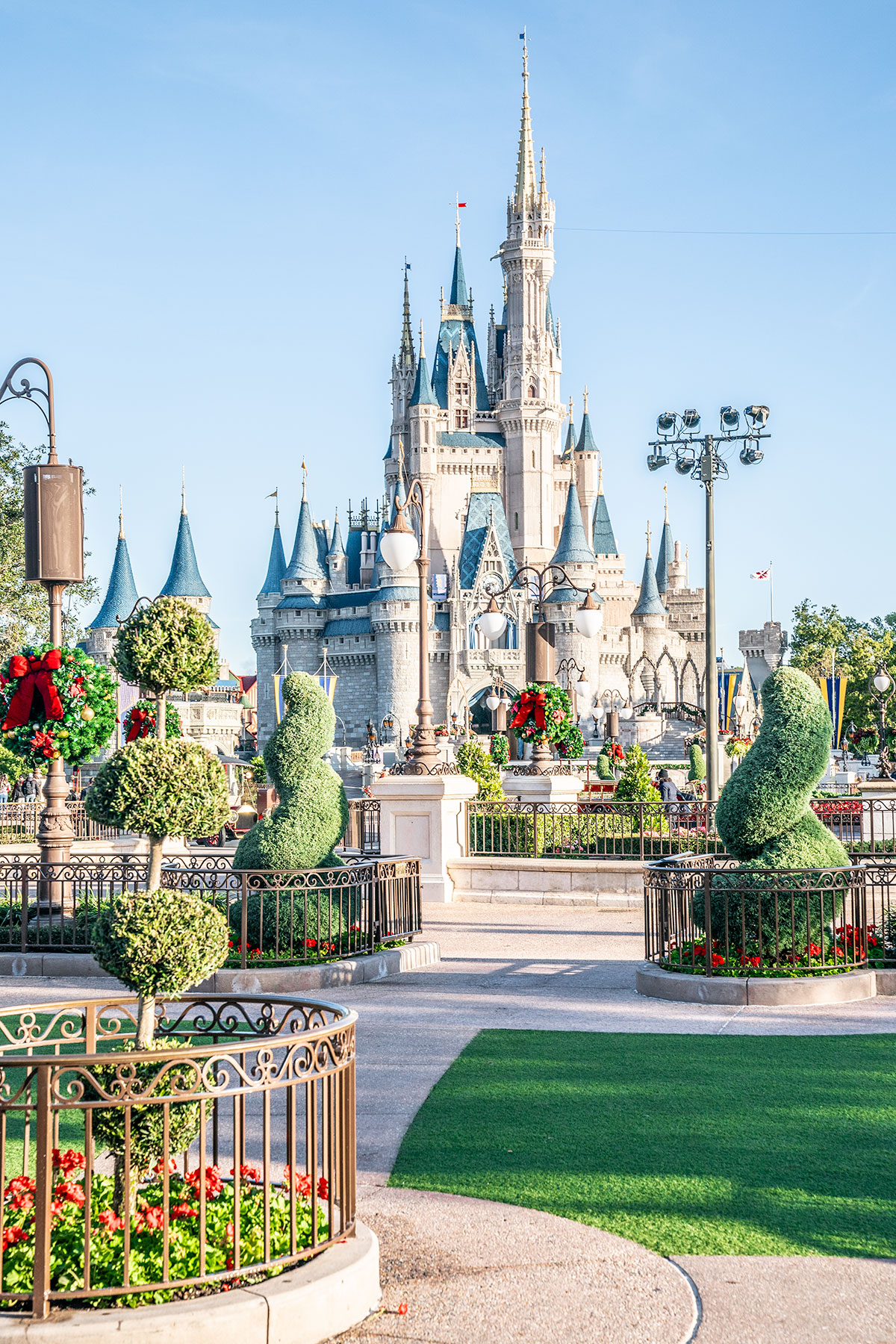 How stunning is this view of Cinderella Castle and the wreath-adorned Plaza Garden?
As I mentioned earlier, Disney does Christmas like nowhere else on the planet!
Up close, even Cinderella Castle sported a little holiday dazzle, with green garlands and blue ribbon.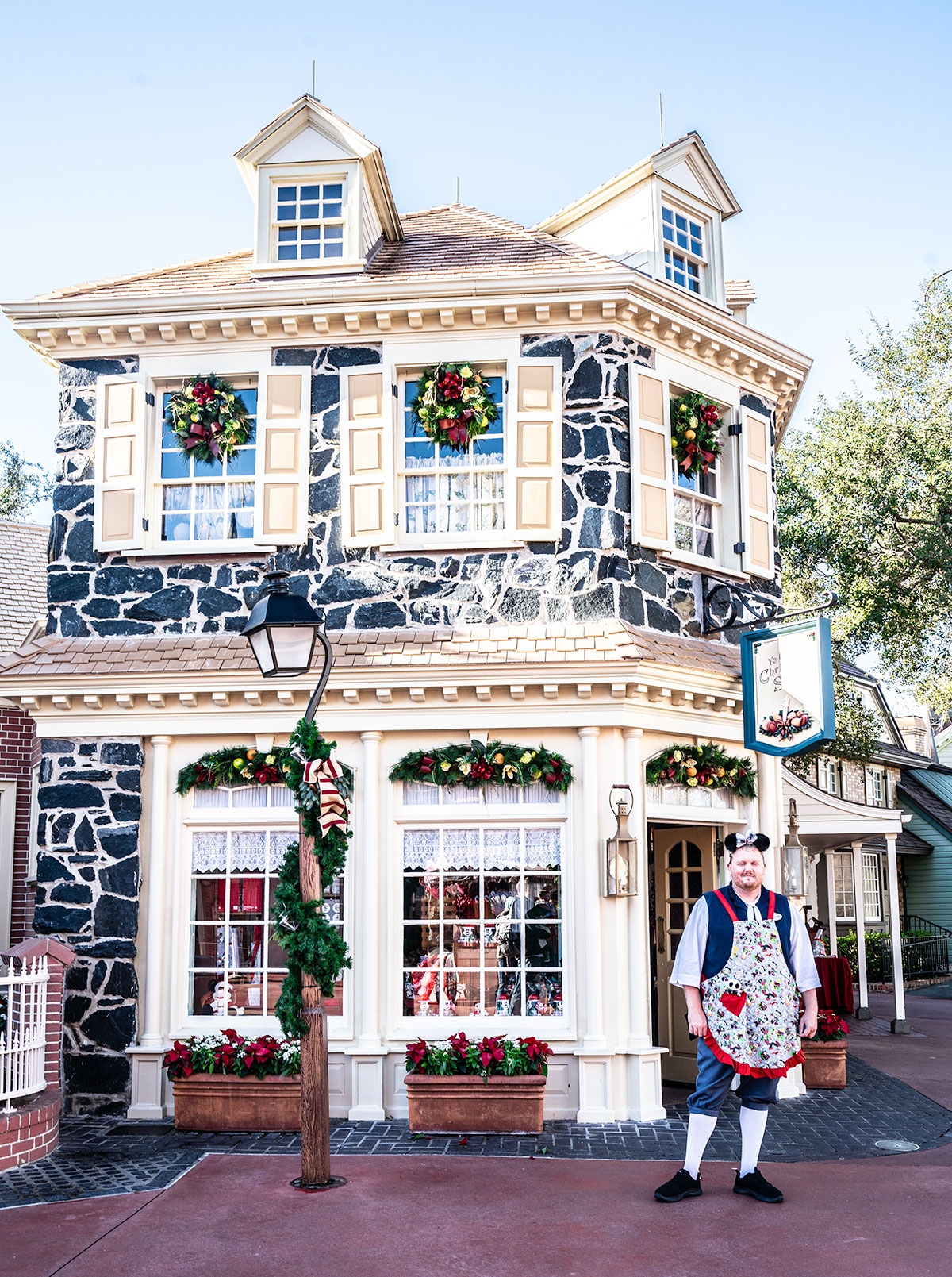 Here was the building that won my personal vote for "most stunning and festive for the Christmas season."
This is the Magic Kingdom store that sells Christmas ornaments and decor all year long, Ye Olde Christmas Shoppe.
There were poinsettias in the window boxes and a wreath in every window.
(I like the Disney cast member all decked out in his Disney holiday gear too!)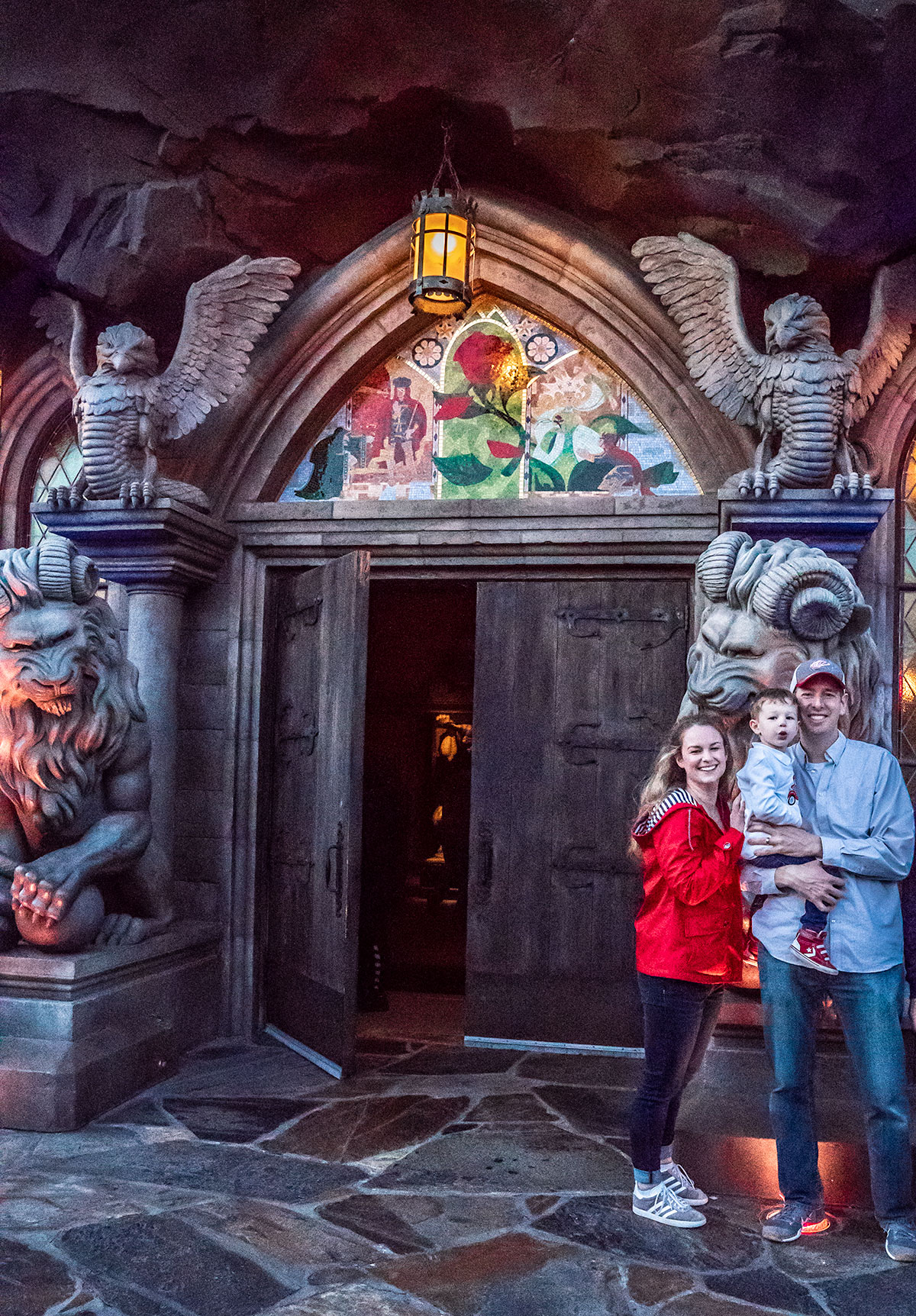 During our time in the Magic Kingdom, we had the chance to eat at the Be Our Guest Restaurant in Fantasyland.
I know what you're thinking.
I was wondering too.
Do even the Magic Kingdom restaurants have Christmas decor?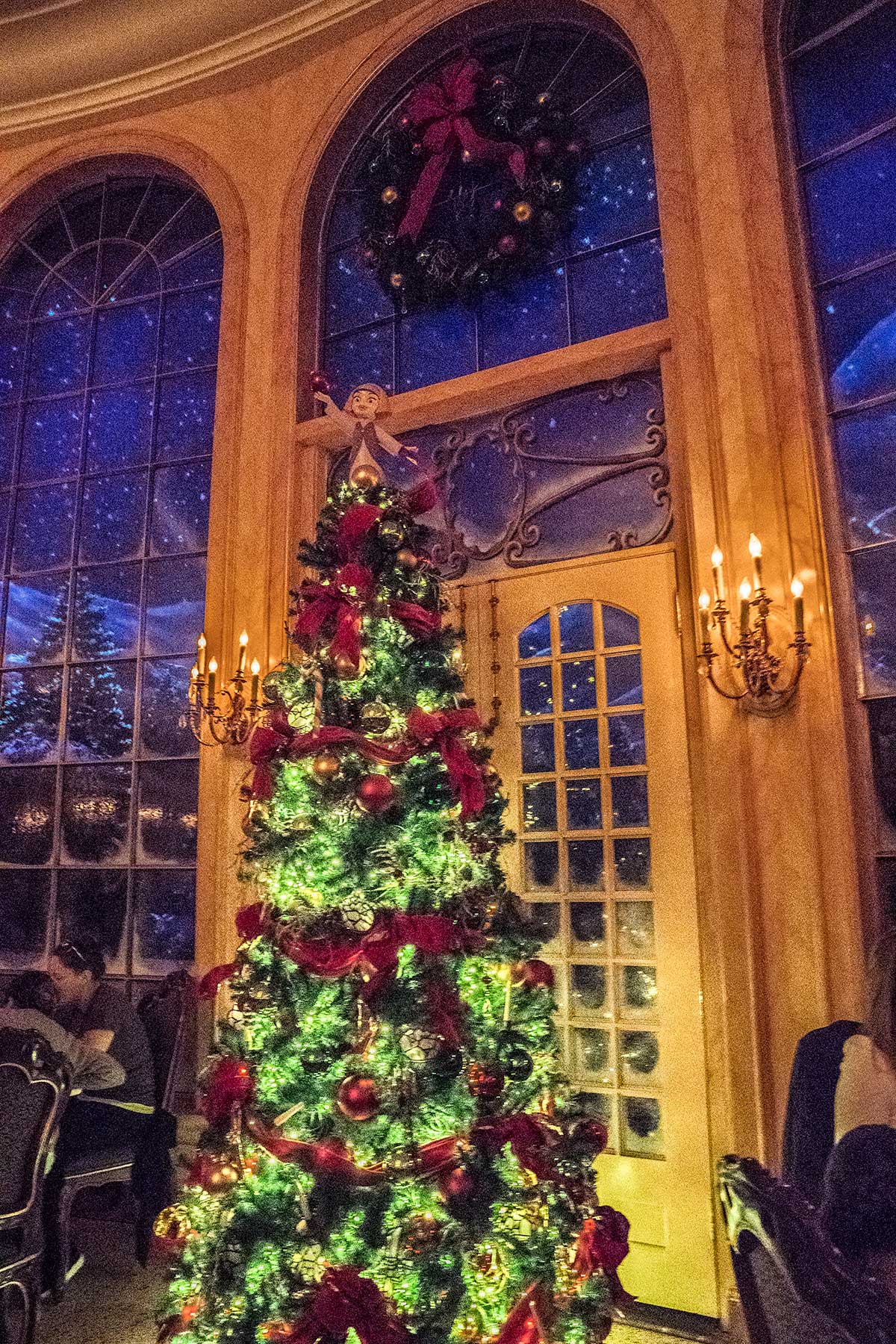 The answer, of course, was yes.
There were garlands and wreaths all over the grand ballroom.
And even a gorgeous Christmas tree that looked truly spectacular in front of the special effect "winter wonderland" scene happening outside the floor-to-ceiling arched windows.
And, oh, let's not forget the Magic Kingdom after dark!
Nighttime at the Magic Kingdom has always felt especially magical to me.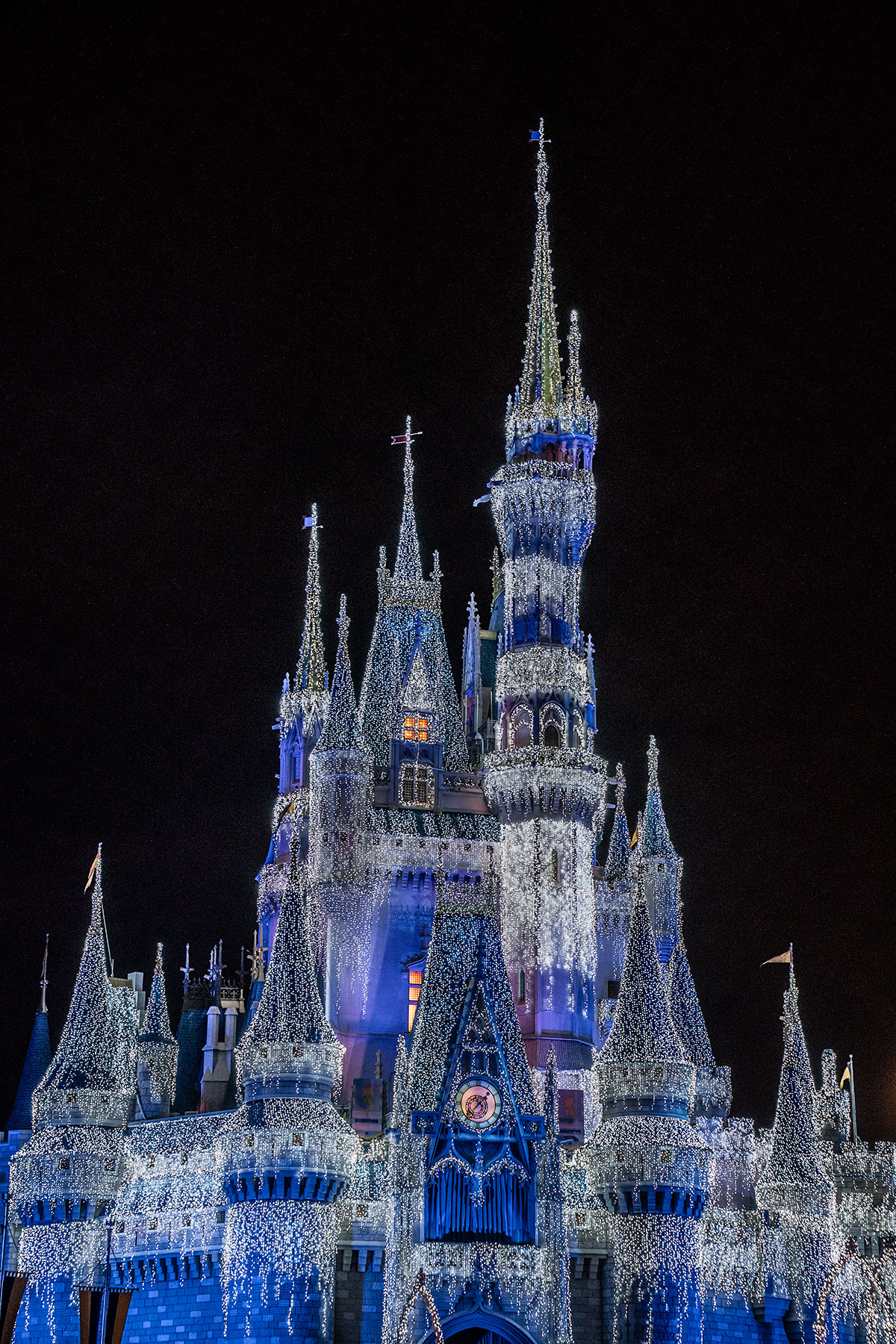 And Disney elevates the nighttime wonder to an even greater degree at Christmas!
Cinderella's Castle is even more spectacular at night, when it takes on a wintry blue, ice castle glow.
The thousands (millions??) of sparkling white lights that were draped over the turrets gave the appearance of a snow-capped castle.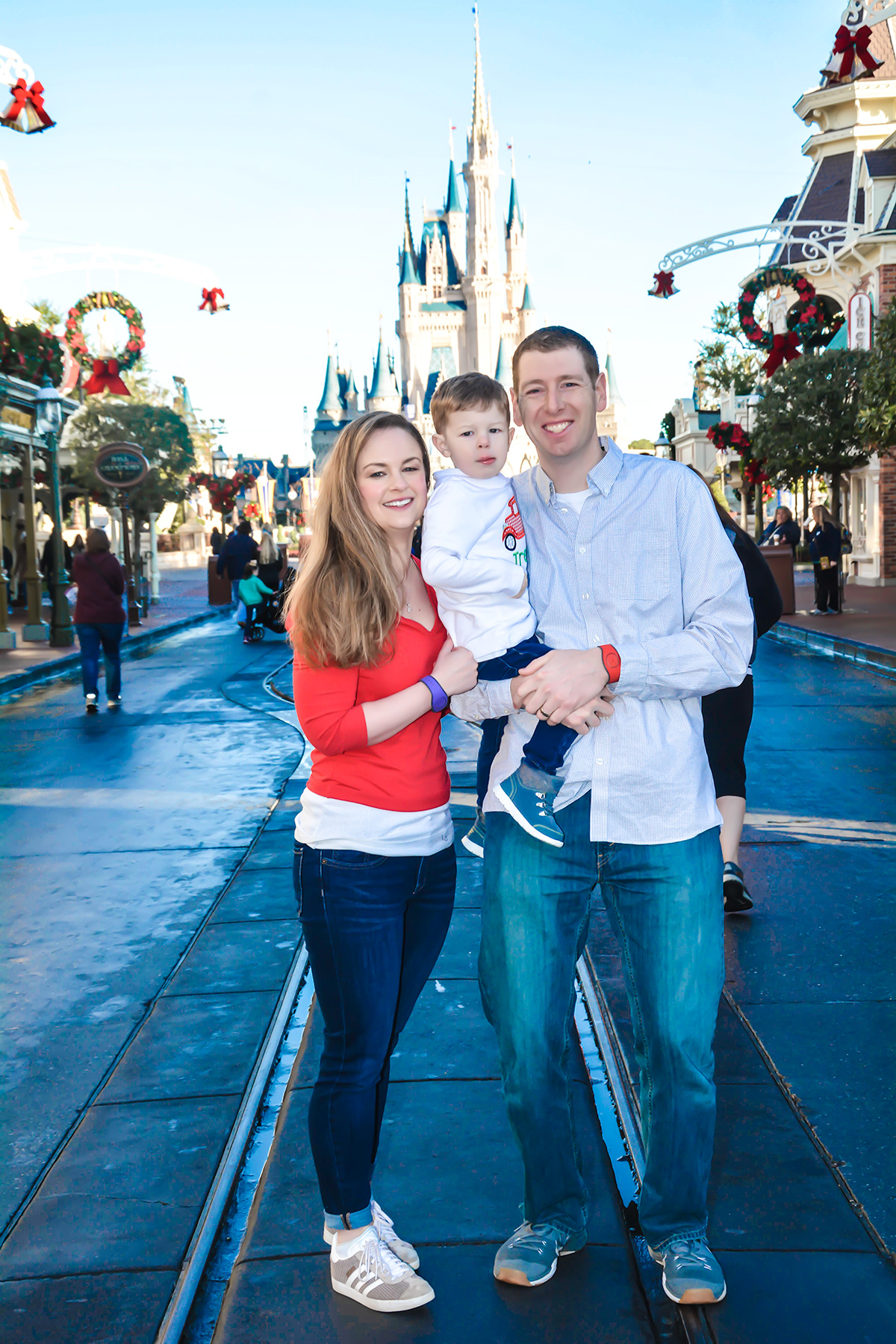 There was another huge benefit to visiting the Magic Kingdom at Christmas too.
We loved attending the Mickey's Very Merry Christmas Party.
This special event requires the purchase of tickets and allows guests to stay late at the park, enjoying fewer crowds and shorter wait times for rides.
Plus, there are endless Christmas festivities.
We had such a great time, and we highly recommend it!
There were incredible live shows, like this a cappella Christmas concert.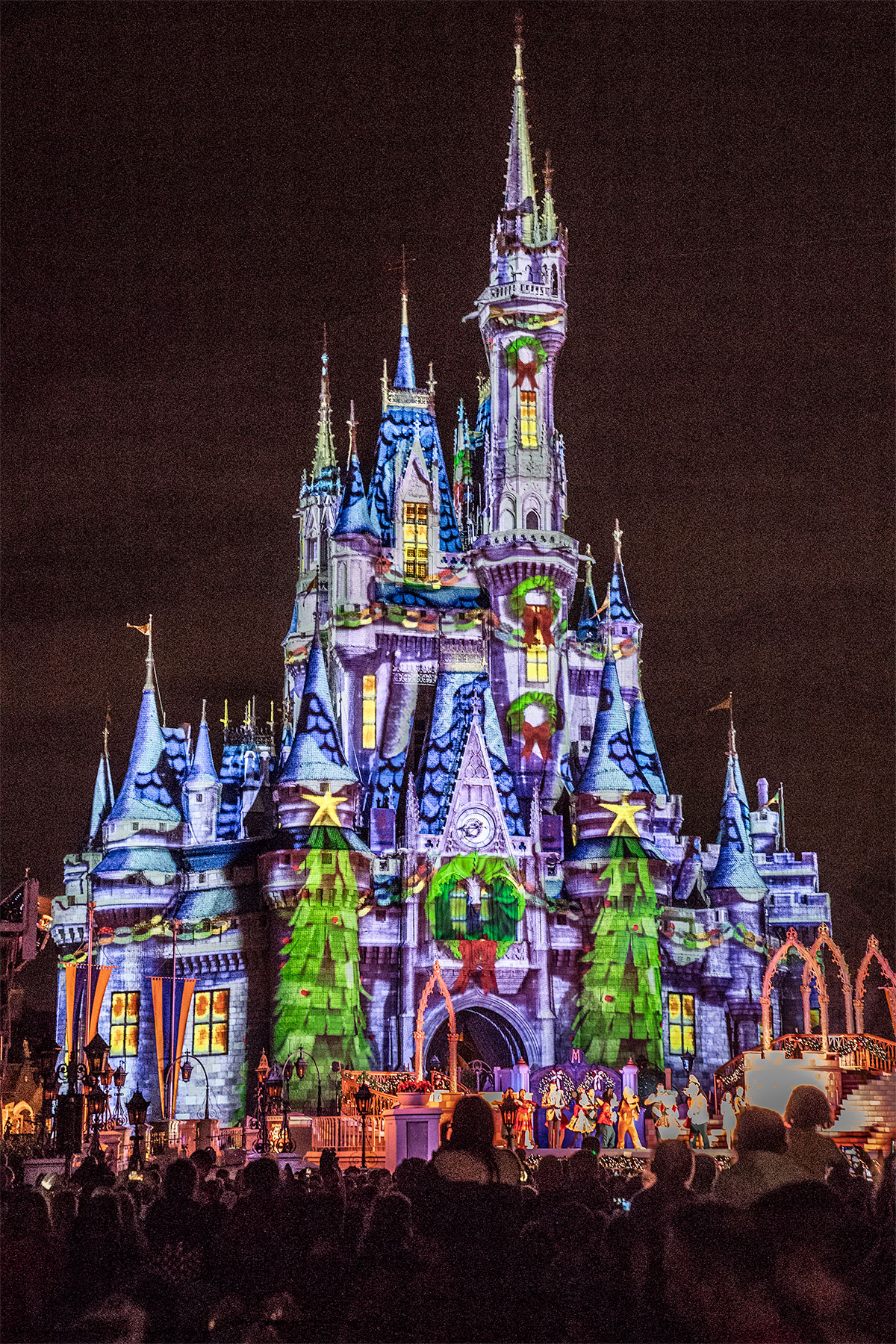 And there was a live stage show, Mickey's Most Merriest Celebration, in front of Cinderella Castle.
If you peer really closely, you can see the Disney characters on stage in front of the castle, dancing to holiday music.
The show included special effects that transformed the color and decor of the castle, again and again!
Tru loved the "free" festive Christmas cookies that were included with the Very Merry Christmas Party admission.
This one was a red sugar cookie Mickey wearing a Santa hat.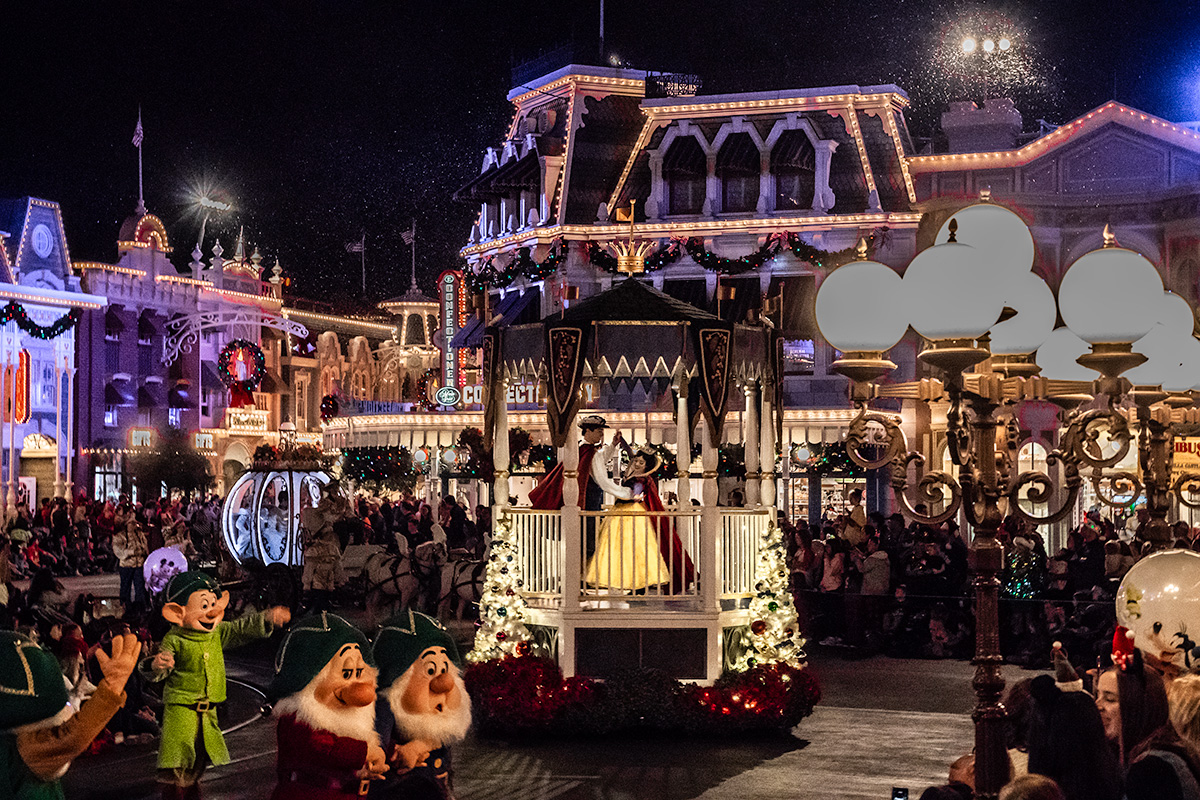 But what Tru really seemed to love the most was the Mickey's Once Upon a Christmastime Parade.
I can't blame him, the Christmas parade had so much going on, it was hard to know what to focus on first!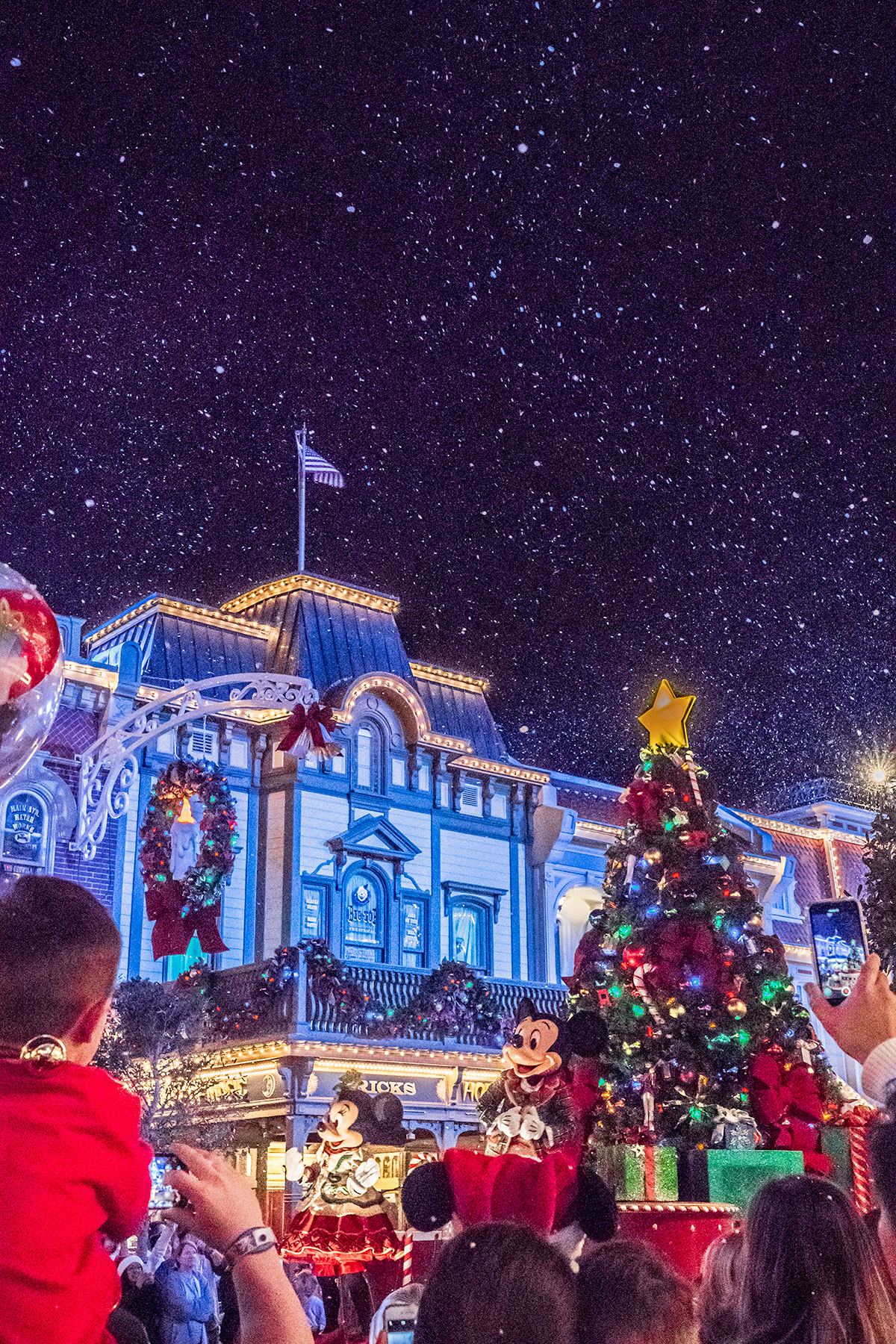 Christmas music boomed from the speakers as a picturesque "snow" fell over Main Street.
Disney characters danced on floats that were decorated with towering Christmas trees.
Tru was in awe, and Chris and I loved sharing all of the Christmas wonder with him!
Wondering if you should visit Walt Disney World, particularly the Magic Kingdom, at Christmastime?
Chris and I would say yes, absolutely, you should!
One benefit to visiting during the Christmas season is that the weather is generally comfortable and cool.
It's rarely unbearably hot and humid, as it often is during warmer months.
Each day of our trip, we wore jeans and sweatshirts or light jackets.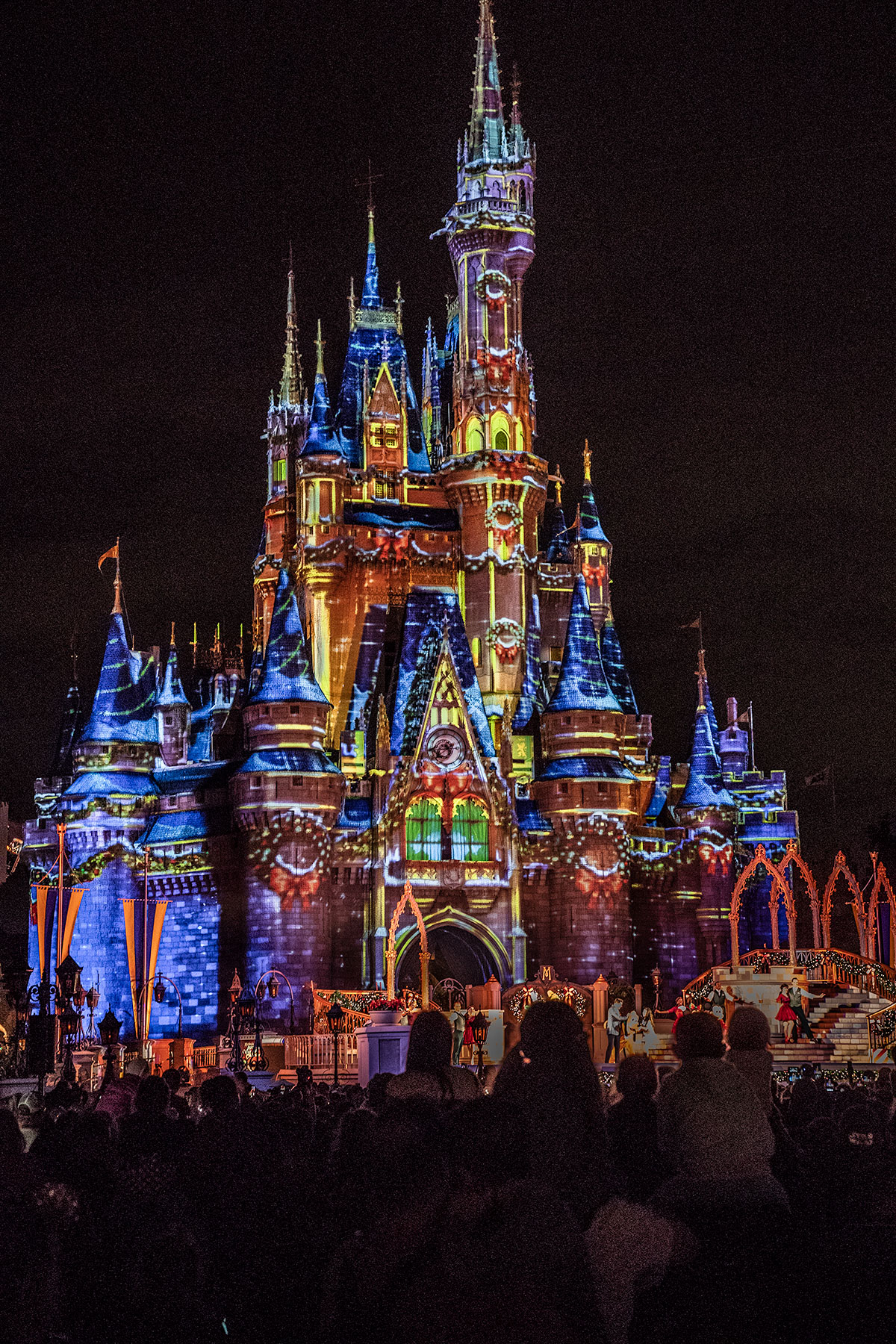 And the Christmas decor and festive spirit is – as I've mentioned a few times now (!)- unmatched anywhere we've ever seen.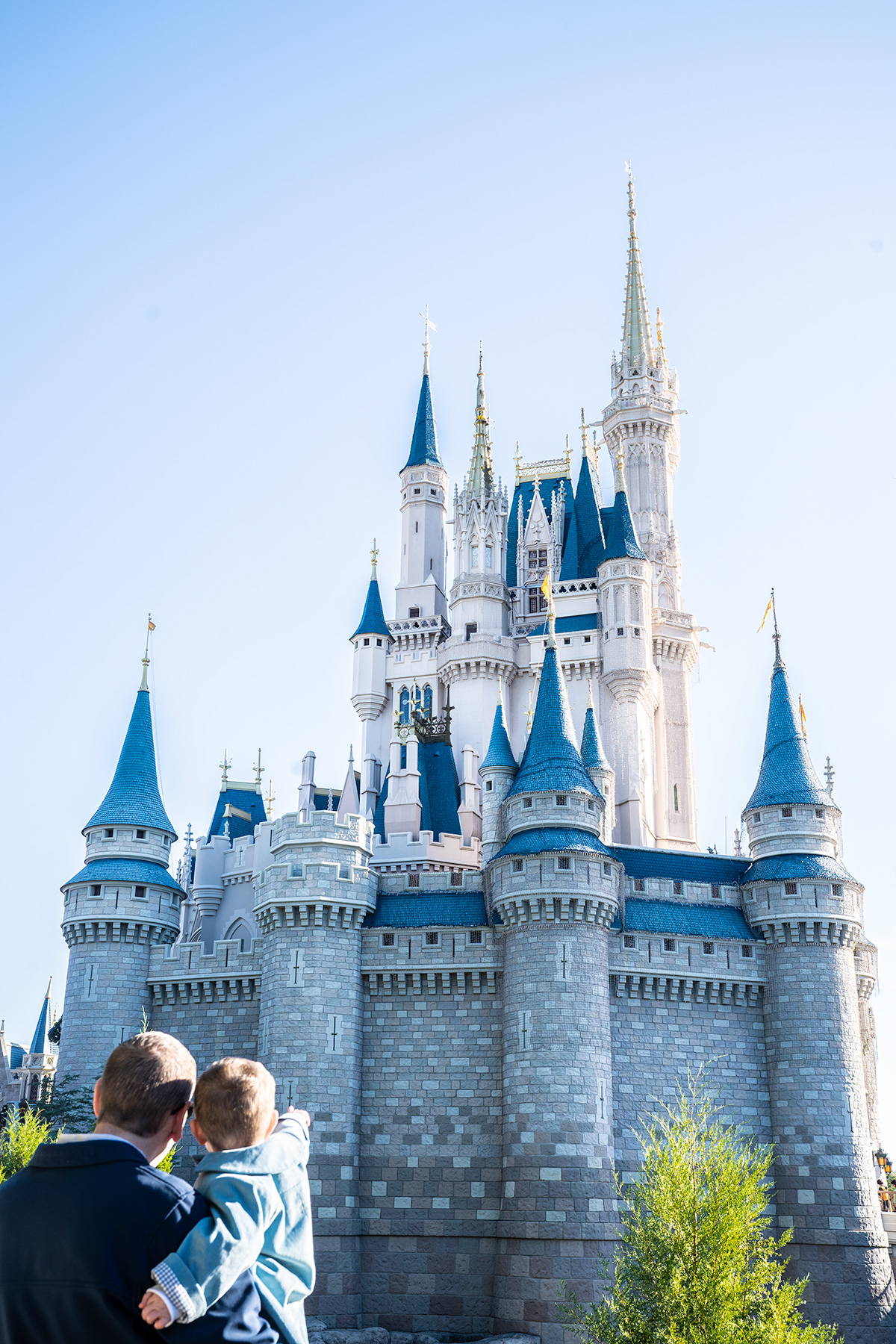 We would recommend visiting during the first half of December, though.
Disney World gets the biggest crowds of the year during the Christmas-through-the-New-Year school vacation period.
Wait times for popular rides can be two hours or more.
And visit early in the morning, before the park gets crowded!
This is the time to just wander and relax and really take in all of the incredible Disney World detail!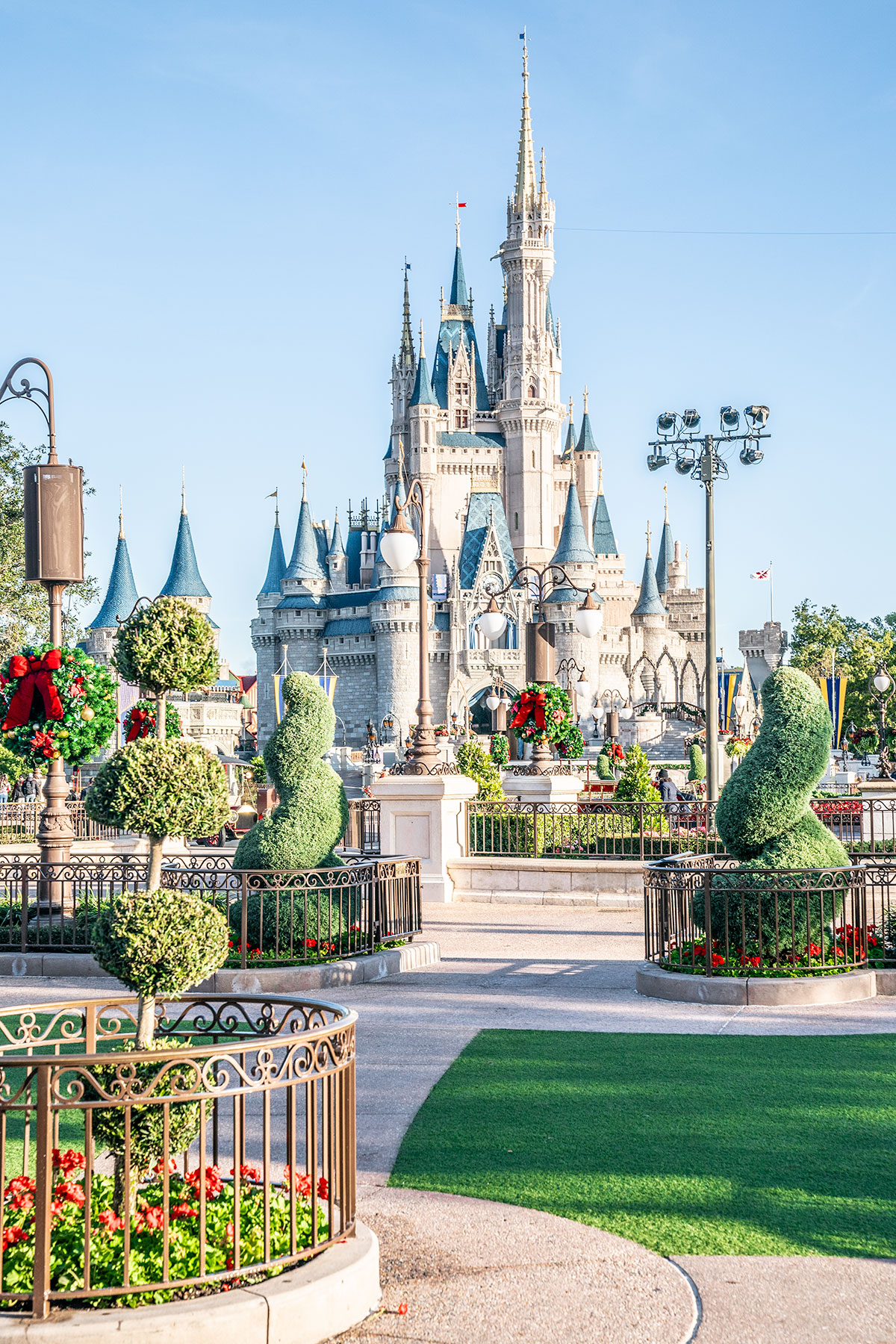 We found a calm and crowd-free Magic Kingdom when we booked a breakfast reservation for a time slot before the general opening of the park.
For more on how to do this, check out Where To Find The Ultimate Disney World Character Breakfast.
Read This Next:
Epcot at Christmas | Part II of Disney World Christmas Series
Walt Disney World at Christmas | Part III of Disney World Christmas Series
What It's Like to Stay at Disney's Wilderness Lodge at Christmas
Where To Find The Ultimate Disney World Character Breakfast
This Is Why You Must Do Toy Story Land Early Morning Magic
Pin on Pinterest: