You can't miss Epcot at Christmas! In fact, Christmas is our favorite time of year to visit Walt Disney World. Here's Part II of our holiday series…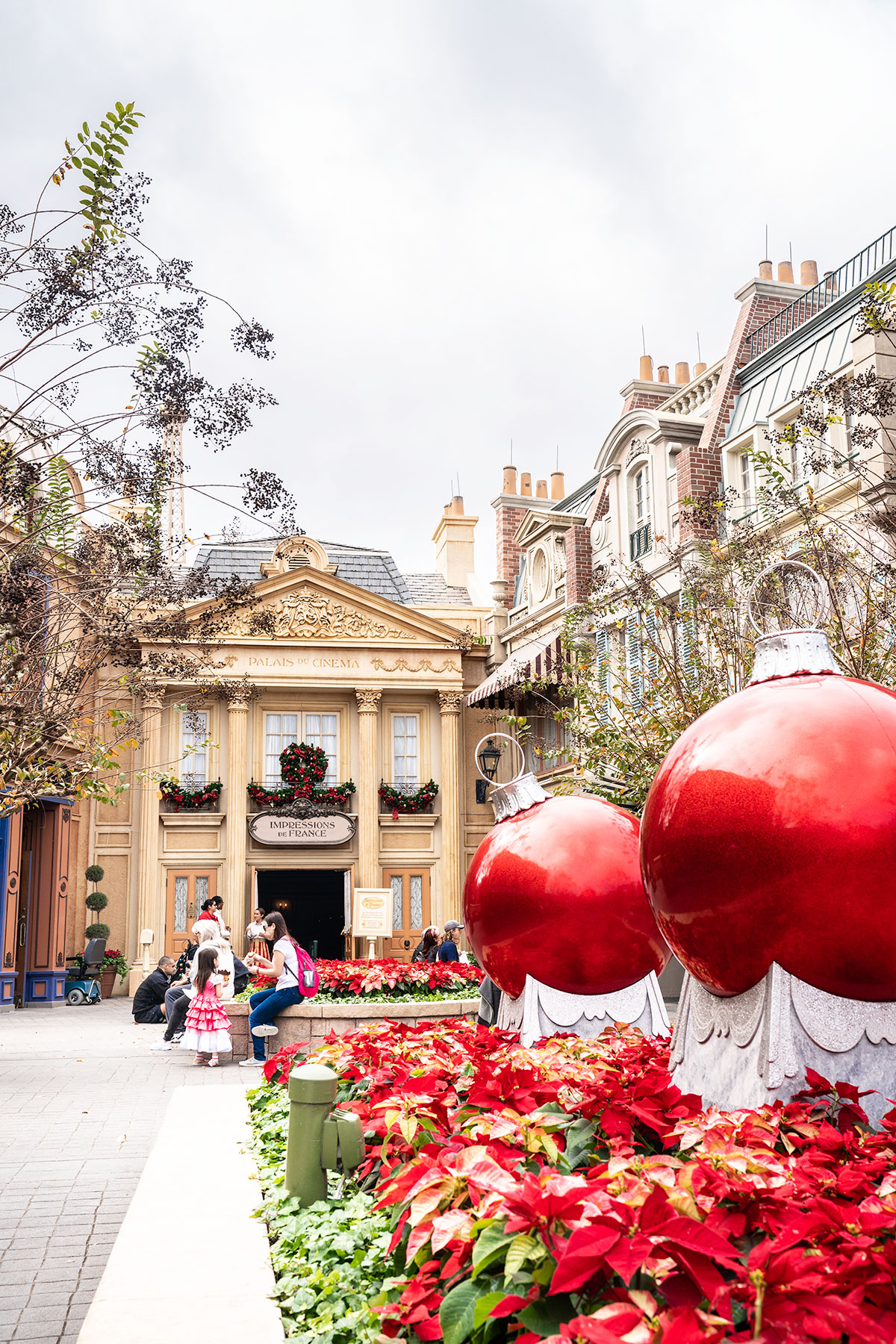 We touched down in Orlando, rounded up our suitcases, and headed straight for Epcot.
As soon as we stepped through the front entrance, I knew we were in for a treat.
The day was cool and really foggy.
In the distance and surrounded by a dense mist, Spaceship Earth looked like it was floating in the clouds.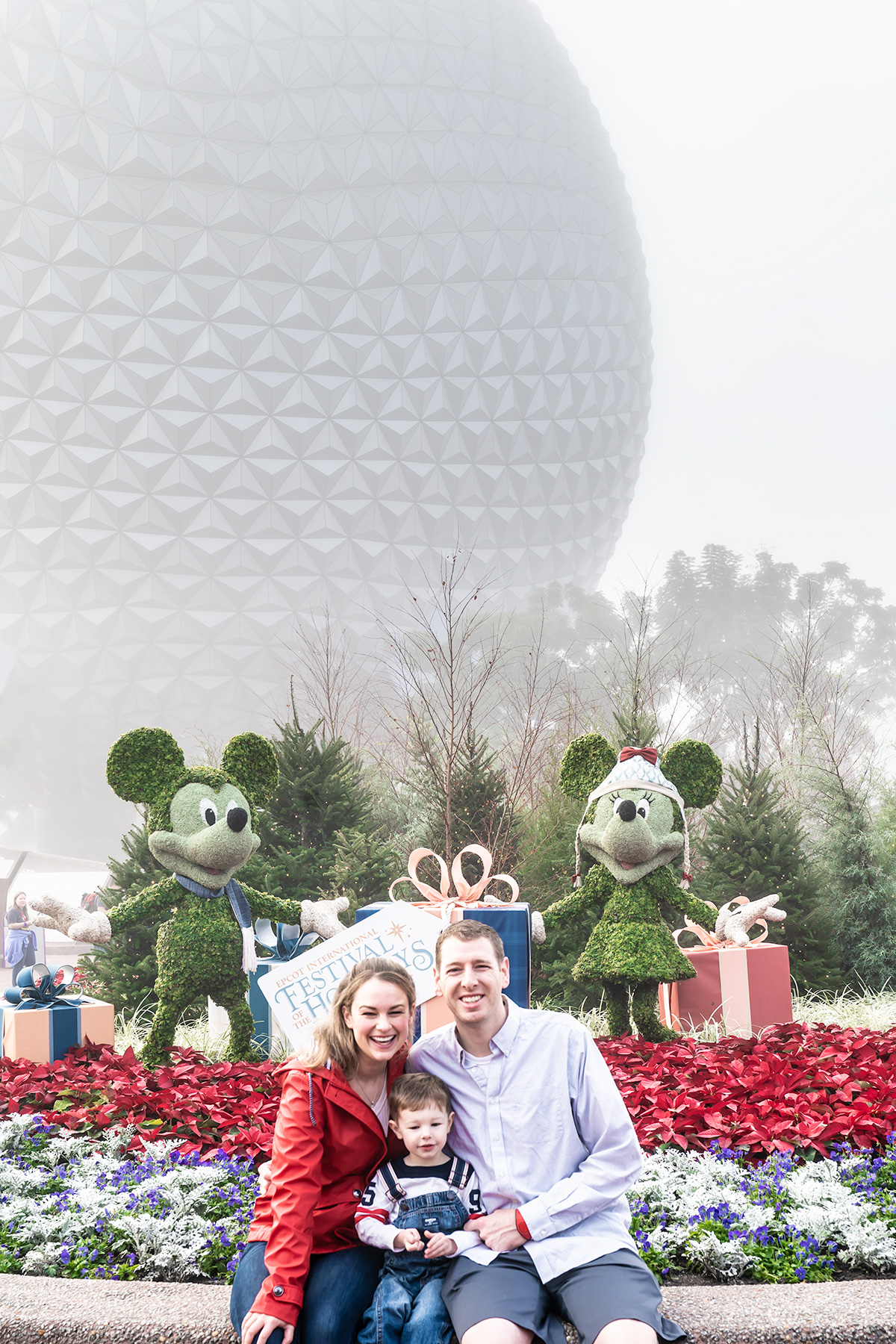 The area just beyond the entrance to Epcot, in front of Spaceship Earth, was totally decked out for the season and just overflowing with thousands of vivid red poinsettias.
The Christmas-themed topiaries, featuring Disney characters like Chip and Dale, were the highlight of the entire Christmas display.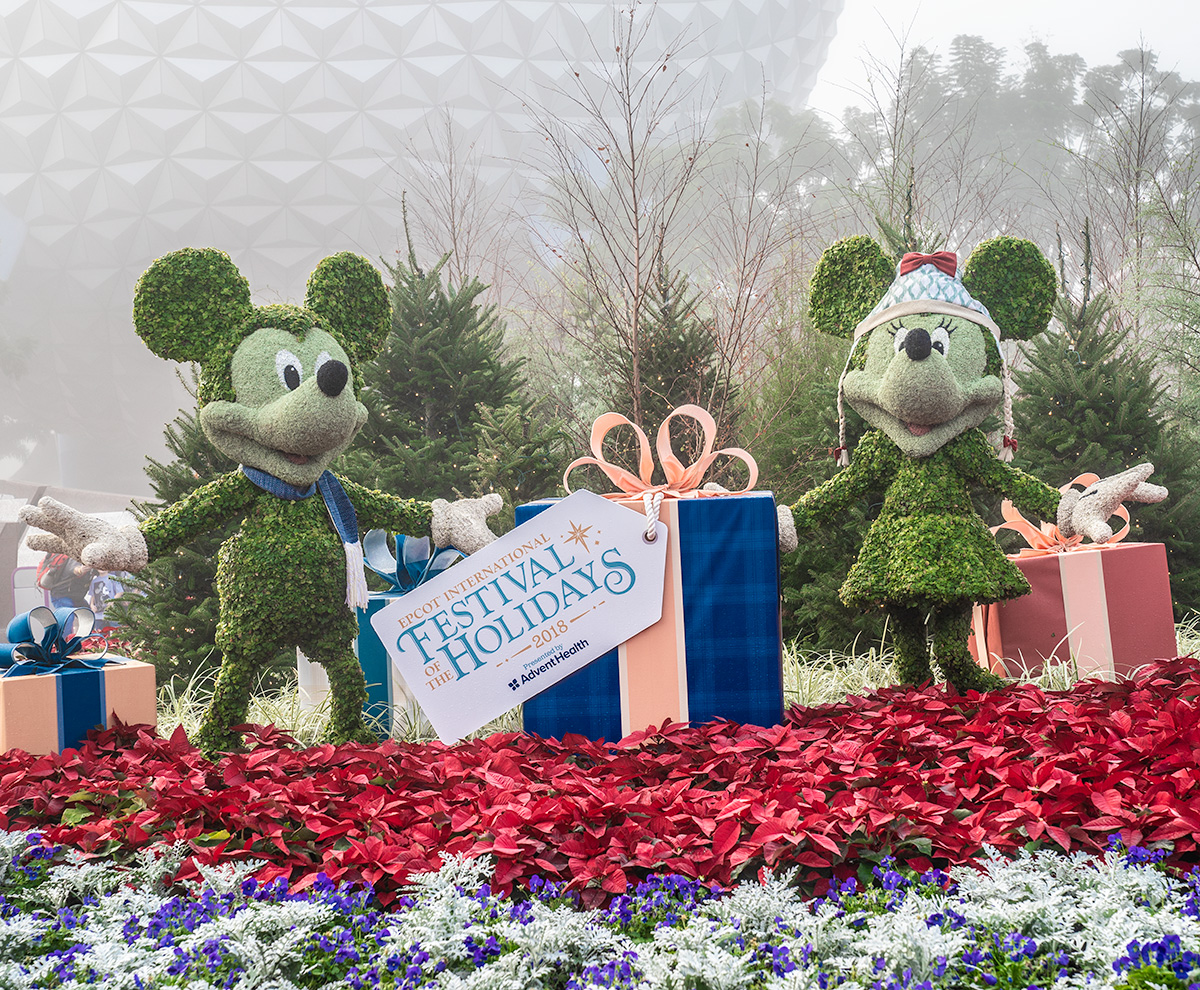 Mickey and Minnie sported scarves and winter hats.
And Pluto paraded in front of a pile of holiday presents.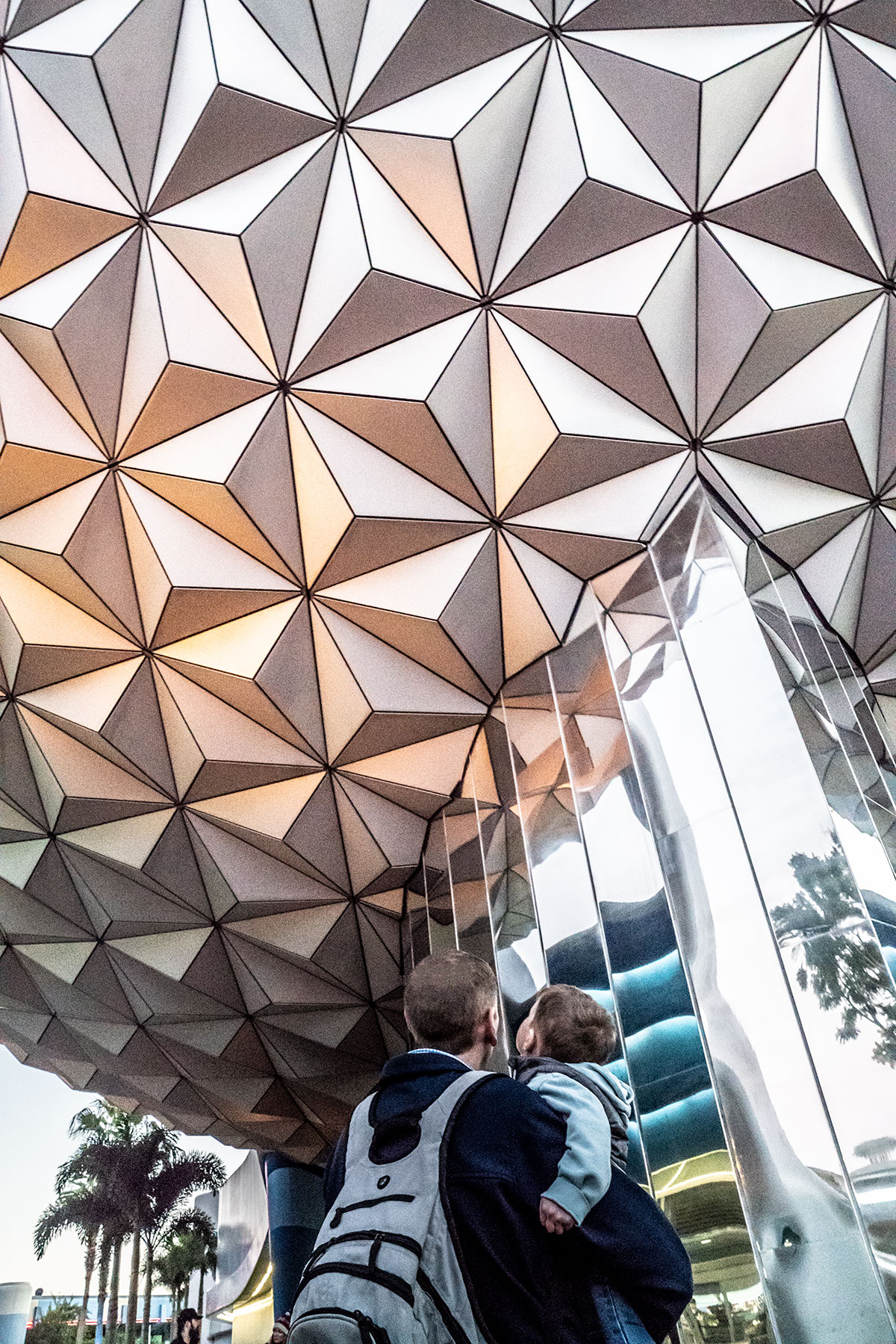 As we made our way further into Epcot, Tru was in awe of Spaceship Earth.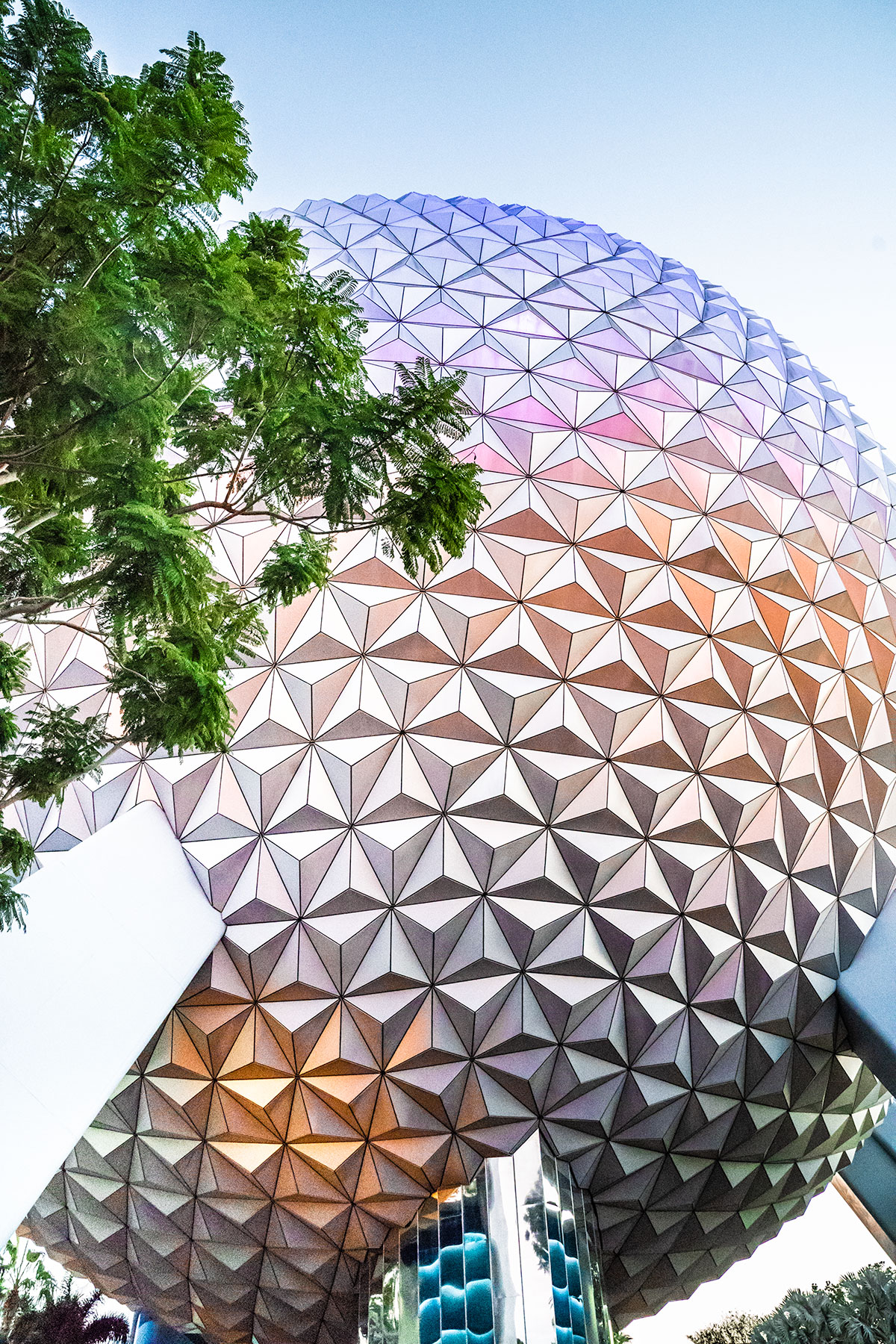 "Ride to top of ball," he kept requesting.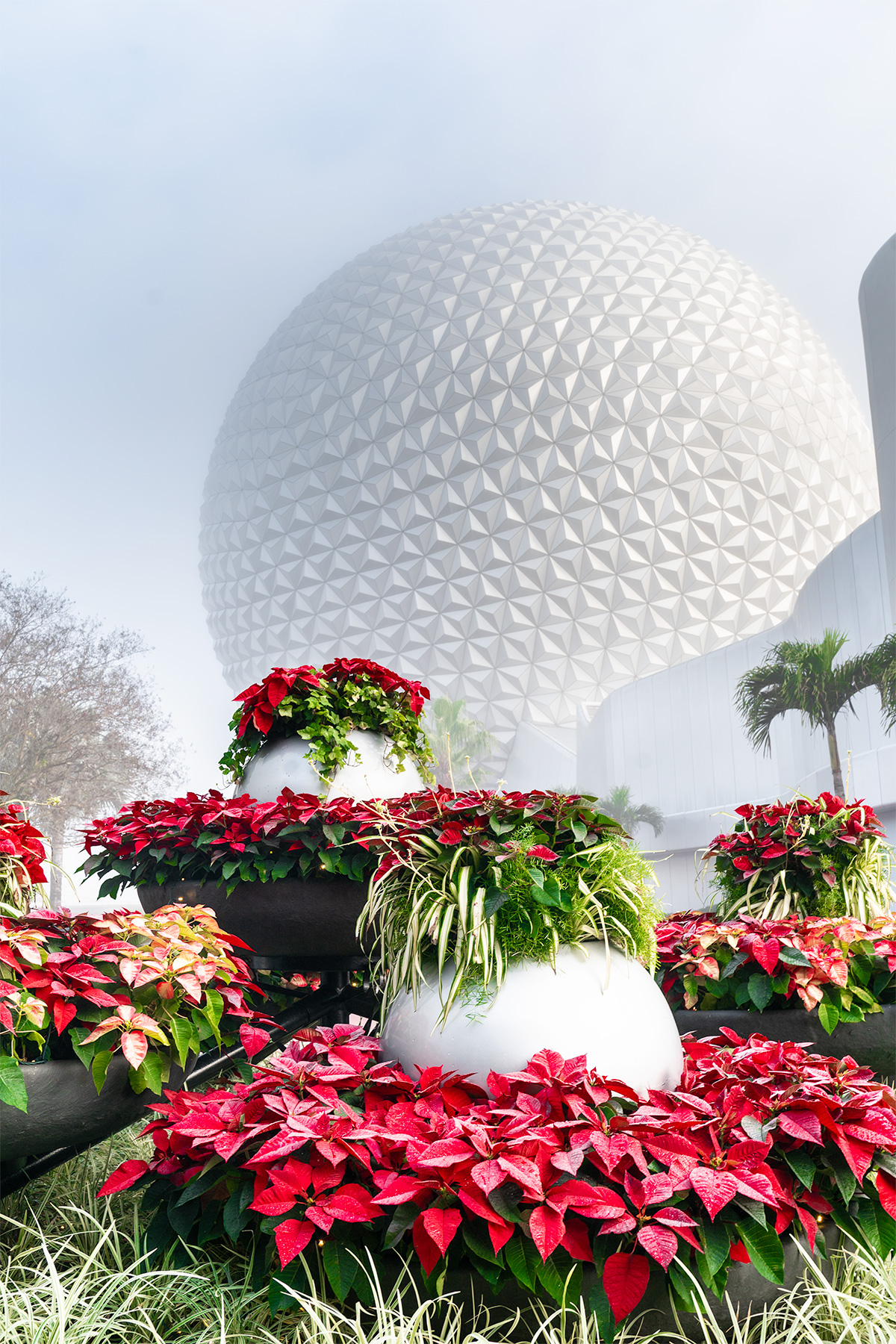 I was more impressed with the over-the-top holiday displays of cascading red poinsettias.
Beyond that, there wasn't a lot of holiday decor throughout Future World.
But World Showcase more than made up for it, and I was completely blown away by the incredible holiday touches everywhere.
We began our tour in Mexico.
Chris and I knew we had to make one stop first: the San Angel Inn Restaurante for their tasty guacamole!
Then I went to work photographing the gorgeous Christmas decor…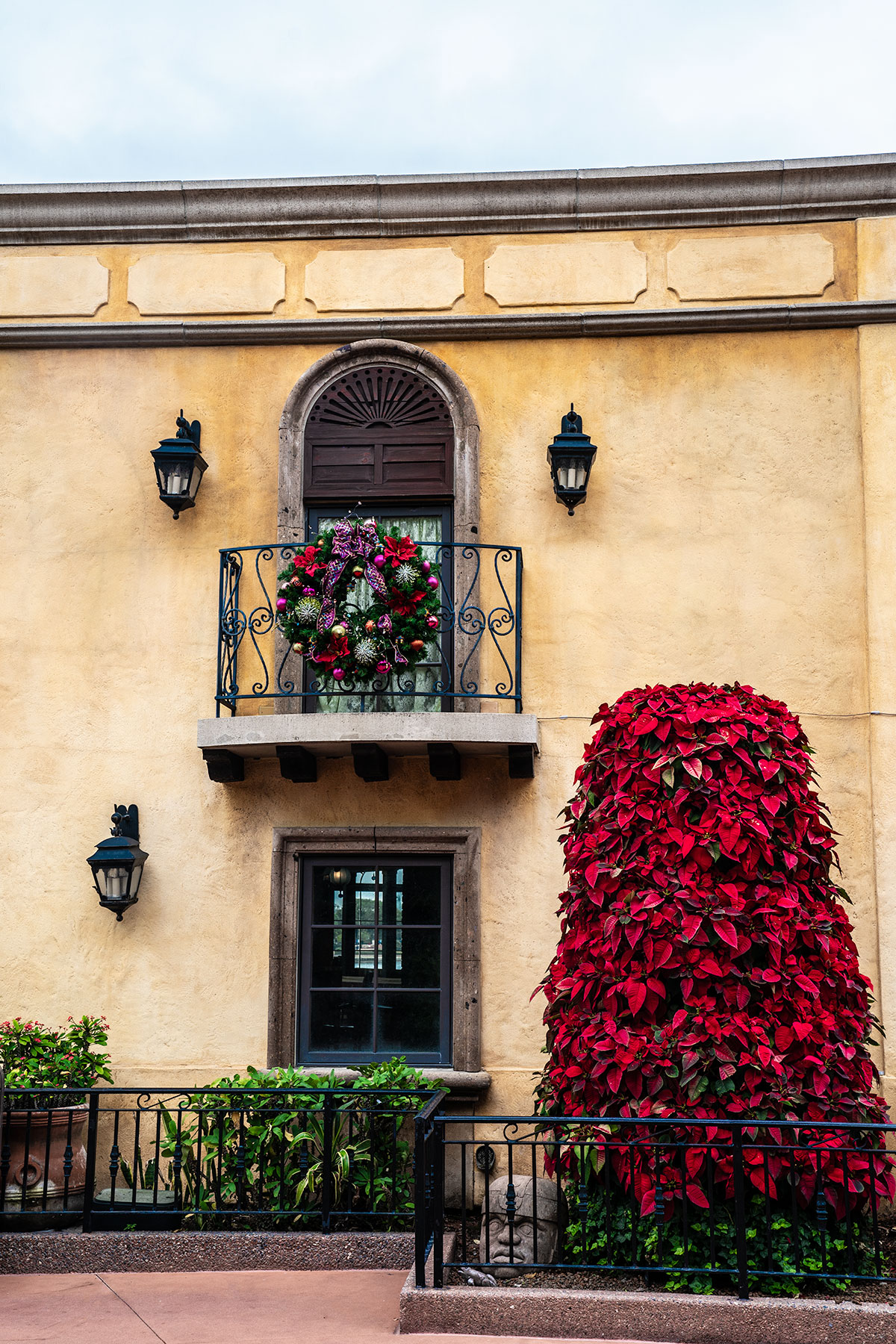 …Where I spotted poinsettia topiaries the size of small trees!
But Mexico was just a small preview of what was to come…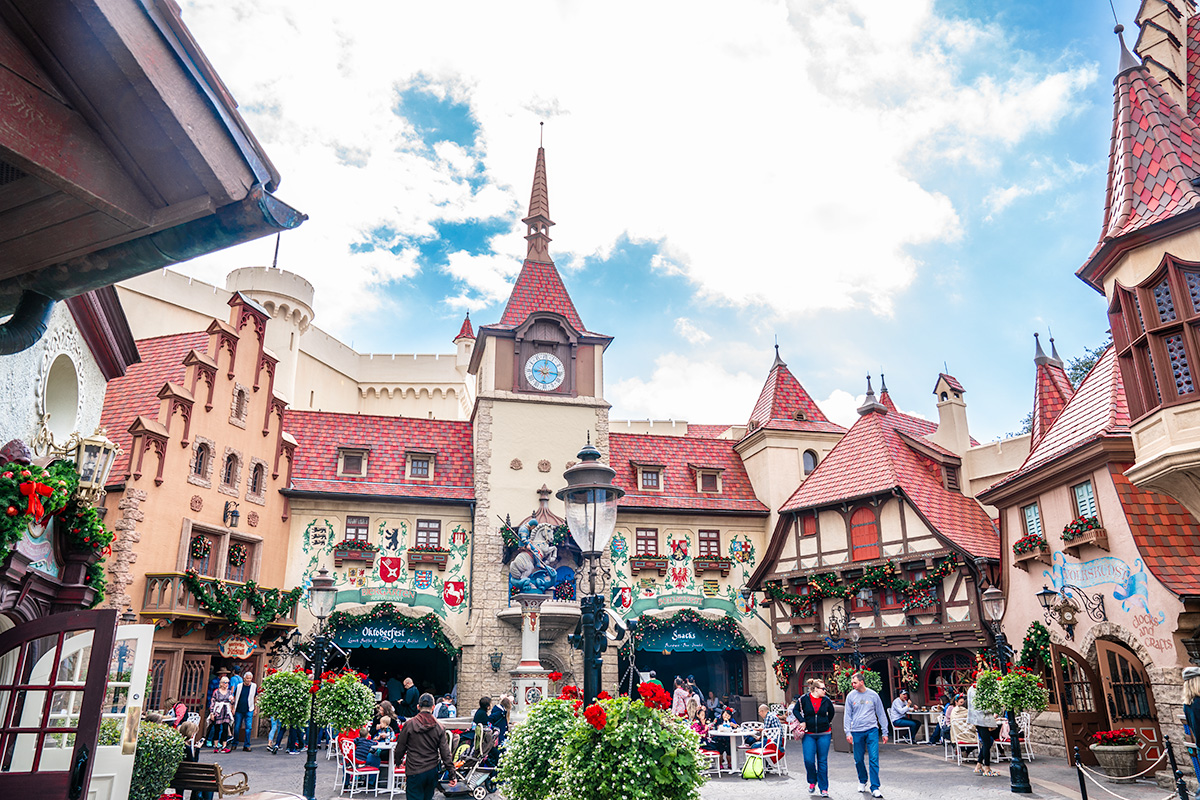 Next, we moved along to Norway, which was overflowing with holiday dazzle.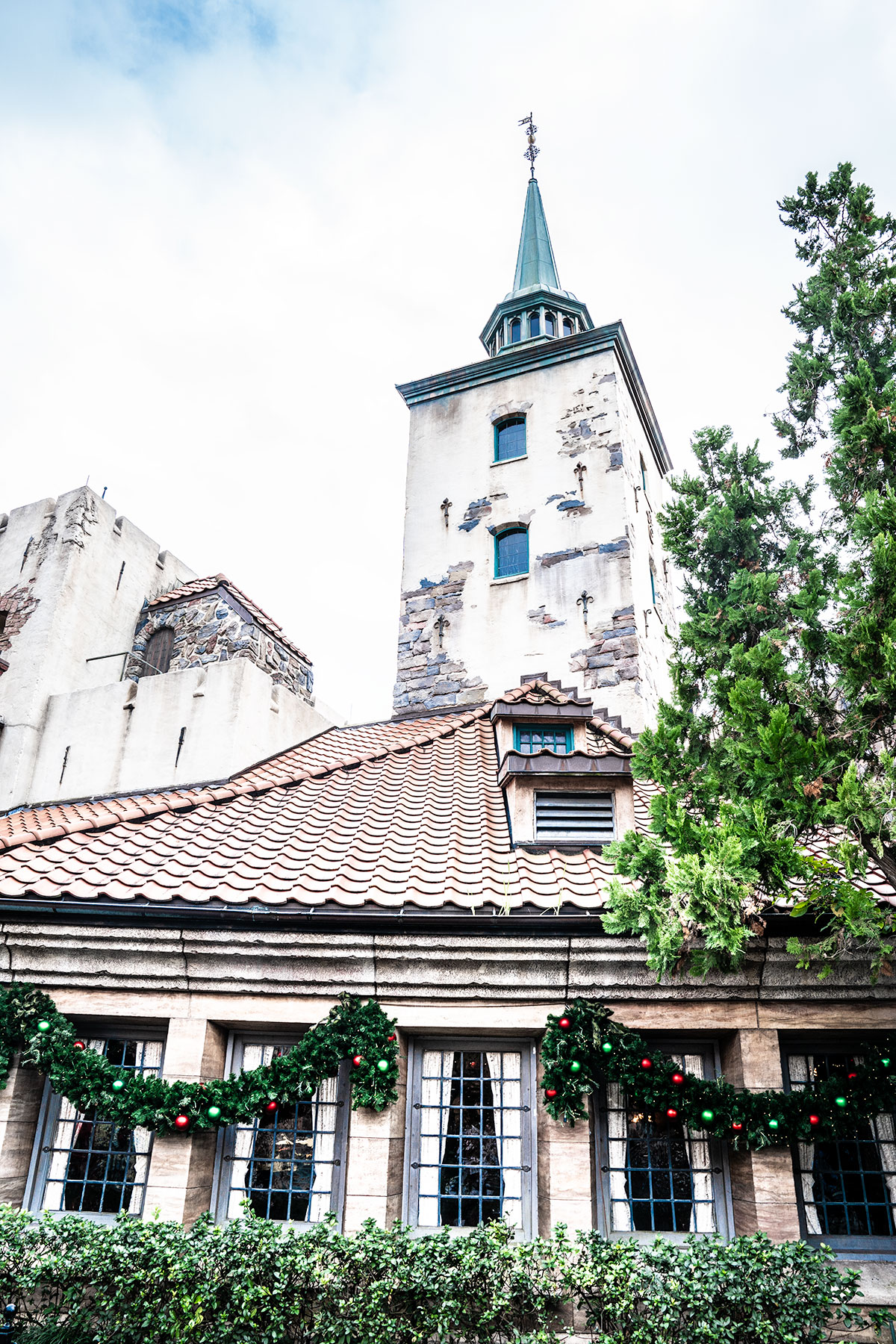 The architecture in Norway was already really beautiful.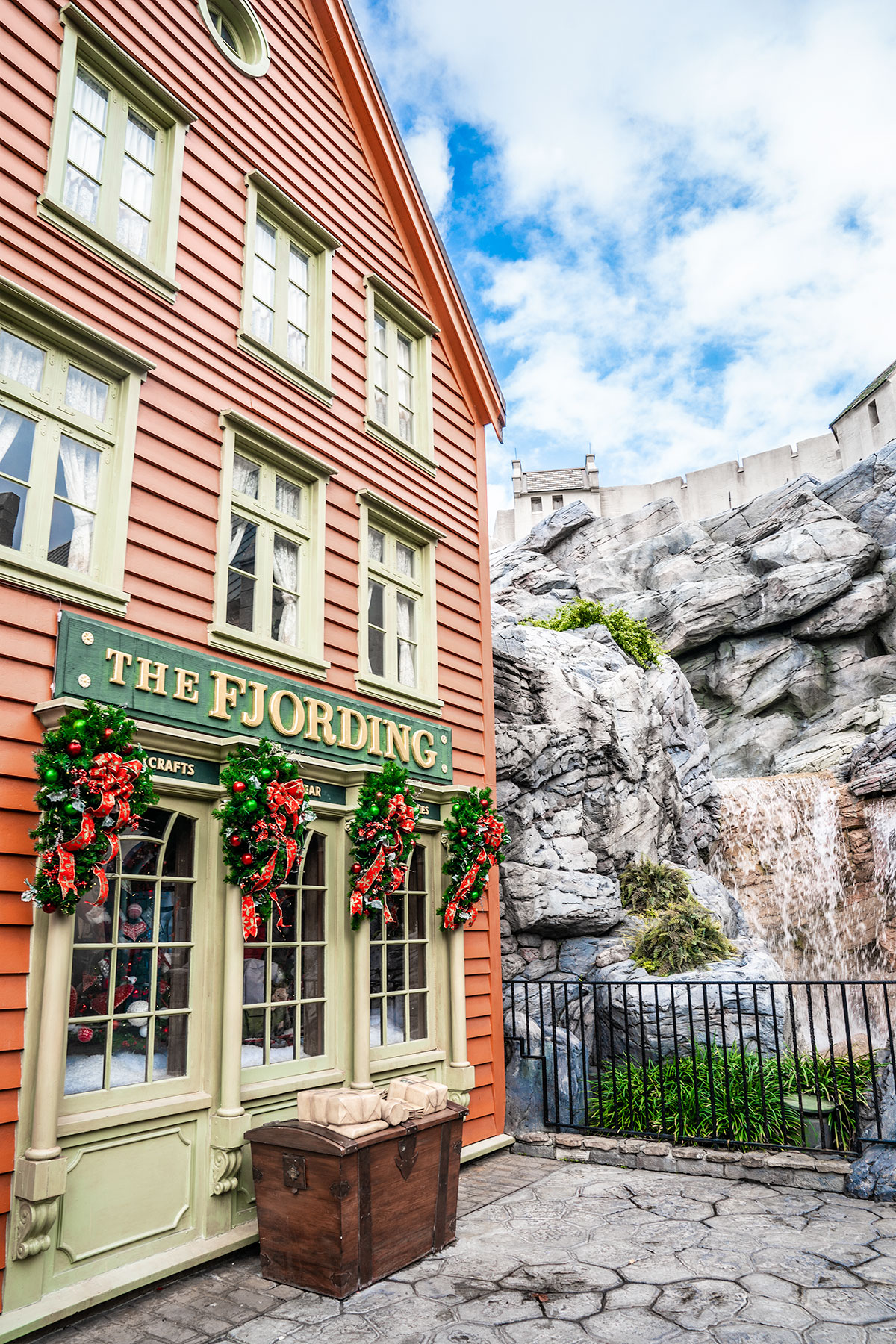 But it was especially impressive at Christmastime, all accented in garlands and wreaths and flower beds filled with vivid poinsettias.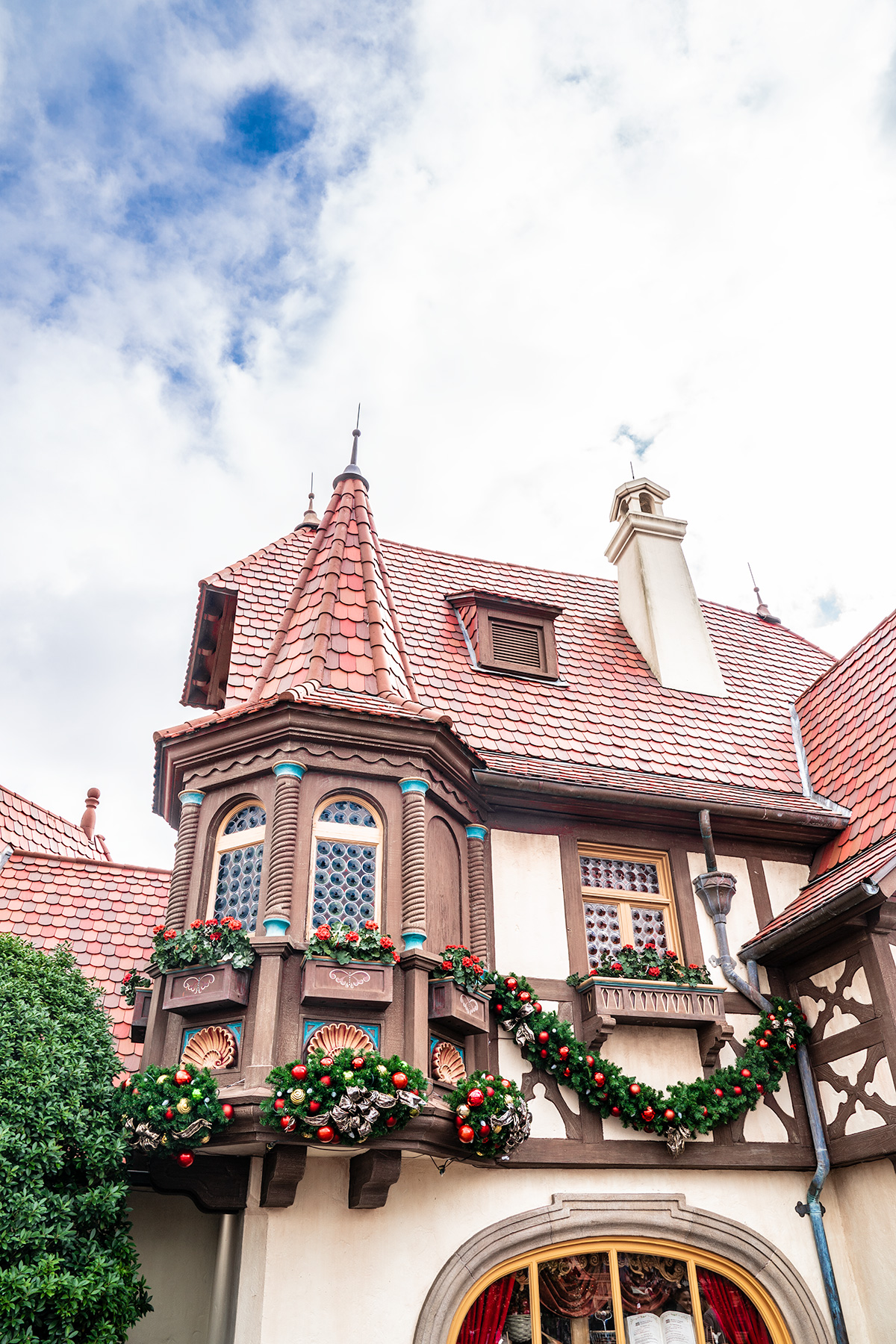 Germany had a similar holiday vibe, with garlands covered in bright red ornaments.
Plus vivid flowers in festive red that were blooming in every flower box.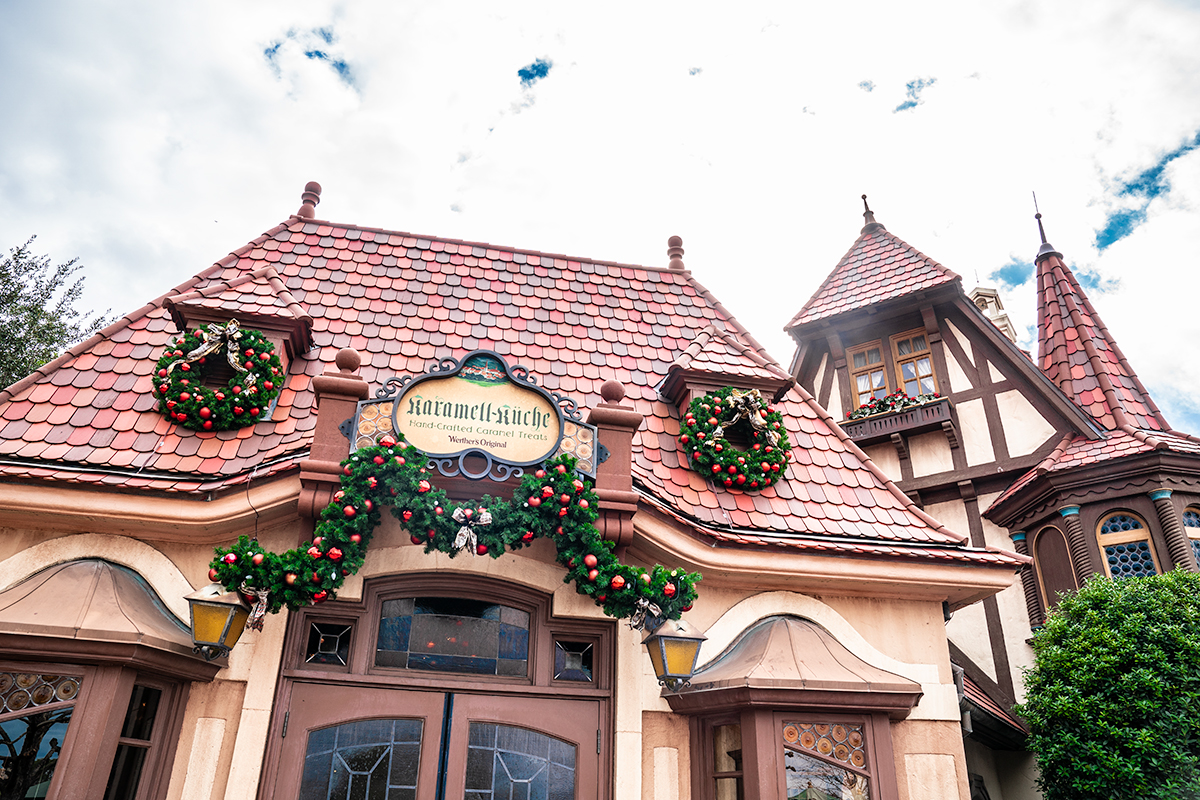 One special event at Epcot during Christmastime is the International Festival of the Holidays.
The Festival of the Holidays happens all around World Showcase and features live music and performances.
Plus there are handfuls of food booths selling special treats highlighting different international cuisines.
As soon as Chris saw the menu for the Germany treat, he had to stop.
He loves chocolate cherry desserts, and the holiday treat was a Black Forest cake with cherry whipped cream.
Needless to say, he gave it two thumbs up.
As Chris and Trevor snacked on chocolate cherry cake from Germany, I continued along to Italy, snapping photos along the way.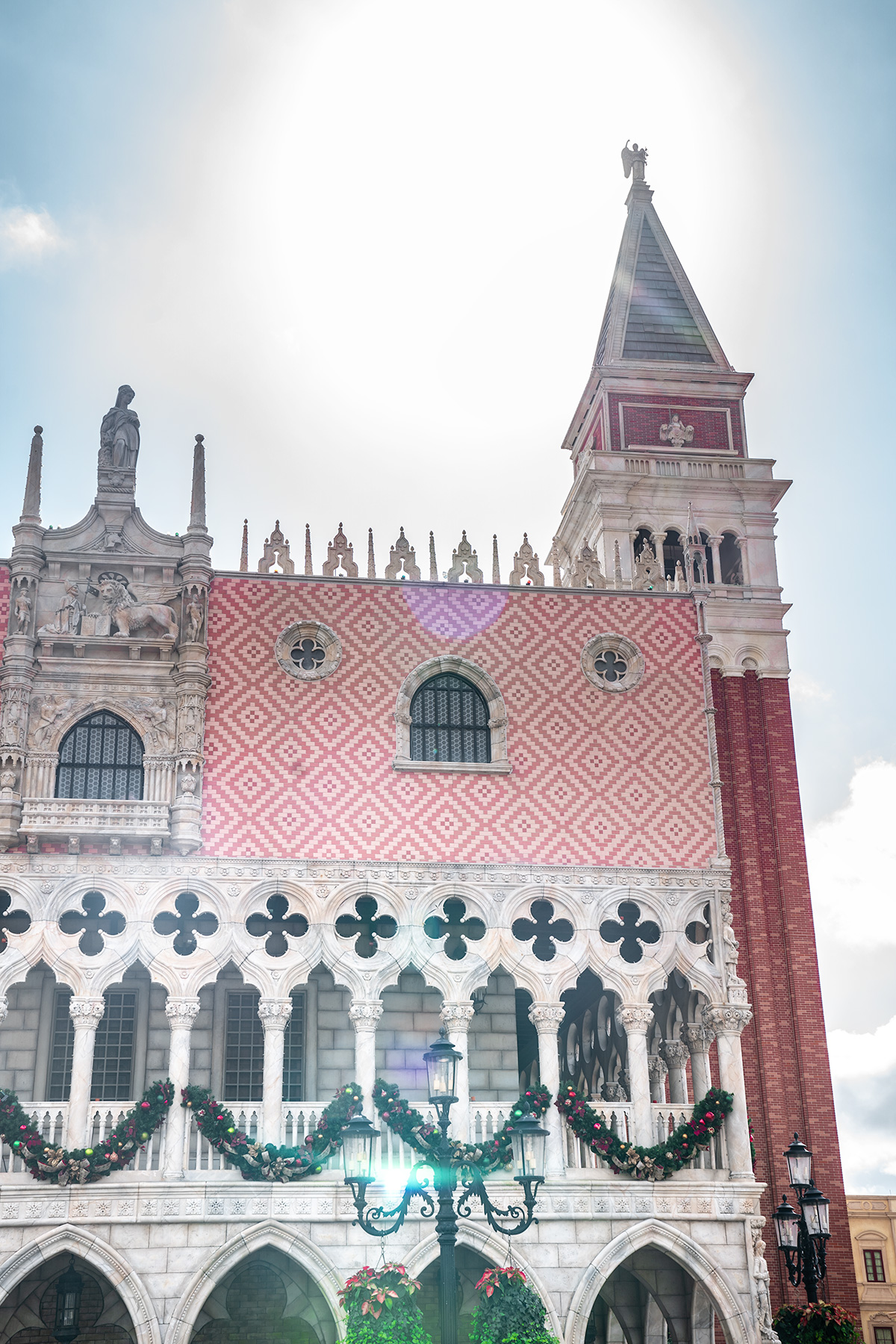 The towering classic Italian architecture was accented in red poinsettias and garlands covered in ornaments and bows.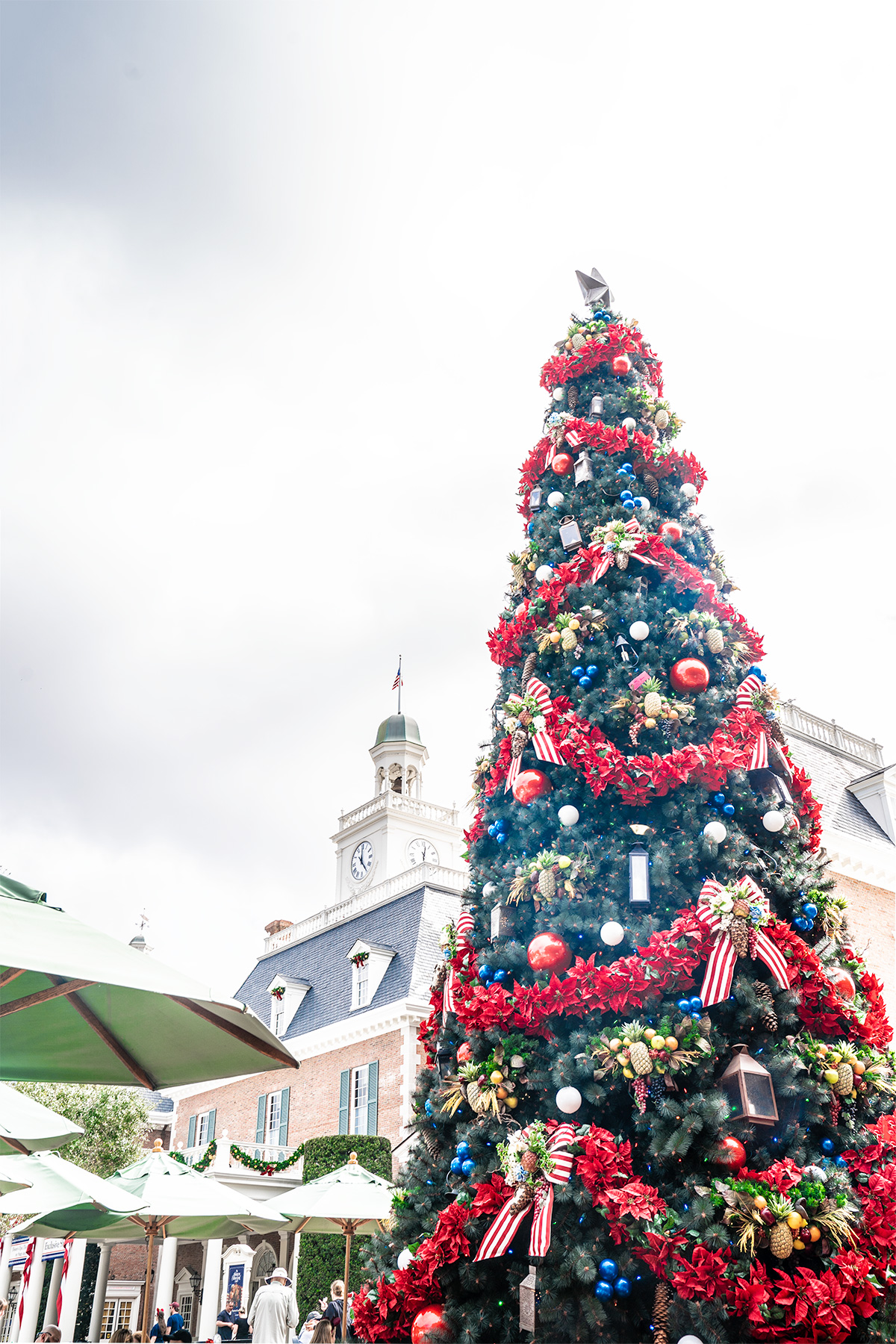 The American Adventure pavilion had maybe the most impressive Christmas decor of all.
A giant Christmas tree towered nearly as high as the American flag at the summit of the American Adventure building.
Another special Christmastime show at Epcot happens at the American Adventure pavilion, on the outdoor stage near the water.
It's the Candlelight Processional, and it happens several times each day throughout the holiday season.
The show features a live orchestra and choir, plus celebrities (like Whoopi Goldberg and Neil Patrick Harris) that narrate the story of Christmas.
As soon as I caught sight of the France pavilion, I knew I'd found my favorite part of Epcot.
I felt like I'd stepped onto a sidewalk in Paris as I wandered down the narrow walkways toward a patisserie.
The patisserie, Les Halles Boulangerie-Patisserie, was the site of my favorite Epcot treat, a strawberry tart.
The architecture and gardens were stunningly beautiful here.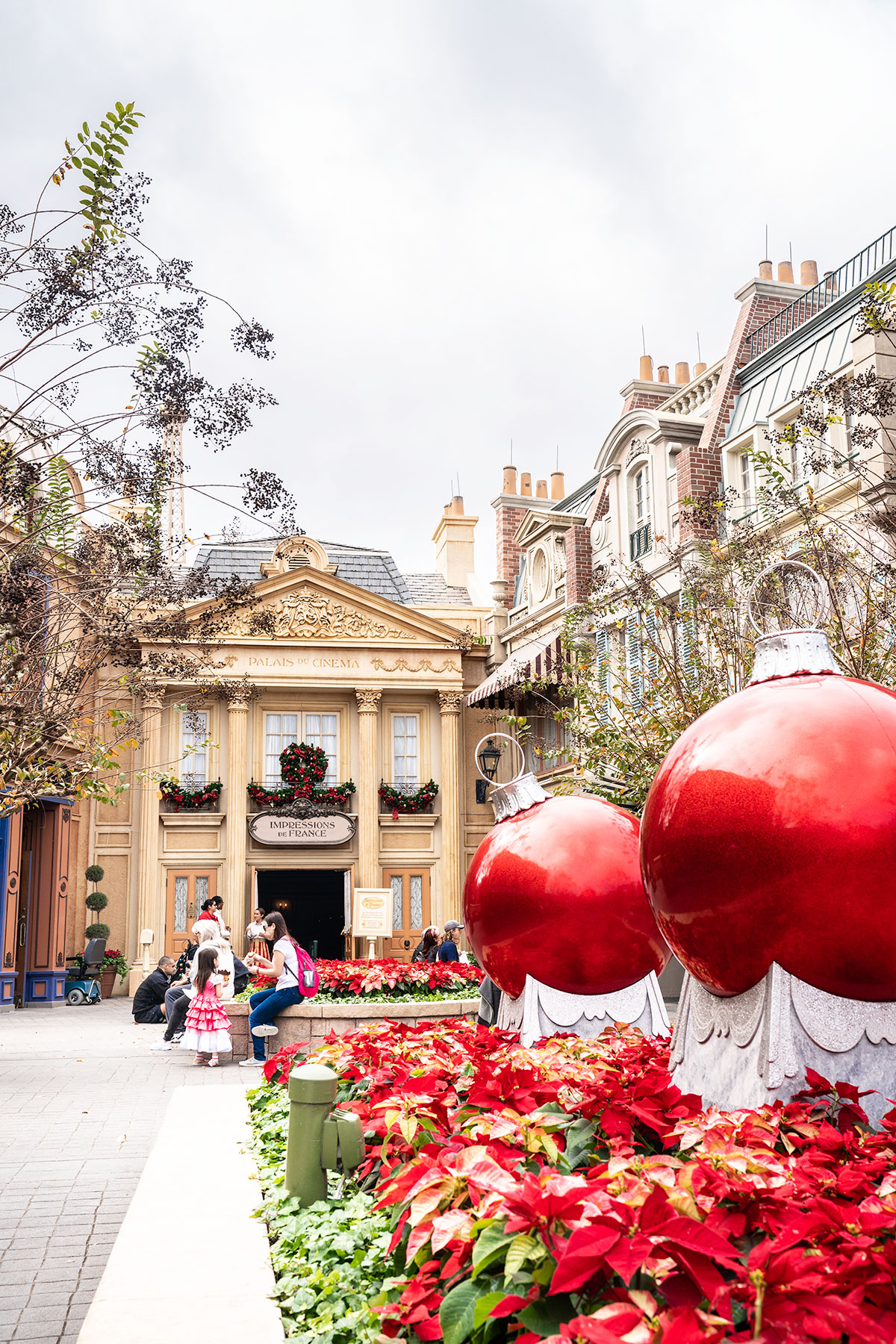 And the Christmas decor was really over-the-top gorgeous too, just like the France pavilion itself!
I loved these giant ornaments in a bed of endless red poinsettias.
I'm a fan of tea.
A really big fan.
I like to have it every morning.
So I loved this particular Christmas tea set display in the United Kingdom pavilion.
I know I said France was my instant favorite pavilion, but then there was also Canada.
With its cascading waterfalls and incredible gardens and towering chateaus, this Epcot pavilion was definitely a close second for my favorite Epcot pavilion at Christmastime.
The Christmas decor here featured snow-capped pinecones, branches, and red berries.
It looked so beautiful set against all of the natural-looking elements of the pavilion:
Stone buildings, trees growing amidst rock formations, and flower gardens.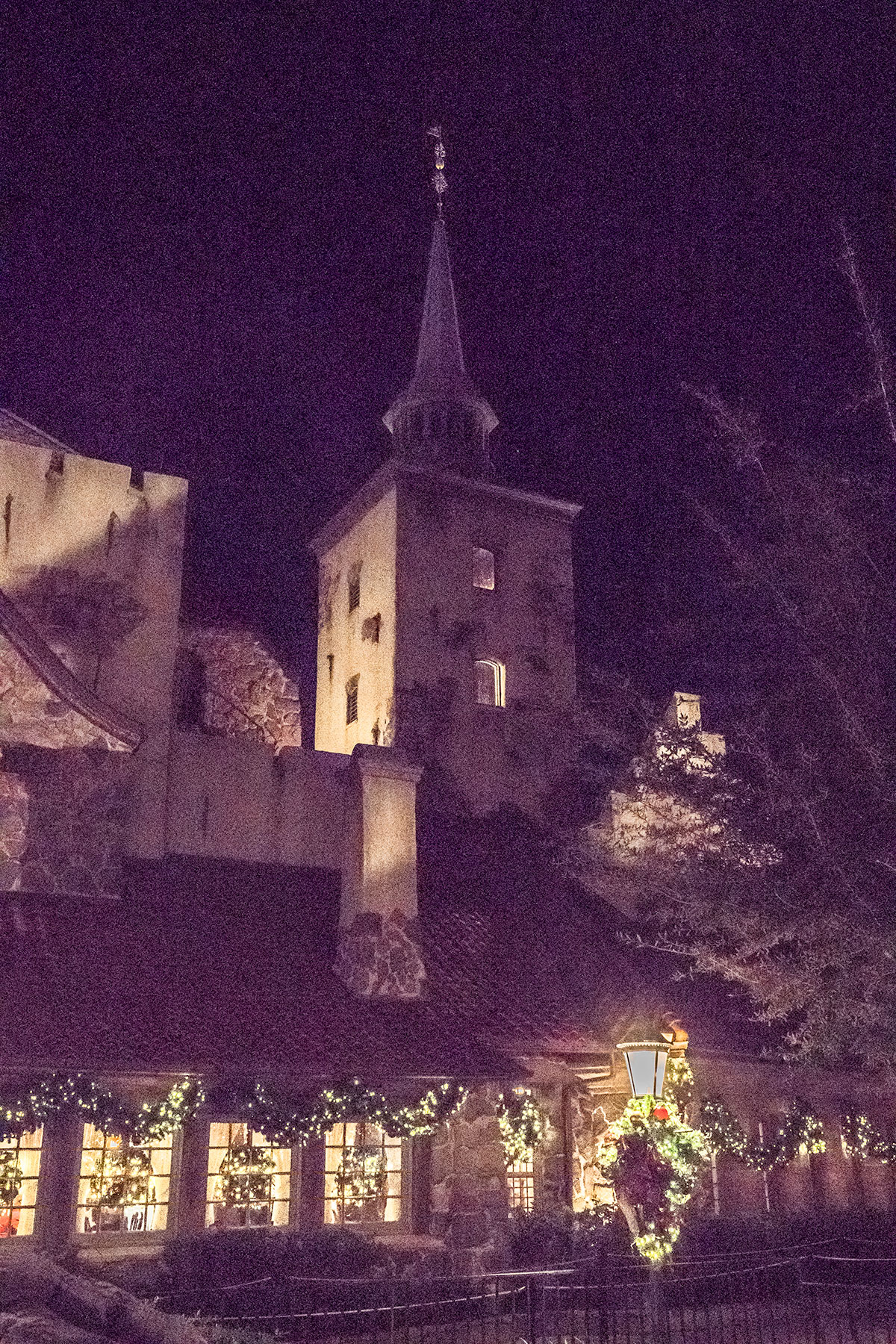 For me, the best part of all was the Epcot Christmas decor after dark.
This was the time of day when all of the architecture and holiday design was illuminated and highlighted with twinkling white holiday lights.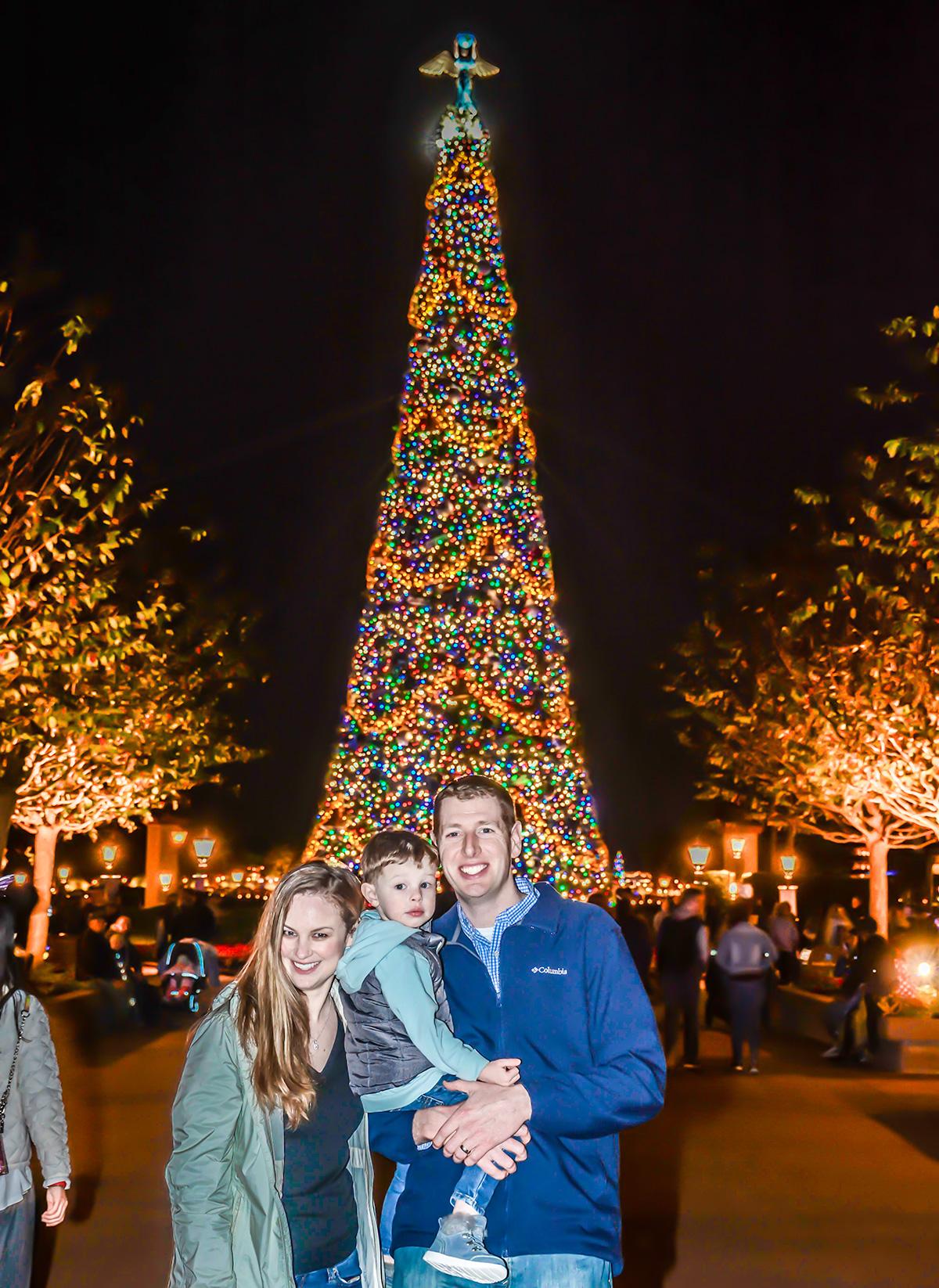 We were all impressed with the colossal Christmas tree located at the entrance to World Showcase.
Every square inch of the tree seemed to be covered in gleaming multi-colored lights.
My eyes were instantly drawn to the giant angel on top, reaching towards the sky and holding a globe to represent all of the countries on Earth.
Epcot definitely exceeded my every hope and dream for an incredible Christmas experience.
Chris and I have visited Epcot many times.
But with the Festival of the Holidays, the Candlelight Processional, the special shows and festivities, the festive holiday food booths, and the incredible Christmas decor, the holiday season tops my list for the absolute best time of year to visit!
Read This Next:
Magic Kingdom at Christmas | Part I of Disney World Christmas Series
Walt Disney World at Christmas | Part III of Disney World Christmas Series
What It's Like to Stay at Disney's Wilderness Lodge at Christmas
Where To Find The Ultimate Disney World Character Breakfast
33 Photos to Inspire You to Visit Walt Disney World at Christmas
Pin on Pinterest: