You can't miss Disney World at Christmas! In fact, Christmas is our favorite time of year to visit Walt Disney World. Here's Part III of our holiday series…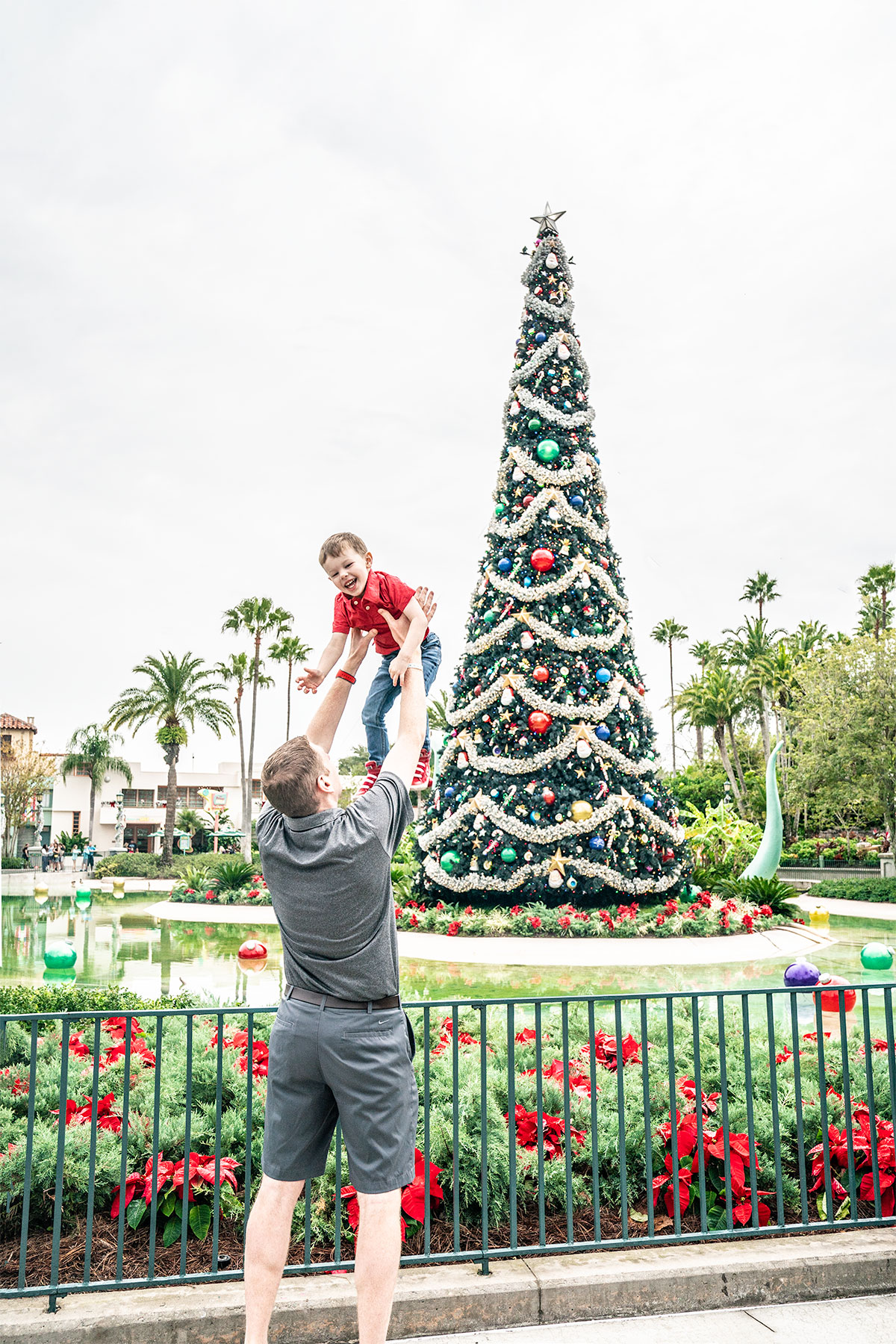 During our December trip to Walt Disney World, we saw incredible Christmas shows, colossal Christmas trees, classic Disney characters decked out for the holidays, intricate topiaries depicting Disney inspired holiday scenes, and, oh, about a trillion twinkling white lights.
Every square inch of the Walt Disney World property seemed to get dressed up for Christmastime, and it was truly a sight to behold!
In Parts I and II of this Disney World Christmas Series, we covered all of the incredible Christmastime festivities at the Magic Kingdom and Epcot.
Here we'll explore the other two Disney parks, the Animal Kingdom and Hollywood Studios. We'll also check out a few of the most well-known of the Disney resorts, featuring some of the most spectacular Christmas decor.
Let's begin our Christmastime tour at Disney's Hollywood Studios!
Disney's Hollywood Studios was a park with more subtle, understated Christmas decor.
And by "subtle and understated," I mean that in comparison to the Magic Kingdom and Epcot.
In comparison to, well, just about anywhere else on the planet, the decor was pretty dramatic.
There was a glitzy, Hollywood vibe to the garlands and lamppost decorations, of course.
My personal favorite Christmas display was the Sorcerer Mickey topiary at the entrance of Hollywood Studios.
His dancing broom sidekicks – all dressed up in big vivid red bows – carried buckets of glimmering Christmas ornaments.
All up and down Hollywood Boulevard, we saw shimmery silver garlands and wreaths accented with bright red and green Christmas bells.
The window displays were all holiday-themed as well.
I loved these towering topiaries made of poinsettias, echoing the ones I'd seen at World Showcase in Epcot.
Even the Disney characters were decked out for the holidays!
We happened to pass Chip on our way to the Frozen Sing-Along Celebration show.
Tru was so excited to meet him, which wasn't surprising.
Mickey Mouse Clubhouse is his favorite show.
Chip stopped for some high-fives, and he showed off his Christmas-themed winter hat and scarf.
Probably the most impressive Christmas display at Hollywood Studios was the giant Christmas tree towering above the tiny island on Echo Lake.
Surrounded by water, the tree was covered in glittery, silver garlands and topped with a giant star (so perfectly fitting for the Hollywood theme!)
As compared to the other Walt Disney World Parks, the Animal Kingdom had the most understated Christmas decor.
But again, it was perfectly fitting to the theme of the park.
Disney's Animal Kingdom is all about natural habitats and wildlife and African and Asian cultures that don't historically celebrate Christmas.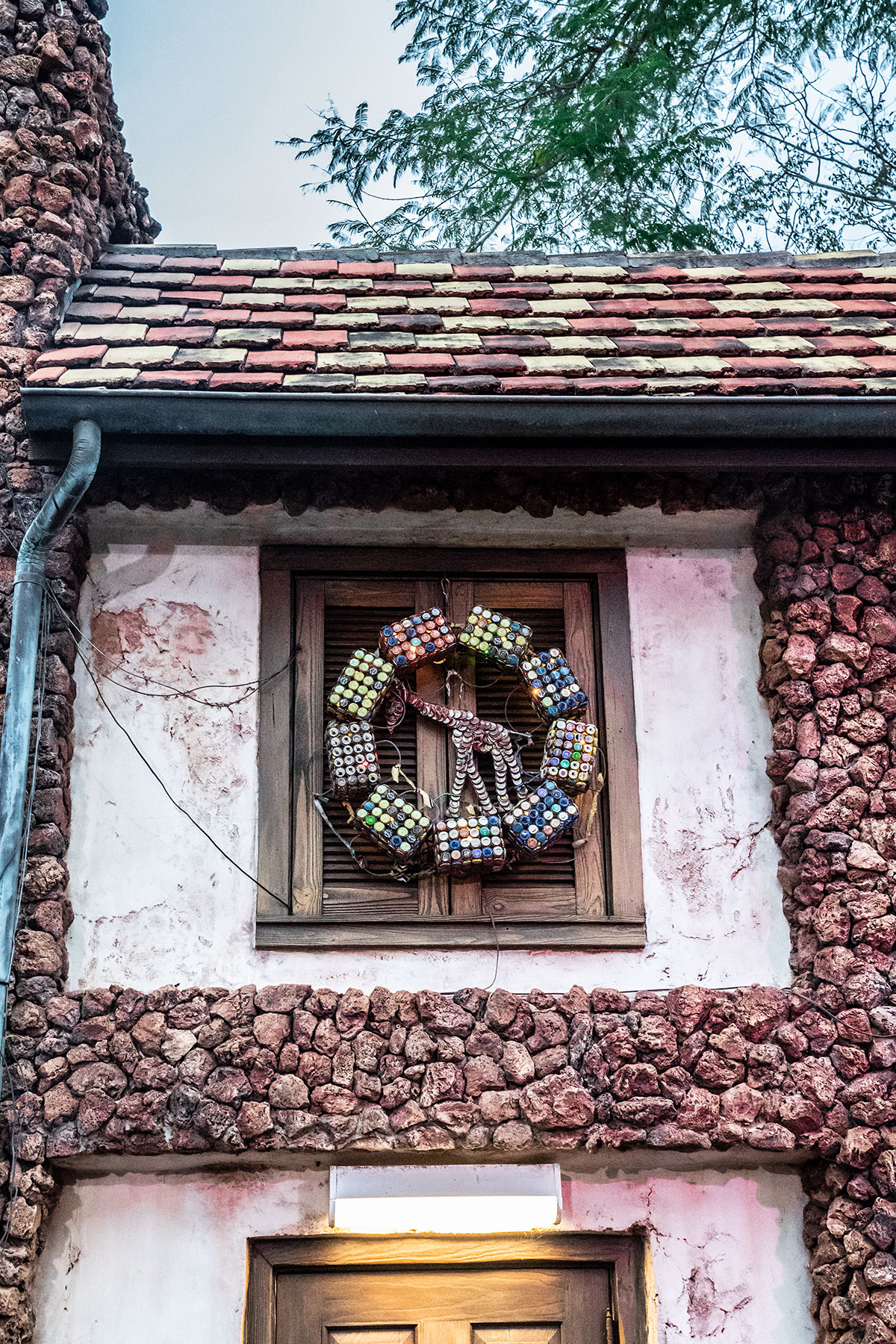 There were still gorgeous garlands and wreaths everywhere.
But they were unique and subtle.
And potentially even missed by some guests who weren't paying careful attention!
One thing it was impossible to miss: the colossal Christmas tree located right at the front entrance to the park.
From a distance, the sheer size caught our eyes.
Up close, we were able to take in all of the incredible detail of the decor.
We saw intricate ornaments shaped like lions, zebras, giraffes, and rhinos, and stars fashioned out of sticks.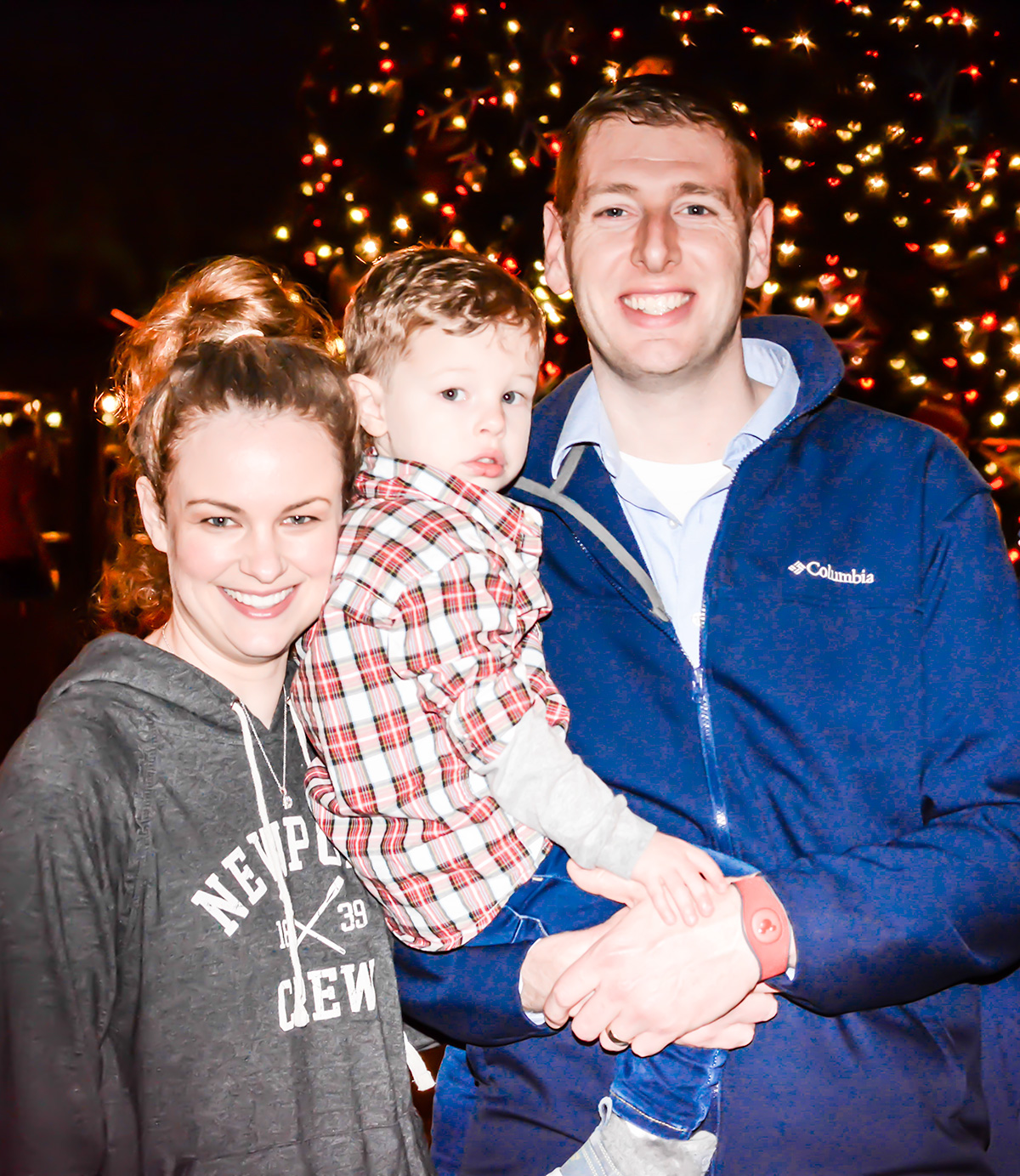 After dark, when we were leaving the park, the glimmering Christmas lights were subdued and dim.
But speaking of jaw-dropping Christmas trees…
This is Disney's Grand Floridian, one of the best known of the Walt Disney World resorts.
This hotel was basically the polar opposite of the "understated" and "minimal" design we just explored at the Animal Kingdom!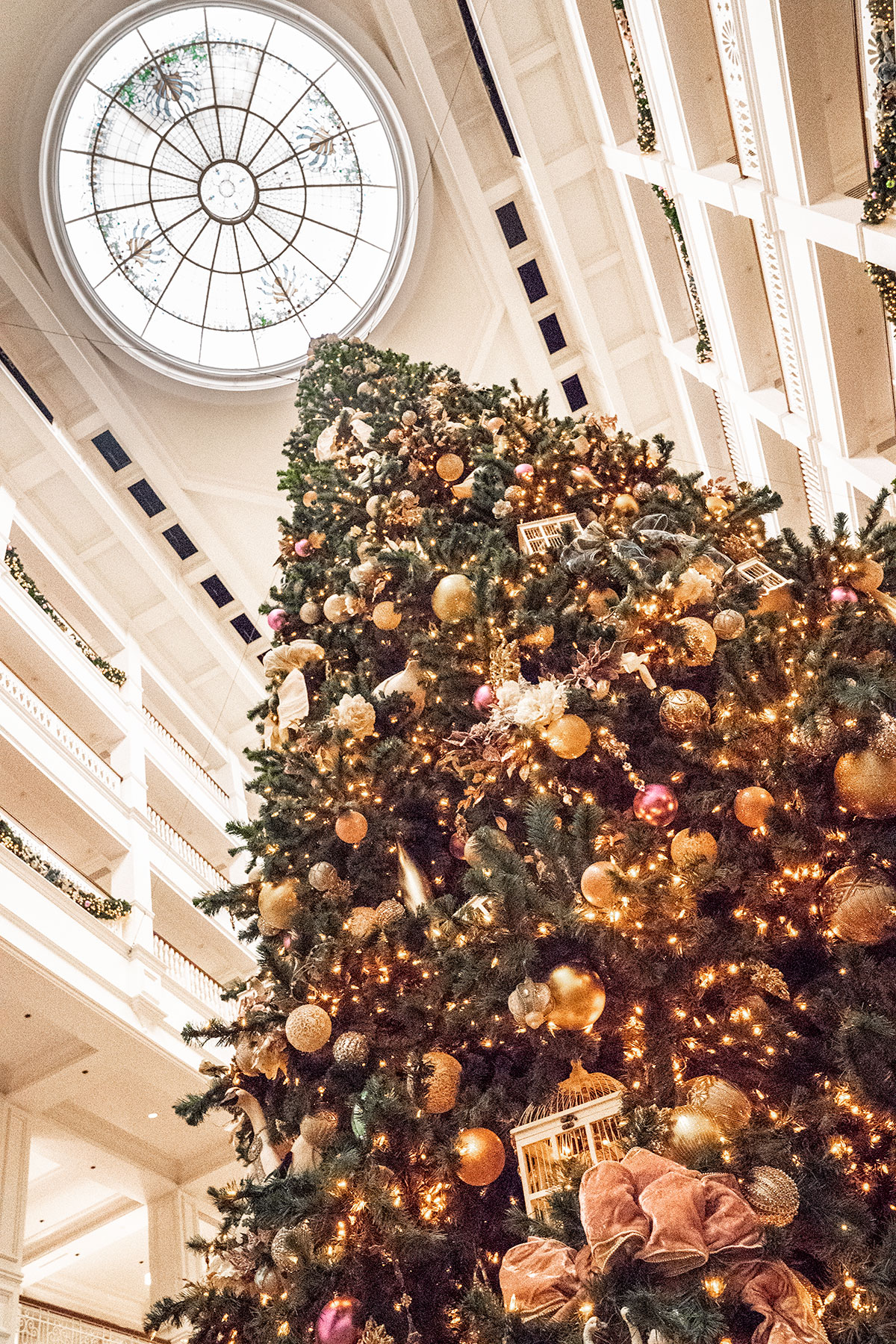 This resort had a luxurious, ornate, Victorian theme, with intricate moldings, gold chandeliers and accents, and stained glass windows.
The Christmas decor echoed the architecture and design, and I was in love.
In complete and total and absolute love with this beautiful Disney resort at Christmastime!
The towering tree in the center of the lobby reached nearly to the domed stained glass skylights, five floors up!
The tree was trimmed with blush and teal bows and thousands of gold ornaments and twinkling golden lights.
Can you believe the sheer size of this holiday floral arrangement?
At first I just had to admire it.
But then I couldn't help but do the math in my head.
What must just this one floral arrangement cost? $500? $750?
And this was just one of thousands at Walt Disney World at Christmastime!
I was in awe of the incredible holiday window displays in front of the resort shops.
And Tru was in awe of the biggest gingerbread house he'd ever seen!
This gingerbread house, which is set up each year in the lobby of the Grand Floridian for the holidays, was made of real, edible gingerbread.
It was big enough that Disney cast members actually worked inside the decorated house, selling gingerbread treats to guests!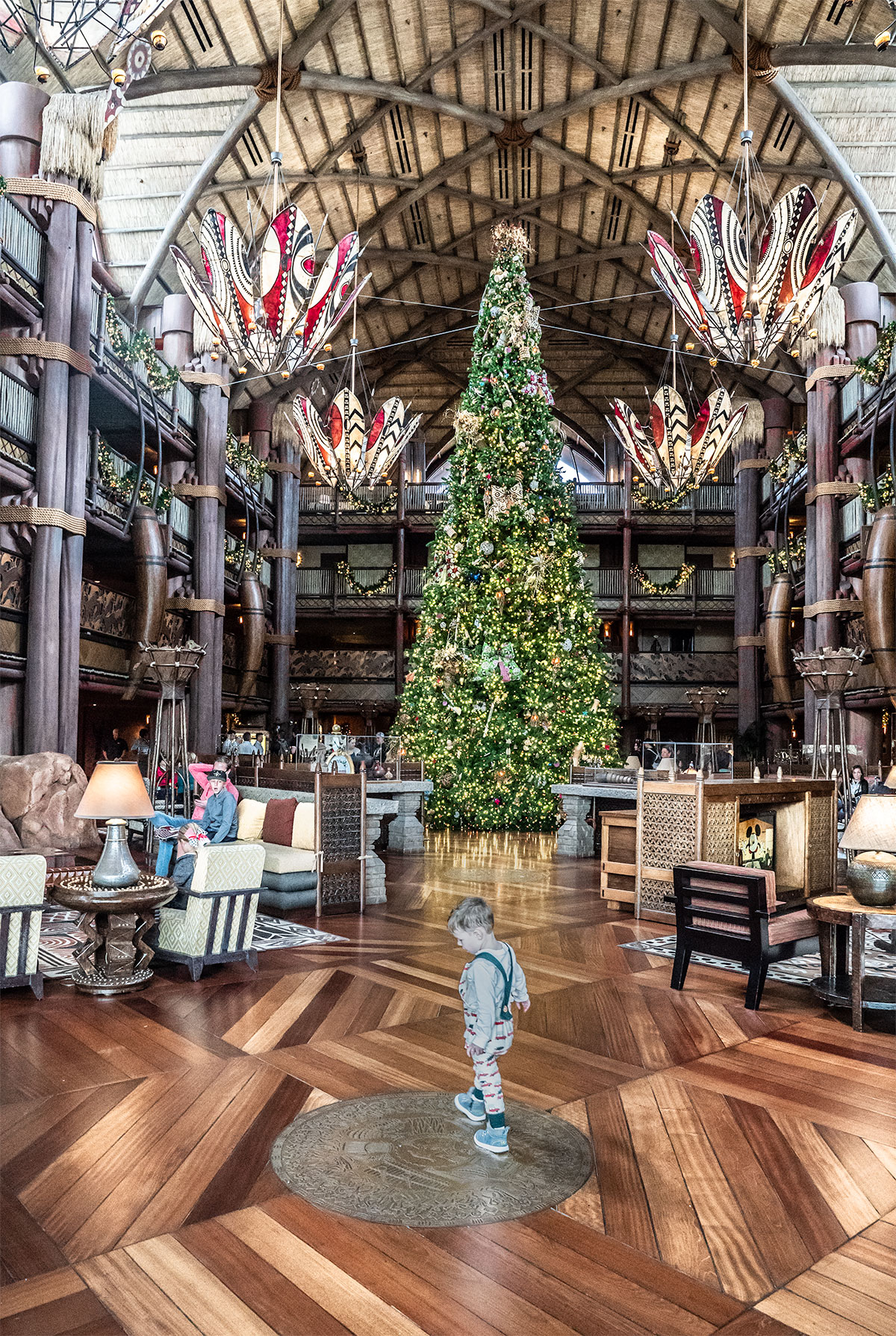 We found yet another incredible Christmas tree, of enormous proportions, at Disney's Animal Kingdom Lodge.
As much as the Animal Kingdom park was understated with the holiday decor, the Animal Kingdom Lodge resort had jaw-dropping Christmas displays.
We loved the gorgeous Christmas trees and garlands everywhere.
The Wilderness Lodge was another Walt Disney World property just overflowing with Christmas dazzle.
We stayed at this hotel for the first half of our trip to Disney…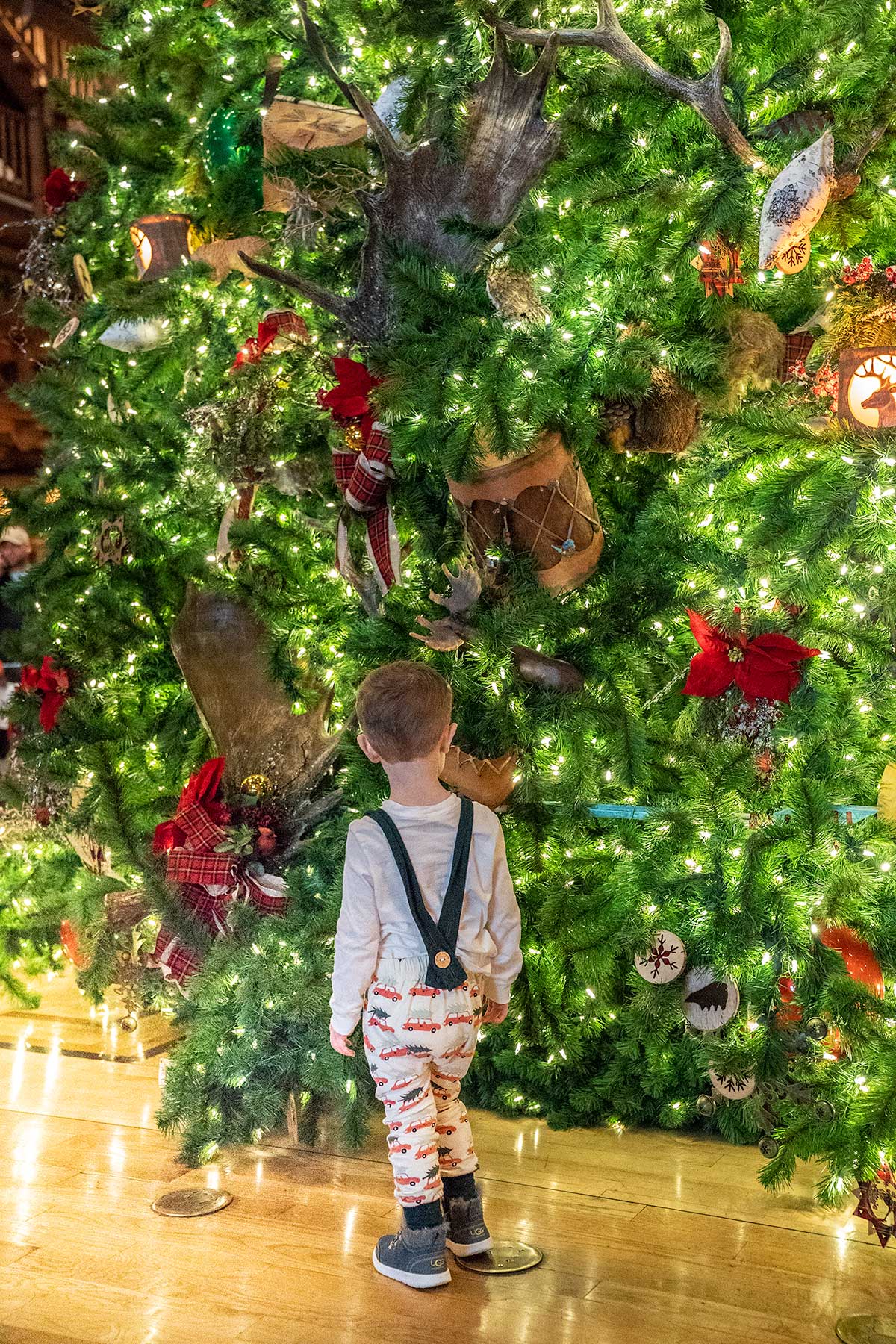 …and Tru loved to just wander around the colossal Christmas tree in the lobby, pointing our every new ornament design he found.
The attention to detail was incredible.
The Wilderness Lodge Christmas tree remained true to theme, with ornaments like leather teepees and drums, faux antlers, owls that looked lifelike, and snowflakes carved from wood.
The Wilderness Lodge also got my vote for "best Christmas card photo-op."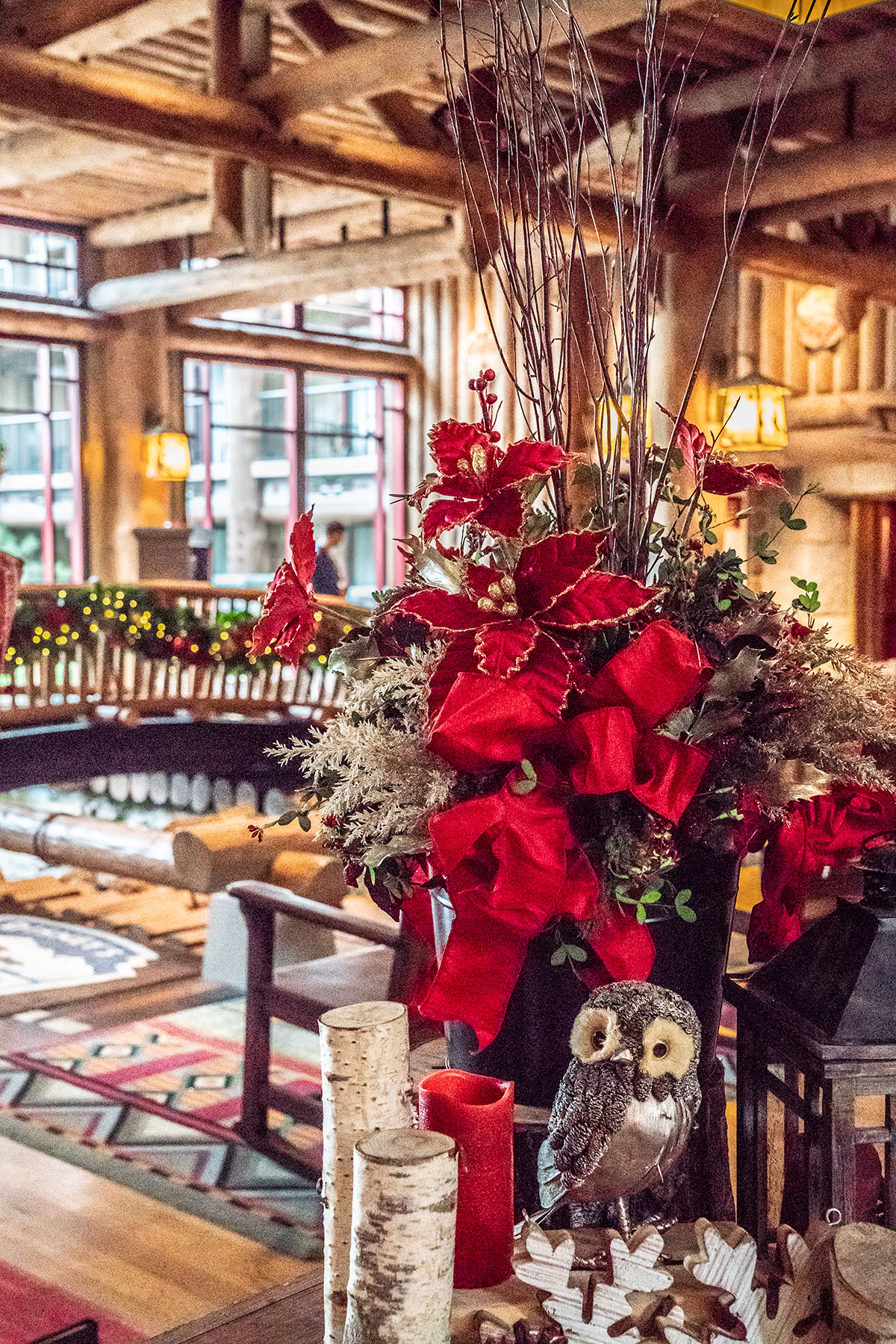 I loved these Christmas displays – we found them both inside the lobby as well as outside near the front entrance.
There were brown bears surrounded by Christmas trees trimmed in vivid red poinsettias and ribbons.
And a bench in the center of it all for guests to pose for photos.
And that about wraps up our tour of Walt Disney World at Christmas!
I hope you feel inspired to visit.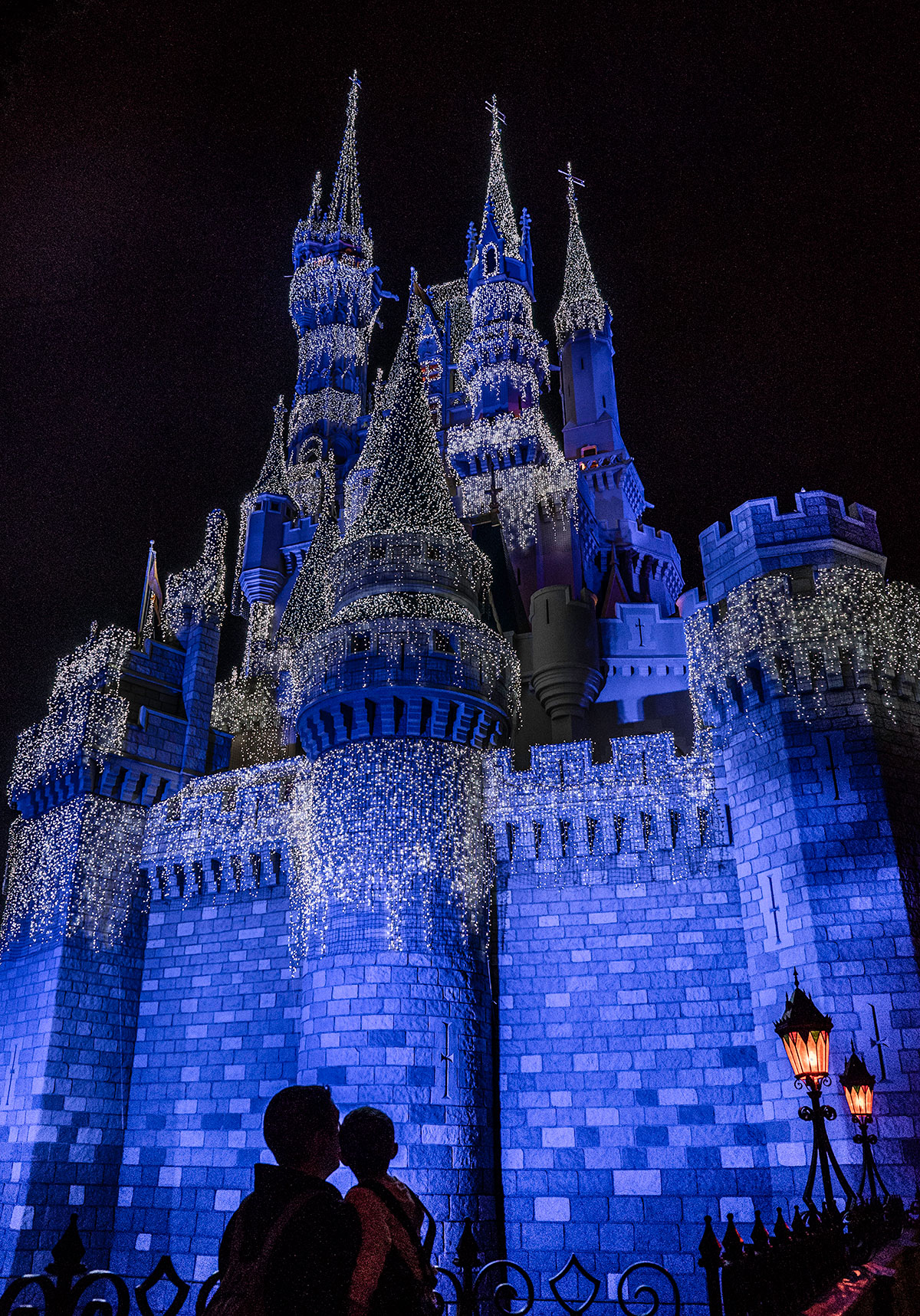 In Part I, we covered the Magic Kingdom in detail:
Magic Kingdom at Christmas | Part I of Disney World Christmas Series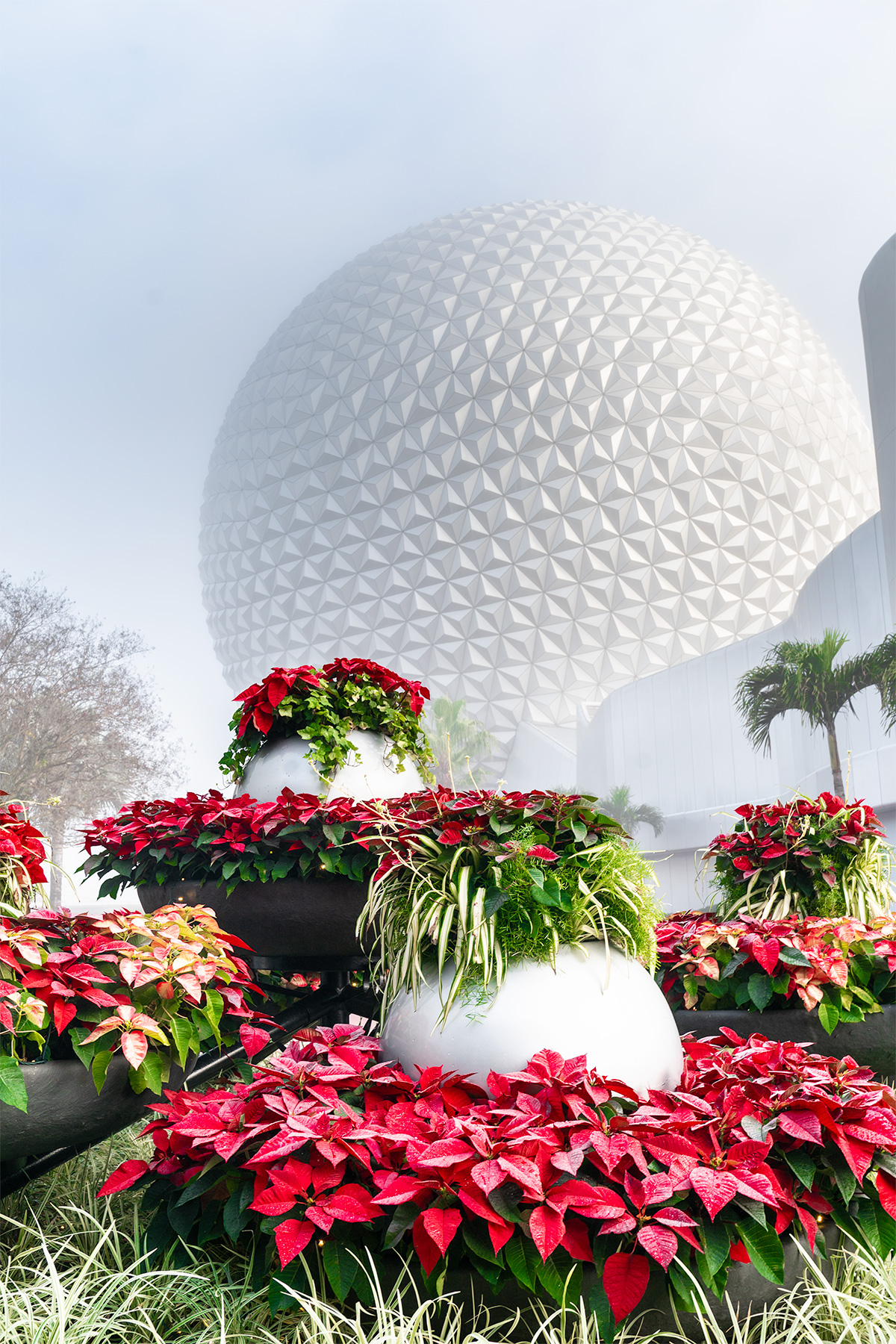 And in Part II, we covered Epcot in detail:
Epcot at Christmas | Part II of Disney World Christmas Series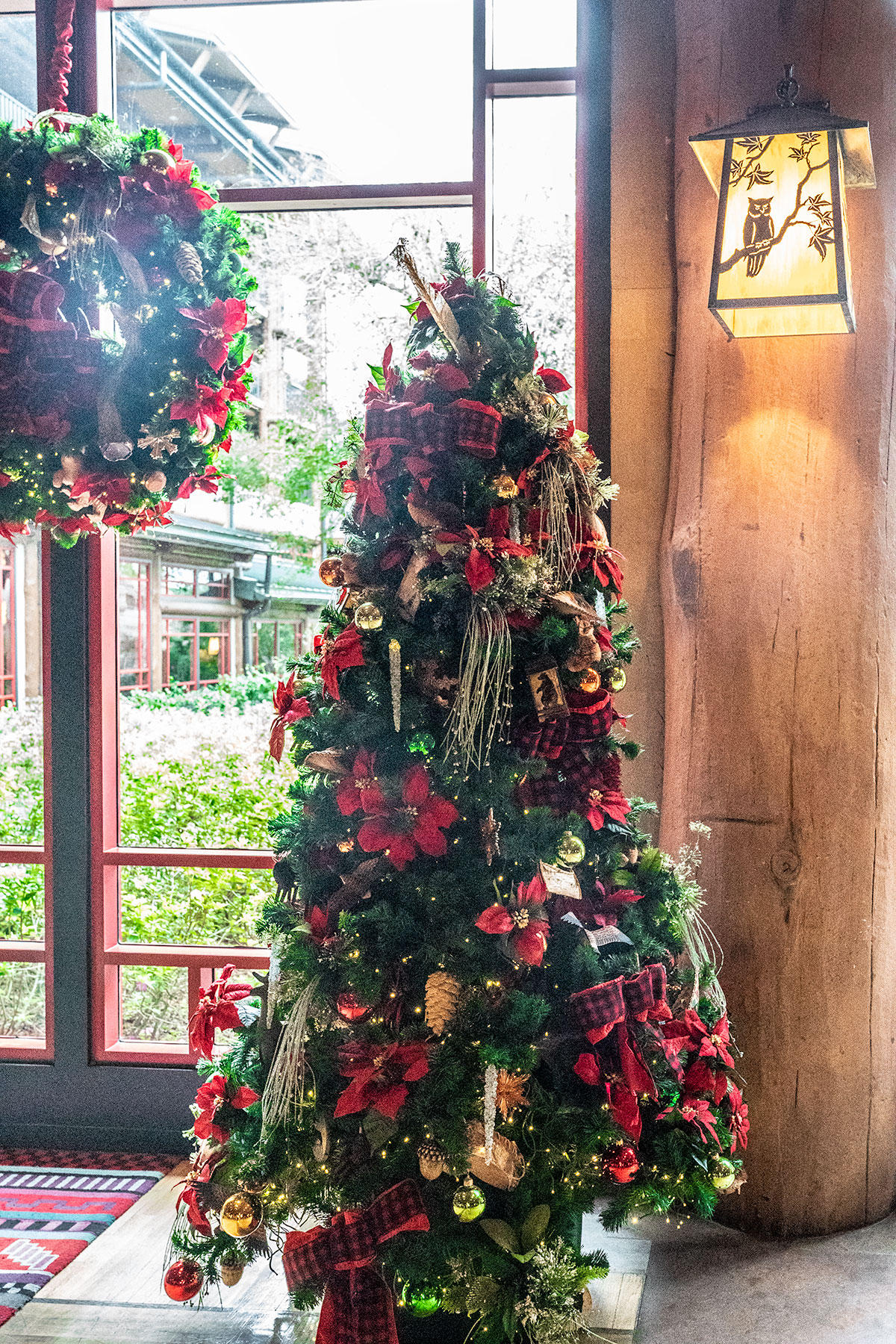 I also created a complete photo tour review of our Christmastime stay at the Wilderness Lodge:
What It's Like to Stay at Disney's Wilderness Lodge at Christmas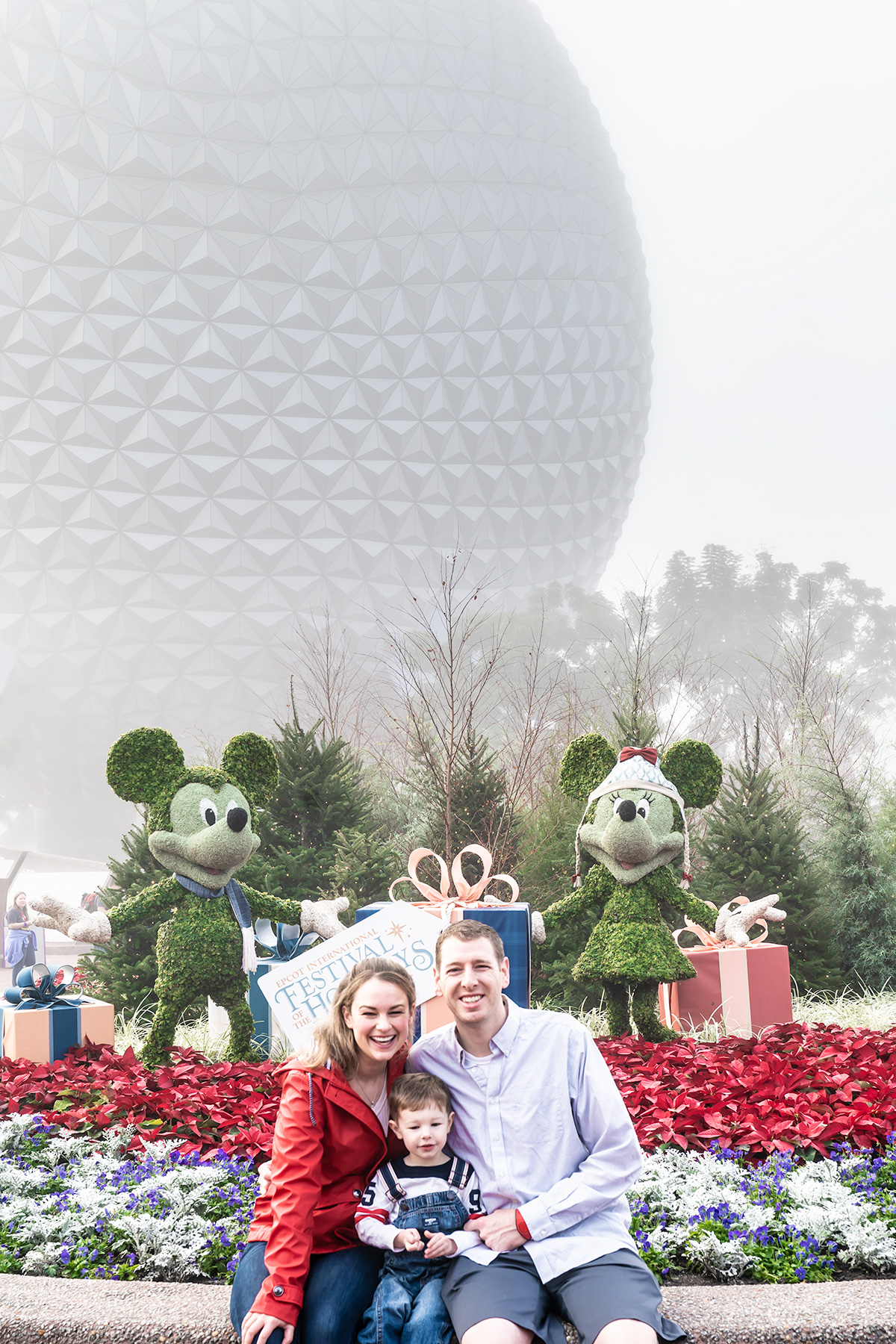 Chris and I have done many, many trips to Walt Disney World over the years.
And we both agreed that the holiday season was probably our favorite time of year to visit.
From the incredible decor to the endless special Christmas shows and holiday festivities to the comfortably cool (i.e. waaaay less humid!) weather, we thought Walt Disney World was just all-around extra magical at Christmastime!
Read Next:
Magic Kingdom at Christmas | Part I of Disney World Christmas Series
Epcot at Christmas | Part II of Disney World Christmas Series
What It's Like to Stay at Disney's Wilderness Lodge at Christmas
Where To Find The Ultimate Disney World Character Breakfast
33 Photos to Inspire You to Visit Walt Disney World at Christmas
Pin on Pinterest: