These healthy chocolate banana muffins, drizzled with creamy peanut butter, are a nutritious snack. But they satisfy every rich, sweet, chocolate craving!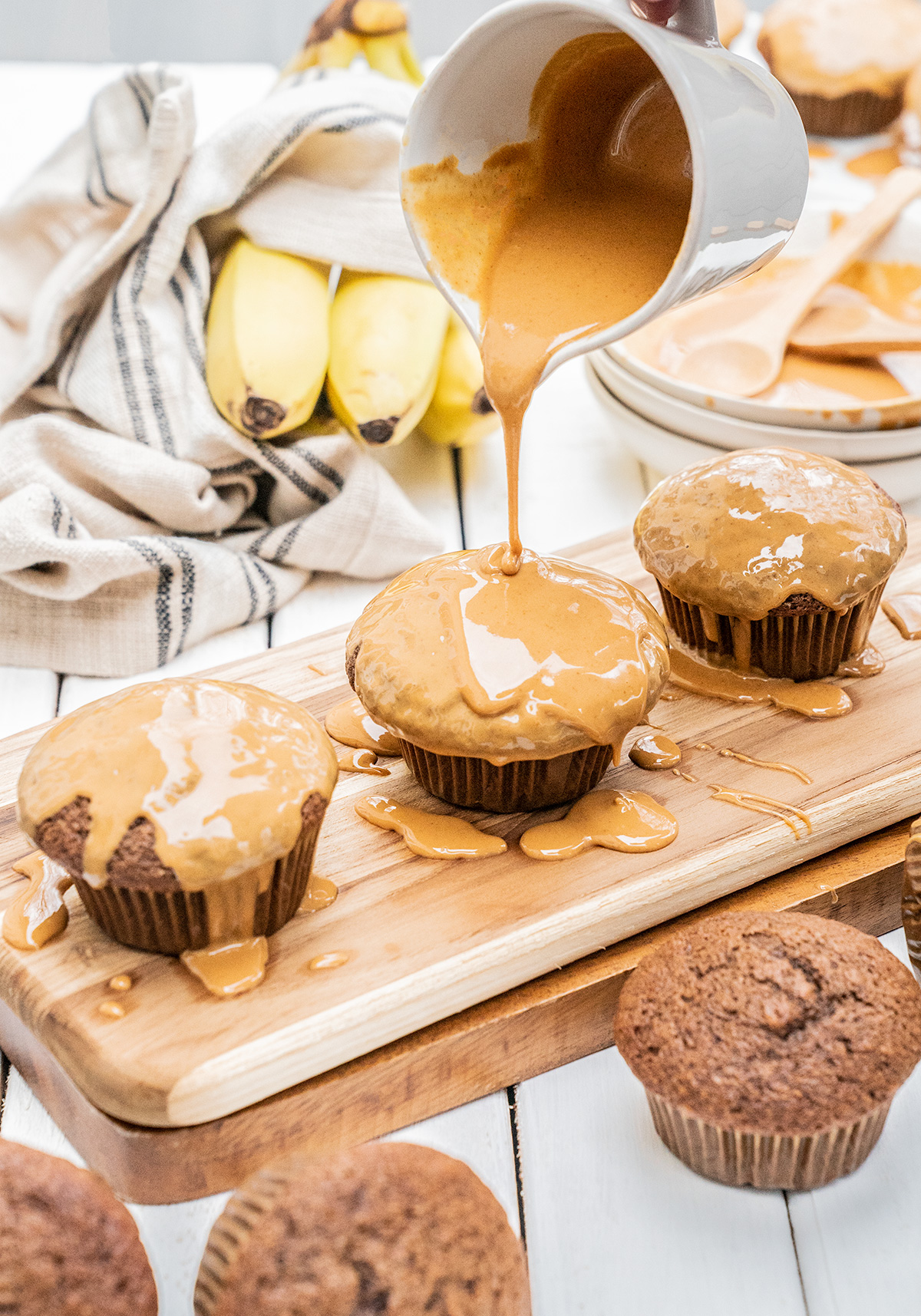 Peanut butter is one of my lifelong loves.
We've had a deep and lasting friendship dating all the way back to when I was three.
That was when I used to pull apart the two slices of bread from my peanut butter and jelly sandwiches, so I could eat the jelly part first.
And then the crust part of the peanut butter bread second.
All so I could save the thick, rich peanut buttery part of the sandwich for last.
(Always save the best for last!)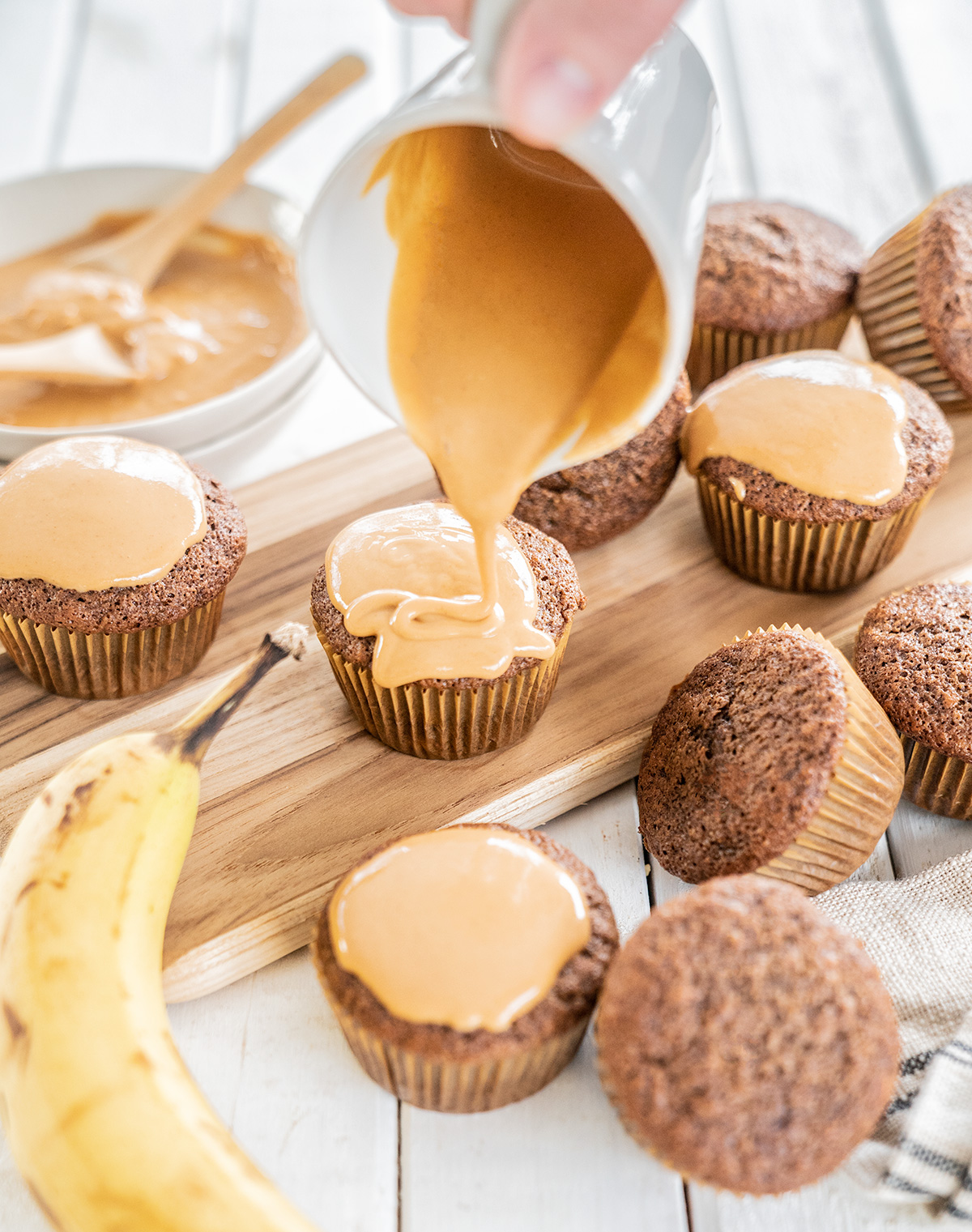 In other words, peanut butter and I are on till-death-do-us-part terms.
It's creamy and rich and salty and sweet and pretty much perfect in every conceivable way.
Peanut butter can do no wrong, in my mind.
So I created these chocolate banana muffins as the dreamy, ideal complement to my absolute favorite food.
My goal was this:
To ensure that the flavors of all three key ingredients (bananas, chocolate, and peanut butter) really had the opportunity to shine.
And I believe I've accomplished that goal, friends.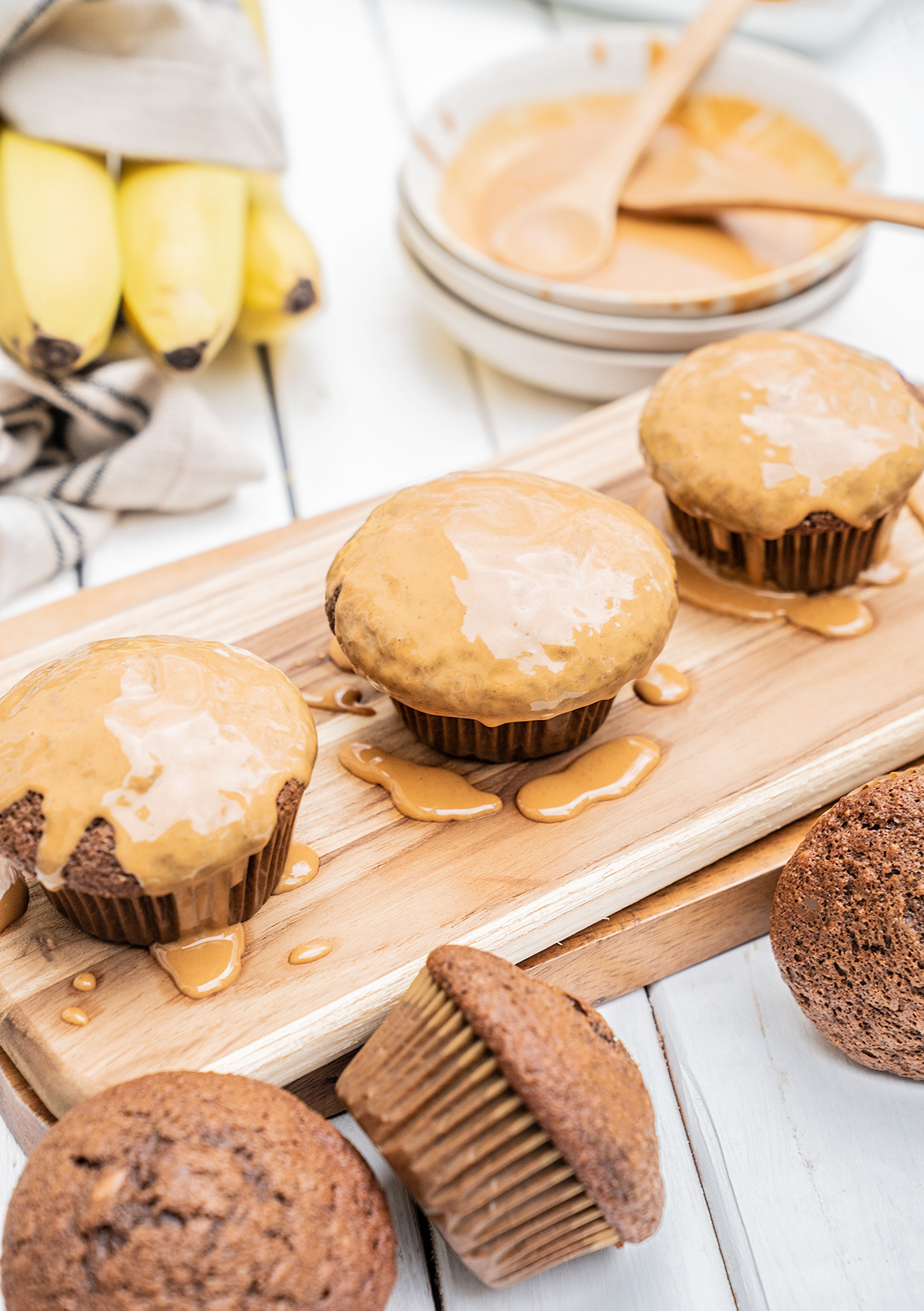 These muffins are loaded with rich, chocolatey flavor.
They're also packed with fresh, healthy bananas, that you can taste in every bite.
And the peanut butter.
I had some issues with my first few attempts at these chocolate banana muffins.
My problem was that I was adding peanut butter into the muffin batter.
No matter how much I added, that sweet and salty peanut buttery deliciousness was getting lost…
So finally, I figured out the best method: melt the peanut butter and drizzle it right over the tops of the muffins.
This was the right idea!
Every bite of these muffins offers a taste of rich chocolate, sweet banana, and gooey peanut butter.
If you're like me, and a great lover of that chocolate-banana-peanut-butter combo, I have one warning:
These are over-the-top addictive!
They're also healthy though, and full of filling and nutritious ingredients.
So I love having one of these chocolate banana muffins for a mid-afternoon snack.
Here's the recipe for Chocolate Banana Muffins with Peanut Butter Drizzle:
Print
Chocolate Banana Muffins with Peanut Butter Drizzle
Author:

Prep Time:

20 minutes

Cook Time:

15 minutes

Total Time:

35 minutes

Yield:

12

muffins

1

x

Category:

Snacks
---
Description
These healthy chocolate banana muffins, drizzled with creamy peanut butter, are a nutritious snack. But they satisfy every rich, sweet, chocolate craving!
---
3/4 cup

unbleached all-purpose flour

3/4 cup

100% whole wheat flour

1/4 cup

natural 100% unsweetened cocoa powder (cacoa powder)

1 teaspoon

baking powder

1 teaspoon

baking soda

1/4 teaspoon

salt

2

medium bananas, peeled

1/2 cup

olive oil

2

organic pastured eggs

1 cup

granulated sugar

3/4 cup

organic peanut butter, sugar and salt added
---
Instructions
Preheat oven to 350 degrees F.
In a large bowl, stir and combine all-purpose flour, whole wheat flour, cocoa powder, baking soda, baking powder, and salt.
In a second mixing bowl, add the peeled bananas. Mash the bananas into a thick purée by mashing with a potato masher (or purée with a blender or food processor). Add the olive oil, eggs, and sugar. Stir until well combined.
Pour the banana mixture into the flour mixture. Stir until batter is smooth and well combined.
Arrange baking cups in a muffin pan. Spoon batter into baking cups, filling a bit more than 3/4 of the way to the top of each baking cup.
Bake until the tops spring back when touched. Or until a toothpick dipped into the center of each muffin comes away without any batter clinging to it, about 15-20 minutes.
Allow muffins to cool, about 5 minutes.
Heat peanut butter in a heat-safe bowl in the microwave until melted, about 1 minute. Stir until smooth.
Use a small spatula to spread about a tablespoon of peanut butter over the top of each muffin. Serve.
Storage: store in an airtight covered container at room temperature for 2-3 days. Store in the fridge for up to 1 week.
---
Keywords: chocolate, peanut butter, banana, healthy, muffins
If You Like This Recipe, Check Out:
Peanut Butter Crunch Banana Bites
Skinny Frozen Chocolate Peanut Butter Cups
Mini Chocolate Chip Pumpkin Muffins
Pin on Pinterest: