Here's a complete photo tour review of The Broadmoor Resort, a five-star luxury resort located in gorgeous Colorado Springs.
It's getting late, we've had a long day of hiking, and Chris and I are starving.
But it's not so easy to just get cleaned up and dressed up and go out on the town in a new and unfamiliar place, when you have a two-year-old in tow.
Luckily for us, The Broadmoor has us covered.
There's an Italian restaurant in the lobby, with patio seats and an open lawn beyond, where Tru can play when he gets restless at the table.
It's a warm evening and, after some pasta, we all agree that a little gelato would really hit the spot.
We stroll past fountains, courtyards filled with potted flowers, trees draped in twinkling white lights, and make our way to the resort patisserie.
Trevor drives his toy car over glass cases filled with intricate pastries and inspects the gelato flavors on display.
He requests the most vivid color: "pink ice cream" (i.e. raspberry gelato).
Eating our icy gelato from small cups, we decide to take one last walk around the resort lake before calling it a night.
The last of the day's sunlight dances on the surface of the lake, as a family of ducks and two beautiful white swans leisurely float by.
In the distance, the jagged peaks of the Rocky Mountains add another layer of eye-catching magic to the already stunning resort views.
As we wander further along the path, dusk falls. It's getting harder to see…
…but there are definitely three large forms quietly wading in the water…
As we draw closer, we see they're deer.
"Look Tru," I say, "a Mama, Daddy, and a baby. Just like us…"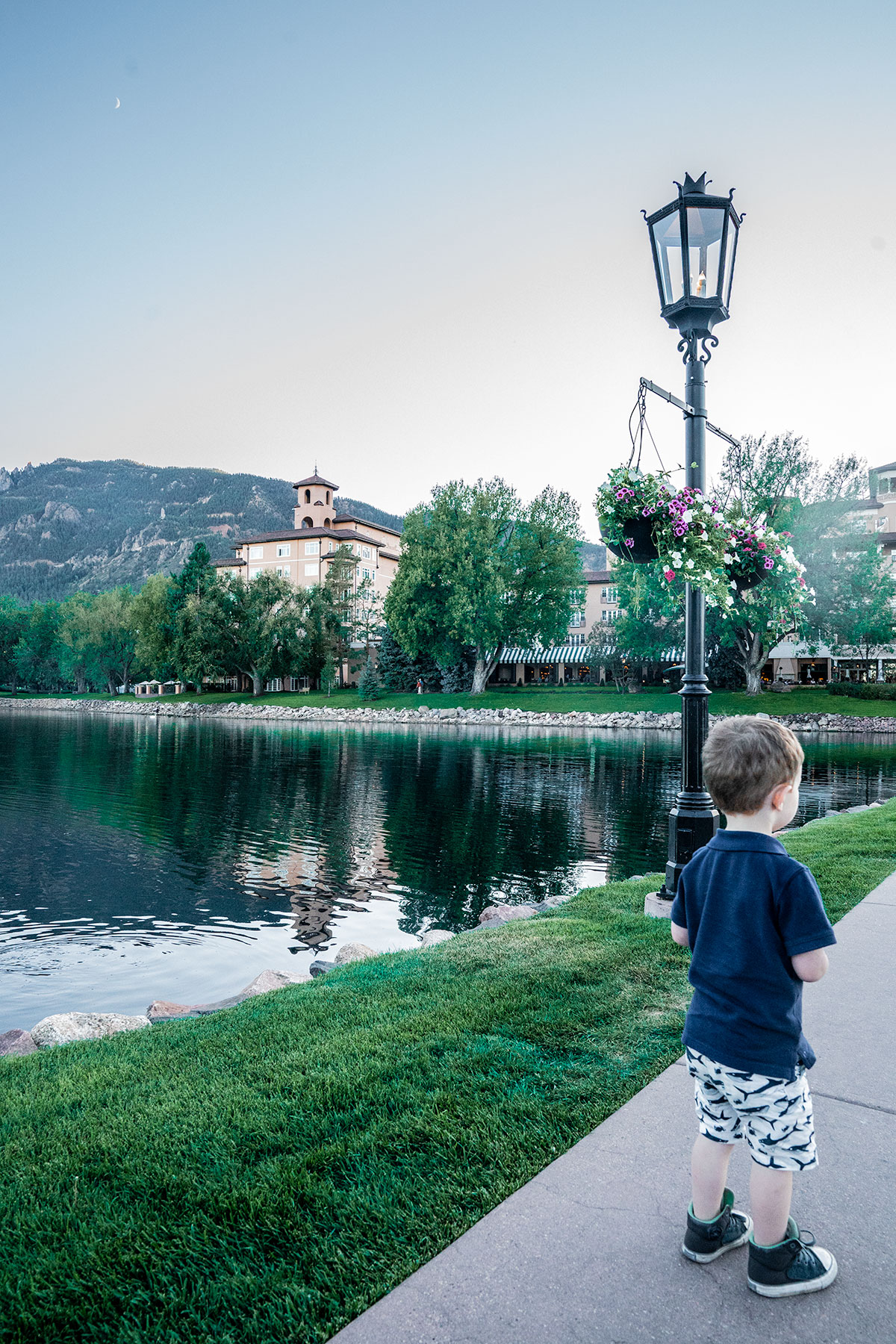 As I write this description, I'm worried it sounds too over-the-top fairytale.
But this night did happen.
Real life actually unfolds like this, at The Broadmoor.
If you want to check out more of this amazing 5-star resort, let's take a stroll through The Broadmoor grounds, with Trevor leading our way…
Let's begin this photo review of The Broadmoor by exploring the hotel room.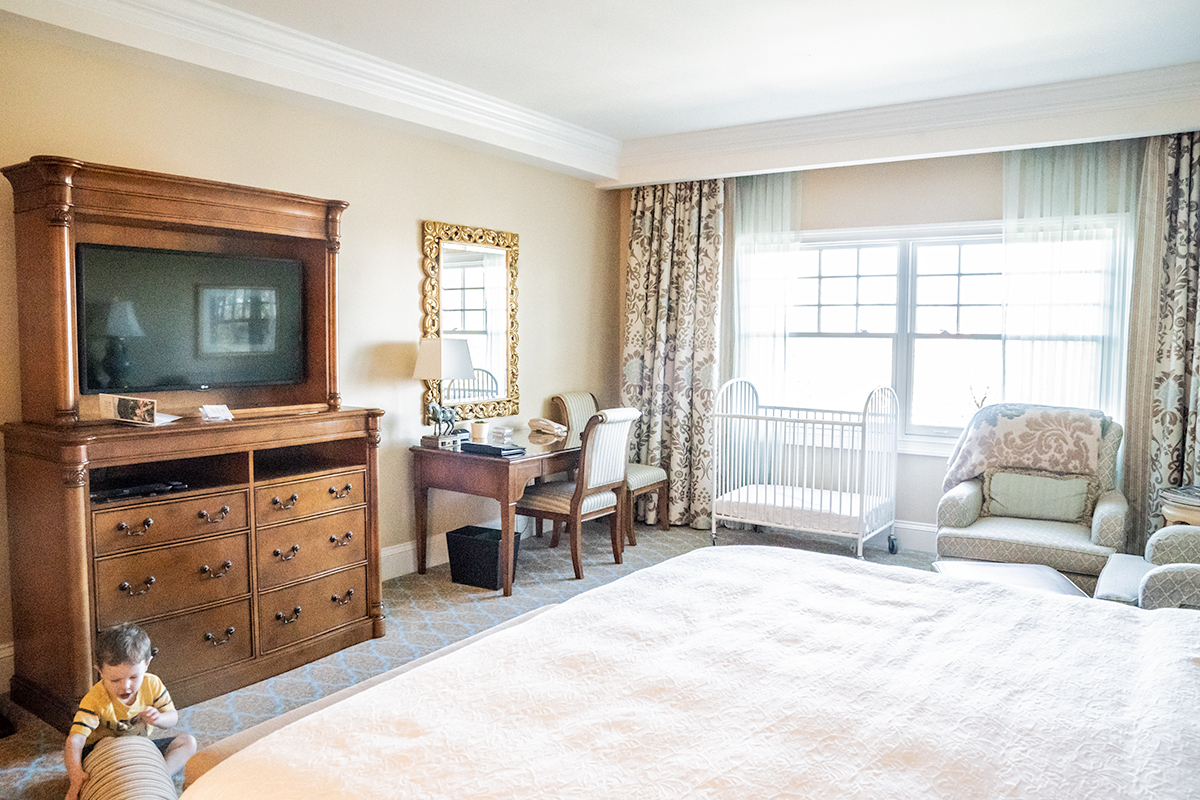 I loved this room.
It was welcoming and comforting and classically elegant without a touch of anything trendy or gimmicky in sight.
The color scheme was muted neutrals with hints of gold and mint green.
The drapes were thick and heavy, the two chairs were plush and oversized, the carpet was ultra soft, and the bed was the cloud like, dreamlike kind where you're out cold – for the entire night – once your head hits the pillow.
From the lamppost shaped like a horse (horseback riding is offered at the resort), to the ornate gold mirrors…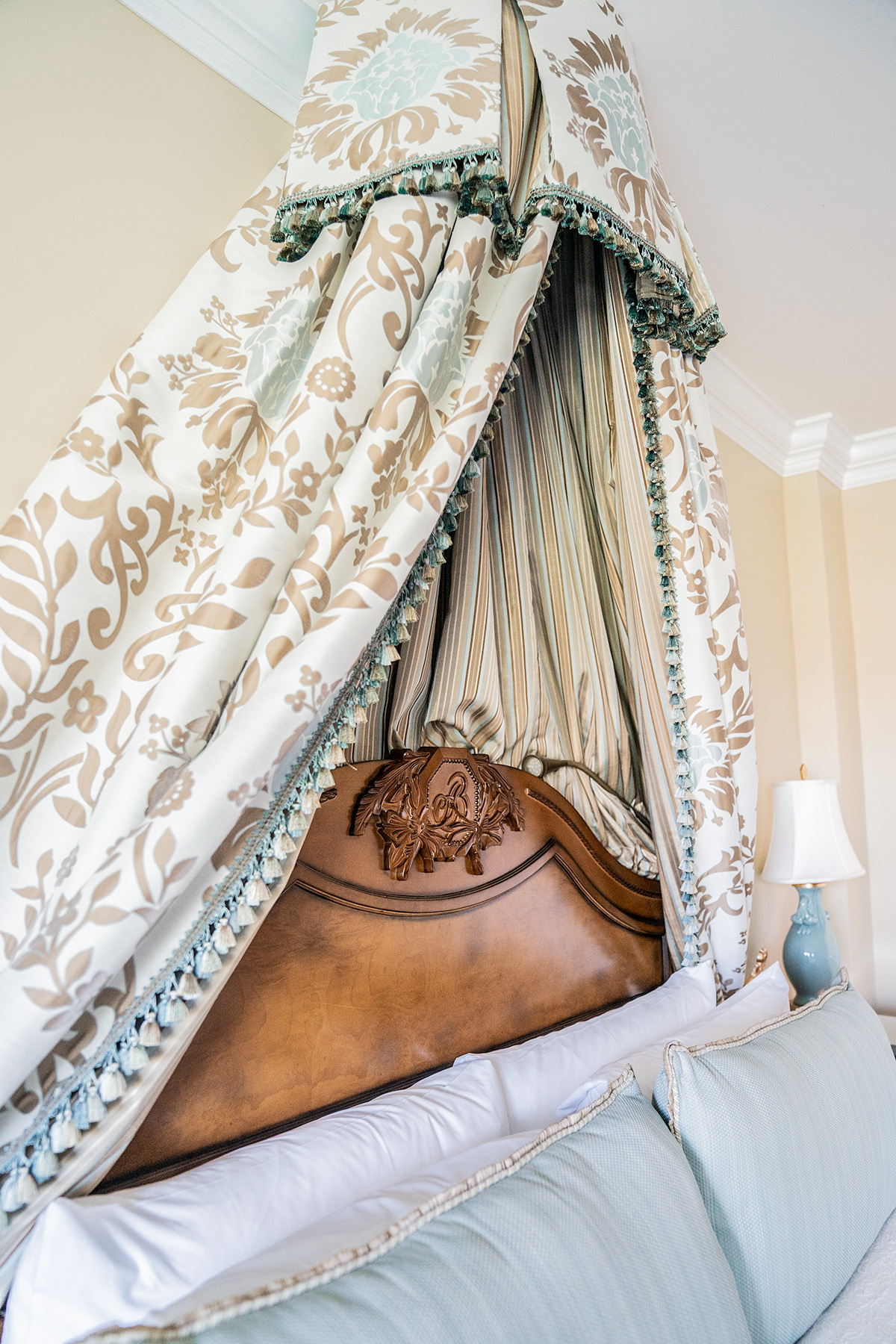 …to the intricate carving on the gorgeous wooden furniture …
I loved all of the small, special touches that made the room unique and memorable.
The bathroom was all ceramic tile, and included a deep soaking tub, a walk-in glass shower, and a large vanity with double sink.
The bathroom had lots of small, special touches too.
On the vanity and in the shower were The Broadmoor's own signature scented soaps and lotions (also sold in the gift shop).
And the plush towels were all embroidered in emerald-green with the Broadmoor's trademark "B."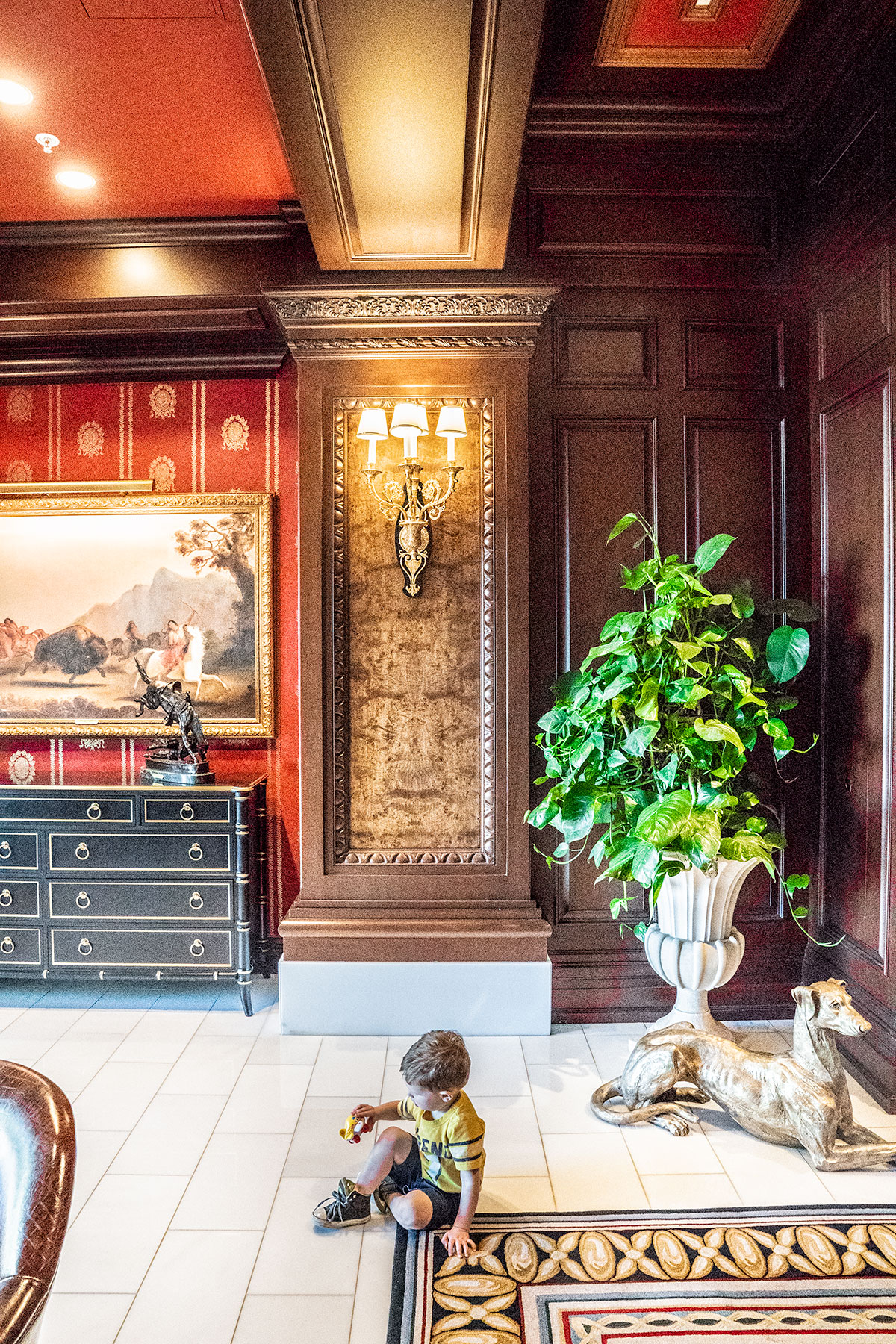 The indoor public areas were even more luxurious and ornate.
Imagine artisan rugs with swans embroidered on them (to echo the live ones swimming in the lake), fountains, chandeliers, and grand pianos.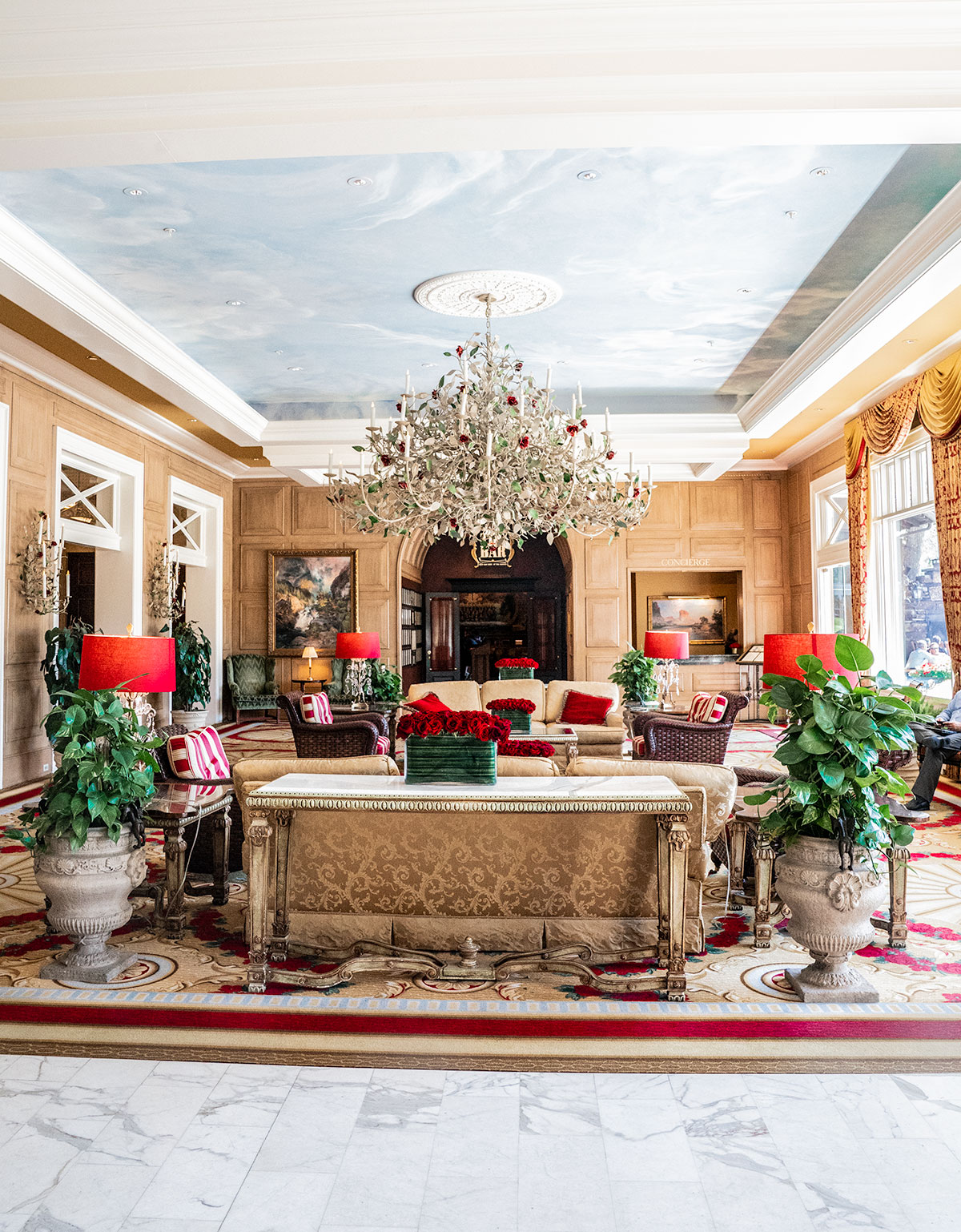 Plus intricate moldings on the ceilings and walls, and huge plants and fresh flowers everywhere.
And then there were the elegant furnishings and framed artwork featuring local artisans and stunning Colorado Springs landscapes.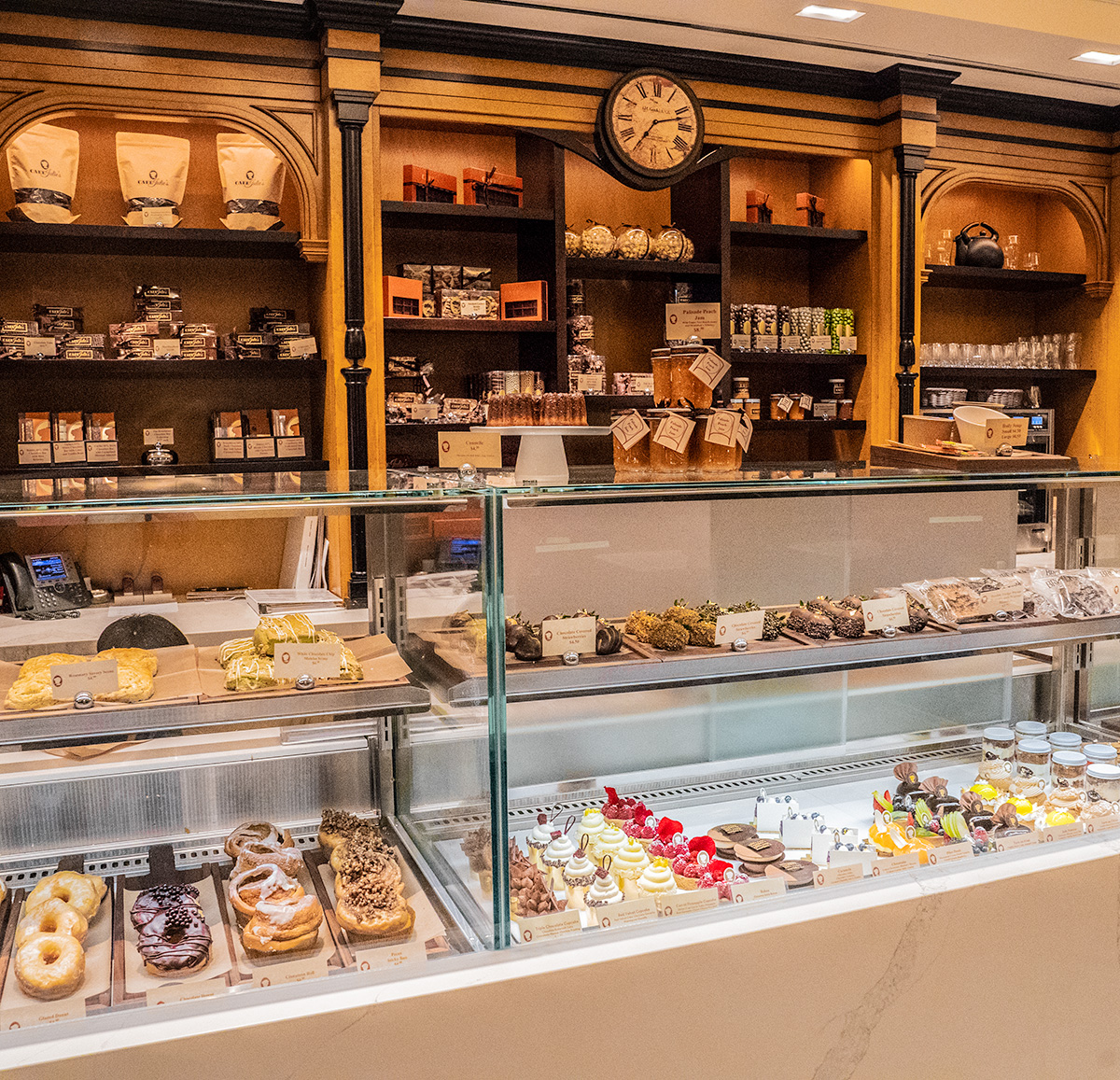 The options for dining were endless at The Broadmoor.
I'm not sure I've ever seen anything like it.
For starters, there was an Italian restaurant with an outdoor patio overlooking the lake.
And a more casual (and family friendly) burger place called Play that included pool tables, an arcade, and even a bowling alley!
There was a quick service restaurant where we often grabbed fresh fruit, cookies, chips, sandwiches, and salads for lunch.
Plus our favorite spot of all: a patisserie selling the most endless and tempting selection of fresh-baked goods…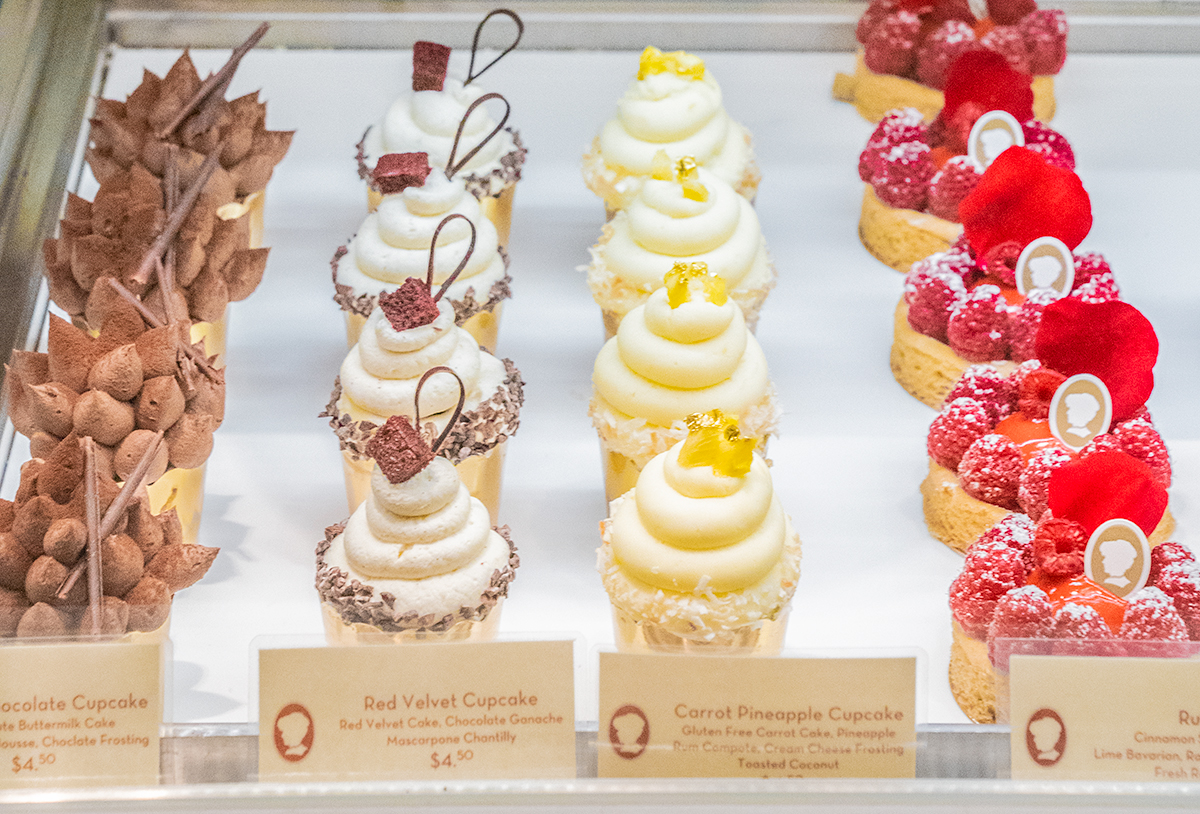 …and beautiful cupcakes, pies, tarts and other pastries (plus gelato).
There was a formal Forbes Five-Star, AAA Five-Diamond restaurant, that Chris and I most definitely did not visit with a two-year-old in tow.
But there was also the Lake Terrace Dining Room, which was beautiful but still casual enough for us all to enjoy a breakfast buffet.
Aside from The Broadmoor gift shop, there were also a handful of elegant boutiques selling clothing, jewelry, pet supplies, and children's clothes and gifts.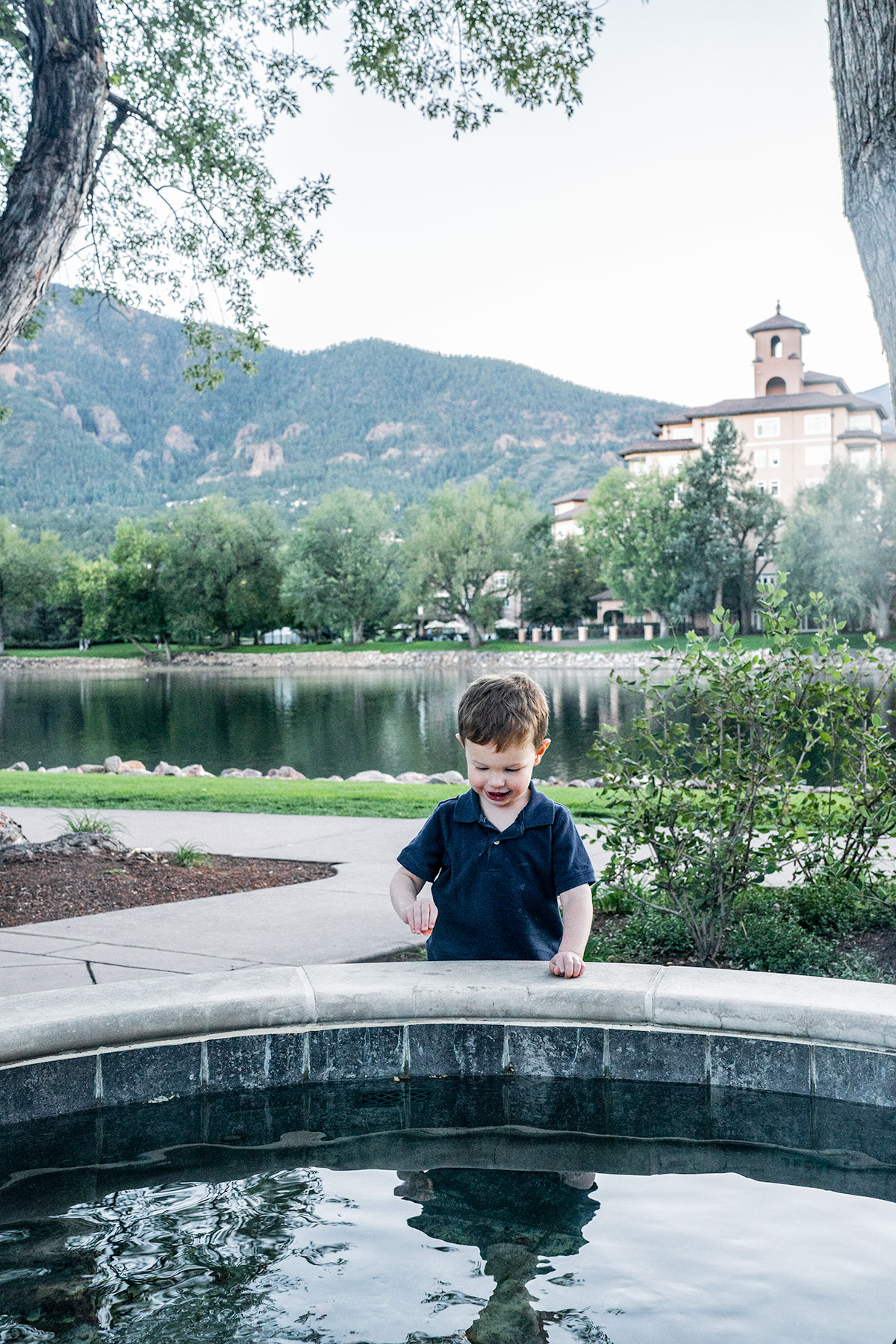 The outdoor spaces, though, were what really stole my heart.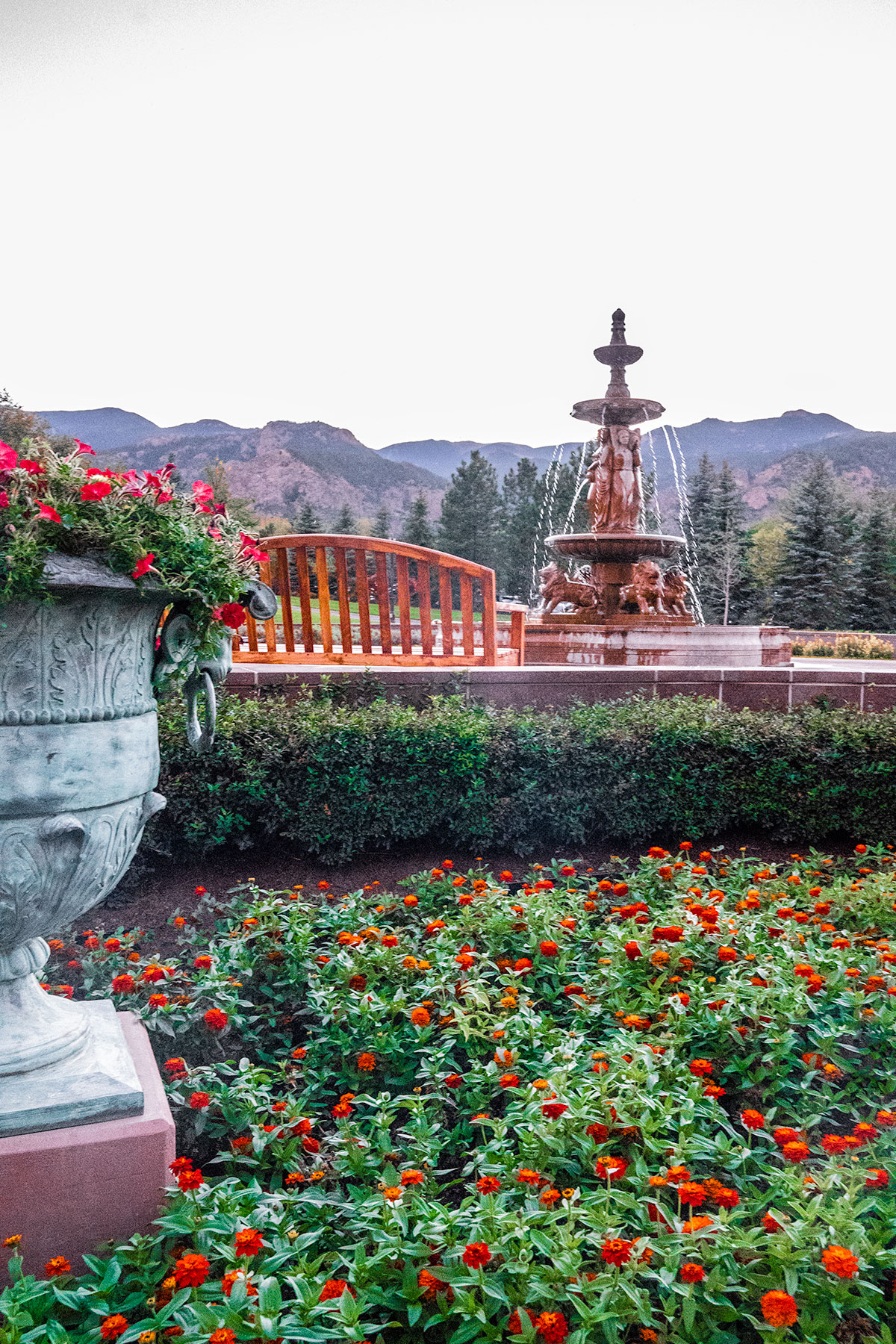 For starters, The Broadmoor is located in the most picturesque little valley in Colorado Springs, with views of the mountains sloping along the skyline.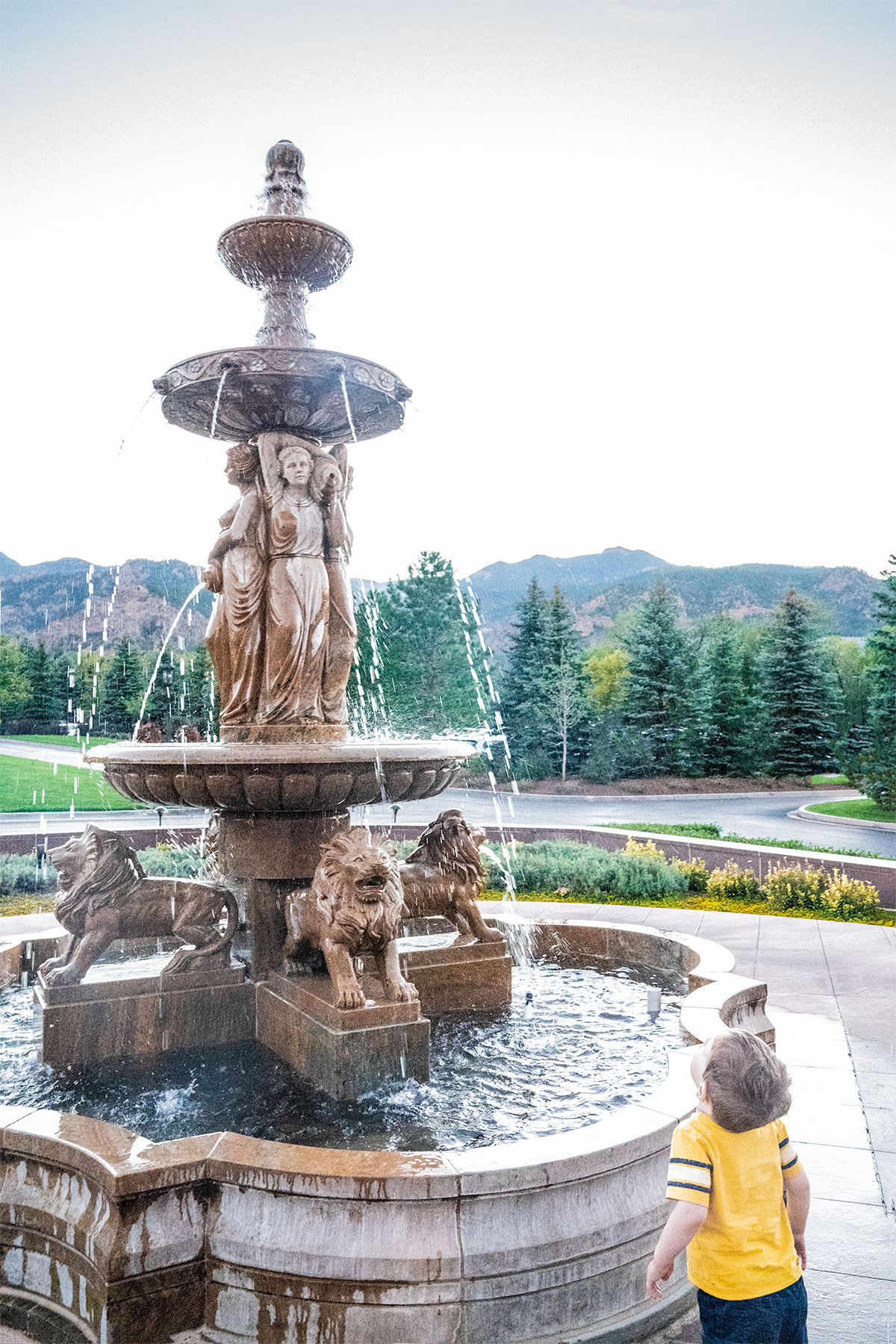 The grounds were filled with gorgeous sculpture fountains, landscaped lawns, and colorful gardens.
The lake was the centerpiece of it all.
The swans and ducks that called the lake home just added another layer of "fairytale daydream" to the overall setting.
There were gorgeous courtyards filled with outdoor patio seating, where the trees were covered in twinkling white lights.
And fire pits surrounded by comfy chairs.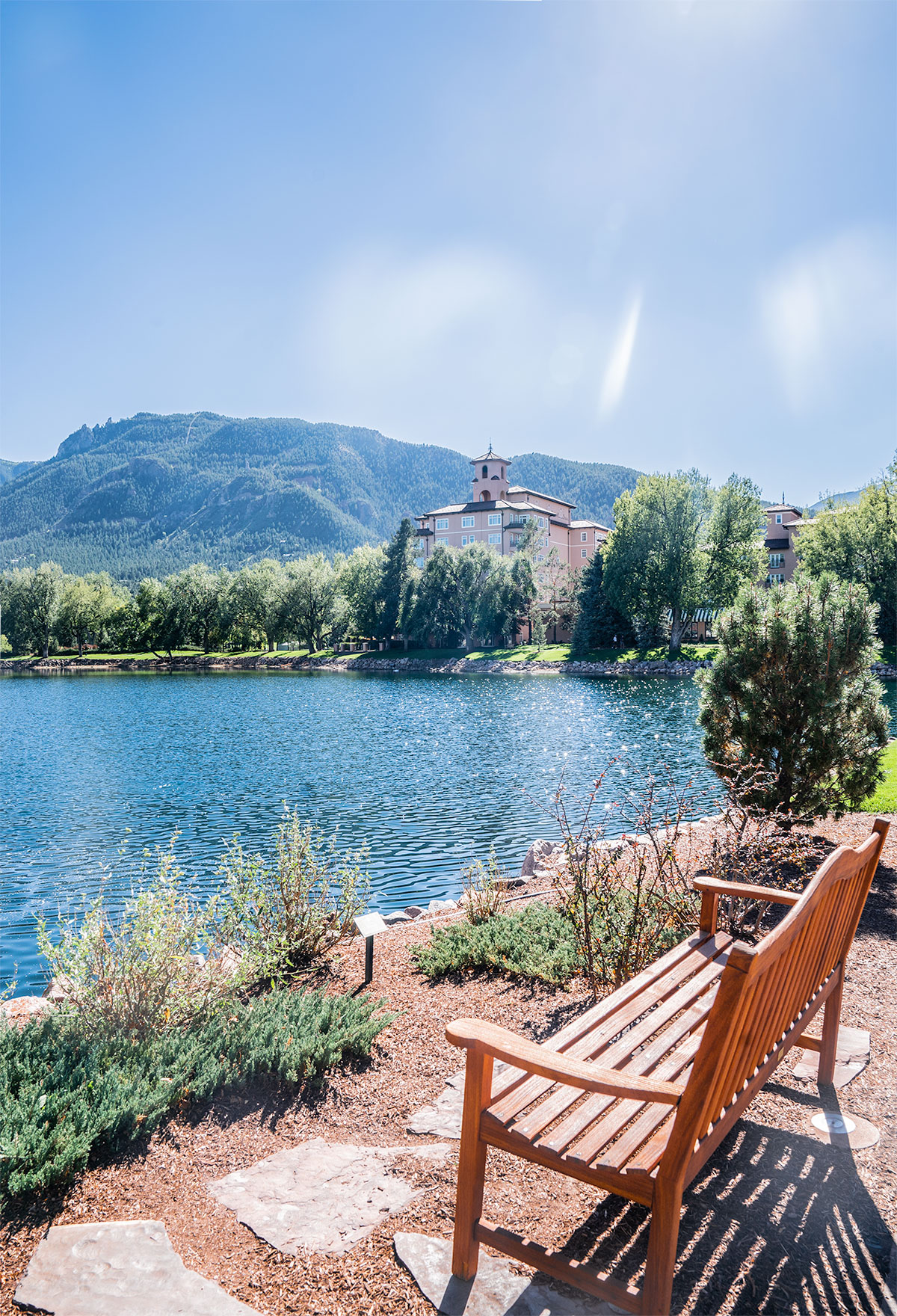 Tru and I loved stopping to sit at the benches located along the lake, to watch the ducks and swans float by.
And there was a pathway leading all around the lake, which Chris, Tru, and I liked to wander as the sun set.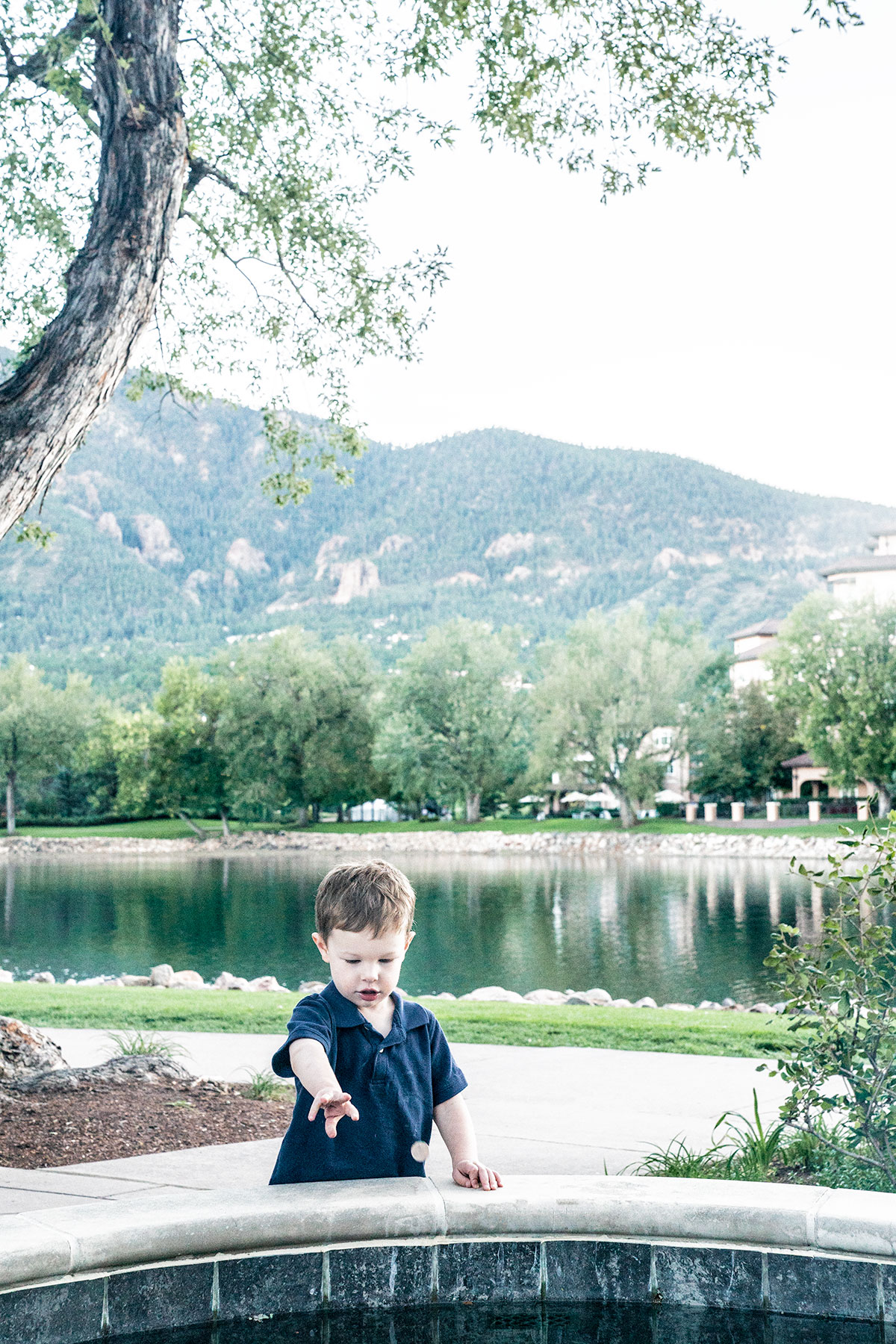 Luxury hotels aren't always welcoming of families with young kids.
But The Broadmoor had lots of thoughtful touches for families.
We were provided with a real crib in our room (not just a Pack 'n Play), plus a bathroom kit containing baby soaps and lotions.
Trevor loved the huge playground area that was just a two-minute stroll from our hotel room.
He asked to "go on slide" every afternoon before his nap.
The pool area, by the way, was also really beautiful.
The Broadmoor staff welcomed us with big towels each time we visited.
There were lounge chairs and tables everywhere, under cabanas and umbrellas, plus there was a snack bar offering a wide variety of drinks and appetizers.
And the pool was giant and designed to look like it almost melted into the resort lake on the other side of the bridge.
The list of activities available at The Broadmoor was endless too.
There was also an indoor pool, plus a huge spa.
In addition, there were bike rentals and tennis courts, plus an incredible golf course.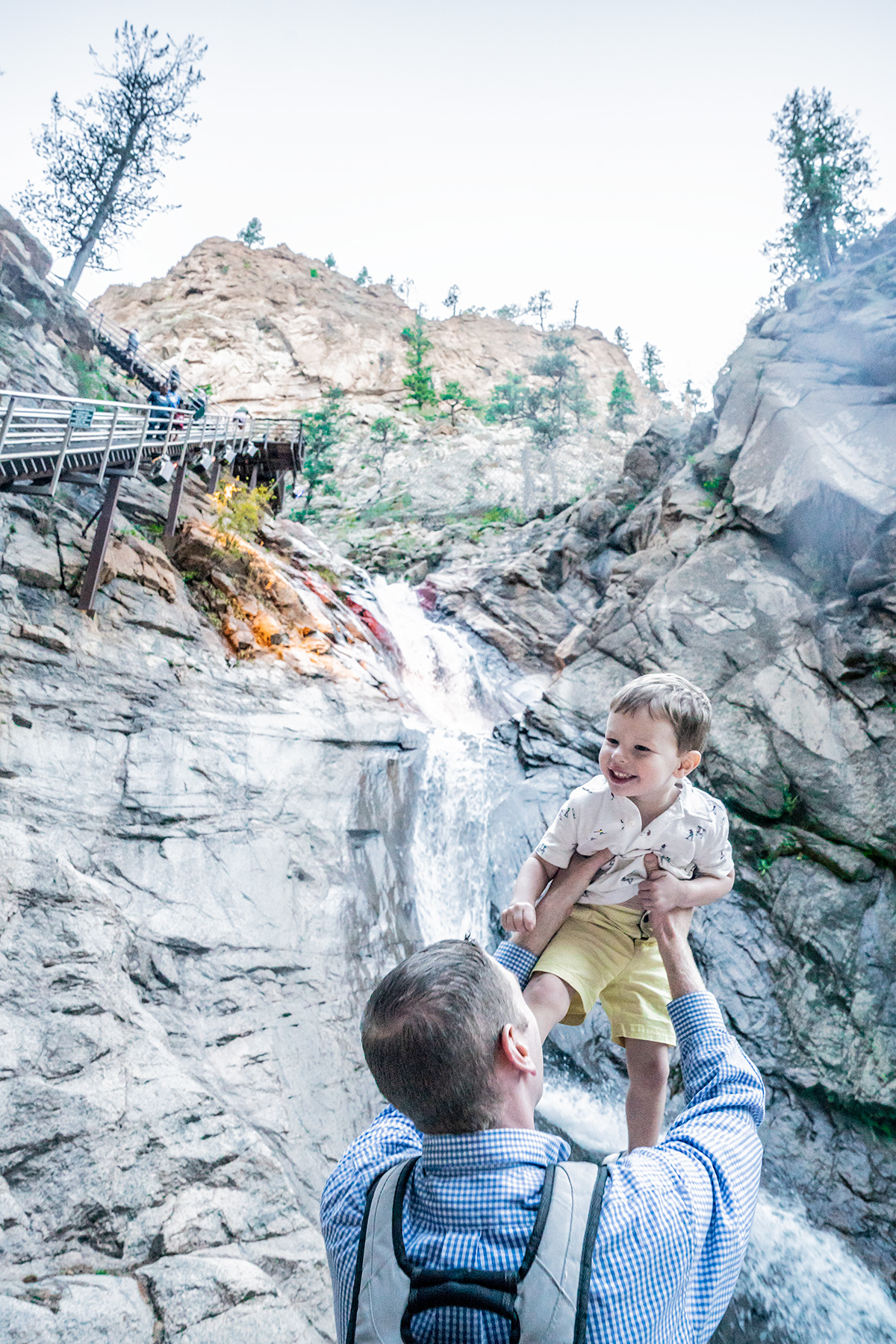 There was also a shuttle to Seven Falls, a scenic spot on The Broadmoor property with giant cascading waterfalls, babbling brooks, and towering cliffs.
The hotel shuttle ride was about 15 minutes from the main lobby, so we rode down to check it out one late afternoon.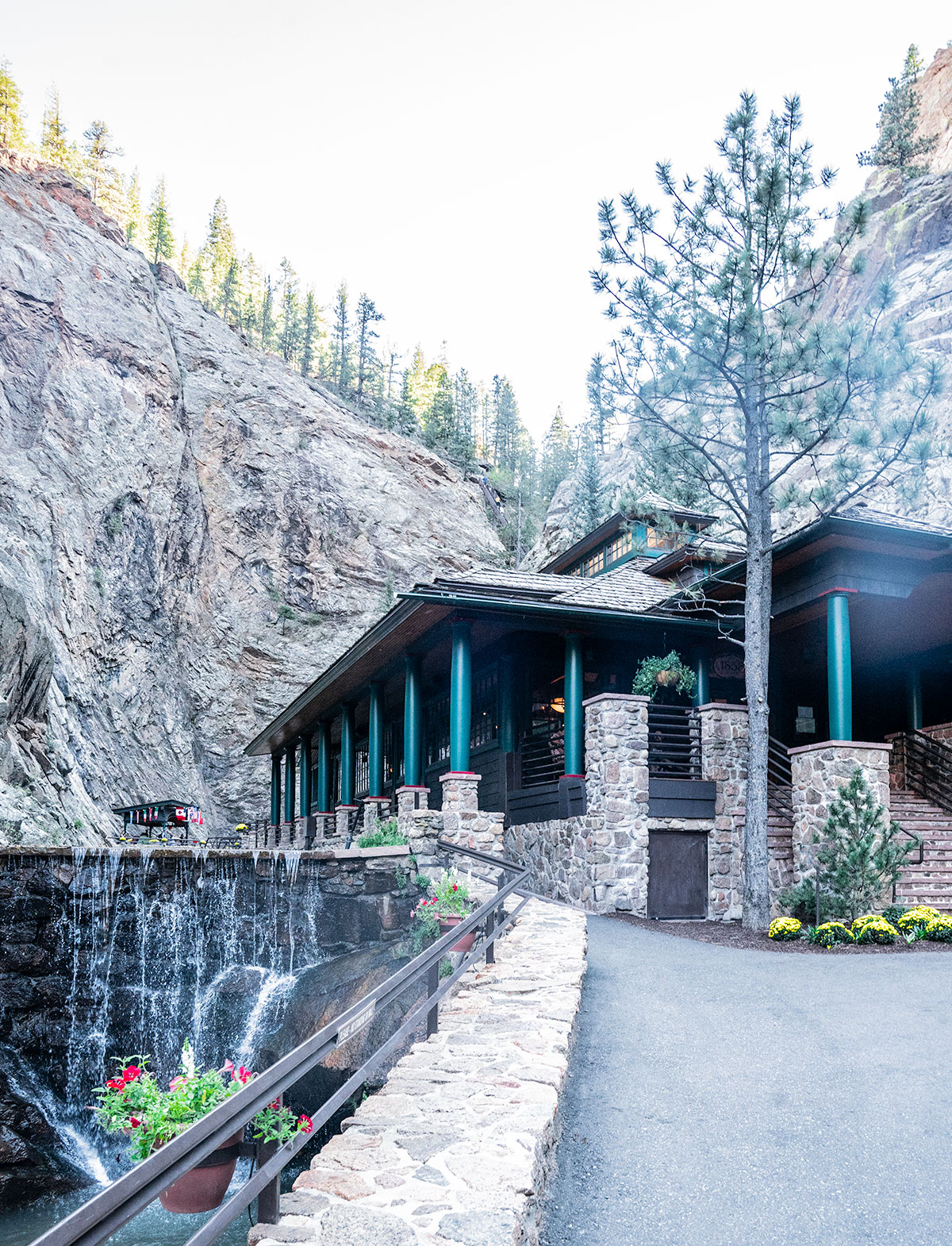 There was a family friendly restaurant with an upscale but rustic Old Western feel.
The views of the jagged red peaks were really incredible at Seven Falls, and there were several lookout points with panoramic views.
There were also hiking trails and zip line tours for families with older kids.
There's a limit to how much a young child can handle in a day's worth of exploring and travel.
So we loved how The Broadmoor had so much to offer, right on resort grounds.
It was nice to know that we always had a lot of options for food and activities, right outside our hotel room.
Almost always, when we reach the end of a trip, I'm anxious and ready to head back to all of the comfort and familiarity of home.
But that wasn't really the case when we stayed at The Broadmoor.
A part of me never wanted to leave this daydream and head back into reality…
For More on Colorado Travel, Check Out:
Ultimate Family Bucket List | Colorado Springs for Kids
17 Photos to Inspire You To Travel to Colorado Springs
Pin on Pinterest: