We did everything Magnolia during our visit to Chip and Joanna Gaines' hometown of Waco, Texas: Magnolia Table, Magnolia Market at the Silos, and Silos Baking Co.
Ten minutes from the nearest Walmart Superstore and Wendy's, there's a sleepy little neighborhood containing some deserted industrial buildings and a couple of churches.
We pull into a barren-looking parking lot, where a woman from the church across the street is perched in a lawn chair.
She collects $10 from us in exchange for a parking spot.
After sitting so patiently in his car seat during our long road trip to Waco, Trevor is nearly bursting out of the car.
As soon as his feet hit the pavement, he catches sight of a playground at the edge of the parking lot and starts running for it.
The playground is surrounded by a tall wire fence that's gated and locked.
A sign says the playground belongs to the church and only church members are allowed.
Worn out from the long trip and now devastated by this latest blow, Tru melts into defeated tears.
We are all feeling weary now.
But we cross the street and suddenly we've stepped out of Any-Small-Town, Texas and into the world of Chip and Joanna Gaines' Magnolia at the Silos.
Tru's tears stop quickly.
We're in a different world altogether, and it's clear this is someplace really special…
Silos Baking Co.
Our first stop at the Magnolia compound was Silos Baking Co.
Joanna Gaines' bakery is insanely popular.
(When we returned to Waco on a weekend afternoon, the tiny bakery couldn't begin to accommodate the swarm of visitors. There was a sprawling queue set up under a big tent to shade tourists from that unforgiving Texas sun. It was an hour-long wait to arrive at the register to order a cookie or a cupcake.)
But on the first evening that we arrived in Waco – it was almost closing time on a weekday – we were lucky with our timing.
We waited in line for only about five minutes.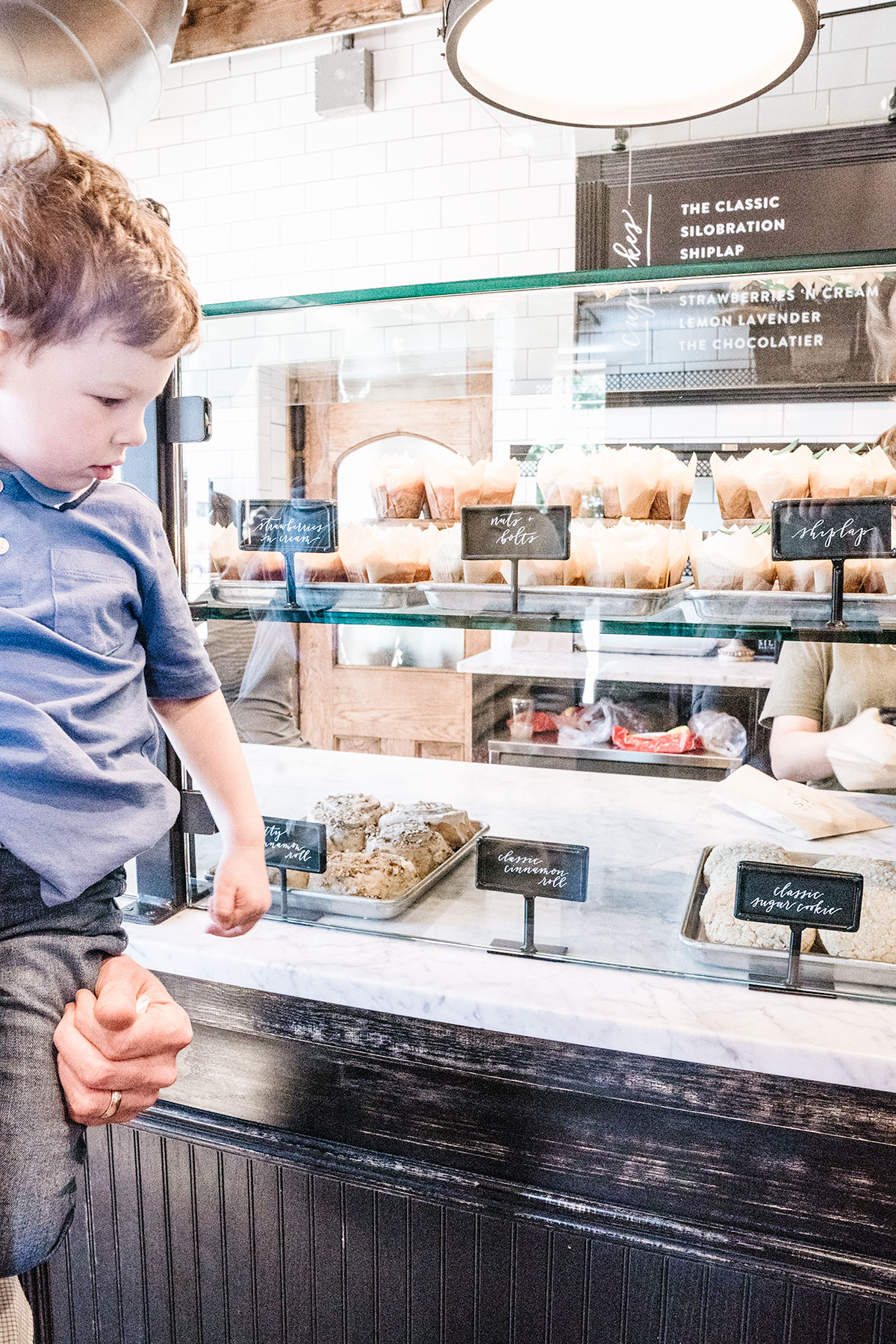 And how was the interior design of Silos Baking Co.?
It was stunning, of course.
All black woodwork and molding, contrasted with sleek white marble countertops and white tile on the walls.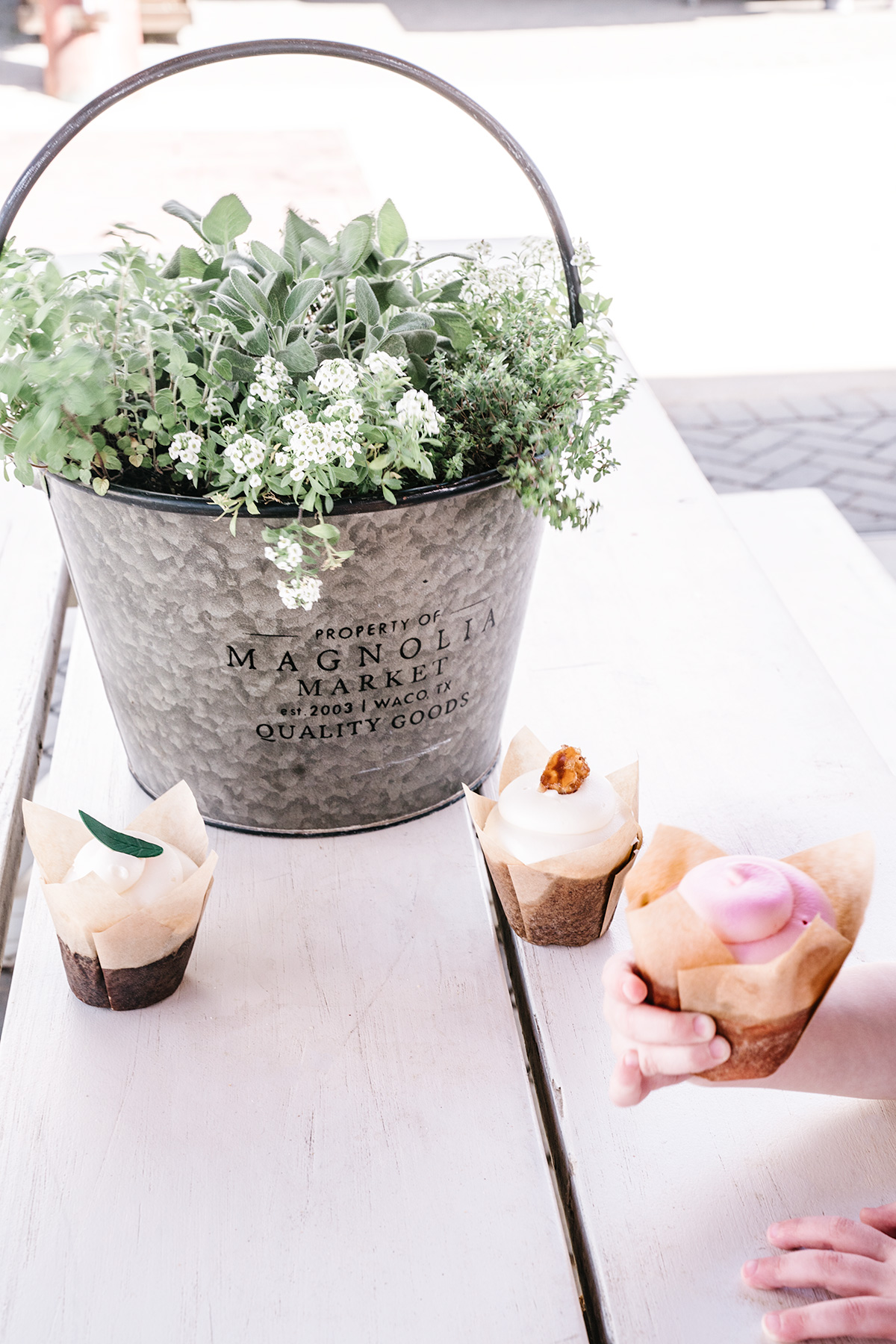 I assumed the main draw to the bakery was the gorgeous design and the Fixer Upper fame of its owners, but the fact is: the baked items were incredible!
The bakery had all the essentials – cinnamon buns and sugar cookies – but we decided to sample an array of their gorgeous cupcakes.
They were all heavenly delicious – some of the best cupcakes Chris and I have ever tasted.
Tru's smile returned very quickly.
Magnolia Market at the Silos
As we headed out of Silos Baking Co. with cupcakes in hand, Trevor discovered the giant artificial turf field just beyond Magnolia Market.
The area was clearly designed – with a lot of love – for families.
Tru finally had a fun space to release all that pent-up energy.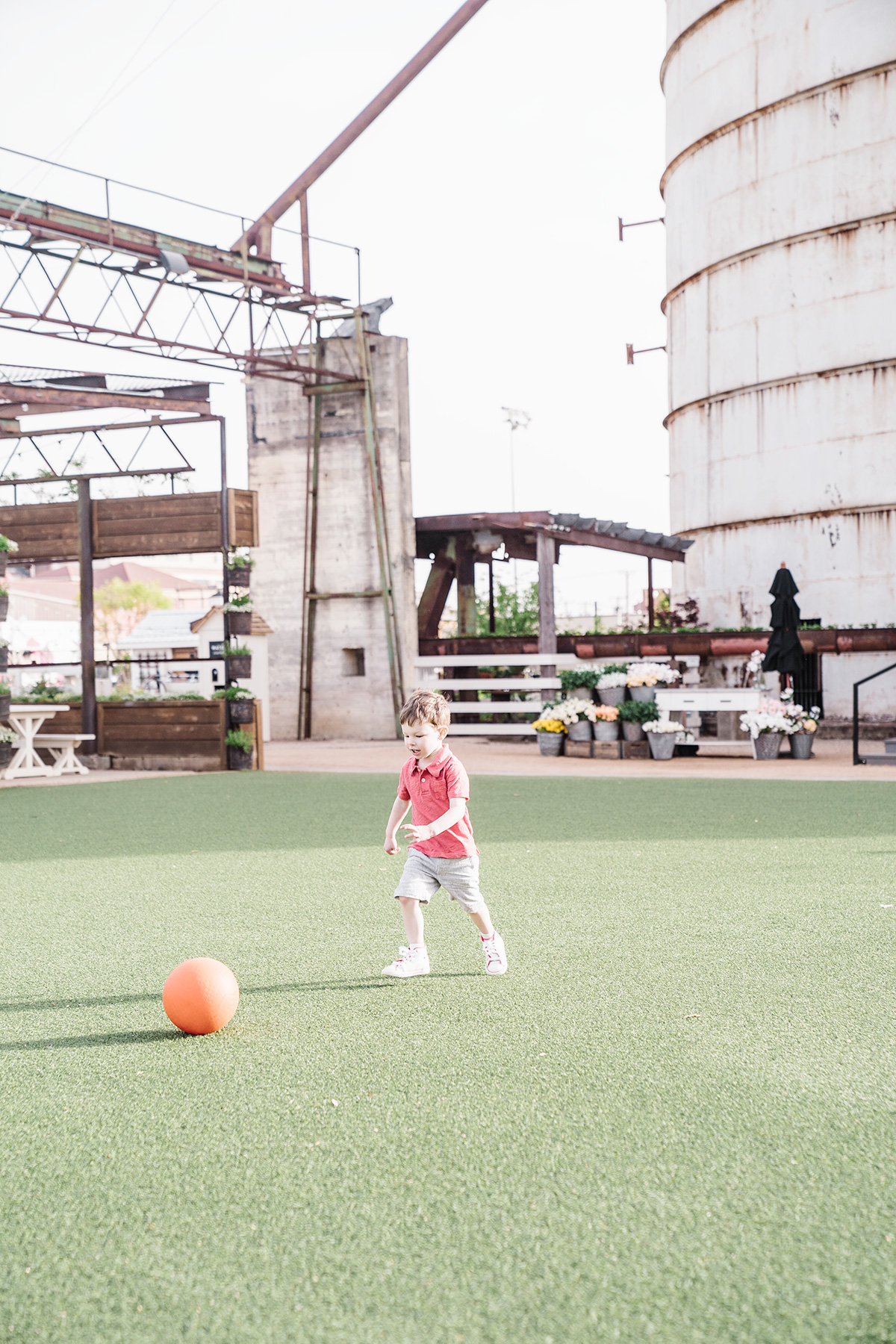 He ran around the field, kicking the rubber balls and tossing around the beanbags that were set up.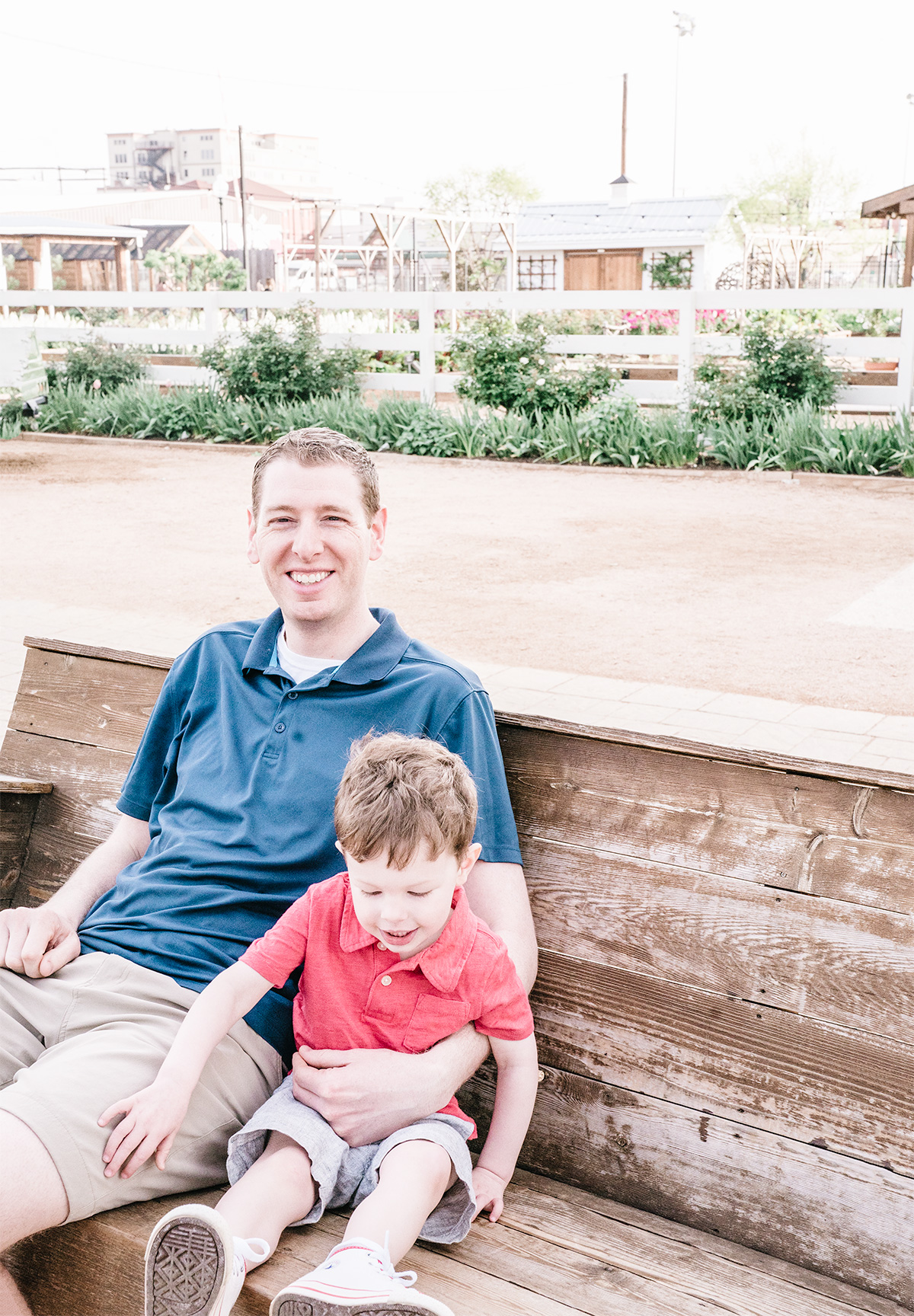 Chris and I grabbed a picnic table under an awning while we listened to the upbeat music that was piped in through speakers surrounding the field.
In stark contrast to the rest of Waco, there was definitely a different energy to the Magnolia grounds:
This was a place that celebrated beauty and potential and hope.
This was a place where all were warmly welcomed.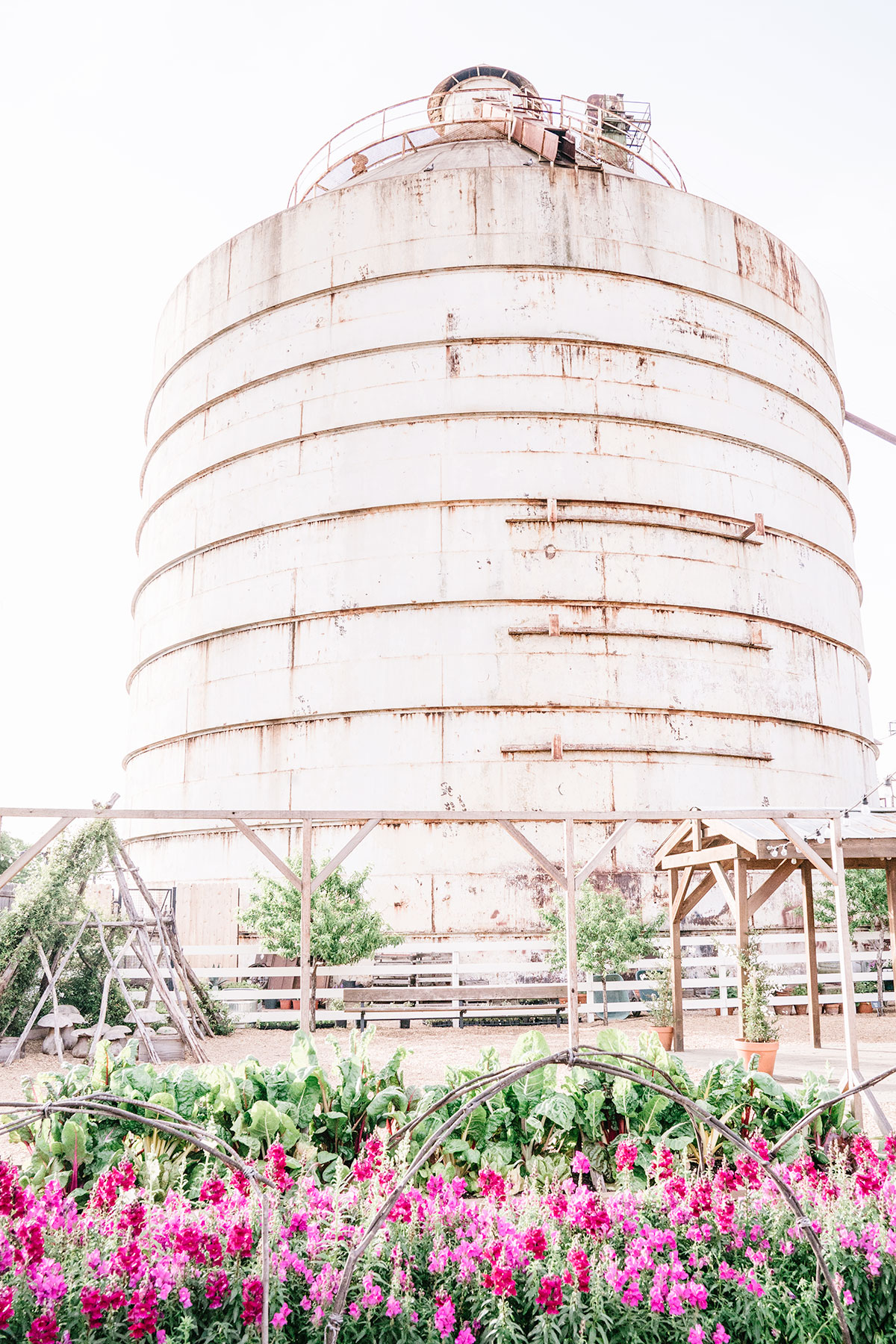 The view from our picnic table: the famous towering Silos beyond the field…
…flanked by all of the gorgeous flowers and greenery of the garden store, Magnolia Seed & Supply.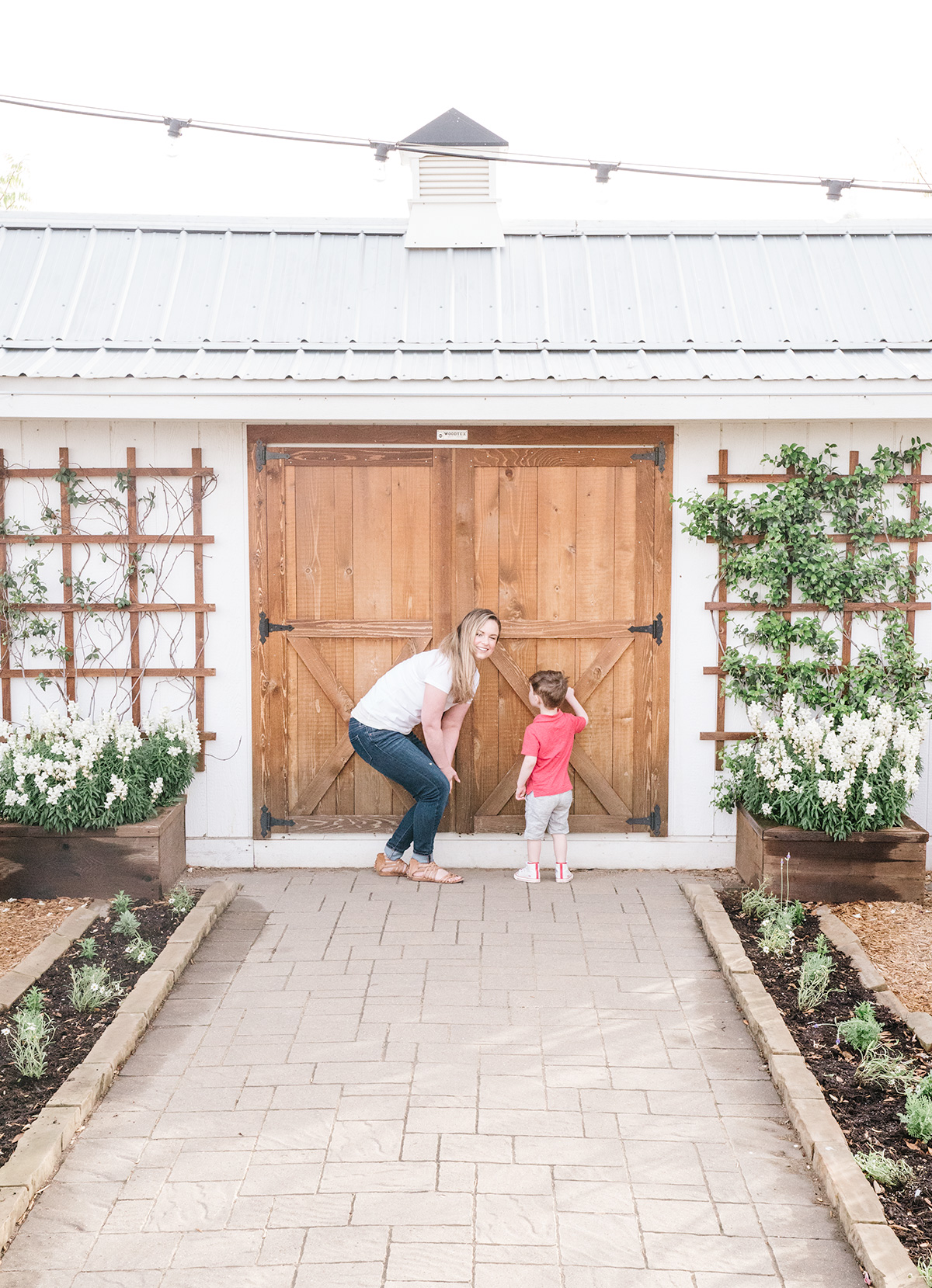 Chris quickly caught sight of the food trucks from local businesses set up around the field.
He made a beeline for the artisanal popcorn truck and chose a classic butter-flavored popcorn.
At first, Tru refused to try the "yellow popcorn" because the microwave kind we make at home is white.
But the delicious aroma was too persuasive. Soon Tru was hogging the bag to himself, munching away, declaring "I like yellow popcorn too!"
Magnolia
As for Joanna's actual home goods store: everything about it was beautiful.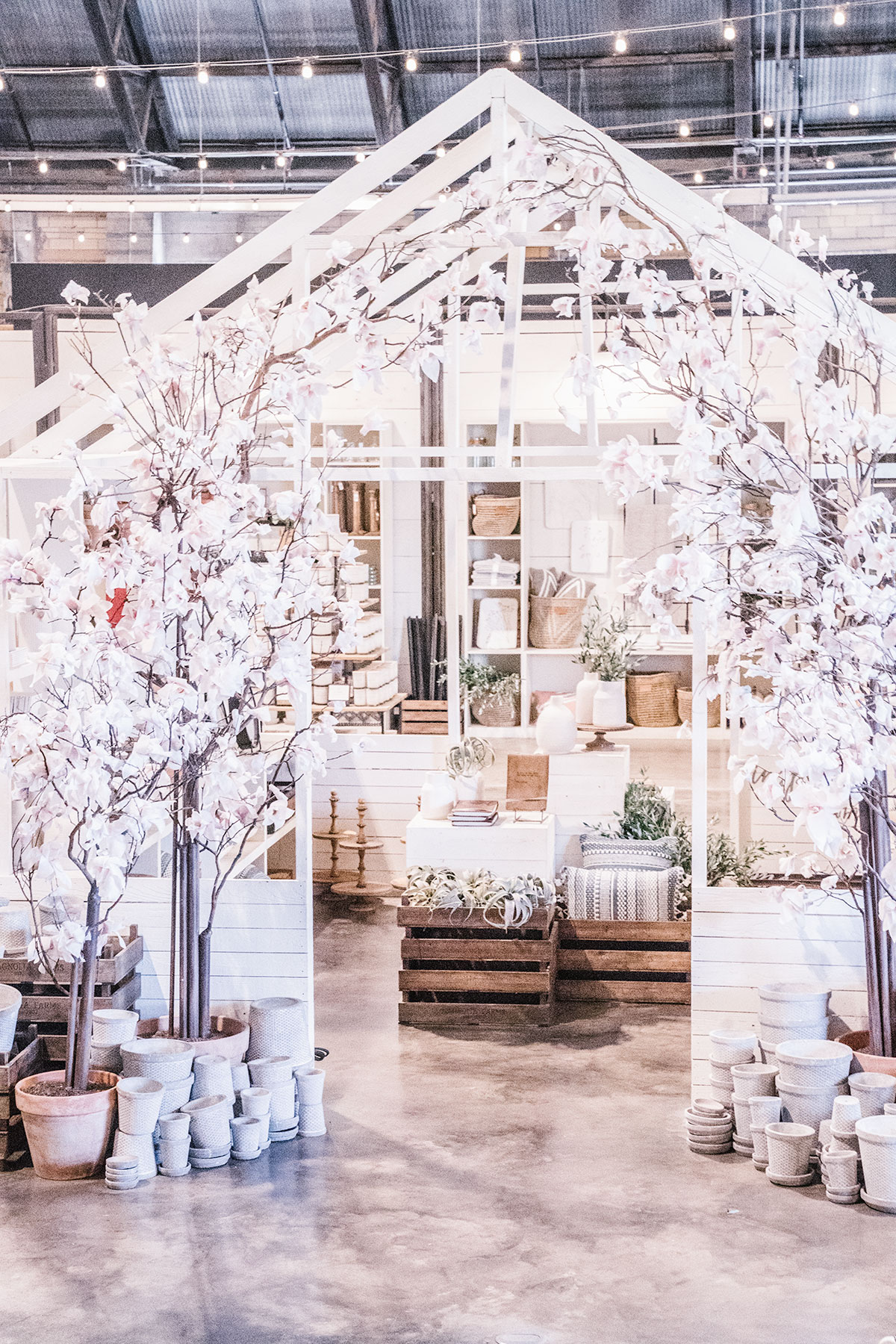 Overflowing bouquets of artificial flowers filled hammered metal pots.
Etched wooden signs on the walls read "together is my favorite place to be" and "there will be miracles."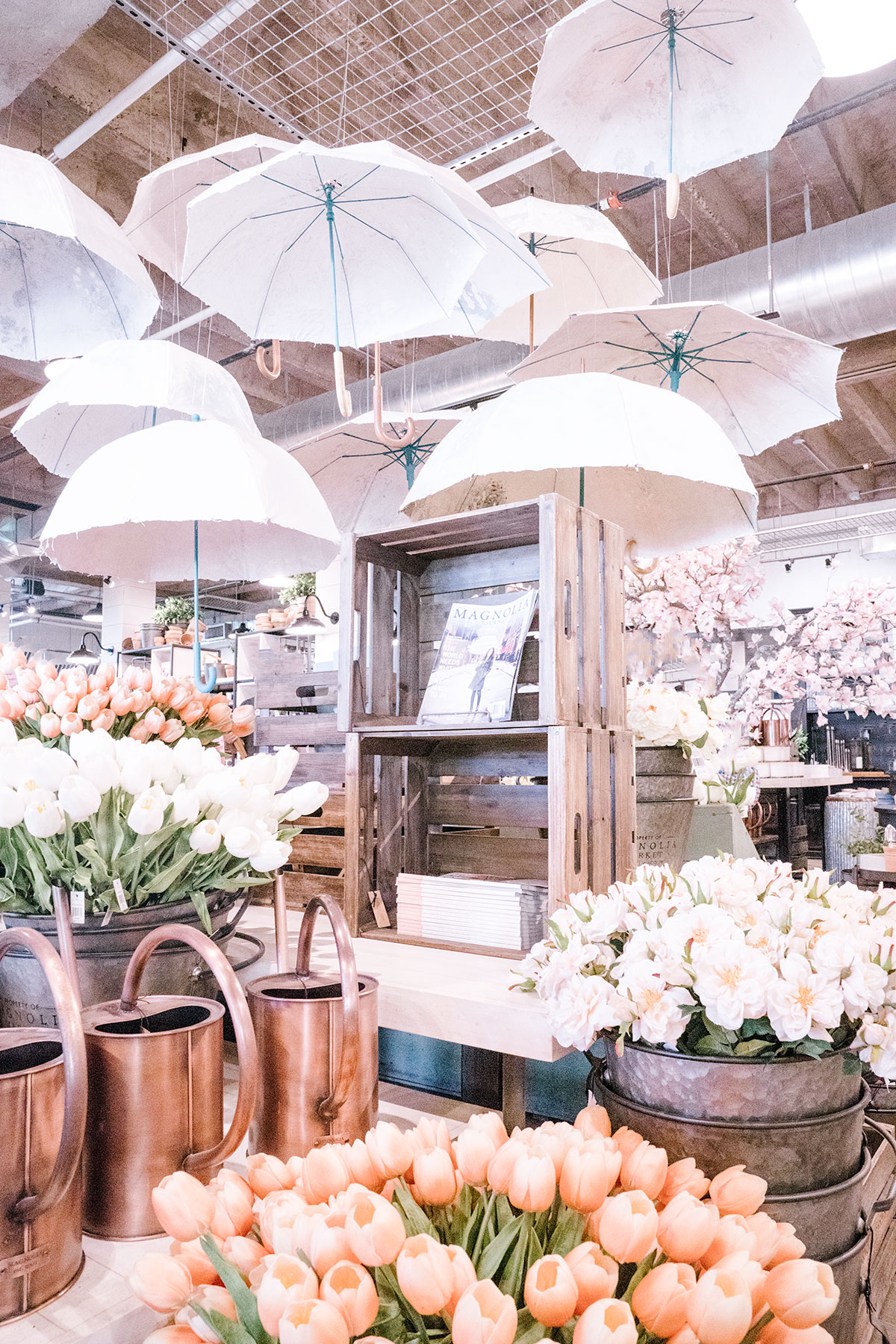 Artificial magnolia trees were lined up beside leather-bound coffee table books, and crisp white umbrellas suspended from the ceiling created a centerpiece at the store entrance.
If I had an unlimited budget, I'd have walked away with handfuls of bags.
If I'd had unlimited time, I would have wandered around for a couple of hours, dreaming up ideas about where everything would work in my house.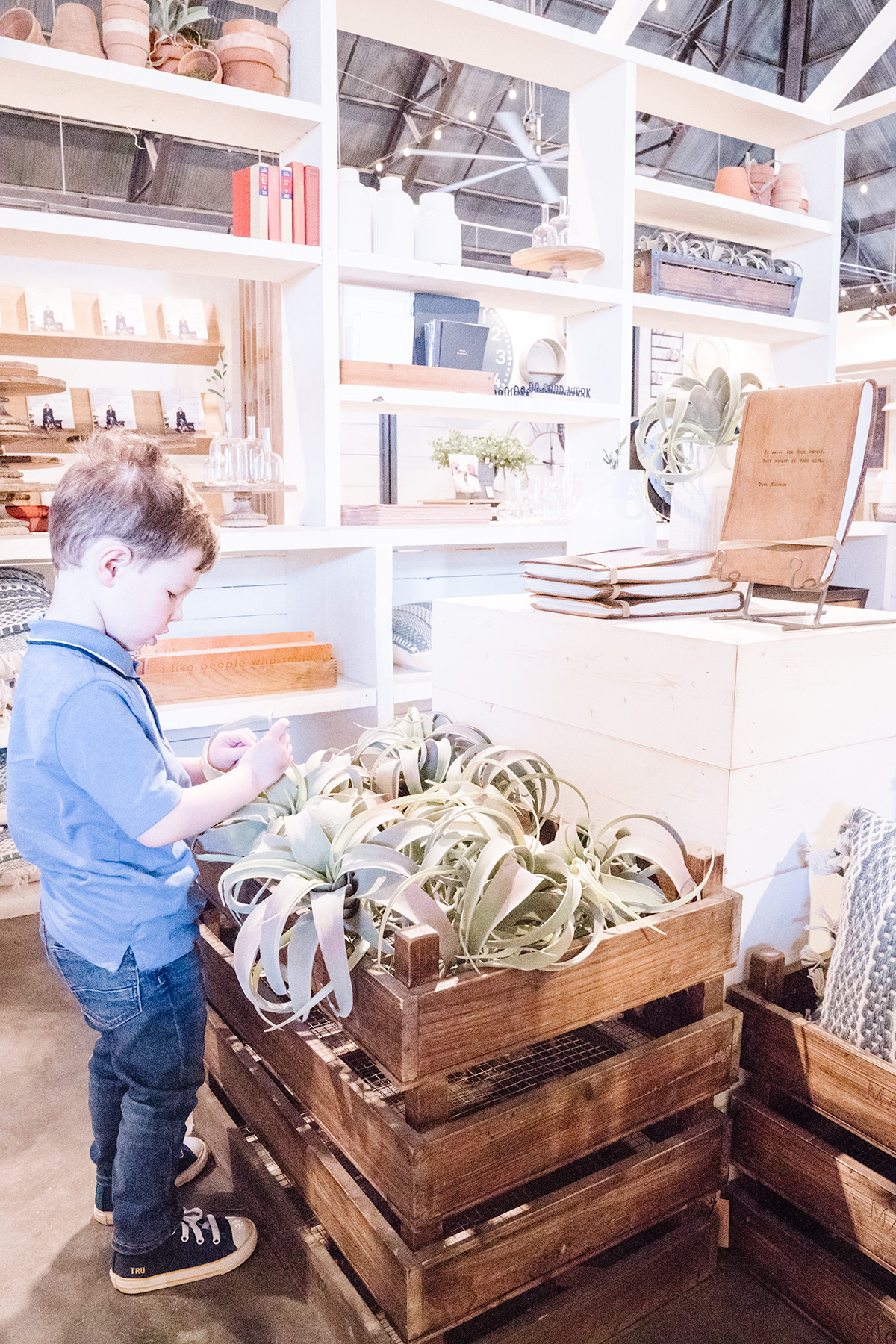 As it actually happened though, Tru could barely contain himself in the store.
He had no patience to spare, after being cooped up in his car seat for the road trip.
So I browsed for a few minutes while Chris chased Tru, then we all headed back to the big field for more play…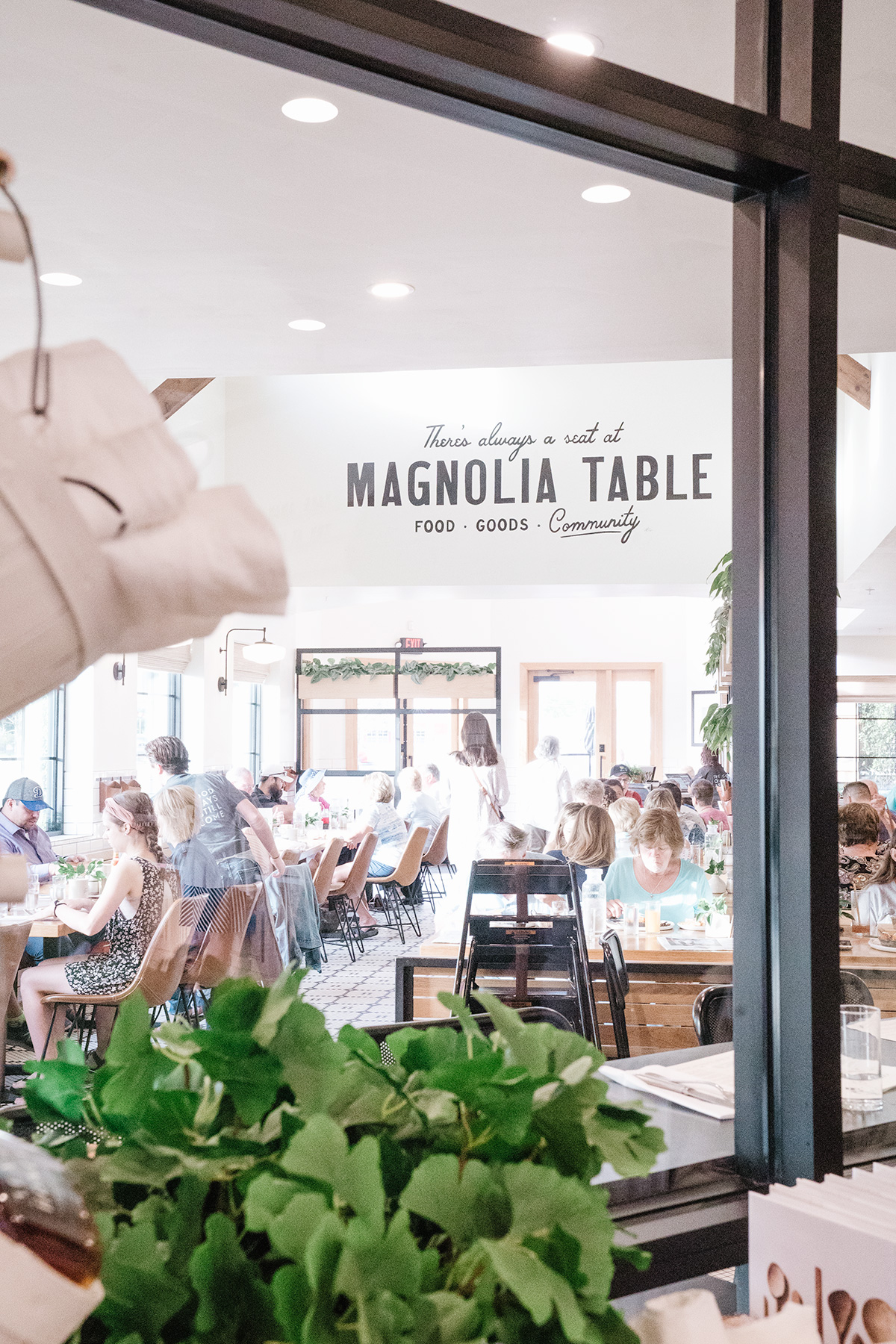 Magnolia Table
Chip Gaines' breakfast and lunch restaurant, Magnolia Table, is the only part of the Magnolia compound that's located in a different section of Waco.
Before our trip to Texas, I'd read that the wait for a table could be an hour or more.
Since Tru has us up early most days, we arrived at about 7 am on a weekday morning.
We were seated immediately.
(The restaurant filled up quickly, though. Tour buses soon began pulling up, and there was a line by the time we left an hour later).
As for the design of Magnolia Table, it was completely stunning. Both inside and outside.
It seemed like the Gaines didn't leave a square inch of space unattended to.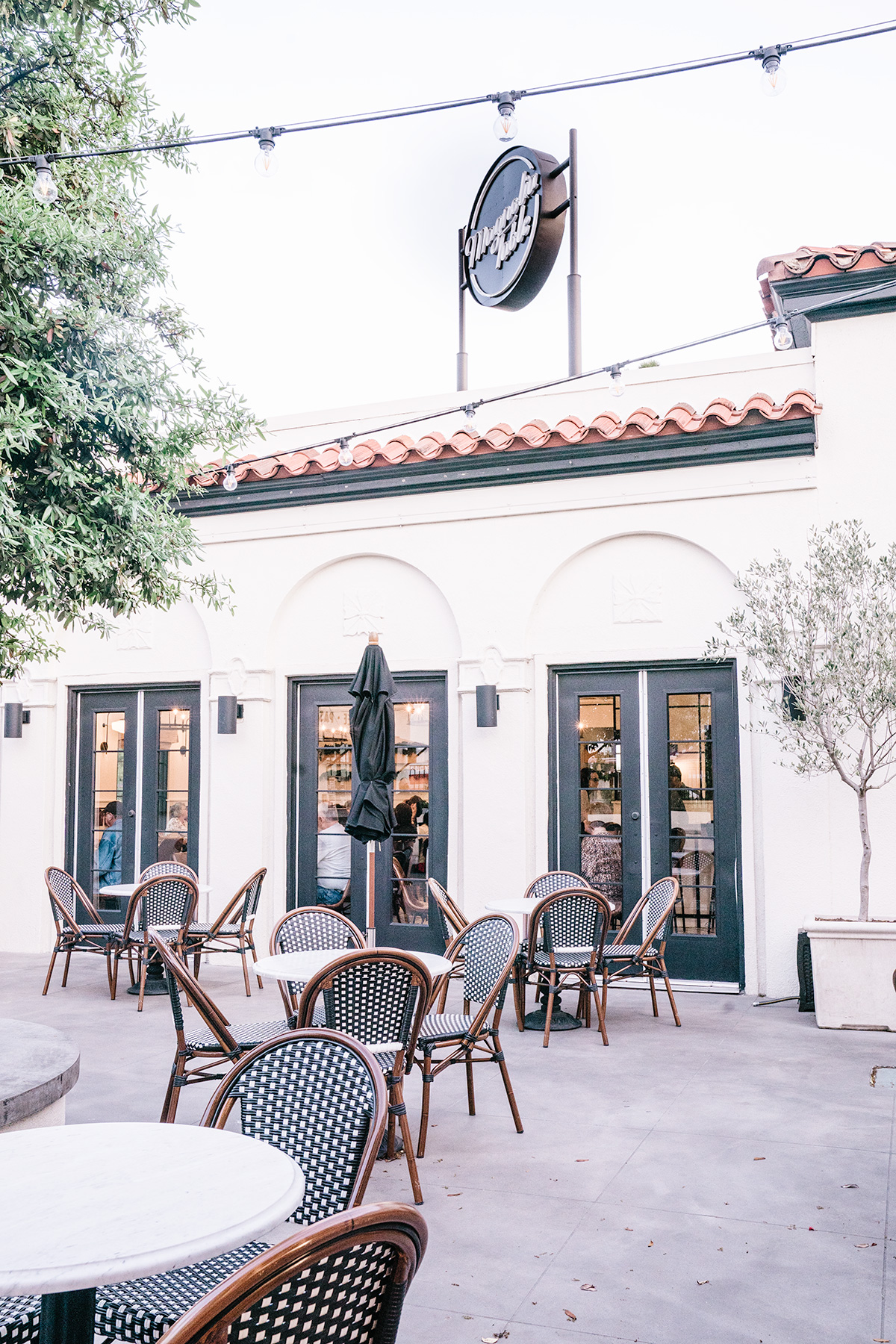 The actual building is a Waco landmark that's over one hundred years old, and the historic detail was preserved.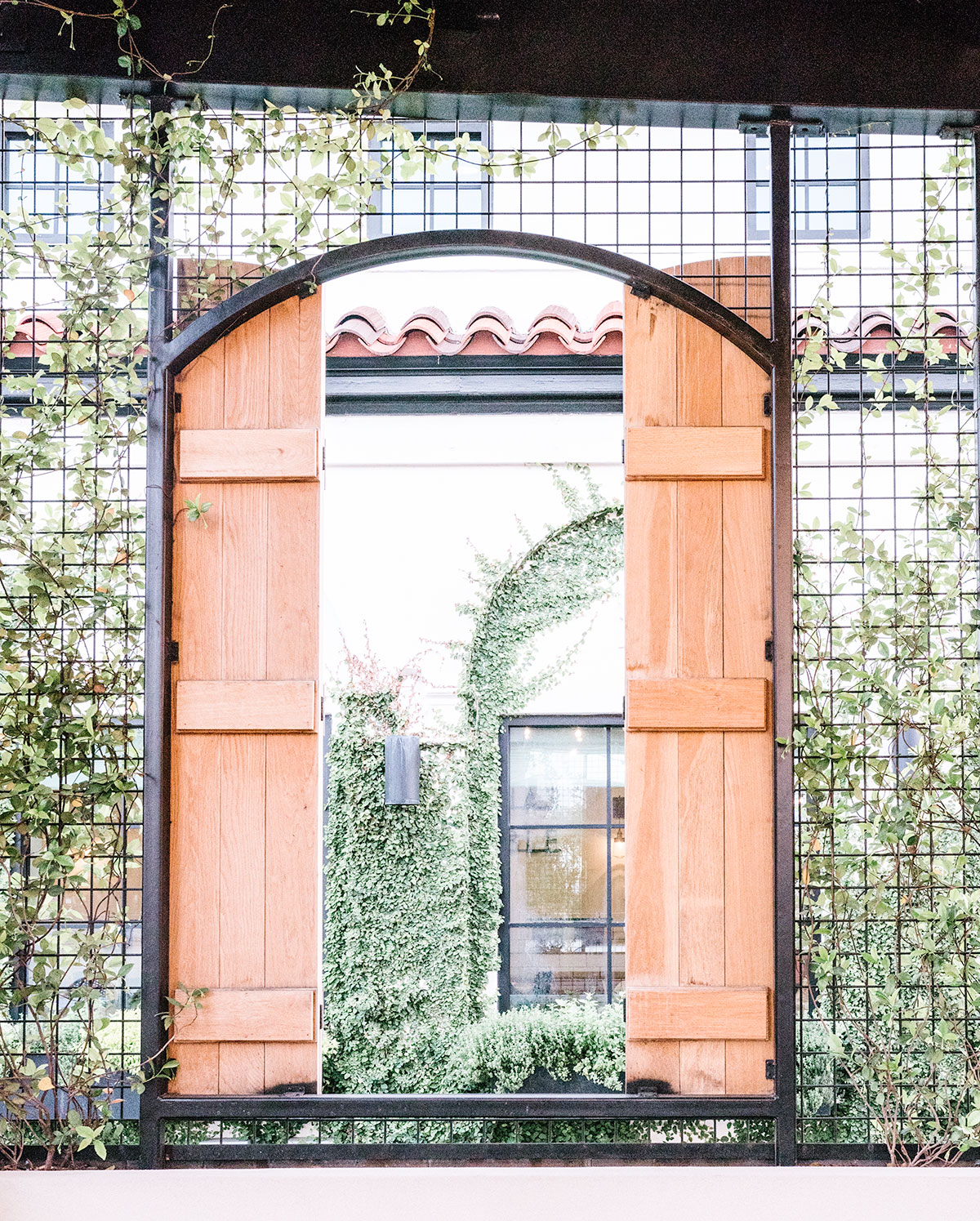 There was plenty of lush greenery – vines growing up the walls outside and plants suspended on the walls inside.
I loved the row of giant, flower-box-trimmed windows that let in tons of natural light.
The walls -both inside and out – were crisp white, and accented by black metal detail.
The tables were pale hardwood and the chairs were plush leather.
The emphasis on "community" was apparent everywhere.
Tables were so close that they nearly touched, and there were also long communal tables available.
(There were a variety of seating options – we were given a booth that seated up to four.)
The big, greenery-covered courtyard and cafe outside (for guests waiting for tables) encouraged lively interactions.
And leather pouches next to tables encouraged guests to put away their devices and focus on family and friends.
A giant sign inside read, "there's always a seat at Magnolia Table," and that was exactly the warm, welcoming vibe we received from the restaurant.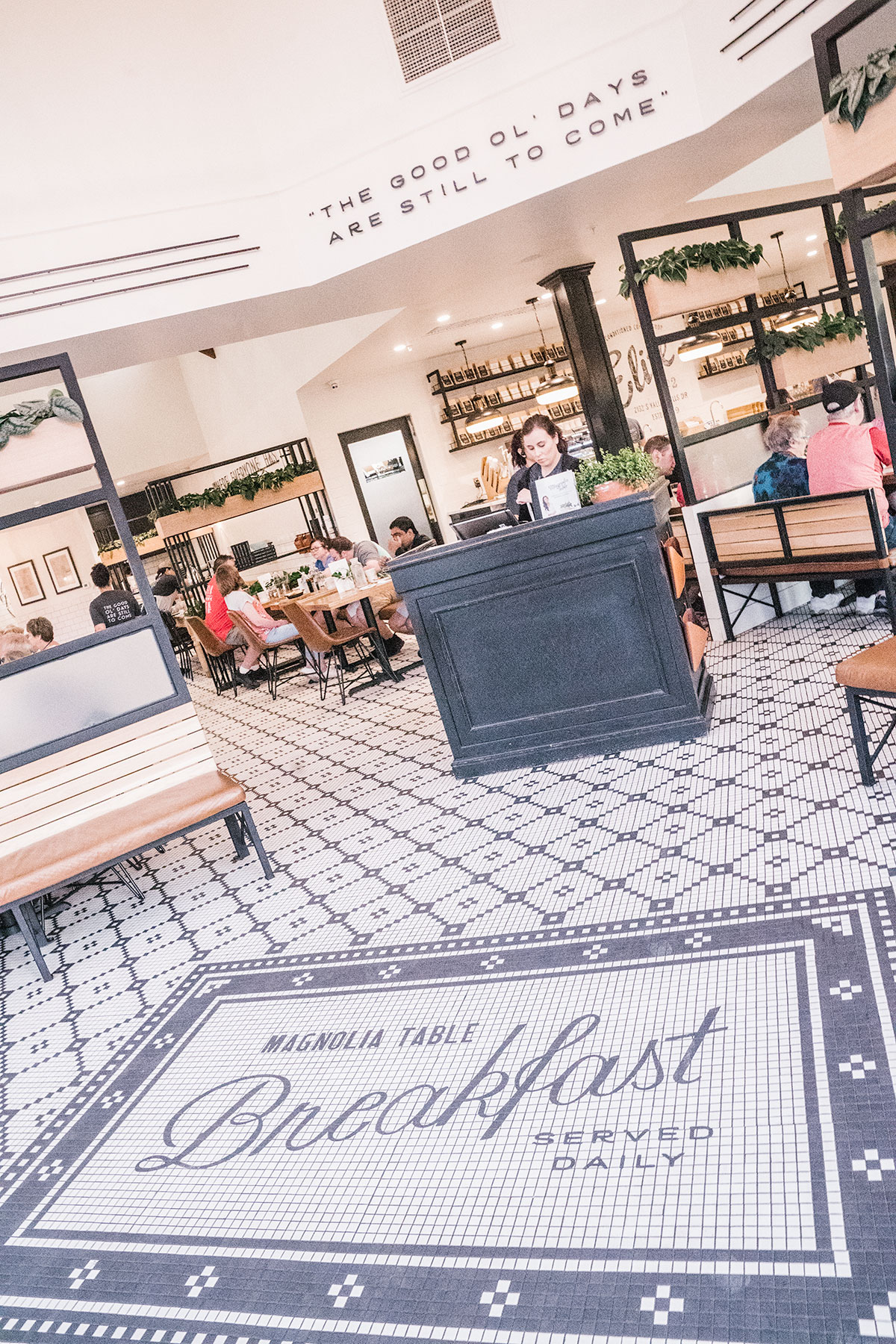 And the crowning highlight of the restaurant: the intricate black and white tilework on the floor.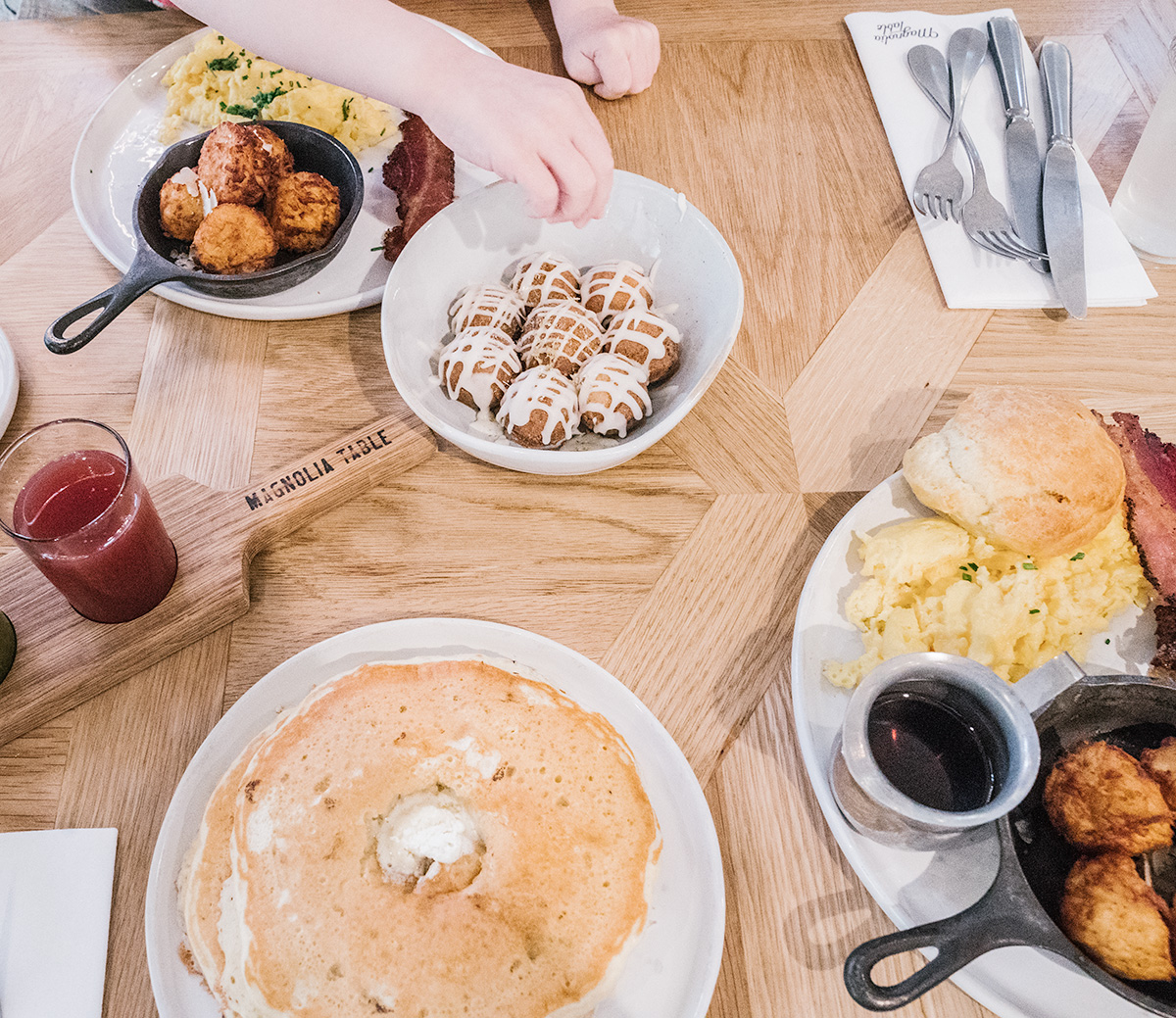 As for the food: I thought the hot breakfast items were … pretty good.
Chris loved his pancakes, and I liked the homemade biscuits.
Tru loved the tasting flight of freshly squeezed juices (he's a toddler so … we have a big juice fan on our hands!)
And we all loved the lemon lavender donut holes.
Our couple of days exploring all things Magnolia was absolutely worth the travel.
It's such a special place.
You can feel the love that went into each part of its creation.
Everywhere, there's a very clear focus on family, community, creative expression, and beauty.
There was a sign on display at Magnolia that read, "There may be nothing greater than a life well loved."
After touring the Magnolia compound, I have to assume Chip and Joanna live by this adage – every part of it was so beautiful and inspiring!
For More on Texas Travel, Check Out:
Travel Journal: Exploring the Texas Bluebonnet Trails
Pin on Pinterest: