Traveling to Stowe, Vermont with kids? To see all of the best of the incredible fall foliage in Stowe, here are the top 8 sites you can't miss!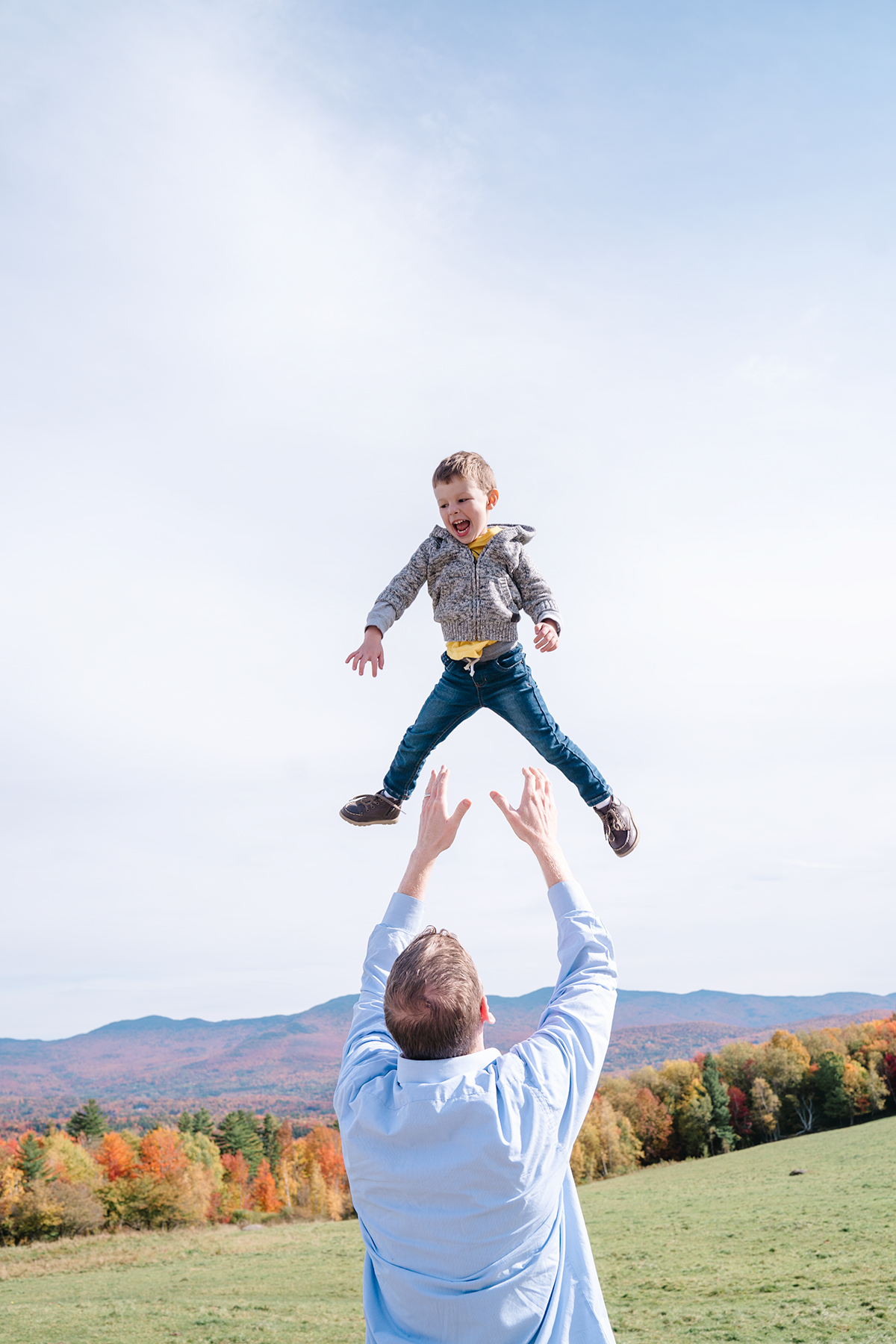 I loved our family trip to Stowe, Vermont so much, I'm ready to book a trip back next autumn. There are excellent hotels and restaurants in Stowe. But it's also the most peaceful and scenic small town. Best of all, Stowe has endless opportunities to experience the best of Mother Nature – from hikes to waterfalls, to gondola rides to the peaks of the Green Mountains.
Here are the top sites we absolutely loved and recommend you don't miss during your fall trip to Stowe, Vermont:











Stowe Top Site for Families #1: Sterling Falls Trail
The Sterling Falls Trail is great for families. It's a short and easy hike through the forest that winds along a pristine rocky river, including some beautiful falls. We found some parts of the hike a bit slippery since it had rained the day before. But Tru was able to do the hike without any trouble. It was really peaceful on the day we visited too. So we spent a lot of time just lounging beside the river, searching for the heaviest pebbles we could find so Tru could toss them into the river and make the biggest "splash."


Stowe Top Site for Families #2: Barnes Camp Loop
The boardwalk at the Barnes Camp Loop is the perfect nature walk for families. It includes an easy, flat stroll along a boardwalk – winding along wetlands – with stunning views of the mountains and fall foliage. Tru loved doing this walk. He'd sprint along the trail at times, and other times he'd just plop down among the fallen leaves to dig in the dirt (and eat the dirt, too, if I'm going to be honest…) We paused every now again to "shower" each other with scoops of fallen leaves. We had a great time.






Stowe Top Site for Families #3: Stowe Gondola Skyride
We stayed at The Lodge at Spruce Peak during our trip to Stowe. The resort includes a gondola that takes guests to the top of Mt. Mansfield. On our first morning in Stowe, while we were exploring the area around the resort, Tru caught site of the Gondola Skyride. From then on, it was his only request (aside from the ice cream factory, see below!). "Let's ride the red gondola now," he kept saying. So on our last morning in Stowe we finally did, and it was definitely one of the highlights of our trip. Once we reached the top, the panoramic views over Stowe were completely breathtaking. I don't know if I've ever seen such intense and stunningly beautiful autumn color as I saw from the windows of this gondola.



Stowe Top Site for Families #4: Ben & Jerry's Factory
Trevor's favorite thing about Stowe: definitely Ben & Jerry's! As soon as he knew he'd arrived in Vermont, he started saying, "first, let's go to the ice cream factory. I want to go to the ice cream factory FIRST." The Ben & Jerry's Factory is a perfect spot for kids. Large group tours last about half an hour, and you're required to pay a small fee to purchase tickets. The tour includes a short film and a bird's eye view of the ice cream facility through floor-to-ceiling windows. Ice cream samples are given out at the end of the tour (Trevor happily volunteered to be first to sample that day's flavor: Strawberry Cheesecake). There's also a store selling every imaginable Ben & Jerry's ice cream flavor. For Tru: "va-yi-ya" (vanilla) with rainbow sprinkles. And I loved my flavor and wish is was sold in our local stores: chocolate with peanut butter swirl. There are picnic tables on the grounds so you can enjoy scenic views of the mountains while you eat your ice cream. There's also a miniature ice cream factory for kids to explore and a big playground for the kids when they're ready to burn off all that sugar!

Stowe Top Site for Families #5: Main Street in Stowe Village
The quaint little Main Street in Stowe, Vermont is fun to check out. With the mountains as a backdrop, the town is really stunning for photos, and there are cool old-fashioned country stores to browse. When the kids get antsy, you can access the Stowe Recreation Path from here and enjoy a leisurely stroll to take in the autumn views around town.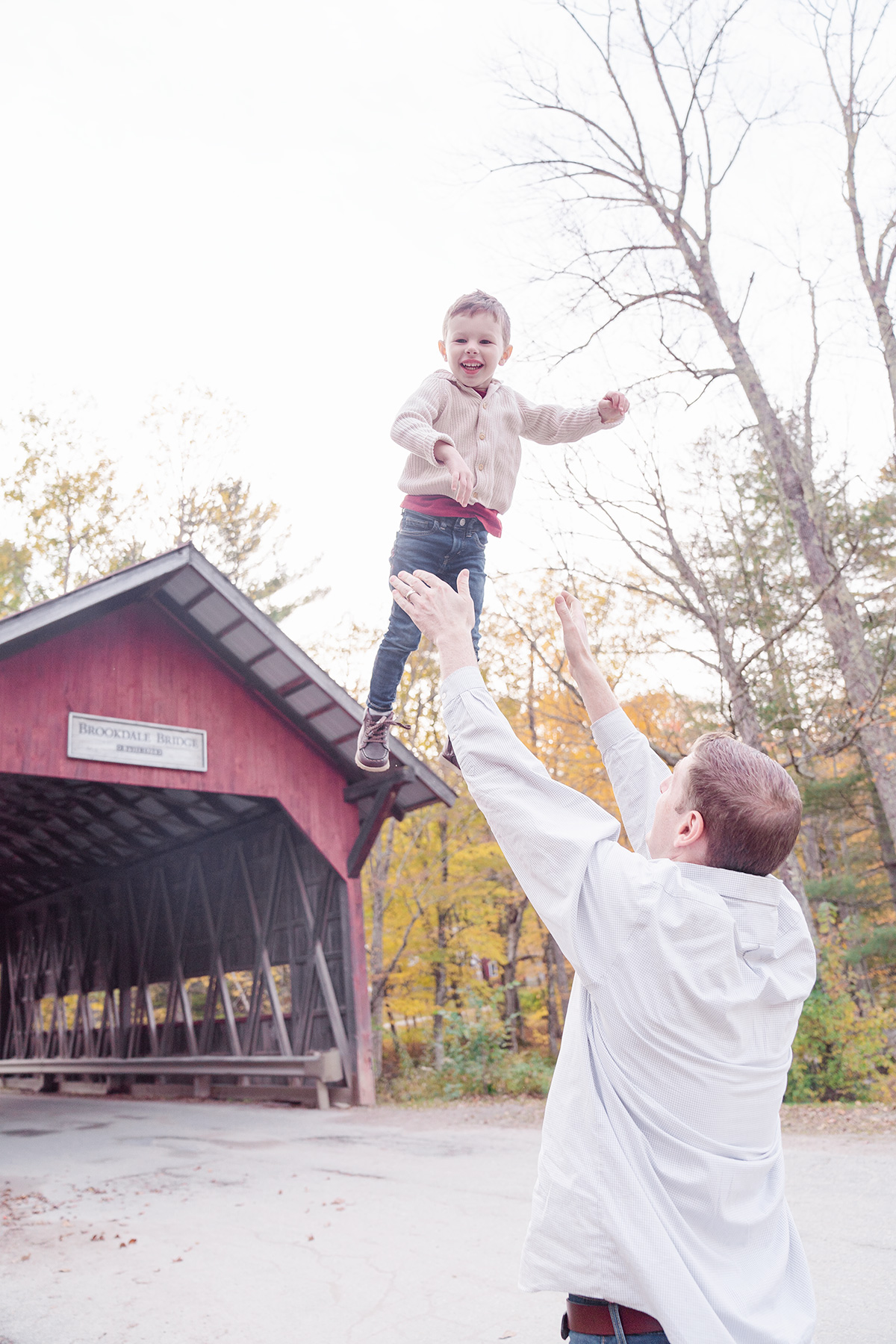 Stowe Top Site for Families #6: Brookdale Bridge
There are handfuls of beautiful, historic covered bridges in Vermont. You can find them everywhere! But one I loved was the Brookdale Bridge. It's a small, vivid red bridge on a very quiet back road (we didn't see any cars pass through while we were there). Next to the bridge is a gorgeous, flat, nature trail that winds along a pristine babbling river and the most peaceful rolling farmland. All with views of the Green Mountains as a backdrop.





Stowe Tops Site for Families #7: Trapp Family Lodge
The Trapp Family Lodge was probably my favorite site in Stowe. The grounds are just unbelievably stunning and picturesque in fall. We all had fun just being outside and strolling through the orchards and gardens, while taking in the panoramic mountain views all around us. We also did a short hike to the historic, tiny little stone chapel that was built by the von Trapp family. The hike was short but steep and three-year-old Trevor did fine with it (Chris carried him some of the way when he got tired from the climb).




Stowe Top Site for Families #8: A Scenic Drive Through Town
Stowe, Vermont in peak fall foliage season is one of the most stunning places I've ever seen. The best way to take in the peaceful rolling hills and mountains that stretch for miles is with a scenic drive. We used this Vermont Scenic Drives for Fall guide to help us plan, then just kind of improvised and made up our own route along the peaceful, unbelievably scenic roads of Stowe. We saw cows and horses lazily grazing along rolling hills, towering old red barns that matched with the vivid red trees, and small white chapels that popped against the rainbow colors of the mountains beyond. When we caught sight of an incredible view, we'd just park on the side of the road and hop out for photos. Although he didn't seem too interested in the fall foliage, Tru loved going for a ride and listening to the radio. Country music always saves us on long drives with Tru: he loves listening to it. He'll tell us when to "change it" because he doesn't like the song and when to "crank it" because he loves the song. His favorite during our trip to Stowe: the Dierks Bentley song, "Some Days You're Livin' …. oooohhhh ….ooohhhh"
How To Plan Your Trip To Stowe To See Peak Fall Foliage
Definitely use this Vermont Fall Foliage Report to plan your trip to Stowe. We used this tool for our trip, and it was absolutely accurate. Because this tool was so accurate, we arrived in Stowe during peak foliage season – which only lasts a few weeks. The vivid color was incredible, and the beauty is something I tried over and over to capture in my photos, and never could even come close to touching.


Where We Stayed In Stowe
We stayed at The Lodge at Spruce Peak during our trip to Stowe and really liked the resort. The rooms were clean and airy and seemed recently renovated. From the earthy fabric colors to the woodwork everywhere, the room had a "wilderness lodge" feel throughout. The resort is huge, and absolutely ideal for families. There's an outdoor concourse with shopping and lawn games. There are fire pits and an indoor climbing gym. There's also a wide variety of room options. We had a one bedroom suite. The room had a fairly large bathroom including a walk-in glass-enclosed shower and soaking tub, a small balcony with a view of the mountains, a pull-out couch in the cozy living room for Tru, and a small, fully stocked kitchen with granite counters, microwave, oven, and stovetop, and a large fridge. The resort also had a heated pool so, even though the day was chilly, Tru was able to go for a swim. There's also a playground, several restaurants and quick service cafes, and a gondola to Stowe Mountain Resort.
Our Favorite Restaurants in Stowe
Piecasso – Piecasso is a big, popular Italian restaurant with a lively feel. We like places like this so our high energy – often loud – three-year-old just blends in with the crowd. When some fun music started blasting through the speakers to announce the beginning of trivia night, True just stood up beside our table and starting dancing! The pizzas are great too. We loved "The Picasso" which had ricotta, mozzarella, tomatoes, broccoli, garlic, and pesto.
Von Trap Brewing Bierhall Restaurant – This was my favorite restaurant in Stowe. It's inspired by the beirhalls of Bavaria, and craft lagers are brewed on site. I don't drink beer, but just the freshly baked, warm-from-the-oven soft Bavarian pretzels – served with the most flavorful beer cheese dip – were all I needed to fall in love this place. But all of the food we sampled – including grilled maple mustard salmon and fried chicken schnitzel – was delicious. The place had a very lively and social feel, with light wood floors and tables and soaring ceilings. Plus floor-to-ceiling windows with breathtaking views of the mountains. We had a lot of fun just playing corn hole outside while waiting for a table, and sitting at a picnic table to take in the views.
For More On Vermont Travel, Check Out:
21 Photos to Inspire You To Visit Stowe Vermont In Fall
Travel Confessions: Adventures in the Green Mountains of Vermont
Ultimate Winter Weekend Guide | Woodstock Vermont with Kids
Pin on Pinterest: