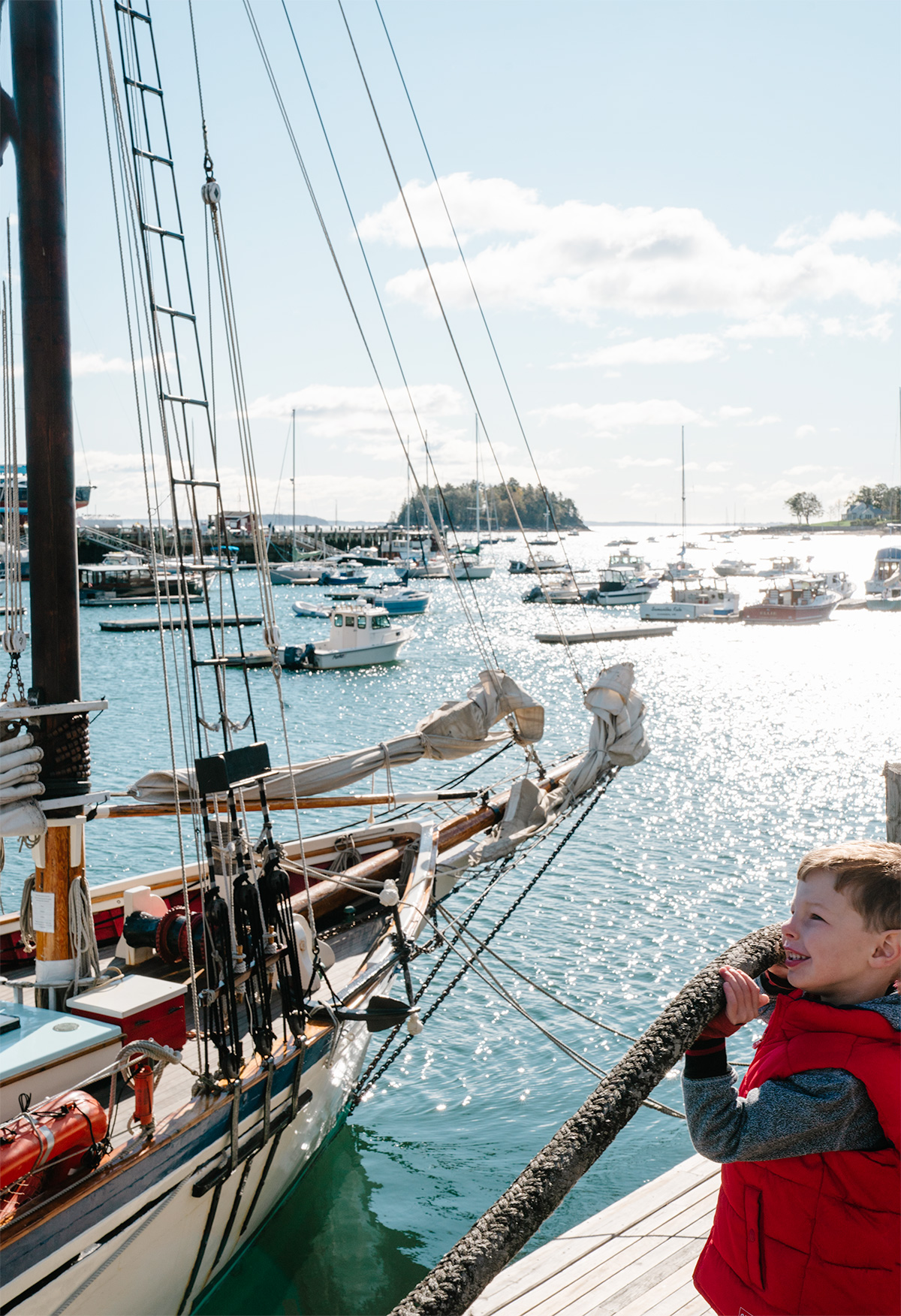 Like so many people across the world, our family made 2020 the year of staying home. Camden, Maine was one of the only trips that we did during all of 2020.
It was just a little fall weekend road trip to my college friend's hometown so I could visit her and her new baby. I love Maine in October, with the crisp (but not yet freezing) weather and the stunning foliage.
I haven't missed traveling this year. I've never felt I lost anything in not traveling. But I'll say that Camden was a really special weekend for us. Family trips definitely help us step out of our routines and live in the moment. Travel helps us fully appreciate our surroundings and each other. And it brings our complete focus to having fun and connecting with each other.
That's not to say traveling with a preschooler is easy, because it's definitely the opposite of that!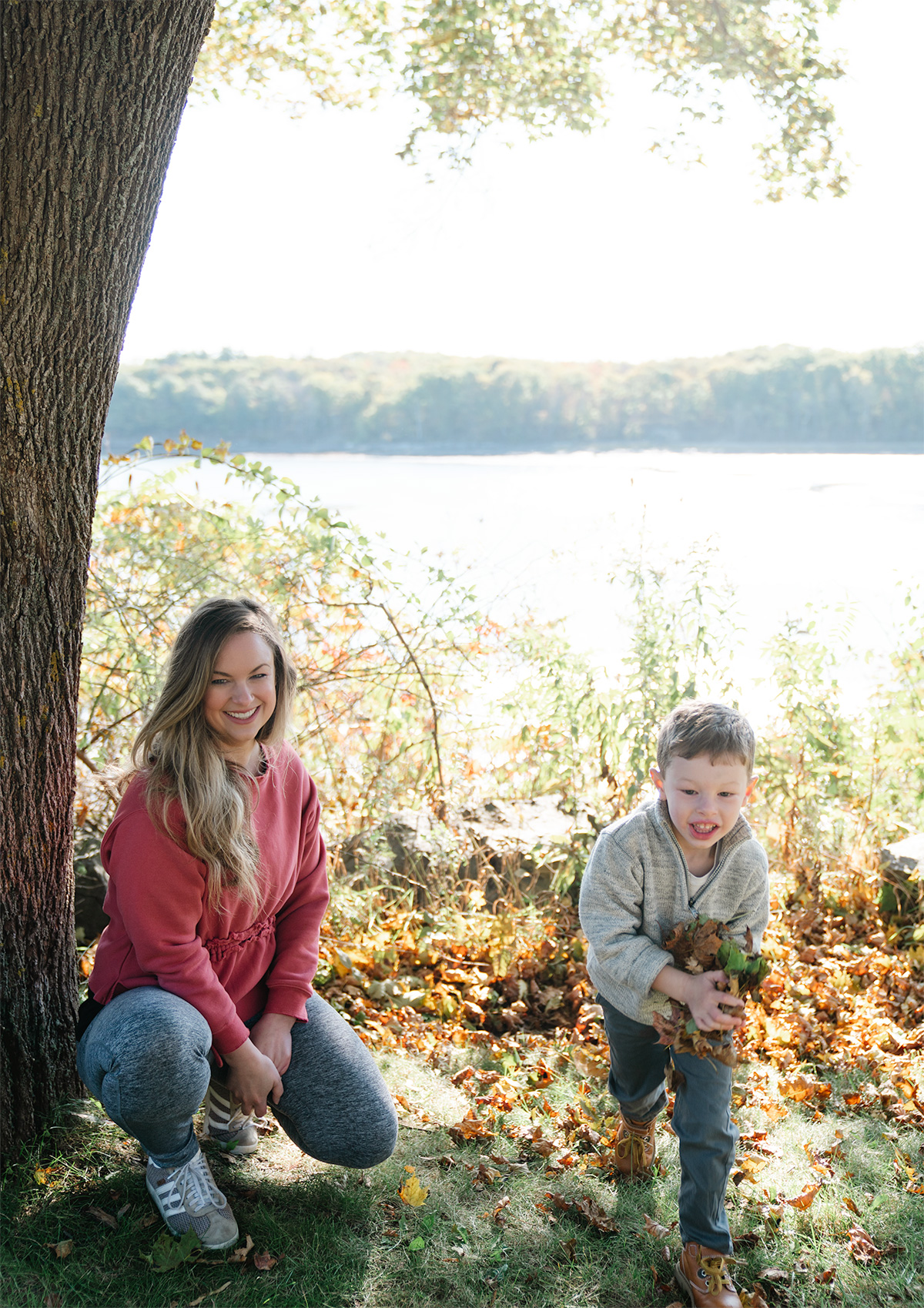 Camden is one of my absolute favorite towns in Maine. It has a beautiful downtown that's right on the most idyllic harbor. The area has so many incredible restaurants (plus lots of beautiful hotels and bed and breakfasts too). And there are lots of scenic hikes, parks, and beaches with sweeping views of the ocean.
Where We Stayed In Camden
Grand Harbor Inn
We stayed at the Grand Harbor Inn for the weekend. It's right on the harbor with pretty views of the water. It was a really nice, comfortable hotel. I'd be happy staying here again if I returned to Camden, or just as happy trying something new.
Favorite Scenic Spots Around Camden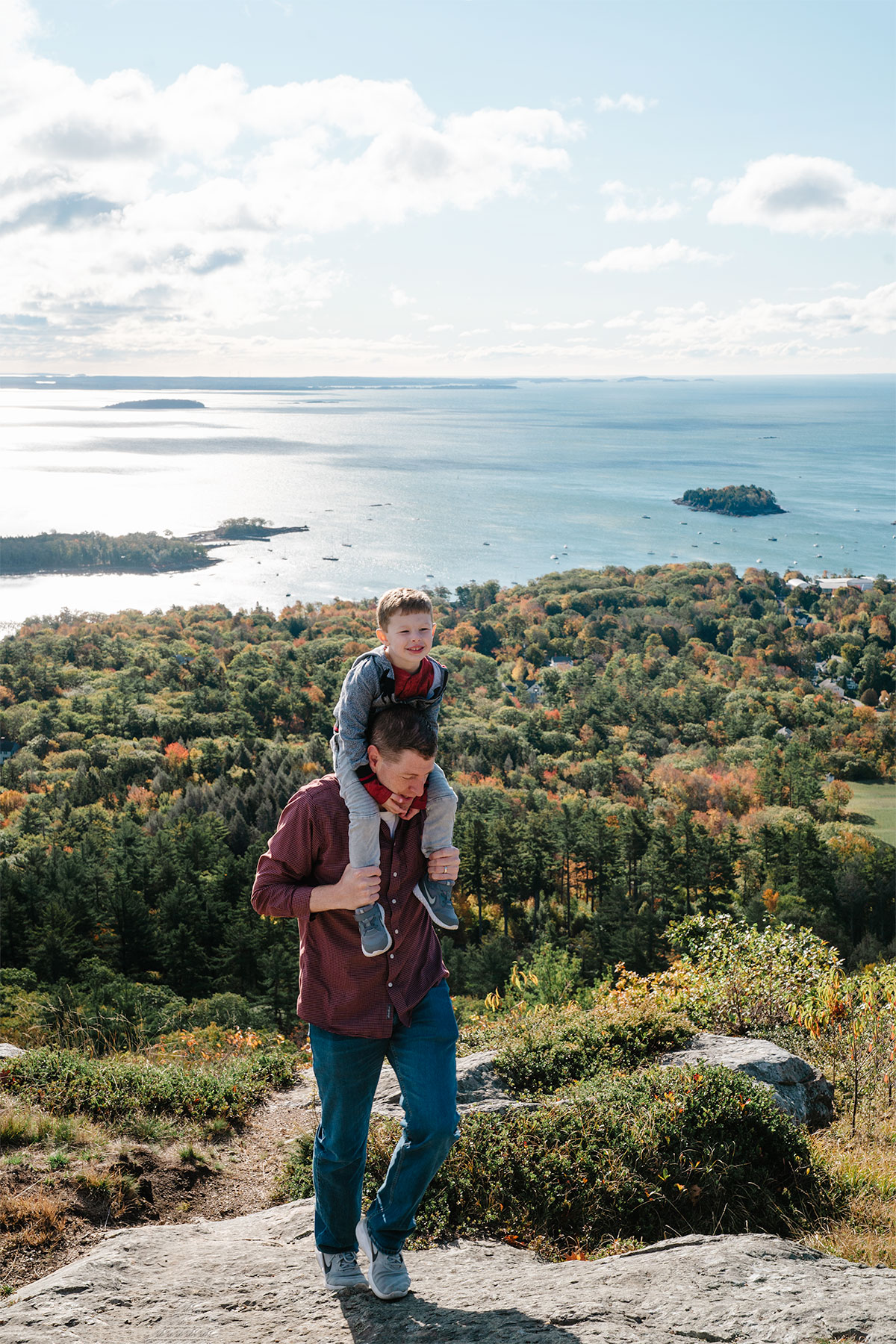 Mount Battie
Mount Battie offers the most beautiful panoramic views of Camden and the Atlantic. It's completely breathtaking. You can hike up, but we just drove since it was pretty cold when we visited. I'll always love my memories of holding Tru tight to keep him warm while we looked for sailboats on the ocean…
Downtown Camden
I love walking around downtown Camden. The harbor is breathtaking with all the sailboats docked and the sunlight dancing on the water. Plus, there are lots of cute local shops to check out. And plenty of scenic parks perfect for family photos.
Farnsworth Art Museum in Rockland
I love museums, and the Farnsworth is a great small museum featuring lots of New England artists. Trevor can't handle too much time in a museum where he's not allowed to touch anything (!), so we basically barreled our way through! But there was a park outside with a few sculptures so Tru spent lots of time running off his pent-up energy.
Rockland Breakwater Lighthouse in Rockland
The Breakwater in Rockland has the most stunning views of the Atlantic. It's seriously beautiful. Tru loved jumping across the giant rocks of the breakwater. And he also loved finding pebbles all along the rocky surrounding beach and "thwowin' 'em in the wadah."
Coastal Maine Botanical Gardens in Boothbay (1 hour drive from Camden)
Chris and I had our wedding reception at this Botanical Garden. So we really wanted to visit again with Trevor (he last went as a baby). We arrived in the late afternoon and the gardens were basically empty. We had fun doing a scavenger hunt with a map provided by the Gardens, running little races around the Children's Garden pathways, and swinging on the bench swings. The gardens were completely stunning, I kept saying I wanted to move them to my backyard!
Our Favorite Restaurants Around Camden
I mentioned there are so many incredible restaurants in the area. Our favorites were:
Primo
Primo is a farm-to-table upscale Italian restaurant in Rockland, and the food is amazing! Their pasta dishes taste fresh, from scratch, and super flavorful. The restaurant is also really beautiful.
Natalie's Restaurant
Natalie's is a fine dining restaurant featuring French cuisine. It's a formal place, so Chris and I went during a time when my parents were watching Tru! We were blown away by the quality of the dishes and felt like we were dining in New York City, not Maine!
Peter Ott's
Peter Ott's is a casual seafood restaurant located right below the hotel that we stayed in. We just grabbed lunch there one day not expecting anything special (a crab roll and fish and chips), but we were really impressed with the views while seated outside (it's right on the harbor). And we also loved the lobster corn chowder, which was probably one of the best chowders we've ever tasted!
Trevor's Favorite Things From Our Trip
Uncle Willy's Candy Shoppe
We found a cute chocolate shop in the downtown district and Tru kept begging to go. We finally stopped in on our last morning in Camden. He spent lots of time thoroughly checking out every display – on both the first and second floors – before deciding on his purchase.
Hotel Bathtub
Our hotel room had a whirlpool tub, so Trevor was thrilled. He had so much fun splashing around before bed each night. It was a huge relief to have something to keep him entertained in the hotel room! Trying to keep him calm and quiet in a hotel room is an exhausting task!
Wind Spinner
The gift shop next to our hotel had colorful wind spinners set up in front of the store, and Tru had to stop and watch them twirl in the wind each time we walked by. We promised him we'd go into the store on our last day and he could pick one to take home. So he did. I think it lasted for about a week in our yard before it blew over one day and Tru completely forgot about it.
Fall Leaves
Trevor loved finding piles of fallen leaves at every park we visited. He'd scoop them up in big handfuls to throw at Chris and I. He also loved having us throw the leaves so he could run through them.