Our family loves the White Mountains in New Hampshire. So, this February, Chris had the idea to do a long weekend road trip to enjoy some winter fun!
And here's what I have to say about Trevor Michael: he loved it all. It's a trait in him that I'm always admiring: how he happily embraces every new activity. How he brings fun and acceptance to whatever comes next. It's rare I hear him say, "no I don't want to do that." He throws himself wholeheartedly into every adventure. It's very inspiring to me, and I hope with all my heart that he carries that attitude with him through life!
Take for example our hotel room. Tru was super excited about setting up the sofa bed and sleeping in it, just because it was something different. A fun new adventure! And he kept asking to take a bath in the hotel room bathtub. We set up a bath for him one night before bed and he had the time of his life, just splashing and singing.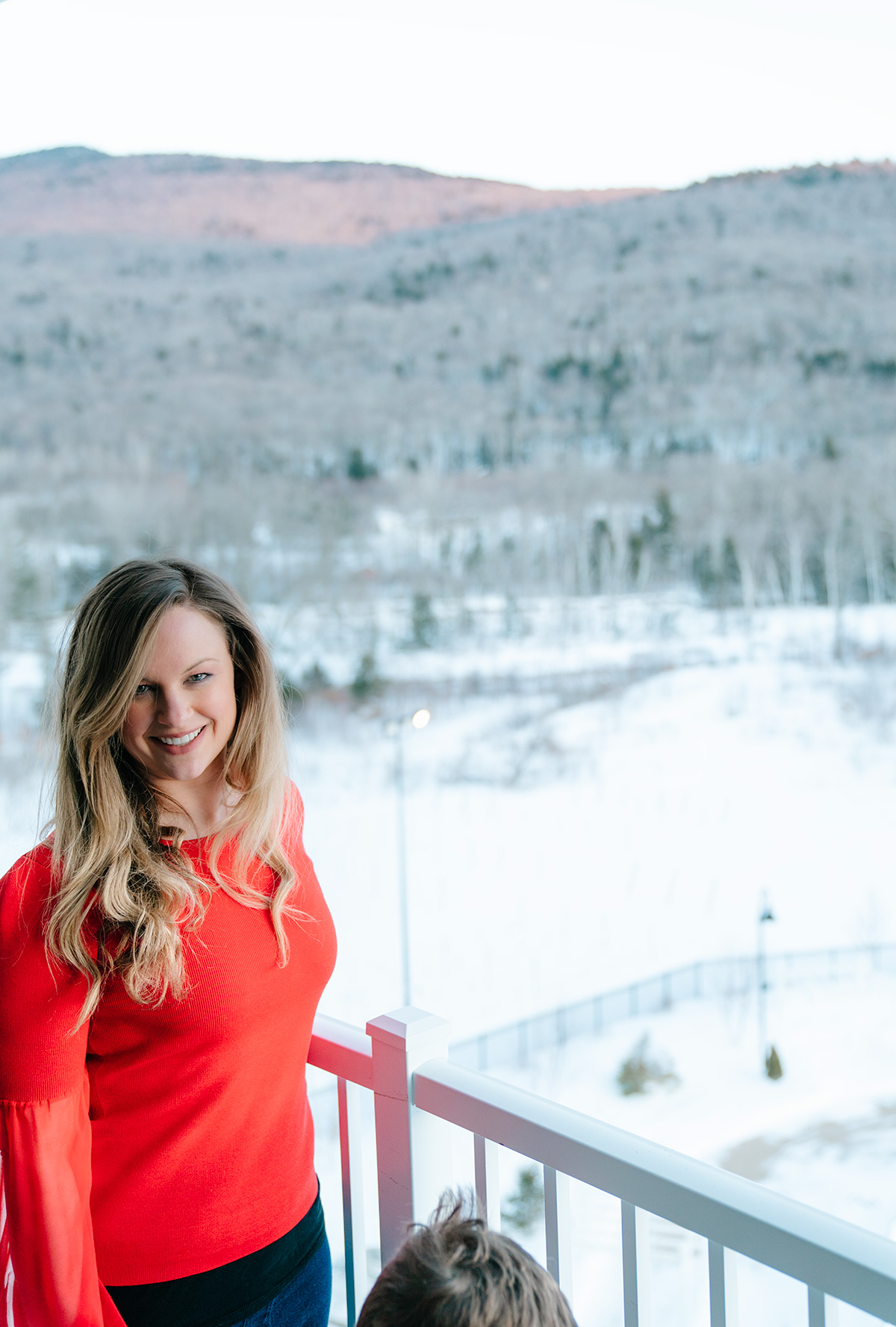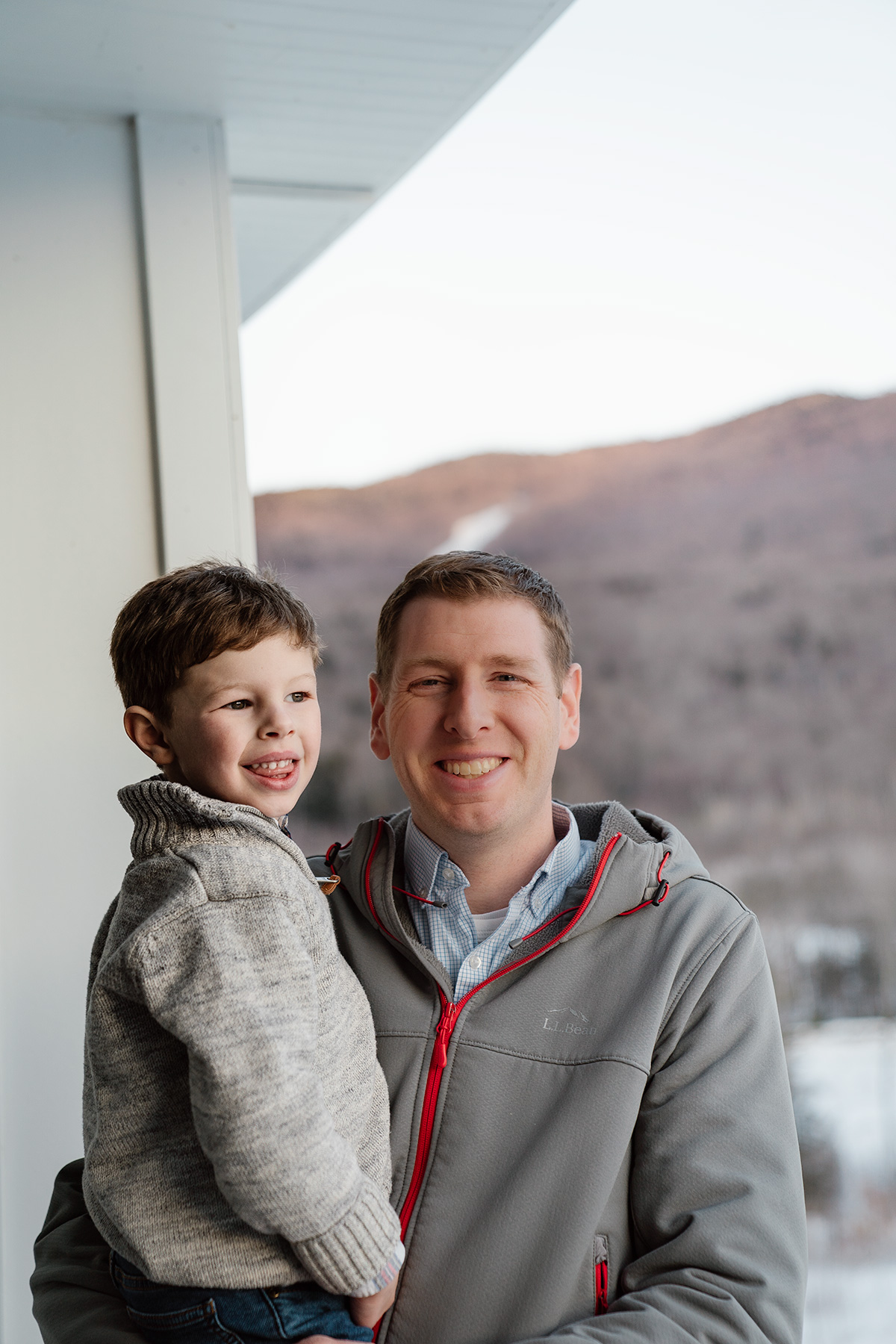 Another thing he was thrilled about: he discovered a heated-pool/skating-rink combo behind the resort!
Tru's been loving hockey this winter (he takes after Chris!), so he was really excited when he gazed off our balcony and saw ice skaters below. It was a really cool setup. There was a heated pool surrounded by an ice rink. We weren't expecting to need pool gear for a winter trip to the mountains. So the next morning, we had to make a quick stop at the sporting goods store across from our hotel to pick up swimsuits.
Tru had double the fun, going from skating in the freezing cold to warming up in the heated pool.
Another thing Tru really enjoyed was the Children's Museum of New Hampshire in Dover. We stopped there on our drive up to Lincoln. I love checking out museums with Tru. I always find the displays interesting, and I love seeing Tru light up as he tests out all of the activities. There was a dinosaur fossil excavation activity where Tru spent forever playing in the sand. He also loved the submarine display where he could pretend to steer his ship through the depths of the ocean. Chris and I noticed a giant playground outside and agreed we had to go back to the museum in warmer weather.
Chris and I also found a toy store right across from the museum. We bought a few activity books so that Tru would have something to do while we ate dinner. Then we stopped at our favorite restaurant in New Hampshire: The Oxford House Inn Restaurant. The food is so delicious there, every time we visit we leave completely stuffed. It's tough to take Trevor to restaurants since he's not interested (at all) in eating food. He gets so antsy and bored. But Chris and I hadn't been to The Oxford House in a really long time, so we took a chance. Tru ate mostly bread from the bread basket (no surpise there!), but he did really well holding it together at the end of a long day.
One thing I really enjoyed from the trip: checking out all of the panoramic views (the ones I've seen many times in warm weather), this time covered in a white blanket of snow.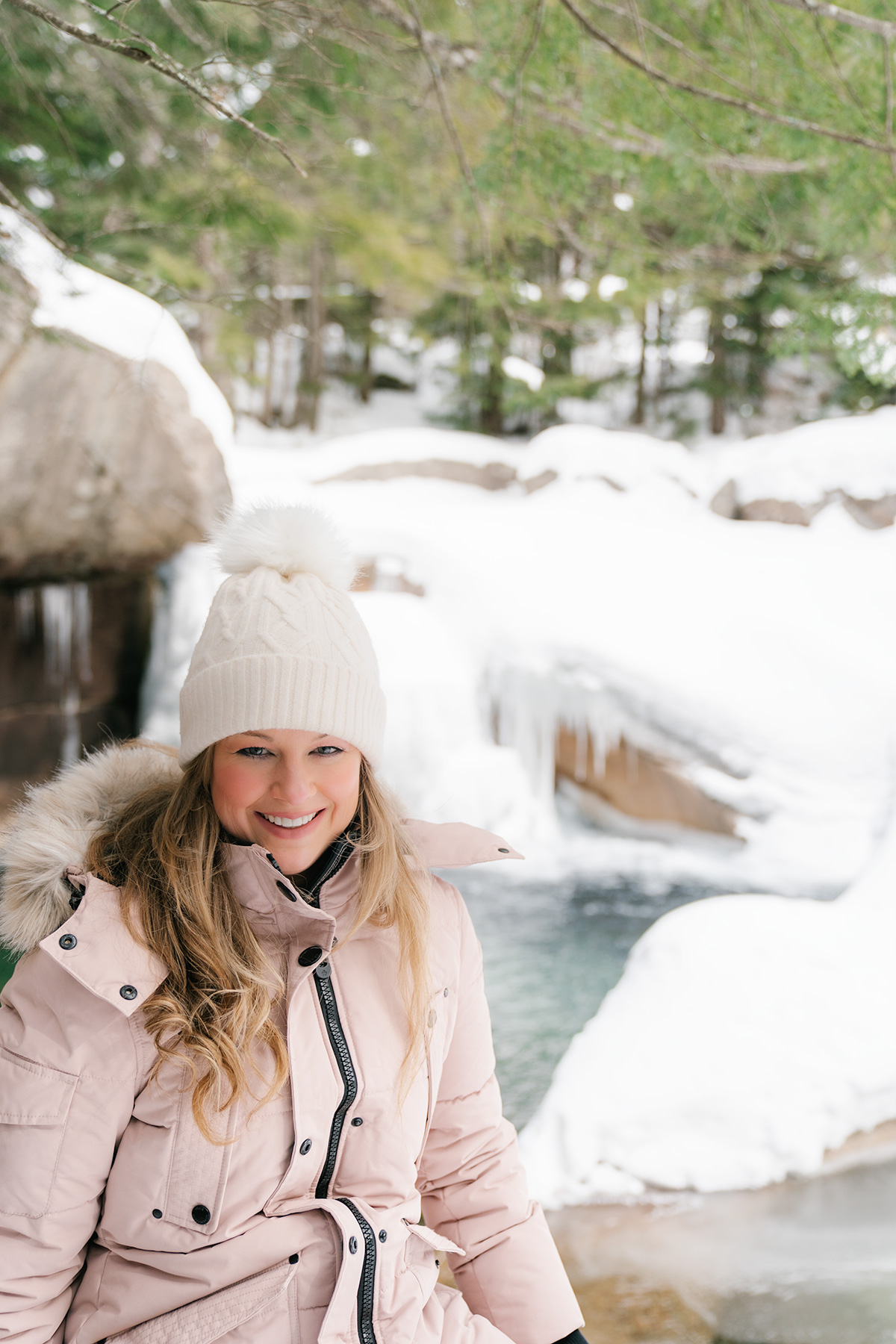 The Basin, which includes a small waterfall, looked beautiful with the turquoise water frozen into giant icicles.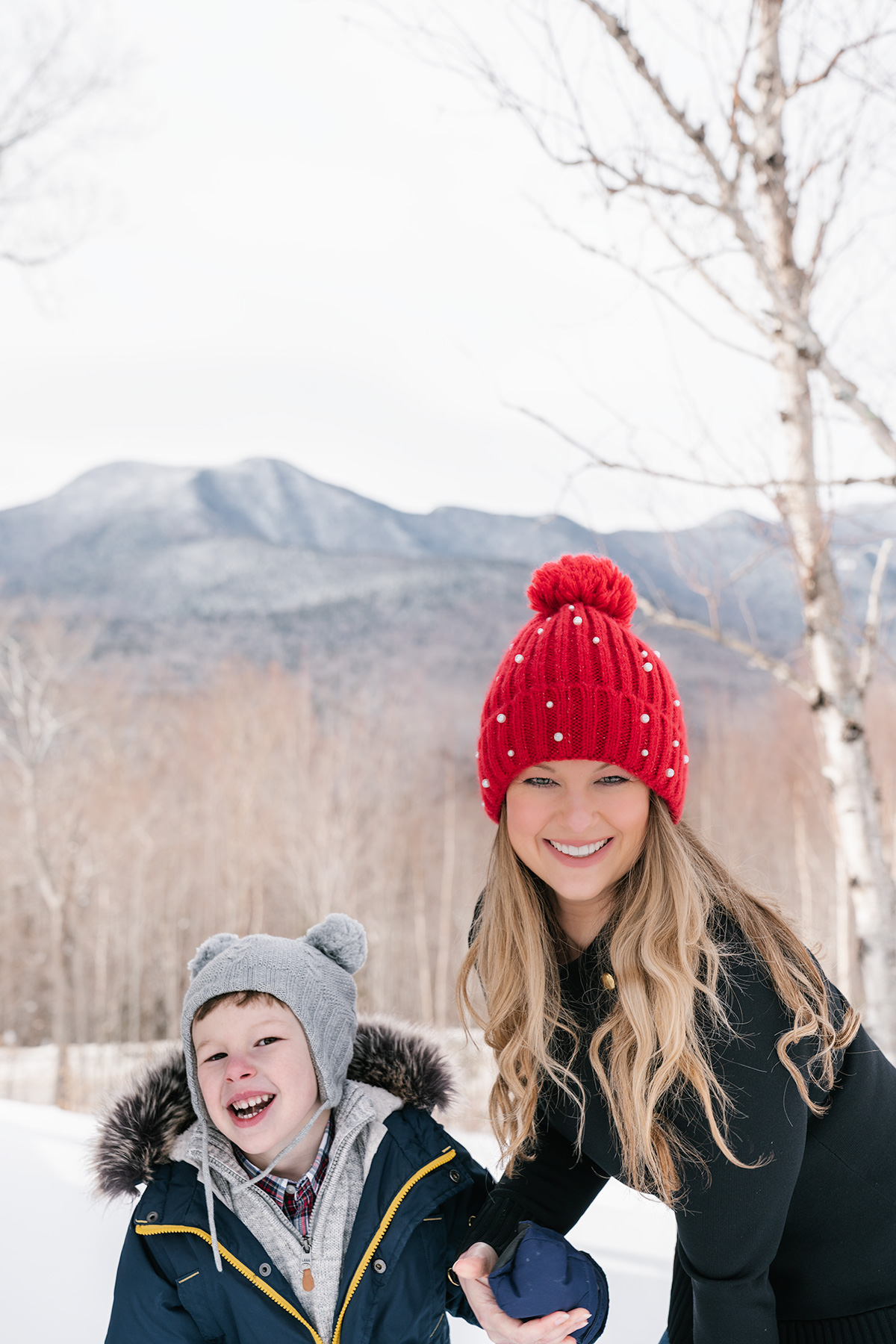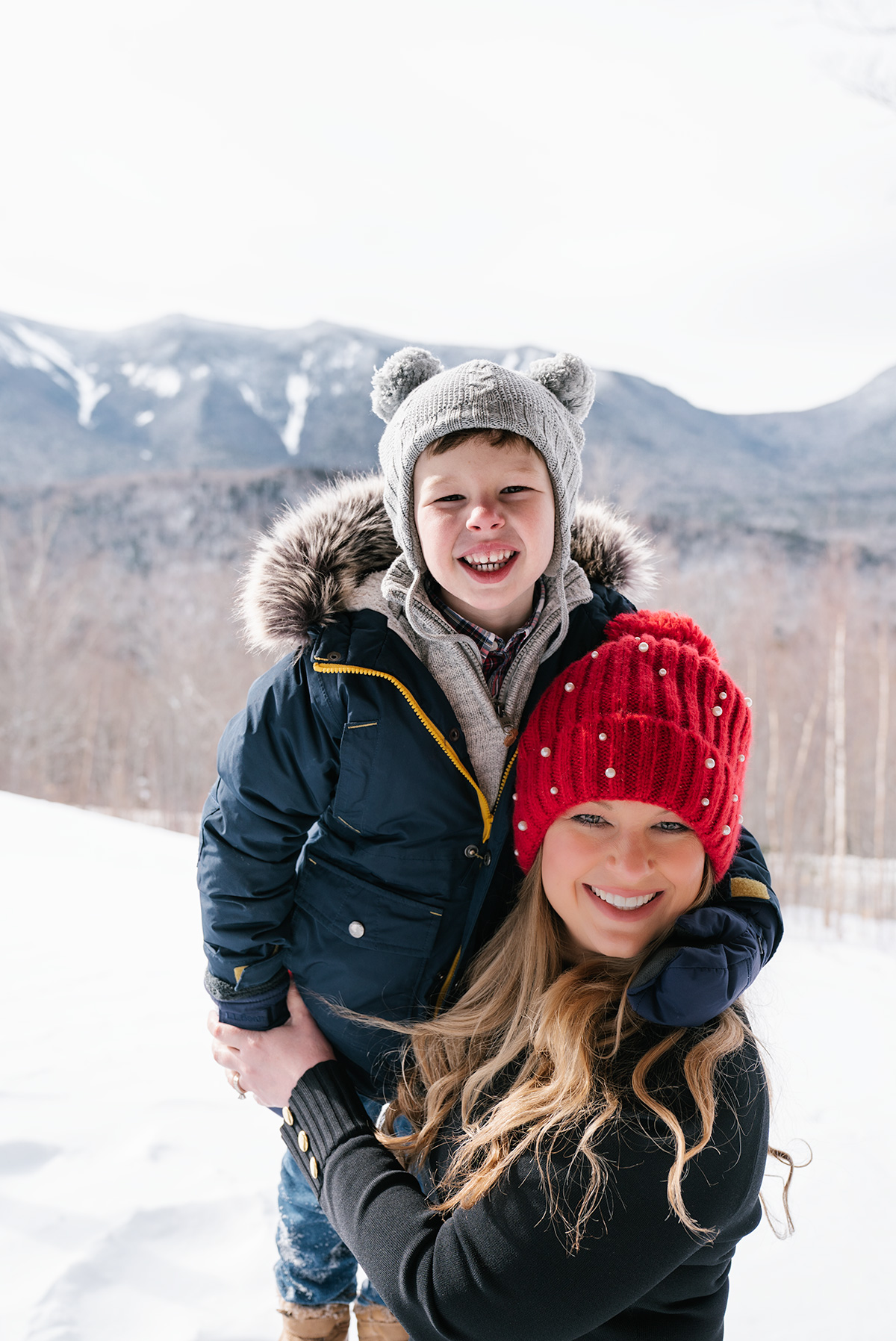 The views from the Kancamagus Scenic Byway were spectacular. We've driven the Kancamagus many times. But this was our first time visiting in February, when the mountains become a stunning winter wonderland.
Another fun memory: Chris and I really loved taking Tru to the Ice Castles attraction in Lincoln. We had a lot of fun wandering through the icicle-filled ice castles. And the "Mystic Forest Light Walk," was a short trail through the woods, all filled with sparkling lights. Chris and I had been to Ice Castles when Tru was a baby. We thought it would be too cold and didn't bring him last time. So this year was Trevor's first visit. I didn't get photos since we went after dark, but it was a special memory. They even had pairs of "ice slides" (so family members could race each other down), and Trevor wanted to queue up and slide down again and again and again…
We drove over to Cranmore Mountain Resort (in North Conway) on our last day. We'd taken Tru there when he was about two years old for snow tubing, and he loved it. So we returned this winter, and Tru still loved it just as much! Tru and I would hold onto each other's tubes and ride down together. We had a lot of fun. One of my greatest joys is when I see the genuine smile that lights up Tru's whole face. I got to see that a lot on this trip!