After very little travel in 2020, we did a big trip to Disney World in late May of 2021!
We stayed at the Four Seasons Orlando for the fist half of our trip. It definitely felt like a quiet, serene respite from the intensity of the Disney crowds. The one and only challenge with the Four Seasons was dealing with transportation to and from the Disney parks. The hotel isn't close to any of the parks. For example, it took about an hour to get to or leave the Magic Kingdom: driving to the Ticket and Transportation Center, walking through that enormous parking lot under the burning hot sun, and then riding either the monorail or ferry to get into the park.
We really enjoyed the hotel grounds though. The hotel had a splash pad, a couple of big water slides, and a big, beautifully landscaped lazy river that Trevor loved. Although we didn't get rain or humidity for this trip, the heat was pretty intense (mid-90's some days). So Tru usually went to the pools with Chris in the late afternoon each day.
One day Tru grabbed my hands and said, "Mama will you go on the lazy river with me?" What more could a parent dream than a child who wants to spend time with you? So Chris, Tru, and I all went floating in tubes on the lazy river for the afternoon. It's one of my favorite memories from the trip.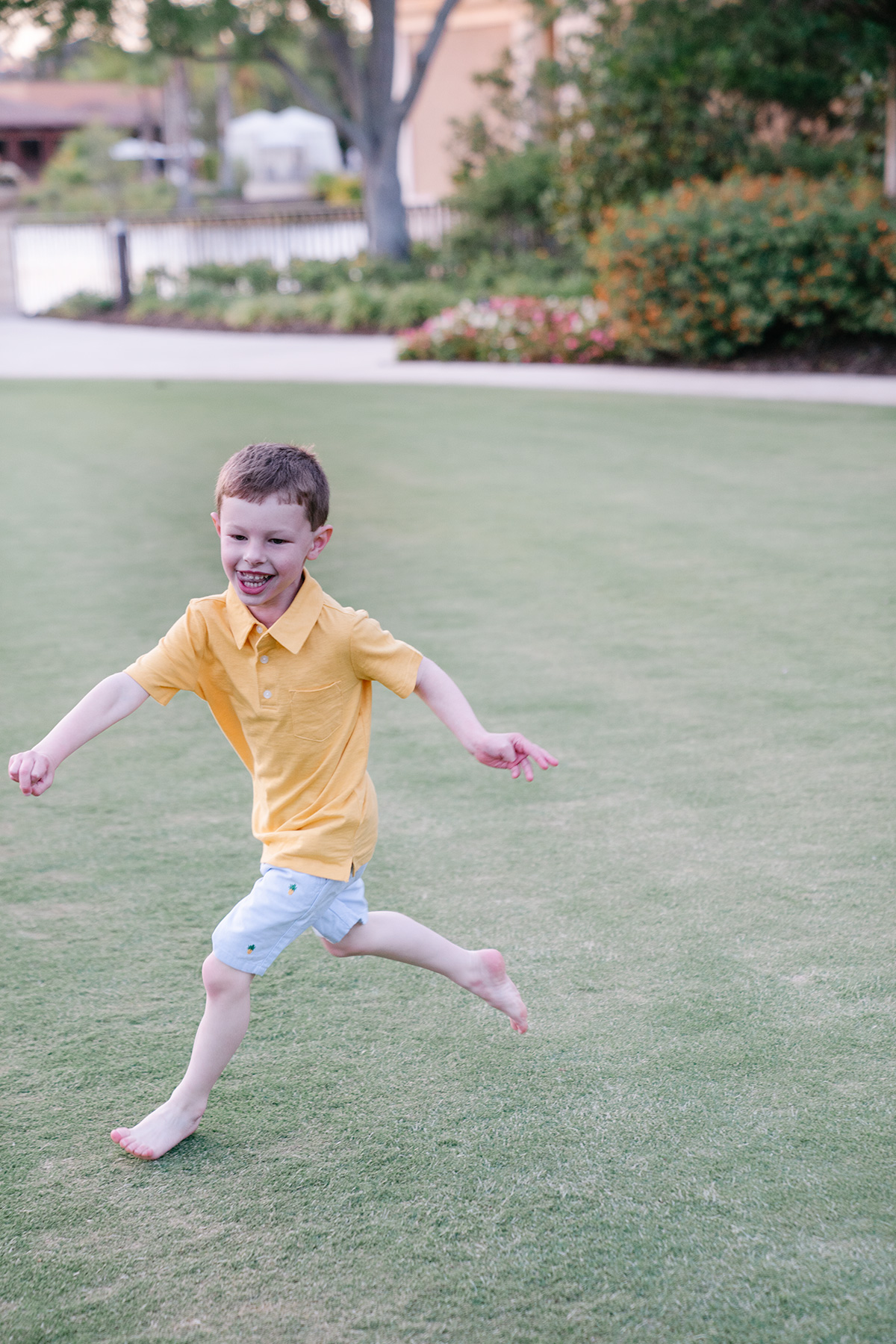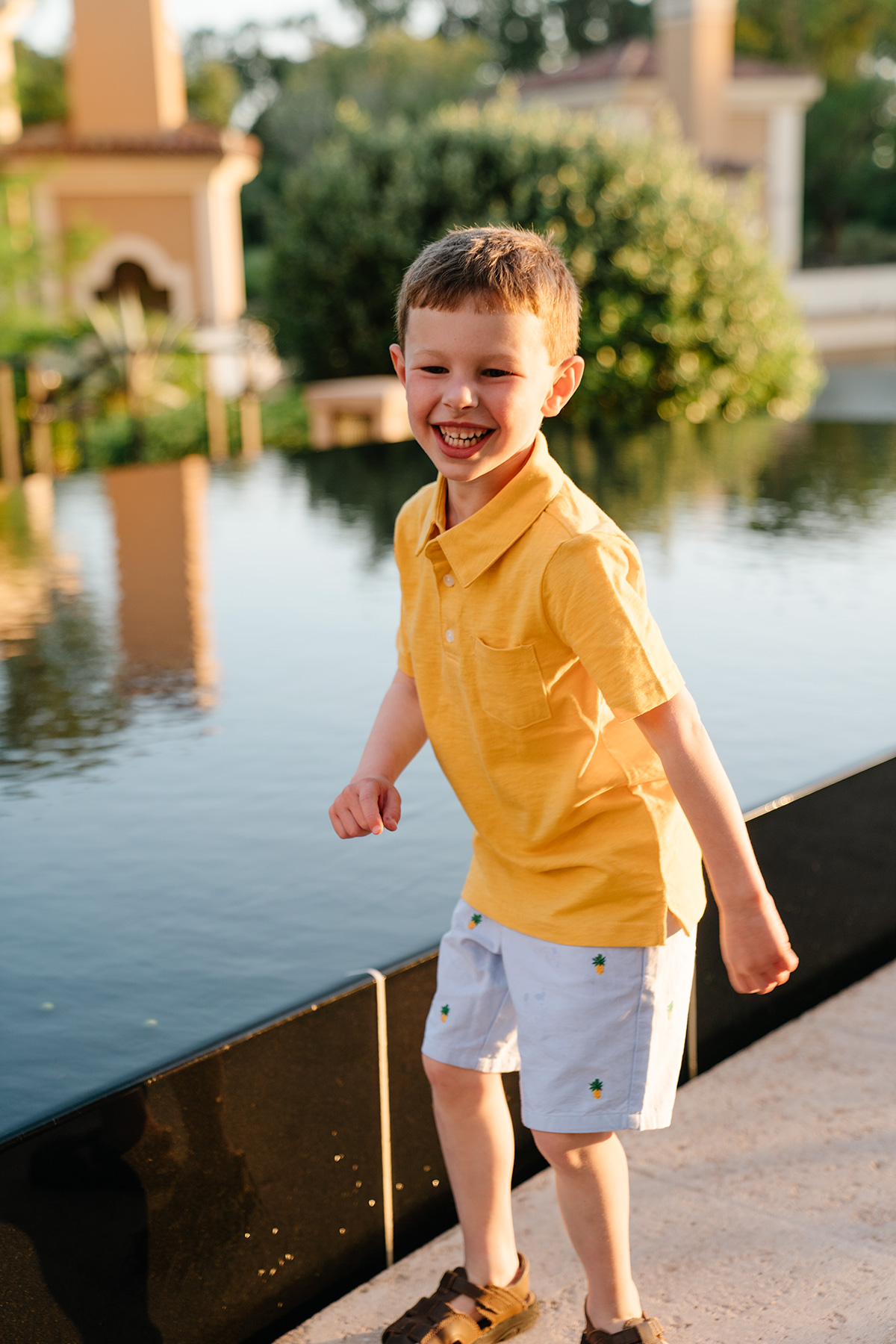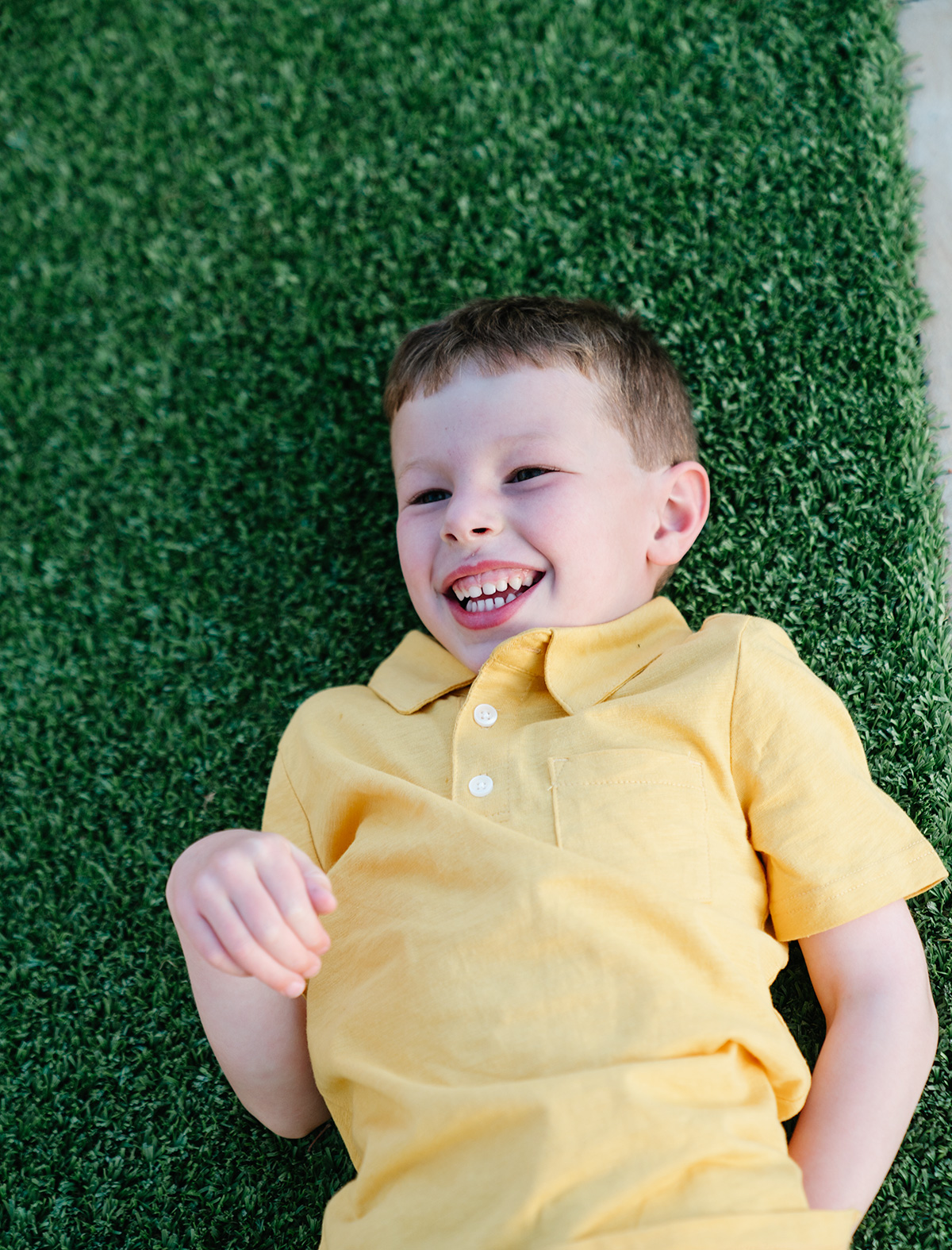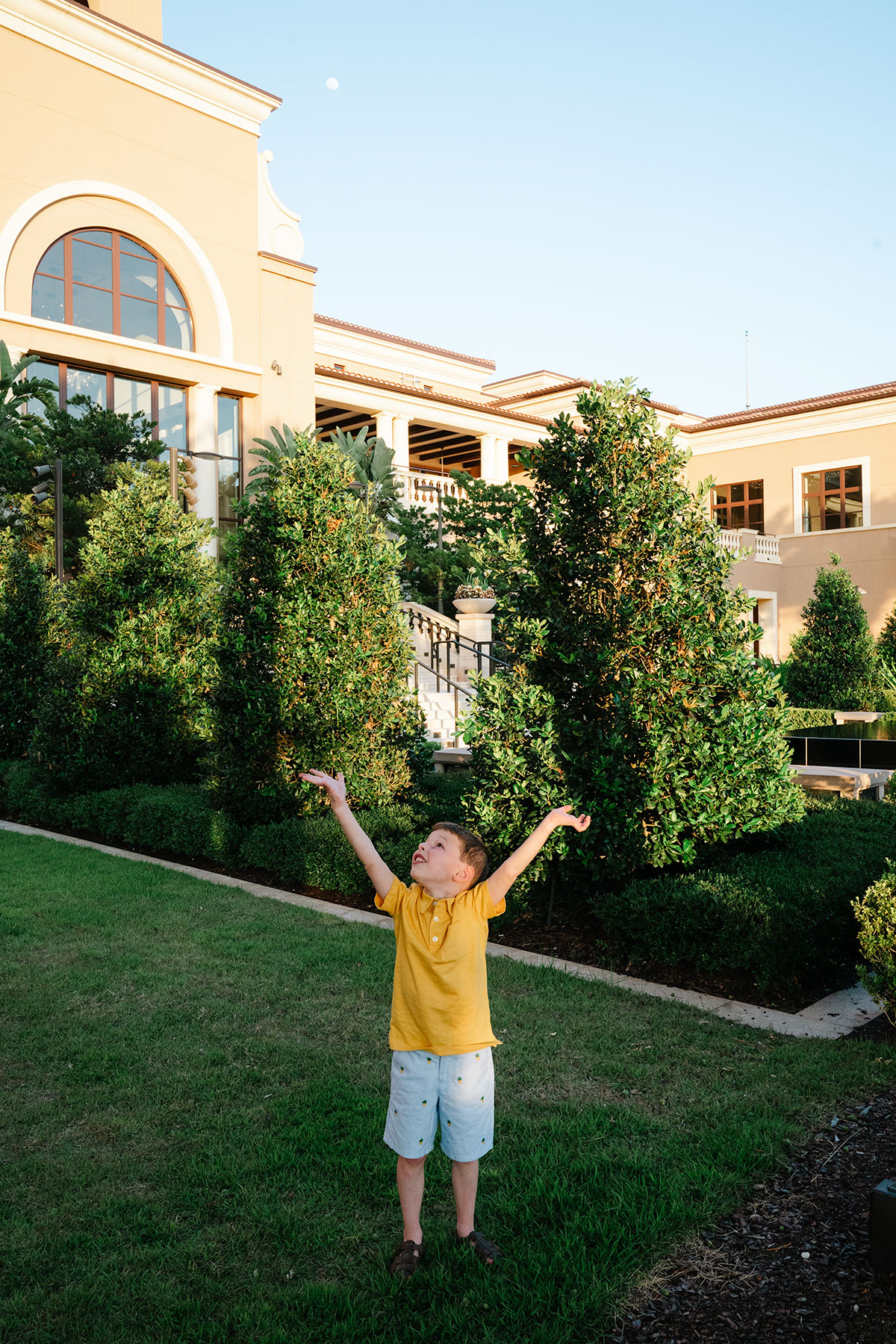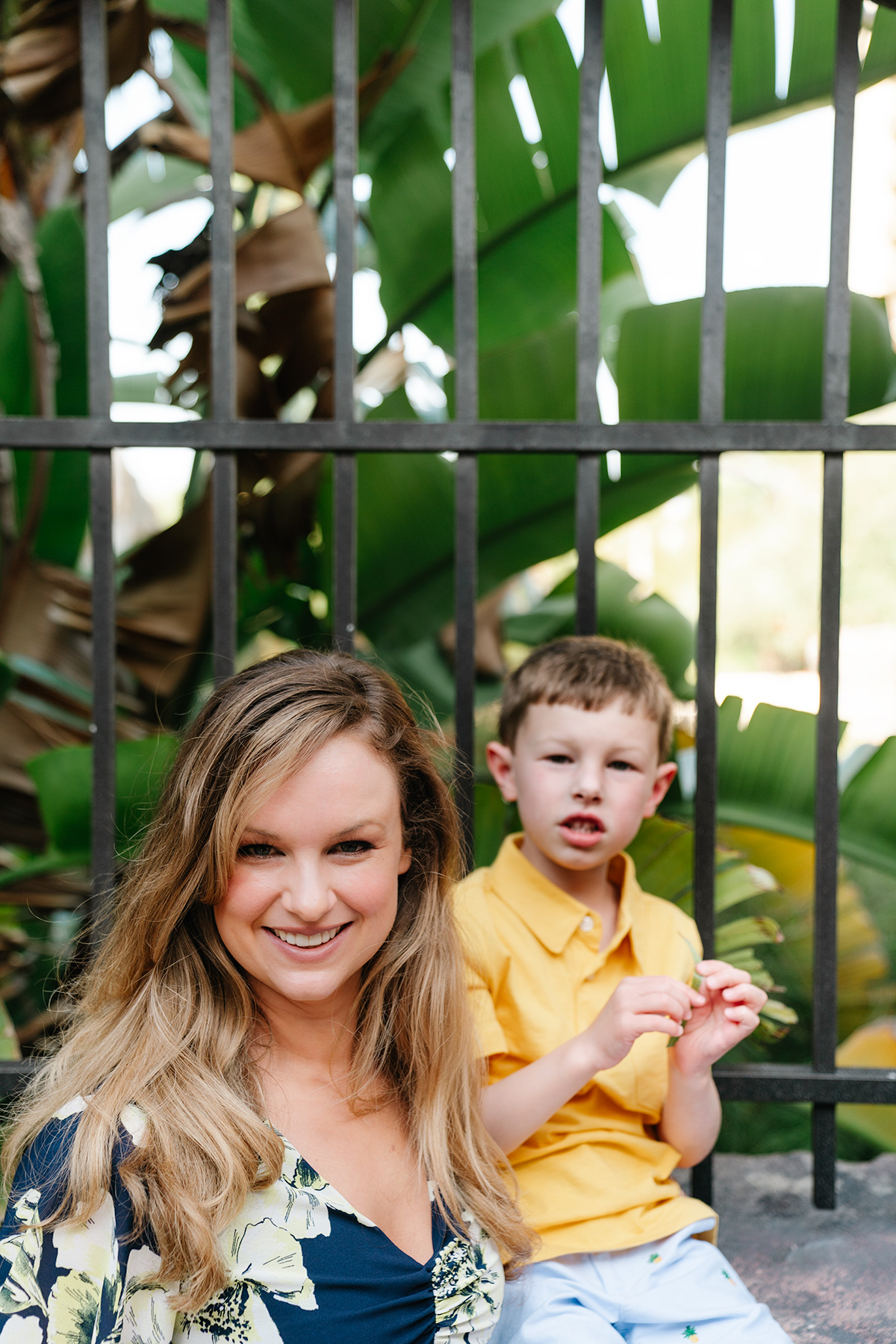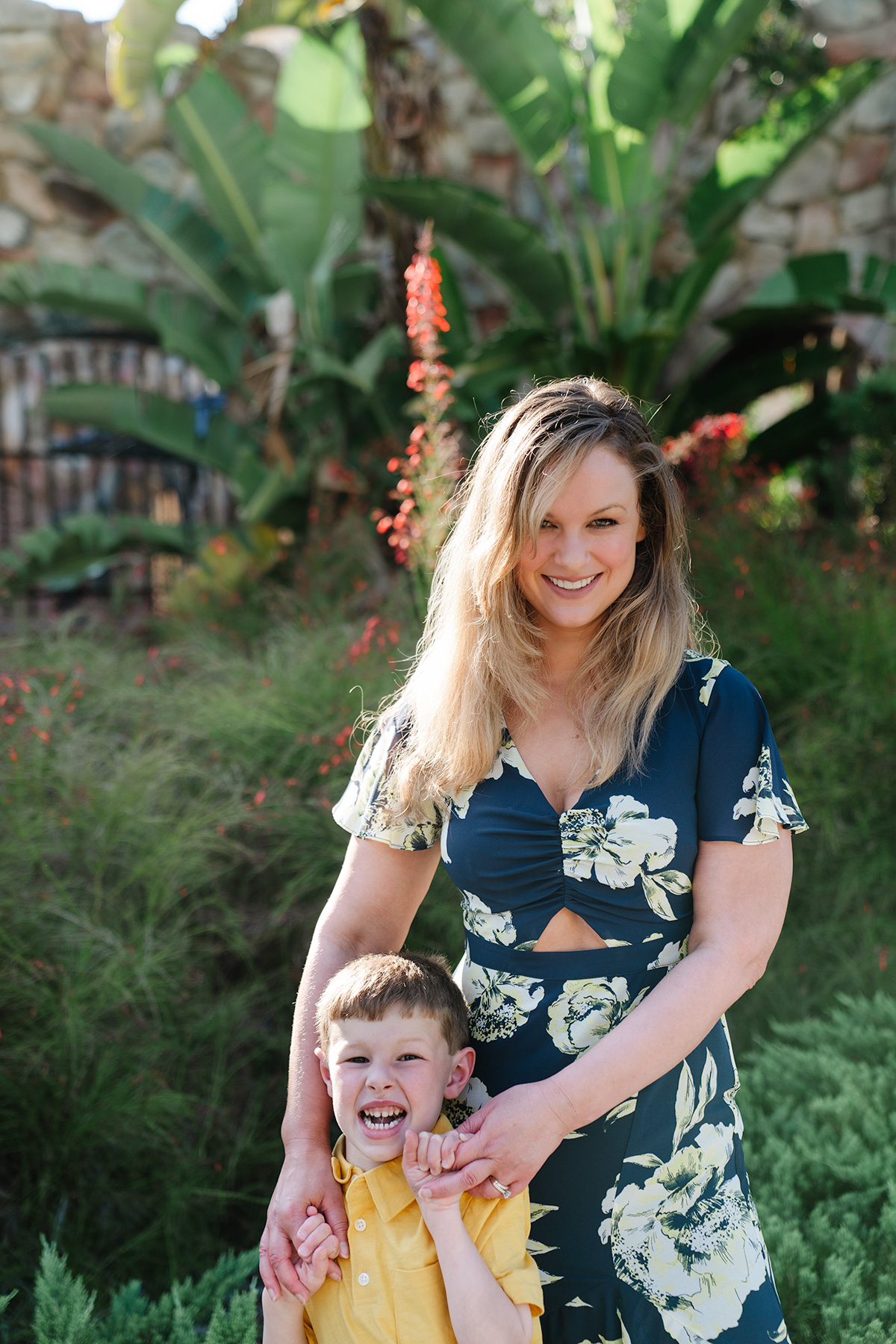 Another of my favorite memories was the evening we went to the Four Seasons restaurant Capa. The food was Spanish-inspired and so flavorful! Afterward we took a stroll around the hotel to check out the gardens and fountains. I love photography, so I had so much fun shooting Tru running around the beautiful grounds.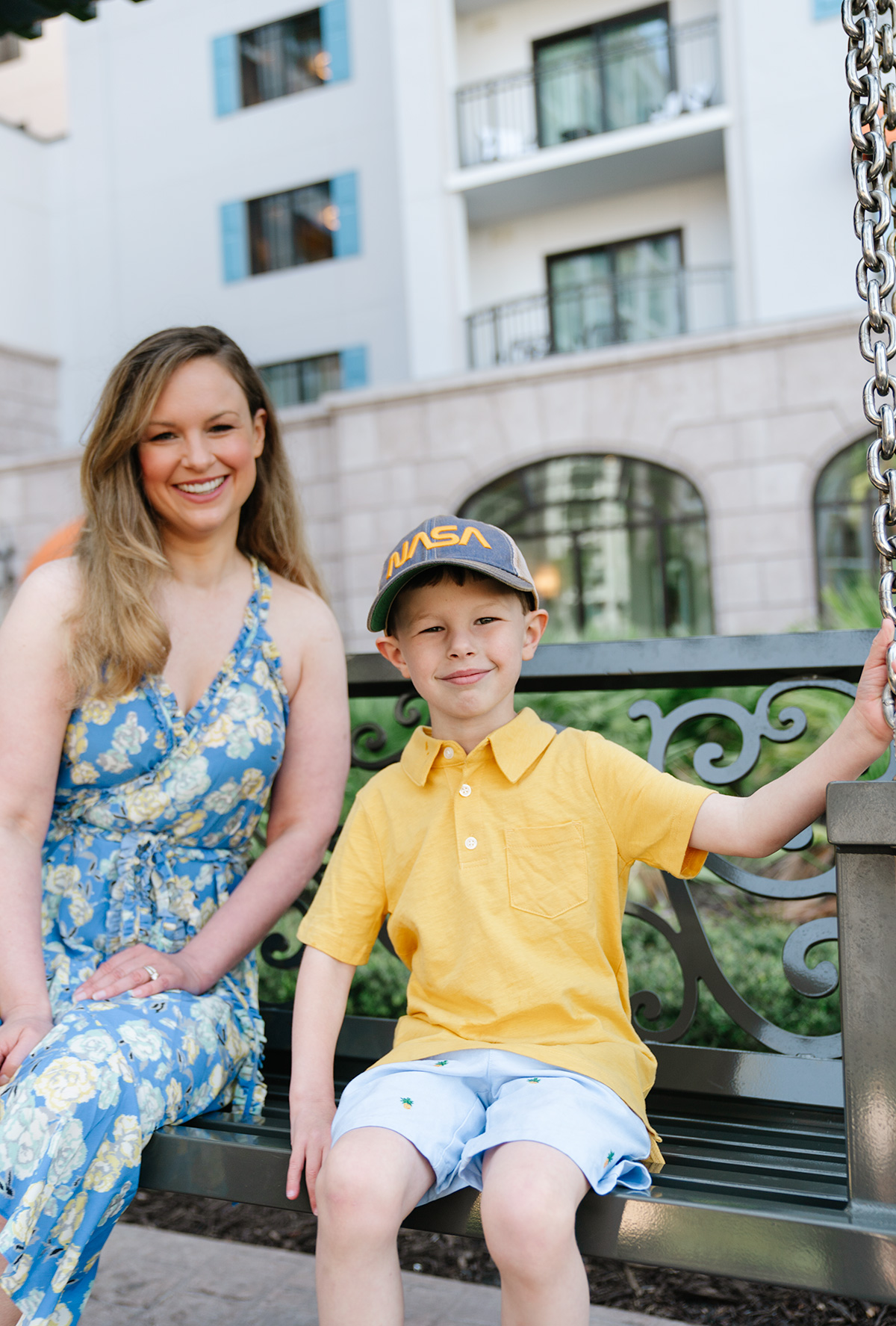 The second hotel we stayed at (for the second half of the week) was Disney's Riviera Resort. The hotel is fresh and new, and it definitely now ranks as my favorite Disney hotel. Our suite was quiet and secluded, located in a corner of a building overlooking the lake. The room felt clean and airy with a modern spacious bathroom and a really nice shower. The Murphy-style bed that folded over the living room couch was completely genius! It was easy to set up in seconds and made a really comfy bed for Tru. It had the sweetest mural above the bed of Peter Pan, Wendy, and Tinker Bell flying out of their bedroom window and into the London nighttime sky.
I also thought the Riviera restaurants were far above typical Disney fare. We went to Topolino's Terrace for a character breakfast one morning. Trevor had fun waving at all the Disney characters that walked by and "sang" (to a recorded soundtrack) and danced for us (characters were not allowed to approach tables due to covid). The restaurant was really nice and the food was fantastic. We also loved the quick service restaurant Primo Piatto.
Trevor was so excited about the Disney Skyliner too. He could see it from our room and kept asking, "when can we ride that?" It was definitely an easy (and really pleasant) mode of transportation to get to Epcot and Hollywood Studios.
Another favorite nighttime memory for me from the Riviera: checking in on Trevor, fast asleep under that sweet Peter Pan mural. Then sitting out on the balcony with Chris, listening to Disney instrumental music playing on the TV and watching the full moon reflect off of the lake.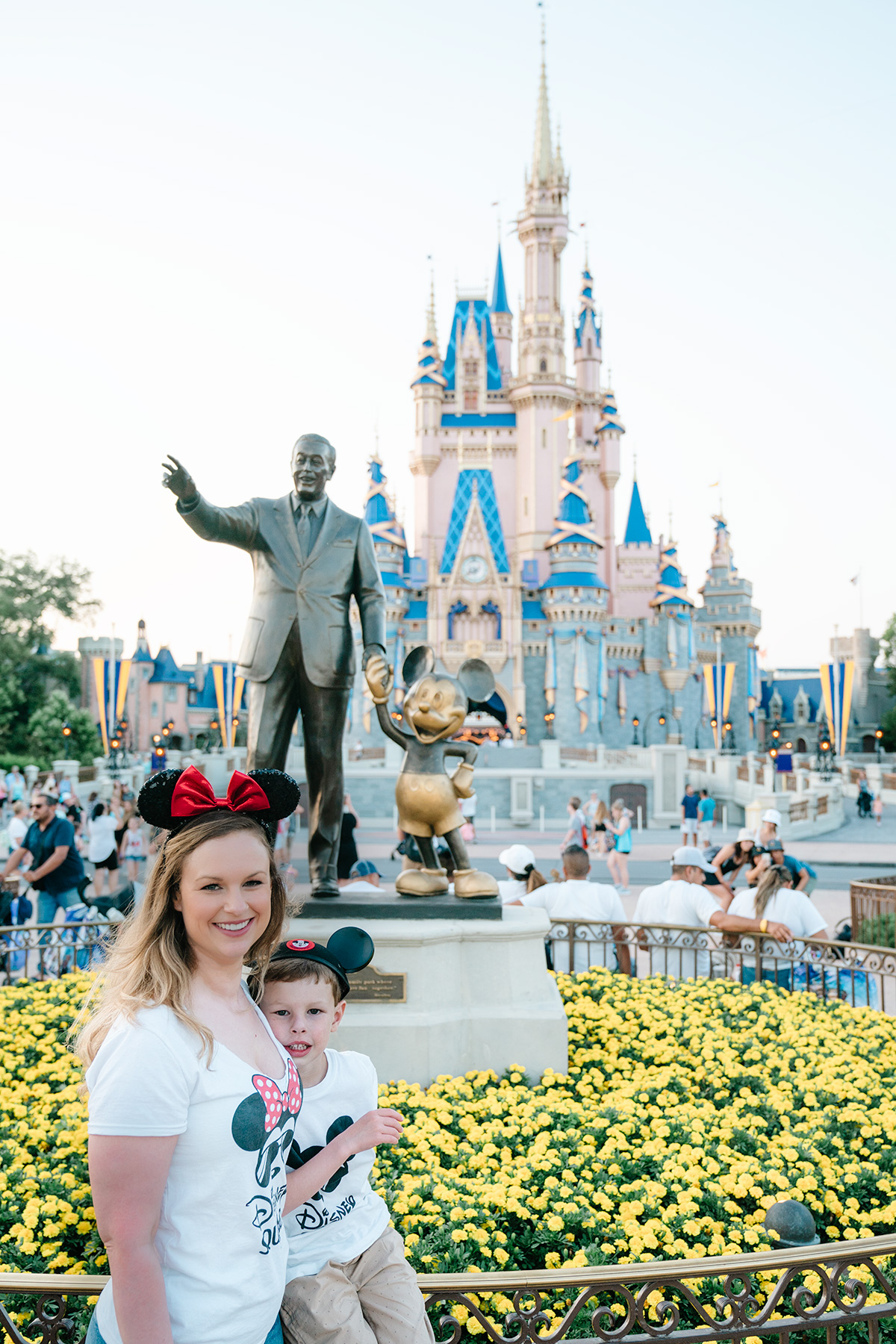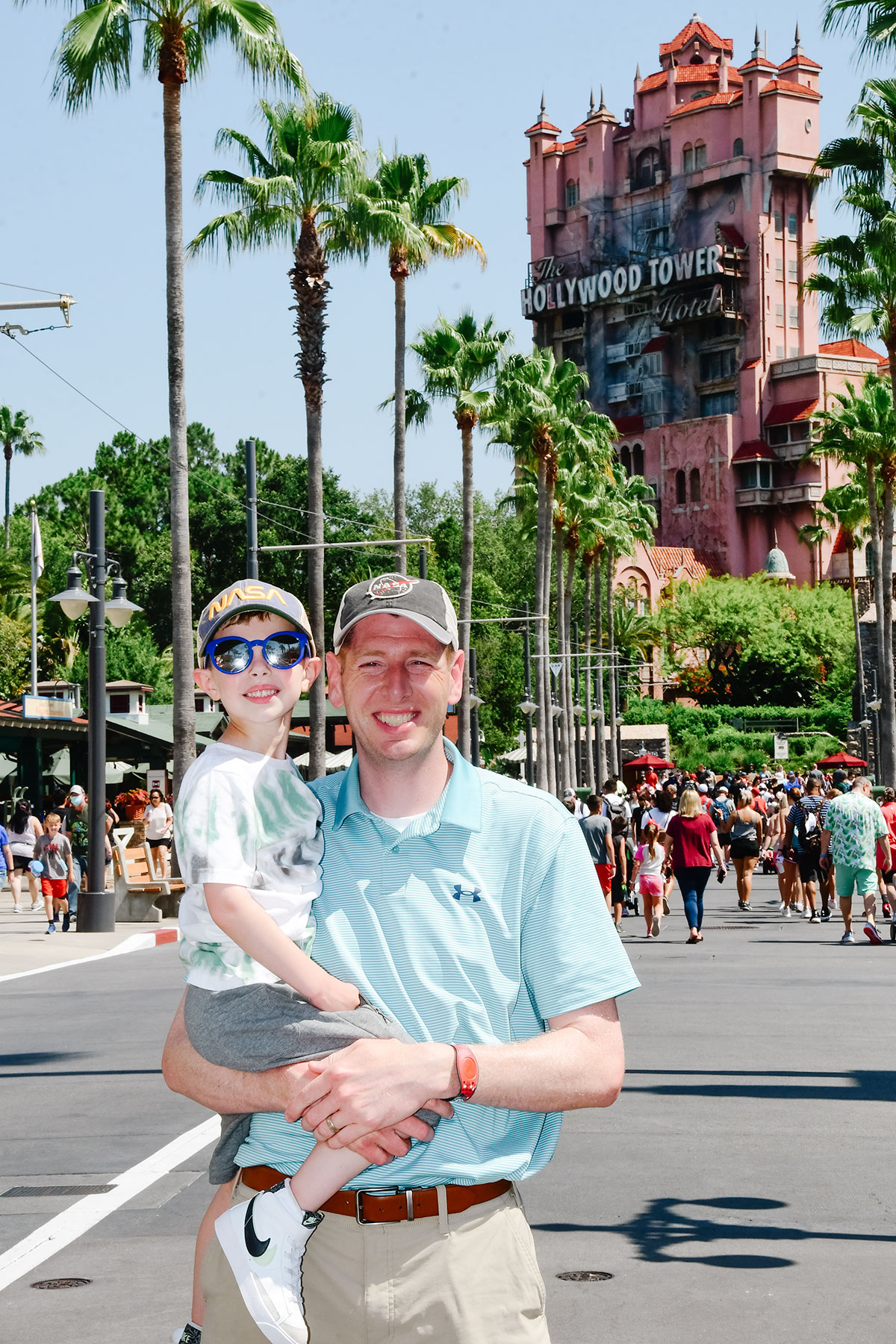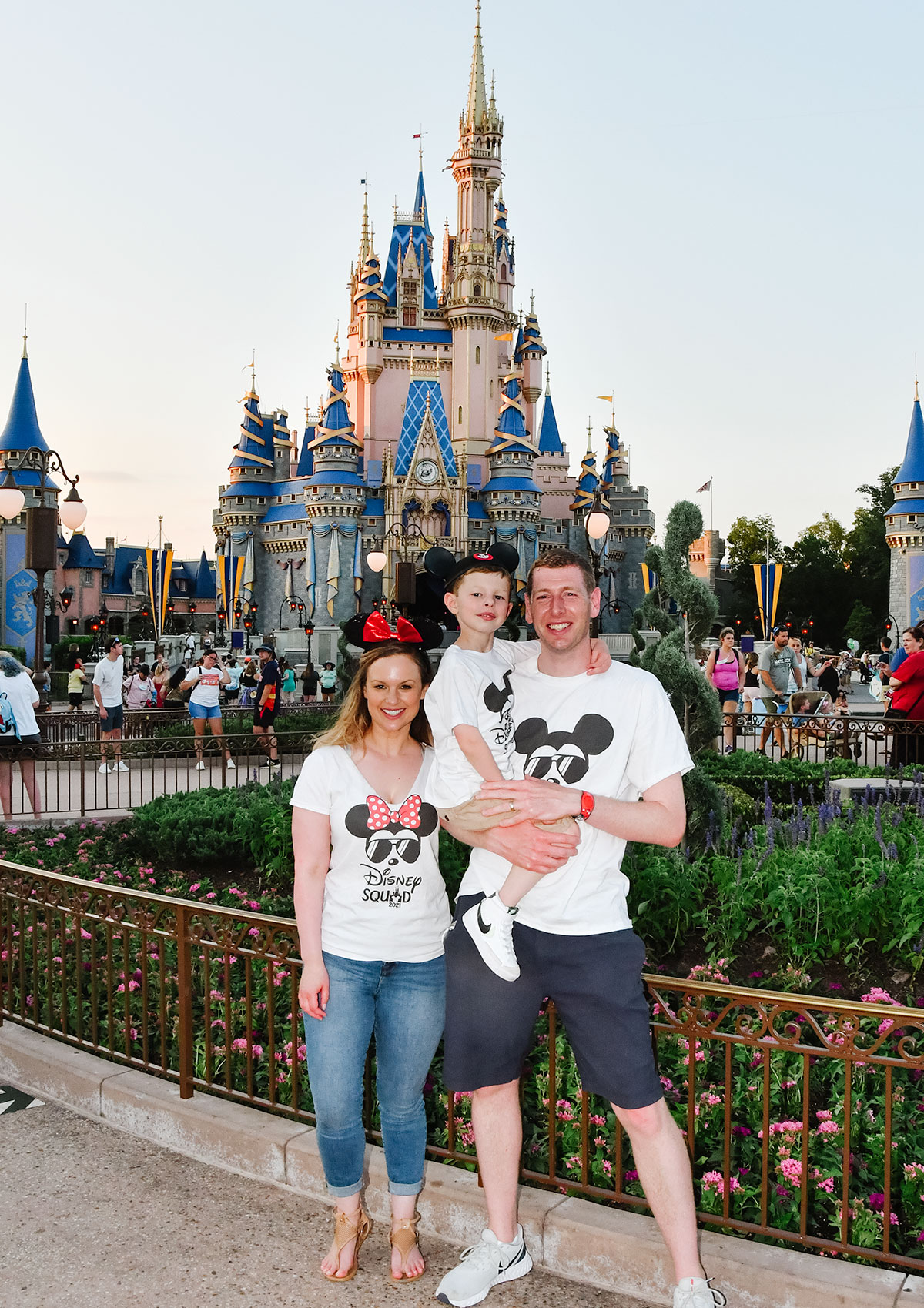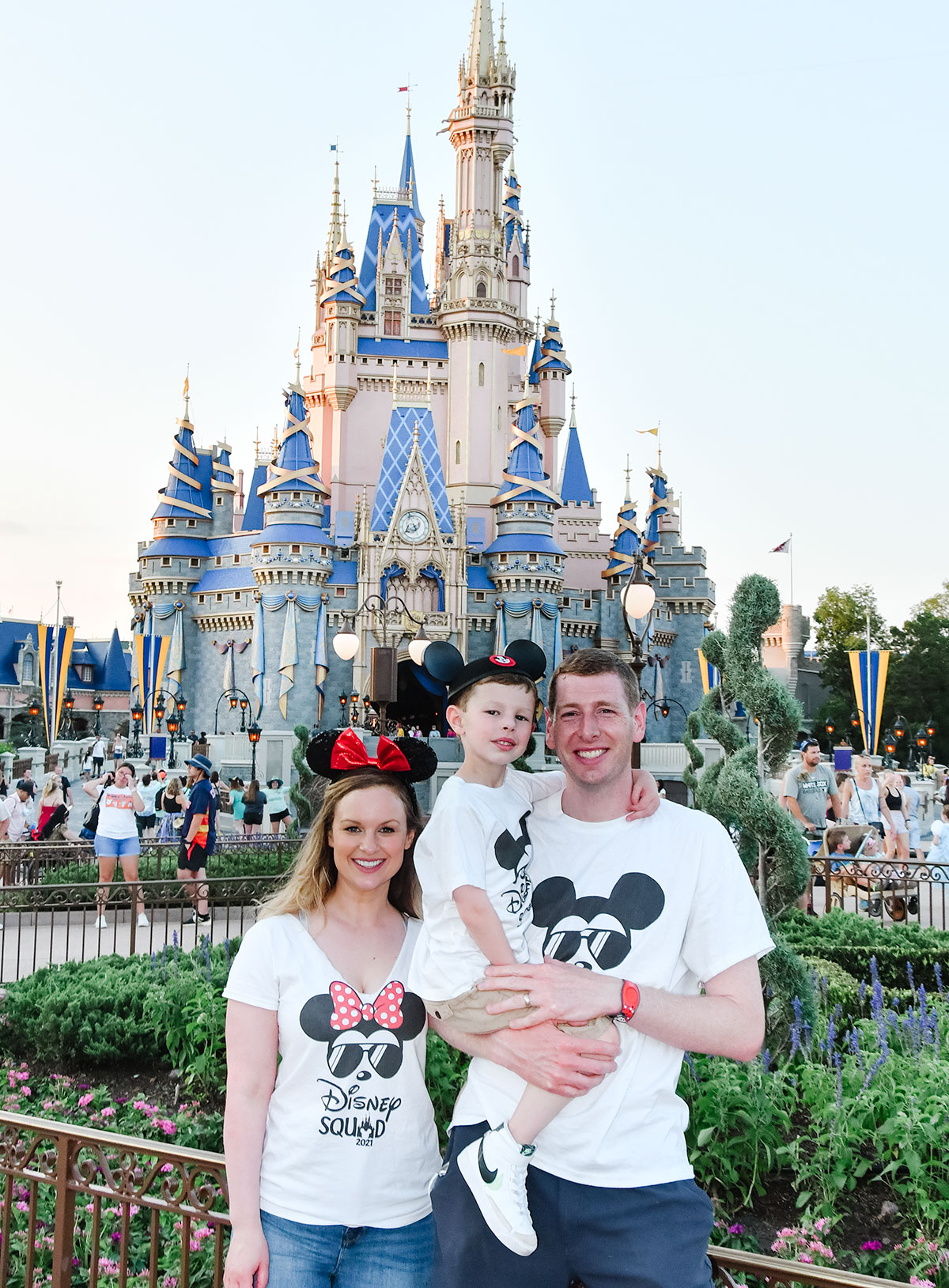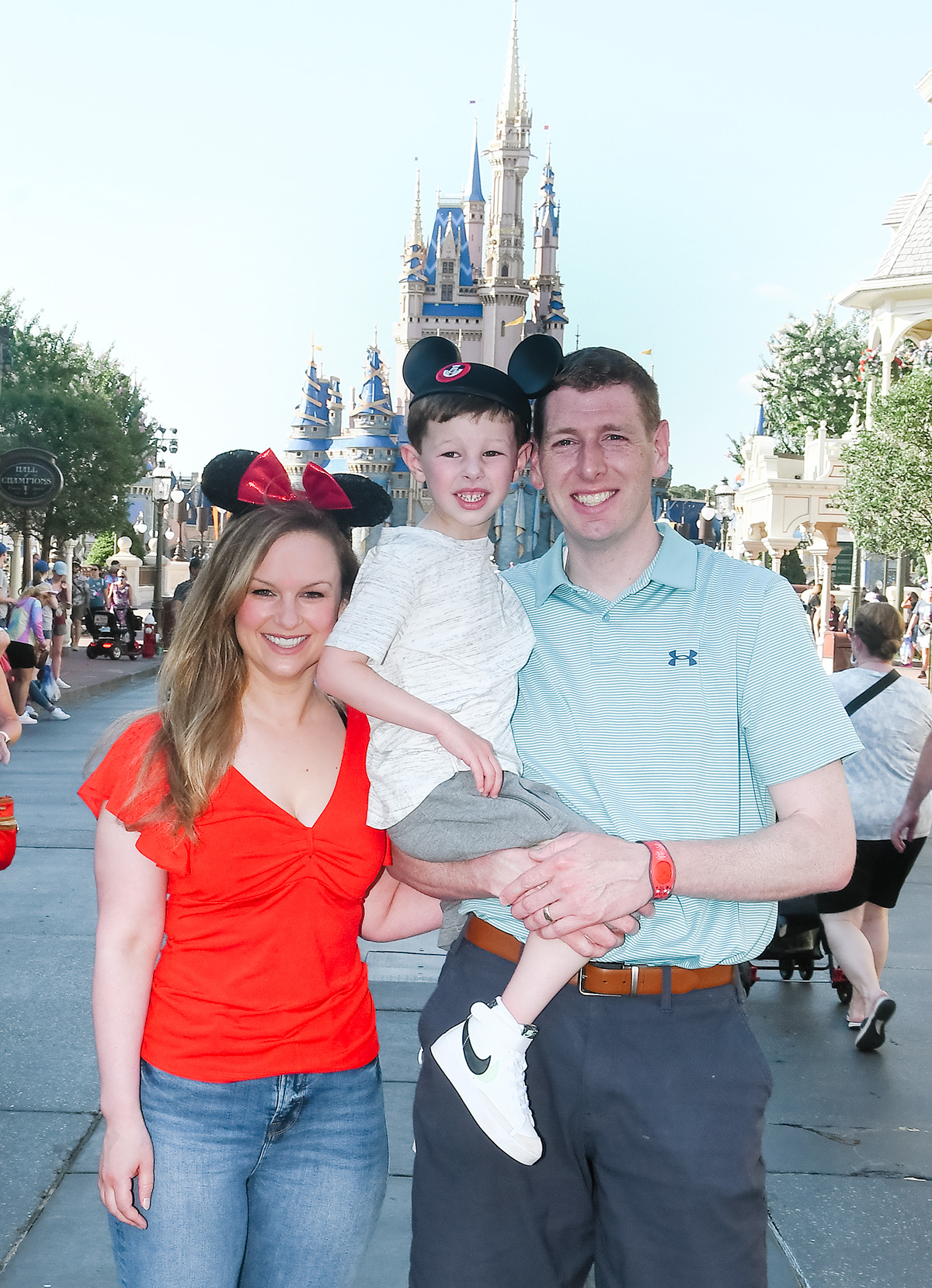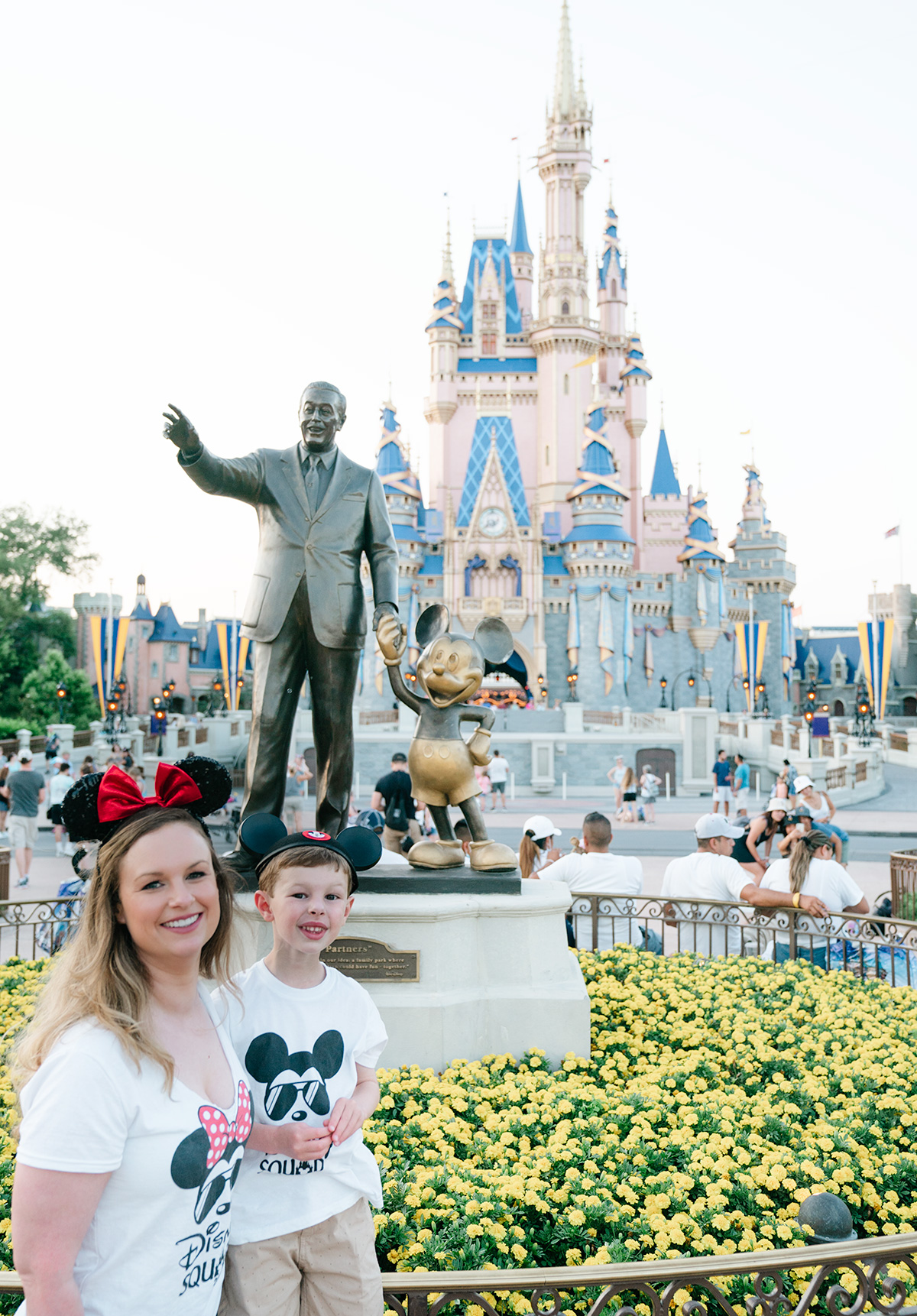 As for our time in the parks, I'll say this: Trevor is a daredevil!
Trevor loves the fast thrill rides. This was the first year Tru was tall enough to go on the Tower of Terror ride at Disney Studios. With the sudden elevator drops (all in the dark), I think that ride is one of the most extreme rides at Disney. I was worried Tru would be scared. But he showed no fear, and happily went on it a second time when he got the chance.
Tru was also tall enough to ride Space Mountain and Expedition Everest for the first time this year, and he loved those too. He loved the fast rides so much that he actually got a little bored on the easier ones. When we were on Big Thunder Mountain Railroad, he asked, "is this one almost done?" because he was so excited to ride Splash Mountain!
Some of the rides Tru requested during this trip were the Astro Orbiter, the Tomorrowland Speedway, Splash Mountain, and The Magic Carpets of Aladdin. He also was really excited to ride Spaceship Earth at Epcot and the Toy Story rides at Disney Studios.
One of my favorite rides this trip was Soarin at Epcot. We all went together. Tru wanted us to raise our feet up high and our arms too. He kept asking, "is this real? Are we really flying over the water?" He was in such a state of wonder, it was fun to be there beside him!
Sorry to say, but our trip to Disney wasn't all butterflies and rainbows! Chris banged his toe on the Four Seasons waterslide staircase. His foot got puffy, and he was limping for most of the trip. I get pretty intense anxiety when we travel and actually broke out into some kind of allergic reaction that made my arms all red and bumpy and the skin around my mouth all red and dry.
Trevor had one really rough night too. It began with us keeping him up way past his bedtime so we could go to the Magic Kingdom. We had him take a late afternoon nap (he never naps anymore), then we stayed at the Magic Kingdom until past 9pm. On our way out of the park, Tru fell in love with a Mouse Ear balloon that lit up with different colored flashing lights. We stood in line and bought him the balloon. But as we stepped onto the ferryboat to get to our rental car, the balloon popped. Tru was devastated and he just started sobbing. He sobbed as we rode the ferry back to the parking lot. He sobbed as Chris carried him through the vast parking lot to our car. He sobbed on the car ride back to the hotel. It had been such a long day and it was so far past Tru's typical bedtime (of about 7:20pm). Anyway, we got Tru quickly showered and into bed. Then Chris and I got into bed too, completely drained. Soon after we fell asleep, Tru cried out. Then he cried again shortly later. Then again. Then he did a coughing/choking thing with his cry. So then Chris got into bed with Tru. Since Trevor was a baby, I can't really fall asleep after he's woken me out of a deep sleep. So I just spent most of the night sitting/pacing on the balcony. It was a nice big balcony with comfy chairs, a really clear night – very warm – with a beautiful full moon. I think I finally got back into bed and passed out at about 3:45 am. As it turned out, Tru came down with a slight cold. So we think the combo of getting a little bit congested – plus being way off with his typical sleep routine – was the cause of all of his nighttime crying. Anyway, he had no memory of it whatsoever! I was telling Chris how I didn't get to sleep until 3:45 am and Tru was asking, "but how come?"
After that, we decided it wasn't in the cards for us to stay out late at the parks. We tried to head back to the hotel by 7pm each night.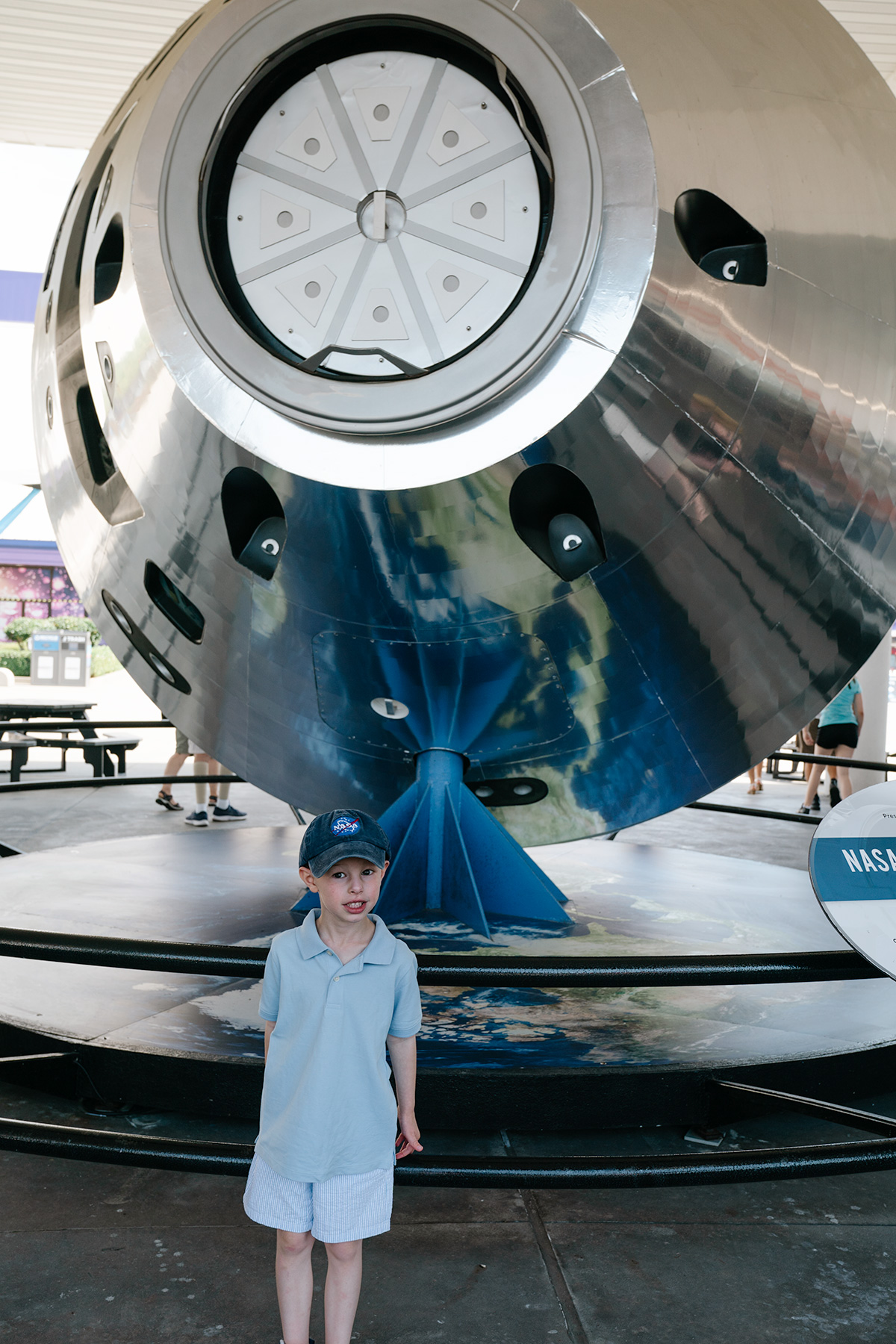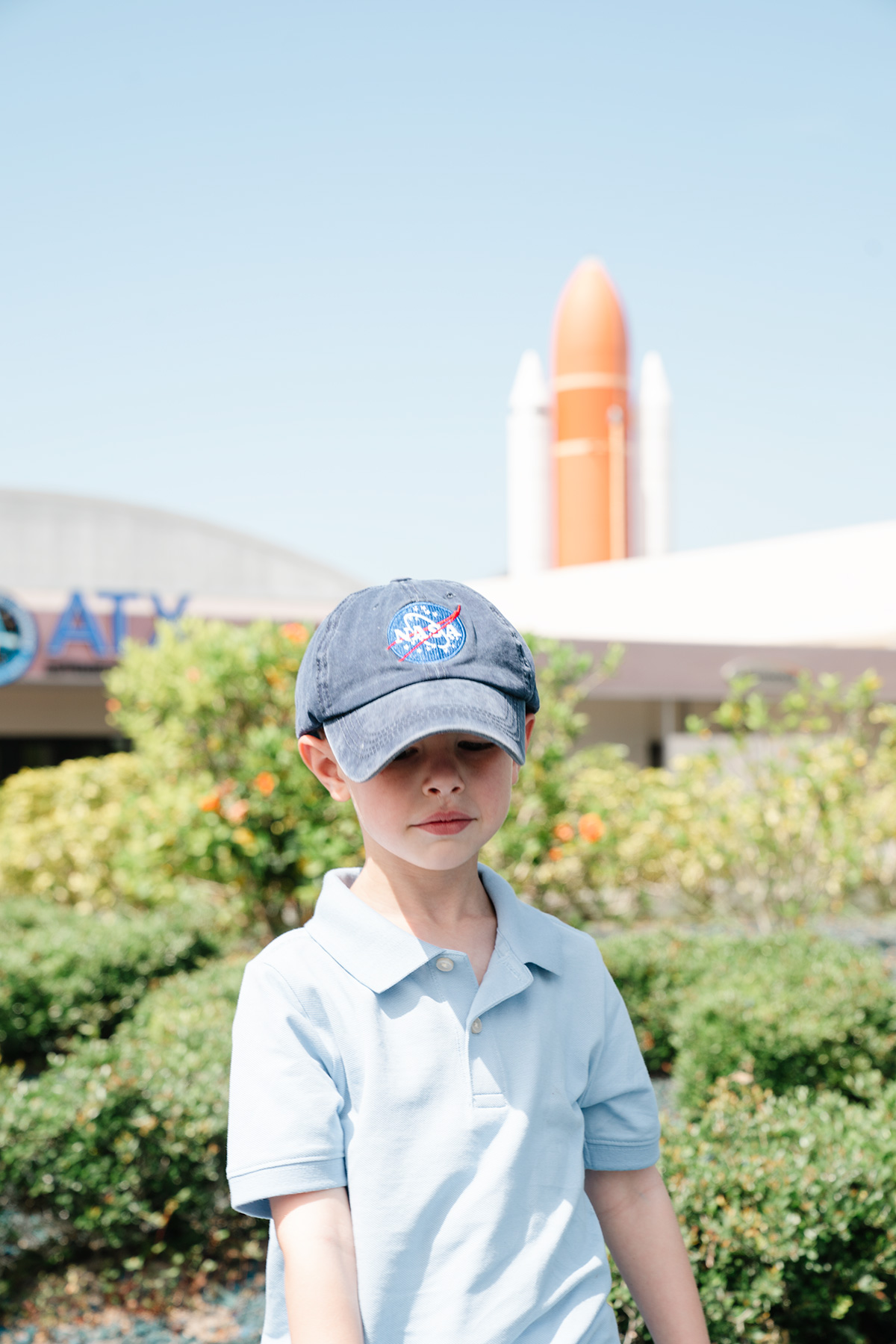 We also did a special day trip just for Trevor: we went to the Kennedy Space Center Visitor Complex at Cape Canaveral!
Sweet Tru has been in love with outer space for over a year now. He chooses outer space books for his bedtime story almost every single night. Outer space shirts and socks are always his clothing of choice. As soon as he learned that there was a NASA complex near Disney World, he was so excited to visit.
Trevor was really hopeful that when he visited NASA, he'd get the chance to talk to a NASA scientist and ask some questions. He told me about his plans several times before our trip. And he got his chance after we watched a short show at one of the museums there. The woman presenting said we could approach her after the show with questions. Trevor got a little shy so I picked him up and encouraged him to ask his questions.
His questions were, "how much rocket fuel do you need to fly to Mars?" (Side note: Trevor intends to live on Mars one day.)
(The answer: millions of gallons.)
And, "what do you do if you have to go to the bathroom during take-off?"
(The answer: astronaut diapers. Who knew?!)
I think Trevor's favorite part of his trip to NASA was the astronaut ice cream. He saw it in the display window of the gift shop and it was like a tractor beam pulling him in.
We found out the day before our trip to NASA that there would be a SpaceX shuttle launch on the day of our visit. Trevor was so excited! It was a really cool experience. We stood out on the lawn outside of one of the visitor museums and watched the shuttle blast off. First there was a huge billow of smoke, then the shuttle – powered by a bright stream of fire – shooting across the sky. Several seconds later (since sound travels slower), we heard the loud rumbles of the take-off. My understanding is that SpaceX shuttle launches happen pretty frequently these days, but that was a really memorable and unique experience for our family.