Raise your hand if you've heard this refrain recently in your household: "chicken for dinner again?"
Whether the complaint is coming from a spouse, a roommate, or even yourself (!), this recipe is an easy solution for that pesky little problem.
I always break this dish out when I'm getting bored with the same old roast chicken with vegetables.
It's great because it's unique with a spicy and sweet flavor combination, full of super-healthy ingredients, and ready in under 30 minutes.
Here are the key ingredients (chicken breasts not pictured).
Looks easy, right? It is!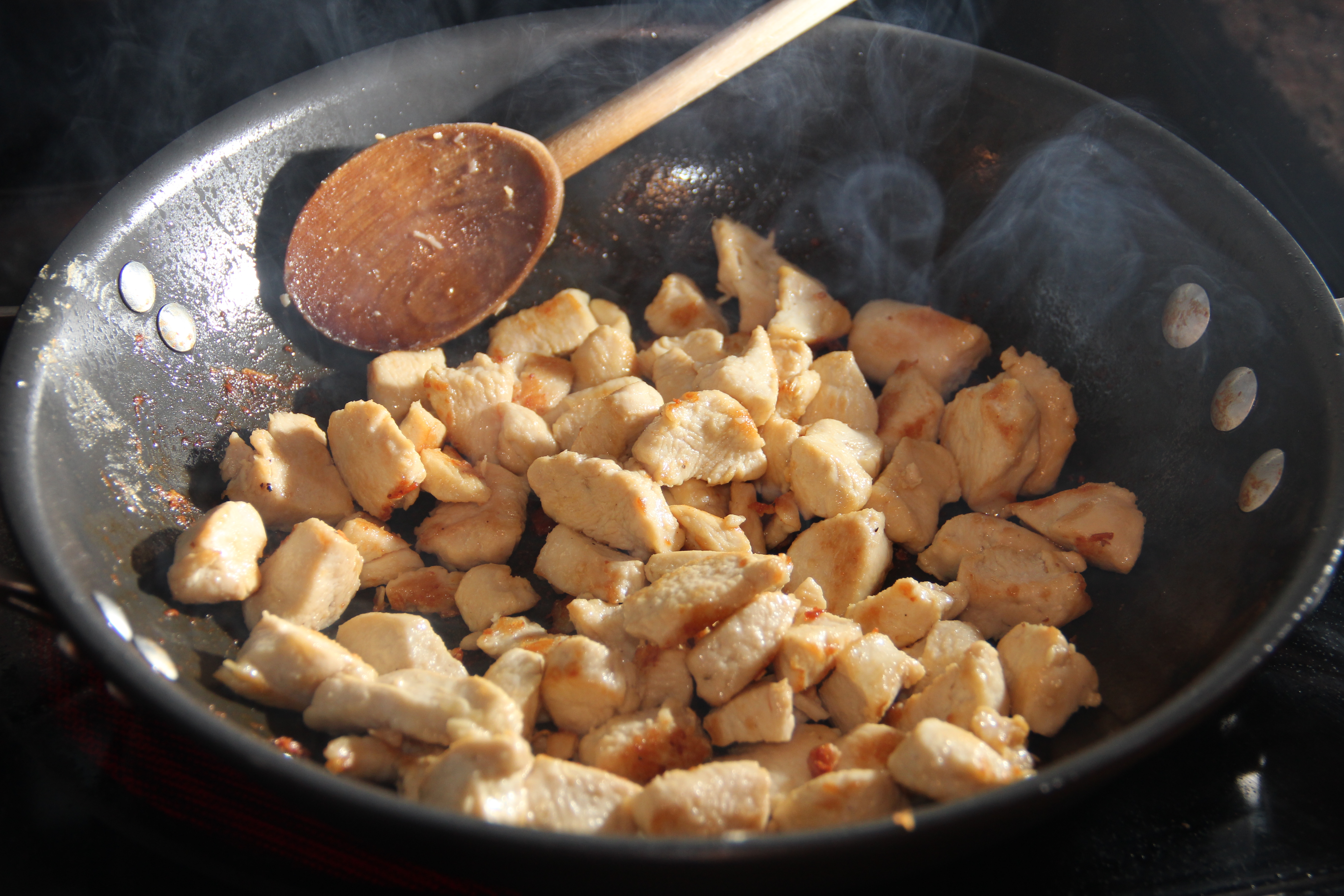 Begin by heating 1 tablespoon of extra virgin olive oil in a large saute pan over medium-high heat.
Cube some boneless, skinless chicken breasts and add the chicken, cooking until nicely browned on the outside.
Next, mince some garlic.
As far is garlic is concerned, – and you probably guessed this if you've read a few of my recipes – I'm kind of a fan. Okay, a really big fan.
Here's why: 1) it adds so much delicious flavor to such a wide variety of savory dishes 2) it's a superfood with tons of antioxidants that protect against heart disease, high cholesterol, and cancer (one study found that women who regularly consume it had a 50 percent lower risk of developing colon cancer).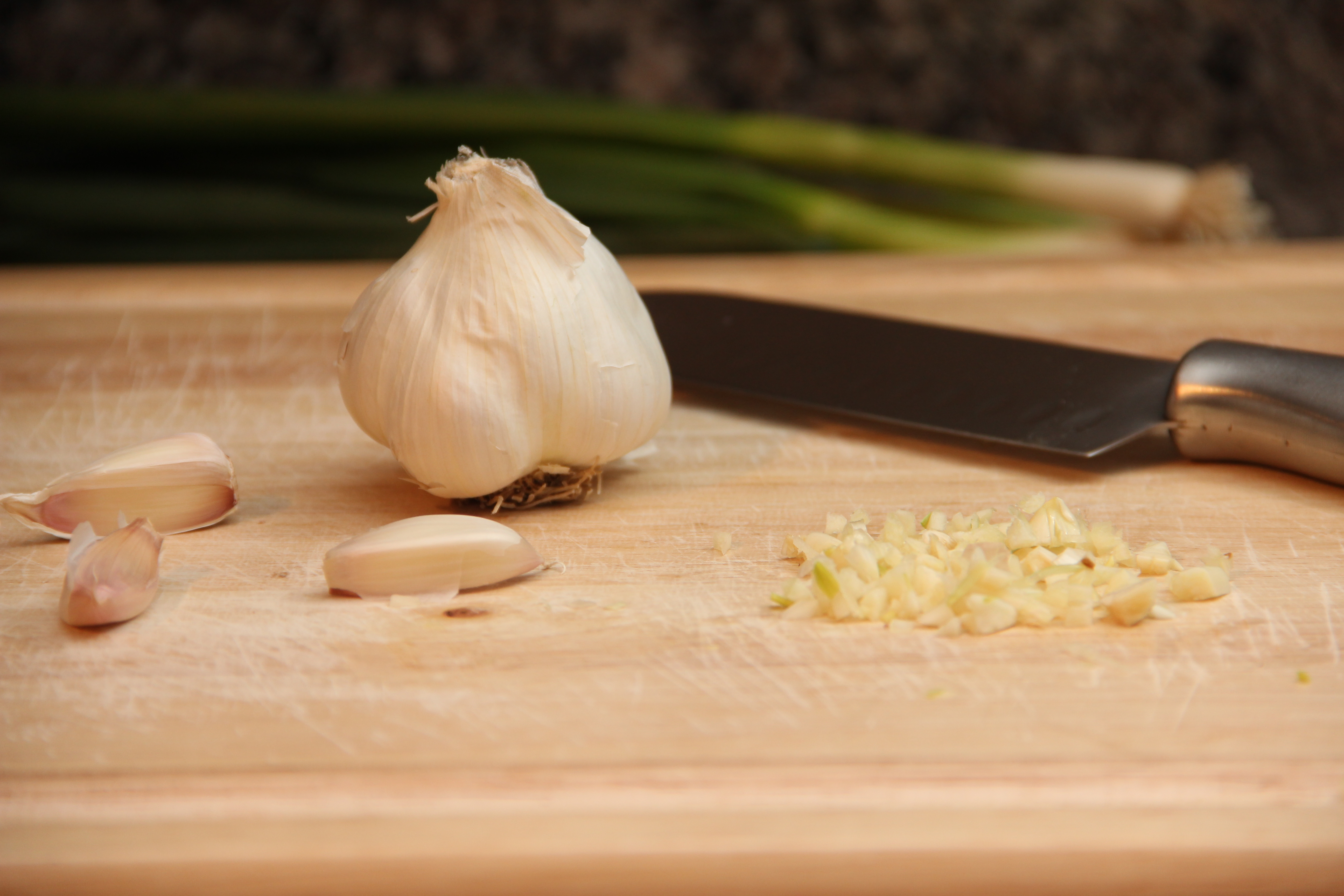 Reduce the heat to medium and add the minced garlic to the pan.
Chop up a bell pepper and add that to the pan as well.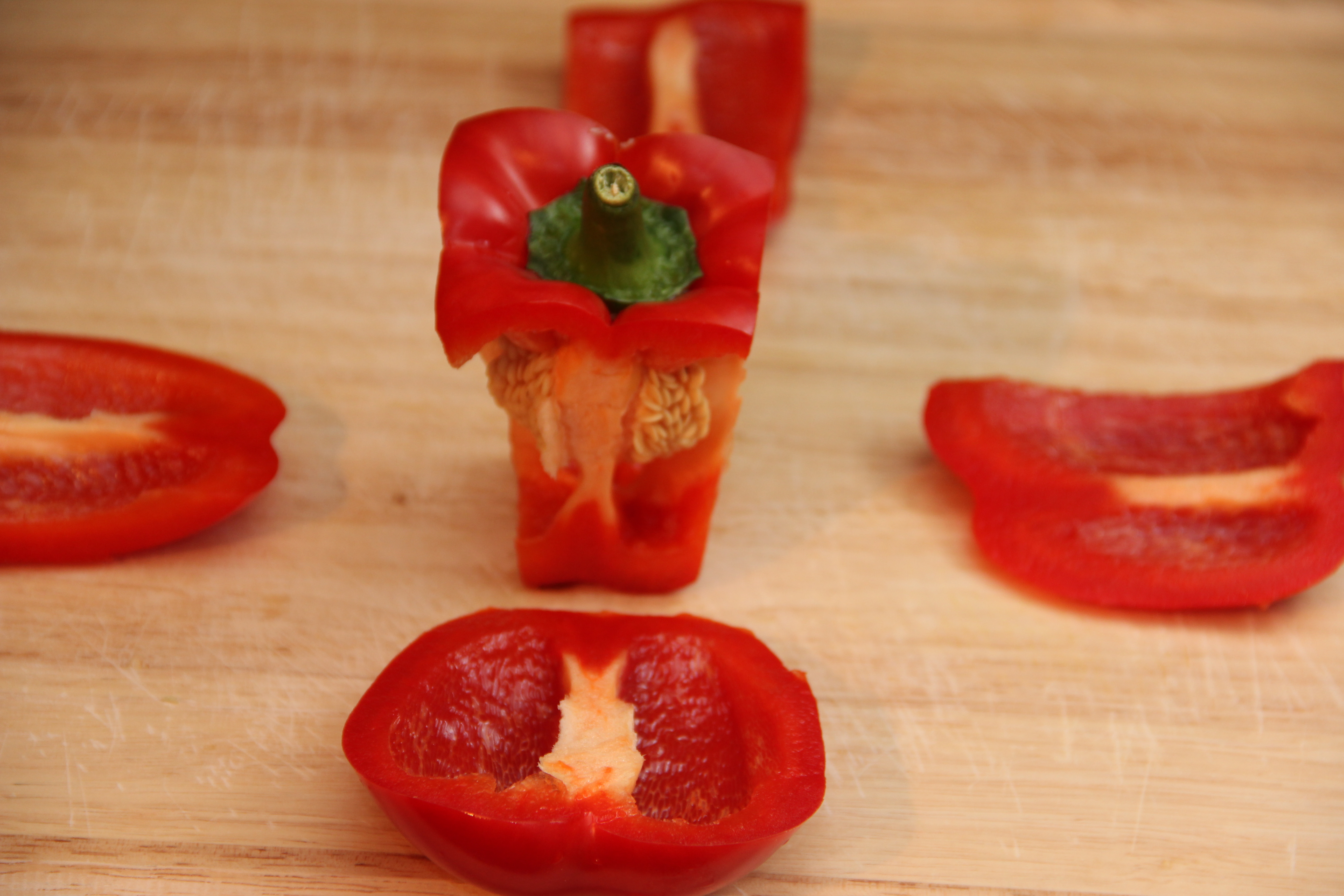 The fastest way I've found to chop up a bell pepper: set it upright on a cutting board. Now make four cuts from top to bottom, along each side of the pepper, leaving the center with the stem and seeds intact.
Now you can easily throw away the part you won't use. And easily chop up the four quarters. I pile two sections on top of each other to get the job done in half the time.
Next, toss the frozen pineapple into the pan.
Add the honey and soy sauce.
Just be sure to use a low sodium soy sauce. Check out the nutrition label on a bottle of regular soy sauce (about 40 percent of your daily value of sodium in just 1 tablespoon of regular soy sauce) and you'll understand why! Use the low sodium variety, and then you can control how much salt is added to your dish.
Add the red pepper flakes. Use about 1 teaspoon for a spicier dish. Use only about 1/2 teaspoon if you prefer a milder dish.
Next, add the ginger.
Ground ginger is a great item to add to your pantry if you haven't already.
If you've ever looked at fresh ginger in a grocery store and thought it seemed too intimidating – why not start with ground ginger, which delivers the same health benefits without the work required to prepare fresh ginger. Ginger is full of antioxidants. Studies have shown ginger may: ease colds and sore throats, help lower cholesterol and blood pressure, protect against cancer, and act as a strong anti-inflammatory (good for keeping your skin clear and healthy, among many other things).
Next, grab the green onions and chop off the roots and the tips.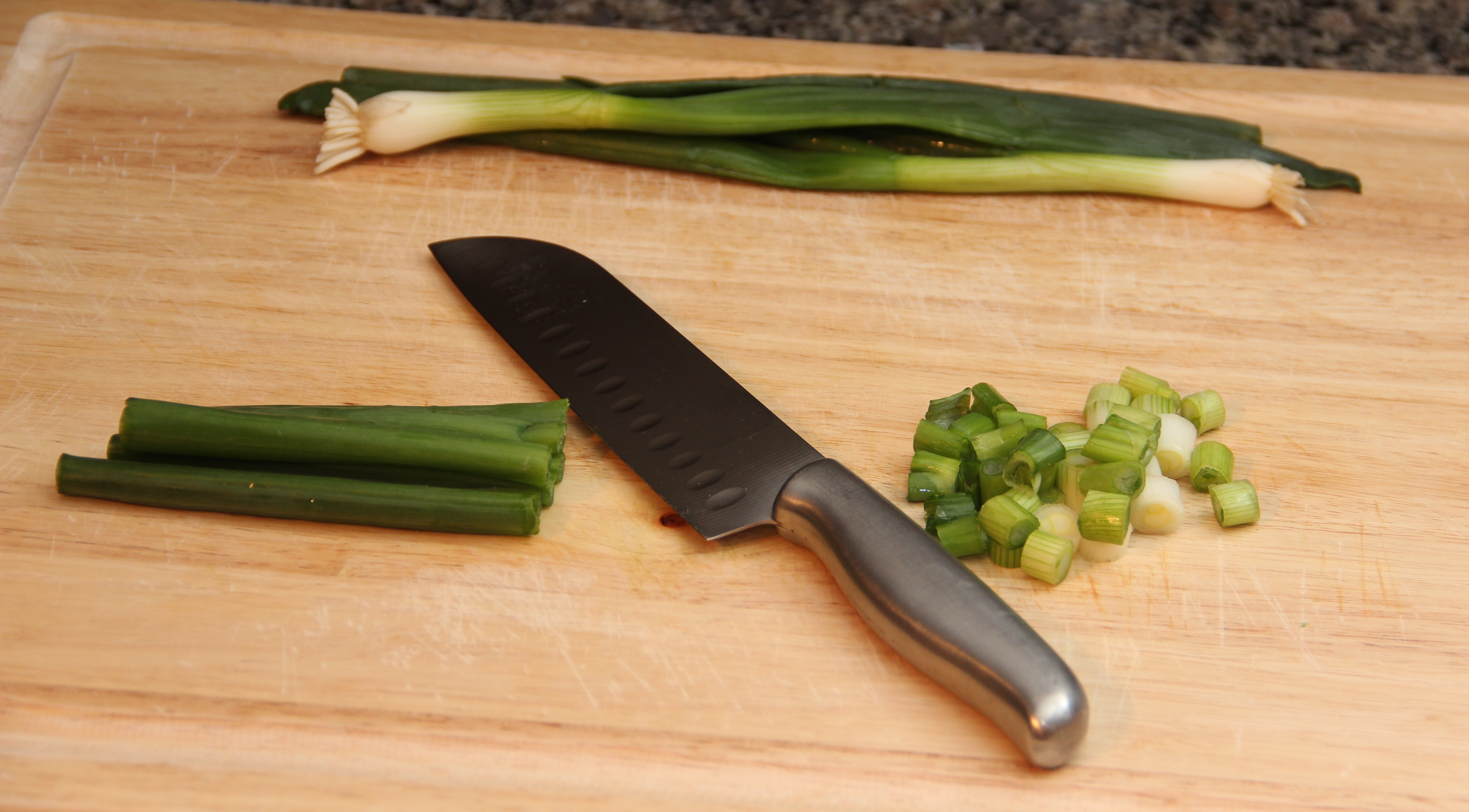 Then slice them up and add to the pan, along with the shredded carrots.
Stir and cook for a couple of minutes, allowing all the flavors to combine.
Serve with steamed brown rice.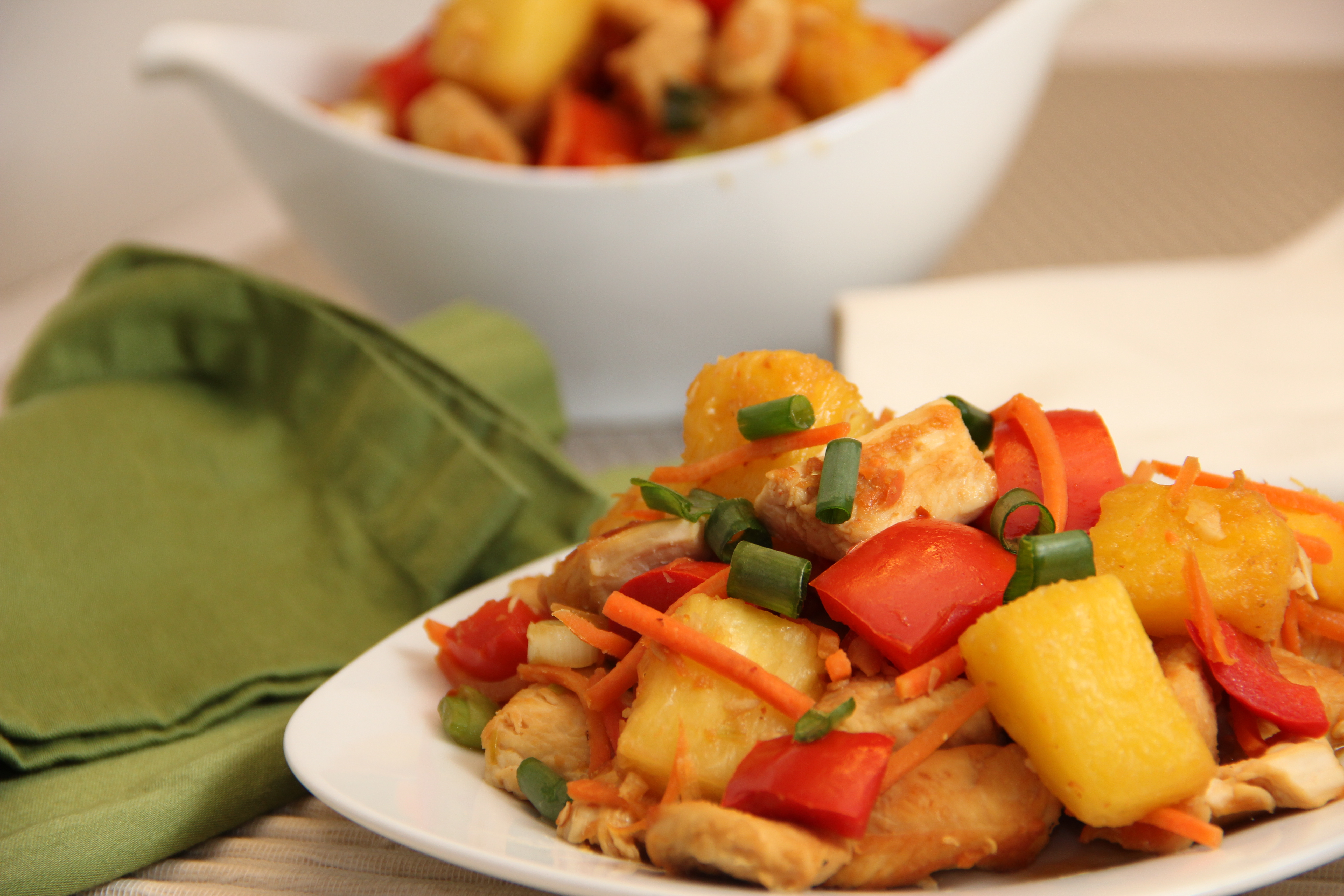 Definitely not chicken-as-usual. This dish – savory and sweet with a spicy kick – will wake those taste buds right up.
Plus, it's quick and easy for a weeknight meal.
Here is the complete recipe:
Spicy & Sweet Chicken with Pineapple
Prep: 10 minutes
Cook: 15 minutes
1 tablespoon extra virgin olive oil
3 boneless, skinless chicken breasts, cubed
3 cloves garlic, minced
1 red bell pepper, chopped
12 ounce bag frozen pineapple chunks
2 tablespoons low-sodium soy sauce
2 tablespoons honey
1 teaspoon ground ginger
1 teaspoon red pepper flakes (use less if you prefer a milder dish)
1/2 of 6 ounce bag shredded carrots
4 green onions, thinly sliced
salt and freshly ground pepper
Directions
Heat the olive oil in a large saute pan over medium-high heat. Season the chicken with salt and pepper and saute the chicken until browned, about 7 minutes. Reduce the heat to medium. Add the garlic and bell pepper and cook until softened, about 5 minutes. Add the pineapple and season with salt and pepper. Add the soy sauce, honey, ginger, and red pepper flakes. Add the shredded carrots and green onions and cook for a few minutes more. Serve over steamed brown rice.