Several years ago, my husband Chris and I were fortunate enough to travel to Italy for our honeymoon.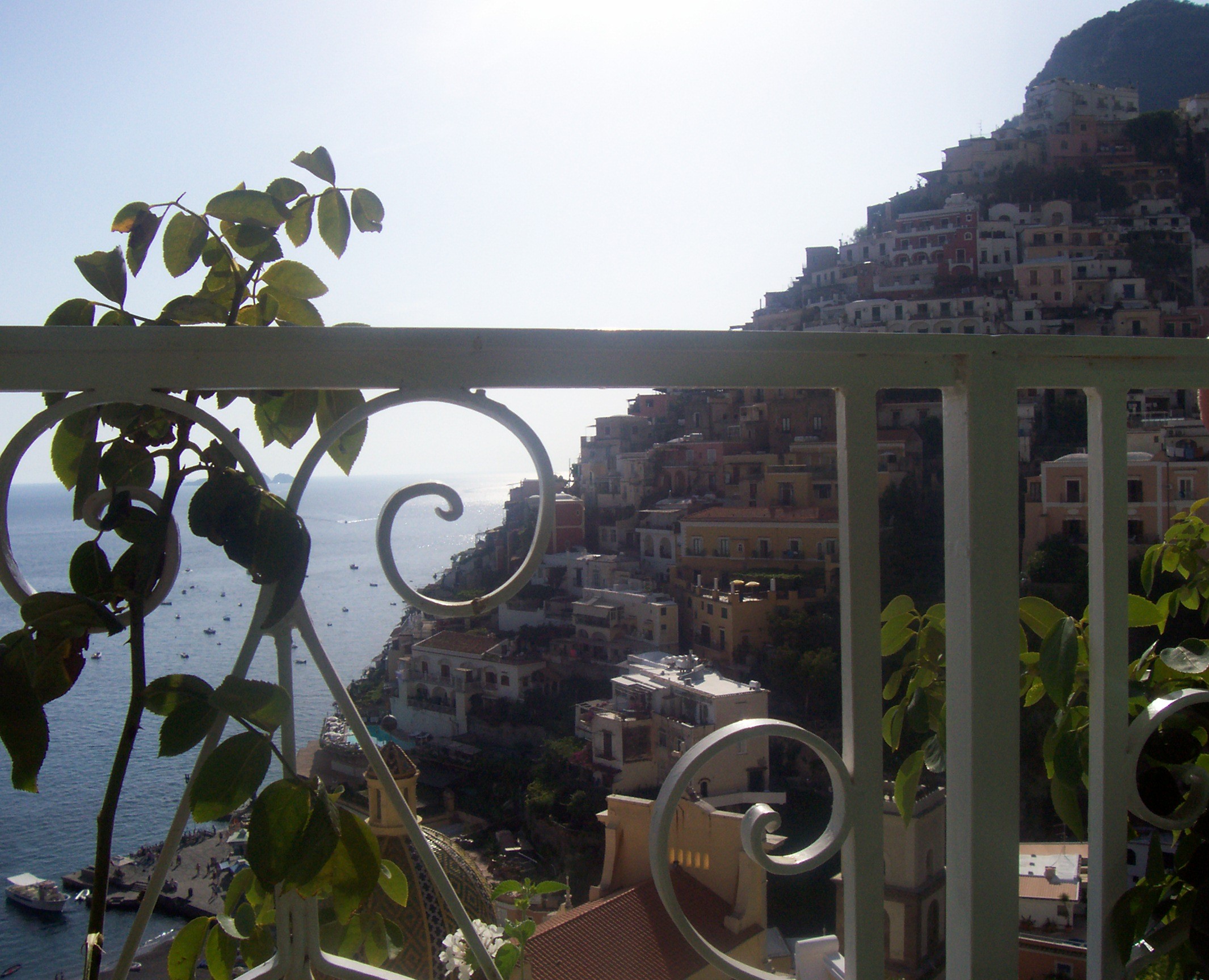 This is the southern coast of Italy, and you have to make a harrowing drive, navigating dangerous curves along the edges of cliffs (with motorcyclists whizzing by you James-Bond-style, no less) to get here.
But once you arrive, it feels like you may have temporarily left earth and stepped into heaven.
Chris and I were so awe-struck by this place that we couldn't get over the idea that there were people who grew up and got to live in this beautiful paradise. We kept saying "there are actually people get to walk these beaches everyday?" and "eat at these restaurants all the time?" We couldn't believe anyone could be so lucky.
One night we had the most wonderful-tasting, light and flavorful gnocchi (dumplings, often served with tomato sauce and cheese), and we were in love. After that, we kept ordering them every night.
Back in the real word, I tried to make my own gnocchi, and they are fun and easy to make (they just take a little bit of time and patience).
Gnocchi is commonly made with white flour and potatoes and often cheese, so I've come up with a healthier version.
Here is my own gnocchi with a 'scumptious pumpkin' spin: gnocchi that is made from healthy sweet potatoes and whole wheat flour and combined with arugula and toasted pine nuts. And since it is gnocchi after all, I created a light cream sauce made with goat cheese and low fat milk.
The combination is heavenly. It's perfect for when you are looking for something a bit unique and different for dinner.
Here are the ingredients. There aren't too many – this is quite a simple recipe.
Begin by cooking the sweet potatoes.
Sweet potatoes (actually a root vegetable and not a potato at all, by the way!) are a superfood with a long list of good-for-you nutrients. They've got tons of fiber and Vitamin A, as well as a good amount of Vitamin C, Vitamin B6, and Potassium. They have a ton of beta-carotene, which helps skin stay soft, smooth, and free of wrinkles.
Traditionally you'd cook them by roasting them in the oven, but I prefer to save a lot of time by cooking the potatoes in the microwave.
I recommend using smaller-sized sweet potatoes for this dish. They cook so much faster and more evenly.
Pierce the potatoes all over with a fork and microwave for about 10 minutes on medium heat, or until they're fork tender.
After they've cooked, cut the sweet potatoes in half lengthwise and scoop out all of the flesh into a large casserole dish.
Use a potato masher to puree the potatoes and spread them out all along the bottom of the dish.
Then put the whole dish into the fridge. Allow them to cool completely.
This is a helpful step because cold potatoes mean that you don't have to add as much flour later, keeping them as light and airy as possible.
When the potatoes have cooled, stir up one egg in a small bowl and add about half of it to the sweet potatoes.
Then pour about 1 cup of whole wheat flour over everything. Season with salt and pepper.
Substitution: you may substitute all purpose flour if you don't have whole wheat.
But, if you're picking up the ingredients for this dish, why not also pick up a bag of whole wheat flour? As compared to multi-purpose flour, whole wheat is less processed and contains an extra dose of healthy fiber (4 g of fiber per serving in whole wheat versus less than 1 g in all purpose flour).
And it has a hint of sweetness that compliments the sweet potato nicely.
Now go ahead and use your hands to mix everything together.
The amount of flour you'll need will depend upon the size of the sweet potatoes and how cold they are, but you'll probably add about 1 1/2 cups in total.
Just keep adding about 1/2 cup at a time until the dough easily forms a non-sticky ball.
Now divide the dough into about 6 equal sections.
Sprinkle some flour onto your counter, and take the first section and divide it into two pieces.
Roll each piece into a rope that's about 1/2 inch in diameter.
Line up the two ropes next to one another.
Using a knife, cut through both ropes, creating gnocchi that are about 1 inch long.
Cutting up the gnocchi takes some time, but line up two ropes (or even three – look at you!) and cut them together, and you become a gnocchi-making machine who flies through the job and finishes in half the time!
Place your finished gnocchi on a baking sheet, rather than piling them on top of each other in a bowl – these babies are delicate!
Boil some water in a large stock pot and season well with salt.
Then, working in small batches, boil the gnocchi.
You'll notice the dumplings float to the top of the pot only a minute or two after tossing them in.
Allow them to cook for another minute or so after they float to the top to ensure they are as light and fluffy as they're going to get.
Voila! Perfect little gnocchi! And delicious and healthy too!
Next up: the sauce. Preparing the sauce is super easy.
Preheat the oven to 375 degrees F.
Arrange some pine nuts on a parchment-lined baking sheet. Toast in the oven for about 5 minutes.
Warning: watch these guys carefully because in one second, they're beautifully and lightly toasted and in the next, BAM!, they're burned.
I burned mine slightly to demonstrate. Okay, so maybe I burned mine slightly because I was distracted taking photos. Oh well. These aren't perfect, but still good enough to eat!
Tip: store the remaining pine nuts in the freezer to preserve them. Otherwise they'll likely become rancid before you can use them up – they are too expensive to let that happen!
Mince a couple cloves of garlic and dice a couple shallots.
Cut the ends off the shallot and remove the skin.
Cut in half lenthwise and place one end flat-side-down for stability.
Slice into the shallot lengthwise making cuts every 1/4-inch.
Then run your knife back the other way, dicing up the shallot.
Add a tablespooon of olive oil to a large saute pan and cook the garlic and shallot over medium heat until they're nicely softened. Season with salt and pepper.
Now turn the heat way down to low.
After a minute or two, add 1 teaspoon of dried thyme and 1/4 teaspoon of nutmeg.
Next, add 1 cup of milk and then the goat cheese.
Goat cheese tastes delicious with the sweet potatoes, pine nuts, and arugula, but it's also a healthy choice for adding flavor. Compared to butter or cream or even most other cheeses, goat cheese has only 50 calories and 3 g of saturated fat per serving in this dish (compare that to butter, which has 100 calorie sand 7 g of saturated fat in just 1 tablespoon).
Stir until the cheese has melted and everything is well-combined.
Next, add in the arugula and cook until it has wilted down.
Then add in the cooked gnocchi and the pine nuts and mix carefully.
Dress the remaining arugula with oil and vinegar (or other salad dressing) to serve alongside. Enjoy!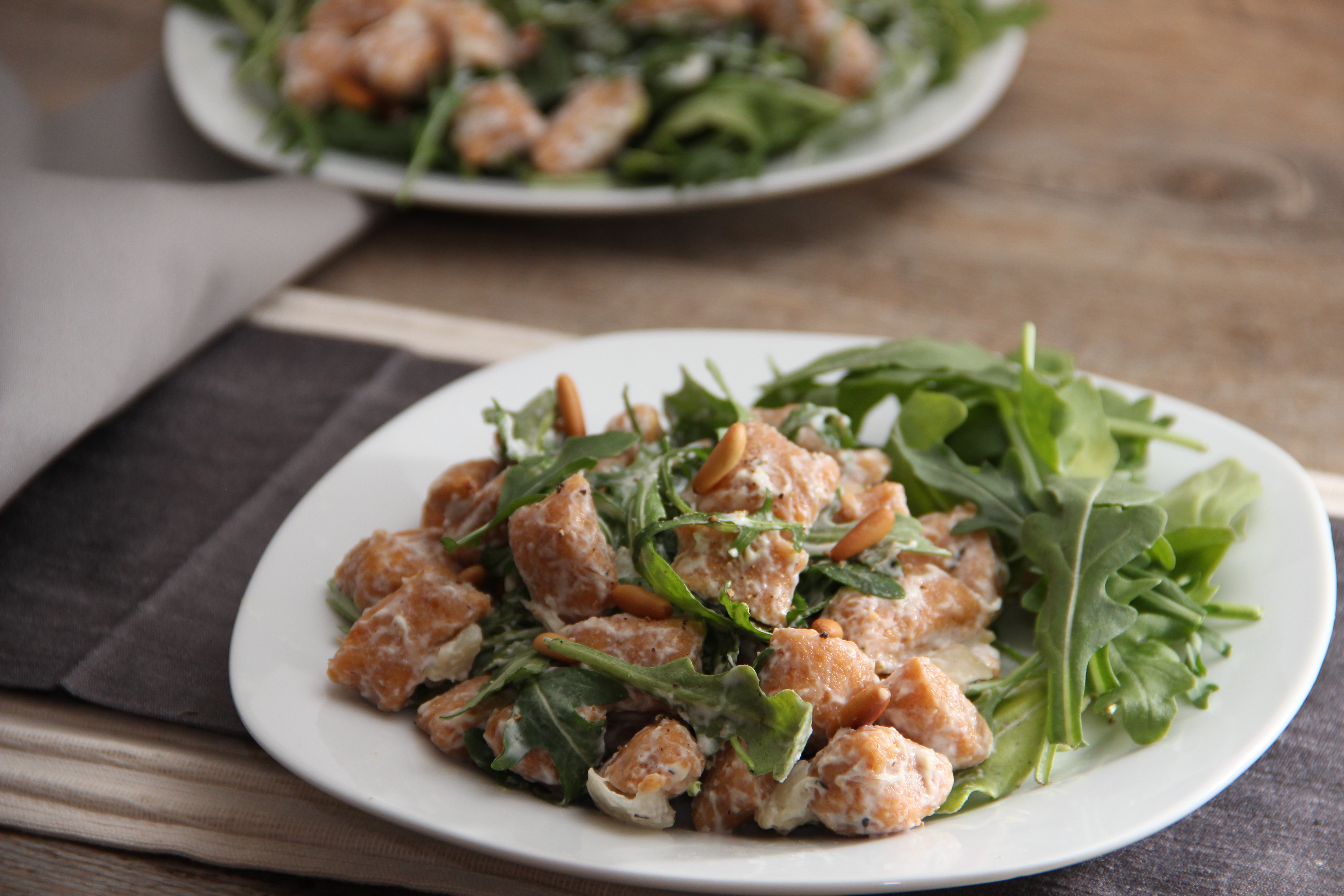 The combination of flavors in this dish is wonderful: the sweet gnocchi, the pepper-y arugula, the crunch of the toasted pine nuts, and the rich and creamy goat cheese. It's something unique and delicious for dinner.
Here is the complete recipe:
Sweet Potato Gnocchi with Cream Sauce, Arugula, and Pine Nuts
Prep: 10 minutes
Cook: 10 minutes
1/4 cup pine nuts
1 tablespoon olive oil
2 cloves garlic, minced
2 shallots, diced
1/4 teaspooon nutmeg
1 teaspoon dried thyme
1 cup 1 percent milk
1 4-ounce package goat cheese
1 10-ounce package fresh arugula
3 cups fresh sweet potato gnocchi (please see recipe below for Sweet Potato Gnocchi)
salt and freshly ground black pepper
Preheat oven to 375 degrees F.
Spread pine nuts evenly over a small baking sheet lined with parchment paper. Roast pine nuts in oven until they just begin to turn light golden brown, about 5-7 minutes. Watch carefully as they turn rapidly from toasted to burned! Pour pine nuts into a small bowl and set aside.
Meanwhile, heat the olive oil over medium heat. Add the shallots and garlic and cook until softened, about 5 minutes. Season with salt and pepper. Turn the heat down to low and add the nutmeg and thyme. Add the milk and then stir in the goat cheese until well combined. Add the arugula and allow it to wilt down. Add the gnocchi and pine nuts and stir to combine. Season with salt and pepper if needed and serve.
Sweet Potato Gnocchi
Prep: 20 minutes
Cook: 20 minutes
Yield: 3 cups cooked gnocchi
2 small-medium sweet potatoes
1 1/2 cups whole wheat flour
1 egg, lightly beaten
salt and freshly ground black pepper
Pierce the potatoes all over with a fork and microwave until tender, about 10 minutes. Cut the potatoes in half, scoop the flesh into a large bowl, and discard skins. Mash the potatoes with a potato masher in a large casserole dish and then place in the fridge until potatoes are cold. Next, add about 1/2 of the egg. Season with salt and pepper. Slowly add the flour, mixing until a ball of dough is formed.
Divide dough into about 6 sections. Working with the first section,divide into two pieces and roll each into a long rope about 1/2 inch thick. Use a butter knife to cut off slices about 1-inch long. Heat a large pot of water over high heat. Salt the water and add the gnocchi, working in small batches.
The gnocchi are ready to eat or add to your pasta sauce about a minute after they float to the top of the pot.