Chris and I honestly did not know what to expect when we booked a room at the Rosewood Bermuda.
At home in Boston, Massachusetts, we were buried in a couple of feet of snow, trying to stay warm in below-freezing temperatures.
Could Bermuda, a small island that was a mere 2-hour flight away, really be the tropical paradise we were daydreaming about?
Here's what we found out about the Rosewood Bermuda Resort…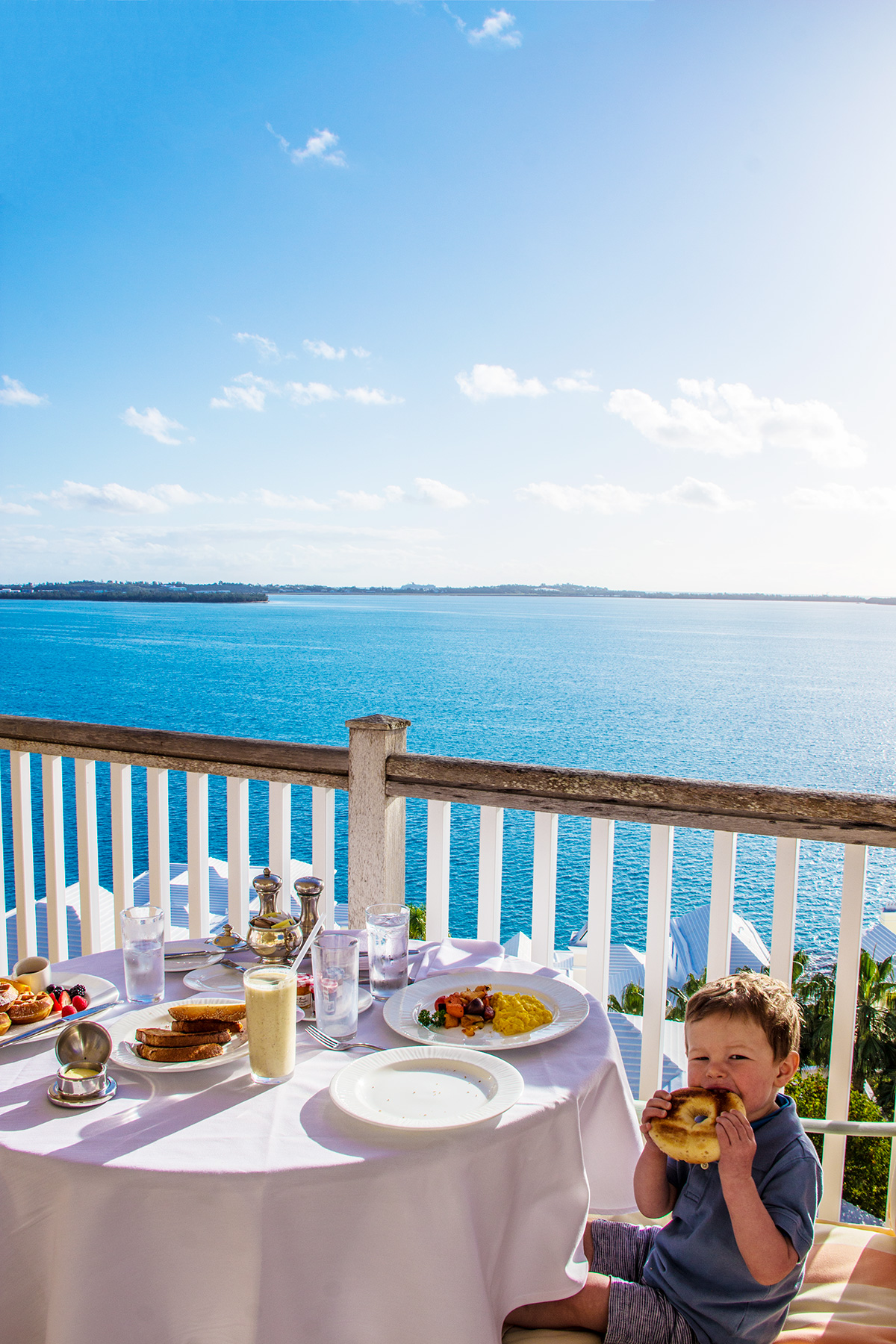 The View
Bermuda is, absolutely, a slice of tropical paradise on earth!
One of the biggest jaw-dropping moments of our trip, in fact, happened at the Rosewood Bermuda Resort when we stepped out onto our balcony for the first time.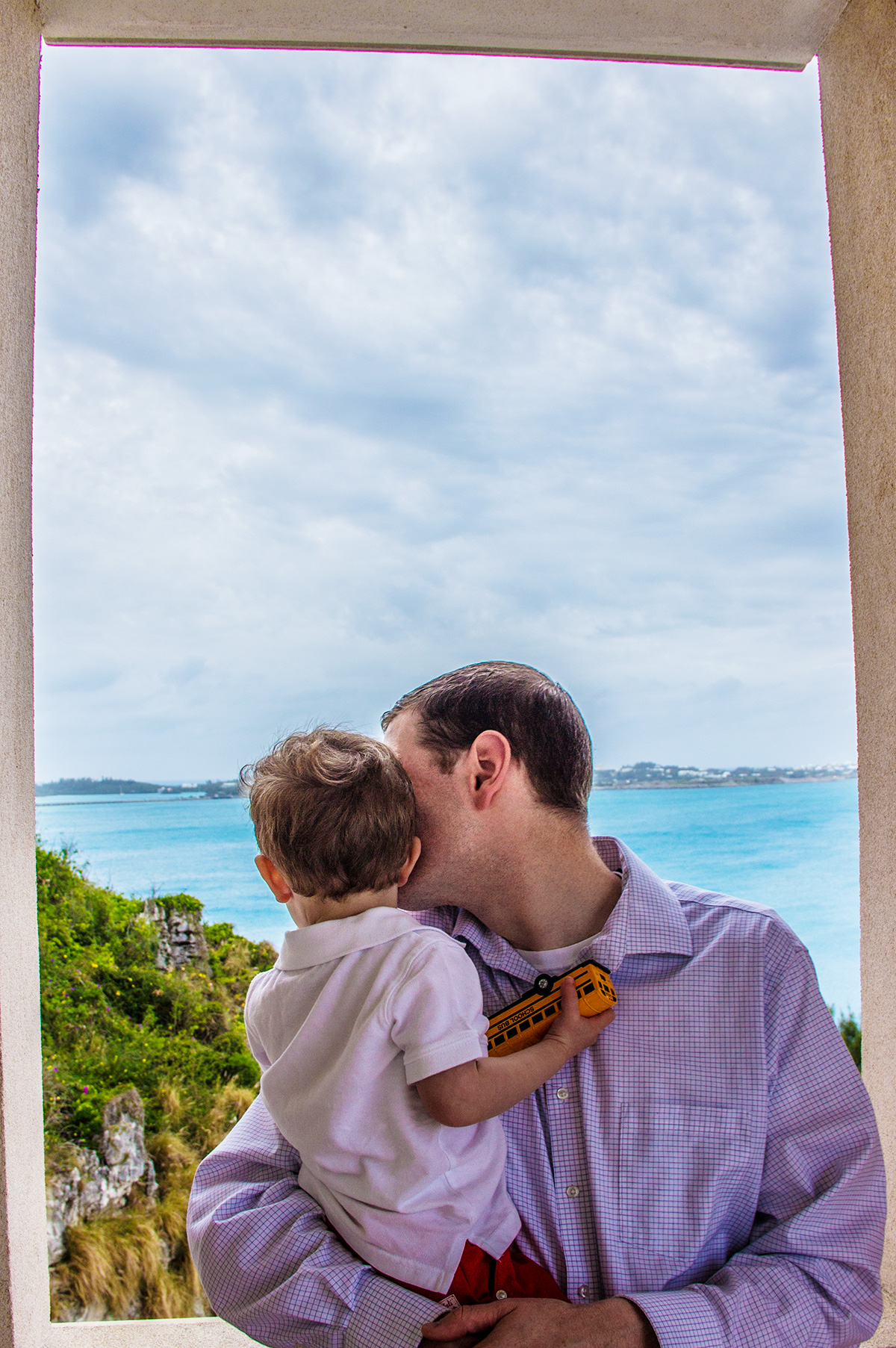 The panoramic view was of the crystal clear, vivid turquoise Bermuda ocean – sunlight dancing on the calm waters – stretching as far as our eyes could see in every direction.
We had ear-to-ear grins when we saw that view and felt like we had won the lottery!
What we also loved about the patio was that it was very spacious, with room for a small round table and two chairs. Plus a huge wicker couch that was big enough to have doubled as a small bed. It was wonderful.
Chasing a toddler around all morning is exhausting. But each afternoon, while Tru napped inside the hotel room, Chris and I relaxed on that patio couch and just enjoyed a couple of hours of peace while soaking in the view.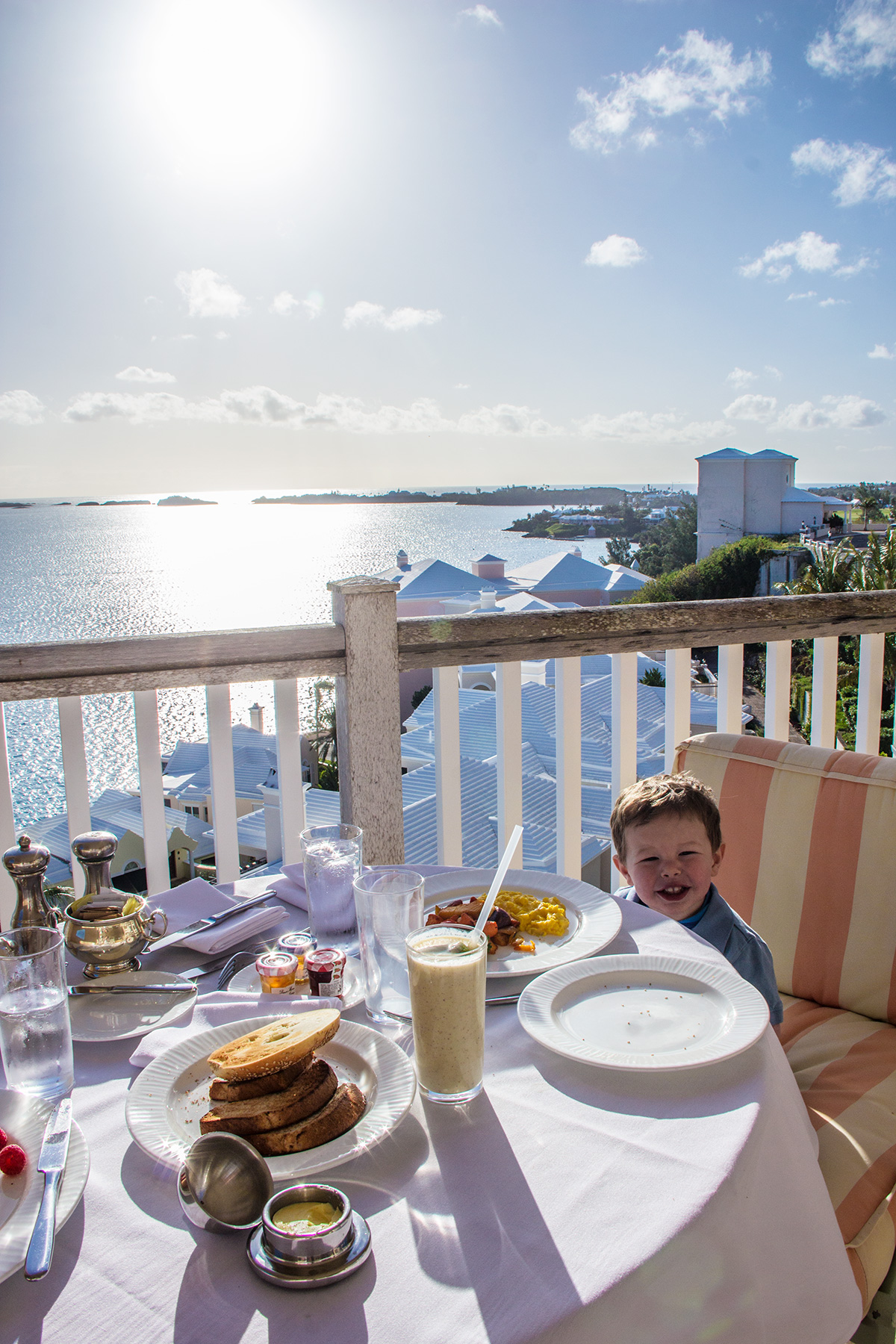 We also loved having the opportunity to eat "al fresco" here (since we only get a few months of the year to enjoy eating outside at home!) We struggled with Tru in the hotel cafe the first morning – he was squirming and fussing and refusing to eat anything.
When we found out we could order room service for the same price, we decided to go with that option instead! Somehow, waffles and fresh fruit taste so much sweeter when you're enjoying 72 degree weather and watching the bright sun reflect off of calm ocean waters!
As much as I loved getting out and exploring Bermuda, this breakfast was one of my favorite experiences from our trip.
The Rosewood Bermuda Grounds
The grounds at the Rosewood Bermuda were equally impressive.
There were gorgeous stone walkways…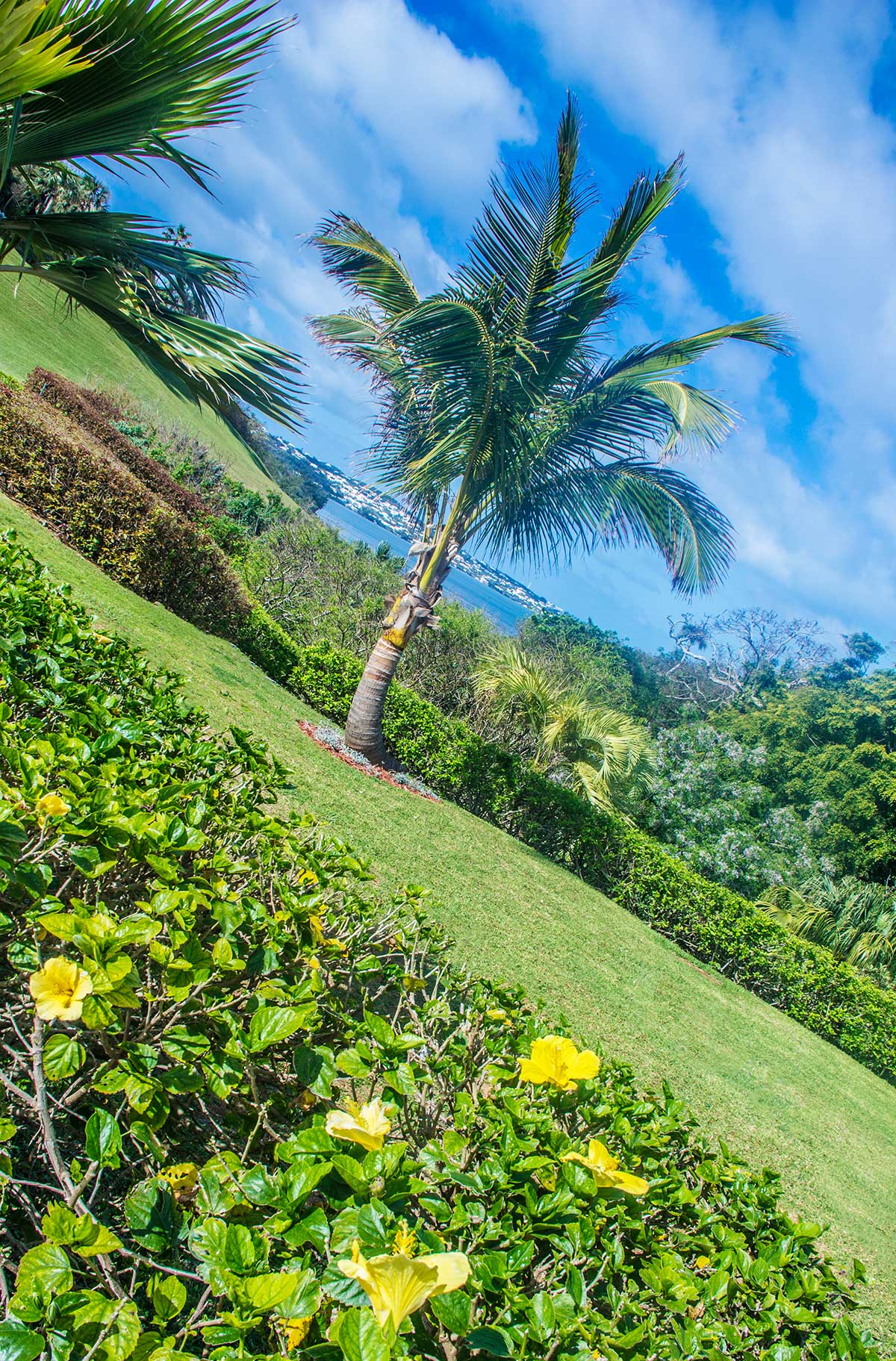 …plus beautiful gardens and giant swaying palm trees.
Trevor was especially thrilled about the two (beautifully landscaped!) pools. He wanted to spend all of his time here, of course!
And, from all parts of the property, views stretched to the clear blue ocean beyond.
The Room
Our room was so comfortable and inviting, I half wished I could just move in there.
The walls and linens were crisp white, accented with dark wood furniture.
The artwork and fixtures had an elegant, beachy feel.
And big windows covered with white shutters looked out toward the beautiful ocean.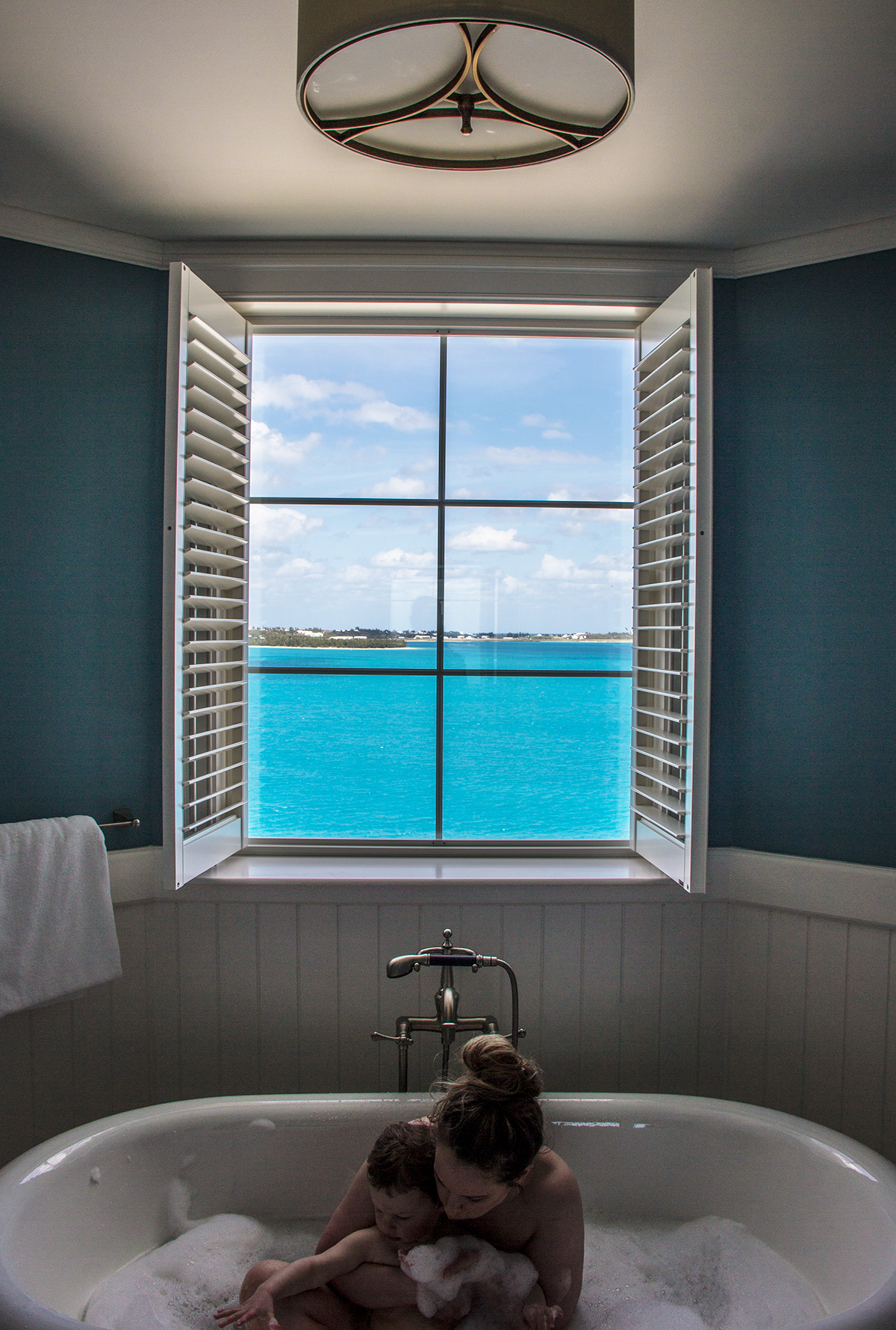 The Bathroom
I think I loved this bathroom more than the actual hotel room.
Like the room, the bathroom featured beautiful fixtures, moldings, and white window shutters. Plus neutral stone tile on the floor and matching tile in the walk-in, glass-door shower.
The soaking tub was also beautiful, but who could notice, with that stunning ocean view through the bathroom window above it!
Again, I couldn't help but imagine making this hotel room my permanent home!
The Rosewood Beach
The Rosewood Bermuda resort beach was not located on the hotel grounds. The Rosewood provided a shuttle service to the beach, which was a 7-minute drive away.
When we arrived though, the beach was everything Chris and I might have hoped for when we pictured our perfect beach getaway. The softest white sands and vivid blue turquoise waters.
Because we stayed at the Rosewood during low season – and because we had a couple of overcast and windy days during our trip – we were sometimes the only ones on the beach. It was like having our own private tropical island paradise!
The Service
The best thing about the Rosewood Bermuda, though, is definitely the service. We talked to so many genuinely kind staff members, many who had lived on the island their entire lives. What I loved was that no one ever seemed to be "forcing" a formal politeness. We had so many pleasant, friendly, genuine conversations. Everyone made us feel comfortable and welcomed.
We loved the Rosewood Bermuda. Now that we know so much more about the beauty of this island, it's our dream to return again one day!
For More On Bermuda Travel, Check Out:
The One Beach You Can't Miss On Your Trip to Bermuda (Hint: It May Be Your Own Private Paradise)
5 Incredible Things About Bermuda That Will Make You Reach For Your Suitcase
Trip #1: Travel Confessions From Bermuda
Bermuda for Kids: 5 Incredible Sites Families Will Love
Pin On Pinterest: