Before we left for our trip to Bermuda, Chris and I were a little concerned that Bermuda was just for golfers and honeymooners.
But the good news is that our family felt welcomed with open arms as soon as we arrived on the island. People everywhere loved greeting Trevor and engaging him in conversation.
And we found that there were enough family-friendly activities to entertain us for a few weeks! There were so many interesting options (all great for kids), we kept ourselves very busy for our entire trip!
Here are our top 5 favorite family-friendly activities in Bermuda:
1.) Bermuda Aquarium, Museum & Zoo
Bermuda Aquarium, Museum & Zoo
Location: Bermuda Aquarium, Museum and Zoo, 40 N Shore Rd, Bermuda
I wondered if a small island like Bermuda might have an equally tiny (and therefore not too impressive!) aquarium.
But I was so pleasantly surprised by this family-friendly destination!
The aquarium aspect of this site was quite small – just one floor.
However, there were some interesting exhibits, including a floor-to-ceiling tank with lots of vividly-colored fish.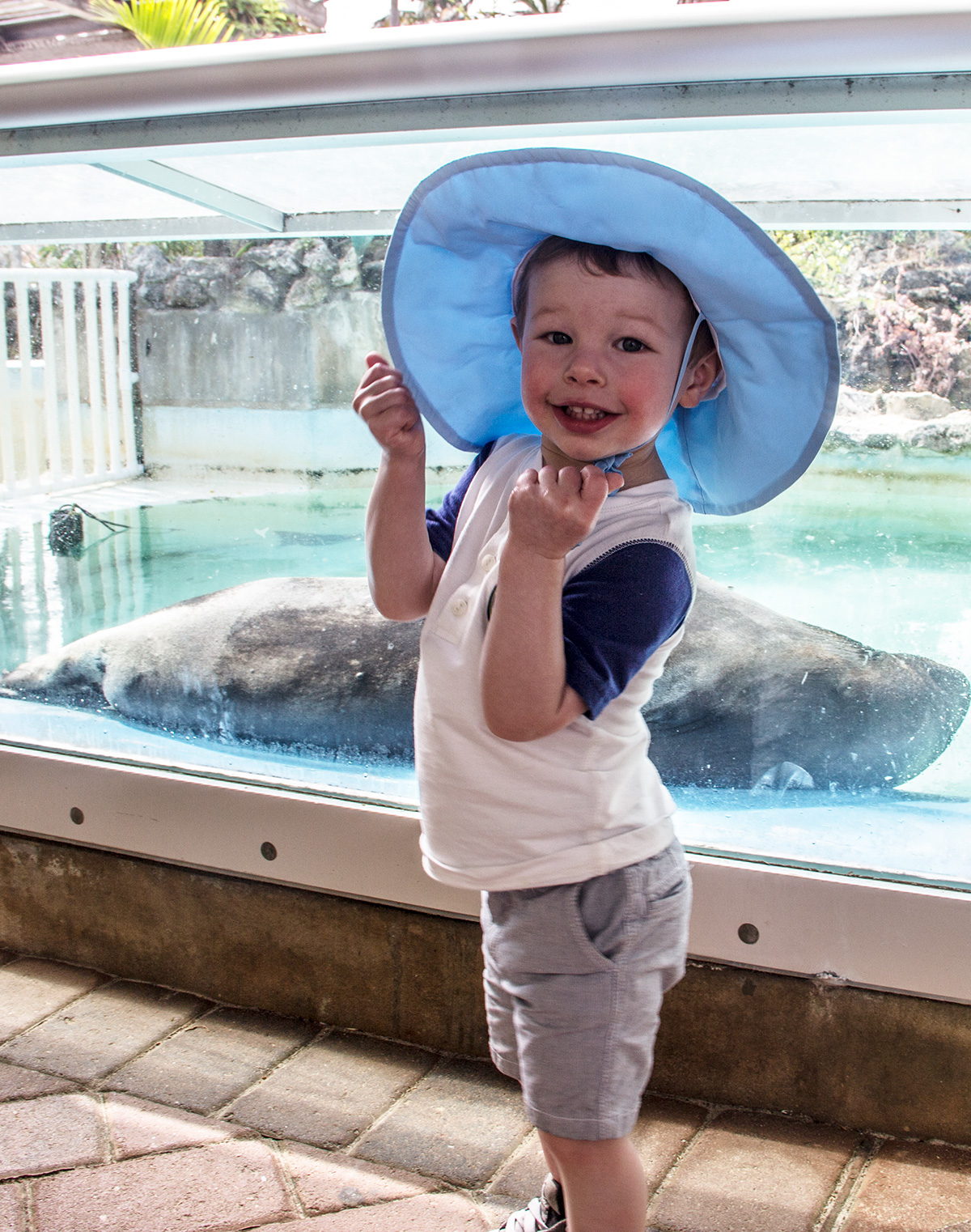 As well as daily scheduled feedings with sea turtles and harbor seals.
Tru was so thrilled when he got to stand just inches from this beautiful seal lying out in the sun!
What made this aquarium unique though, is that it also offered so much more than sea life. We loved wandering along the aquarium's stunningly beautiful Coastal Walkway, which offered views of the turquoise Harrington Sound waters.
And Trevor loved all of the wildlife on display. Sightings for us included tamarins, lemurs, alligators, tortoises, and the most brightly vivid pink flamingos we'd ever seen.
There was also a small Natural History Museum, plus a small outdoor playground and an indoor playroom for kids.
2.) Crystal Caves
Location: Crystal and Fantasy Caves, 8 Crystal Caves Road, Hamilton Parish CR 04, Bermuda
The Crystal Cave was the most crowded and touristy of all of the sites we explored in Bermuda. However, it was also one of the most memorable experiences of our trip.
We arrived at the Crystal Cave attraction at about 11am, and were there in early April (low season). We waited about 10 minutes in line for tickets, then another 15 minutes or so to tour the caves (visitors were only allowed to enter in organized tour groups of about 50 people).
The good news was that there was a small park just outside the cave with lots of shaded picnic tables. So the wait was pleasant, and Tru was able to run off some energy!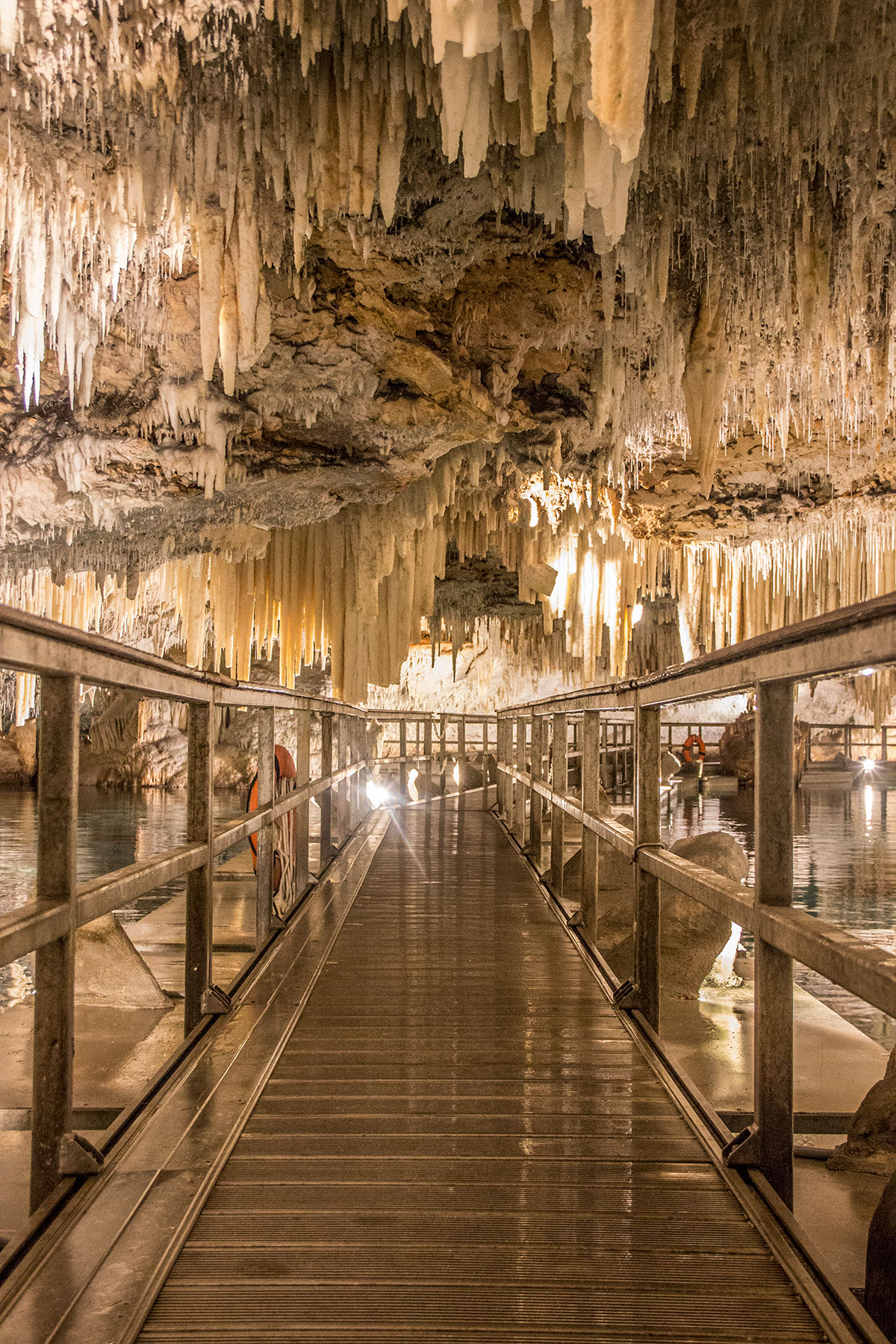 Once we got down into the cave, I was blown away.
The Crystal Cave was absolutely incredible with thousands upon thousands of stalactites above, most white as snow (some brown and pink). And below us: crystal clear water that reflected the formations.
The overall effect was surreal!
The tour was interesting too, and a good length (about 25 minutes in total). We learned about two young boys who discovered the cave, lowered themselves into it with only a rope and a lamp, and went swimming in these waters over 100 years ago. The cave sat patiently, just waiting to be admired though. It was likely formed over millions of years, during the last Ice Age!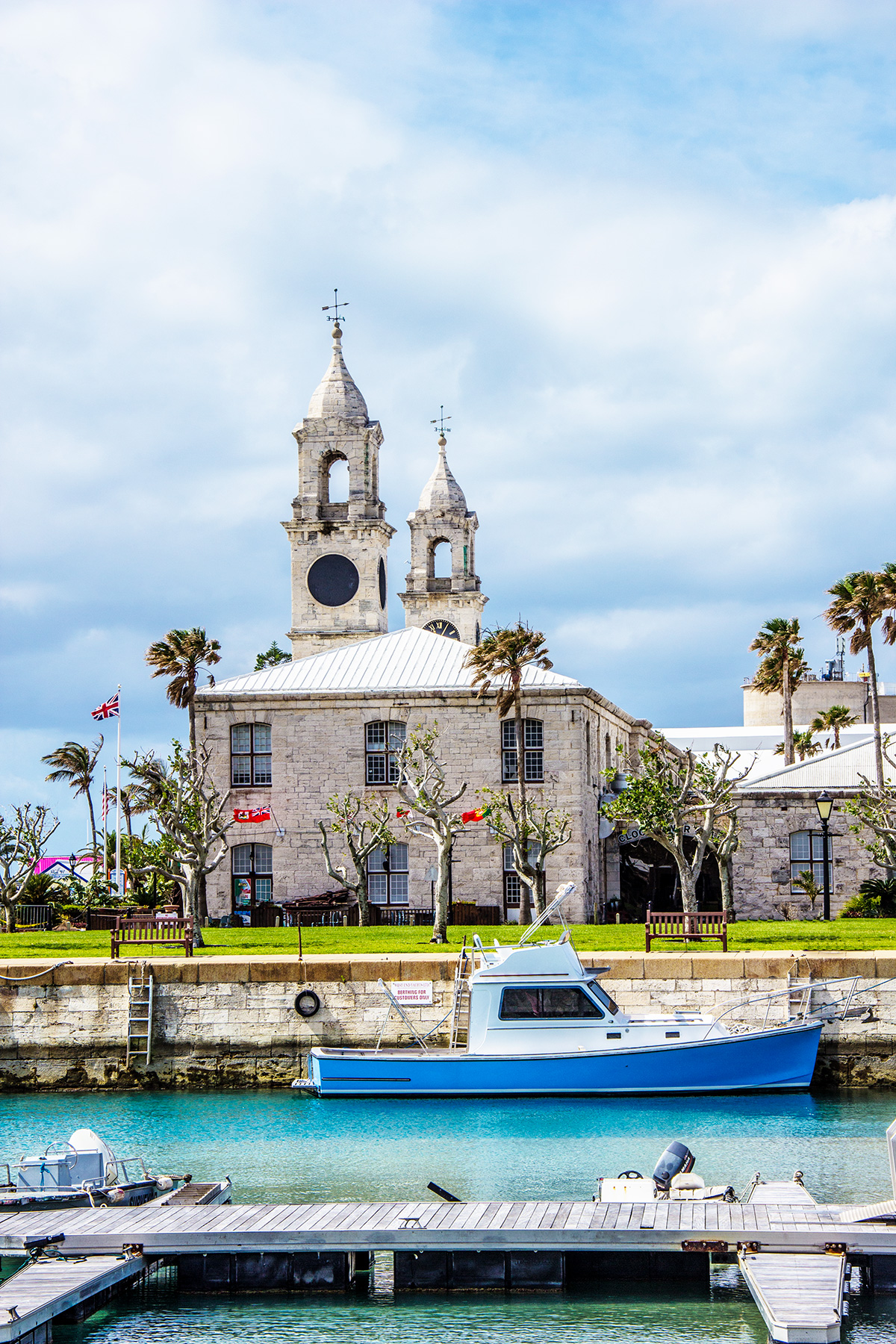 3.) Royal Naval Dockyard and the National Museum of Bermuda
Royal Naval Dockyard / National Museum of Bermuda
Location: National Museum of Bermuda, The Keep, Maritime Ln, MA 01, Bermuda
The Royal Naval Dockyard area was very picturesque and fun to explore.
It got crowded with tourists from the cruise ships that docked there. But it was still much calmer and quieter than the city of Hamilton, so we found it easier to explore on foot with a toddler.
I loved checking out the beautiful stone architecture.
And Tru loved that there was plenty of open green space (with plenty of swaying palm trees!) for him to run off his endless energy!
The National Museum of Bermuda, located within the Dockyard at the tip of the island, was also worth seeing.
The museum was located within a stone-walled fort (complete with weathered iron cannons), and there were endless wide open green fields where Tru was able to enjoy running free! (Since it is all wide open, you may want to visit in the early morning or evening in summer, when the sun isn't so intense).
We even caught sight of these goats grazing in the open fields (in the photo above, you can glimpse the blue ocean beyond the fort, and imagine the expansive vista view of the open ocean!)
There were several lookout points throughout the property that offered panoramic views over the beautiful turquoise ocean.
We weren't interested in Dolphin Quest, a tourist attraction that offers swimming with dolphins. However, Dolphin Quest is located within the museum. So, as we wandered along the beautiful grounds, we were able to take Trevor to view the dolphins as part of admission into the museum.

4.) The Walk From Warwick Long Bay Beach to Horseshoe Bay Beach
Location: Warwick Long Bay, Bermuda
One of our absolute favorite experiences in Bermuda was the morning we spent walking from Warwick Long Bay to Horseshoe Bay.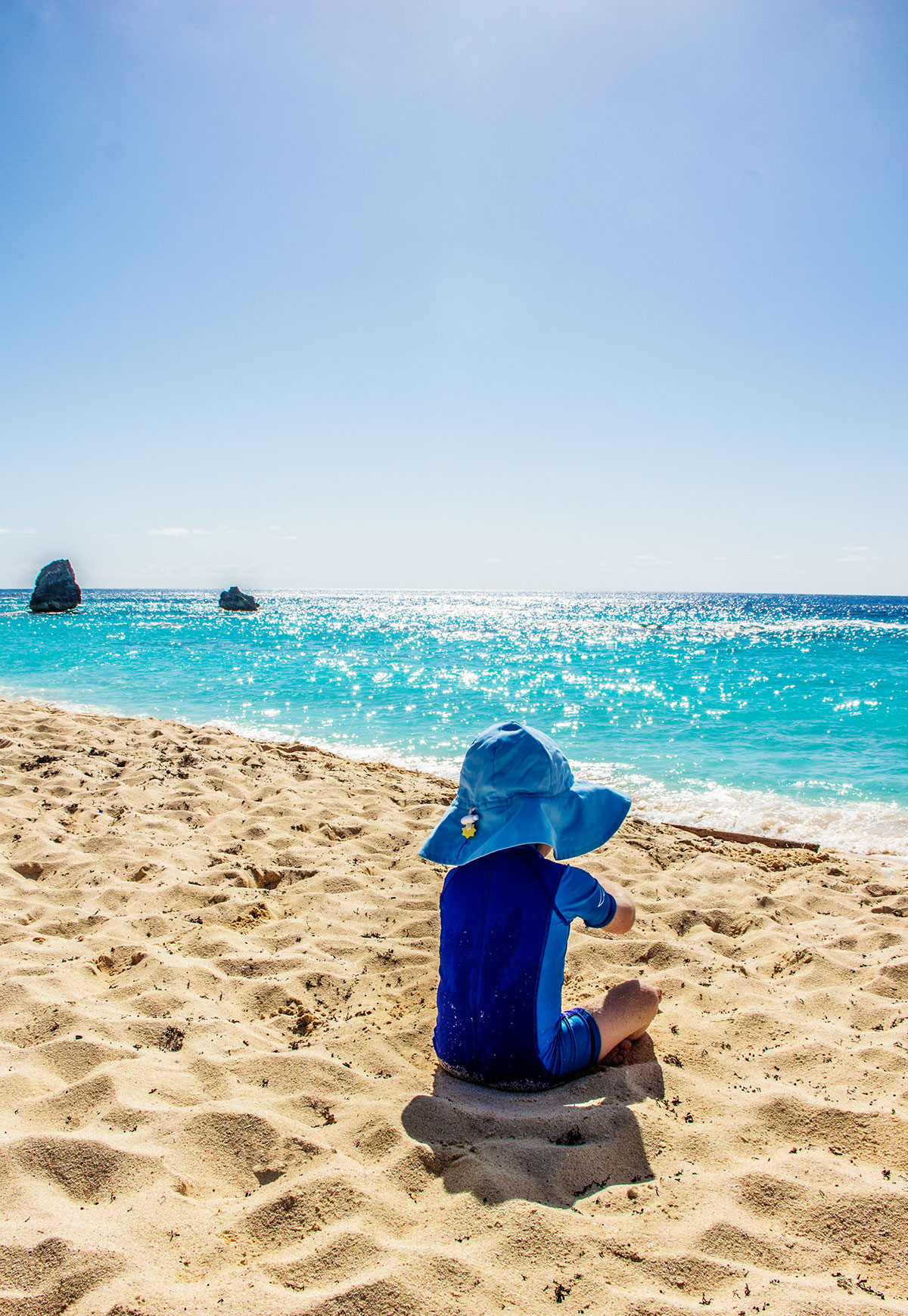 This easy and short walk (about half a mile) included the most stunning beaches, and they were all mostly deserted on the day we were there.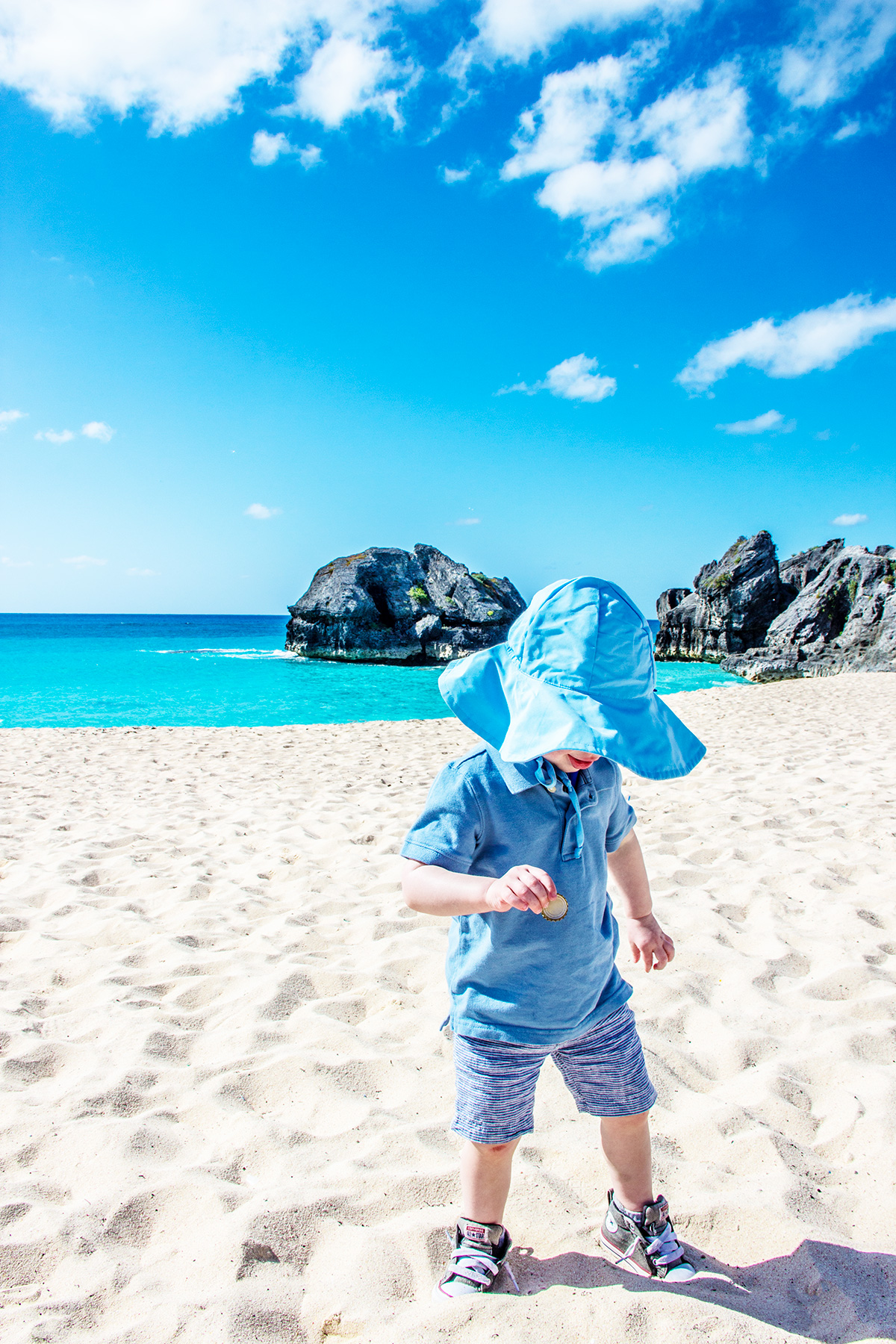 It was like having our own private piece of paradise! (We visited Bermuda in April, which is still considered low season, and saw only a handful of other people, until we got to the popular Horseshoe Bay Beach at the end.)
The beaches were full of the softest, pristine white sand (tinged with pink). And the waters were warm, calm and stunningly turquoise.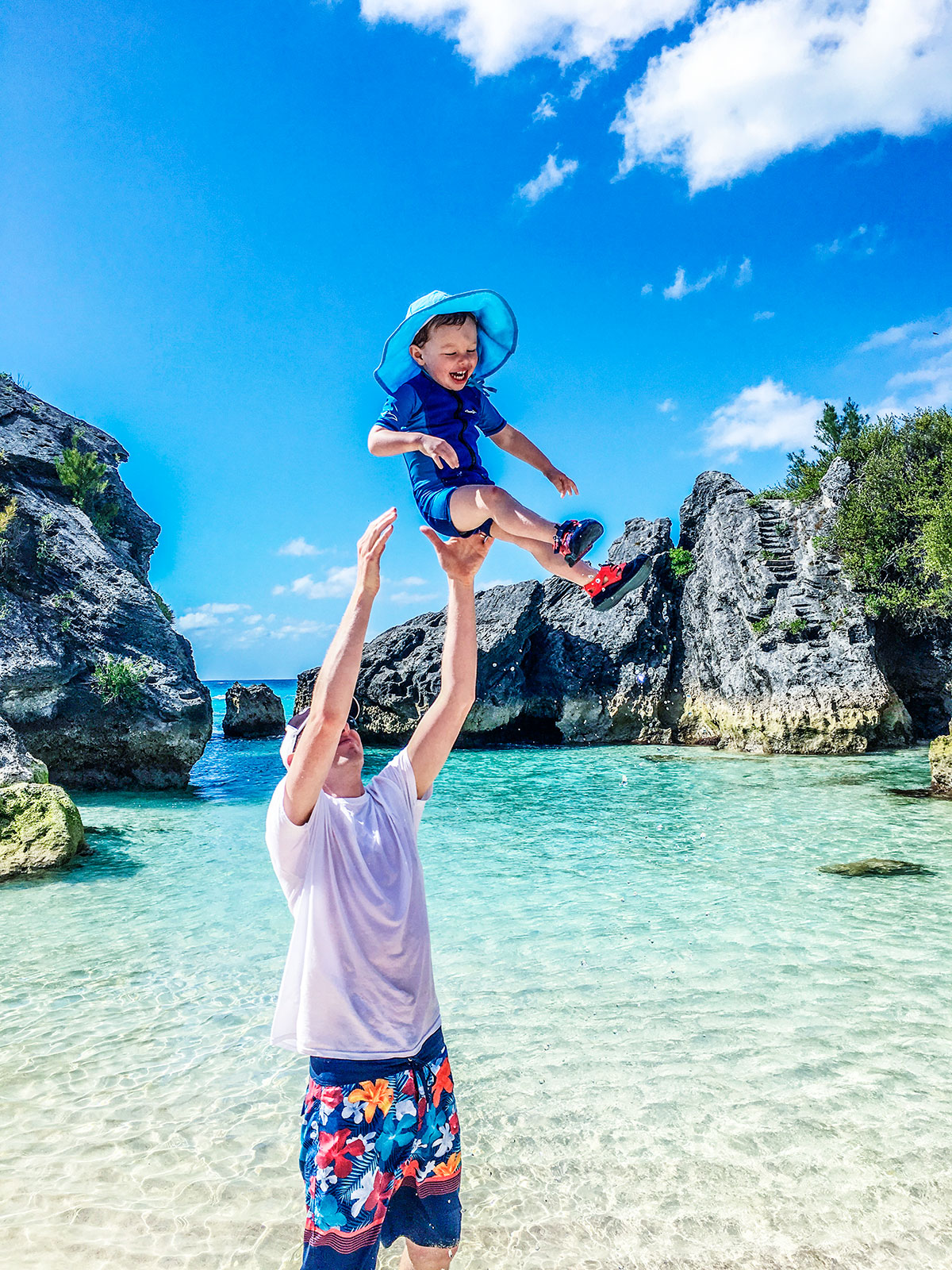 After Tru enjoyed running up and down Warwick Long Bay Beach, we made our way to the next stop, Jobson's Cove.
Jobson's Cove was a fantastic spot for 2-year-old Tru.
The cove was surrounded by beautiful, jagged limestone rock, so the waters were shallow and absolutely still (no waves whatsoever).
It was the ideal spot for Trevor to splash around.
We continued on our walk, stopping at small but similar beaches along the way, until we reached Horseshoe Bay.
Horseshoe was fairly crowded, but large and absolutely stunning (and probably the most pink-tinged of any of the beaches). Horseshoe was also the only beach along the walk that offered concessions, showers, and a souvenir stand. (Thus, the reason all the other beaches were so deserted!)
From the parking area at Horseshoe, we were able to catch the shuttle that runs to the Fairmont Southampton, Bermuda Resort.
The Fairmont Southampton is extremely beautiful, with giant swaying palm trees, gorgeously landscaped pools, and beautiful, panoramic views of the beaches beyond.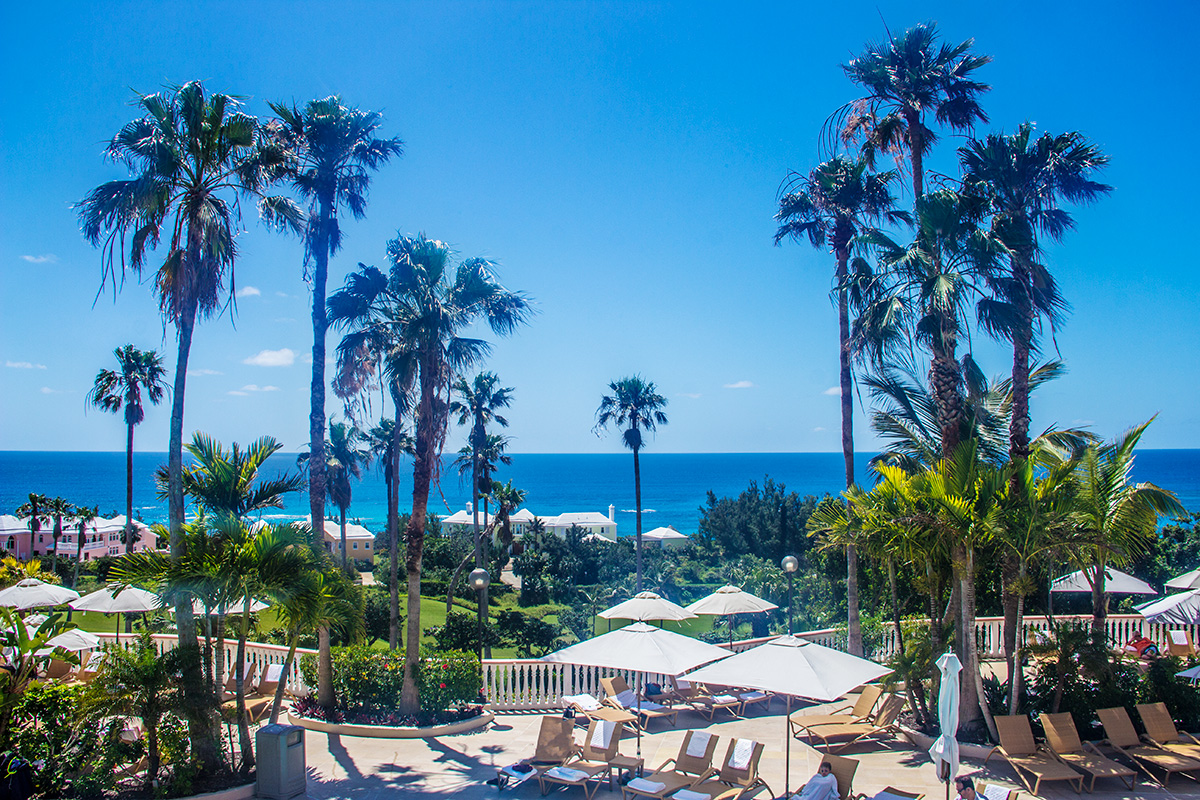 We ordered fish sandwiches at the resort lobby cafe, the Jasmine Lounge. The casual cafe offered outdoor tables with incredible views of the ocean. The food was delicious and the experience was memorable. (Prices were fairly expensive, as to be expected at a Fairmont Resort!)
I highly recommend doing the trip just the way we did it, since it worked out so well:
Take a taxi and begin at Warwick Long Bay in the morning. Do the easy walk to Horseshoe Bay, stopping to enjoy each cove and beach along the way. Then grab the Fairmont shuttle in the parking lot area at Horseshoe for a delicious al fresco lunch at the Fairmont. Conveniently, a line of taxis is always available at the Fairmont to take you back to wherever you're staying!

5.) Queen Elizabeth Park
Location: Queen Elizabeth Park (Par-La-Ville Park), Hamilton, Bermuda
At some point during your trip to Bermuda, you'll likely find yourself in the capital city of Hamilton.
We spent some time here, to catch the public ferry to the Royal Naval Dockyard (#3, above).
It's a beautiful, busy, bustling town with bright candy-colored buildings. It's located right on the turquoise shore and dotted with palm trees.
But since it was such a crowded town (with lots of traffic), we were so happy to discover Queen Elizabeth Park.
It was a little park that offered some calm for Chris and I to take a break, plus plenty of green fields for Trevor to run free!
The sculptures and flower gardens in this park were picturesque, and Tru loved exploring and stopping to smell all the flowers! If you happen to find yourself in Hamilton, this is a great family-friendly spot!
For More On Bermuda Travel, Check Out:
The One Beach You Can't Miss On Your Trip to Bermuda (Hint: It May Be Your Own Private Paradise)
5 Incredible Things About Bermuda That Will Make You Reach For Your Suitcase
Trip #1: Travel Confessions From Bermuda
Take A Photo Tour of the Rosewood Bermuda Luxury Resort
Pin on Pinterest: