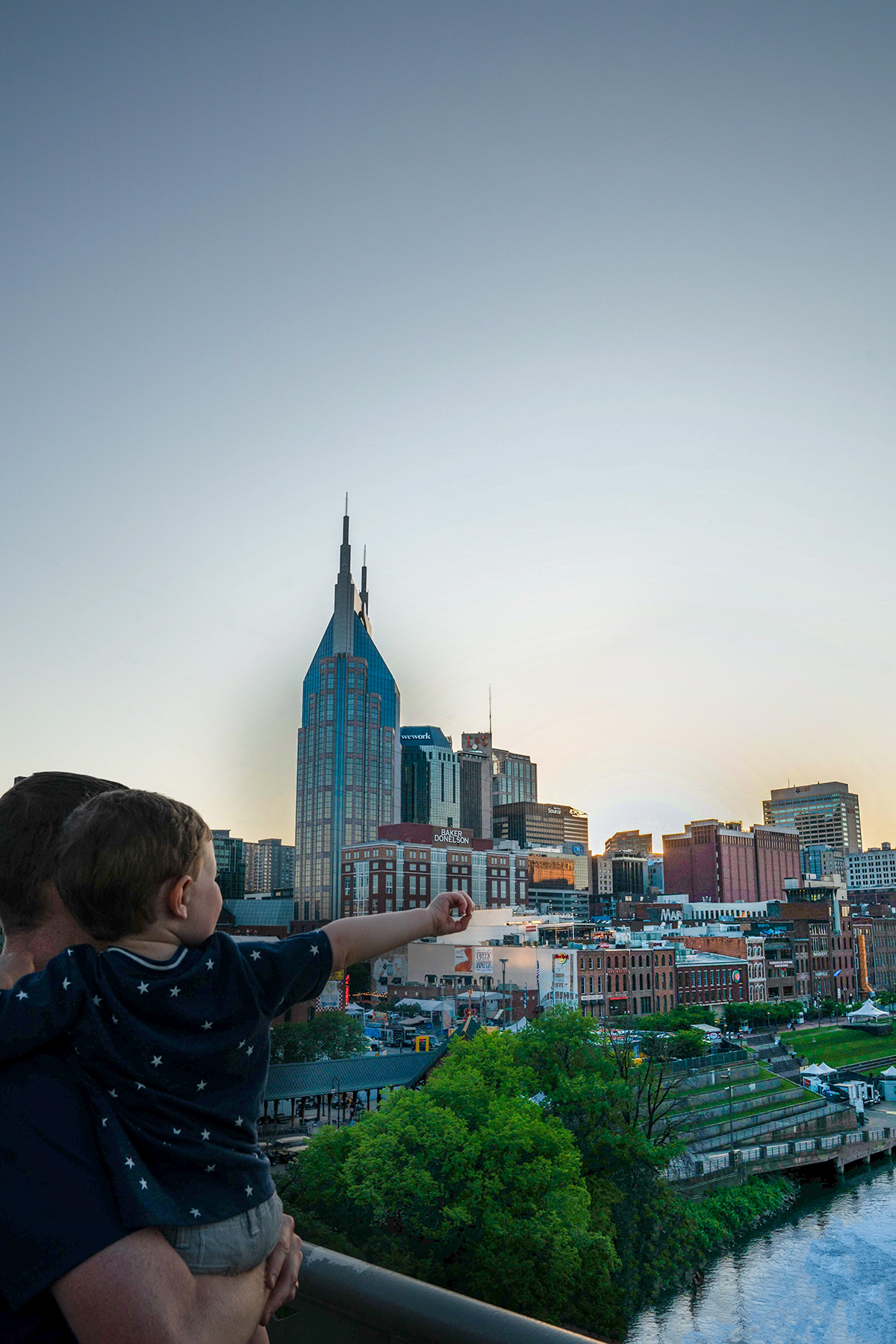 When we told people we were traveling to Nashville, we heard over and over that Nashville is a great place for nightlife. That didn't mean too much to Chris and I. We have a two-year-old with an 8pm bedtime. We weren't sure if Nashville would be equally fun and interesting for a family with a toddler…
After arriving in Nashville and really getting out to explore the city we learned that yes, absolutely, Nashville is an amazing destination for families! It's a beautiful, friendly and lively city with handfuls of site-seeing options for traveling families.
After seeing so much of the city, here's our Ultimate Nashville Bucket List for Families, with our top 6 picks for family friendly Nashville sites: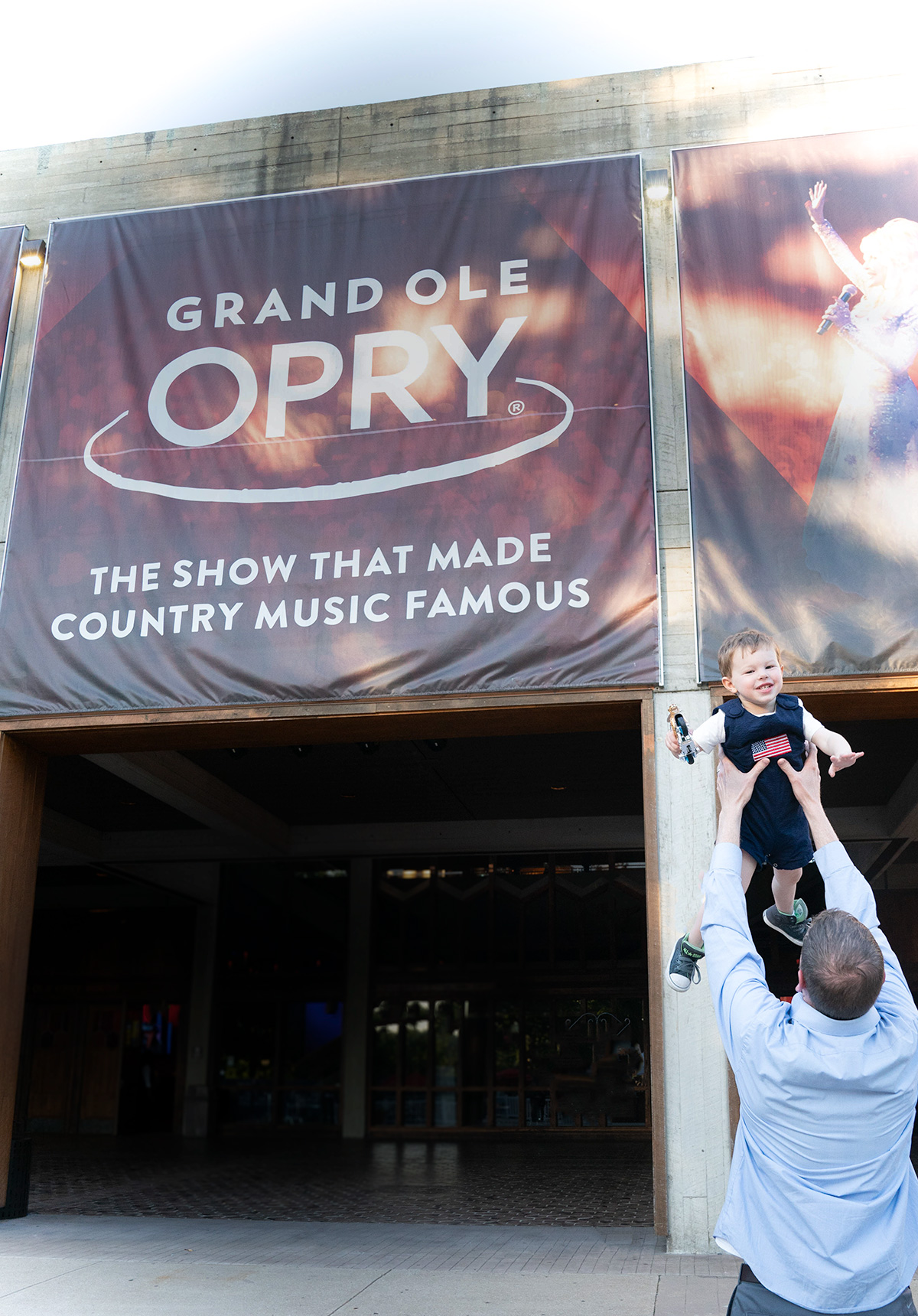 Ultimate Nashville Landmark #1: Grand Ole Opry
2804 Opryland Dr, Nashville, TN 37214
Chris and I weren't sure if we'd even visit the Grand Ole Opry during our trip to Nashville. We didn't know if it was worth wrestling with a two-year-old in auditorium seating (past his bedtime, no less) just to see the legendary landmark of Nashville.
In the end, we did buy tickets to a show at the Grand Ole Opry, and we're so glad we did. It was absolutely the highlight of our trip to Nashville.
What was amazing about the Grand Ole Opry, in my opinion, was the feeling of closeness and connection to the stage and the entertainers.
I'm not sure if the sense of connection was due to the layout and the smaller size of the auditorium?
Or the way the show's host and the singers all frequently talked to the audience?
I can't quite put my finger on it, but I'd never experienced anything like it at a concert.
I also loved the variety show style of performance at the Grand Ole Opry. On our show night, for example, six different country music artists took the stage, each one singing three songs.
Two really famous names in country music were playing on the night we visited – Darius Rucker and Carrie Underwood(!) – but they also did three songs each. I loved it because the variety of music styles and performances kept things really fun and interesting and we never got bored.
If you love country music, you definitely must add the Grand Ole Opry to your Nashville bucket list!
Ultimate Nashville Landmark #2: Country Music Hall of Fame
Country Music Hall of Fame and Museum
222 5th Ave S, Nashville, TN 37203
If you have time for one museum in Nashville, make it the Country Music Hall of Fame. This Nashville landmark is a celebration of everything country music related, and it's extremely beautiful too.
We loved checking out everything from Keith Urban's guitar to Shania Twain's concert gowns to Elvis's gold Cadillac to the original costumes from the old Hee-Haw tv show.
Trevor loved that there were lots of interactive displays and video screens everywhere displaying performances of famous country music legends.
One side note I really have to mention: Chris and I are always nervous about bringing Trevor into a museum. We never know whether or not we'll feel welcomed.
But I have to hand it to the Country Music Hall of Fame: Trevor was accepted with open arms here!
Right upon entering, the staff invited Trevor into a kids craft room to decorate his own "country vest," made out of a paper bag.
He wore it with so much pride while we wandered through the exhibits!
So if you're traveling to Nashville with young kids, we highly recommend this attraction!
Ultimate Nashville Landmark #3: Gaylord Opryland Resort
Gaylord Opryland Resort & Convention Center
2800 Opryland Dr, Nashville, TN 37214
The Gaylord Opryland Resort was absolutely fascinating to me, and I'd definitely never seen anything like it.
Envision a sweeping resort that also happens to be a colossal conservatory with soaring glass ceilings, filled with lavish, live palms and vividly colored flowers.
Plus ponds filled with tropical fish, small and towering waterfalls, fountains, even a man-made river offering boat tours.
Add to the mix a variety of restaurants and shops, plus the melodies of live country music filling the air.
This begins to describe the incredible spectacle that is Gaylord Opryland!
We loved that there was so much open space for Trevor to enjoy and so much to capture his super-short attention span! Plus a wide variety of options for quick-service and sit-down restaurants when he got cranky with hunger.
Plus an entertaining light and fountain show after dark!
Gaylord Opryland is an ideal Nashville spot for young families. It felt as though we were outside (Trevor was convinced we were outside!), wandering through stunning gardens, all while being protected from any rain or stifling heat.
You may think Gaylord Opryland is stunningly beautiful, you may think it's a little too over-the-top, but I guarantee you will find it memorable!
Ultimate Nashville Landmark #4: Broadway District
Of course, you can't go to Nashville without checking out legendary Broadway. It's truly an experience to behold – unlike any other place I've ever seen – with a seemingly endless stretch of taverns, bars, and country-western saloons, all lit up in flashing neon lights after dark.
We were told that Broadway can get over-the-top rowdy with the bachelorette party crowd after dark. This is almost definitely true. We saw several "Pedal Tavern Party Bikes" (a bar on wheels that a group of people operate by pedaling!) around Broadway at midday, so I can only imagine the scene at 11 pm!
Since we had a toddler in tow, Chris and I decided to stroll down Broadway in the early evening, right around dinnertime.
Even this early, downtown Nashville was jam-packed with people.
And there is such a lively, spirited energy to the district, with the booming melodies of live country music bands floating out of nearly every dive bar and saloon along the way.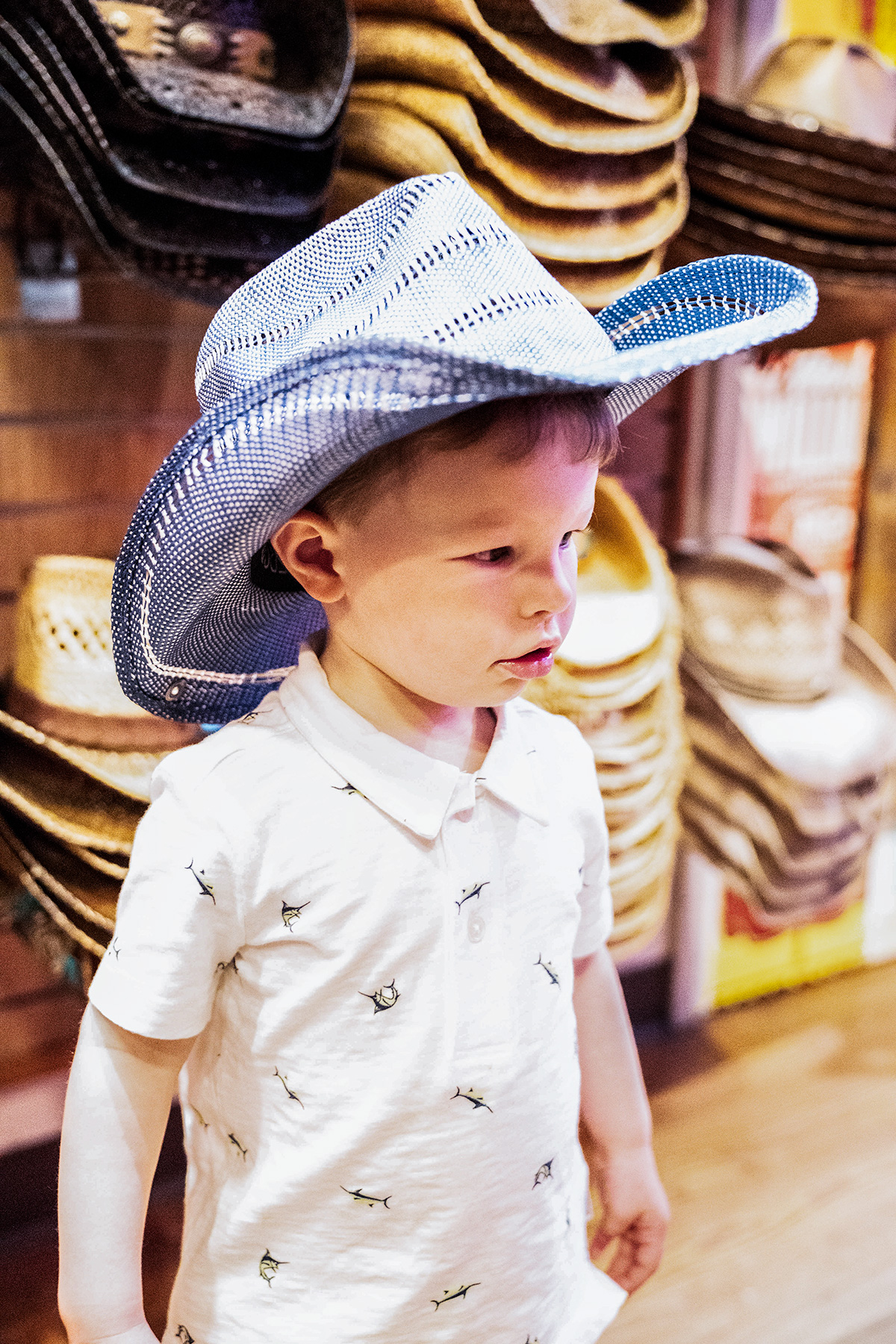 Mixed in among the bars and barbecue restaurants were several Western wear stores with an incredible array of cowboy hats and boots in every imaginable color and style.
Even if you're not interested in stopping in at a bar to catch some live music (with a 2-year-old, it definitely wasn't in the cards for us!), it's still worth a stroll down Broadway to take in this incredibly unique place where the stories of so many country music legends began!

Ultimate Nashville Landmark #5: Centennial Park
When you're ready for a change of pace from the lively energy of Broadway, check out Centennial Park. This large and clean park was a welcome break for us, because it had plenty of wide open green space for Trevor to run free.
We loved wandering around the small lake, surrounded by large trees, park benches and brightly colored flowers.
There's also an old steam engine on display.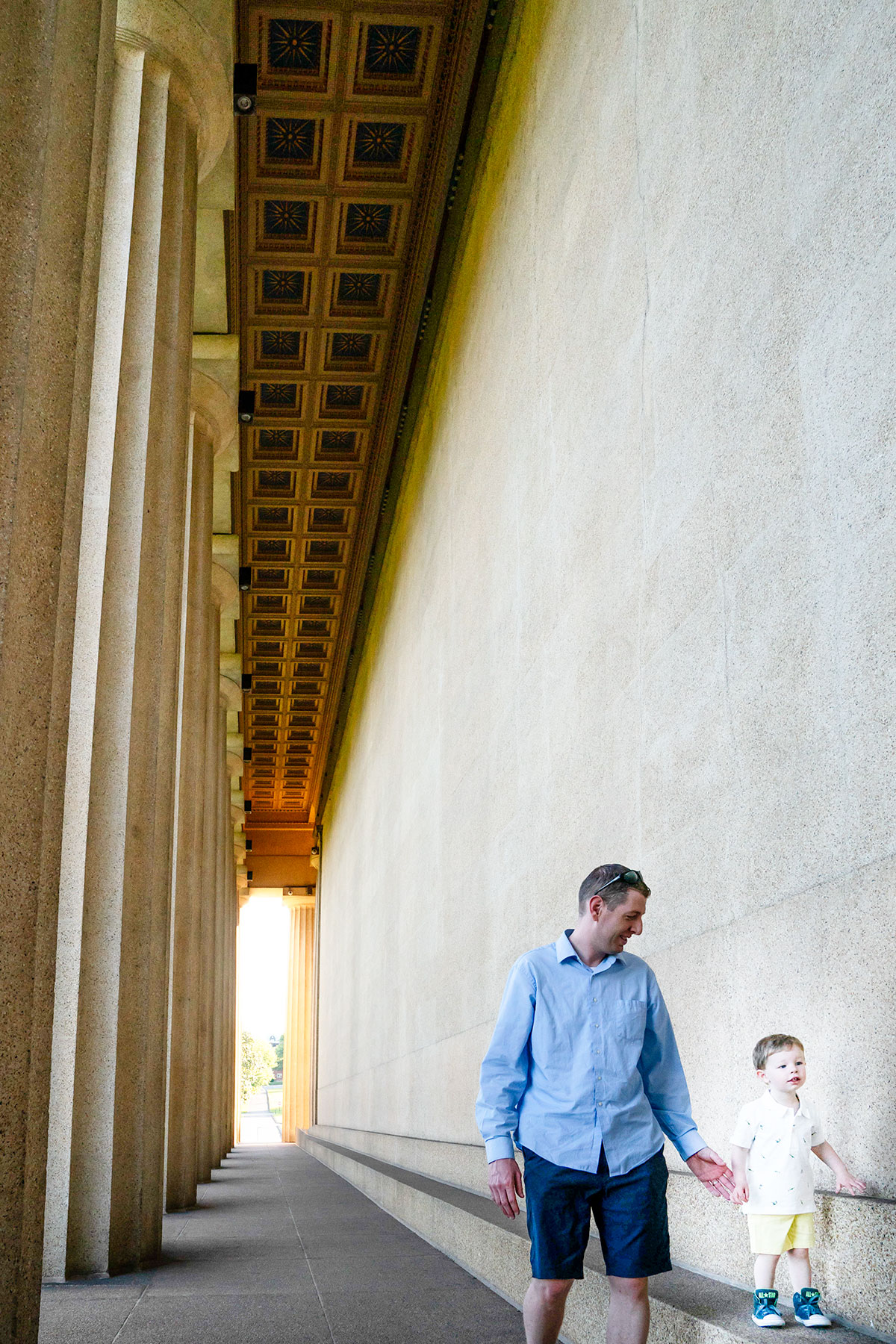 Plus a full-scale replica of the Parthenon, which is enormous and absolutely stunning in person!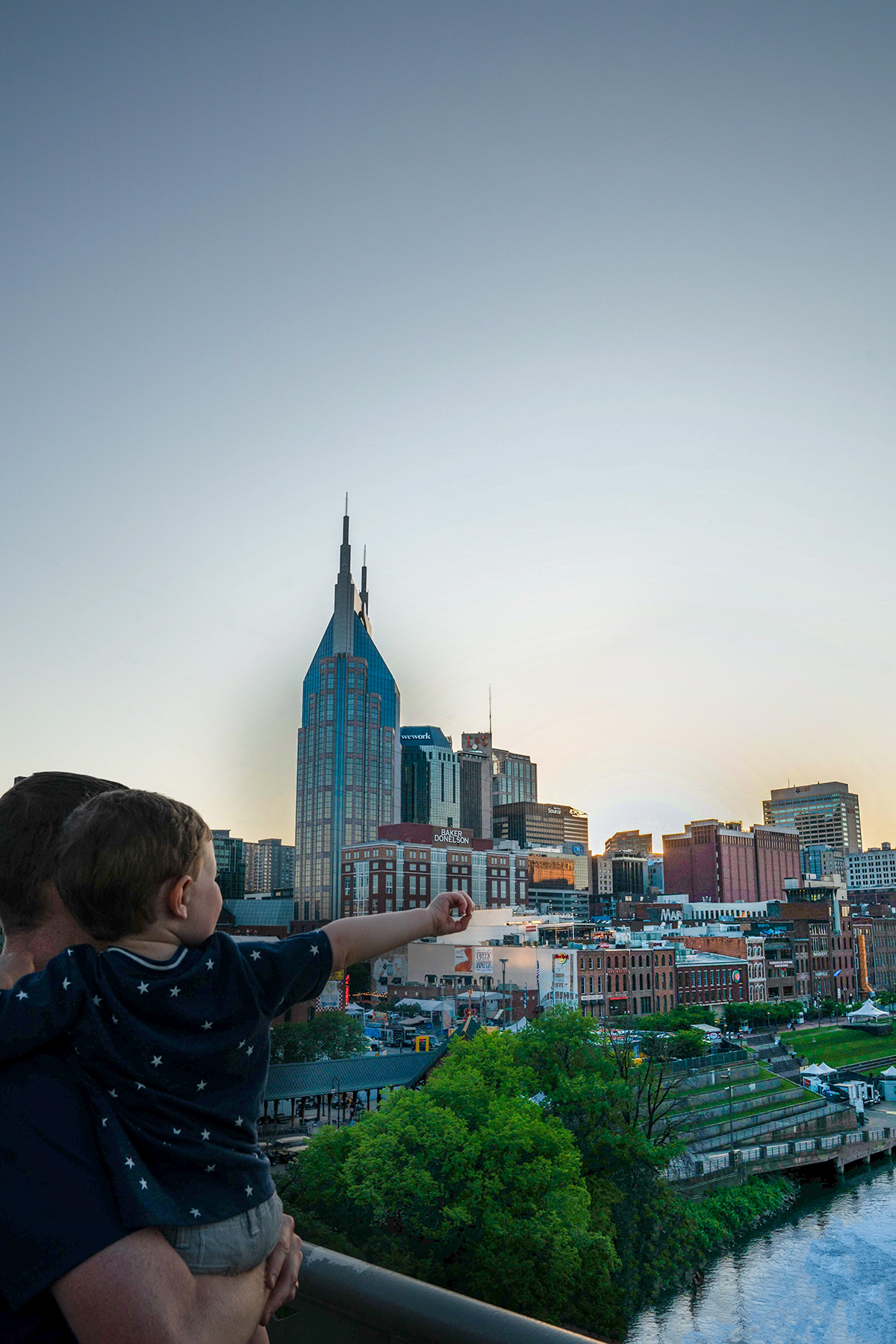 Ultimate Nashville Landmark #6: John Seigenthaler Pedestrian Bridge
John Seigenthaler Pedestrian Bridge
If you want some amazing travel photos of the Nashville city skyline, check out the John Seigenthaler Pedestrian Bridge.
This bridge crosses the Cumberland River and, in my opinion, offers the most incredible views of the Nashville skyline nestled up against the river.
Aside from the views, the big benefit of this bridge is that no cars are permitted, so Trevor was free to run around and enjoy. And we had plenty of open space to capture beautiful photos.
My favorite time to visit the bridge was at sunset, when the stifling midday heat had cooled and the lights of Broadway added vivid color to the city skyline!
For More on Nashville, Check Out:
Traveling to Nashville? Here Are The 5 Most Stunningly Beautiful Spots for Photos
Trip #2: Travel Confessions from Nashville
Pin on Pinterest: