A Christmas fantasy town made real, this Canadian city is one you absolutely can't miss during the holiday season. Here are the top 5 reasons why…
I ask Chris to grip Trevor's hand a little tighter as we make our way, s-l-o-w-l-y, over the cobblestone streets.
The slush that covers the sidewalks is turning icy.
It's only 5:30pm but the sun set long ago, and it's as dark as it will be at 9pm.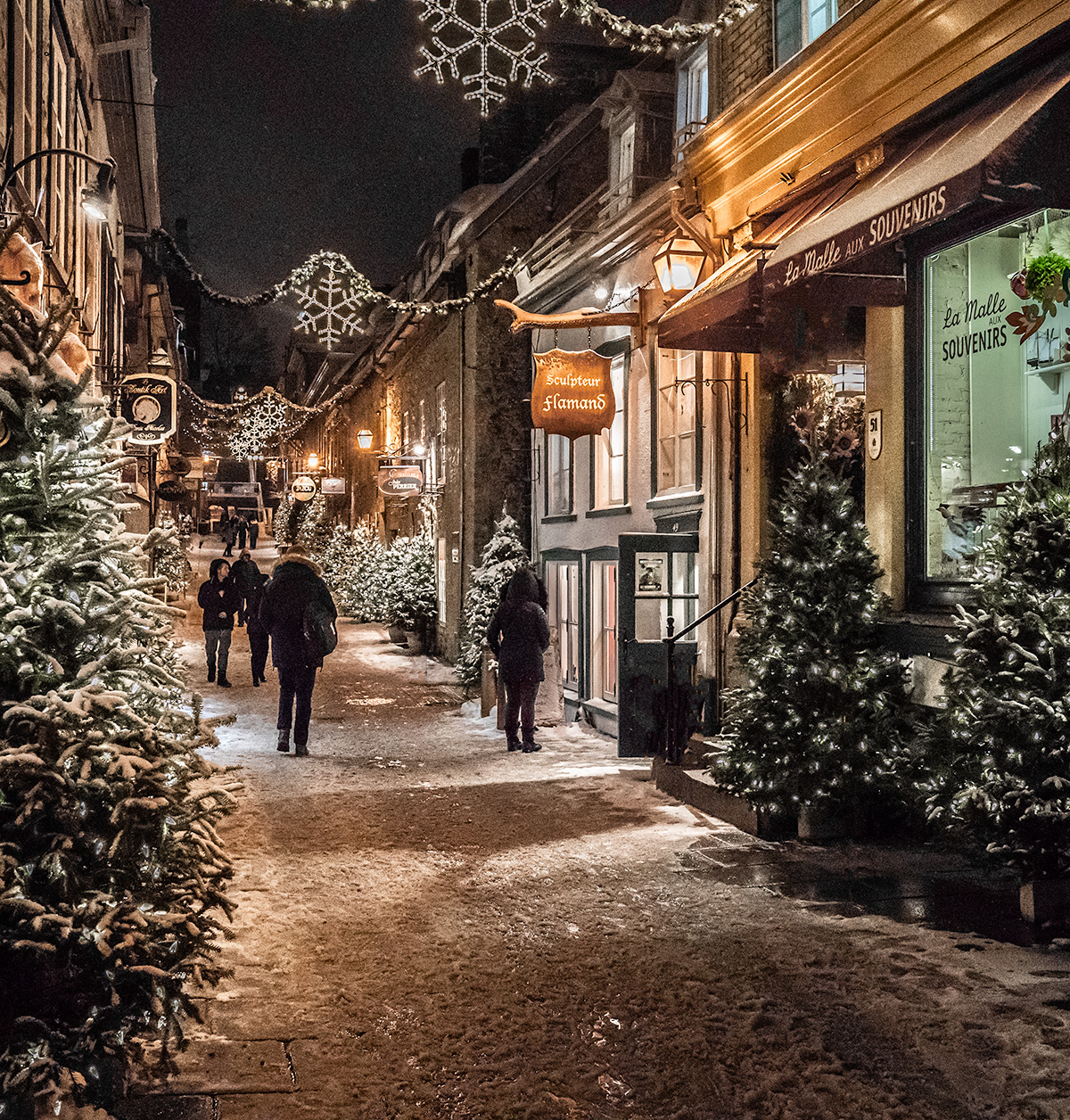 I know the wintry wind will turn my hands to icicles the second I remove my mittens.
But I take them off anyway.
The scene around us is just too beautiful, and I'm dying to capture it with my camera.
Snapping photos as we make our way down a quaint street lined with brick and stone shops, I feel like I've just walked into a 19th-century storybook town.
Tiny snow-capped pines line the sidewalks, each draped in twinkling white lights.
High on a hill above us, Trevor points to the Château Frontenac and exclaims, "I see castle! Santa's castle! Santa has castle!"
And then another surprise at the end of the street: an outdoor winter wonderland setting.
It's the most stunning "Meet Santa" display I've ever seen and a world apart from the typical, plastic mall display.
Here, the most authentic-looking Santa – with the perfect beard and an elaborate deep red suit – sits on a beautiful carved throne.
The snow-capped display is surrounded by wooden deer, trees and wreaths, all draped with millions of glittering lights.
Since it's dark and turning cold, there aren't any other children in line.
Trevor is shy and clings to Chris, but he does tell Santa he wants a "yellow dump truck" for Christmas.
He accepts a free gift from Santa's red toy sack: a tiny stuffed bear.
Then he starts asking for milk.
As we head in the direction of a pâtisserie on the hunt for milk, Trevor's shyness dissolves and he starts waving excitedly.
Santa is trailing behind us, his red sack slung over his shoulder, on his way home for the night.
As we duck inside the pâtisserie, the warmth feels wonderful on my now-frozen fingers.
But what captures my attention: a glass display case filled with the most intricate pastries of every kind and color.
It's way too tempting!
Chris and I step up to the counter and order a milk for Trevor…
…plus a chocolate croissant and a three-inch-tall tart that's overflowing with gooey, buttery, cinnamon-sugar apple slices…
This Christmas fantasy town made real is Québec City in Québec, Canada.
Here are the top 5 reasons why you can't miss beautiful Québec City during the Christmas season:
Reason #1 to Visit Québec City At Christmas: Old-World, Storybook Charm
The French influence of this incredibly beautiful town is apparent everywhere you look in Québec City.
I live in the Boston area. So I love that I can do a simple six-hour road trip and feel like I've arrived in Europe!
The Old Québec section of the city, in particular, is filled with cobblestone walkways that are for pedestrians only.
And the picturesque storefronts – accented with vividly colored shutters and doors – are made of stone and brick.
Reason #2 to Visit Québec City at Christmas: Breathtaking Holiday Decor
Québec City is gorgeous any time of year, but the town really goes all out during the holidays.
The Christmas decor throughout the city (but especially in Old Québec) is as stunning as I've seen anywhere.
Along the walkways and on every building, intricate wreaths and garlands and mini pines are covered in twinkling white lights.
Reason #3 to Visit Québec City at Christmas: Incredible Food
Yes, Québec City is picturesque.
But it's also filled with the most amazing restaurants.
Again, the French influence is apparent.
Traveling with a toddler, Chris and I only visited casual restaurants.
But there was such rich flavor and attention to detail in every dish we tried, even in the most casual places.
For example, one day we stopped at a bakery and I ordered a simple egg and cheese sandwich.
It was one of the best breakfast sandwiches I've ever tasted.
Here's why: they thought to add a hollandaise sauce, which was super flavorful. And the cheese tasted high quality and incredible. And the artisan bread was freshly baked and delicious.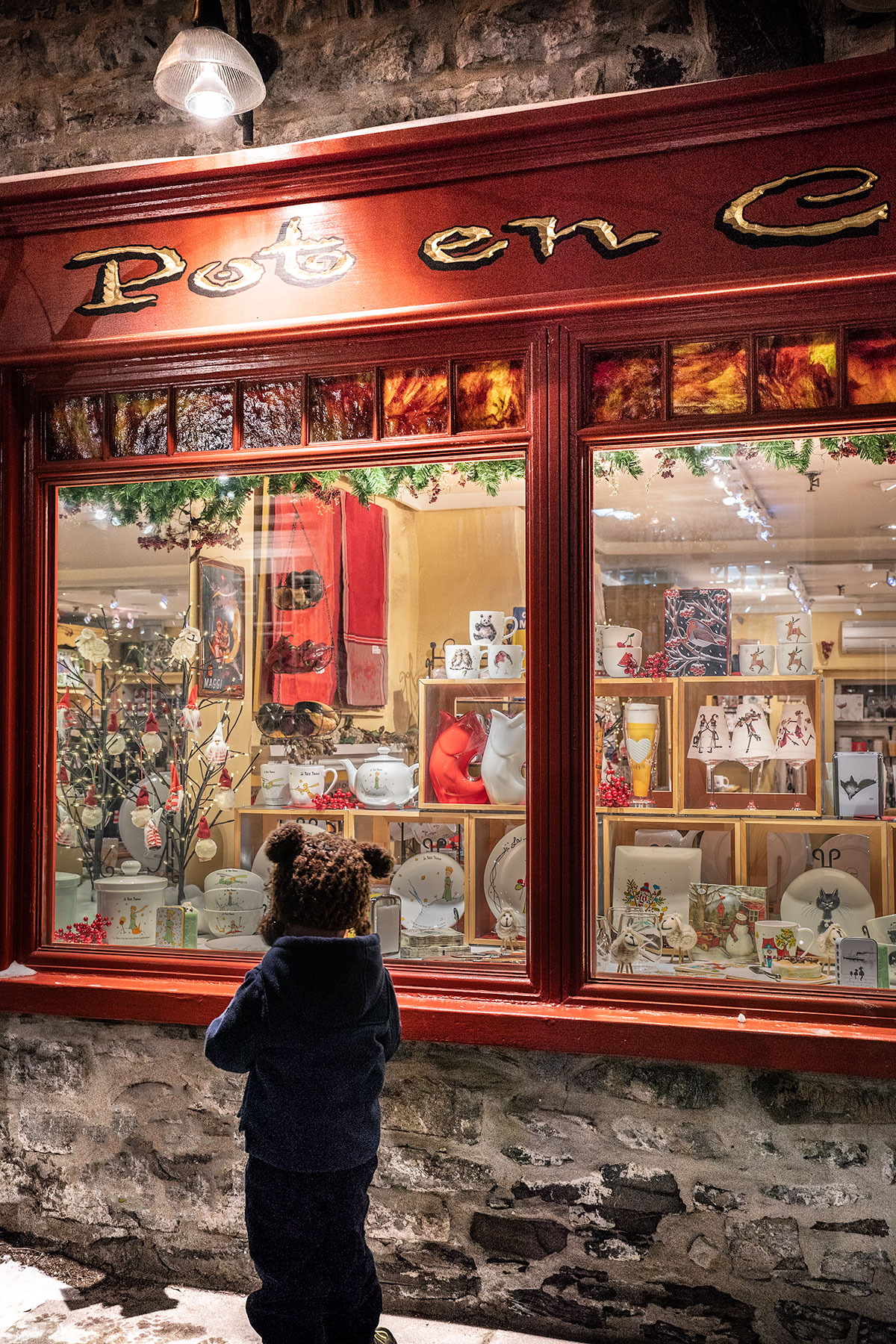 Reason #4 to Visit Québec City at Christmas: Endless Holiday Shopping
There are countless options for unique Christmas gifts in Québec City.
In the photo above, Trevor is peeking into a shop in Quartier Petit Champlain. It's a part of beautiful Old Québec, filled with picturesque local shops selling the most gorgeous artwork, clothing, shoes, home decor, and pottery.
One of the most popular sites in Québec City during holiday time is the German Christmas Market.
This outdoor market features an array of charming wooden storefronts selling roasted chestnuts and hot chocolate. Plus holiday gifts like candles, scarves, wooden toys, and Christmas villages.
Across the street is La Boutique de Noël de Québec, a shop filled with every imaginable Christmas ornament and holiday decoration.
And then there's Trevor's favorite, Benjo Toy Store.
This is a huge, local store with lots of hands-on toy displays, a giant train for kids to climb, and even a candy shop.
Reason #5 to Visit Quebec City at Christmas: Incredible Sites
We spent some time enjoying the snow and the natural beauty of Québec at the huge and beautiful park known as the Plains of Abraham.
We saw lots of people cross-country skiing, snow-shoeing, and sledding.
And Trevor was just happy being outside and running through the snow.
(Or trying to run, the snow reached his up to his knees!)
But Québec gets cold at holiday time.
So the good news: there are lots of great indoor attractions as well!
Tru loved the Aquarium du Québec.
This is an impressive and expansive aquarium with lots of indoor fish exhibits, plus a large outdoor area with walruses, seals, and polar bears.
We also all loved the Musée de la Civilisation, which is a gorgeous museum focusing on the incredible history of Québec.
We loved all of the fascinating, interactive exhibits.
One of my other favorite attractions was the Musée National des Beaux-Arts du Québec, which is the city's art museum.
It's a big and sprawling art museum, with lots of unique and interesting exhibits.
Pin on Pinterest:
For More Quebec City Travel Guides, Check Out:
Travel Confessions: A Return to Québec City at Christmas
Ultimate Weekend Guide for Families: Quebec City at Christmas