This pulled chicken taco recipe is full of rich, delicious flavor. It's easy to make in the slow cooker with just 10 minutes of prep time. Healthy too!
Chris, Trevor and I spent a lot of time traveling in 2018 and one completely unsurprising thing I learned: travel holds a big place in my heart.
But another thing I learned that really did throw me for a loop is that there's also a separate part of my heart that loves being a homebody.
Wearing comfy sweats, laying low, staying warm inside the house all day, and putting a home-cooked meal on the table at night.
There's something very satisfying about creating a meal from scratch that has simmered all day in the kitchen, filling the house with mouth-watering, spicy, savory aromas…
Because we'd been traveling so much, this slow cooker pulled chicken taco recipe ended up sort of buried in a kitchen drawer under my recipe folder.
I'd almost forgotten it.
But when I saw the folded-up recipe, stained with tomato puree and covered in crossed-out ingredients, it was sort of like finding a 50-dollar bill in the pocket of an old pair of jeans.

I missed you so much, slow cooker pulled chicken tacos, and I hadn't even remembered that I'd lost you!
I knew I had to cook this recipe again immediately.
These pulled chicken tacos are just everything I love in a recipe: super simple and easy to make, plus healthy.
But the real thing I love about this slow cooker recipe is just how richly flavorful the chicken becomes by the end of the cooking time.
There's a little hint of sweetness (from maple syrup).
A hint of smokiness (from smoked paprika).
And a small hint of tanginess (from apple cider vinegar).
Plus loads and loads of flavor from a tasty combo of spices…
The well-known key to chicken that just falls apart with a fork is this: it must simmer on low heat.
But here's the hidden secret key to fall-apart tender chicken: it has to be submerged in liquid.
I've definitely learned this fact the hard way.
Rewind to Just-A-Beginner-With-The-Slow-Cooker-Jen, placing chicken on top of veggies, so that just the veggies were submerged in cooking liquid.
That was the time Chris and I suffered through a dinner of super tough, hard-to-even-chew chicken.
Oh, and this recipe feels super nourishing and healthy too.
The pulled chicken mixture includes lots of healthy stuff like white beans, garlic, onion, and carrots.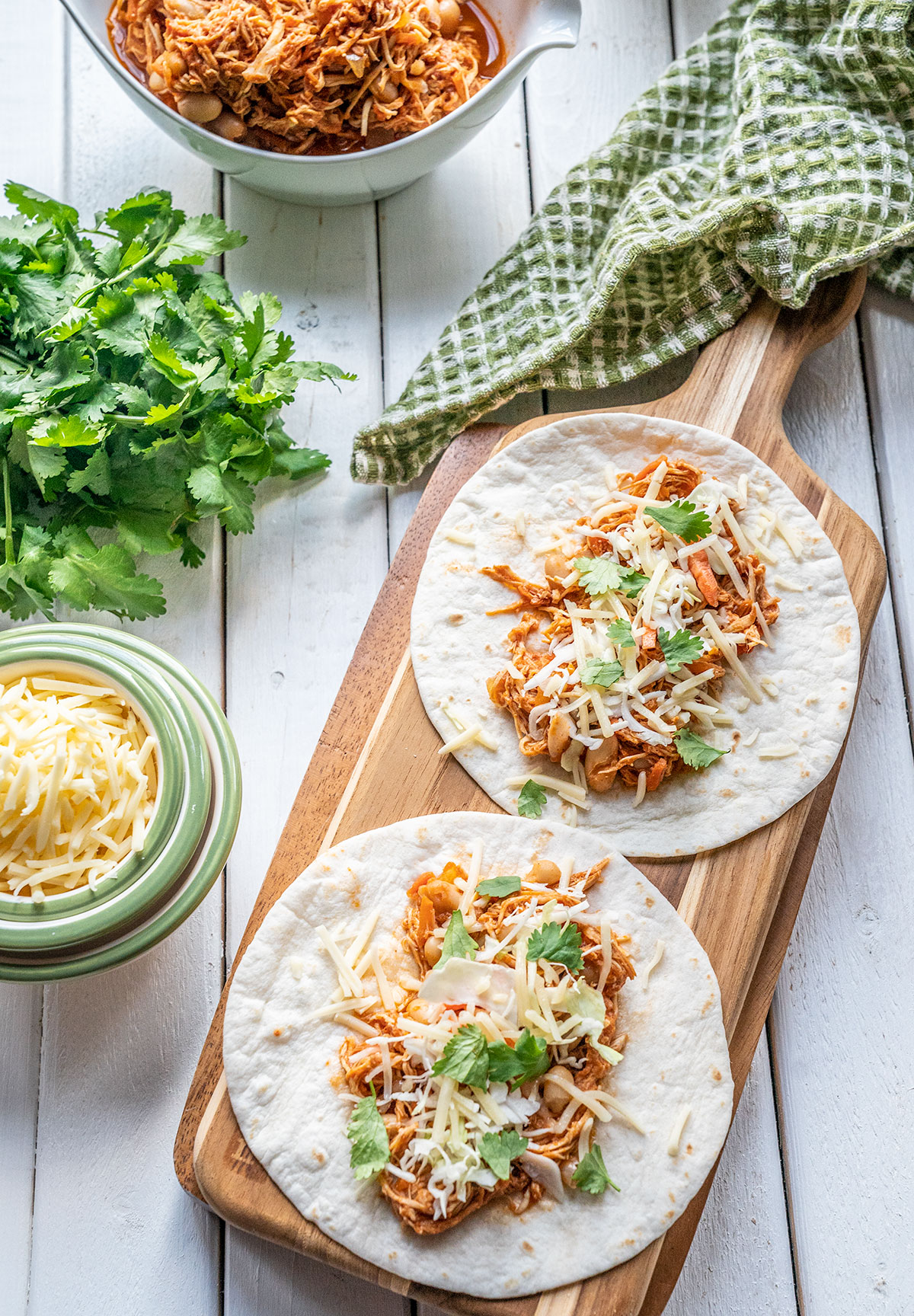 This pulled chicken taco recipe takes only about 10 minutes of prep time and it's super simple to make.
The slow cooker really and truly does all the work, adding rich savory, smoky, spicy deliciousness to the chicken.
Here's the complete recipe for Healthy Slow Cooker Pulled Chicken Tacos:
Print
Healthy Slow Cooker Pulled Chicken Tacos
Author:

Prep Time:

10 minutes

Cook Time:

5 hours

Total Time:

5 hours, 10 minutes

Yield:

6

servings

1

x

Category:

Slow Cooker Recipes
---
Description
This pulled chicken taco recipe is full of rich, delicious flavor. It's easy to make in the slow cooker with just 10 minutes of prep time. Healthy too!
---
For the Pulled Chicken:
1

pound organic pastured skinless, boneless chicken breasts

2 Tablespoons

olive oil

1 Tablespoon

apple cider vinegar

1 Tablespoon

100% pure maple syrup

1 cup

strained tomatoes (or tomato puree)

1

clove garlic, minced

1/3

small onion, diced

1 1/2 cups

shredded carrots

1 teaspoon

cumin

1 teaspoon

coriander

1 teaspoon

smoked paprika

1/2 teaspoon

chili powder

1/4 teaspoon

cinnamon

15 ounces

white beans (such as cannellini beans), thoroughly drained and rinsed
For the Tacos:
Hard taco shells or small / taco-sized tortillas
Shredded Mexican blend cheese
Packaged shredded cabbage (coleslaw)
Ranch dressing or sour cream (optional)
Cilantro or chives, chopped (optional)
---
Instructions
Place the chicken in the slow cooker. Season with salt.
Pour the olive oil, vinegar, maple syrup, and crushed tomatoes over the chicken so that the chicken is submerged in liquid. Season with salt.
Add the garlic, onion, and shredded carrots. Also add the cumin, coriander, smoked paprika, chili powder, and cinnamon. Season with salt.
Cover the slow cooker and cook on High heat for 3 hours.
Stir the ingredients, leaving the chicken at the bottom of the slow cooker. Cook for 2 hours more.
Remove the chicken from the slow cooker and, using two forks, shred the chicken. The chicken should easily fall apart.
Add the shredded chicken back into the slow cooker. Also add the white beans. Season thoroughly with salt.
Stir until everything is well combined and the chicken and beans are thoroughly coated with the tomato sauce.
Spoon the mixture into hard taco shells or onto small tortillas. Top with shredded cabbage (i.e. coleslaw), shredded Mexican blend cheese, and chopped cilantro or chives. If you desire more creaminess, drizzle ranch dressing or sour cream over the top. Serve.
---
Notes
My favorite way to serve this pulled chicken is actually as a salad! Throw some coleslaw onto a serving plate, then top with the shredded chicken mixture. Add cheese and cilantro/chives. Drizzle on a bit of ranch dressing if you like (I actually think the chicken and cheese add enough flavor to skip this step). Then top with some crushed tortilla chips. Yum!
If you want to cook the pulled chicken on Low in the slow cooker, plan on a 7-hour cook time instead of 5 hours.
Keywords: slow cooker, chicken, pulled chicken tacos, healthy
Pin on Pinterest:
For More Slow Cooker Recipes, Check Out:
Avocado-Lime Slow Cooker White Chili
Slow Cooker Tortilla Soup [Vegetarian]
For More Chicken Dishes, Check Out:
Easy Slow Cooker Dijon Chicken with Winter Vegetables
Slow Cooker Lemon Chicken Dumpling Soup