It was the very first thing he'd say every morning in December, as soon as I came into his room:
"Chocolate today?"
What happened is that Chris had bought an advent calendar for Trevor at Lindt Chocolates.
Each day, Tru could open a little cardboard door and find a miniature chocolate shaped as a bear or a Santa (or even an umbrella!)
Now, have I mentioned to you about Trevor's sweet tooth?!
If you understand the depth of Trevor's love for sugary sweets, you can imagine how much Trevor adored this advent calendar.
Basically, what it came down to was this:
Tru had a chocolate for breakfast every morning.
And then often he'd ask later in the morning if he could open another day on the calendar.
To which I'd reply, "no Tru, you already opened it, first thing when you woke up, remember?"
And he'd often ask again in the evening!
To which I'd answer, "no Tru, you opened today's chocolate the minute you opened your eyes, remember?"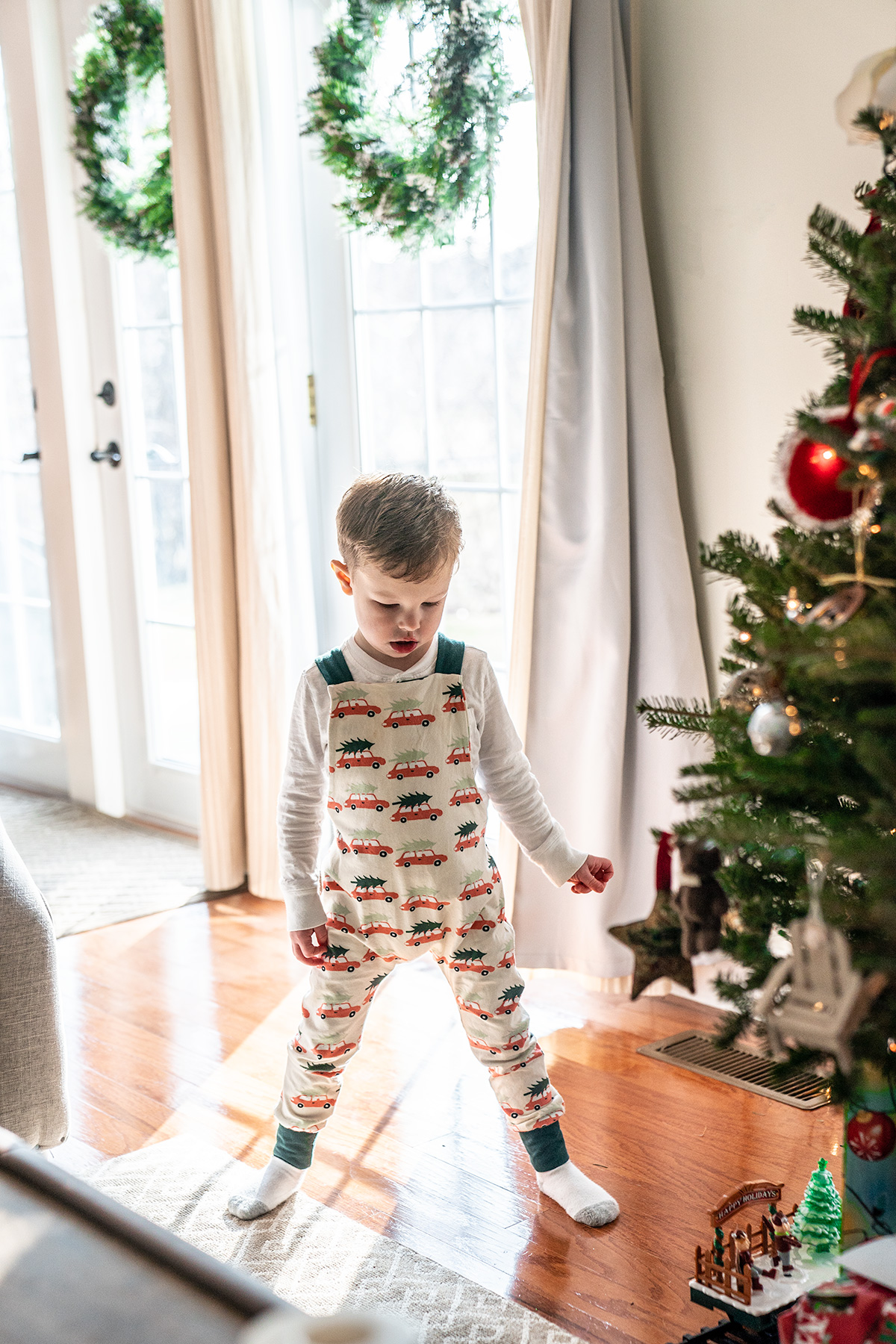 Trevor Gets Into the Christmas Spirit
Before Trevor, I never put any thought into decorating the house for Christmas.
It was typically Chris who would finally say, "shouldn't we go get a tree by now?"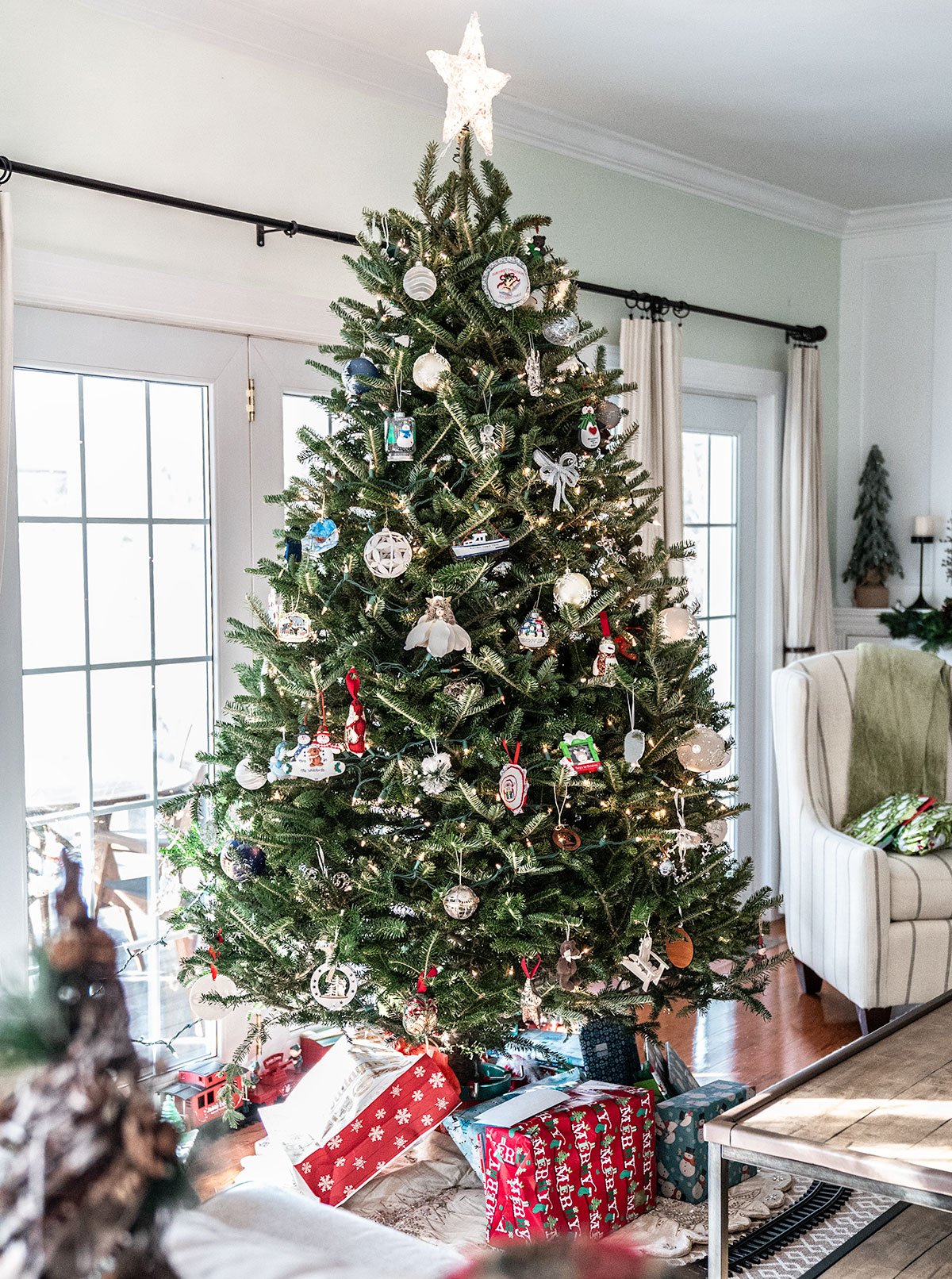 But the year Trevor was born, things changed for me.
I went all out with the decorations.
Suddenly the only thing I cared about was creating a fun, old-fashioned family Christmas.
Chris and I worked straight through Thanksgiving weekend, hanging garlands over the staircase and fireplace mantel and arranging wreathes on all the doors.
We strung lights on the front porch and set reindeer in the front yard.
Chris took Trevor to the local garden supply store to pick out a "super big" tree.
Well, this year was the first year Trevor appreciated our work!
He'd wake up from his nap each afternoon and ask, "Christmas lights on?"
Then he'd run to the stairs to see if the staircase garlands were lit up.
Every morning, he'd bolt straight for the Christmas tree to plug in the lights.
He loved having the tree lights on all day (I loved it too).
There was also a remote that we kept on the table next to the front door to turn on the outdoor lights.
Trevor would randomly pick up that remote, any time of the day, and turn on the outdoor lights.
I'd glance outside at 11 am and those reindeer on the front lawn would be glimmering and shining!
Trevor Has A New Christmas Favorite
I've got one question to discuss with you at this time: should I be concerned over Trevor's great love of villains?
It started with his favorite show, Mickey Mouse Clubhouse.
There's always one character who's always causing all of the problems for all of the other sweet and kind characters, and it's Trevor's favorite character: Pete.
This Christmas, Trevor asked over and over again to read a toddler version of the book, How The Grinch Stole Christmas!
I asked if he'd like to see the movie and assumed I'd show him one of the newer remakes.
But no.
He didn't want anything to do with modern remakes.
Tru wanted to watch the original animated short from the 1960's.
Chris and I thought he'd be bored to death, but he watched the whole thing, then requested to watch it many more times throughout December.
What can I say?
Trevor loves The Grinch!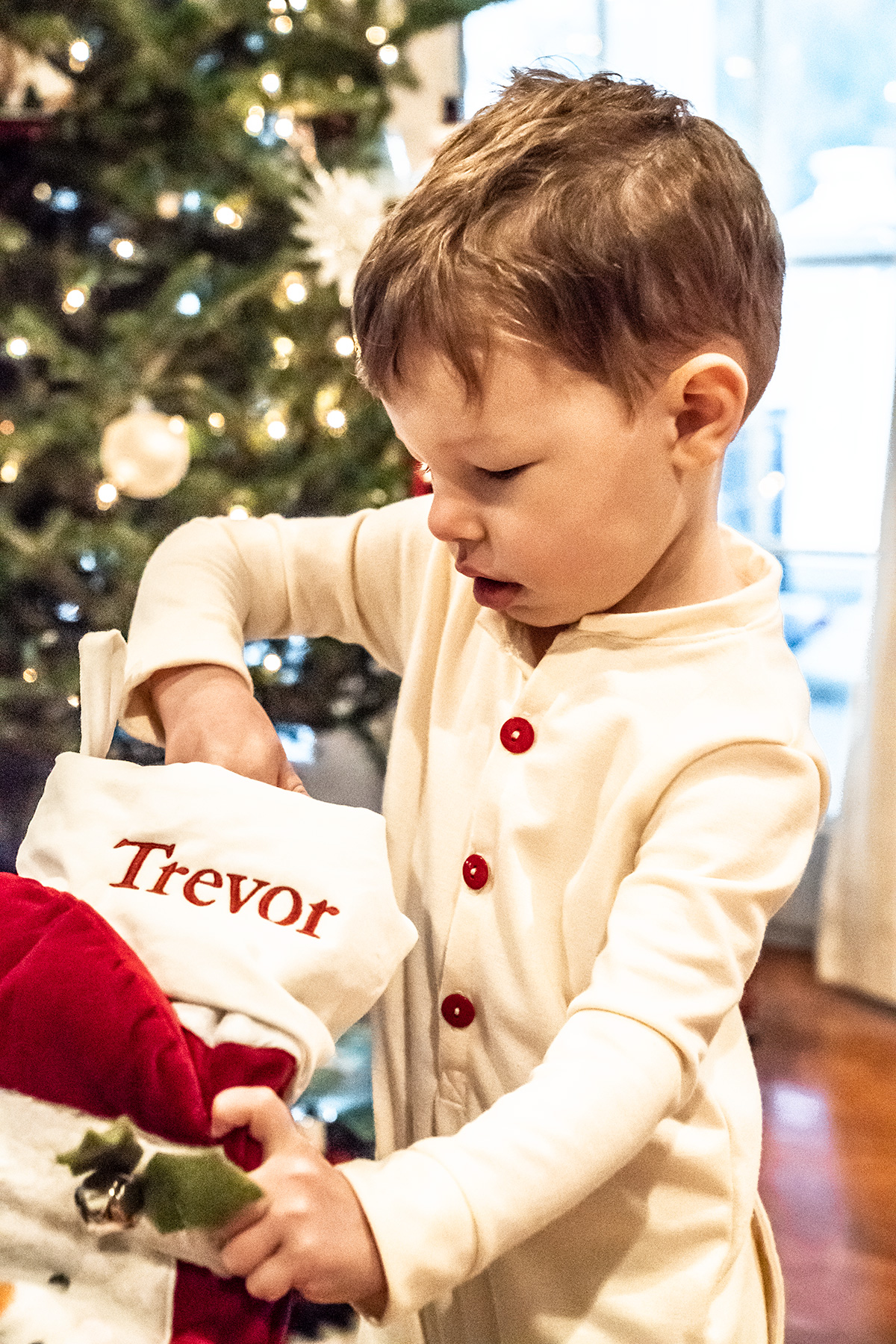 All I Want For Christmas Is A Yellow Dump Truck
In terms of gifts, Tru knew what he wanted early on: "Trevor want yellow dump truck."
Anytime anyone asked him, this was consistently his only reply.
He met Santa in Québec City and Tru was very clear on what he wanted Santa to note down on his list: "yellow dump truck."
We had no idea what he was picturing in his mind for this 'yellow dump truck' (big plastic toy? small model truck? one that moves by remote?), so Chris found two different options online.
We left them unwrapped, and set them down in front of the fireplace and under the stockings.
And Tru did come down the stairs on Christmas morning and his eyes did light up when he saw those trucks.
And I think it was magic for him.
And I know it was magic for me.
Starting New Family Traditions
Since Trevor understood – for the very first time – the concept of Christmas festivities, Chris and I decided to establish some family traditions.
The big surprise for me was how much fun I had in the process of trying to create fun traditions for Trevor.
Here's what we did on Christmas Eve:
First, we opened a few gifts for all of us.
Next, we cooked breakfast for dinner!
We all prepared the meal in the kitchen together (Tru helped), we played Christmas music, and Chris and I thought the food all turned out delicious (Tru liked his cinnamon bun).
Afterward, we all curled up on the couch under a big blanket and watched The Polar Express movie (I thought Tru might sit through this movie since he loves trains so much).
We fast-forwarded through a big portion of the middle – at certain times, Tru would say, "I scared." But Tru actually watched a movie that wasn't Cars.
Definitely, we want to keep this tradition alive next year.
Here's our menu, in case I forget by Christmas 2019:
Fruit Salad (with sugar, lime juice, and chopped basil)
Salad (with arugula, pears, toasted pine nuts, parmesan and balsamic vinaigrette)
Cinnamon Buns
Bacon
Home Fries
Frittata (with mushrooms, green onions, and grated Gruyére (spread the cheese on top and brown under the broiler)) (Note to self: use a non-stick pan or you'll be scrubbing for an hour…)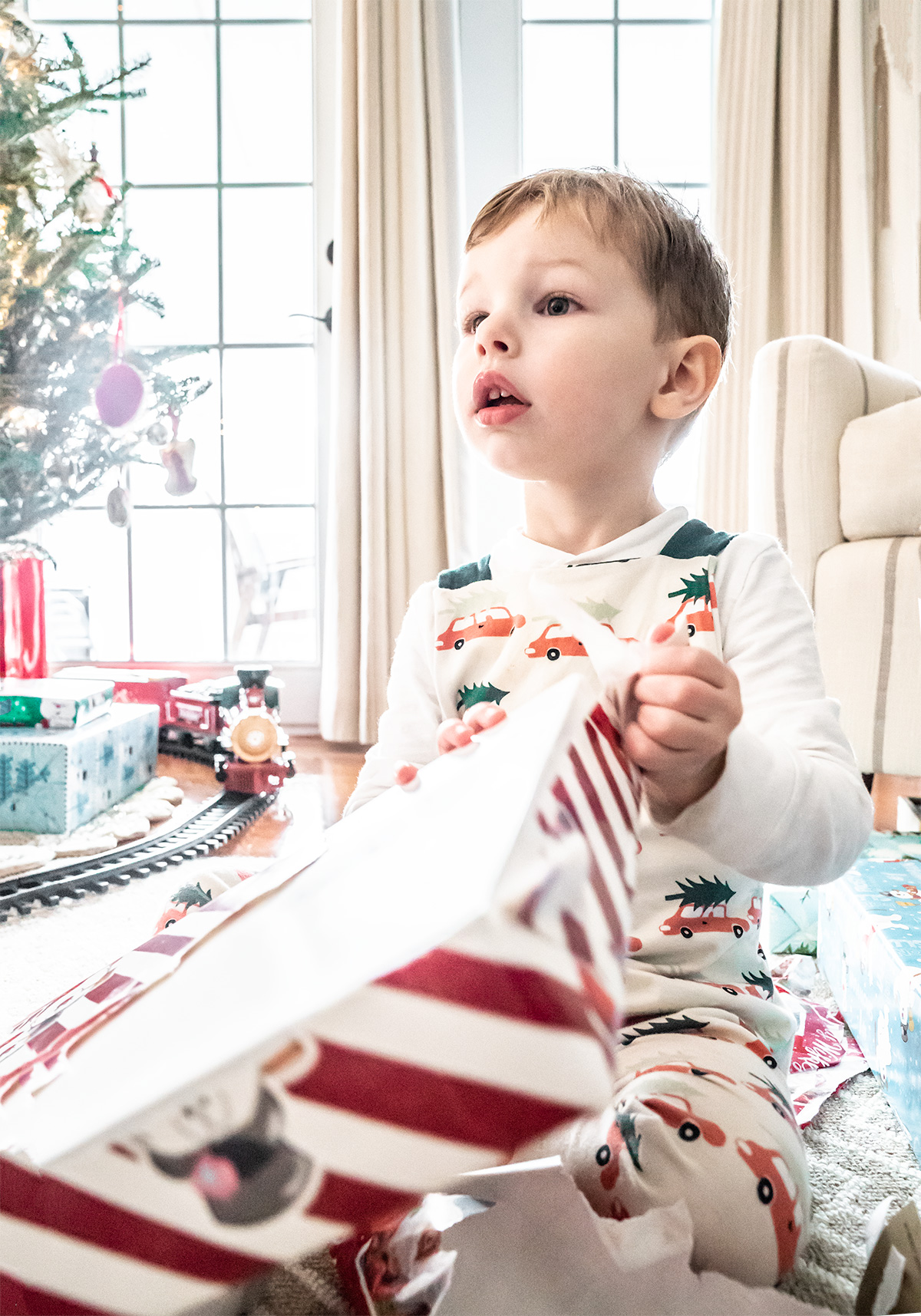 Unfortunately, we haven't had any snow at all, so it wasn't a white Christmas this year.
But this was, hands down, my favorite Christmas since I was a little kid.
Just because Trevor is now old enough to join in and delight in all of the festivities!
Randomly throughout the month, he'd burst out saying (in the house or out in public), "Ho! Ho! Ho! Merry Christmas!"